This Orange Julius recipe is a creamy drink with a sweet and perfect mixture of vanilla and orange flavors! Make this copycat recipe at home for a delicious orange smoothie for breakfast or an afternoon treat.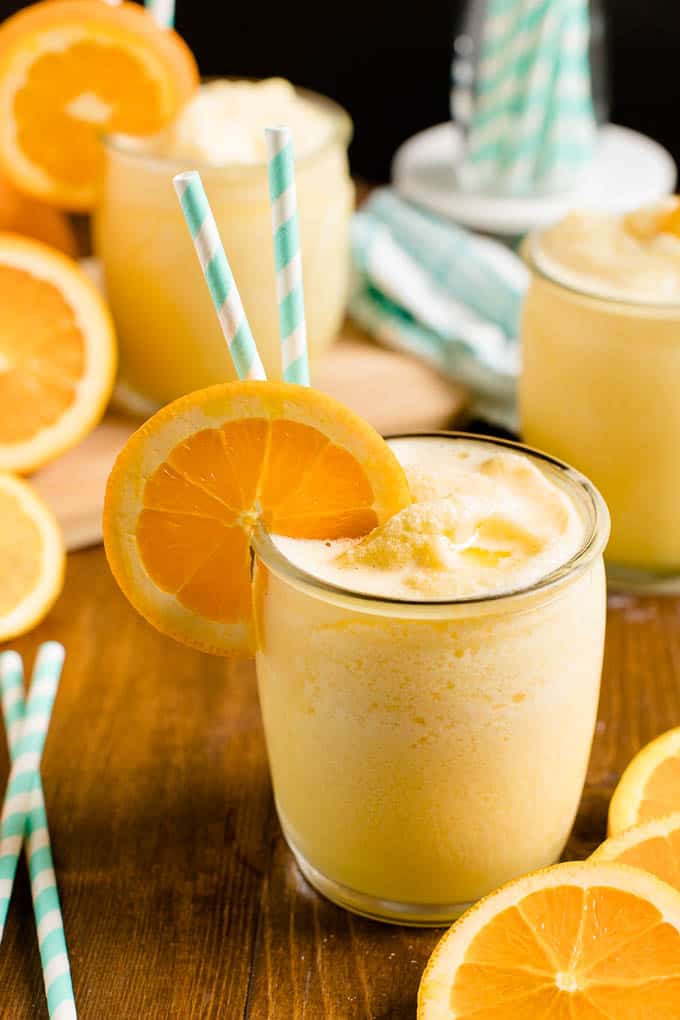 I was a teenage mall rat and always made a trip to the food court. This Orange Julius recipe is so close to the original with just a few basic ingredients and a blender.
My husband always has to get one when we go to the mall in Halifax. He said it was pretty darn close to the original too! This simple recipe is just orange juice concentrate, milk, powdered sugar, vanilla extract, water, and ice cubes!
I love to make this Orange Julius recipe with my Grandma's Cinnamon Coffee Cake for a super sweet breakfast treat.
Why You'll Love This Orange Julius Copycat Recipe
It's so close to the original stuff you buy at the mall but you don't have to leave the house.
Satisfying, creamy, thick, and smooth texture – just like the original.
It's a great sweet treat for breakfast, snack, or dessert, especially on a hot summer day.
You only need a handful of pantry staple simple ingredients to make this delicious drink.
This recipe comes together easily without too much effort.
Making this Orange Julius copycat recipe at home is a great way to still indulge in this treat and saves you money making it yourself.
Good source of Vitamin C.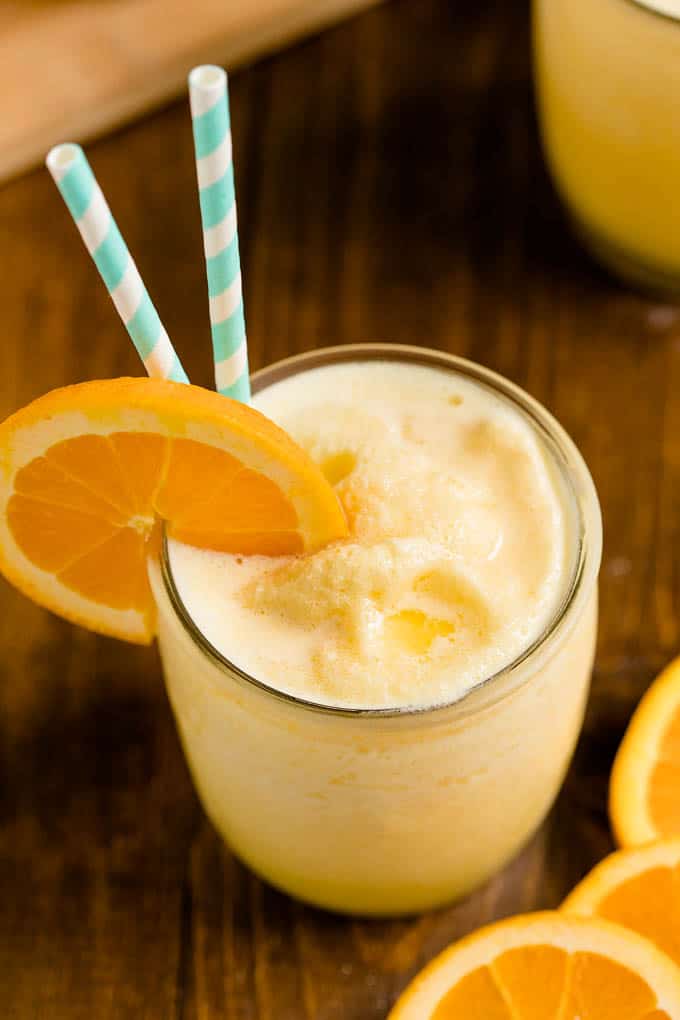 Ingredients
Frozen orange juice concentrate
Milk- regular cow's milk is what helps give this recipe an authentic taste, but if needed you can use alternatives like almond milk, oat milk, hemp milk, coconut milk, etc.
Water
Powdered sugar
Vanilla extract
Ice cubes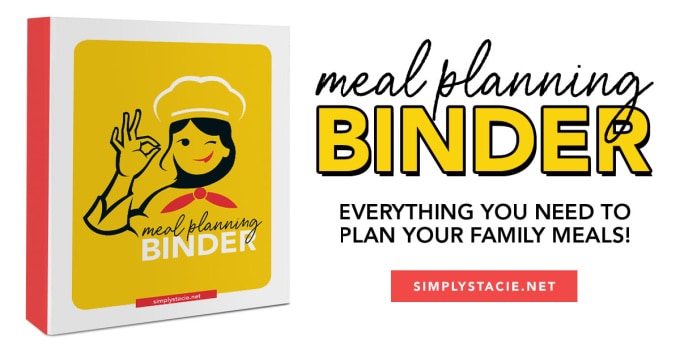 The ingredients may make you wonder a bit. Milk and orange juice together? I know, but trust me, it works really, really well together. The milk is a great neutralizer from the acidic orange juice and the combination really makes for a special treat.
How to Make an Orange Julius
Step One: This recipe is just one simple step! First, blend everything BUT the ice cubes, then add one ice cube at a time and pulse until everything is smooth. That's it and all you need for this copycat Orange Julius recipe!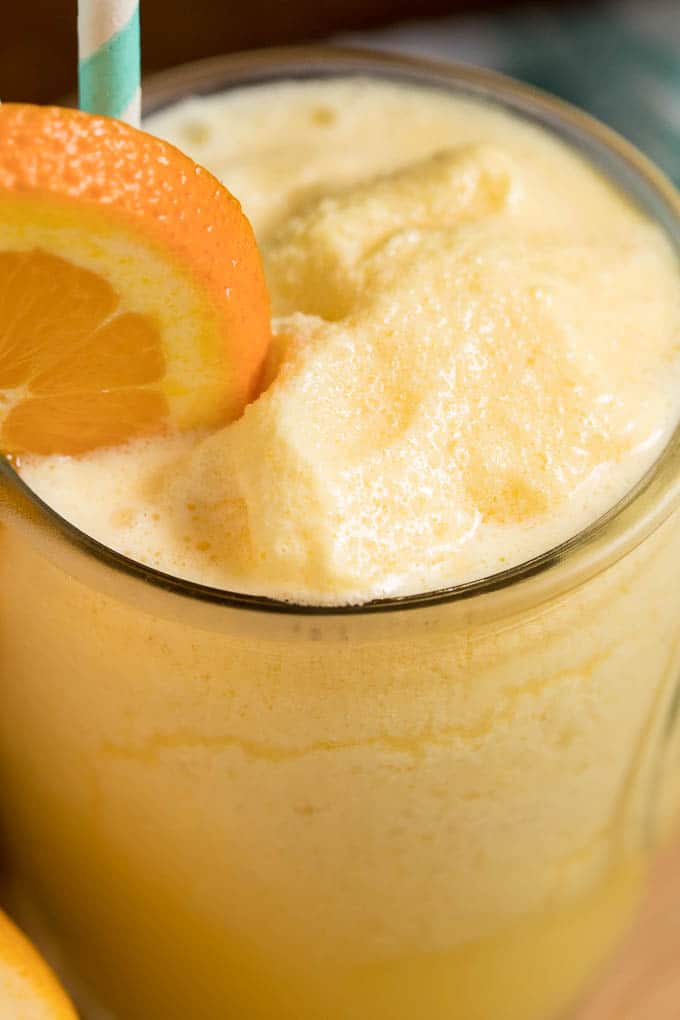 Equipment Needed
This post contains affiliate links.
Blender: This blender is great for making smoothies or mixing sauces. It's big enough for a few batches of this great treat, too!
Ice cube trays: We don't have an ice maker and these trays are lifesavers! No shattered ice cubes here because of a helpful ice cube tray.
Straws: You can't drink this thick smoothie (easily) without a straw! I love these reusable straws because they're fun to look at and help save the environment.
What To Serve with Homemade Orange Julius
Recipe Tips and Tricks
If you don't have orange juice concentrate, try freezing fresh orange juice into cubes so it gives it a nice icy consistency to blend into your drink while still giving you the perfect orange flavor.
Start using your blender at a low speed and work your way up in speed so it blends all your ingredients efficiently and appropriately.
For a thicker drink and richer texture, omit the water, see what you come out with and if too thick, add the water back in.
Chill your glass or mug that you're serving the drink in before you make it. A chilled glass will help your Orange Julius last longer and keep the most optimal texture for as long as possible.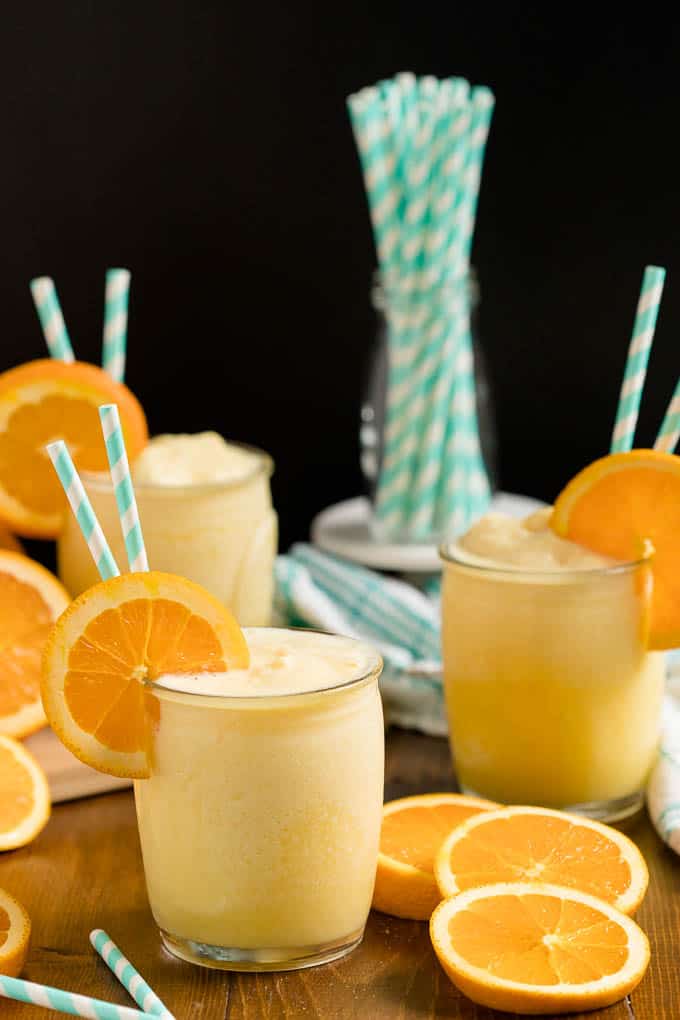 Variations and Substitutions
You can use fresh orange juice if you want and freshly squeezed OJ from fresh oranges would be amazing too.
In a pinch you can swap powdered sugar for granulated white sugar. You may need to alter the amount and it will slightly change the overall taste but you will still end up with a delicious treat.
If you need to, you can use other sweetener alternatives like honey, maple syrup, agave, or stevia. These will all change the taste but will still be yummy.
Feel free to add in other fruits and even light veggies to make more of a healthy Orange Julius recipe than a traditional Orange Julius.
You can change the consistency by varying what you add to your drink.
Whole milk gives this a super creamy flavor, but you can use 1% or 2% milk if needed. It will just be slightly less creamy.
Storage Instructions
An Orange Julius is a delicious frothy orange drink that is best served and enjoyed when it's first made. I don't recommend trying to keep it longer than a few hours as it could become watery and melt.
You can store your smoothie drink in the fridge, but keep in mind that you should enjoy this as soon as it's prepared for optimal freshness.
Can You Freeze?
You can certainly try to freeze this homemade Orange Julius Smoothie copycat recipe. The drink may start to separate a bit from the dairy. Also know that when you go to thaw your refreshing treat out depending on which ingredient options you chose.
I don't recommend freezing this great drink if you're looking to keep the smoothie texture like you made it the first time.
Where Did Orange Julius Come From?
Did you know that the original Orange Julius recipe was first created in the late 1920s by Julius Freed. Once he perfected the drink recipe, he started selling out of them and fast! People would line up outside his place and yell "Give me an Orange, Julius", which is where the name came from. Fun fact to know, right?!
The traditional ingredients for this fresh orange smoothie are ice, orange juice, sweetener, milk, powdered egg whites, and vanilla.
This copycat recipe includes a few of those same ingredients but leaves out the powdered egg whites. I've never seen powdered egg whites sold in stores, have you? Powdered egg whites are actually the "secret ingredient" in the original recipe.
Although, some employees that make this drink say the secret ingredient is almost like a pudding mix. Interesting to hear which version of the story you get, depending on who you ask!
Nowadays, almost 100 years later, you can buy an Orange Julius at your local Dairy Queen, or just make your own at home with this easy Orange Julius recipe.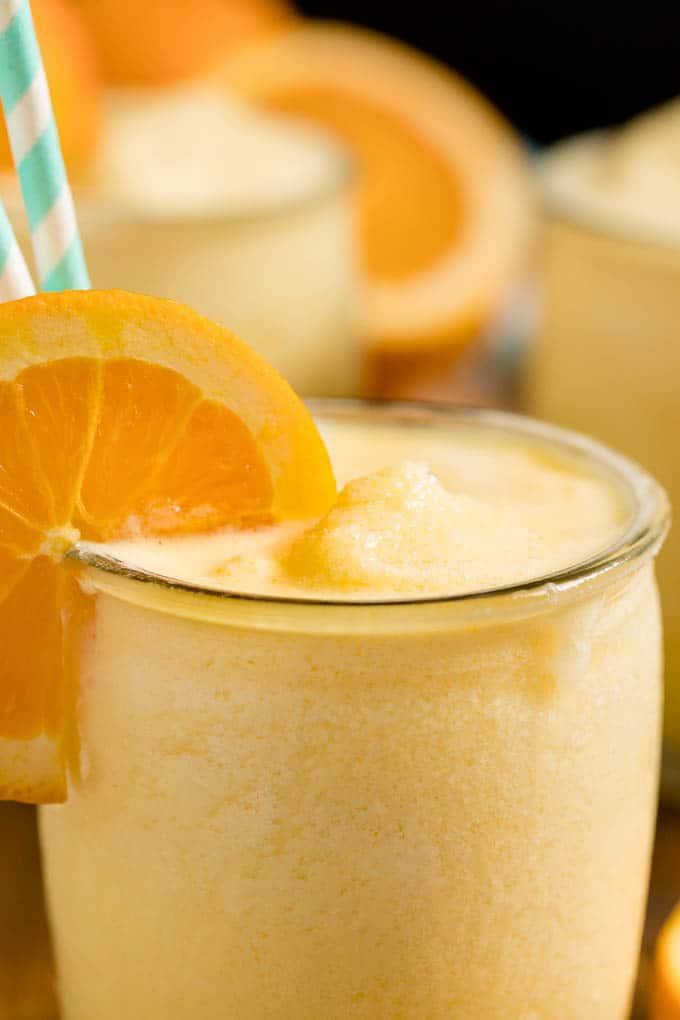 What Else Can You Add In
If you're looking to change things up with this copycat recipe, you certainly can. It just won't be the Orange Julius Copycat Recipe anymore.
Here are some ideas to add in: any other smoothie ingredients like chia seeds, protein powder, chopped nuts, oats, granola, collagen, etc.
Add in other fruits for a fruit smoothie twist- try bananas, strawberries, kiwi, grapes, blueberries, etc.
Can I Double This Recipe
You sure can! This recipe only makes 2 servings of this fantastic treat. You can easily double or triple this recipe so more people can enjoy Orange Julius drinks. You may need to work in batches, depending on how large your blender is.
You can use a pitcher to store some in if your blender is getting too full too quickly. Also, you may want to store them in the fridge if you need to serve them all together, but remember, they're best when served right away for the most optimal texture and to keep them bursting with delicious orange cream flavor.
Other Sweet Drink Recipes To Try
If you're looking for some more delicious sweet drinks to try, you MUST try some of these:

Do you have any amazing drink recipes? I'm always looking for more recipes to try! Follow me on Instagram @simplystacieblog, on TikTik @simplystacierecipes, on Facebook at Simply Stacie, and on Pinterest @SimplyStacie and let me know how you liked this and my other recipes!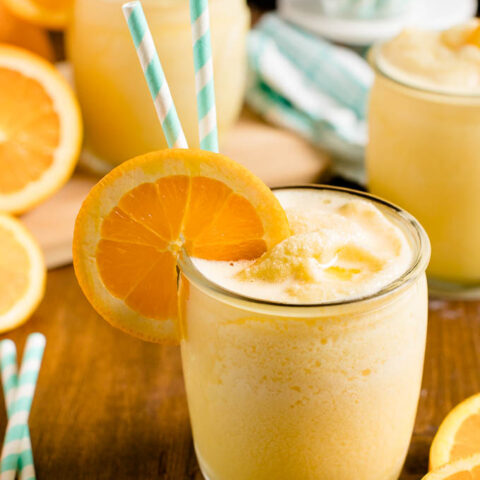 Orange Julius Recipe
The classic orange and vanilla flavour of this sweet and creamy drink is refreshing and satisfying, and much less expensive than a trip to the mall!
Ingredients
3/4 cup frozen orange juice concentrate, unsweetened
1 cup milk
1 cup water
1/4 cup of powdered sugar
1 tsp. vanilla extract
8 ice cubes
Instructions
Add the ingredients into a blender and blend for a few minutes.
Then add in your ice cubes one at a time and blend again.
Recommended Products
As an Amazon Associate and member of other affiliate programs, I earn from qualifying purchases.
Nutrition Information:
Yield:

2
Serving Size:

1.5 cups
Amount Per Serving:
Calories:

302
Total Fat:

2.8g
Saturated Fat:

1.7g
Trans Fat:

0.1g
Unsaturated Fat:

1g
Cholesterol:

12.3mg
Sodium:

121.3mg
Carbohydrates:

58g
Fiber:

1g
Sugar:

54.1g
Protein:

10.5g