Butterscotch Lava Cakes have a luscious molten butterscotch center perfect for dessert lovers. Enjoy as an indulgent treat that can be made in 20 minutes.
Molten lava cakes are the epitome of luxurious desserts – butterscotch ones are the best flavor yet. If you like chocolate lava cakes, you must make these butterscotch ones. The yellow cake is filled with a molten center that oozes a butterscotch taste.
This will quickly become your favorite mini dessert. It's easy to whip up a delicious lava cake when craving something sweet. Surprisingly, this is an entirely homemade recipe. You don't have to use a cake mix or sprinkle butterscotch pudding mix into it. Nope, this recipe is made with whole ingredients, so the flavors are even more pronounced!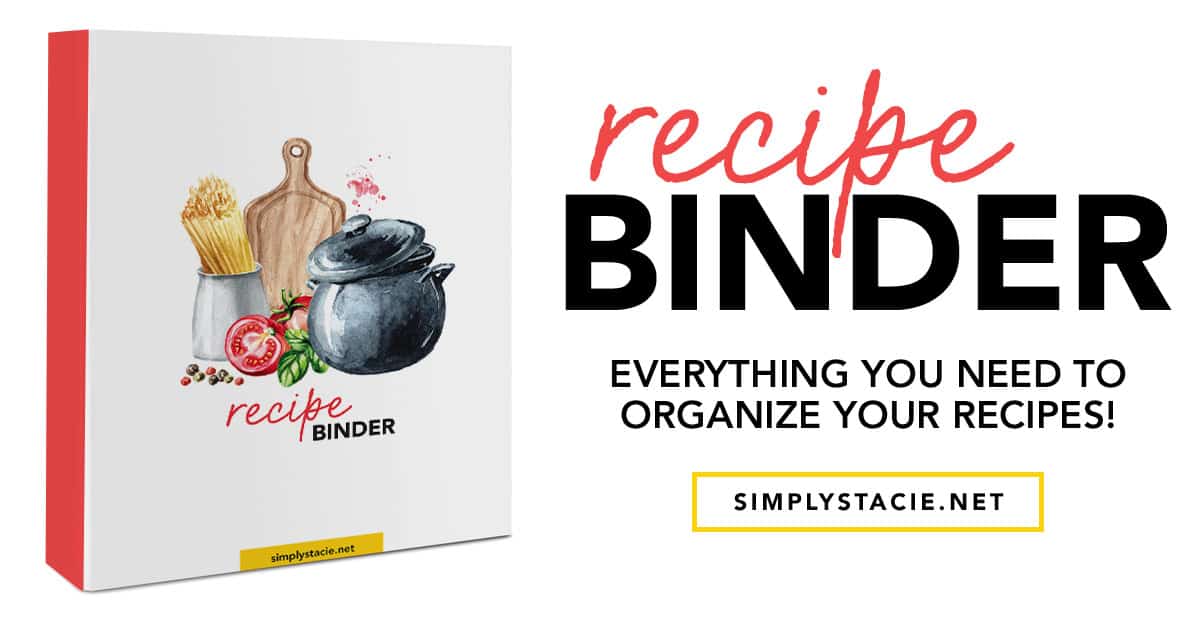 Why You'll Love Butterscotch Lava Cakes
Individual desserts that are easy to serve at a party
Simple white cake filled with a delicious surprise!
Incredibly rich and sweet, without adding any brown sugar.
Simple dairy-free recipe – no sour cream or milk.
Ingredients
The full printable recipe card with measurements and instructions is found at the bottom of the post.
There are just a few simple ingredients in these lava cakes. You probably already have all (or most) of these ingredients in your pantry.
Butterscotch Chips: This will be the filling.
Butter: Use salted butter to make the lava cakes.
Vanilla Extract: This flavors the cake and makes it taste like vanilla cake.
Eggs: Whole eggs are used as emulsifiers.
Egg Yolks: These give more structure to the cakes.
Flour: Use white all-purpose flour to make the cakes.
Powdered Sugar: This sweetens the cake batter and gives it a fluffier texture.
How to Make Butterscotch Lava Cakes
Step One: Preheat the oven to 425 degrees Fahrenheit. And butter down a small muffin tin.
Step Two: While the oven is preheating, melt together the butterscotch chips and butter in a large bowl in the microwave at 30-second intervals until the chips are completely melted.
Step Three: Whisk in the vanilla, whole eggs, and egg yolks until the eggs are fully incorporated into the mixture.
Step Four: Gently fold in the powdered sugar and flour until no clumps of dry ingredients remain in the batter.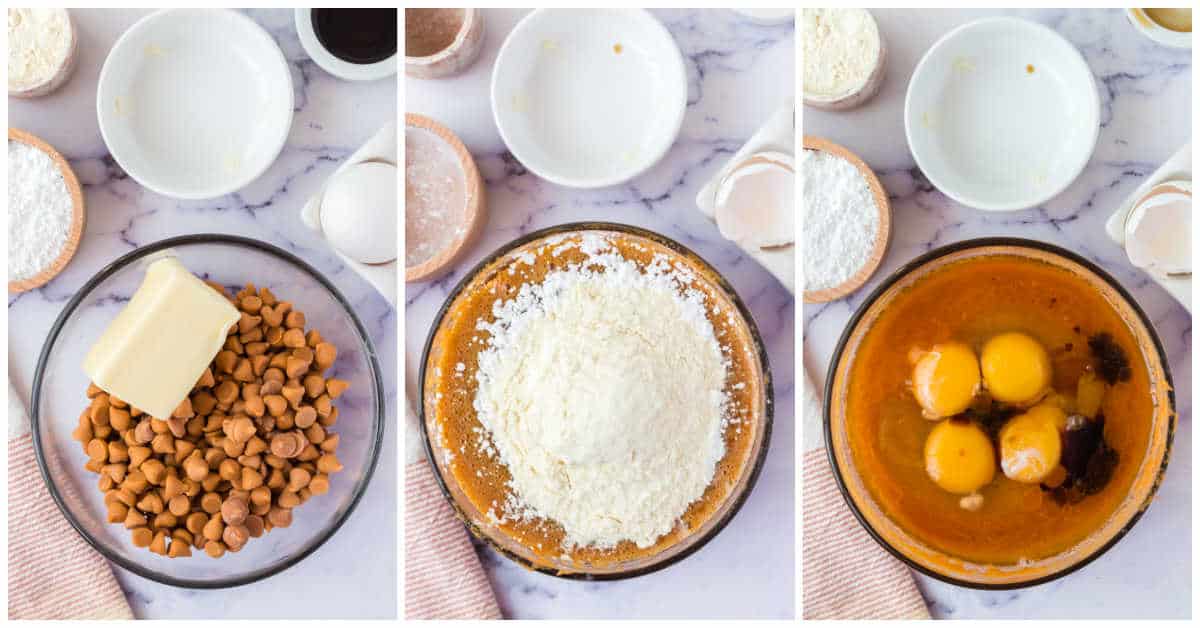 Step Five: Pour the mixture evenly into the small muffin tin and bake for 9 minutes until the center of each cake is slightly jiggly.
Step Six: Serve on a serving plate and enjoy!
Equipment Needed
This post contains affiliate links.
What to Serve with Butterscotch Lava Cakes
This easy lava cake recipe is the perfect thing to serve at a party. Here are some of my favorite desserts to serve with lava cakes.
Variations and Substitutions
Melt the butterscotch chips and butter in a double boiler or use a 2-quart saucepan and melt them over medium heat.
Make chocolate-butterscotch lava cake. Add a little bit of chocolate pudding mix to the cake batter.
Make them in an oval slow cooker. It won't be individual portions, but it will still taste delicious. Scoop and serve the cake when the edge is cooked, and the middle is slightly jiggly.
Top with toffee bits. This will make it taste like dulce de leche cake.
Bake in a silicone muffin tin for the quick-release option.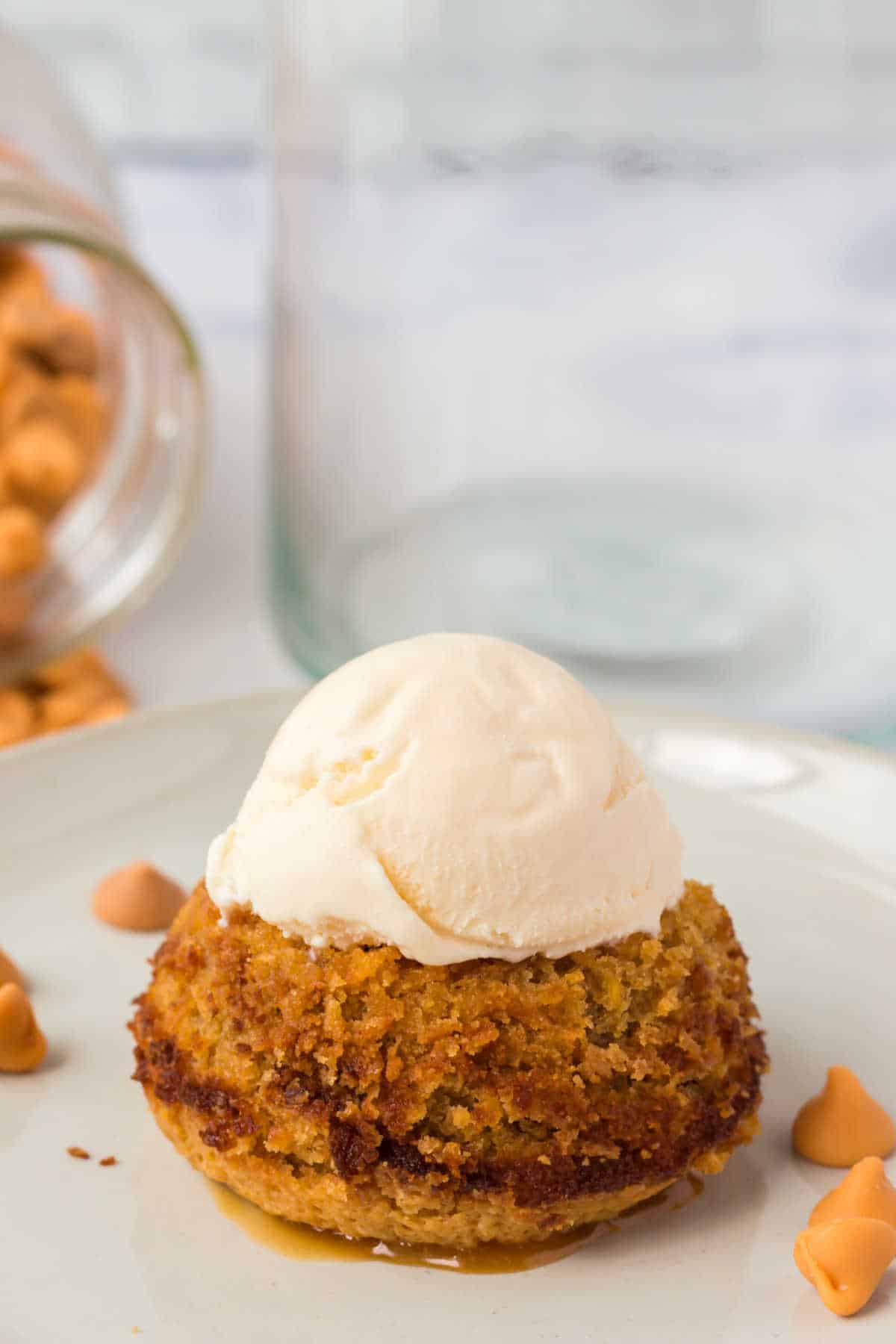 Storage Instructions
These lava cakes taste the best when hot and fresh out of the oven. Your mouth is going to water when you smell them! You can also make them ahead. Store them for up to five days in an airtight container.
Butterscotch Lava Cakes Tips and Tricks
Do not overbake them. They won't be gooey in the middle if you bake them for too long. The total time of baking should be around nine or ten minutes.
Use a thin knife to loosen the cakes before removing them from the muffin tin.
Make sure you spray the muffin tin generously with nonstick spray.
Be careful when you melt butterscotch chips. Stir them in between intervals and scrap the sides of the bowl with an offset spatula to incorporate all of it and help them melt evenly.
History of Lava Cakes
These are fairly recent culinary inventions. There are two competing stories about the history of lava cakes. One theory is that American-based Chef Jean-Georges Vongerichten created them for the first time in 1987. French Chef Jacques Torres also claims to have invented them. He claims that cakes with an undercooked middle were created in France years before the American chef began to bake them.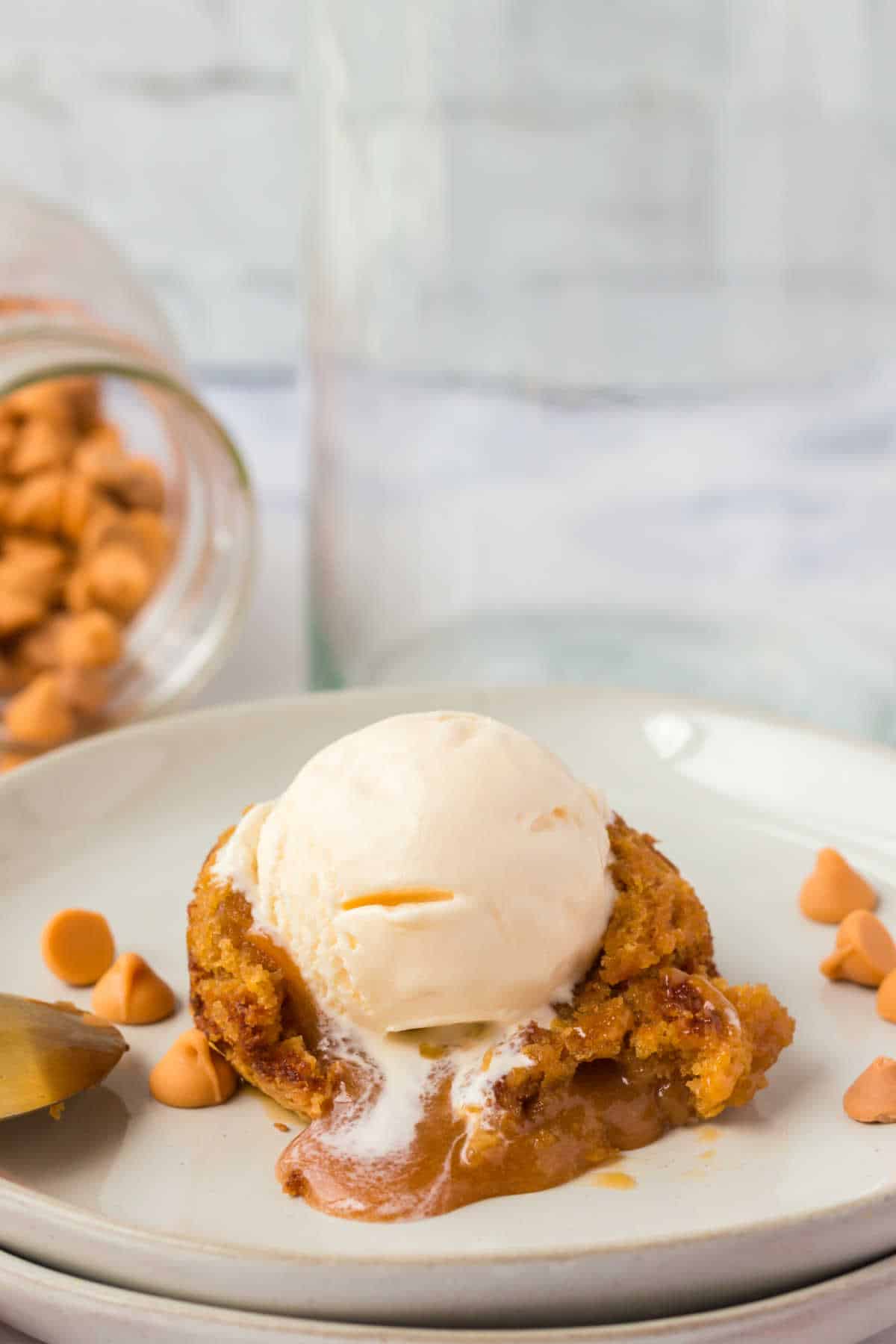 Serving Ideas
There are two ways to serve them. Place the lava cakes on a small saucer or dessert plate if you baked them in a muffin tin. Then, dig in with a spoon! You don't need to remove them if you made them in ramekins. Just eat them from the small bowls.
Can I Make Ahead?
Yes, you can make them ahead of time. Store them in an airtight container for up to a week. Then, reheat them in the microwave for about a minute.
How Do You Know When They Are Done Baking?
You'll know they are done baking when the edges of each cake are firm, and the center is only slightly jiggly.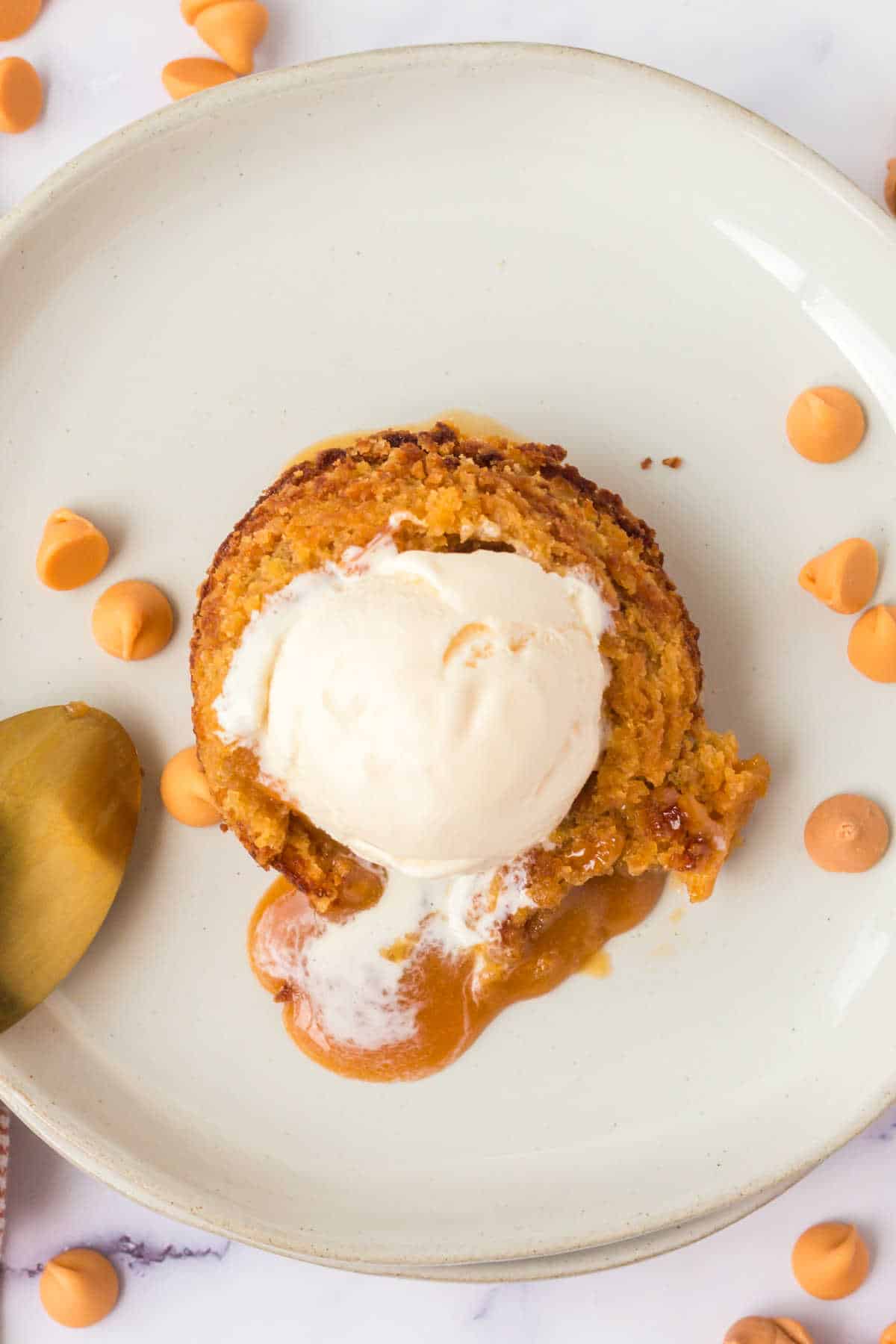 How Do You Get The Lava To Stay Liquid In Butterscotch Lava Cakes?
The best way to keep the melted butterscotch mixture more liquid is to remove them before the center part bakes completely.
What Can I Do If My Butterscotch Lava Cakes Didn't Lava?
Don't throw them away! If you accidentally baked the cakes until the middle was fully solid and baked too, you can still save them. Melt some more butterscotch chips and butter. Add the melted butterscotch mixture to a piping bag with a really fine tip. Flip the cooled cakes upside down and pipe the butterscotch into the middle of the cooked cakes.
Can I Use Ramekins Instead?
Yes, you can bake them in ramekins or small oven-safe baking bowls.
Place the cups on a cookie sheet to make moving in and out of the oven easier. You can also use custard cups that sit on a baking tray. Spray the ramekins with non-stick spray and then pour batter into the prepared ramekins, filling them 3/4 full.
Toppings
This is the fun part! Add your favorite toppings. Here are a few ideas that you can try:
Graham Cracker Crumbs
Chocolate Ice Cream
Whipped Cream
Vanilla Ice Cream
Sprinkle Additional Powdered Sugar on Top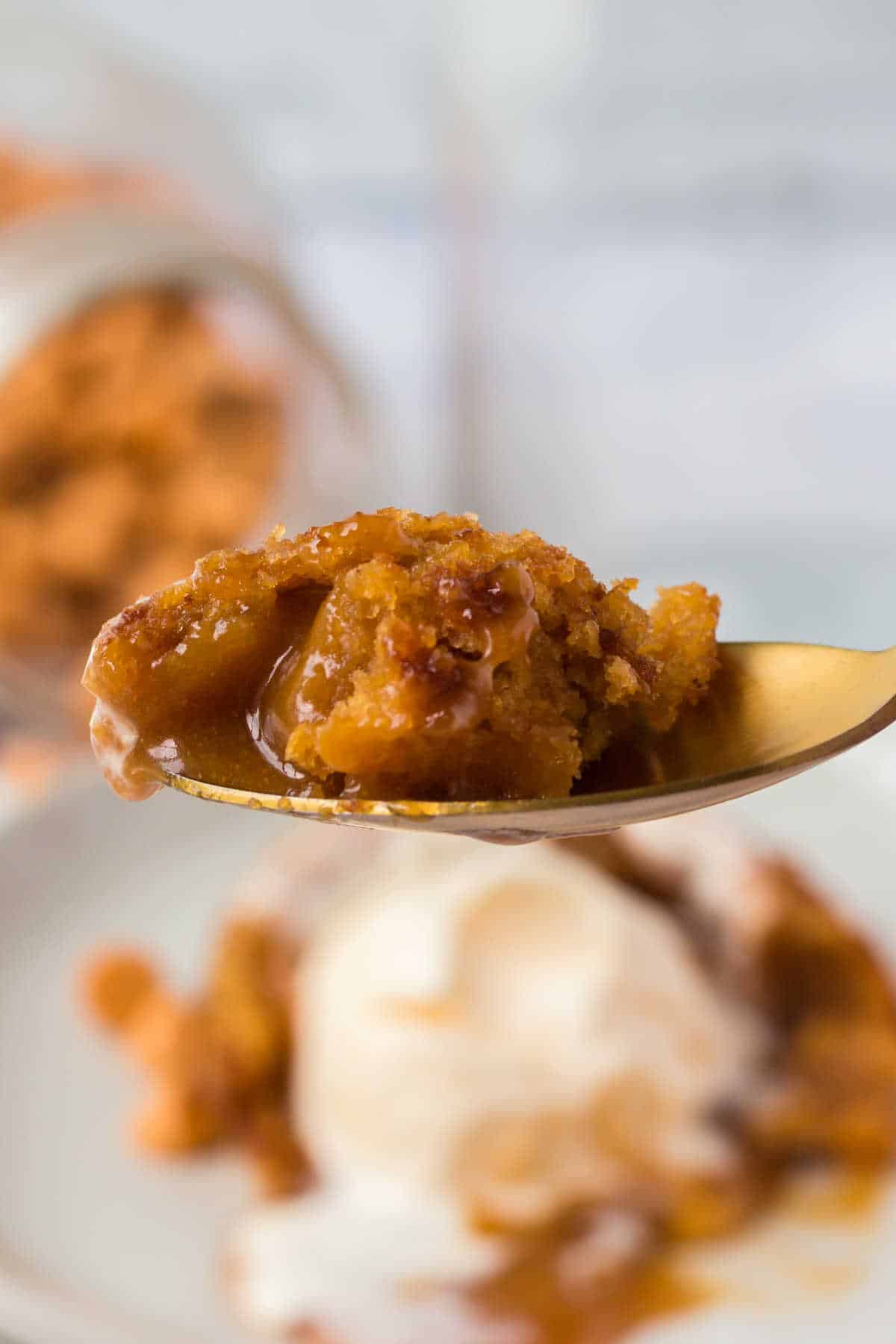 FAQ
Does this taste like the kind you get at a restaurant?
Yes! These little lava cakes taste as rich and delicious as those you might buy from your favorite restaurant.
Are lava cakes fully cooked?
Yes, the cakes will be fully cooked. It's just the middle melted butterscotch bit that won't be fully baked. But since it's just butterscotch chips and butter, it's safe to eat when they are still melted.
How many servings does this make?
This recipe makes six servings.
Butterscotch Recipes
Want more easy butterscotch recipes that you can make at home? Here are some of my favorite easy recipes:
Follow me on Instagram @simplystacieblog, Facebook at Simply Stacie, TikTok @simplystacierecipes or Pinterest at @simplystacie and let me know how you liked this recipe and my other recipes.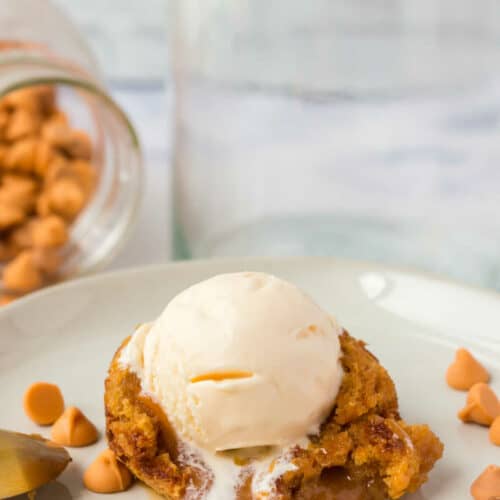 Butterscotch Lava Cakes
These scrumptious mini cakes have a luscious molten butterscotch center perfect for dessert lovers. Enjoy as an indulgent treat that can be made in 20 minutes.
Print
Facebook
Pin
Share by Email
Rate
Ingredients
1

cup

butterscotch chips

½

cup

salted butter

1 ½

tsp

vanilla extract

2

large eggs

2

large egg yolks

½

cup

powdered sugar

¼

cup

all-purpose flour
Instructions
Preheat oven to 425°F. Grease a muffin with cooking spray or butter.

Melt butterscotch chips and butter in a bowl in the microwave at 30 second intervals until the chips are completely melted.

Whisk in vanilla, eggs, and egg yolks until the eggs are fully incorporated in the mixture.

Gently fold in powdered sugar and flour until no lumps remain.

Pour the mixture evenly into the muffin tin and bake for 9 minutes, or until center of the cakes are only slightly jiggly.

Let cool slightly and remove from pan. Serve fresh from the oven.
Nutrition
Calories:
347
kcal
|
Carbohydrates:
40
g
|
Protein:
4
g
|
Fat:
19
g
|
Saturated Fat:
11
g
|
Polyunsaturated Fat:
1
g
|
Monounsaturated Fat:
5
g
|
Trans Fat:
1
g
|
Cholesterol:
163
mg
|
Sodium:
257
mg
|
Potassium:
39
mg
|
Fiber:
0.1
g
|
Sugar:
33
g
|
Vitamin A:
667
IU
|
Calcium:
23
mg
|
Iron:
1
mg
The information shown is an estimate provided by an online nutrition calculator. It should not be considered a substitute for a professional nutritionist's advice.
Love Recipes? Join our Free Facebook Group!
Join Mom's Best Recipes to find more delicious family recipes.
Save
Saved!