Looking for soft and chewy chocolate chip cookies? Here is one incredible recipe that we make over and over again. Rich, buttery, and the perfect combination of soft and chewy. Best of all tasty bits of chocolate chips in every single bite. This is our favorite chocolate chip cookie that I recommend giving a try today.
Bridget is quite the little baker and is always wanting to make recipes from my cookbooks. We recently made a few batches of chocolate chip cookies, and they turned out beautifully! We had a blast spending time in the kitchen together, and the result of soft chocolate chip cookies was a nice treat.
Let me share my tips and tricks I have learned about making chocolate chip cookies at home. With these questions answered, it would help set you up for success every time.
Check Out These Tasty Cookies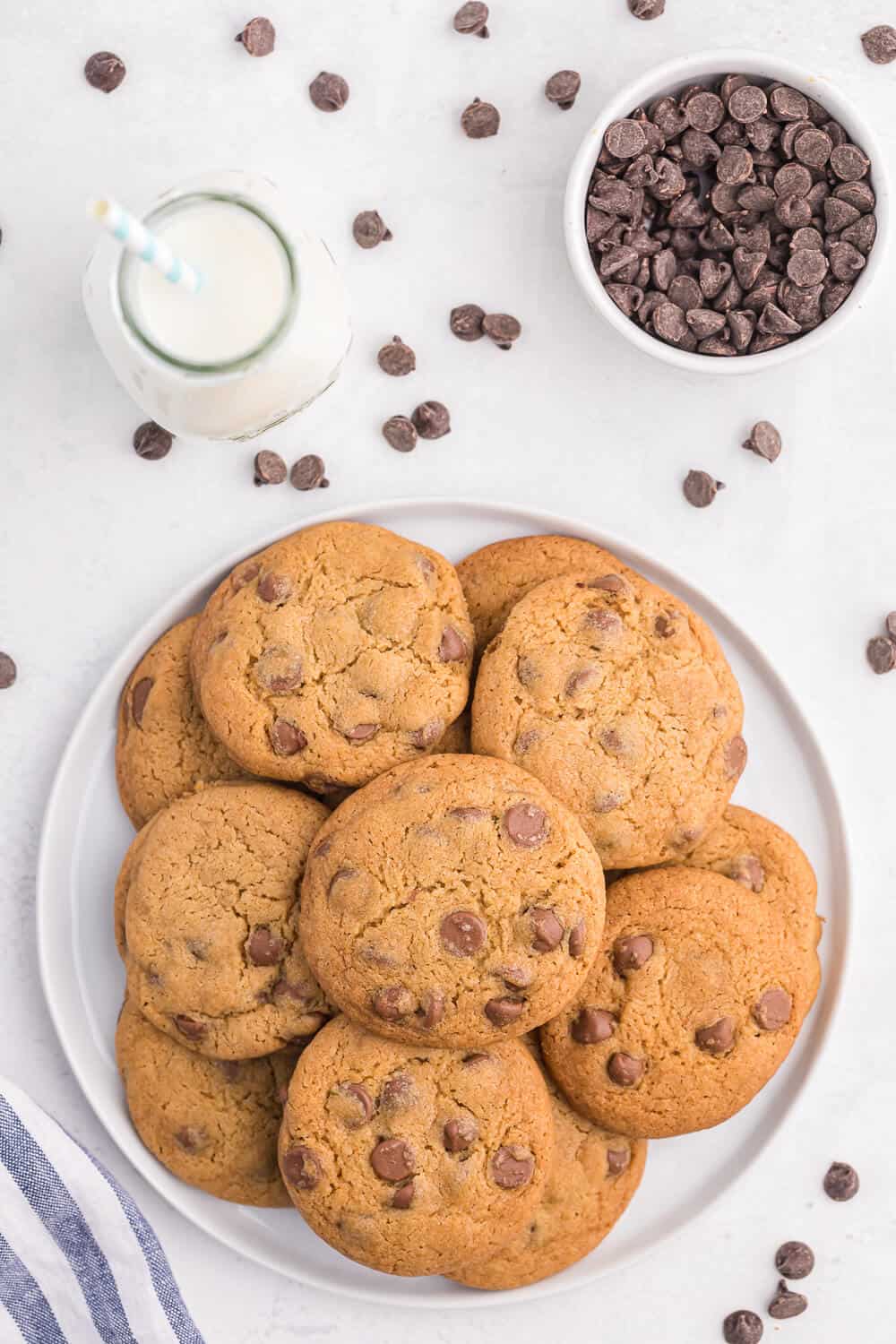 Why Use Unsalted Butter in Chocolate Chip Cookies
I use a cup of unsalted butter in this chocolate chip cookie recipe. The reason I recommend unsalted is that each salted butter will vary in flavor. If you grab a different brand than I used, you could end up with an overly salty cookie. So using unsalted, it allows you to control the salt used in the cookie recipe. If you do use salted butter, I would recommend not adding salt in and omitting it from the recipe.
How To Make Chocolate Chip Cookies
Start by mixing your butter, brown sugar and white sugar together. Allow it to become nice and creamed; this generally takes 2-3 minutes.
Then add in your eggs, corn syrup, and vanilla and mix well.
Slowly add in your flour, salt, and baking soda mix, until the dough is formed. Turn off the mixer and fold in chocolate chips.
Cover and chill the dough for 30 minutes in the fridge.
Roll the cookie dough into 1 tablespoon size round balls and place on an ungreased cookie sheet. Bake for 15 to 17 minutes, or until cookies are golden brown.
Recipe Tips and Tricks
This post contains affiliate links.
Silpat Mats or Parchment
Line your cookie sheets with a Silpat mat or parchment paper. This will keep your cookies from sticking to the cookie sheet. Saves a lot of time and keeps your baking sheets nice.
Room Temperature Ingredients
When your recipe needs to be softened or room temperature butter it is good to keep other ingredients room temperature as well. A cold egg could harden up that softened butter in your recipe. So just remember if one ingredient is room temperature stick to the rest being room temperature as well.
Chill the cookie dough
It will be easier to roll the cookie dough into perfectly round balls and make your cookies perfect circles. Learn more about chilling cookie dough.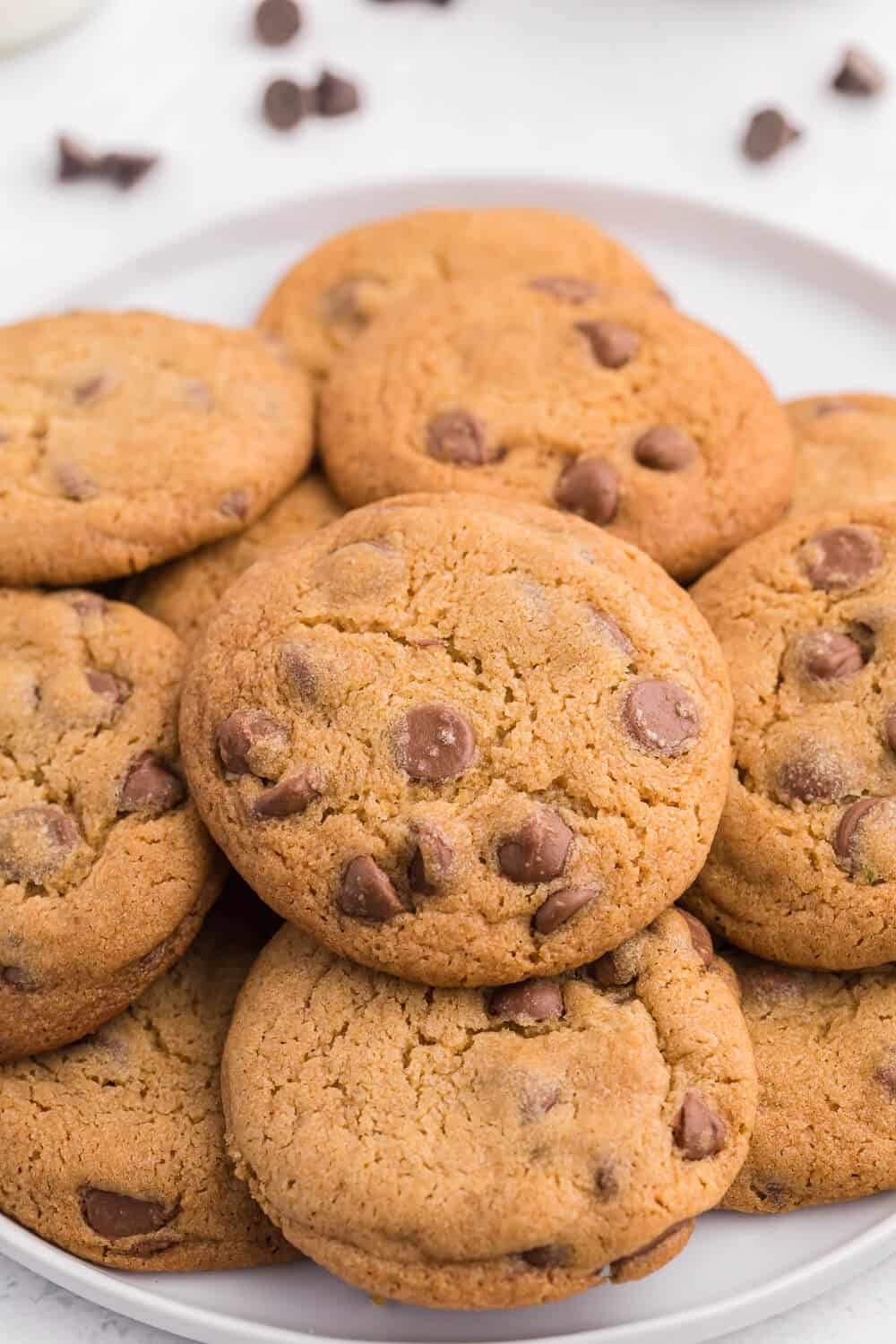 How Do You Keep Cookies Soft After Baking
Let your cookies come to room temperature and then place in an airtight container or even a sealable bag. Place half of a slice of bread in with the cookies. Don't do more than half a slice. This will help keep your cookies nice and soft for days.
Can You Freeze Chocolate Chip Cookies
Yes! Chocolate chip cookies freeze nice. I like to allow them to cool completely then place them in an airtight container or sealable freezer bag. Then place them in and toss in the freezer for up to three months.
When you are ready to eat them, just thaw on the counter for a few hours, or heat them in the microwave. Just be careful with microwave cause it can quickly burn the chocolate chips. I do five-second intervals to ensure they don't overcook.
You'll also love these Coffee Crisp Cookies.
Are you a fan of homemade chocolate chip cookies?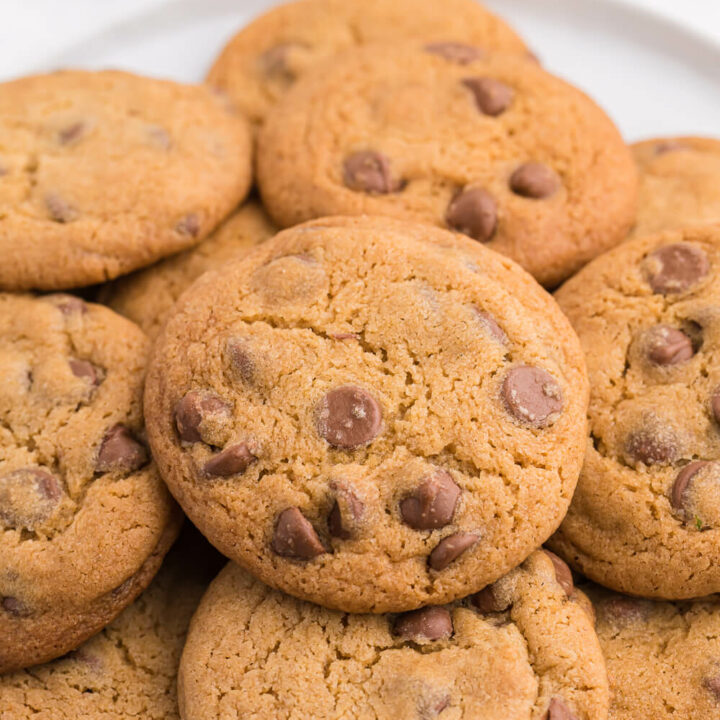 Soft & Chewy Chocolate Chip Cookies
There is a debate among cookie lovers – soft and chewy, or crispy? I love them soft and chewy. These cookies are loaded with chocolate chips and freeze well – if they last that long!
Ingredients
1 cup unsalted butter, softened
3/4 cup brown sugar
1/2 cup white sugar
1/4 cup light corn syrup
1 egg
2 teaspoons vanilla extract
2 1/2 cups all-purpose flour
1 teaspoon baking soda
1/4 teaspoon salt
1 (11.5oz/270g) package milk chocolate chips
Instructions
Heat oven to 350 F.
In a large bowl, beat butter, brown sugar and white sugar until smooth on low speed. Add corn syrup, egg and vanilla and beat well.
Stir together flour, baking soda and salt. Gradually add to butter mixture, beating until well blended. Stir in chips.
Cover and chill the dough in the fridge for 30 minutes.
Roll about a tablespoon of cookie dough into a ball and place on an ungreased cookie sheet.
Bake 15 to 17 minutes or until lightly browned and almost set. Cool slightly and remove from cookie sheet to wire rack. Cool completely before serving.
Recommended Products
As an Amazon Associate and member of other affiliate programs, I earn from qualifying purchases.
Nutrition Information:
Yield:

30
Serving Size:

1
Amount Per Serving:
Calories:

164
Total Fat:

8g
Saturated Fat:

5g
Trans Fat:

0g
Unsaturated Fat:

3g
Cholesterol:

24mg
Sodium:

71mg
Carbohydrates:

21g
Fiber:

0g
Sugar:

13g
Protein:

2g