Imagine this: you are asked to bring a dish to a friend's potluck or BBQ party. You prepare your famous pasta salad recipe and put it in a container to go. You get there and discover that its oil-based dressing has leaked out everywhere – including in your bag, and on the backseat of your vehicle! Not only are you annoyed by the mess, but your potluck dish is pretty much ruined. You think to yourself, "There goes all my hard work!"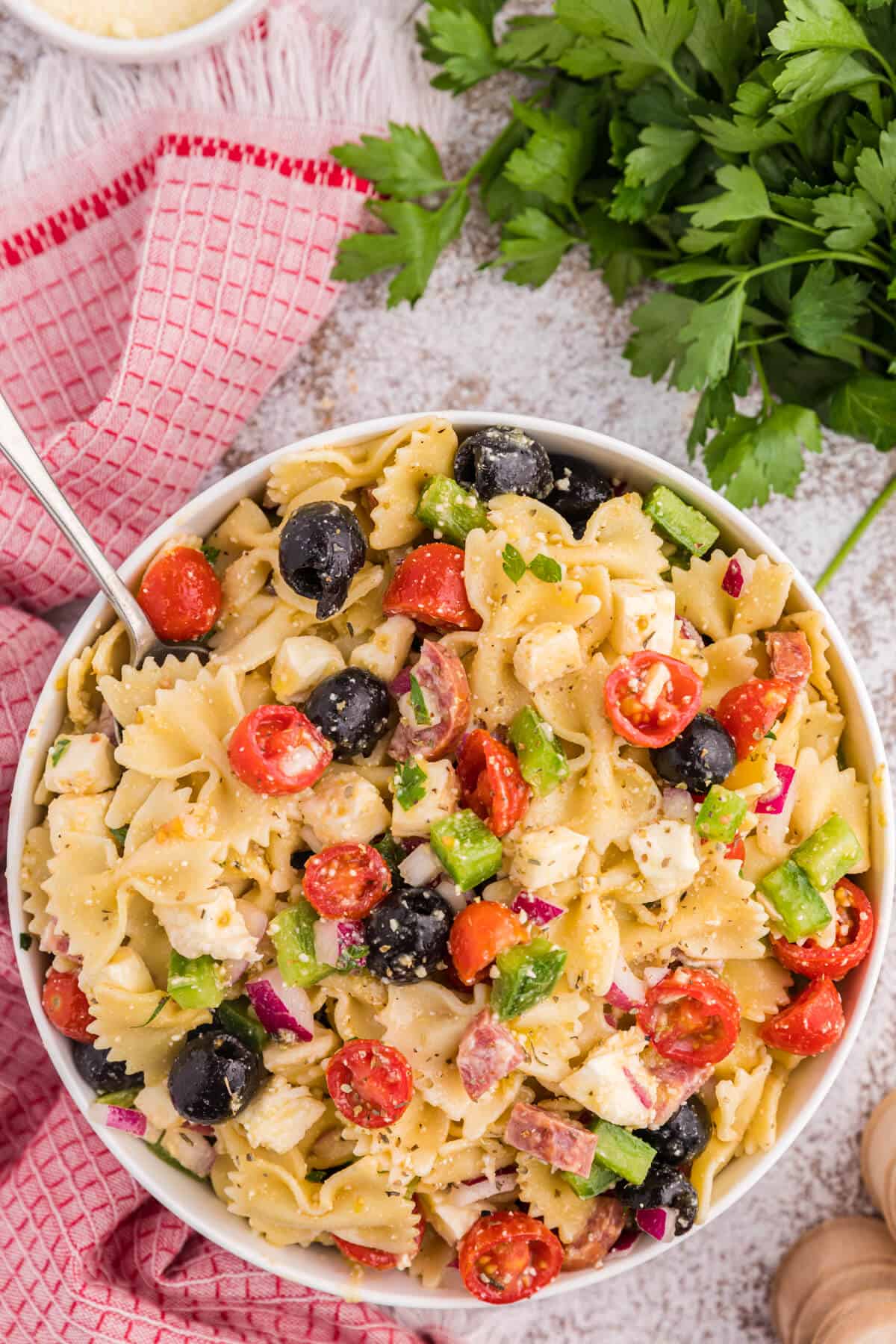 The above scenario has happened to me. Leaky containers are a huge pet peeve of mine. Like the popular meme goes, "Ain't no one got time for that!". In my experience, it's usually a loose lid that pops off in transit. It's very frustrating!
I was happy to discover Rubbermaid's BRILLIANCE food storage containers and have been using them exclusively for the past several weeks to store my homemade sauces, dressings, marinades and more. If you see me transporting food anywhere this summer, I'm using these containers!
What I like most about BRILLIANCE is that they are 100% leak-proof. I've tested them out and nothing is escaping them! The lid seals on air-tight and isn't going anywhere. My recipes stay fresh and safe and are transported in perfect condition.
The BRILLIANCE containers are sleek and clean with a crystal-clear design. At first glance, you'd think they are made of glass, but are actually made from a material called Tritan – which makes them lighter than glass and highly durable. Tritan is also stain and odour resistant, to keep your containers looking (and smelling) new even after you've used them on a regular basis.
They are also microwaveable, with built-in vents in the lid. This week, I heated up some leftover chili in the microwave for dinner in the large BRILLIANCE container. Just keep the lid on, but not sealed (with the latches in the up position), to keep the container vented and prevent microwave splatters all at the same time.
Italian Pasta Salad
I put these containers to the ultimate test: an Italian Pasta Salad with Homemade Italian Vinaigrette. I wanted to make the leakiest recipe I could think of and it fit the bill to a T. A friend of mine invited me to her house for a BBQ. She knows I love to cook and asked me to bring a dish with me for dinner.
The large container stored the pasta salad and the mini was the perfect size for transporting extra vinaigrette.
If you wanted to save time, use store bought Italian dressing. However, I think you'll find my recipe both easy to make and tasty.
Use whatever kind of noodles you have on hand. I like the look of the "bowtie" noodles for pretty presentation.
Add in your fresh veggies including cherry tomatoes, green pepper, onion and garlic. To keep with the Italian theme, I also used salami, black olives and fresh mozzarella cheese. My mouth is watering just thinking about this pasta salad!
You can use this homemade Italian seasoning to make this recipe.
I think my favourite part of this salad is the flavourful dressing! I make it often to use on salads and as a marinade for chicken. It adds so much deliciousness!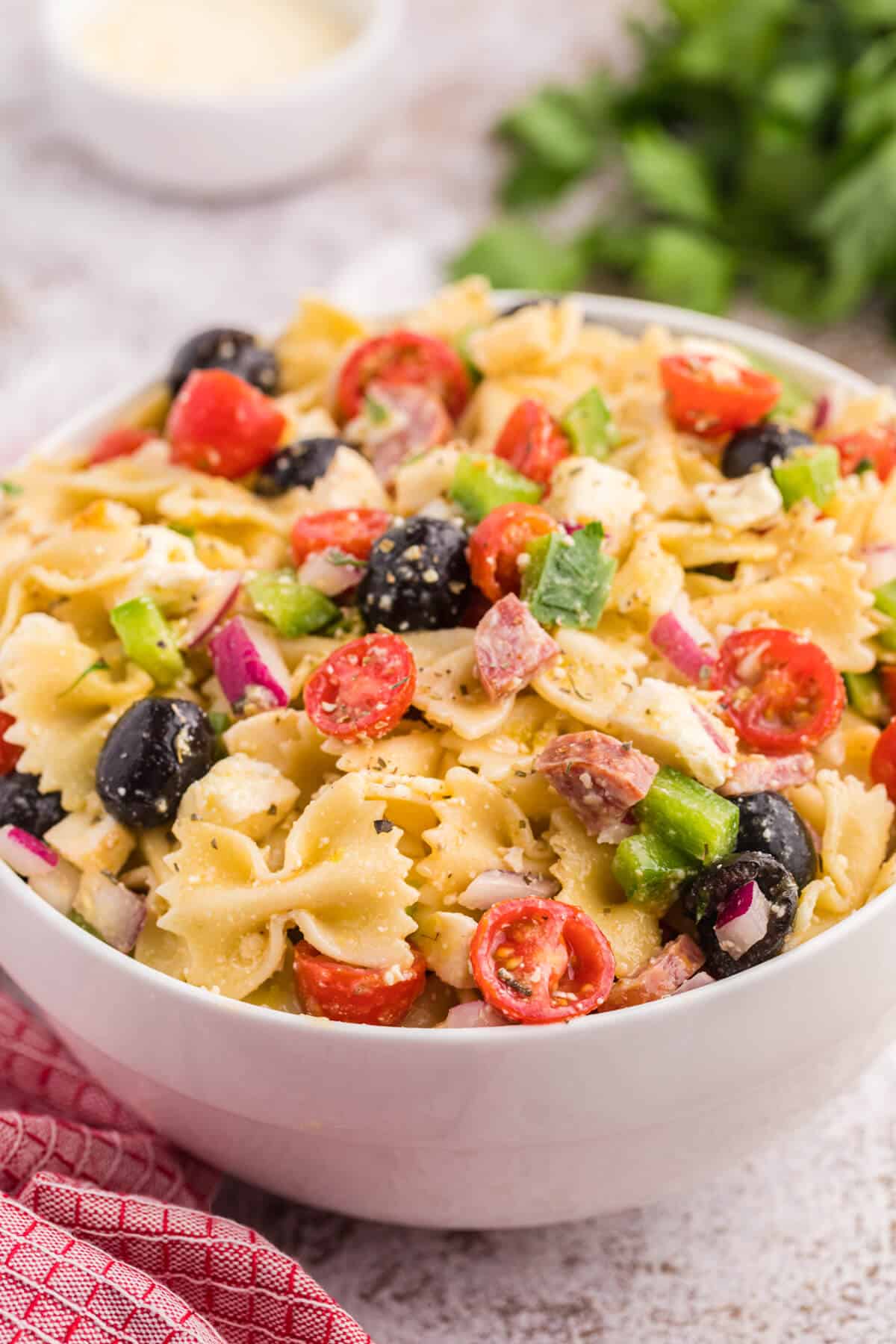 I packed up the pasta salad in the Large BRILLIANCE container and put some extra dressing in a Mini BRILLIANCE container. I like to bring extra to add a little before serving to help keep the pasta from sticking together.
Rubbermaid sent me a white tote to carry my leakiest recipe in. I packed up the pasta salad in it and headed on my way.
I'm happy to report that the pasta salad fresh and most importantly, contained! When I got to my friend's house, I took it out of the bag and put in her fridge. The bag looked as good as new and no spills anywhere. Success!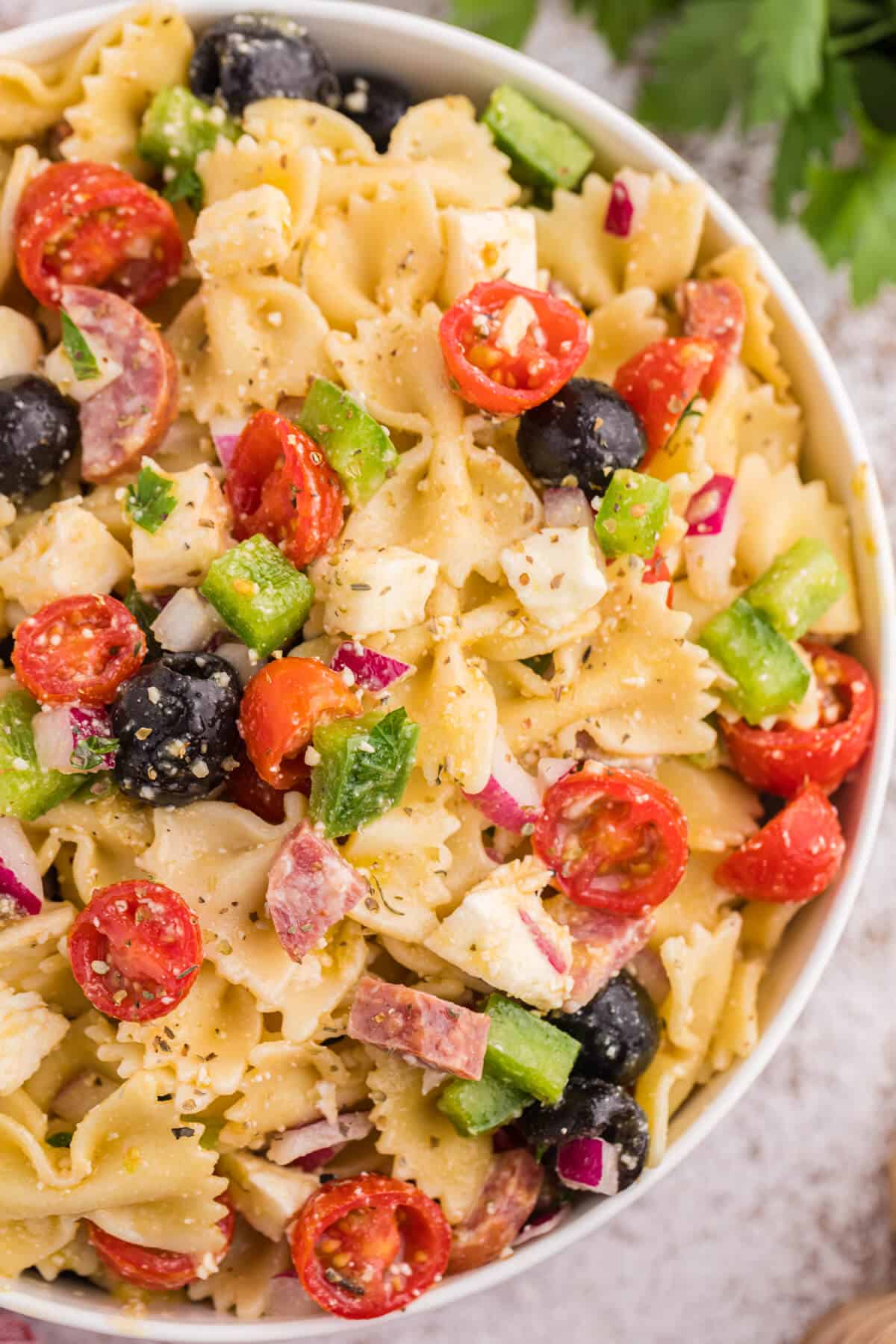 My friend asked where I got my new spiffy looking containers and I told her she had to try them. She brings a lunch with her to work and had the same issue as me with the lids not staying on. I mentioned where she could find them (Walmart, Loblaws and London Drugs for $5.99 – $13.99 depending on which size you buy) and to give them a try. Visit Rubbermaid to learn more!
What leaky recipe will you store in your BRILLIANCE containers?
You might also like this Jalapeno Ranch Pasta Salad, Creamy Curried Chicken Pasta Salad, Taco Pasta Salad, Chicken Fajita Pasta Salad, Pesto Chicken Pasta Salad, Roasted Pepper Pasta Salad, Greek Pasta Salad, Bruschetta Chicken Pasta Salad, Pizza Pasta Salad, Tortellini Salad, Chicken Caesar Pasta Salad or Macaroni Salad.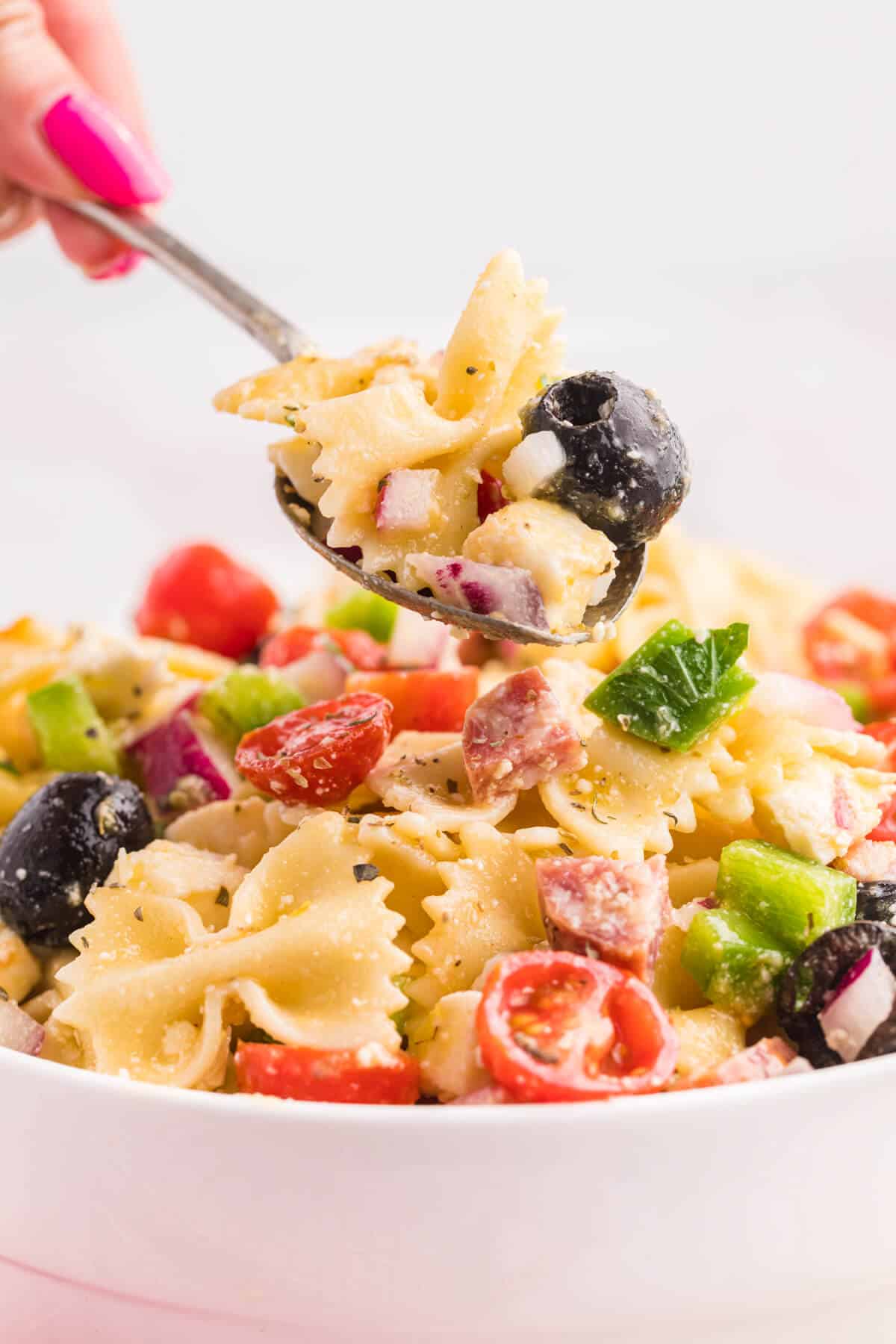 Connect with Rubbermaid on Facebook, Instagram, Twitter and YouTube.
Disclosure: Product and compensation was provided to me by Rubbermaid. All opinions expressed on this blog are my own.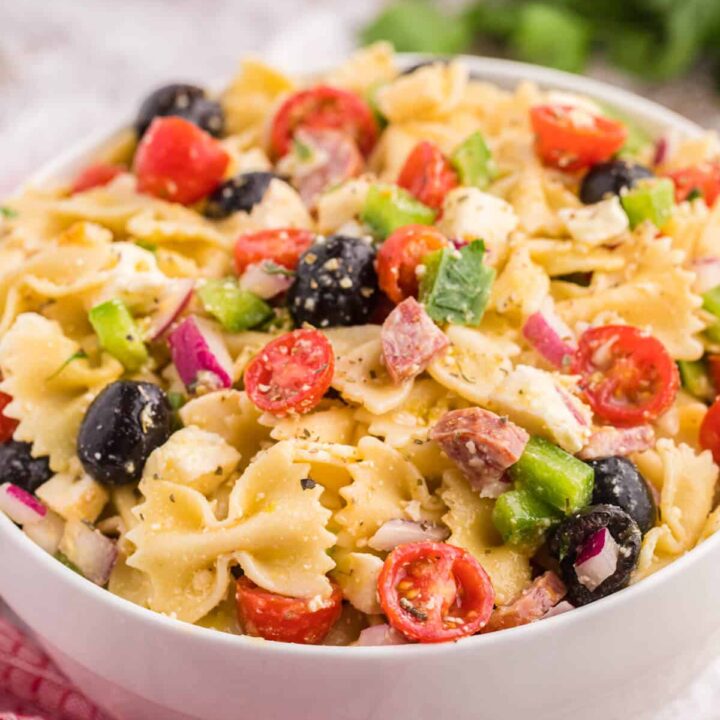 Italian Pasta Salad
The best BBQ side dish! This pasta salad recipe is made with a simple homemade Italian vinaigrette and filled with peppers, tomatoes, olives, and salami.
Ingredients
1 (16oz/410g) package Farfalle pasta, uncooked
1 cup fresh mozzarella cheese, cubed
1 ½ cups black olives, pitted
1 pint cherry tomatoes, cut in half
2 tablespoons fresh parsley, finely chopped
½ red onion, diced
1 green pepper, chopped
½ cup salami, cut into quarters
Italian Vinaigrette
3/4 cup extra virgin olive oil
1/4 cup white wine vinegar
2 teaspoons lemon juice
2 garlic cloves, minced
3 tablespoons Parmesan cheese, grated
1 teaspoon Italian seasoning
Salt and pepper, to taste
Instructions
Cook pasta according to package directions. Drain, rinse in cold water and set aside to cool.
Add mozzarella, black olives, cherry tomatoes, parsley, red onion, green pepper, salami and cooked pasta to a large bowl. Toss to combine.
In a smaller bowl, whisk together Italian vinaigrette ingredients. Pour into pasta salad bowl and toss to cover. Refrigerate until ready to serve.
Recommended Products
As an Amazon Associate and member of other affiliate programs, I earn from qualifying purchases.
Nutrition Information:
Yield:

8
Serving Size:

1
Amount Per Serving:
Calories:

350
Total Fat:

31g
Saturated Fat:

7g
Trans Fat:

0g
Unsaturated Fat:

23g
Cholesterol:

28mg
Sodium:

602mg
Carbohydrates:

10g
Fiber:

2g
Sugar:

2g
Protein:

8g