Is there anything more summer-like than a delicious heaping side of Macaroni Salad? I think not! This is not your typical salad made with creamy mayo. It's more on the sweeter side, but I promise, it's just as delicious and will be a hit at your summer BBQs and picnics.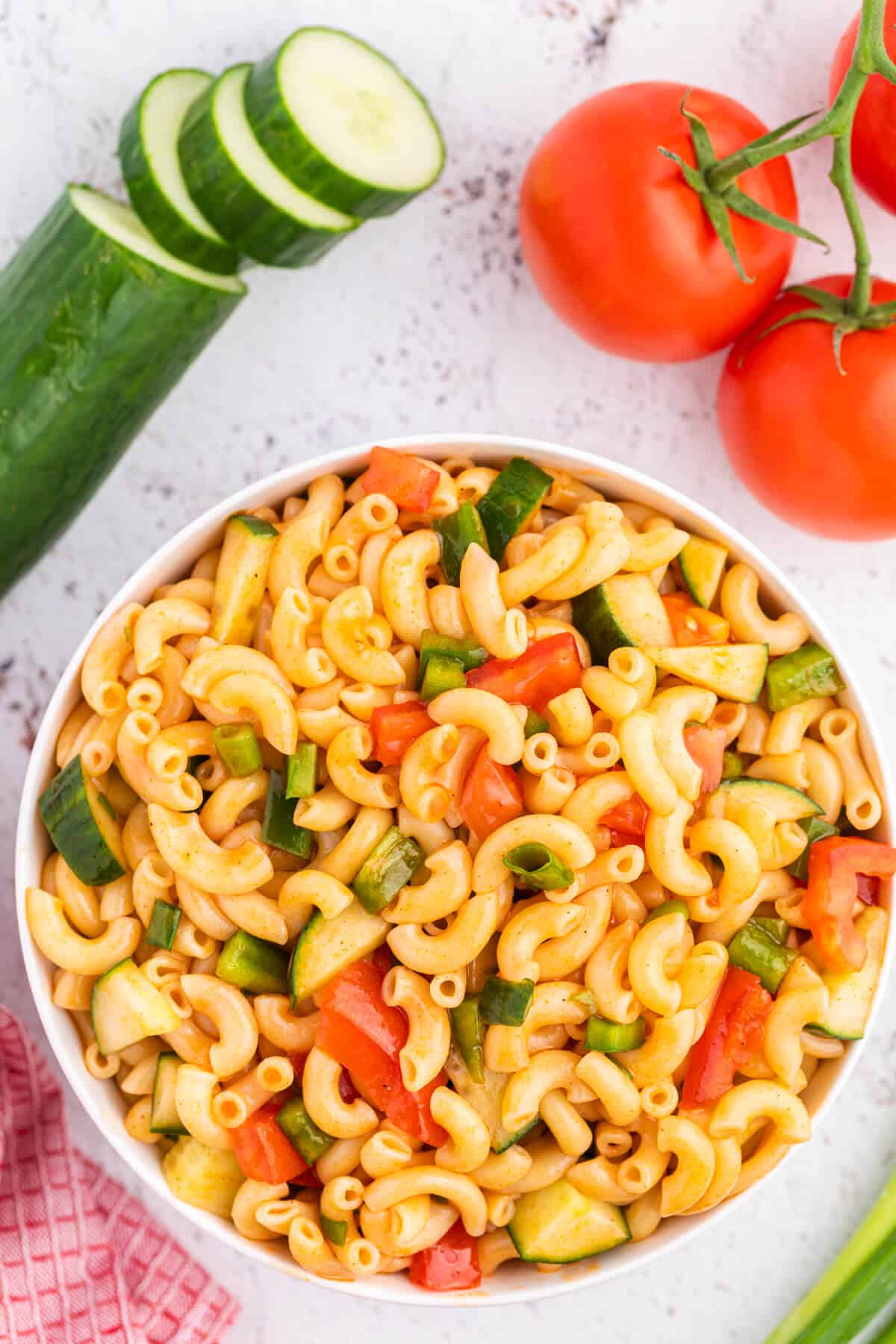 Macaroni Salad
What I love about Macaroni Salad is that it pairs with just about anything. Serving hamburgers or hotdogs? Great, it will work! Enjoying a delicious steak and BBQ potato? Yep, I have your back.
I remember eating this salad as a kid sitting on our deck by our pool. My dad would be barbecuing up some hotdogs and my mom would make a big Macaroni Salad for everyone to enjoy. Ahh memories!
This Macaroni Salad recipe doesn't have mayonnaise in it. It's not the typical creamy variety you might expect. Instead, it's full of crunchy veggies, tender-cooked macaroni shells and an addictingly sweet dressing made with ketchup and vinegar. Sounds weird, maybe, but it works.
How to Make Macaroni Salad
The first step is to boil the macaroni shells. Drain them in the sink and let them cool off.
In a large bowl, add the cooled macaroni, tomatoes, green onions, cucumber and green pepper. I love how colourful this salad is!
To make the dressing, in a separate bowl, whisk together sugar, extra virgin olive oil, ketchup, white vinegar, salt, pepper and paprika. Pour the dressing over the veggie/macaroni mixture and stir until it's completely covered.
Pop in the fridge to chill until you are ready to serve. Easy peasy!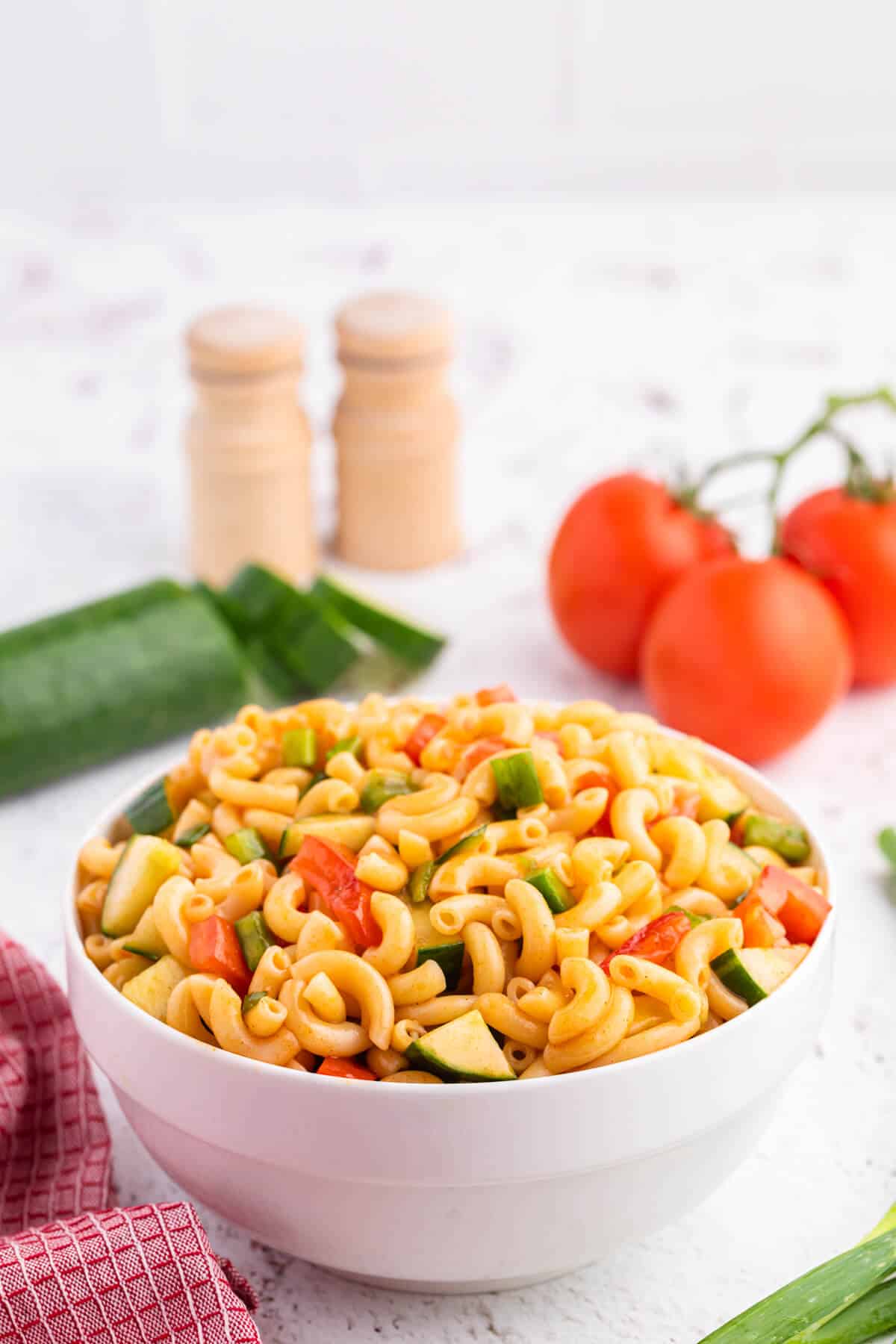 How long does Macaroni Salad last?
Stored in the refrigerator, Macaroni Salad will last for about 3 to 5 days. I typically make it the night before and leave it in the fridge to chill. It also lets the flavours combine making the salad taste even yummier.
If you are serving Macaroni Salad, don't leave it out for more than 2 hours just to be safe. It doesn't have mayonnaise in it, but it's still best to serve immediately after taking out of the fridge. I like it better when it's cold versus at room temperature.
Can you freeze Macaroni Salad?
Yes, you can because this recipe doesn't have mayonnaise in it. However, I would recommend freezing the salad ingredients and dressing separately for best results. Put them both in airtight freezer safe containers.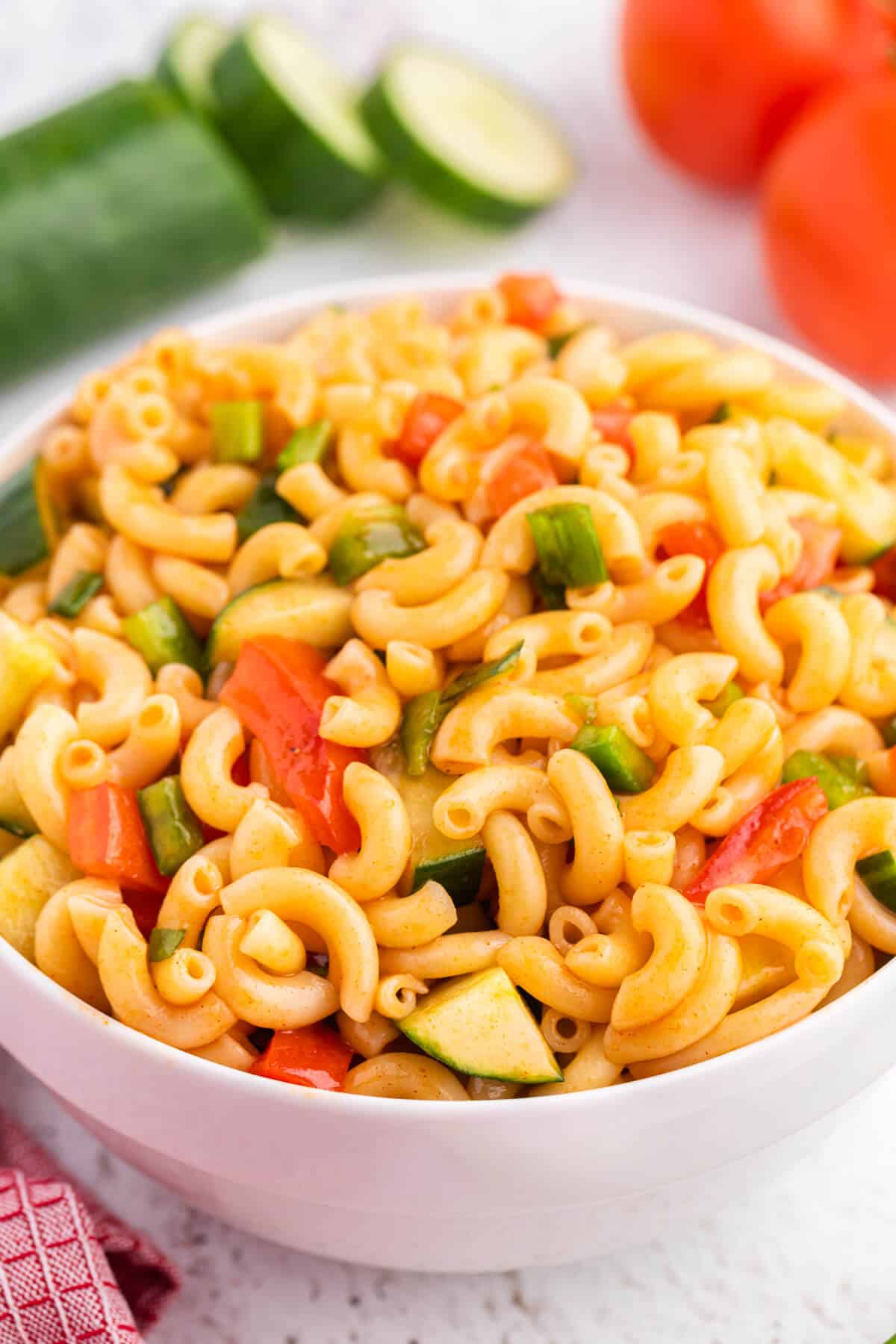 What to serve with Macaroni Salad
What can't you serve with Macaroni Salad?! Pretty much anything goes. I like to serve mine with traditional summer fare like hot dogs, hamburgers, steak, grilled chicken, kebabs. It also pairs nicely with other summer salads.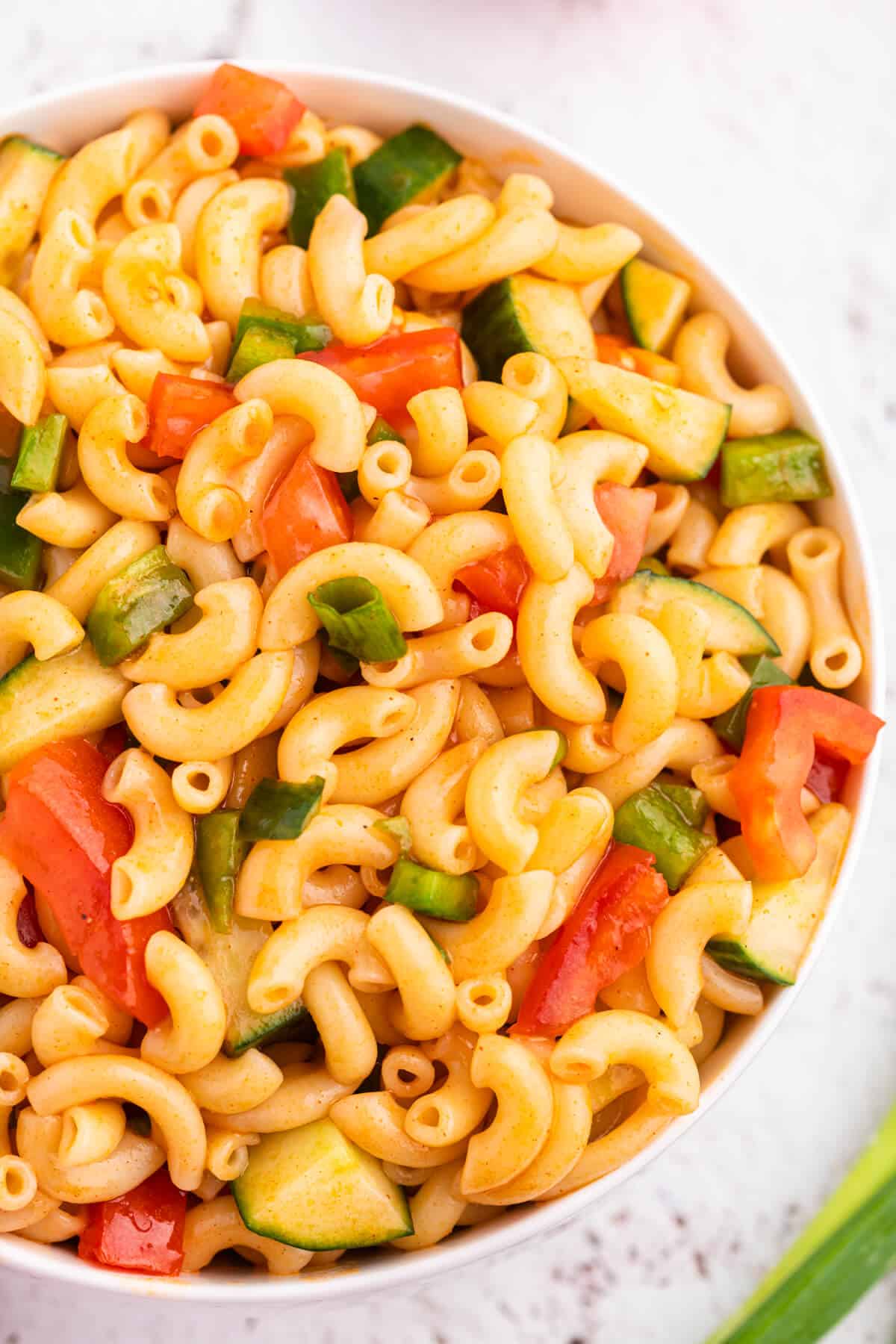 Helpful Kitchen Tools
This post contains affiliate links.
There are so many types of Macaroni Salads you can try and this recipe is just one of many. I'll work on getting a creamy Macaroni Salad made with mayonnaise up on the blog soon so you can have your pick of the two.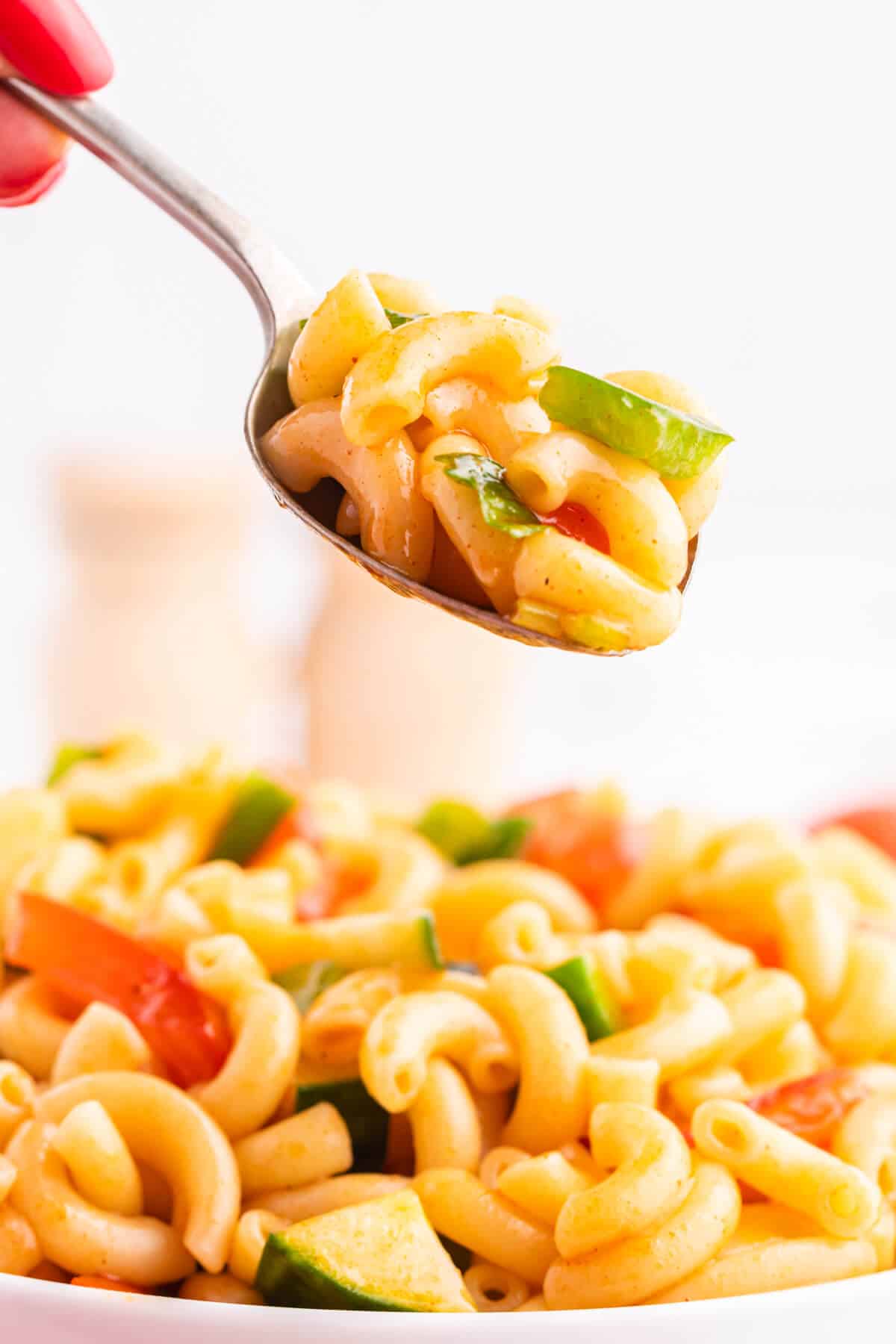 For more summer salad recipes, try my Hot Chicken Salad, Hawaiian Macaroni Salad, Creamy Curried Chicken Pasta Salad, Taco Pasta Salad, Bacon Pea Pasta Salad, Macaroni Dill Salad, Chicken Caesar Pasta Salad, Dutch Potato Salad, Cucumber Salad, German Sausage & Potato Salad and Italian Pasta Salad. You might also like picnic food.
What ingredients are in your favourite summer salad recipes?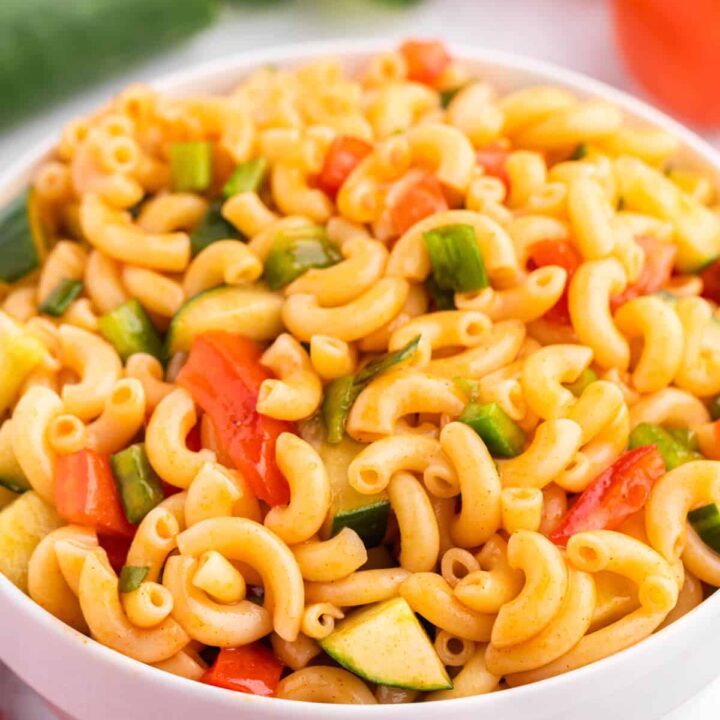 Macaroni Salad
A family favorite! The best tangy macaroni salad with an oil, vinegar, and ketchup dressing your kids will love.
Ingredients
3 cups macaroni, uncooked
2 tomatoes, chopped
1 green onion, chopped
1/2 cup cucumber, chopped
1 green pepper, chopped
Dressing
2/3 cup sugar
1/2 cup extra virgin olive oil
1/3 cup ketchup
1/4 cup white vinegar
1 teaspoon salt
1/4 teaspoon pepper
1 teaspoon paprika
Instructions
Cook macaroni according to package directions. Drain and cool.
In a large bowl, add macaroni, tomatoes, green onions, cucumber and green pepper. Stir to combine.
In a smaller bowl, whisk together sugar, extra virgin olive oil, ketchup, white vinegar, salt, pepper and paprika. Pour dressing over veggies and macaroni and stir.
Refrigerate before serving.
Recommended Products
As an Amazon Associate and member of other affiliate programs, I earn from qualifying purchases.
Nutrition Information:
Yield:

10
Serving Size:

1 bowl
Amount Per Serving:
Calories:

224
Total Fat:

11g
Saturated Fat:

2g
Trans Fat:

0g
Unsaturated Fat:

9g
Cholesterol:

0mg
Sodium:

286mg
Carbohydrates:

29g
Fiber:

1g
Sugar:

16g
Protein:

3g