Pico de Gallo is the easiest fresh dip to make in just minutes! Add this Mexican appetizer to all your tacos and nachos, or enjoy it plain with crunchy tortilla chips.
Pico de Gallo, also known as "Salsa Fresca" or "Salsa Cruda," is a popular Mexican salsa that can elevate the flavor of your favorite dishes. Its fresh combination of ripe tomatoes, onions, cilantro, jalapeño pepper, and a hint of fresh lime juice makes it the perfect recipe for adding a burst of color and flavor to your meals. You'll find it easy to make and an absolute delight for your taste buds!
There's something about dips that makes everyone love them. Pico de Gallo is one of the best to see at a party because it's always fresh and delicious! Juicy ripe fresh tomatoes, crunchy onions, fresh cilantro, and a little lime juice — what's not to love?
I also use jalapeño peppers and serrano peppers in my pico de gallo recipe, but you could also try it with different peppers to vary the spice levels. This recipe definitely has a kick, but not enough that it's painful to eat.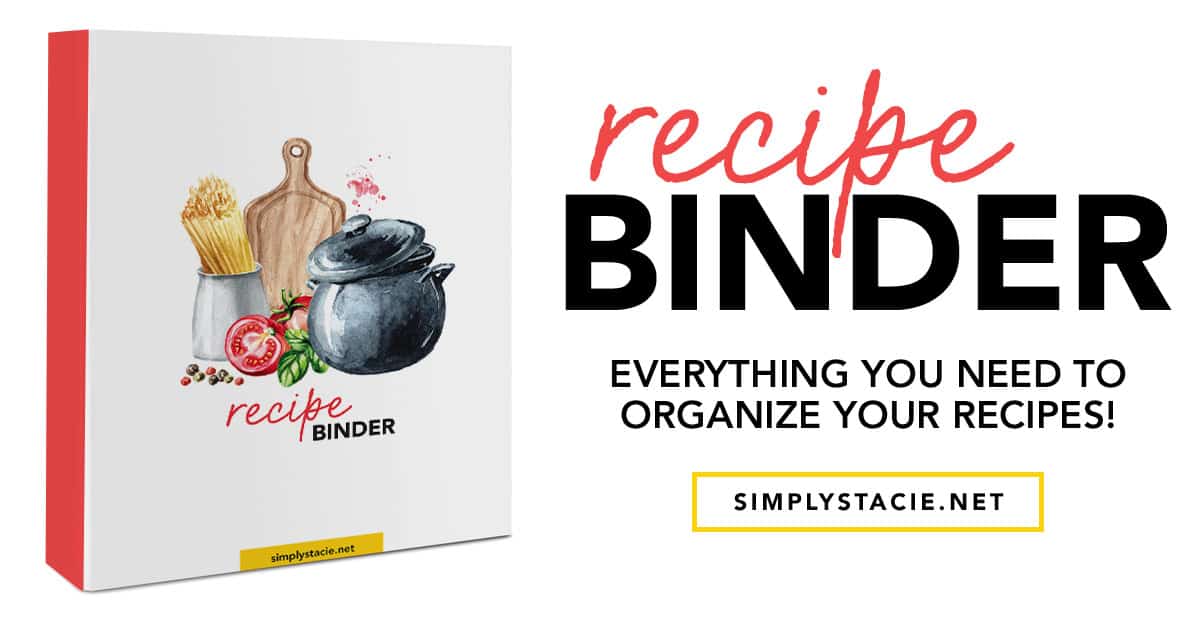 Why You'll Love This Homemade Pico de Gallo Recipe
Freshness: Made with the freshest ingredients like ripe red tomatoes, crisp onions, spicy jalapeños, fragrant cilantro, and tangy lime juice, Pico de Gallo offers a burst of freshness with every bite. Incorporating this salsa into your meals will bring a lively, invigorating twist to your dishes.
Versatility: Pico de Gallo complements a wide range of dishes – from tacos, nachos, and burritos to grilled meats and fish. Its versatile flavor profile means it can also be enjoyed all on its own as a healthy appetizer with a side of tortilla chips. Plus, you can easily customize it to your taste preference by adjusting the spiciness, tanginess, or herbaceousness.
Nutrition: With such fresh ingredients, Pico de Gallo offers a healthy, guilt-free option for adding extra flavor to your meals. It's naturally low in calories, high in vitamins, and a good source of antioxidants. Plus, its vibrant colors make it visually appealing,
Long-lasting: Stored in the fridge, your homemade Pico de Gallo will last for several days, so you can enjoy its deliciousness throughout the week.
Ingredients
The full printable recipe card with measurements and instructions is found at the bottom of the post.
Tomatoes: I make this all summer long with juicy, fresh tomatoes. Make sure everything is diced into small, uniform pieces for the best bite. Use fresh plum tomatoes or tomatoes from the vine.
Onions: Double up with green onions and yellow or white onions. You can also use a sweet onion for a little less bite or a red onion for a sharper onion taste.
Peppers: I use both jalapeño peppers and serrano chile peppers for this spicy pico. You can reduce the peppers and increase the tomatoes to make it less spicy.
Cilantro: Fresh cilantro adds the perfect flavor to this easy pico de gallo. Make sure to remove the stems and finely chop the leaves.
Lime juice: This takes your pico de gallo from a bowl of veggies to a true salsa. I love fresh lime juice, but store-bought also works in a pinch. You may also want a pinch of salt!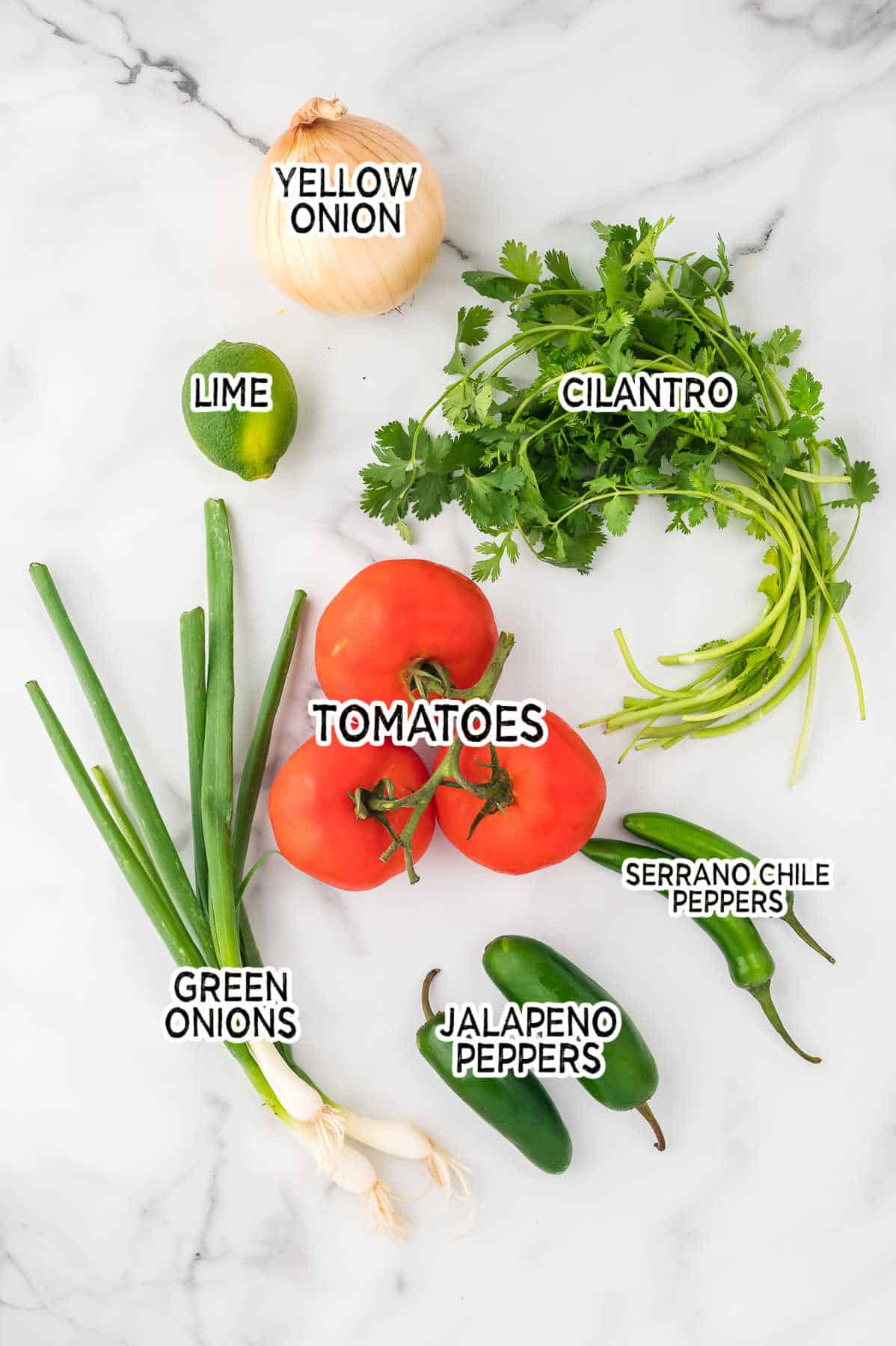 How to Make A Great Pico de Gallo
Step One: Mix the tomatoes, green onions, jalapeño peppers, serrano peppers, onion, and cilantro with the fresh lime juice.
Step Two: Let the pico de gallo sit in the fridge for at least an hour for the flavors to meld. It's the best make-ahead appetizer recipe because the longer it sits, the better it tastes.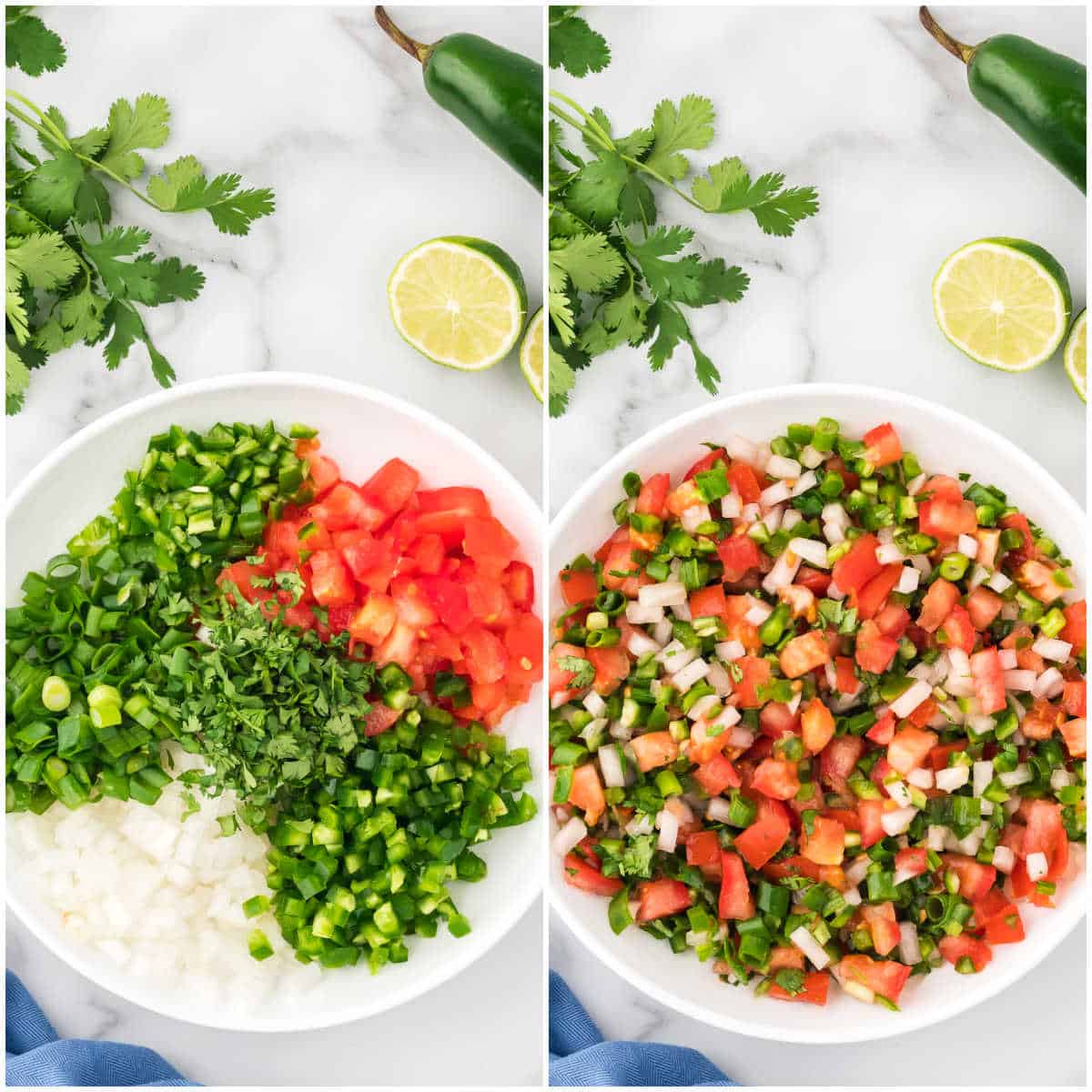 Equipment Needed
This post contains affiliate links.
Mixing bowls: The beauty of this pico de gallo is you just need one mixing bowl to make it! I love these glass mixing bowls because I can see all the beautiful colors, and they work for serving, too!
Food chopper: You can always dice your veggies by hand, but a food processor makes it so fast! I love this food chopper because it's easy to control so you don't get mashed peppers.
Juicer: This manual citrus juicer is great for salad dressings, salsas, and any time you wanna brighten a dish with a little lemon juice. It's so easy to use for the freshest juice ever!
What To Serve With This
Don't stop with just one dip. This cilantro lime avocado yogurt dip is truly the best! It's a perfect bright appetizer or addition to any Mexican-inspired dinner party.
If you love hashbrown casserole, try this Mexican tater tot casserole. It's easy, super filling, and perfect for a weeknight dinner.
Add a little extra flavor to these yummy vegetarian stuffed peppers. The cool garnish on these warm, cheesy peppers is the perfect combo.
You can eat it on it's own, add it to your favorite nachos, or serve it with some tortilla chips. This is a summer staple in my kitchen between my own garden veggies and the local farmers market. Pick up some fresh veggies from your garden or local farmer's market and have a delicious, healthy side dish with your dinner.
Variations and Adaptations
Pico de gallo is a delicious and versatile salsa that you can easily modify and adapt to suit your taste buds and dietary preferences.
Substitute Ingredients
If you're looking to put a twist on your traditional pico de gallo recipe, consider swapping out some ingredients for close substitutes, while maintaining the dish's fresh and flavorful essence.
Tomato alternatives: You can replace tomatoes with other fruits such as diced watermelon, mango, or pineapple for a tropical twist.
Spice adjuster: For a milder version, use bell peppers instead of jalapeños, or vary the type of chili pepper to change the level of heat.
Herb switch: Replace cilantro with parsley or basil for a different flavor profile.
Creative Combinations
Looking to experiment even more? Here are some inspired ideas for unique, flavorful, and colorful pico de gallo variations:
Fruit fusion: Combine multiple fruits, such as mango, pineapple, and watermelon, to create a sweet and tangy flavor explosion. This pairs well with fish dishes or as a refreshing summer snack with tortilla chips.
Avocado addition: Incorporate diced avocado and a splash of lime juice for a creamy, nutrient-packed pico de gallo, perfect for topping tacos or enjoying with chips.
Sweet and smoky: Mix in some grilled corn and diced peaches for an interesting contrast of texture and a hint of smoky sweetness.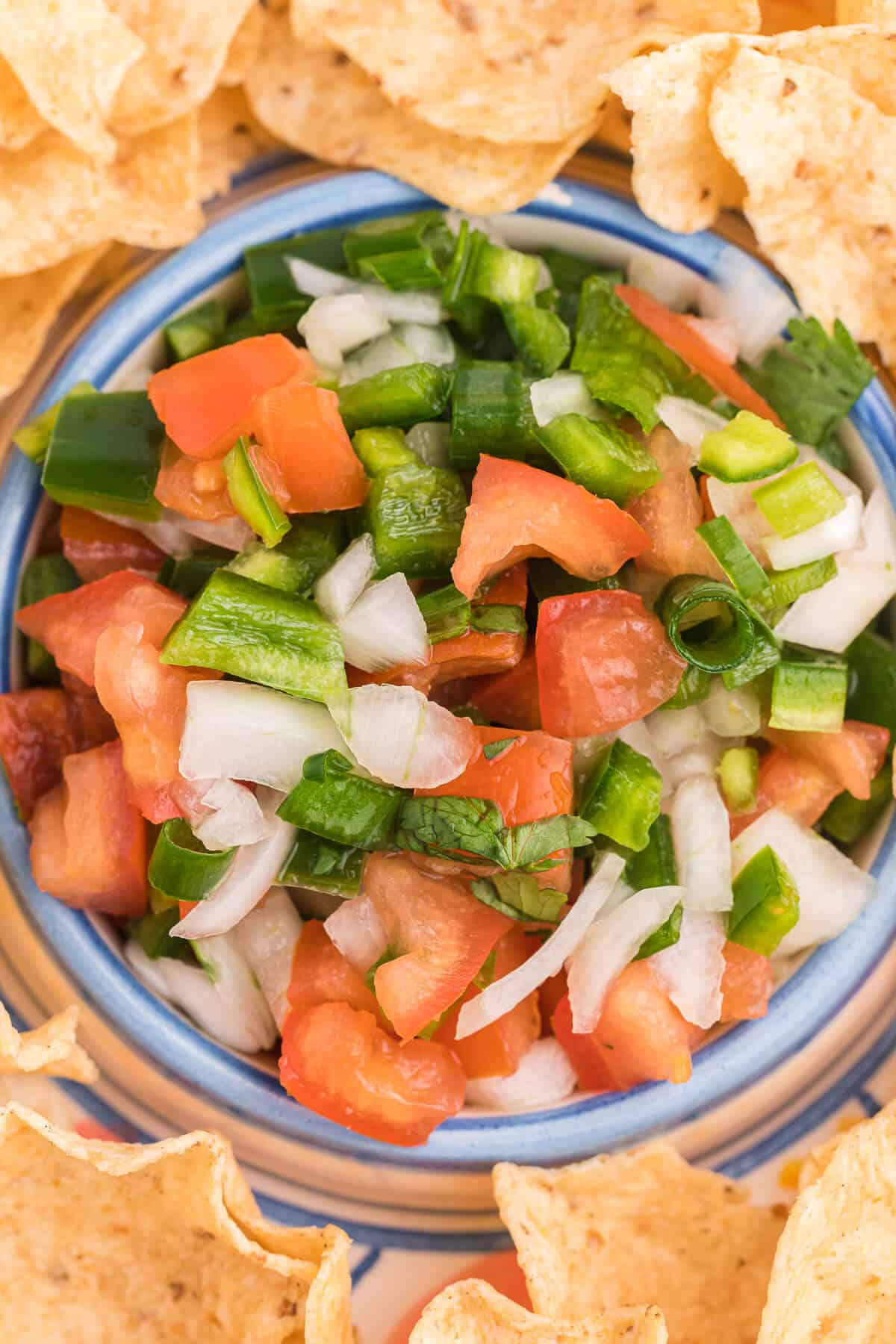 Storage Instructions
Storing your pico de gallo correctly is essential for maintaining its freshness and flavor.
First and foremost, always use an airtight container for storing your pico de gallo. This will help keep it fresh and prevent unwanted flavors from making their way into your delicious mixture. You can store your pico de gallo in the fridge for up to 3 days, ensuring you'll have a flavorful addition to your meals.
Another important step is to separate the juice from the vegetables. The juice can cause the texture of your pico de gallo to become mushy over time. If your container doesn't have a mechanism to achieve this, be sure to drain the juice daily. This will help your pico de gallo maintain its crisp texture for a longer time.
Want to store your pico de gallo for a longer period? Don't worry! You can also freeze it for up to 6 months. Just make sure to use a freezer-safe airtight container, and when you're ready to enjoy it again, simply thaw it in the fridge.
Recipe Tips and Tricks
Choose ripe tomatoes: To create the most delicious pico de gallo, it's essential to use ripe red tomatoes. The best choice would be Roma tomatoes since they are less watery, but always select the most vibrant, ripe tomato variety available. Don't forget to core your tomatoes and remove the seeds before chopping them.
Handle hot peppers with care: When seeding and handling jalapeño peppers, consider using gloves or a ziploc bag to cover your hands to avoid any direct contact. Hot peppers can cause skin irritation or a burning sensation.
Taste and adjust seasoning: Once you've combined all your ingredients, taste the pico de gallo and adjust the seasoning as needed. You may need to add more salt, pepper, or lime juice according to your personal preference.
Chop uniformly: Use a sharp knife for dicing ingredients to achieve a more uniform texture.
Let it rest: Give the pico de gallo some time to marinate before serving. This allows the flavors to meld together and develop.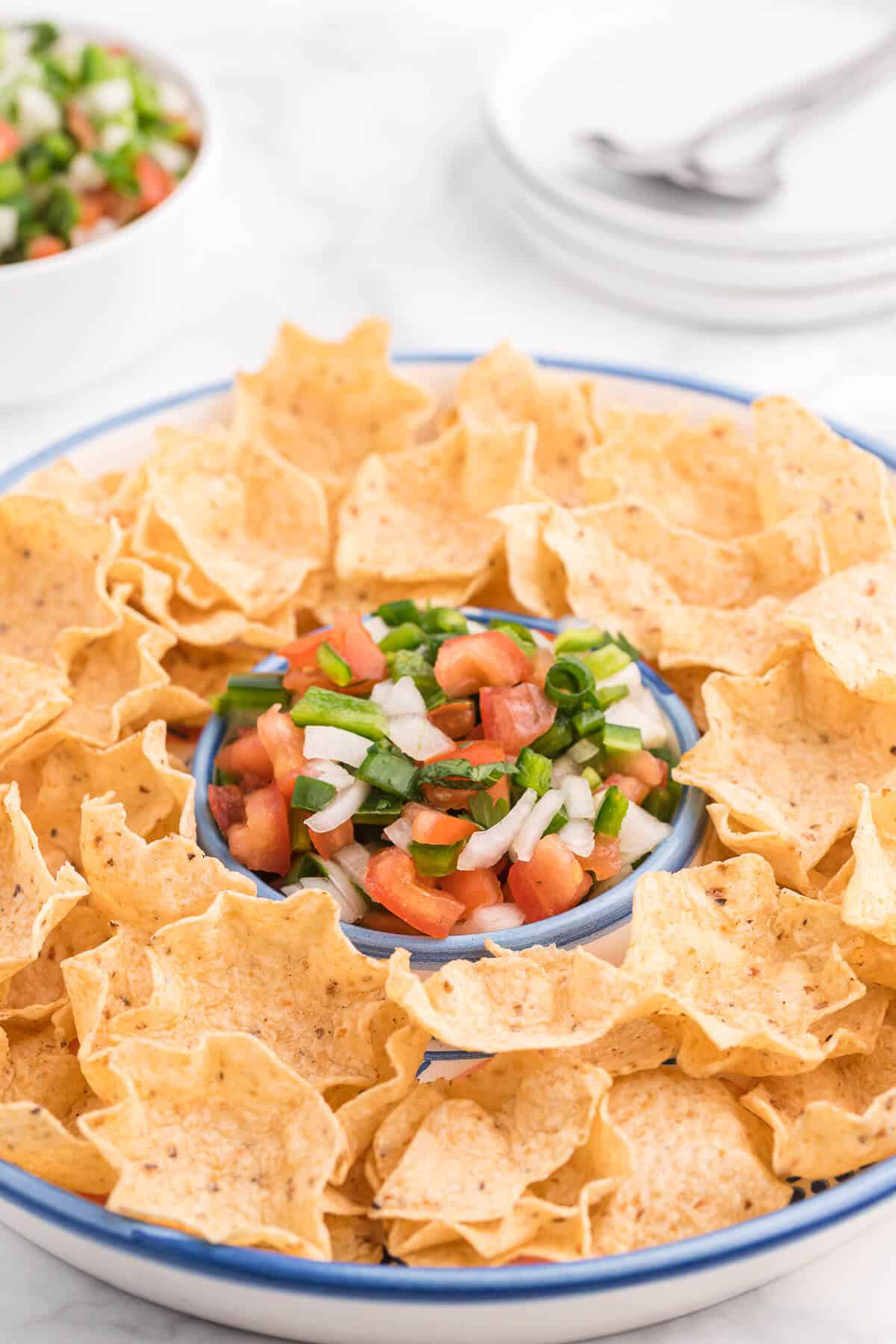 Uses for Pico de Gallo
Tortilla Chips: Grab a bag of your favorite tortilla chips, and dive into a bowl of Pico de Gallo for a tasty and simple appetizer or snack. It's always a hit at parties and gatherings.
Tacos and Fajitas: Pico de Gallo is a classic topping for both tacos and fajitas, adding a burst of freshness to every bite. Next time you prepare these dishes, don't forget to include a generous scoop of this tasty salsa.
Eggs and Breakfast Burritos: Give your morning a kick with a spoonful of Pico de Gallo on your scrambled eggs or breakfast burritos. The combination of tomatoes, onions, and jalapeños can really wake up your taste buds.
Grilled Chicken or Fish: A little Pico de Gallo atop grilled chicken or fish adds a punch of flavor and a delightful contrast to the smokiness of the grill. Try it with your favorite protein for an easy and delicious dinner option.
Salads: Mix some Pico de Gallo into your choice of greens for a zesty salad that's sure to please. You can even use it as a dressing alternative, providing fresh taste without the extra calories of traditional salad dressings.
Baked Potatoes: Jazz up your baked potatoes by spooning some Pico de Gallo on top, then topping with a sprinkle of cheese and a dollop of sour cream. This simple twist on a classic dish will make your taste buds dance.
What's the Difference Between Salsa and Pico de Gallo?
Salsa is a great appetizer option! There's so many varieties and spice levels to serve.
The difference between salsa and pico is there is no difference! Pico de gallo, also known as salsa fresca, is a type of salsa. Most salsas are made with more liquid and less chunky veggies, but salsa fresca is a very chunky salsa with just a little liquid for flavor.
Pico is usually one of the most mild salsas. I add a little heat to this one with serrano chiles and jalapeño peppers.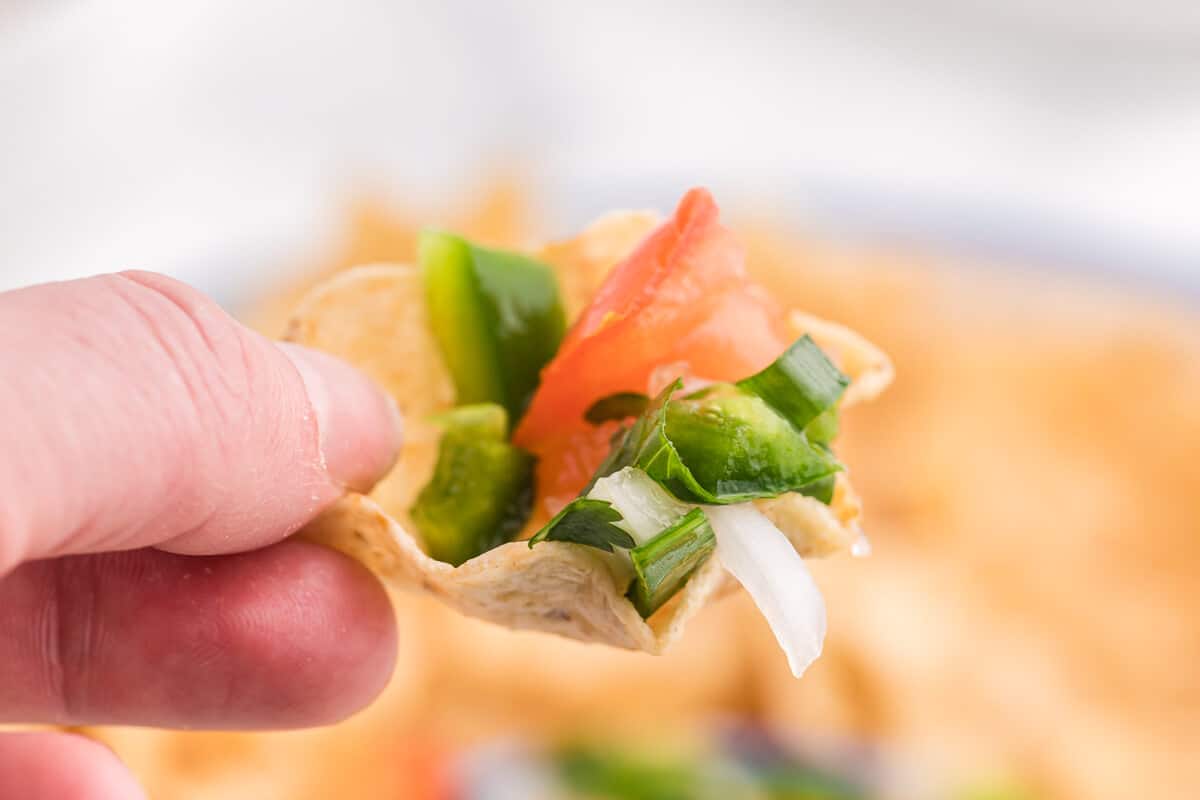 FAQ
What is Pico de Gallo?
Pico de Gallo is a popular Mexican condiment made from fresh, chopped ingredients. It's also known as salsa fresca and often served as a topping or side dish in traditional Mexican food. When making your own
Pico de Gallo, you can expect a vibrant and flavorful taste that enhances the overall dining experience.
The main ingredients in Pico de Gallo are tomatoes, onions, jalapenos, cilantro, and lime juice. You can also add other fresh ingredients such as cucumber, mango, or avocado, depending on your taste preferences.
Apart from its delicious taste, Pico de Gallo is also known for its nutritional benefits, as it's packed with vitamins, minerals, and antioxidants.
Pico de Gallo is traditionally enjoyed as a topping for tacos, enchiladas, or nachos, but it's also a versatile side dish that's perfect for dipping with tortilla chips or as an accompaniment to grilled meats and fish.
Jalapeños vs. Serrano Peppers
When making pico de gallo, you may wonder whether to use jalapeños or serrano peppers for that perfect kick of heat. Both peppers are common ingredients in Mexican cuisine, but they have distinct differences in appearance, flavor, and spiciness that can impact your pico de gallo recipe.
Jalapeños have a rounded shape, with white vertical lines along their skin, while serrano peppers are long, slender, and relatively smooth. In terms of spiciness, serrano peppers are generally hotter than jalapeños. Serrano peppers typically range between 10,000 to 23,000 Scoville Heat Units, whereas jalapeños fall between 2,500 to 8,000. This difference in heat levels can affect the overall spiciness of your pico de gallo, so it's important to consider your desired level of heat when selecting the right pepper for your recipe.
When it comes to flavor, jalapeños present a milder, slightly sweet taste, making them more versatile in various dishes. Serrano peppers, on the other hand, have a brighter, more herbaceous flavor that complements the fresh ingredients in pico de gallo exceptionally well.
At the end of the day, choosing between jalapeños and serrano peppers for your pico de gallo recipe comes down to personal preference and desired heat levels. If you're looking for a milder, more versatile flavor, jalapeños are an excellent choice. However, if you want a brighter, herbaceous kick and don't mind a little extra heat, serrano peppers might be the perfect addition to your pico de gallo.
What Kind of Tomatoes to Use
When making pico de gallo, the tomatoes you choose play a crucial role in the overall taste and quality of the dish. You want tomatoes with a sweet, rich flavor, along with a thin skin and fewer seeds. The ideal choice for this recipe would be vine-ripened tomatoes. Their taste and texture perfectly complement the other ingredients in the dish.
Another good option for tomatoes in pico de gallo is Roma tomatoes. They are less watery than most other tomato varieties, making your pico de gallo less soggy. When selecting your Roma tomatoes, look for the ripest, reddest, and juiciest ones available. You can also use beefsteak tomatoes, as they are large and meaty, making them easy to dice and adding a hearty texture to your pico de gallo.
Always make sure to use fresh, ripe tomatoes, regardless of their type. Avoid using sad, pink tomatoes, as they will compromise the taste of your pico de gallo. Before chopping them up, don't forget to core your tomatoes and remove the seeds. This step will help maintain the dish's desired consistency.
More Mexican-Inspired Recipes You'll Love
Follow me on Instagram @simplystacieblog, Facebook at Simply Stacie, TikTok @simplystacierecipes or Pinterest at @simplystacie and let me know how you liked this recipe and my other recipes.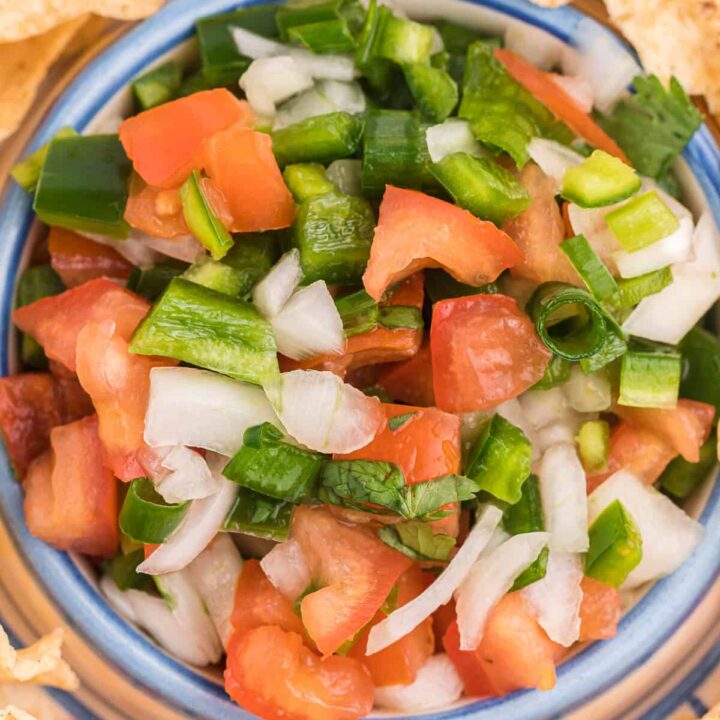 Pico de Gallo
The perfect Taco Tuesday topping! A super simple salsa recipe with tomatoes, peppers, onions, cilantro, and lime juice.
Print
Facebook
Pin
Share by Email
Rate
Ingredients
3

tomatoes

chopped

4

green onions

chopped

3

jalapeno peppers

minced

2

serrano chile peppers

minced

1

yellow onion

chopped

2

tbsp

fresh cilantro

chopped

juice of 1 lime
Instructions
Combine all ingredients in a large bowl and mix together.

Cover and let sit in the refrigerator at least an hour before serving.

Serve with tortilla chips or your favourite Mexican dishes.
Kitchen Tools
Nutrition
Serving:
1
g
|
Calories:
25
kcal
|
Carbohydrates:
6
g
|
Protein:
1
g
|
Sodium:
6
mg
|
Fiber:
2
g
|
Sugar:
3
g
The information shown is an estimate provided by an online nutrition calculator. It should not be considered a substitute for a professional nutritionist's advice.
Love Recipes? Join our Free Facebook Group!
Join Mom's Best Recipes to find more delicious family recipes.
Save
Saved!