Pico de Gallo is the easiest fresh dip to make in just minutes! Add this Mexican appetizer to all your tacos and nachos or enjoy it plain with crunchy tortilla chips.
There's something about dips that makes everyone love them. Pico de Gallo is one of the best to see at a party because it's always fresh and delicious! Juicy ripe tomatoes, crunchy onions, fresh cilantro, and a little lime juice — what's not to love?
I also use jalapeño peppers and serrano peppers in my pico de gallo recipe, but you could also try it with different peppers to vary the spice levels. This recipe definitely has a kick, but not enough that it's painful to eat.
You can eat it on it's own, add it to your favorite nachos, or serve it with some tortilla chips. This is a summer staple in my kitchen between my own garden veggies and the local farmers market. Pick up some fresh veggies from your garden or local farmer's market and have a delicious, healthy side dish with your dinner.
Ingredients
Tomatoes: I make this all summer long with juicy, fresh tomatoes. Make sure everything is diced into small, uniform pieces for the best bite.
Onions: Double up with green onions and a white onion. You can also use a sweet onion for a little less bite or a red onion for a sharper onion taste.
Peppers: I use both jalapeño and serrano chile peppers for this spicy pico. You can reduce the peppers and increase the tomatoes to make it less spicy.
Cilantro: Fresh cilantro adds the perfect flavor to this salsa fresca. Make sure to remove the stems and finely chop the leaves.
Lime juice: This takes your pico de gallo from a bowl of veggies to a true salsa. I love fresh lime juice, but store-bought also works in a pinch. You may also want a pinch of salt!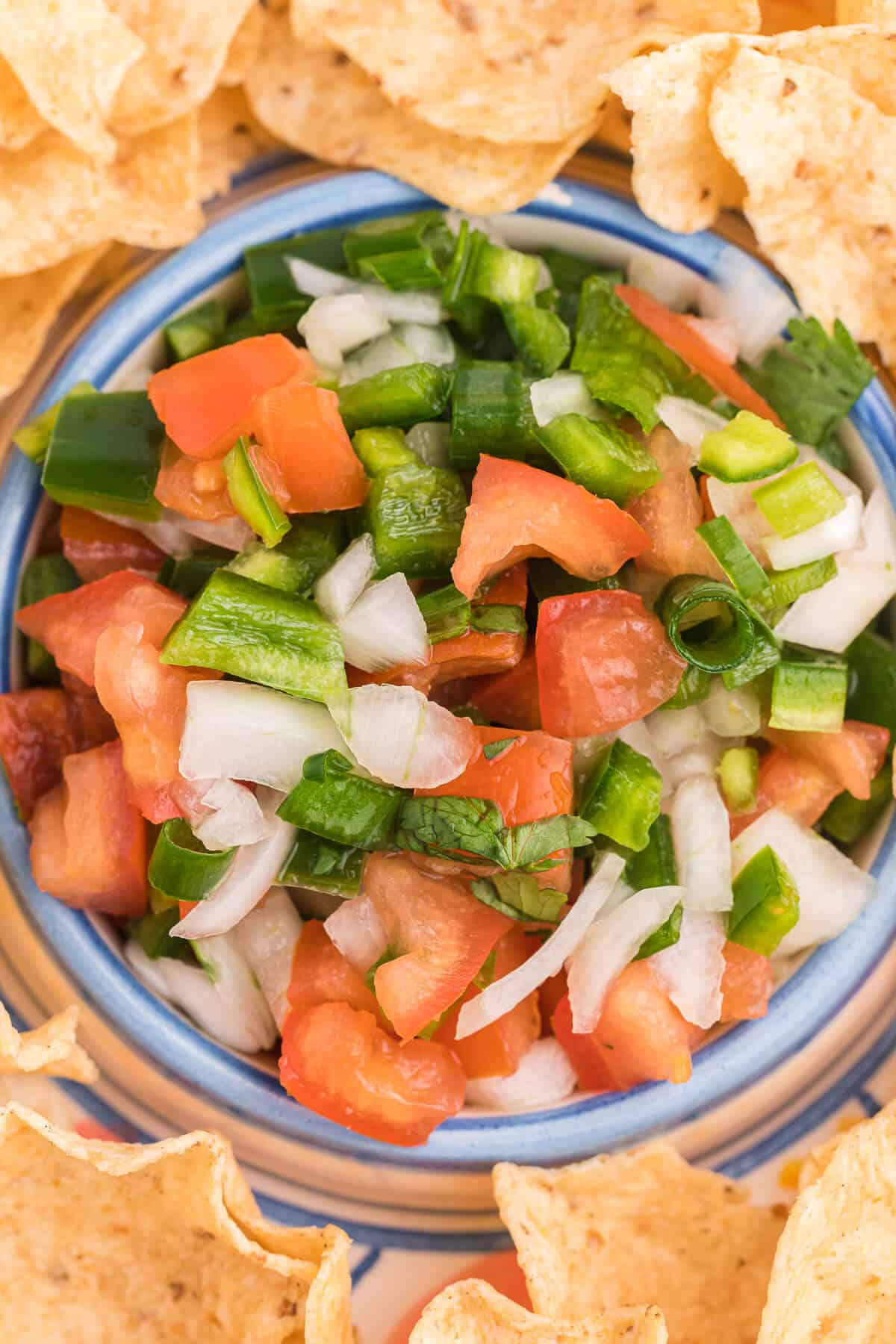 What I Used For This Recipe
This post contains affiliate links.
Mixing bowls: The beauty of this pico de gallo is you just need one mixing bowl to make it! I love these glass mixing bowls because I can see all the beautiful colors, and they work for serving, too!
Food chopper: You can always dice your veggies by hand, but a food processor makes it so fast! I love this food chopper because it's easy to control so you don't get mashed peppers.
Juicer: This manual citrus juicer is great for salad dressings, salsas, and any time you wanna brighten a dish with a little lemon juice. It's so easy to use for the freshest juice ever!
How To Make It
There's only one real step! Mix the tomatoes, green onions, jalapeño peppers, serrano peppers, onion, and cilantro together with the fresh lime juice.
Let the pico de gallo sit in the fridge for at least an hour for the flavors to meld. It's the best make-ahead appetizer recipe because the longer it sits, the better it tastes.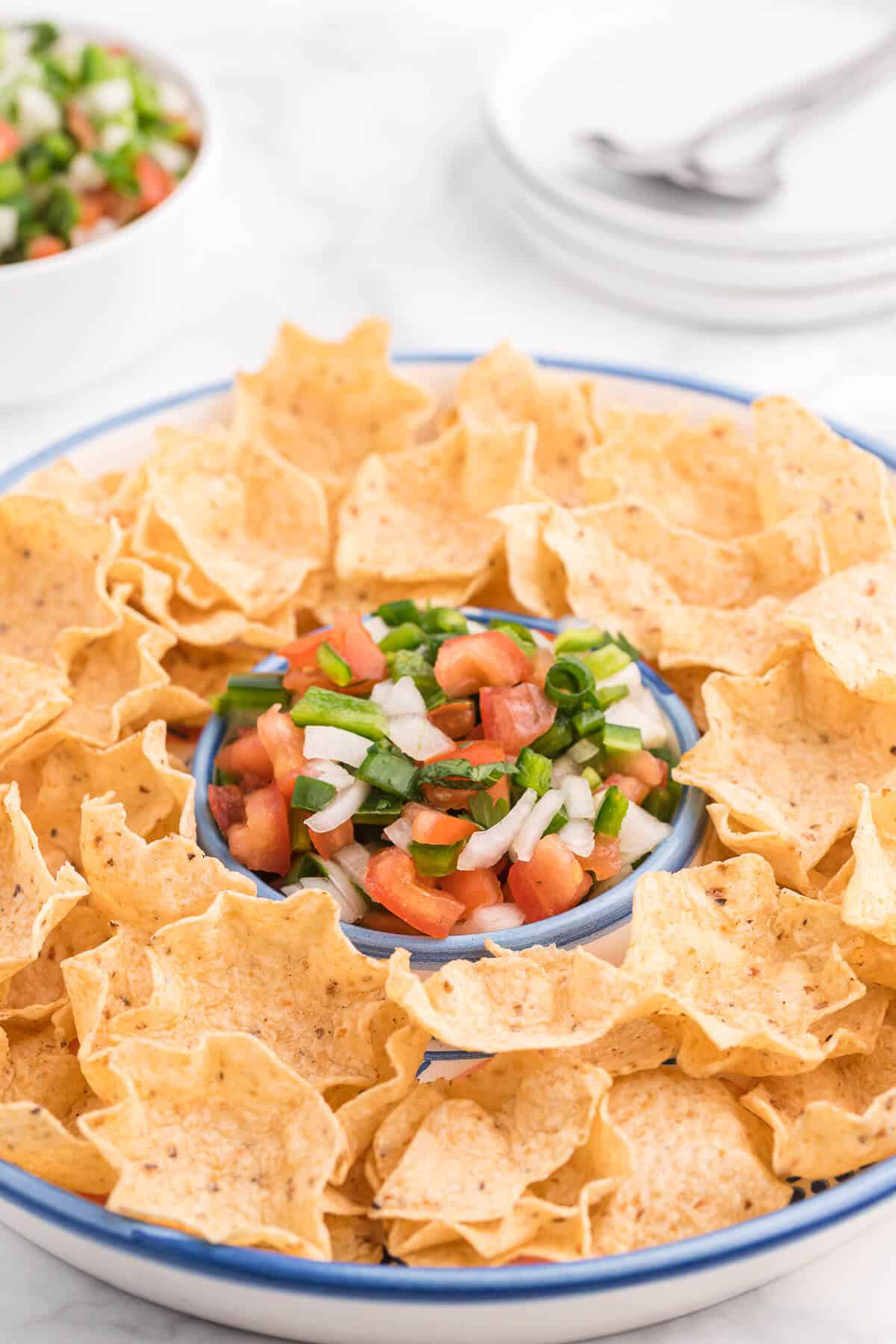 What's the Difference Between Salsa and Pico de Gallo?
Salsa is a great appetizer option! There's so many varieties and spice levels to serve.
The difference between salsa and pico is there is no difference! Pico de gallo, also known as salsa fresca, is a type of salsa. Most salsas are made with more liquid and less chunky veggies, but salsa fresca is a very chunky salsa with just a little liquid for flavor.
Pico is usually one of the most mild salsas. I add a little heat to this one with serrano chiles and jalapeño peppers.
How Long is Pico de Gallo Good in the Fridge?
Pico gets better with age, but only for a few days until the tomatoes turn mushy. Usually it can last about 4 days before it loses its texture.
If you're going to prep it before your Cinco de Mayo party, make it about a day early. That gives everything time to marinate in lime juice.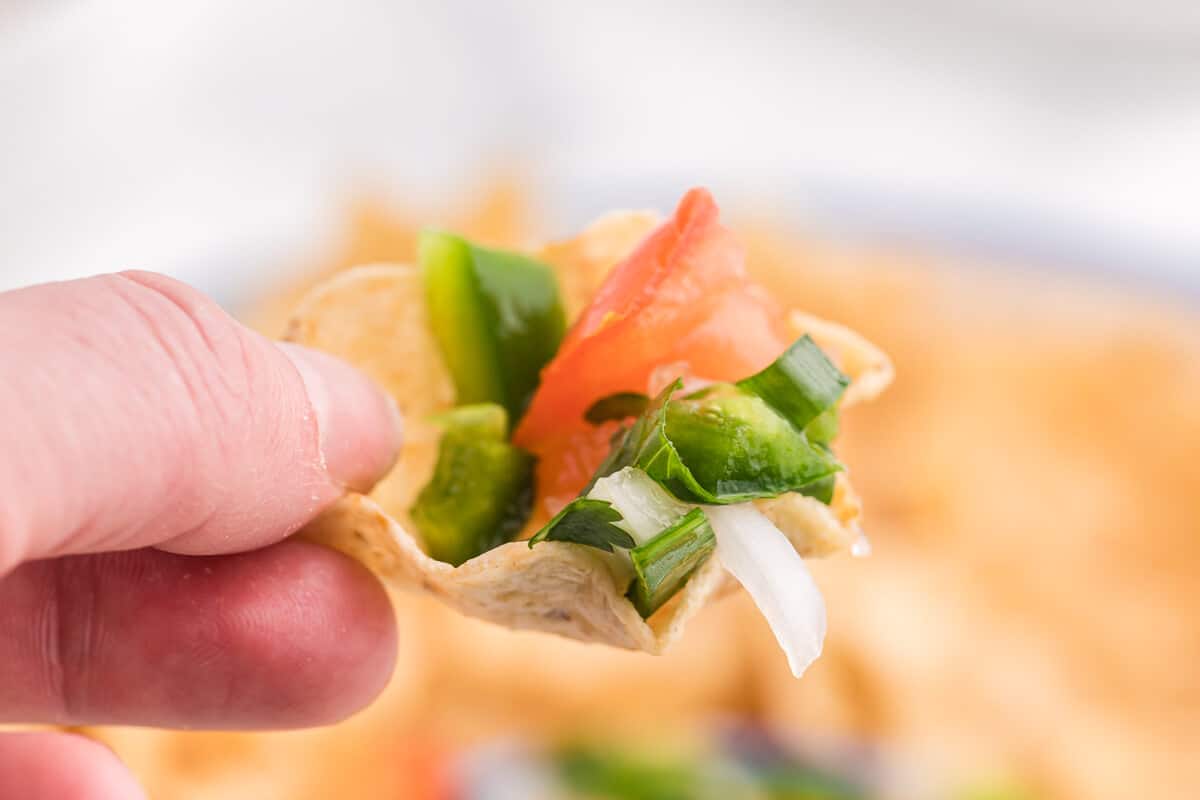 What To Serve With This
Don't stop with just one dip. This cilantro lime avocado yogurt dip is truly the best! It's a perfect bright appetizer or addition to any Mexican-inspired dinner party.
If you love hashbrown casserole, you have to try this Mexican tater tot casserole. It's so easy, super filling, and perfect for an easy weeknight dinner.
Add a little extra flavor to these yummy vegetarian stuffed peppers. The cool garnish on these warm, cheesy peppers is the perfect combo.
More Mexican-Inspired Recipes You'll Love
Do you have any amazing dip recipes? I'm always looking for more recipes to try! Follow me on Instagram @simplystacieblog, on Facebook at Simply Stacie, and on Pinterest @SimplyStacie and let me know how you liked this and my other recipes!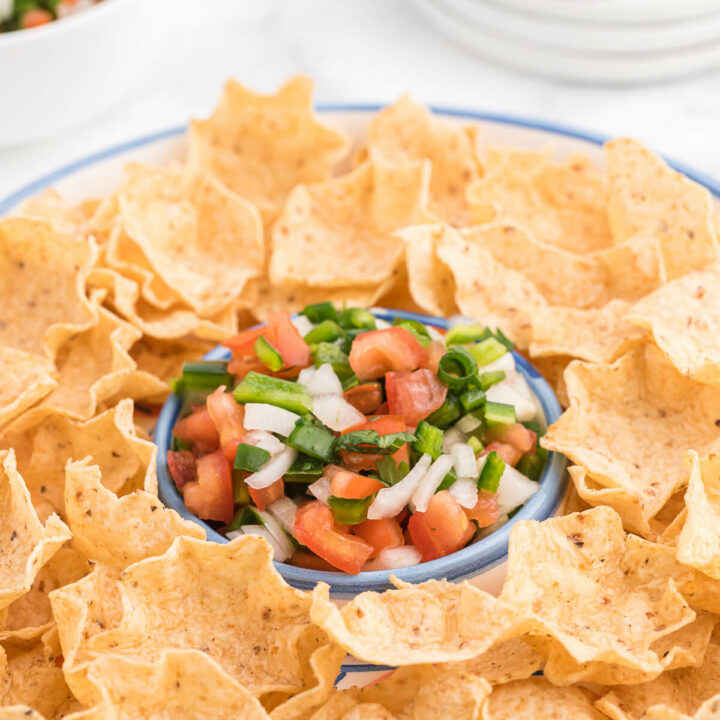 Pico de Gallo
The perfect Taco Tuesday topping! A super simple salsa recipe with tomatoes, peppers, onions, cilantro, and lime juice.
Ingredients
3 tomatoes, chopped
4 green onions, chopped
3 jalapeno peppers, minced
2 serrano chile peppers, minced
1 onion, chopped
2 tbsp fresh cilantro, chopped
juice of 1 lime
Instructions
Combine all ingredients in a large bowl and mix together.
Cover and let sit in the refrigerator at least an hour before serving.
Serve with tortilla chips or your favourite Mexican dishes.
Recommended Products
As an Amazon Associate and member of other affiliate programs, I earn from qualifying purchases.
Nutrition Information:
Yield:

6
Serving Size:

1
Amount Per Serving:
Calories:

25
Total Fat:

0g
Saturated Fat:

0g
Trans Fat:

0g
Unsaturated Fat:

0g
Cholesterol:

0mg
Sodium:

6mg
Carbohydrates:

6g
Fiber:

2g
Sugar:

3g
Protein:

1g