Air Fryer Cauliflower Bites are super simple and deliciously crispy! Make this crunchy fried cauliflower with a handful of ingredients in a flash with the air fryer.
I used to despise cauliflower with a passion — until I met my air fryer. I couldn't even stand the smell of cauliflower cooking on the stove and there was no way I was eating any.
Now, I make these Air Fryer Cauliflower Bites almost weekly! I'm still not crazy about the smell, but I love the taste. I can eat them raw with some dip, cooked with a mild cheese sauce or mixed in a recipe. I've even made pizza crust out of cauliflower!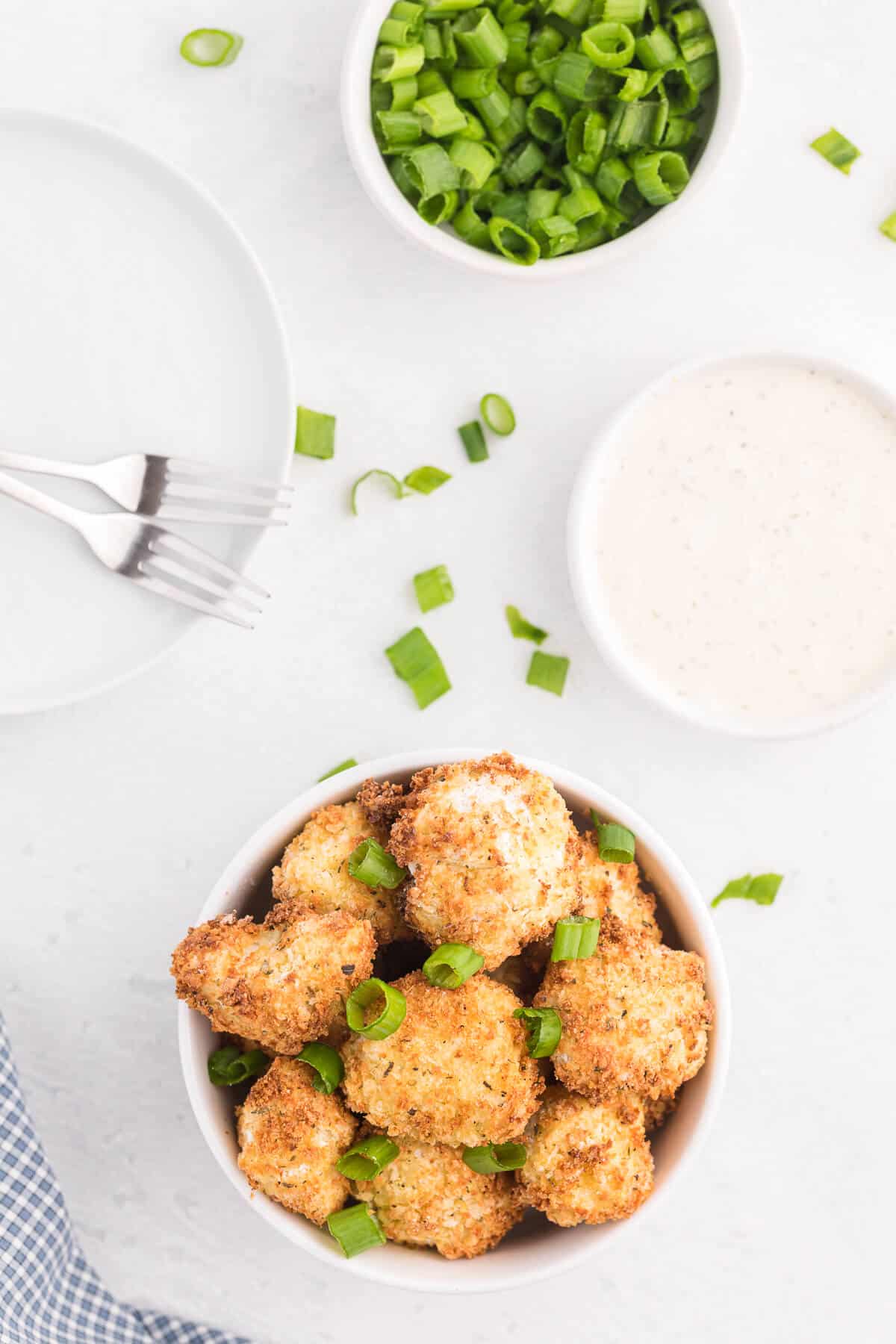 Ingredients
Cauliflower: Be sure to chop the cauliflower into bite-sized pieces. You also want them to be evenly sized so everything cooks together!
Flour: You can use any flour for this recipe! You just need a thin coating on the raw cauliflower to help the coating stick.
Eggs: The best fried foods are dipped in a little egg wash! This will help the breadcrumbs stick to the cauliflower.
Breadcrumbs: I use Panko breadcrumbs for this recipe, but you can use any variety! If you want to make this recipe gluten free, just use gluten-free flour and breadcrumbs.
Parmesan cheese: I love the extra saltiness and flavor from the cheese in the fry breading. Garnish the cooked cauliflower with a little extra to serve, too!
Italian seasoning: You can use a store-bought Italian blend or make your own with basil, oregano, rosemary, thyme, and marjoram.
Garlic powder: I love the sweetness of garlic powder without that raw garlic bite! It's a great seasoning for almost any savory dish.
This easy air fryer recipe may not be the healthiest of ways to eat cauliflower, but it sure tastes good! Add a small dish of ranch sauce for dipping and you have a yummy starter that reminds me a little of something you'd eat at a restaurant.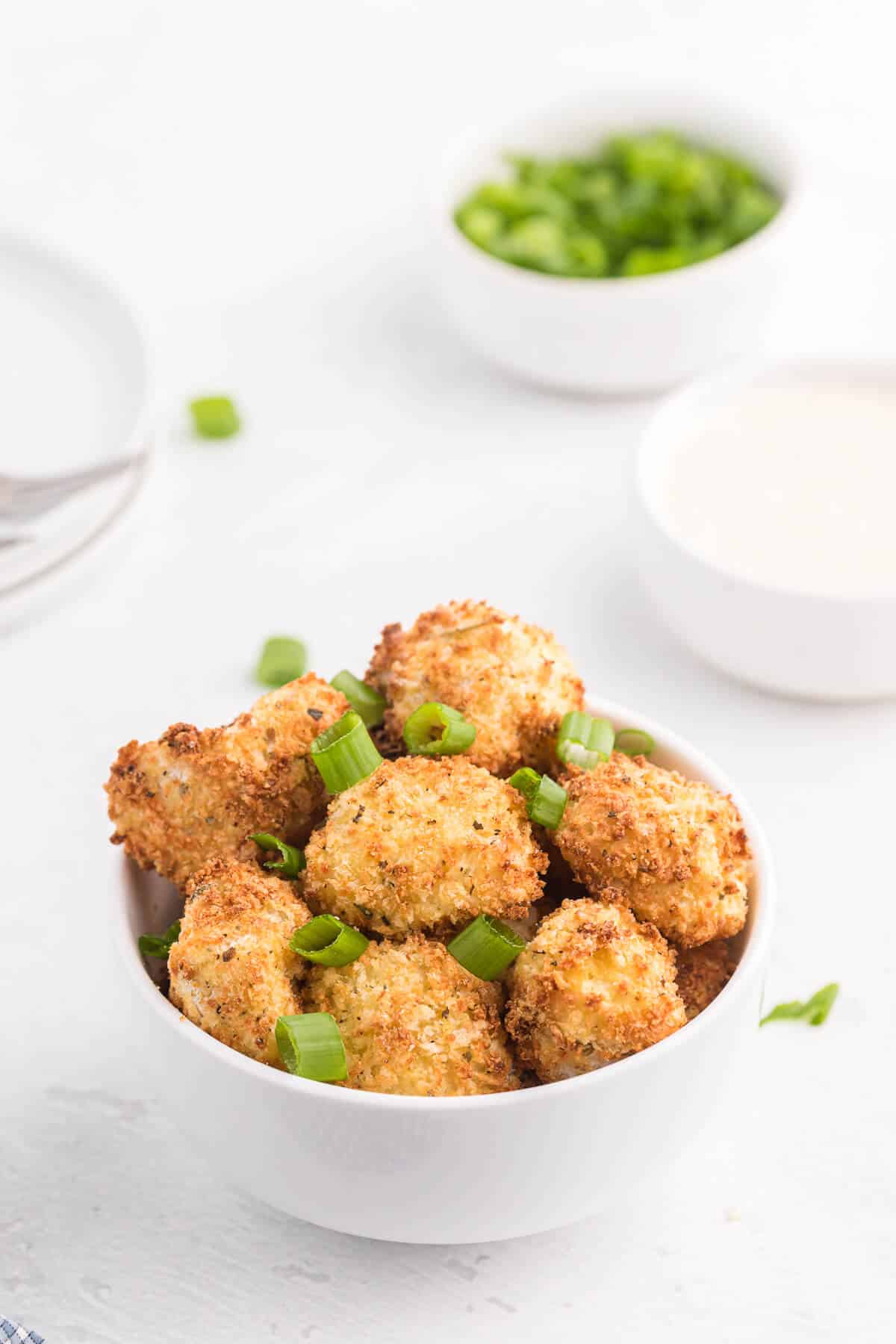 What I Used For This Recipe
This post contains affiliate links.
Air Fryer: If you haven't jumped on the air fryer train, it's time! The latest kitchen appliance is definitely worth the hype. I love mine!
Measuring cups: Get the right measurements every time with these simple measuring spoons and cups. Luckily, you'll barely need them for this recipe!
Cheese grater: For the best shredded cheese, grate it yourself! I've saved so much money buying blocks of cheese and using a cheese grater instead.
How To Air Fry Cauliflower
First, prep all your ingredients for an easy breading station. Put the flour in one shallow bowl, beat the eggs in a second bowl, and mix the breadcrumbs, Parmesan cheese, Italian seasoning, salt, pepper, and garlic powder in a third bowl.
To bread the cauliflower, dip it in the bowl of flour first. Toss it to coat on all the bumps and sides.
Then, tap off any excess flour and dip the dusted cauliflower in the egg wash.
Now, roll the cauliflower in the Panko breadcrumbs until it's completely coated.
To air fry cauliflower, preheat the air fryer. Layer the florets in a single later and cook until perfectly golden brown. I like to shake the basket every few minutes to keep them from sticking.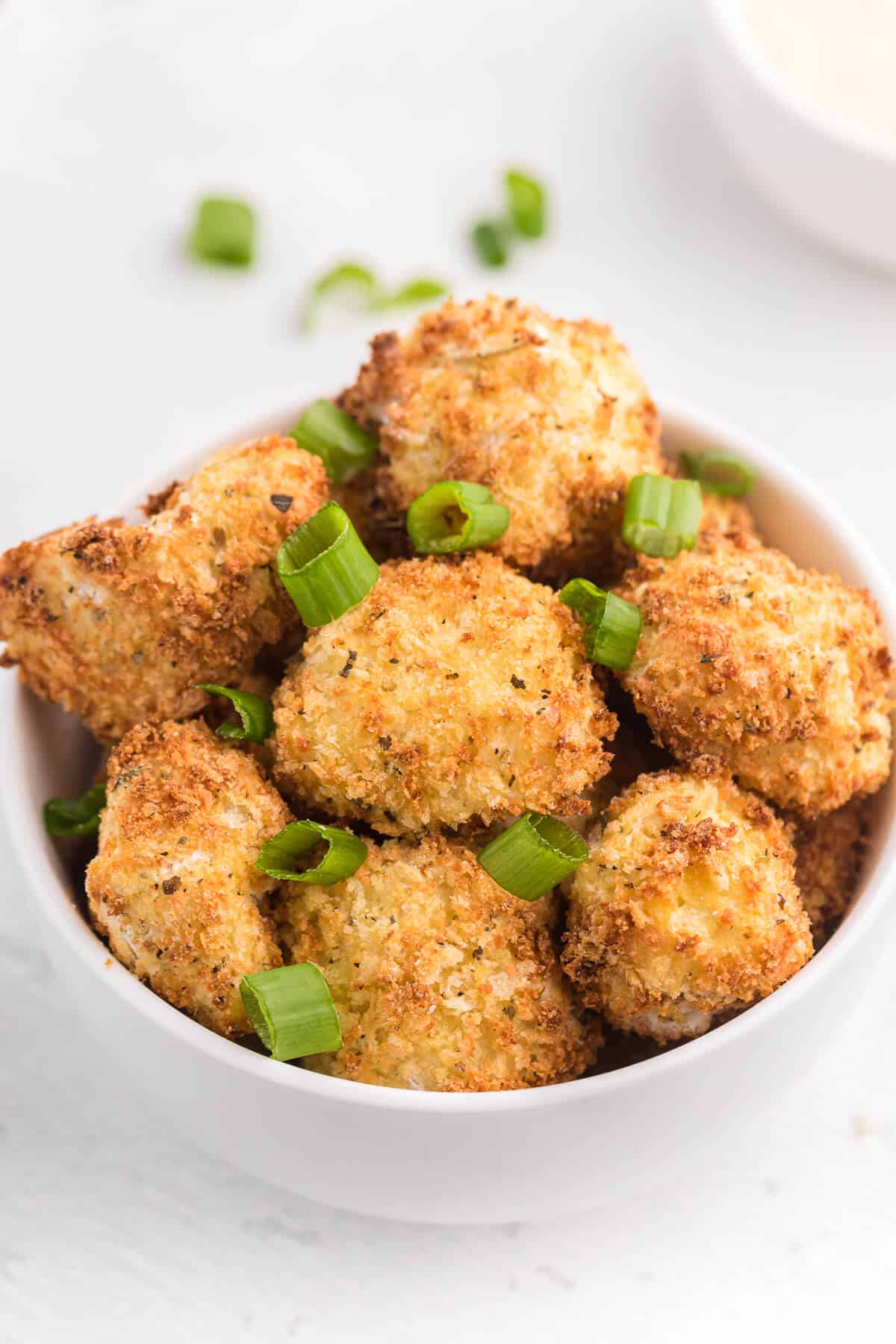 How to Cut Cauliflower
It's important to cut the cauliflower evenly so everything cooks together. But how do you chop cauliflower without losing a finger?
First, remove the leaves, and wash the cauliflower thoroughly. Make sure it's dry before seasoning and air frying.
Cut off most of the stalk so the cauliflower head can sit flat on your cutting board. Then, cut it in half and remove the core. Most of the florets will separate on their own, but you may need to chop some of the larger pieces.
Are Cauliflower Leaves and Stems Edible?
Absolutely! I always remove the leaves when I'm cutting my cauliflower, but you can keep some stem on these air fryer cauliflower bites!
If you have a lot of excess cauliflower when you're trimming, save it! You can always roast it for another dish or throw it in a stock pot for a delicious veggie broth.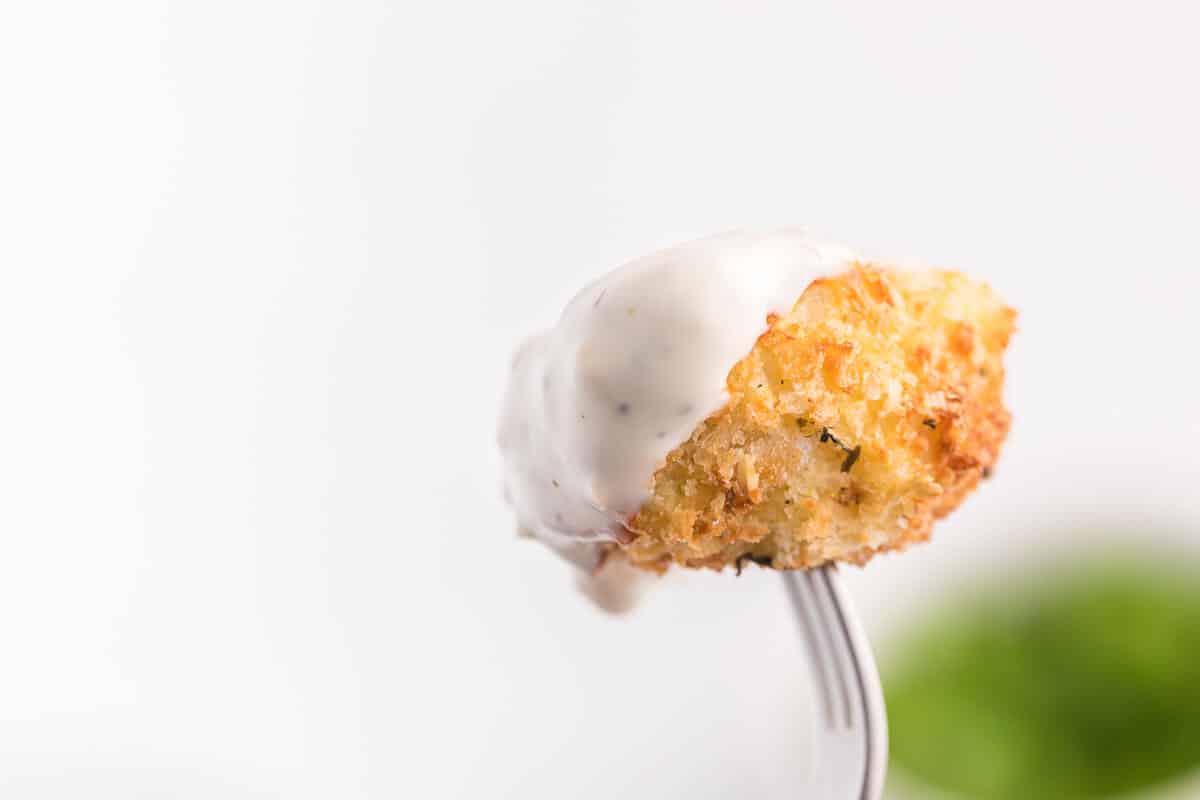 What To Serve With This
Keep the oven off tonight with this amazing slow cooker lasagna recipe made with ravioli! Combine your two favorite Italian dinners with one amazing Crockpot dish. It's so cheesy and easy to freeze, too.
These are a great finger food appetizer for a dinner party or tailgate, too! Add more air fried recipes to your table with these stuffed crescent rolls filled with mozzarella cheese. Yum!
Every dinner needs a dessert — and the air fryer is great for making these chocolate croissants! Stuffed with Nutella, this is such a delicious and easy dessert everyone loves.
More Air Fryer Recipes You'll Love
Do you have any amazing air fryer recipes? I'm always looking for more recipes to try! Follow me on Instagram @simplystacieblog, on Facebook at Simply Stacie, and on Pinterest @SimplyStacie and let me know how you liked this and my other recipes!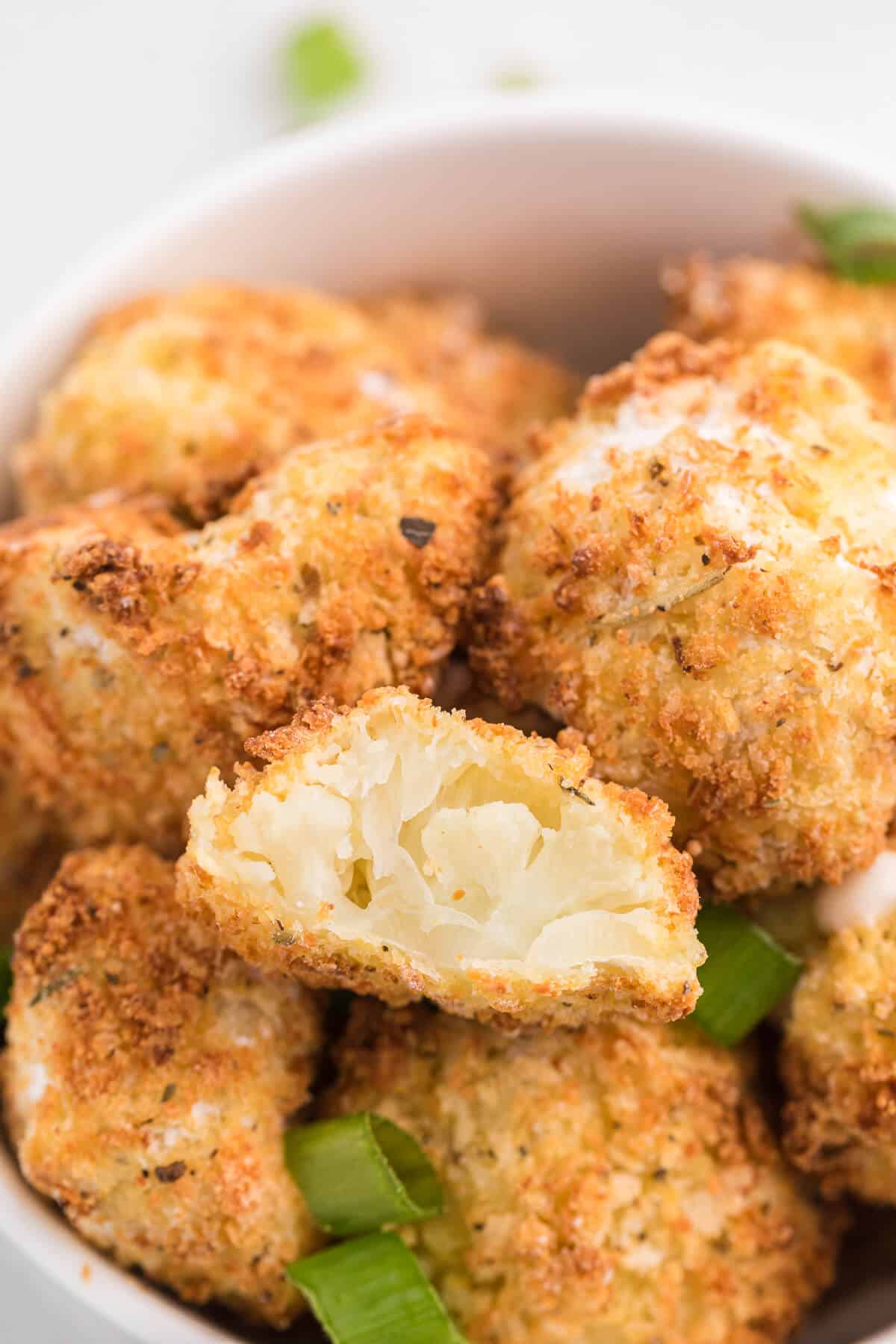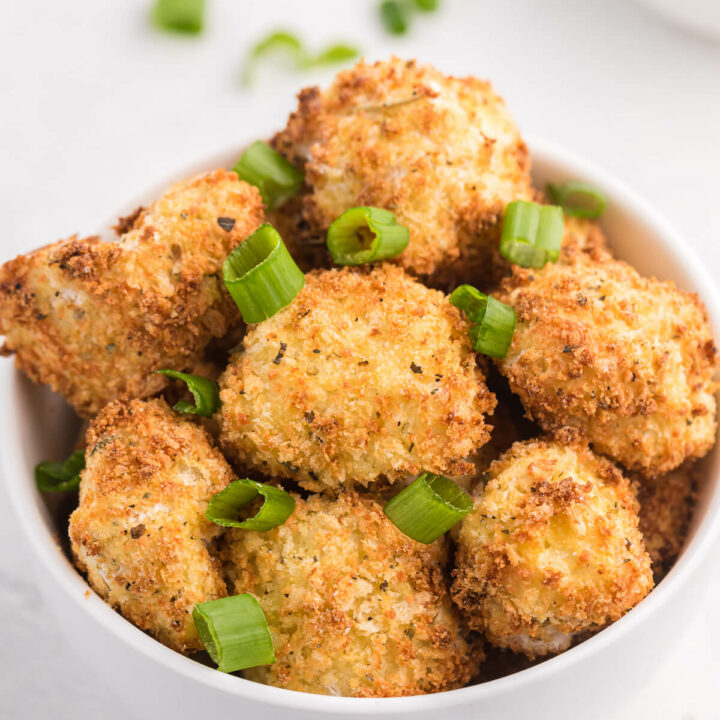 Air Fryer Cauliflower Bites
Get your kids to eat their veggies! Air fried cauliflower that's the perfect side dish or appetizer for dipping.
Ingredients
½ head cauliflower, stems trimmed short and cut into bite sized pieces
½ cup flour
2 eggs, beaten
¾ cup Panko bread crumbs
¼ cup Parmesan cheese, grated
1 tsp Italian seasoning
½ tsp salt
½ tsp garlic powder
¼ tsp black pepper
Instructions
You'll need three shallow bowls or resealable containers. Put the flour in the first one. In the second one, beat the eggs. In the third bowl, stir the Panko bread crumbs, Parmesan cheese, Italian seasoning, salt, garlic powder and black pepper.
Take the Cauliflower and place it in the first bowl. Toss to coat, or put the lid on and shake. Working in batches tap the excess flour off the Cauliflower and dip it in the egg. Then place in the Panko Crumbs. Toss to coat or again put the lid on and shake. Remove to a plate and repeat with remaining cauliflower.
Preheat air fryer to 350F. Set for 11 minutes cook time. Once preheated, place in a single layer in the air fryer basket. You may need to work in batches to avoid overcrowding. Cook for 11 minutes or until golden brown. Serve hot.
Notes
I used a Ninja AG301 Foodi 5-in-1 Indoor Grill with 4-Quart Air Fryer.
Recommended Products
As an Amazon Associate and member of other affiliate programs, I earn from qualifying purchases.
Nutrition Information:
Yield:

6
Serving Size:

1
Amount Per Serving:
Calories:

161
Total Fat:

6g
Saturated Fat:

1g
Trans Fat:

0g
Unsaturated Fat:

4g
Cholesterol:

65mg
Sodium:

372mg
Carbohydrates:

20g
Fiber:

2g
Sugar:

2g
Protein:

7g