Cauliflower Crust Pizzas are the perfect low-carb option when you're craving pizza! Top these cauliflower, cheese, and garlic crusts with all your favorite pizza toppings for a quick and easy keto weeknight dinner.
When I was on a low-carb diet, all I wanted was pizza. This Cauliflower Crust Pizza helped curb that craving with the grated cauliflower covered in melted cheese and garlic for an amazing flourless pizza crust!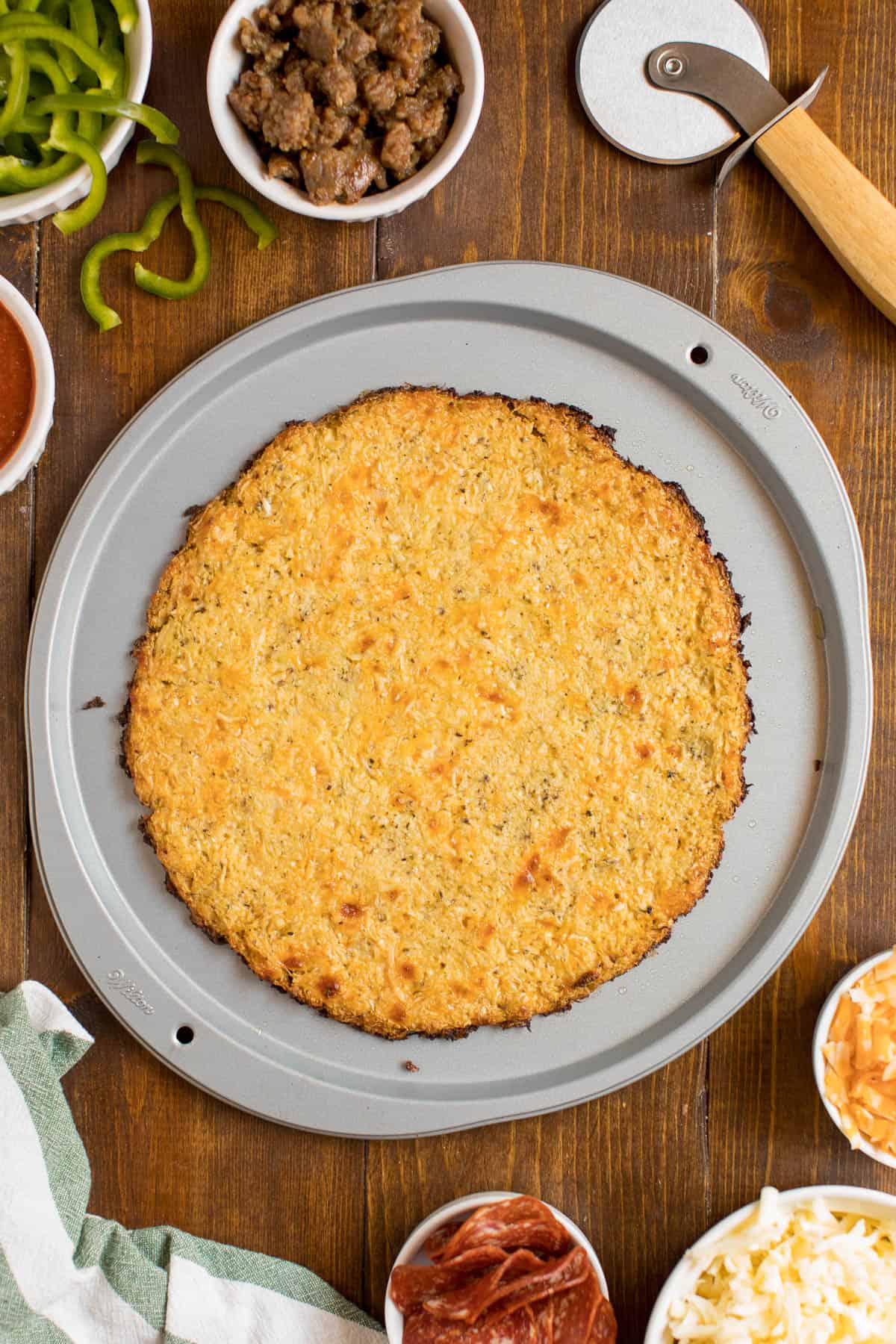 You can top this keto pizza crust with any sauce, cheese, and toppings you want! I like to keep it simple with just tomato sauce and mozzarella cheese, but feel free to add pepperoni, mushrooms, peppers, onions, olives, ranch dressing, or anything you want!
If you're looking for more new and delicious low-carb recipe ideas, you might also like this Low Carb Chicken Divan over cauliflower rice packed with broccoli and melted cheese.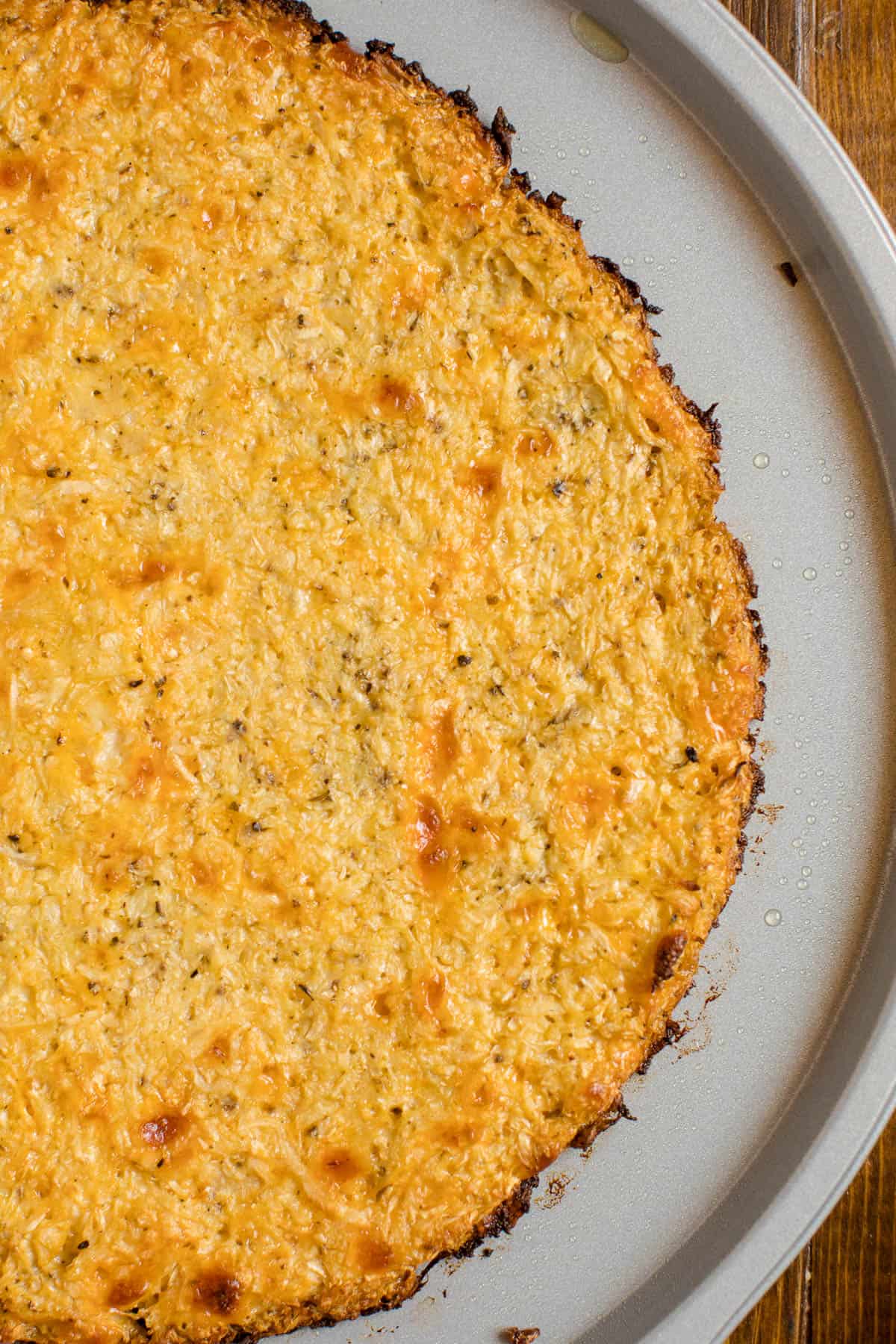 Low-Carb Crust Ingredients
You only need a few simple ingredients to make this low-carb pizza crust. I keep all of these pantry staples on hand for whenever the craving for pizza strikes.
Cauliflower
Shredded cheese
Egg
Italian seasoning
Garlic
Garlic salt
Olive oil
You can put any sauce, cheese, and toppings on this cauliflower crust! You can keep it low carb or keto with mozzarella cheese, Parmesan cheese, chicken, pepperoni, onions, olives, jalapenos, spinach, ranch dressing, sugar-free tomato sauce, or mushrooms! If you're on a keto diet, be sure to check all your individual ingredients.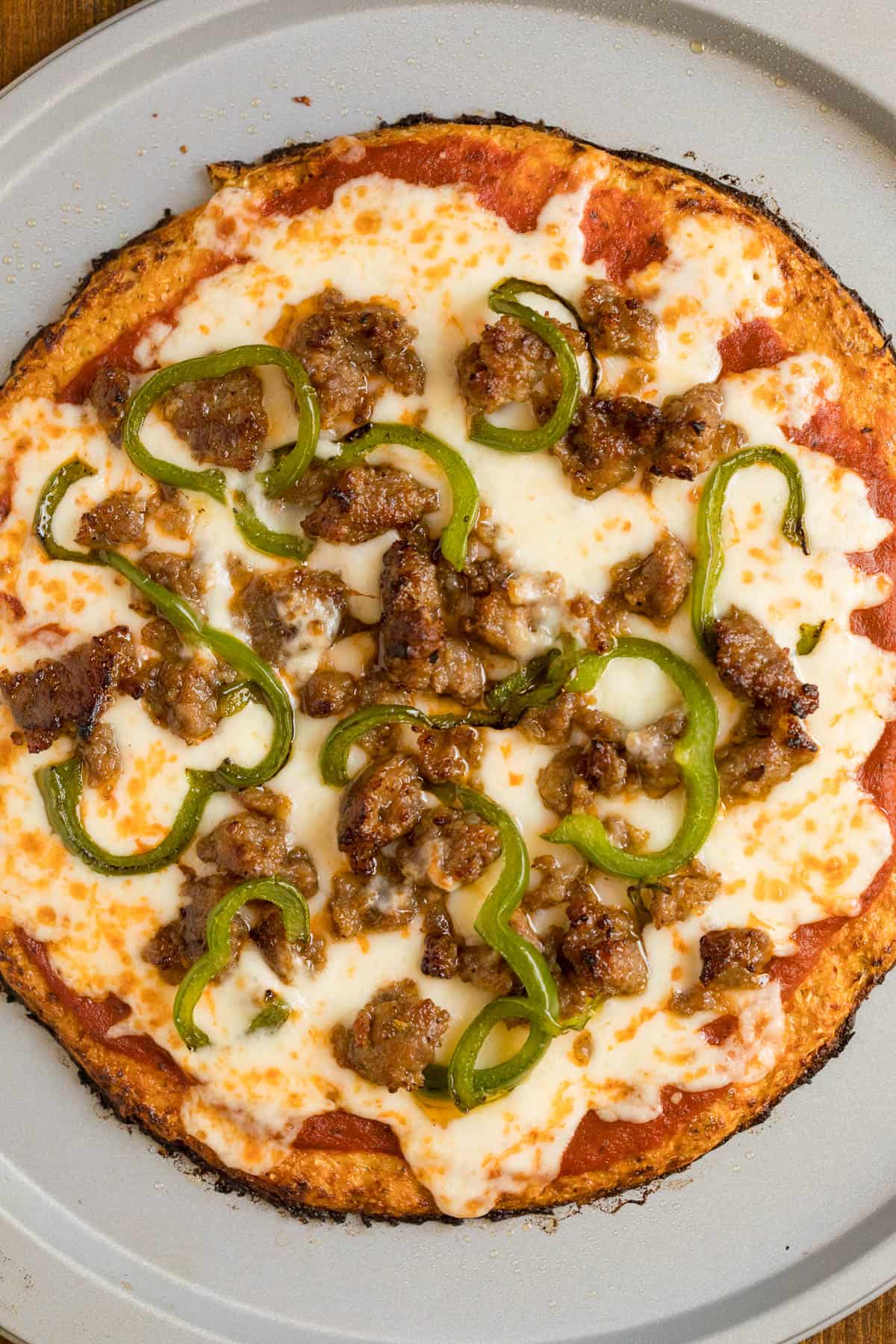 If you want to use frozen cauliflower or cauliflower rice, be sure to thaw it completely and drain any excess water from it before assembling your crust dough. If your cauliflower is too soft to be grated, you can always dice it by hand or use a food processor.
What I used for my Cauliflower Crust Pizza
This post contains affiliate links.
Pizza pan: I use this round baking sheet for so many things! It's the perfect size for pizzas and a great non-stick baking sheet.
Garlic press: Why mince garlic by hand when you can use this ergonomic garlic press? Save your time and your fingertips with this handy kitchen tool.
Cheese grater: I love that this box cheese grater has different size options on every side. Plus, the rubber base keeps it in place and my countertops unscratched!
How to Make Cauliflower Crust Pizzas
First, clean your cauliflower and grate it with a cheese grater. Once grated, microwave the cauliflower for about 8 minutes until super soft.
While it microwaves, preheat your oven and prep your baking sheet.
Then, mix the grated cauliflower with your egg, cheese, and seasonings. Transfer your "dough" to the baking sheet and press into a 9-inch crust.
Next, brush olive oil over the raw crust and bake until the egg has set and the crust is solid. You want the crust fully cooked at this point.
Now, add your favorite sauce, cheese, and toppings, and broil until the cheese is melted.
Since the pizza only cooks for a few minutes with the toppings, make sure they're all pre-cooked! You can always brown sausage or carmelize onions while the cauliflower crust bakes.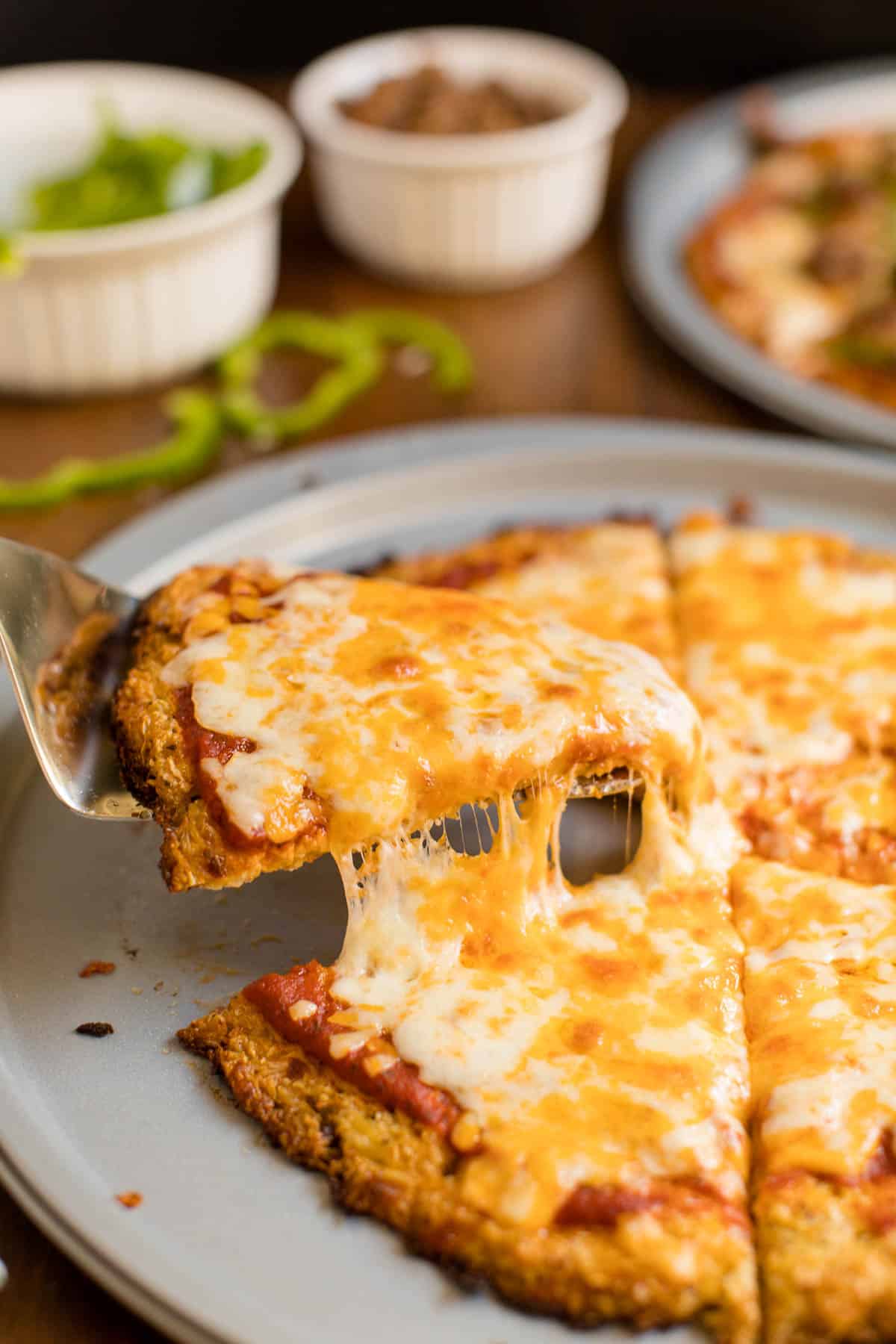 How Many Carbs in Cauliflower Crust?
The carb counts will always vary per recipe and depending what you put in it. This cauliflower crust pizza recipe, when divided into 6 equal slices, is about 6g net carbs without any toppings.
If you're on a keto diet, be sure to measure your serving sizes and pay attention to the nutritional labels. Most keto diet guidelines recommend staying between 15g and 30g net carbs per day.
How to Freeze Cauliflower Crust
I love to make a bunch of these whenever cauliflower is on sale and freeze them for impromptu pizza nights with minimal work!
When you're going to eat the pizzas within the week, you can put cooked crusts in the refrigerator. This is great for preparing for a family pizza party without making crust all night.
If you want to store them longer, these cooked cauliflower pizza crusts will last up to 3 months in the freezer.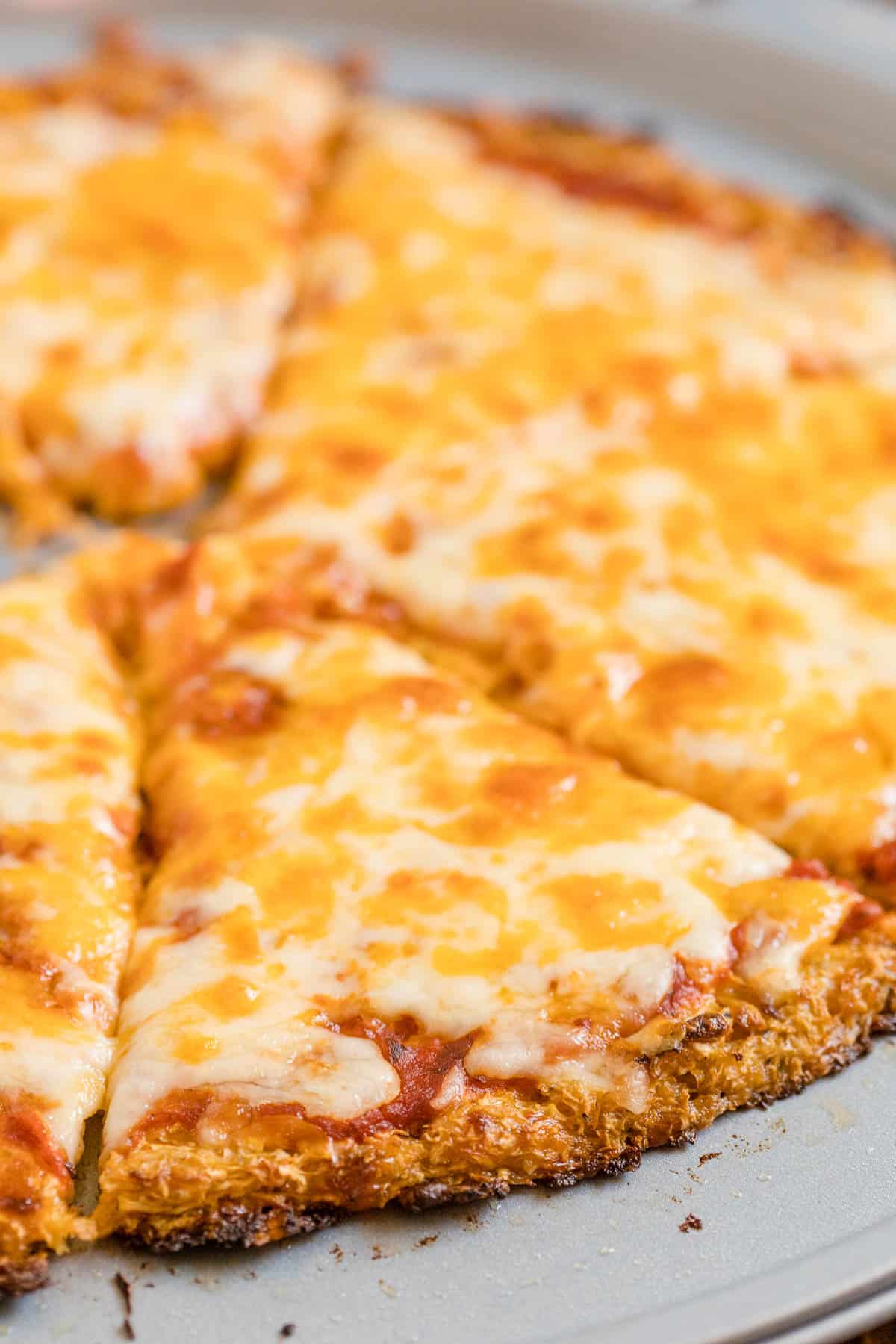 How to Reheat Frozen Cauliflower Pizzas
Just like a frozen pizza, you can bake it without thawing and just top the frozen crust with your favorite sauce, toppings, and cheeses. When the crust is frozen, I recommend cooking it at 425 degrees F for about 10 minutes or until the crust is completely reheated and the cheese is melted.
Other amazing low-carb recipes to try…
You might also like this Beef Picadillo Shepherd's Pie and Air Fryer Cauliflower Bites.
Do you have any amazing low-carb recipes? I'm always looking for more recipes to try! Follow me on Instagram @simplystacieblog, on Facebook at Simply Stacie, and on Pinterest @SimplyStacie and let me know how you liked this and my other recipes!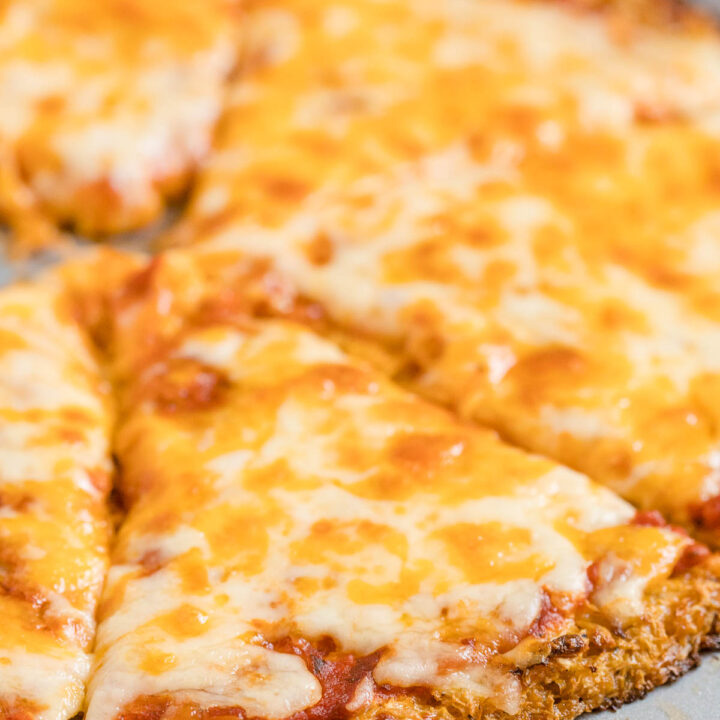 Cauliflower Pizza Crust
Perfect for keto and low-carb diets! This crispy crust is made from veggies and cheese and topped with your favorite pizza toppings.
Ingredients
1 head of cauliflower, grated
1 cup shredded cheese (I used marble)
1 egg, beaten
1/2 tsp. Italian Seasoning
1 clove garlic, minced
1/2 tsp garlic salt
olive oil
pizza sauce, shredded cheese and your choice of toppings
Instructions
Remove the leaves and stem from the cauliflower and grate the head with a cheese grater. Place the grated cauliflower into a microwave safe bowl and microwave for 8 minutes.
Preheat oven to 450 degrees. Grease a cookie sheet with butter or cooking spray.
Mix together the grated cauliflower, egg and cheese. Add Italian Seasoning, garlic and garlic salt and stir. Transfer to the cookie sheet, and using your hands, pat out into a 9″ round. Brush olive oil over top of crust.
Bake for 15 minutes.
Remove from oven. Add your pizza sauce, toppings and cheese. Place under a broiler at high heat just until cheese is melted (approximately 3-4 minutes). Make sure all the toppings are pre-cooked though.
Recommended Products
As an Amazon Associate and member of other affiliate programs, I earn from qualifying purchases.
Nutrition Information:
Yield:

6
Serving Size:

1
Amount Per Serving:
Calories:

155
Total Fat:

11g
Saturated Fat:

5g
Trans Fat:

0g
Unsaturated Fat:

5g
Cholesterol:

54mg
Sodium:

348mg
Carbohydrates:

6g
Fiber:

2g
Sugar:

2g
Protein:

8g