Savory Beef Picadillo Shepherd's Pie is going to knock your socks off! This particular shepherd's pie is low carb, and downright comforting. Ground beef seasoned with a handful of spices, peppers, onions, tomatoes, and topped with a cauliflower topping. As it bakes it offers a golden brown crust. This is so jam-packed with flavor, no one will know it is a skinny Shepherd's pie.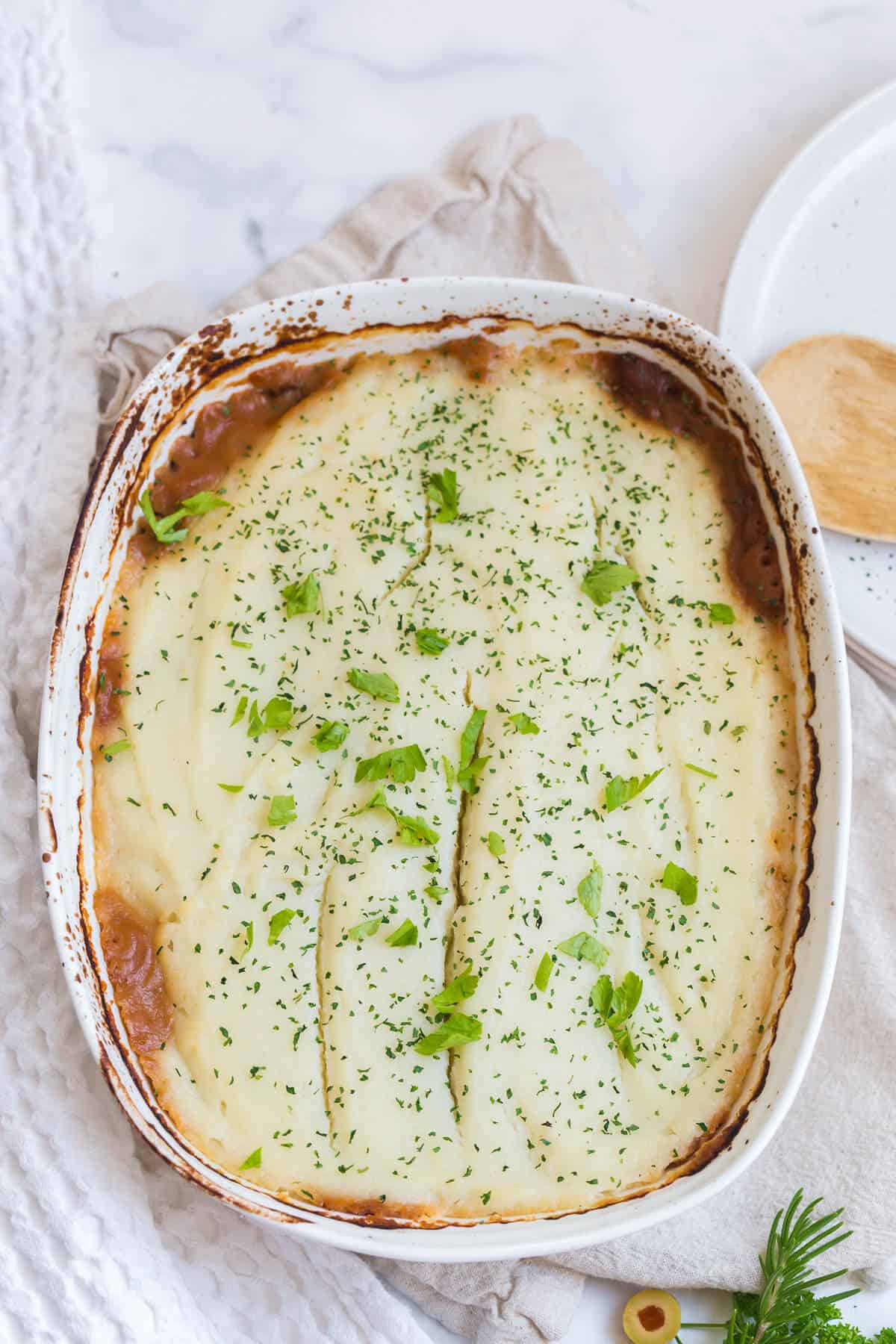 The other day I picked up a copy the October 2012 copy of Clean Eating and came across this recipe for Shepherd's Pie that was low carb! I've cut back on eating many of my favourite foods to eat low carb to lose weight (55 lbs+ now!). This particular recipe uses cauliflower instead of potatoes and it had all ingredients that were ok for my diet. I practically ran to the grocery store to buy the ingredients so I could give it a try.
Beef Picadillo Shepherd's Pie
I was interested in seeing how it would taste with the cauliflower topping. I've used cauliflower crust on pizza in the past and it's so yummy. The recipe took about an hour to make because there's a number of steps to prepare it, but it was SO worth it!
If you are watching your weight or eating low carb, then try it. It's filling and delicious with a Latin-American twist! You might also like this Shipwreck Casserole.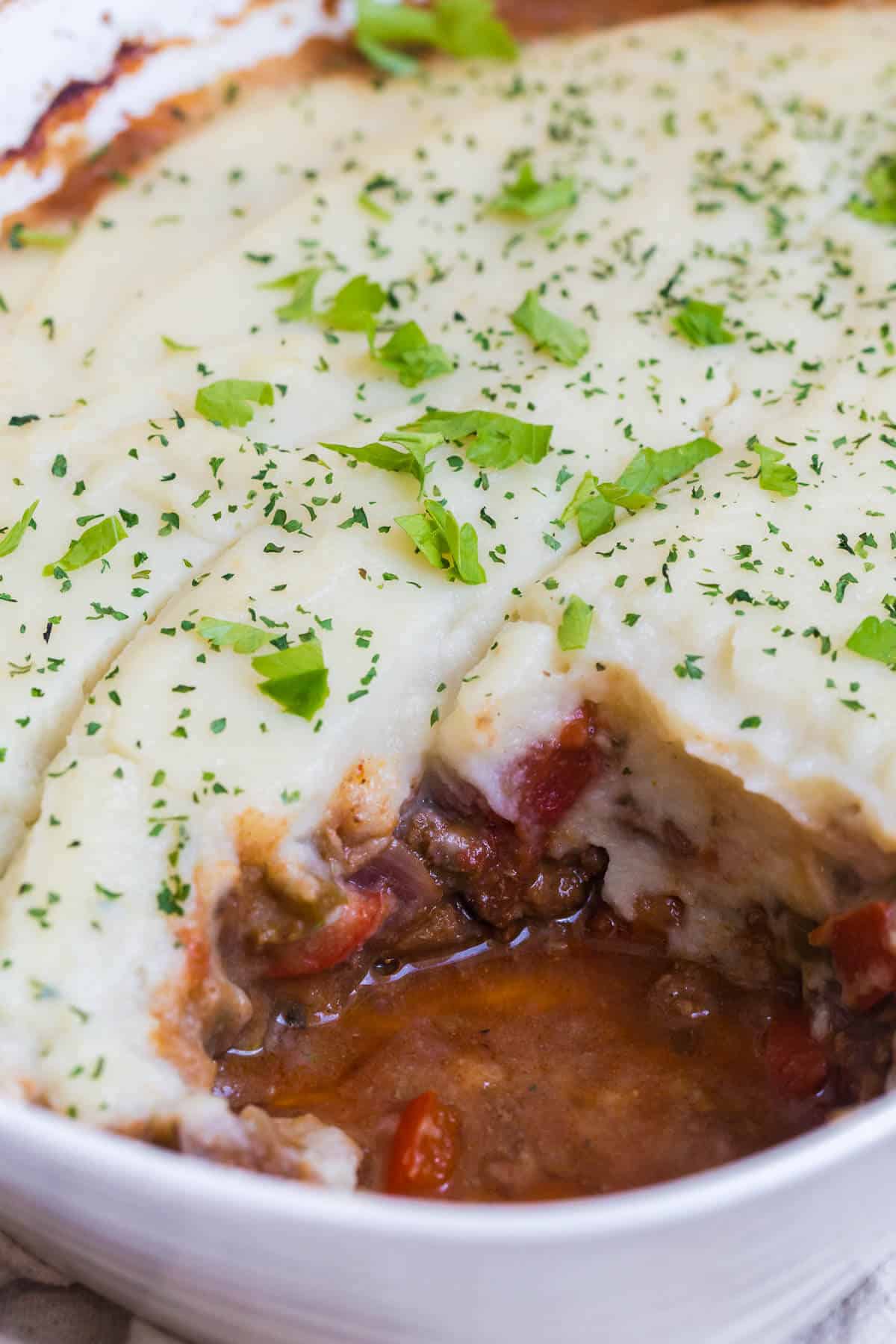 Where Is Picadillo From
Picadillo is a Cuban dish that is served like a chili. You will often see it seasoned to taste sweet and savory with dried fruits, cinnamon and more. This Shepherd's Pie recipe is a twist to the classic dish. But, the sweet elements are removed from the recipe.
Can I Use Vegetable Broth in Replace of Chicken Broth in Shepherd's Pie Recipe
Yes. You are welcome to use vegetable or even beef broth in replace of chicken broth. I just used chicken as that is what the recipe called for. I would think any of the varieties of broth will offer a similar taste when used in the recipe.
Can I Use Frozen Cauliflower Mash Instead of Making My Own
Of course. If you buy cauliflower that is already made into a mash go for it. Or if you had previously made some and have it in your fridge or freezer use that. You just want the cauliflower to mimic the texture of mashed potatoes. That way it smooths over the top of the mixture nicely and then bakes up to a golden layer.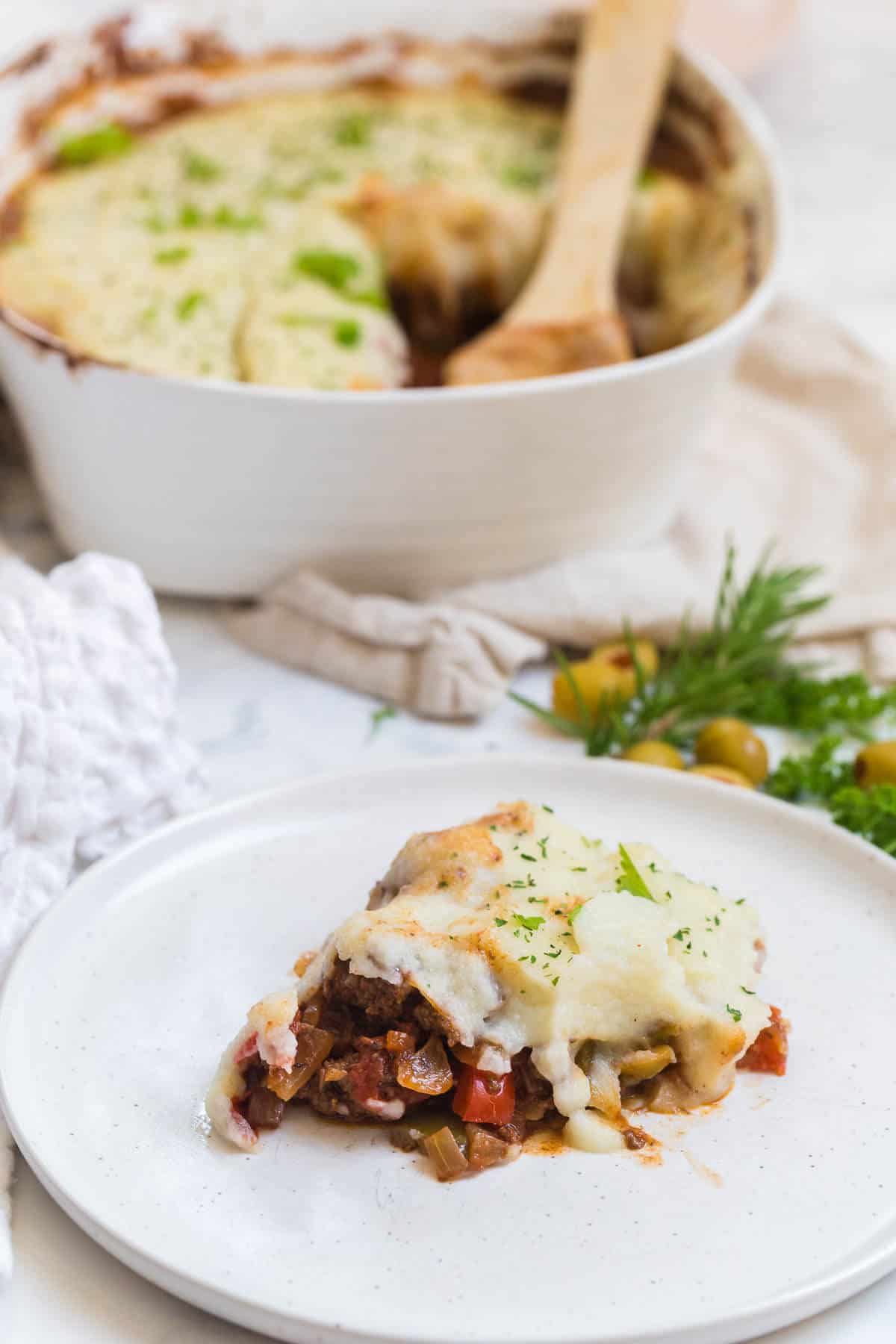 How To Make Beef Picadillo Shepherd's Pie
First, you want to start out by roasting your cauliflower in the oven. Once it is done toss in a food processor and blend it up with a cup of chicken broth to create a smooth and creamy texture.
Then in a skillet, you need to start cooking up your ground beef. Once it is done remove from the pan. Then add in your onions, garlic, and peppers and cook on medium high to help soften them up. This will take around three minutes.
Grab your spices and sprinkle them in and incorporate. Then toss your ground beef into the skillet along with the chicken broth, olives, tomatoes, and vinegar. Cook for around six more minutes or until you see it begin to thicken. Salt and pepper to taste at this point.
Grab your 8×8 or 9×9 square pan and pour the beef mixture into the pan. Then spoon on the cauliflower mash so it evenly covers. Bake for around 20 minutes with foil over it. Then remove foil and bake an additional 10 minutes to create a golden crust.
What to Serve with Shepherd's Pie
This dish I find is a meal in one, where you don't have to have another side dish to go along with it. But if you are feeling like you want a bit more, pair it with your favorite vegetable or even a dinner roll if you are not worried about the carbs. Another great option is making or buying a chopped salad for a lighter touch to it.
How to Store Shepherd's Pie
Once you have finished eating, just place leftovers in an airtight container and store in the refrigerator for up to three days. Anything after you want to toss out.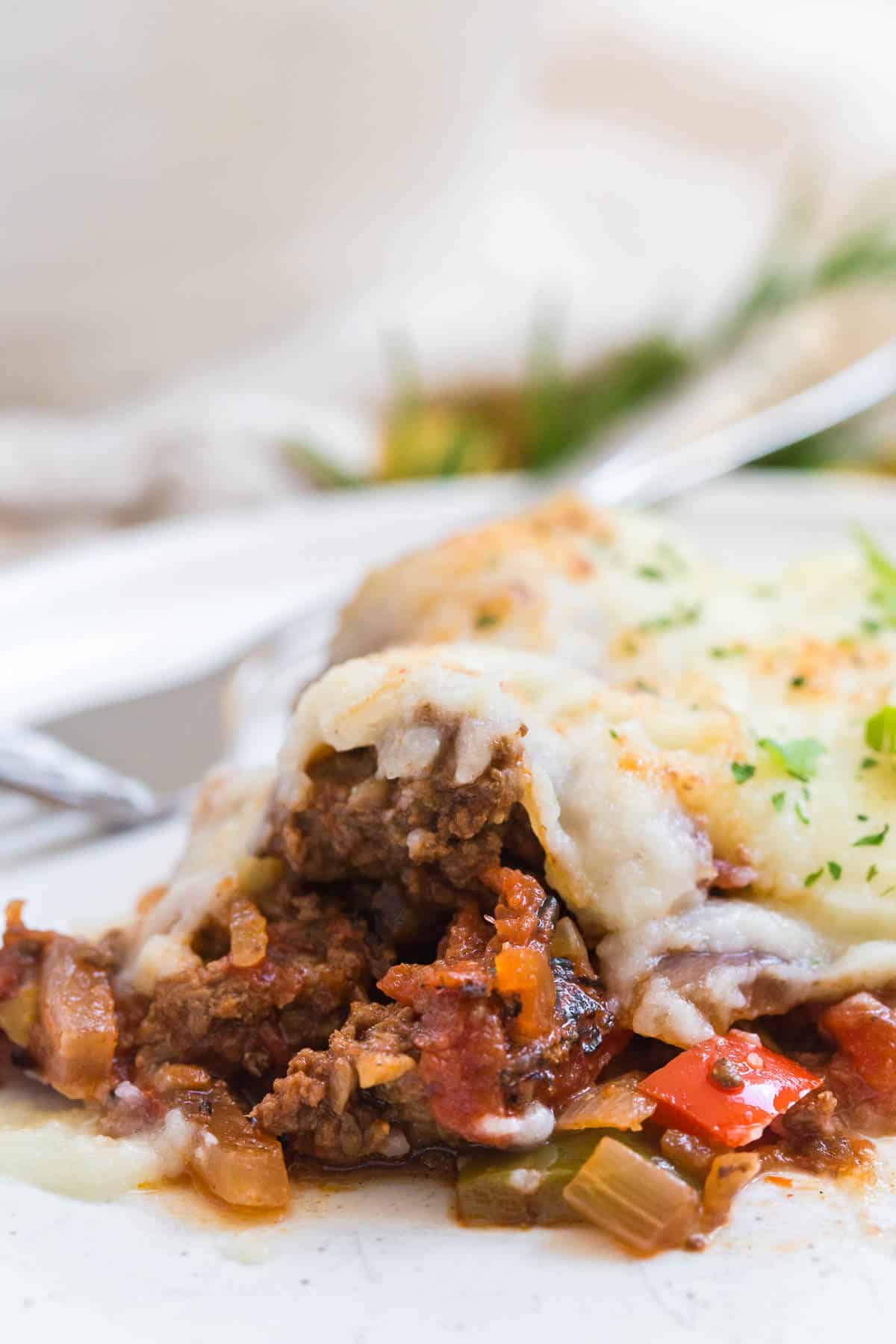 Can I Reheat Shepherd's Pie In The Oven
Yes. Just take your leftovers and wrap the pan in aluminum foil and then toss in a 350-degree oven and heat until the pie is warmed all the way through. Then serve as normal.
Heating in the oven allows the mixture to keep the similar texture as night one, and not become as soggy as it would if you heated it in the microwave.
Can You Freeze Shepherd's Pie
I personally have not tried to freeze this recipe. But, all the ingredients are freezer friendly so I don't see why you would have any issues with freezing. Just make sure you place in a freezer friendly container so that it prevents it from getting freezer burned. Then just thaw in the fridge the night before you plan to eat again.
Then warm in oven or microwave and enjoy.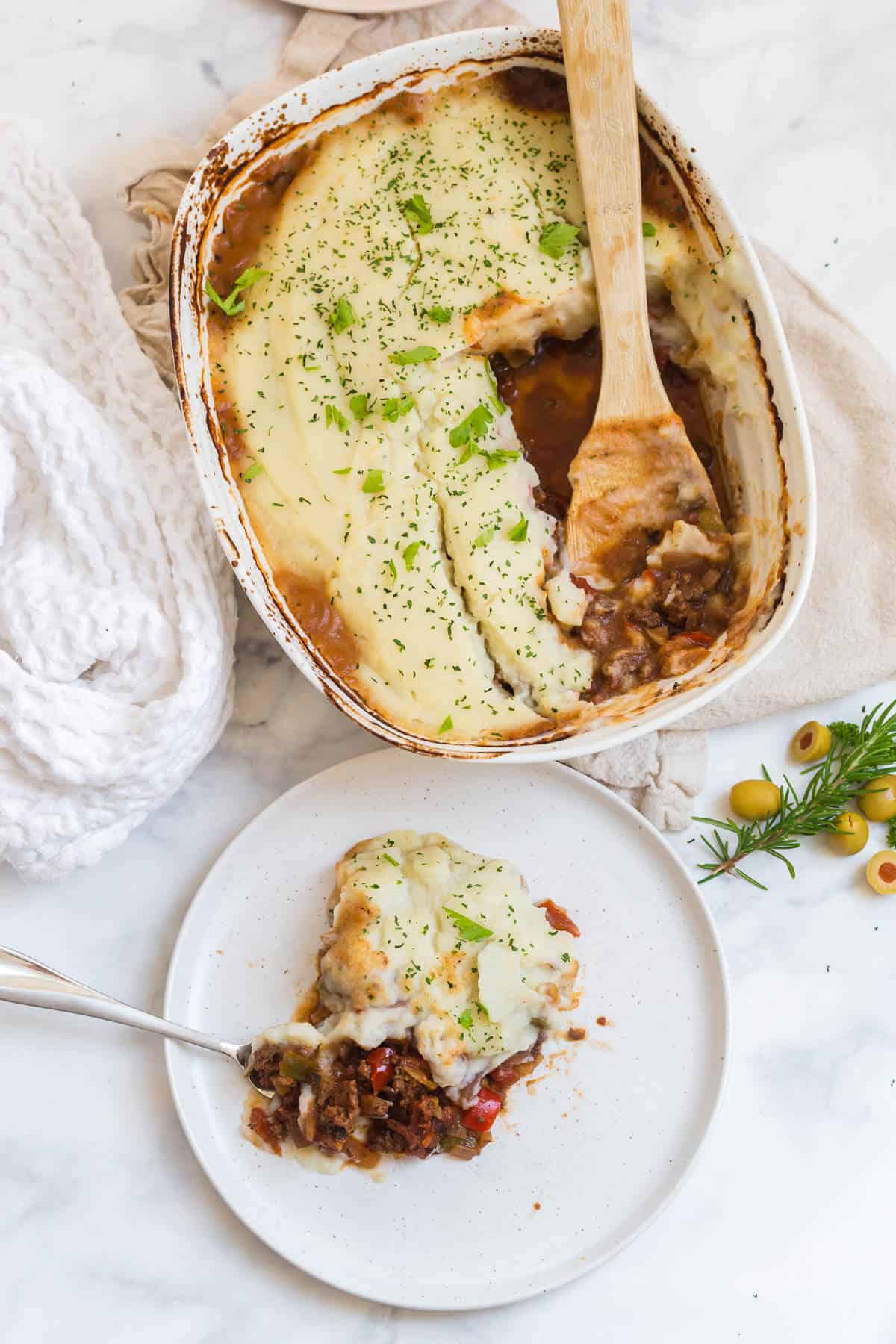 Delicious Low Carb Dinner
This is a delicious low carb dinner idea if you are wanting something out of the box. It is bursting with flavor and texture that will leave you feeling satisfied. Great for serving the whole family or even a crowd.
Try my Tater Tot Casserole.
Have you tried Beef Picadillo Shepherd's Pie before?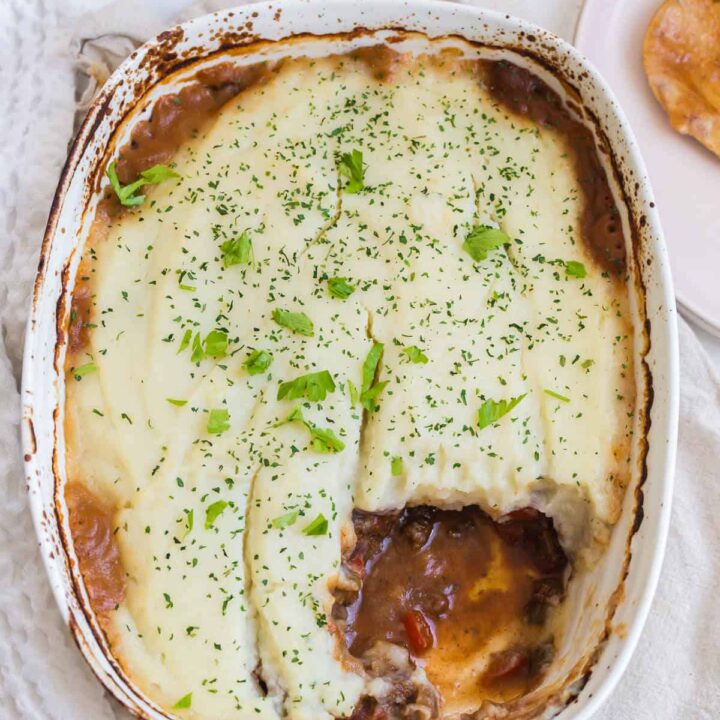 Beef Picadillo Shepherd's Pie
This easy recipe is a low carb twist on the classic Shepherd's Pie. Loaded with warm spices and a slight tang from the olives, this is a kid-friendly meal that the whole family enjoy.
Print
Facebook
Pin
Share by Email
Rate
Ingredients
1

cauliflower

cut into small florets

2

cups

chicken broth

divided

1

lb

extra lean ground beef

1

red onion

diced

2

cloves

garlic

minced

1

green pepper

diced

1

red pepper

diced

1

tsp

ground cumin

1

tsp

paprika

1

cup

from a can of diced tomatoes

¼

cup

olives with pimento

coarsely chopped

2

tbsp

balsamic vinegar

salt & pepper

to taste
Instructions
Preheat over to 400°F. Spread cauliflower in a single layer on a parchment lined baking sheet and lightly spray with cooking spray. Roast for 30 minutes. Cool slightly and then transfer to food processor (or blender). Add 1 cup of chicken broth and process until smooth. Transfer to a bowl, season with salt and pepper and set aside.

Heat the ground beef in a large skillet on medium high heat until the beef is browned. Transfer beef to a paper towel-lined tray.

Add onion, garlic and peppers to the skillet still on medium high heat. Cook, stirring frequently, for about 3 minutes. Add cumin and paprika and cooking for 1 minute stirring constantly. Add cooked beef back into skillet and stir in remaining 1 cup chicken broth, tomatoes, olives and vinegar. Cook for 6 minutes or until thickened slightly and reduced by half. Season with salt & pepper and transfer the beef mixture to an 8 or 9 inch square baking dish spreading out evenly.

Spoon cauliflower puree over beef mixture as evenly as you can.

Cover with foil and bake for 20 minutes at 400°F. Remove foil and bake an additional 10 more minutes. Serve hot.
Kitchen Tools
Nutrition
Serving:
1
g
|
Calories:
79
kcal
|
Carbohydrates:
10
g
|
Protein:
7
g
|
Fat:
2
g
|
Saturated Fat:
1
g
|
Polyunsaturated Fat:
1
g
|
Cholesterol:
14
mg
|
Sodium:
467
mg
|
Fiber:
3
g
|
Sugar:
5
g
The information shown is an estimate provided by an online nutrition calculator. It should not be considered a substitute for a professional nutritionist's advice.
Love Recipes? Join our Free Facebook Group!
Join Mom's Best Recipes to find more delicious family recipes.
Save
Saved!