Chicken Shepherd's Pie
John says I don't make enough potato recipes. He was right. I had been making his favourite starchy side over the last few months. On my last grocery shopping trip, I bought a big bag of potatoes to appease his cravings. I made a yummy slow cooker mashed potato recipe (to come soon!) and a scrumptious Chicken Shepherd's Pie. Two points for me!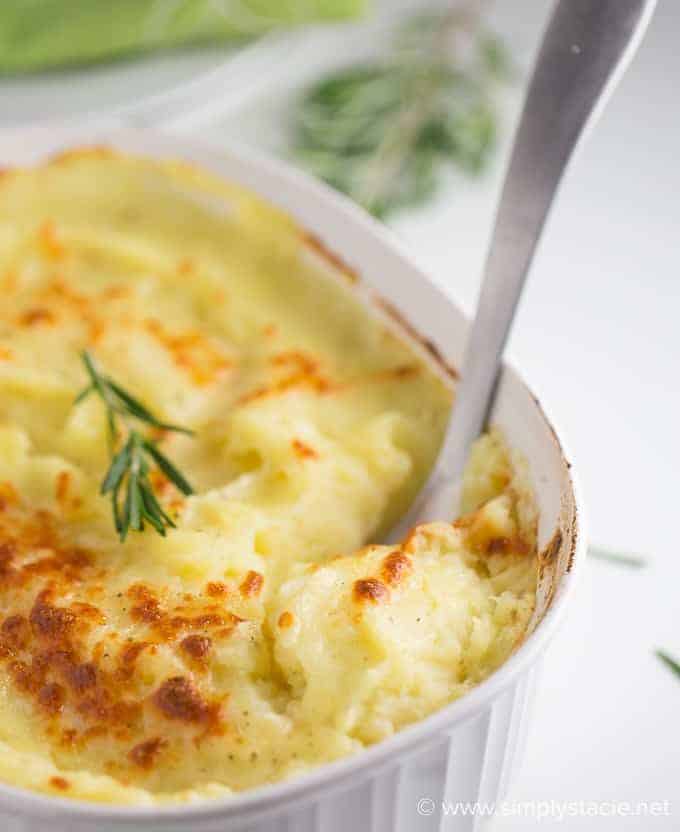 This recipe isn't the traditional one for Shepherd's Pie. I favour chicken over beef these days. I get more bang for my buck with chicken. And yes, I do a lot of chicken recipes. I am a Chicken Farmers of Canada brand ambassador! However, this post you're reading is not sponsored. I'm sharing just because 🙂
When I was making this recipe, I decided at the last minute to add curry powder. I've made Curried Chicken Salad before and loved the flavour. It was an impulse decision that paid off. It added an extra element of yumminess that the whole family enjoyed.
This recipe would also work well with leftover chicken and mashed potatoes. I know some of you have told me that there is no such thing as leftover mashed potatoes, but just in case, keep this recipe in mind for the future! You never know, right?
Check out my other shepherd's pie recipes: Healthy Shepherd's Pie and Beef Picadillo Shepherd's Pie.
How do you make your favourite shepherd's pie?

Yield: 6
Chicken Shepherd's Pie
Not your mama's Shepherd Pie! This version is made with a creamy curry sauce that is out of this world. Topped with a heavenly layer of mashed potatoes and Parmesan cheese, this comfort food recipe will not last long. Mmm good.
Ingredients:
6 potatoes, peeled and cut into chunks
2 1/2 cups milk, separated
2 tbsp butter, separated
salt & pepper, to taste
2 onions, chopped
3 cloves garlic, minced
1/4 cup flour
1 cup chicken, cooked and roughly chopped
1 tbsp Dijon mustard
1 tsp lemon juice
1 tbsp fresh rosemary
1/2 tsp curry powder
1 cup frozen mixed vegetables
1/4 Parmesan cheese, shredded
Directions:
Boil a large pot of salted water on the stovetop. Add in potatoes and cover, cooking for 15 minutes or until potatoes are tender. Drain. Add in 1/2 cup milk, salt and pepper and 1 tbsp butter. Mash until smooth. Set aside.
In a large pan, melt 1 tbsp butter over medium heat. Add onions and garlic and cook for about 5 minutes. Stir in flour.
Whisk in milk, Dijon mustard, lemon juice, rosemary and curry powder. Continue to whisk constantly until it reaches a thick consistency. Add in chicken and frozen vegetables and stir for another 3 to 5 minutes.
Spread chicken mixture in a 1.5 quart casserole dish. Spread mashed potatoes on top. Sprinkle on Parmesan cheese. Broil for about 5 minutes or until cheese melts. Serve hot.
You Will Also Love
If you liked this post, you will also love these ones!