This Chicken Broccoli Casserole is a twist on my Mom's classic recipe! Enjoy as a comfort food meal or a holiday side dish.
Disclosure: I was compensated for this post. All opinions on this blog are my own.
I was picking up groceries last week at Walmart and went to look for some chicken breasts. I was so happy to see the "Raised by a Canadian Farmer" logo on all the chicken products! I've been waiting for years for our local stores to get on board so it's great to finally see! I had to grab a quick photo to show you what it looks like. You might have already seen this logo in stores, but it's new to our little community.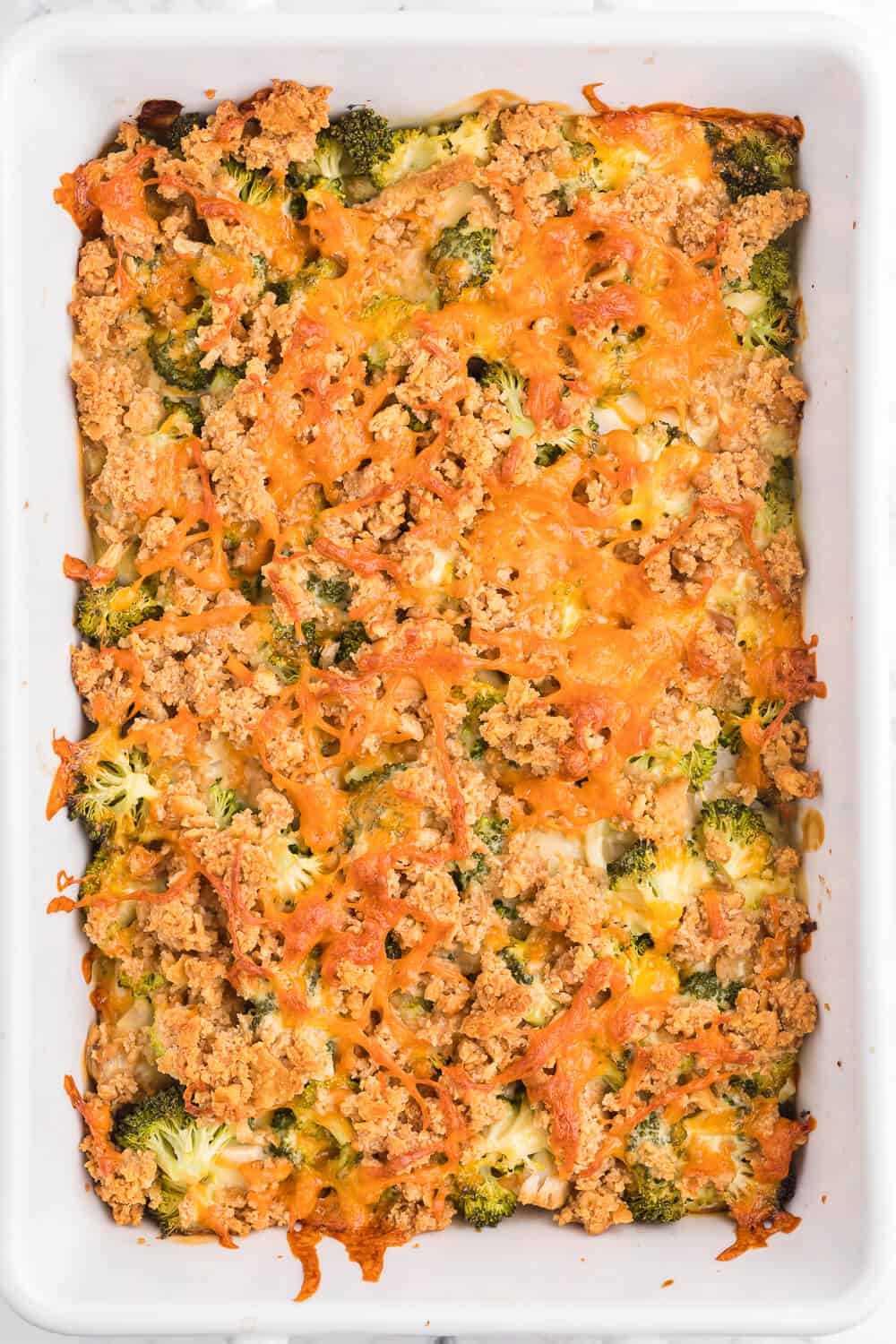 I had a chicken recipe in mind for the holidays – a twist on my mom's classic recipe. Every holiday dinner for as long as I can remember has included my Mom's broccoli casserole. Even broccoli haters like this recipe. I decided to take it up a notch and add some chicken making it a Chicken & Broccoli Casserole. Now it's more of a main dish than a side dish, but that's ok. It's still yummy comfort food perfect for the cold weather. I'll still serve it as a holiday side dish though.
The base of the recipe is broccoli florets, onions and cooked chicken. You could use leftover chicken if you like! I baked a few chicken breasts to use in the recipe and then just chopped them into small cubes.
The sauce is even more chicken – a savoury, creamy mixture of Cream of Chicken Soup, milk, egg and mayonnaise. Pour it over top of your broccoli/chicken mixture.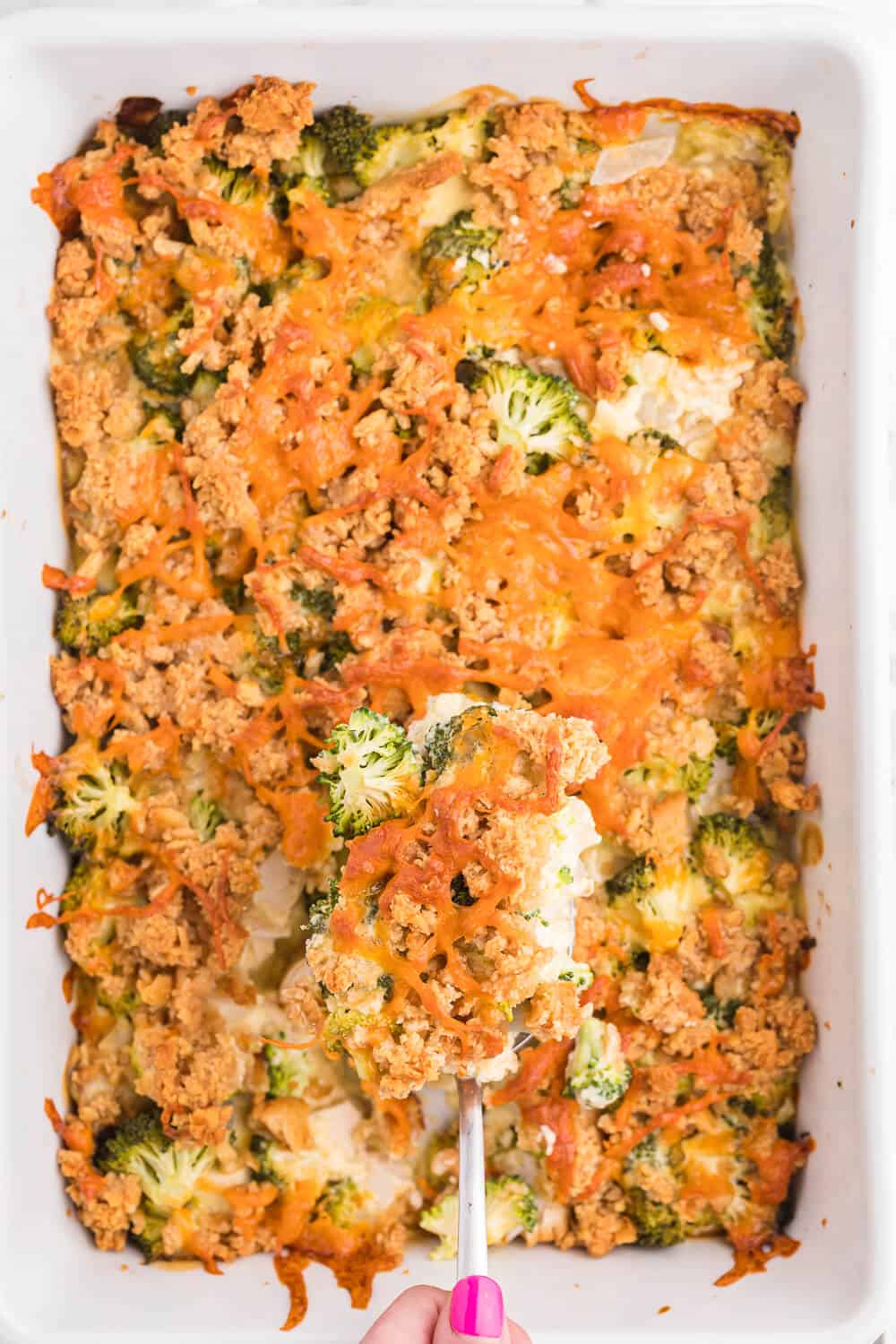 The topping is pure deliciousness. It's a blend of crushed Ritz crackers, melted butter and milk to create a buttery, crunchy crumble. I also added cheddar cheese on top to give it an extra punch of flavour. This dish is easy to make and so yummy to eat.
It's best served hot which is why it comes out looking a bit messy on the plate. I couldn't wait to eat it so I took my photos right away. I may have helped myself to a serving or two!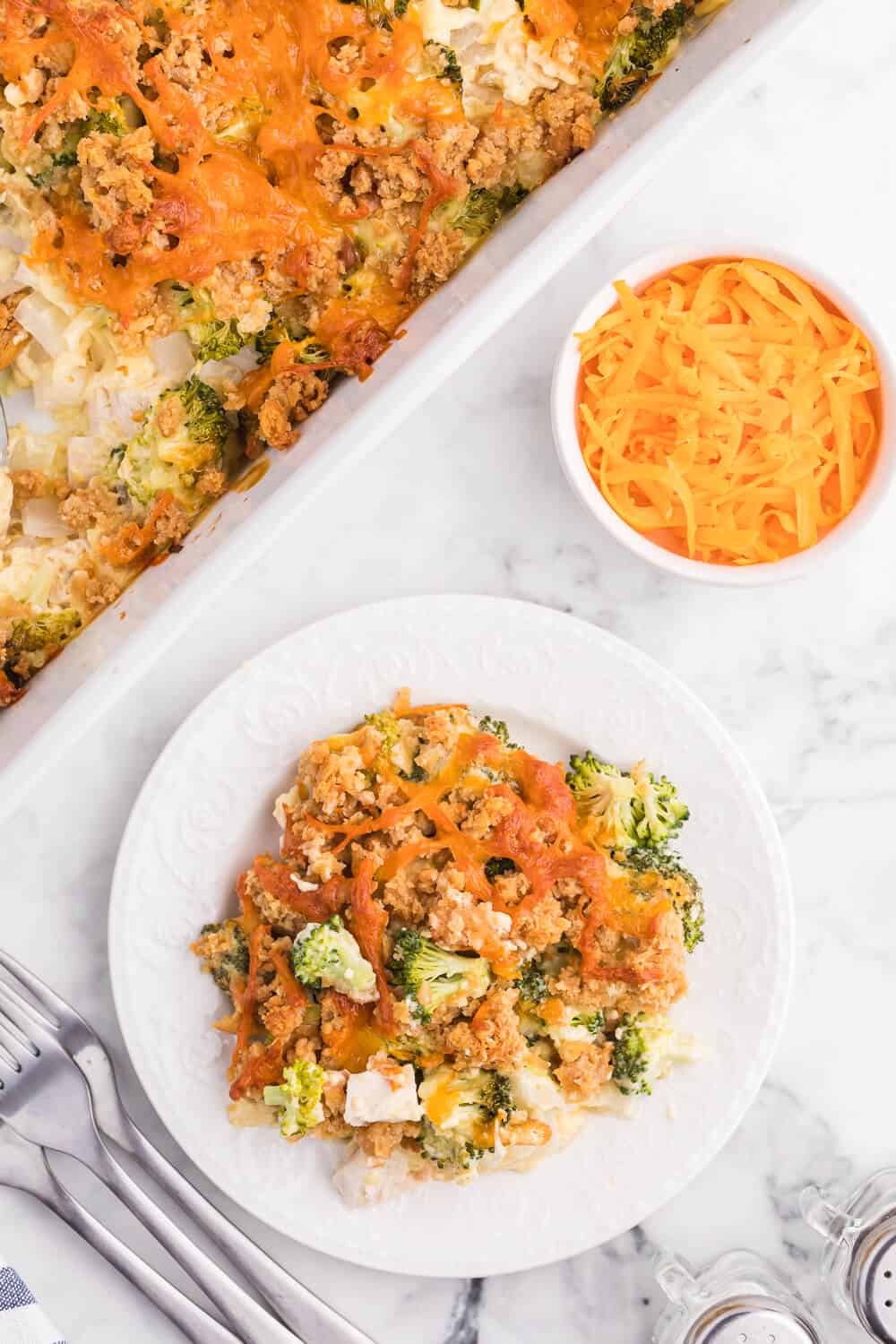 This is a great casserole to make when you have company and you want an easy meal to impress. It also can be a side dish at your holiday dinner table.
It's simple to add your own twists to the recipe. For instance, you could add cauliflower with the broccoli, use a different kind of cheese, try another flavour of cream soup or even use dark meat chicken instead of chicken breast. You literally cannot screw this recipe up!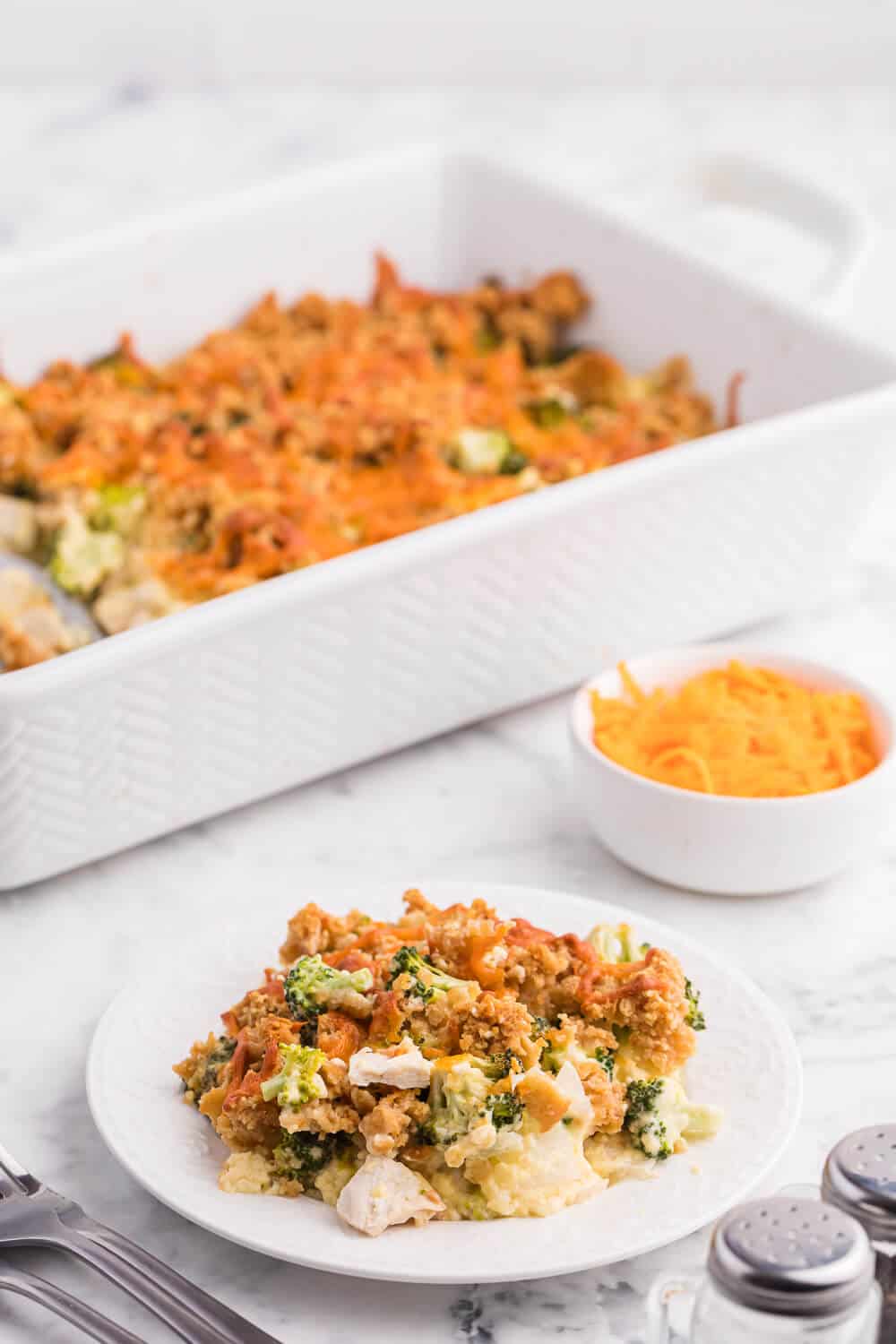 I enjoy taking classic family recipes and adding twists to them. Once you get the "framework" down, you can change them up as much as you like!
You might also enjoy these Cranberry and Goat Cheese Stuffed Chicken Bites, Keto Chicken Pizza Dip and Chicken & Stuffing Meatball Bites.
Try my Broccoli Swamp, Cabbage Roll Casserole or Santa Fe Chicken Tortellini Casserole.
For more holiday recipes, make sure to check out my Holiday Entertaining Guide.
What is your favourite holiday comfort food?
Follow the Chicken Farmers of Canada on Facebook, Twitter, Instagram and Pinterest.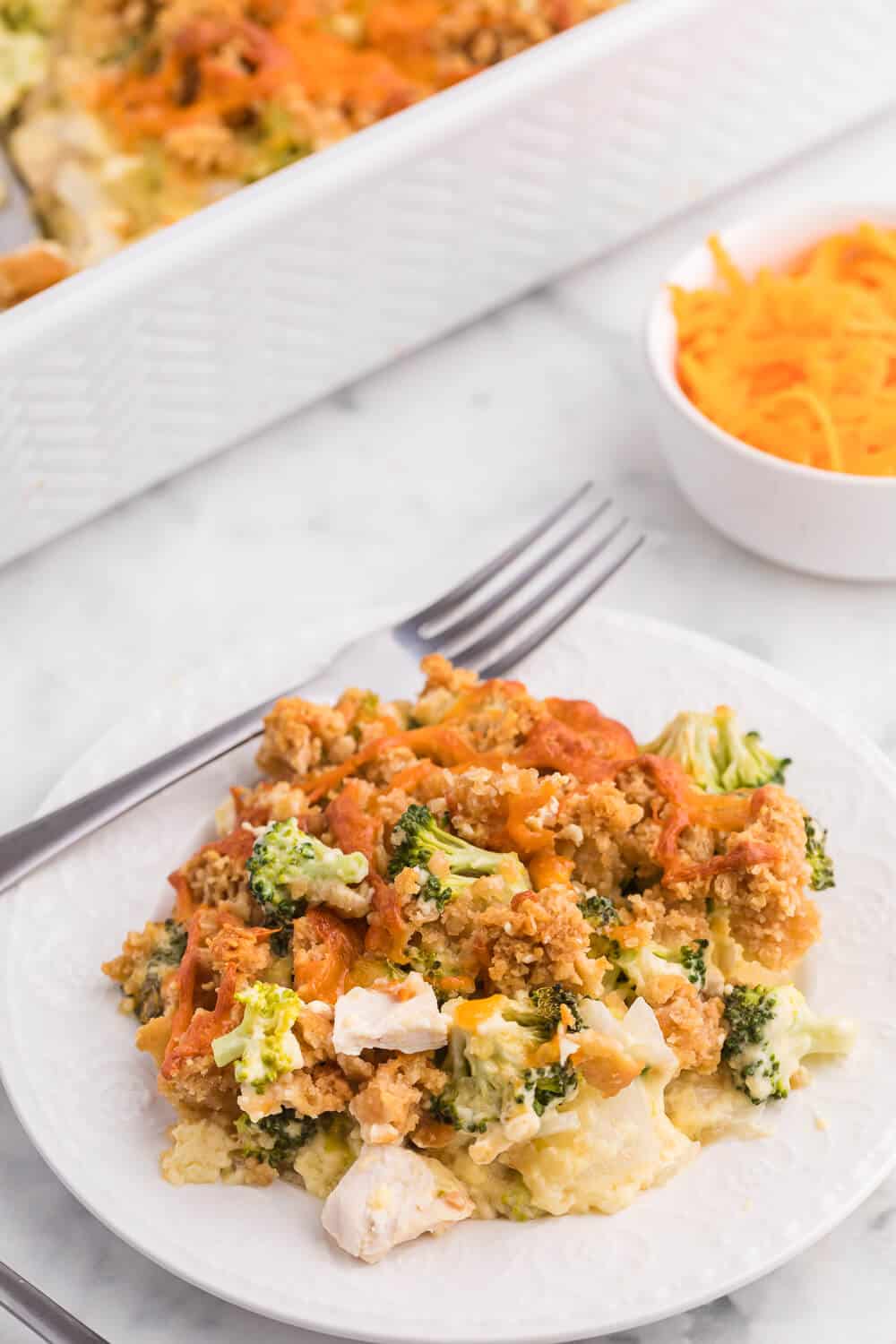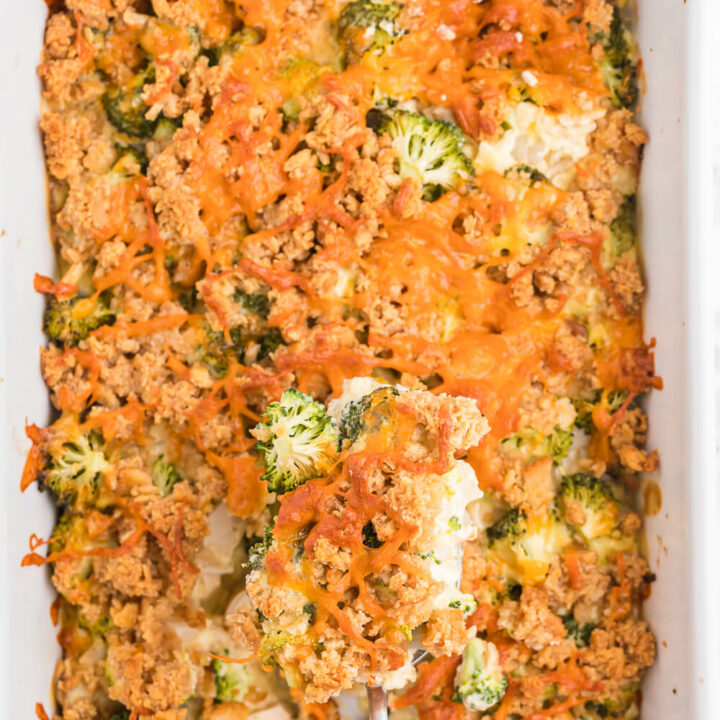 Chicken & Broccoli Casserole
This casserole is a great way to use leftover chicken. Combined with the broccoli and cheese, it is a family-pleasing main dish, served along side a salad.
Ingredients
2 cups cooked chicken, chopped
1 head broccoli, cut into florets
1 onion, chopped
1 (10.5oz/284ml) can Cream of Chicken Soup
1/4 cup milk
1/4 cup mayonnaise
1 egg
Topping
1 1/2 cup Ritz crackers, crushed
1/4 cup milk
1/4 cup butter, melted
3/4 cup cheddar cheese, shredded
Instructions
Preheat oven to 350F.
Spread broccoli, chicken and onions over the bottom of a 9×13 casserole dish.
In a medium bowl, stir together soup, milk, mayonnaise and egg. Pour over broccoli mixture
To make the topping: In a small bowl, mix together Ritz crackers, 1/4 cup milk and butter. Place crumble topping on top of baking pan. Top with cheese.
Bake 40 minutes until the topping is lightly browned. Serve hot.
Recommended Products
As an Amazon Associate and member of other affiliate programs, I earn from qualifying purchases.
Nutrition Information:
Yield:

8
Serving Size:

1 bowl
Amount Per Serving:
Calories:

343
Total Fat:

22.2g
Saturated Fat:

8.3g
Trans Fat:

0.4g
Unsaturated Fat:

12.4g
Cholesterol:

77.2mg
Sodium:

471.2mg
Carbohydrates:

22.1g
Fiber:

1.6g
Sugar:

4.3g
Protein:

14.5g