Serve up this low carb Crustless Bacon and Cheese Quiche for your weeknight dinner or even brunch. Going crustless for your quiche leaves you with a quick, easy, and more affordable quiche that also cuts out a lot of empty carbs. This recipe is so satisfying you won't even miss the crust! Trust me!
I've been making lots of egg recipes lately because of my low carb diet. I whipped this up for dinner, and it was incredible! Best of all the leftovers the next day was just as good. My family enjoyed it as much as I did, and the prep was painless. By getting rid of the crust, you save time, and to be honest, I don't love the crust in quiche, to begin with.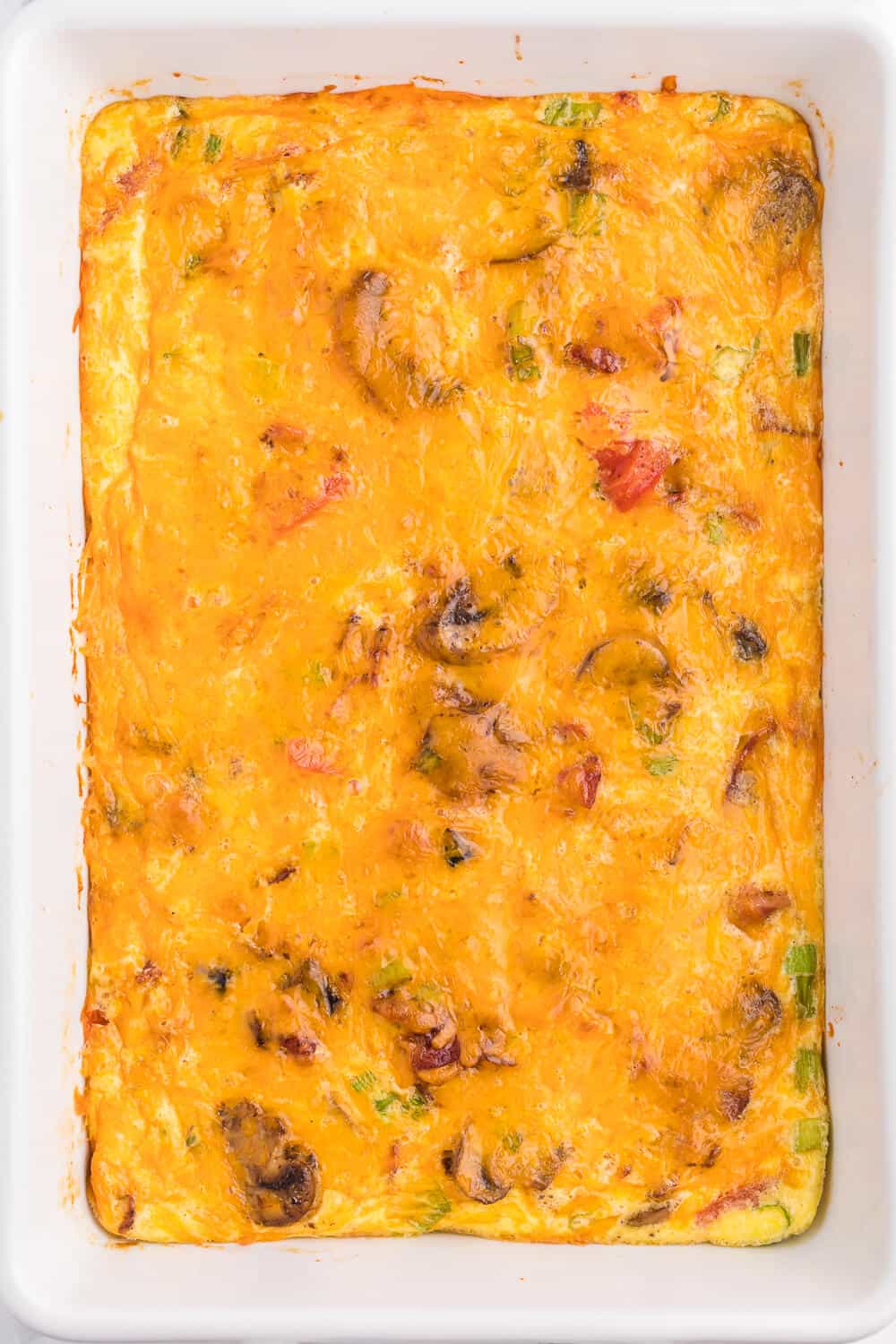 Mushrooms, tomatoes, bacon, sour cream for a creamy base, and of course we can't forget the eggs. Loaded with protein and flavor, is what you get in this quiche recipe. Plus, because it is wrapped in eggs, it is a great way to sneak some veggies into your kid's diet.
Even More Egg Dishes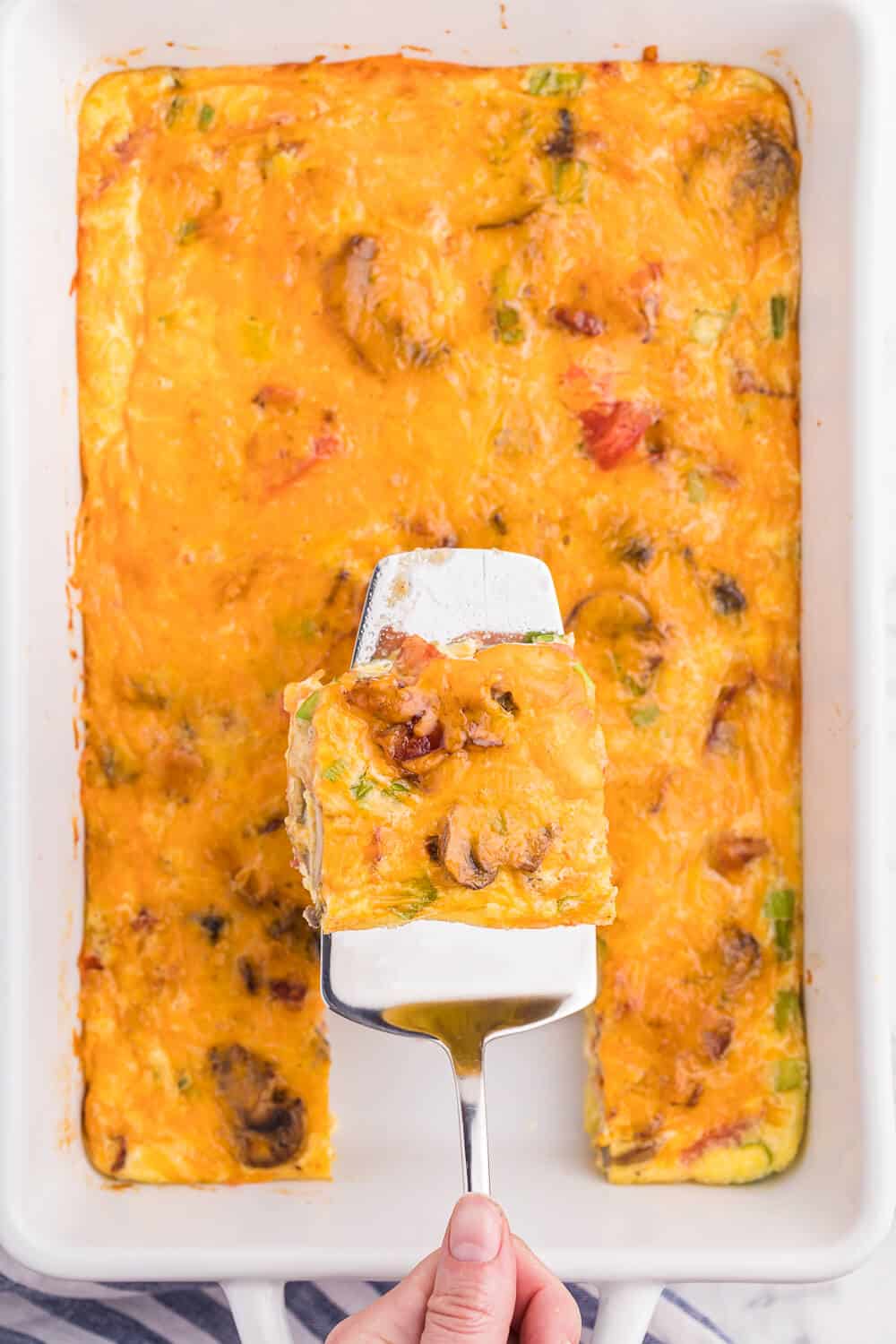 Is a Frittata The Same as a Crustless Quiche?
Frittata and a crustless quiche are similar, but the way a frittata is cooked is what makes them different. Both are egg based with added ingredients, but the cooking process is different.
Frittatas start on the stove top and then get transferred to the oven to finish baking. A crustless quiche gets assembled and pops right in the oven to cook up.
Can Crustless Quiche Be Frozen
Yes, you can freeze your crustless quiche once you have cooked it and allowed it to cool. Just slice your quiche into single servings and place in an airtight container or wrap each slice in plastic wrap or aluminum foil. Place in the freezer for up to 3 months.
To reheat your frozen quiche, allow to thaw in the fridge overnight, or place in microwave and heat at 30-second intervals until it is warmed all the way through.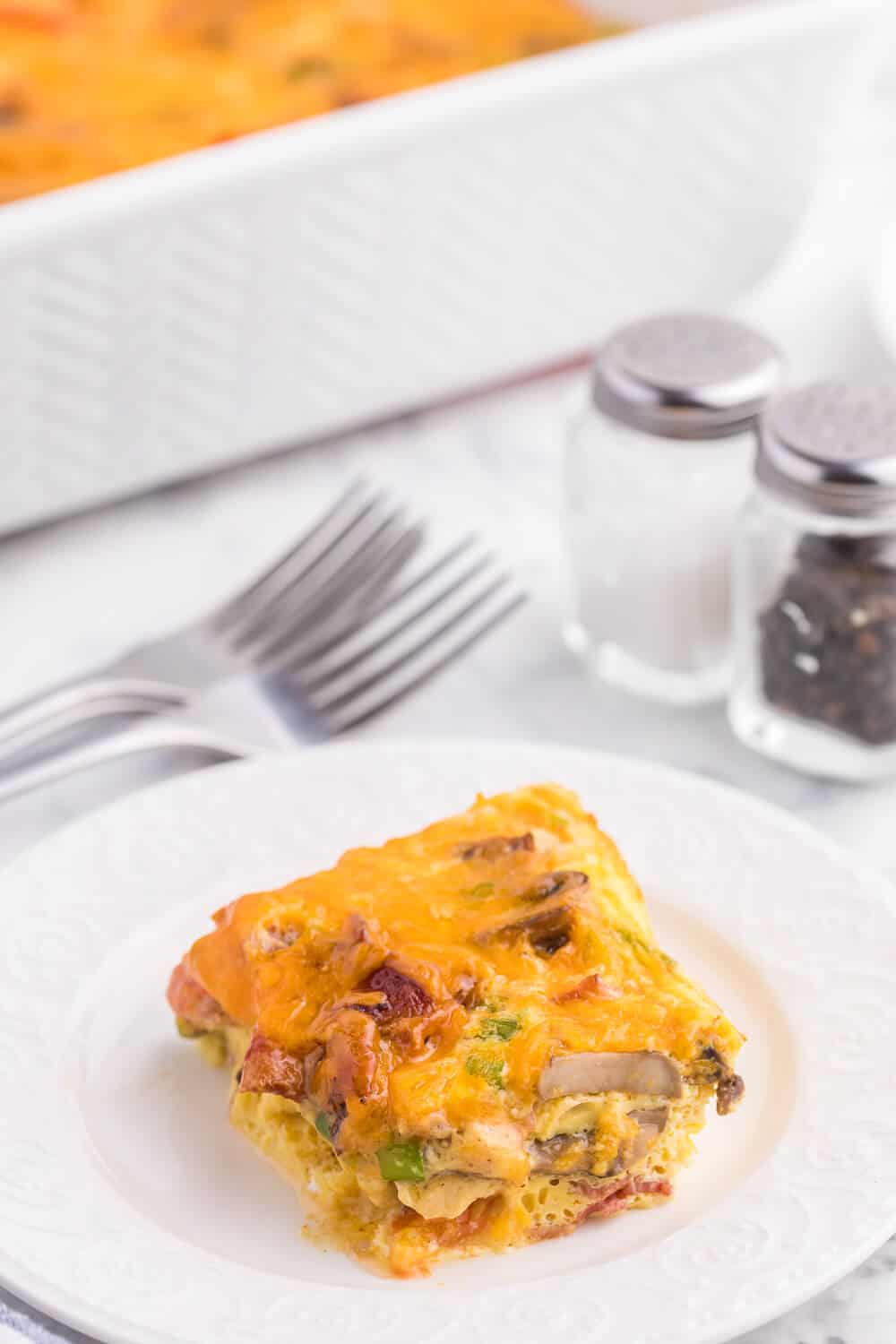 Does Quiche Need a Crust
No, quiche does not have to have a crust; this recipe is proof. Your quiche is essentially a custard base, and if you pour into your pan, it will bake up nicely without the crust.
This recipe is excellent and slices up beautifully for serving up guests. Pair with some fresh fruit, side of bacon or sausage, and call it breakfast of champions.
Can You Make Your Crustless Bacon and Cheese Quiche Ahead of Time
Yes! If you want to prep this the night before, go ahead. Then when morning rolls around, turn the oven on and bake. Just allow 10-15 minutes extra since you are starting with a chilled filling and pan.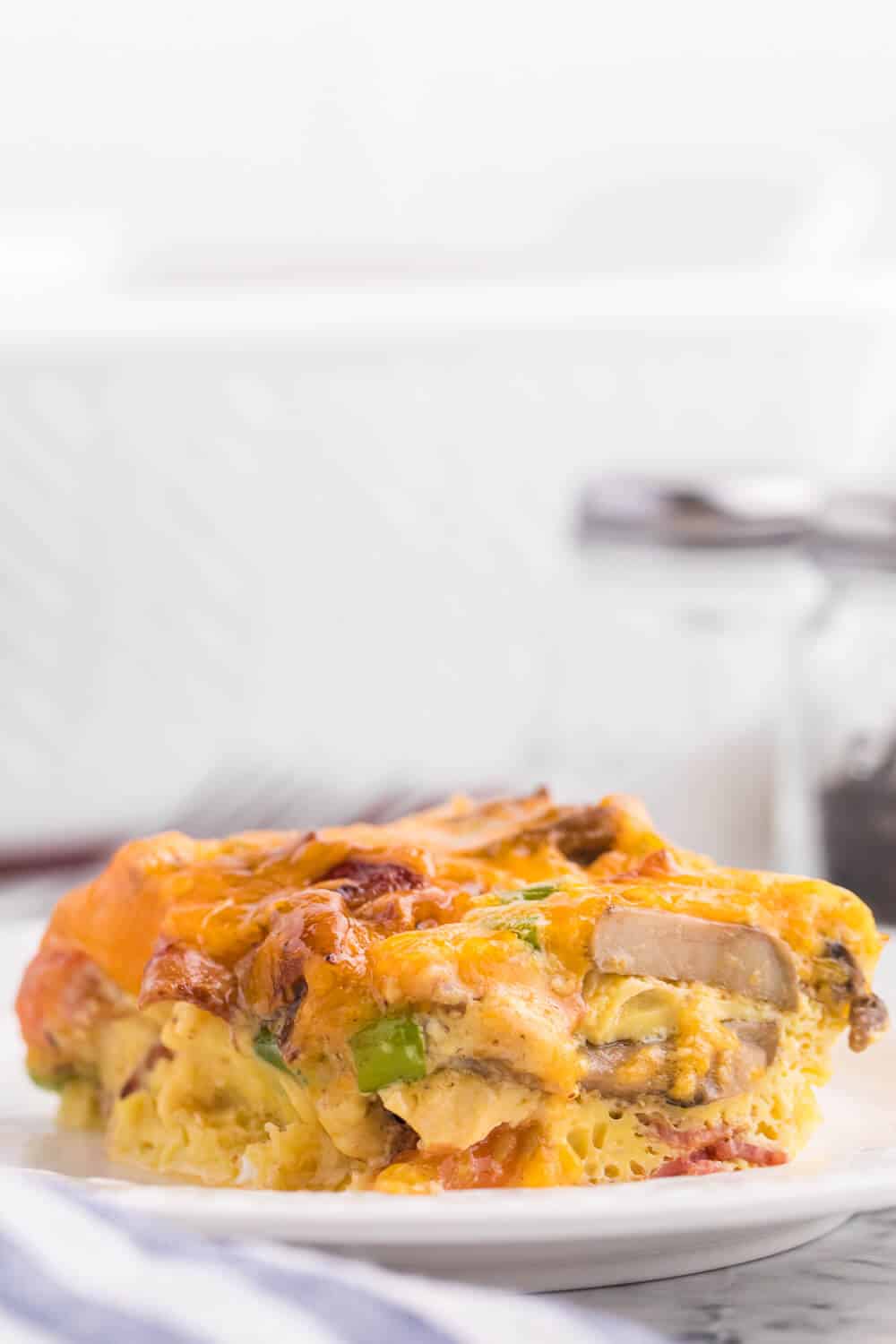 Variations for Crustless Bacon and Cheese Quiche
Feel free to add in or take away some of the vegetables used in the recipe. You can easily adjust the flavors to fit your liking. Here are some great ingredients that will work well in this recipe.
Canadian bacon
Asparagus
Ham
Green peppers
Sausage
Green onions
Mix and match and try to find ingredients that you enjoy. I love to raid our produce drawer and see what I have on hand to toss in. This is a beautiful way to use up produce that might expire if you don't get it cooked up.
What to Pair With Your Bacon And Cheese Crustless Quiche
Hosting brunch or have some guests over? Here are some great recipes to pair next to your crustless quiche to give your guests an option. I mean as crazy as it sounds, not everyone is a fan of eggs (I know right?!). So having a few other items next to your quiche is a great way to play it safe.
Slice up fresh fruit or a fruit salad
Muffins, Biscuits or Croissants
A side of protein, whether it be sausage, bacon, or even Canadian bacon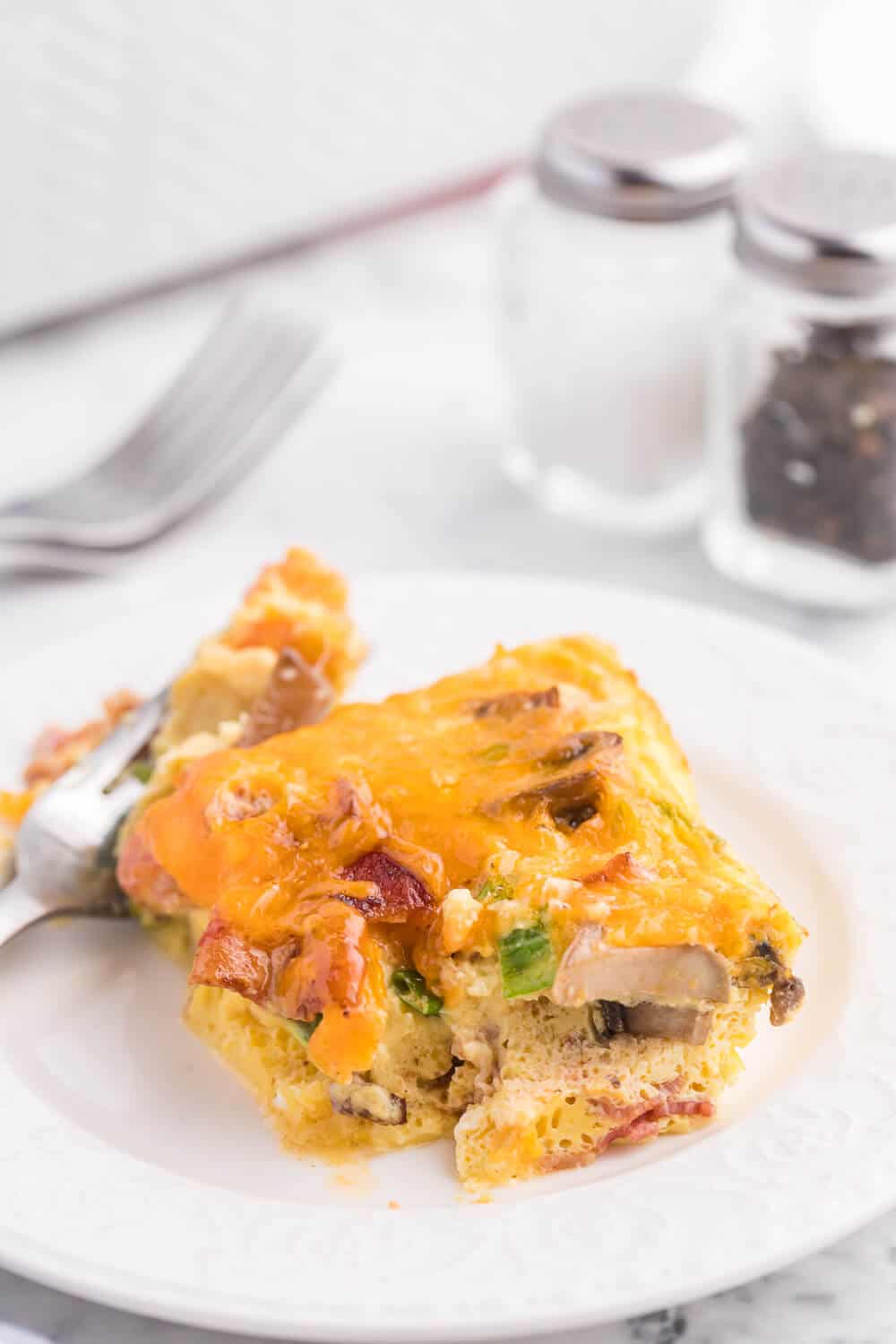 Or if you are like me, you eat the quiche alone and call it a breakfast or even dinner option.
Give this simple crustless quiche a try. I love the cheese and bacon paired with fresh vegetables inside. A nice low carb option that is packed full of protein and nutrients to fuel you to finish out the day till next meal time.
You'll also enjoy this Bacon and Potato Quiche.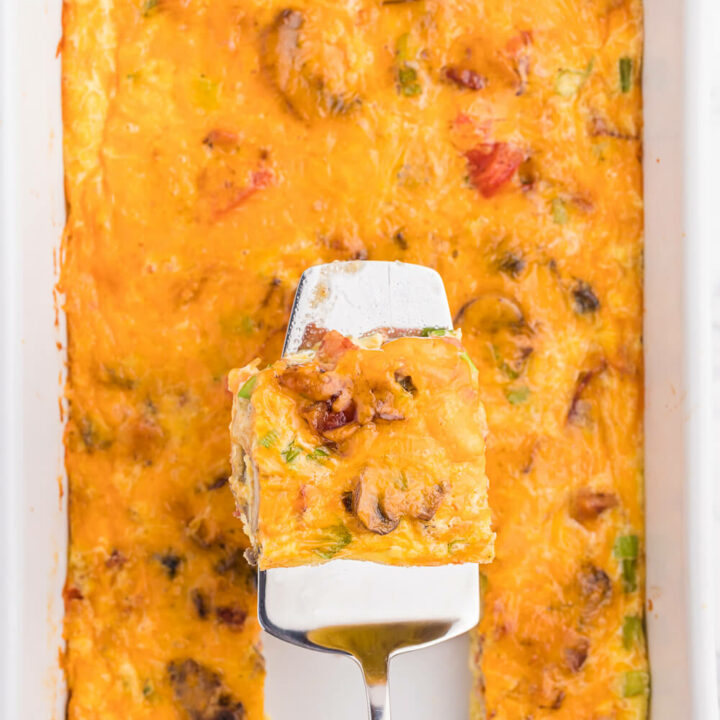 Crustless Bacon and Cheese Quiche
Rich, creamy eggs with bacon and cheese are a fantastic, lower carb option for brunch or dinner. Served with fruit or mixed greens, this is delicious and satisfying, no matter what time of day you make it!
Ingredients
5 green onions, chopped
1 tomato, chopped,
12 slices bacon
1 cup mushrooms, sliced
12 eggs
1/3 cup sour cream
2 cups cheddar cheese, shredded
Instructions
Pre-heat oven to 325ºF.
Cook bacon in a skillet until crisp. Remove bacon from skillet, reserving 1 tablespoon drippings in skillet. Add mushrooms to reserved drippings and cook for another 5 minutes. Remove from heat. Crumble bacon. Add to skillet with remaining onions and tomatoes; mix well.
Whisk eggs and sour cream until well blended. Pour into greased 13×9-inch baking dish and then top with bacon mixture and cheese.
Bake for 30 minutes. Let stand about 5 minutes to cool before serving.
Recommended Products
As an Amazon Associate and member of other affiliate programs, I earn from qualifying purchases.
Nutrition Information:
Yield:

8
Serving Size:

1
Amount Per Serving:
Calories:

332
Total Fat:

25g
Saturated Fat:

11g
Trans Fat:

0g
Unsaturated Fat:

12g
Cholesterol:

330mg
Sodium:

587mg
Carbohydrates:

4g
Fiber:

1g
Sugar:

2g
Protein:

23g