Who says you can't eat delicious food while in the Great Outdoors? Not this gal! Sometimes, the recipes you make camping taste even better than the ones you make at home. Take BBQ Eggs. They are so simple to whip up for breakfast and taste delicious. Use either a BBQ or go old school with a campfire, depending on the tools you have available.
Disclosure: I am participating in the Burnbrae Farms campaign managed by SJ Consulting. I received compensation in exchange for my participation in this campaign. The opinions expressed are my own.
What I love most about this recipe is how easy it is to make and how few ingredients you need. You don't want to be lugging a ton of ingredients in your cooler when you're camping. The beauty of this recipe is that it can be made with one or two ingredients. I recommend using a disposable BBQ foil pan to cook them in.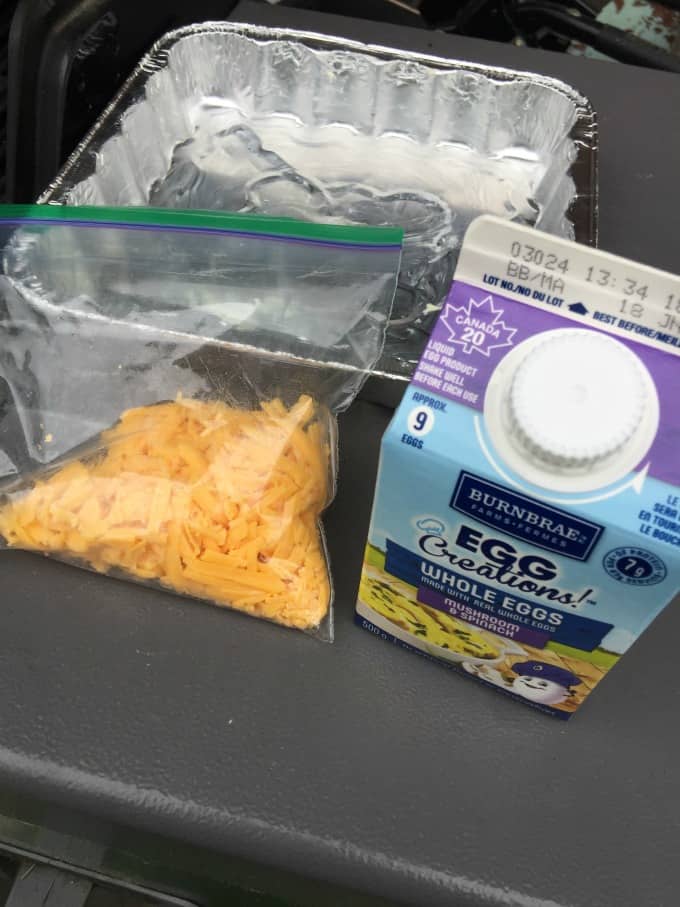 BBQ Eggs
For the ingredients, you'll need Burnbrae Farms Egg Creations Whole Eggs Mushroom & Spinach and shredded cheddar cheese. Yes, that's it!
Burnbrae Farms Egg Creations are perfect for camping. All the ingredients are mixed into the carton for extra convenience. Because really, who wants to bring a carton of shelled eggs when they are are camping?
You don't have to worry about eggs breaking in your cooler or doing extra prep work to slice up veggies. It's a matter of SHAKE, POUR, COOK & SERVE.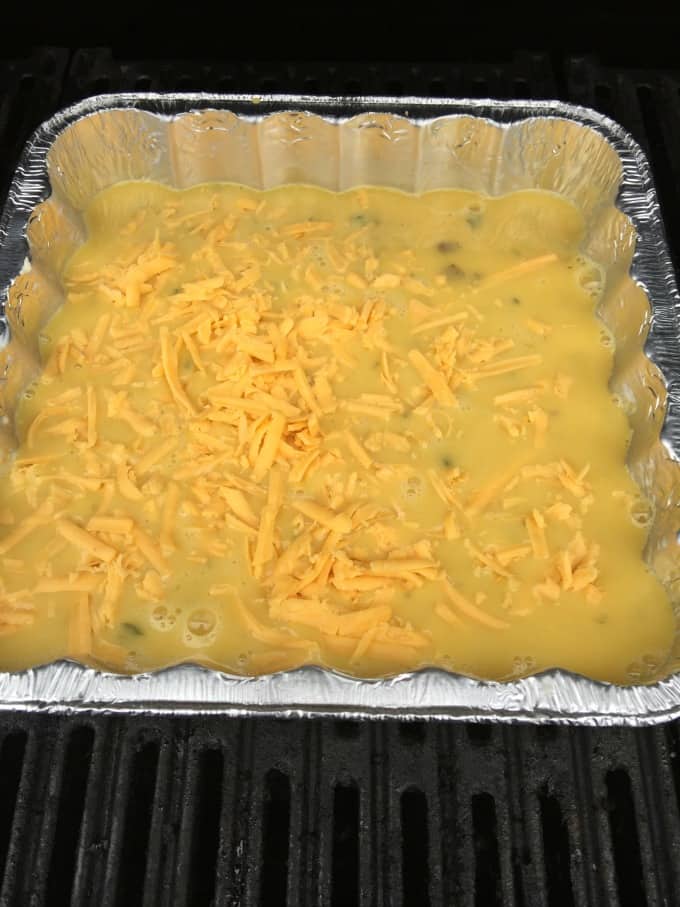 I regularly use Burnbrae Farms Egg Creations to make omelets and breakfast casseroles at home. I love anything that saves me time. It was a no-brainer to bring some cartons with me when I'm camping this summer.
How to Make BBQ Eggs
This recipe is great for when you are out camping in the trailer park or even in the wilderness in a tent. You can adapt it slightly to cook over a campfire. I would use a portable camping grill.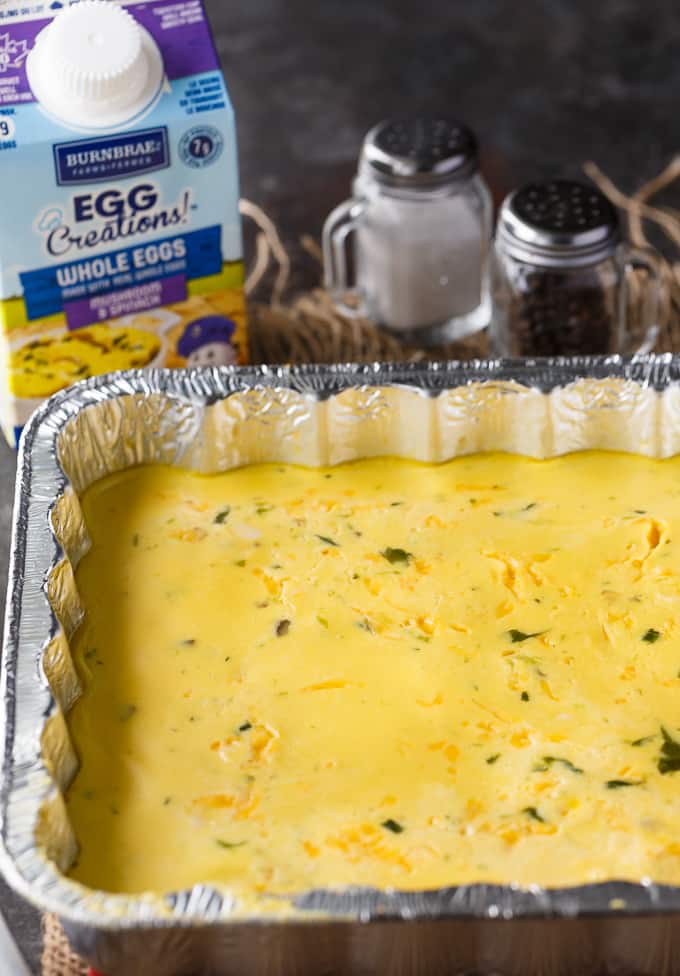 I used a disposable BBQ pan that I greased ahead of time with some butter. Pre-heat the BBQ to medium heat (350F).
Shake one carton of Burnbrae Farms Egg Creations Whole Eggs Mushroom & Spinach and pour into the BBQ pan. Top with shredded cheddar cheese (optional).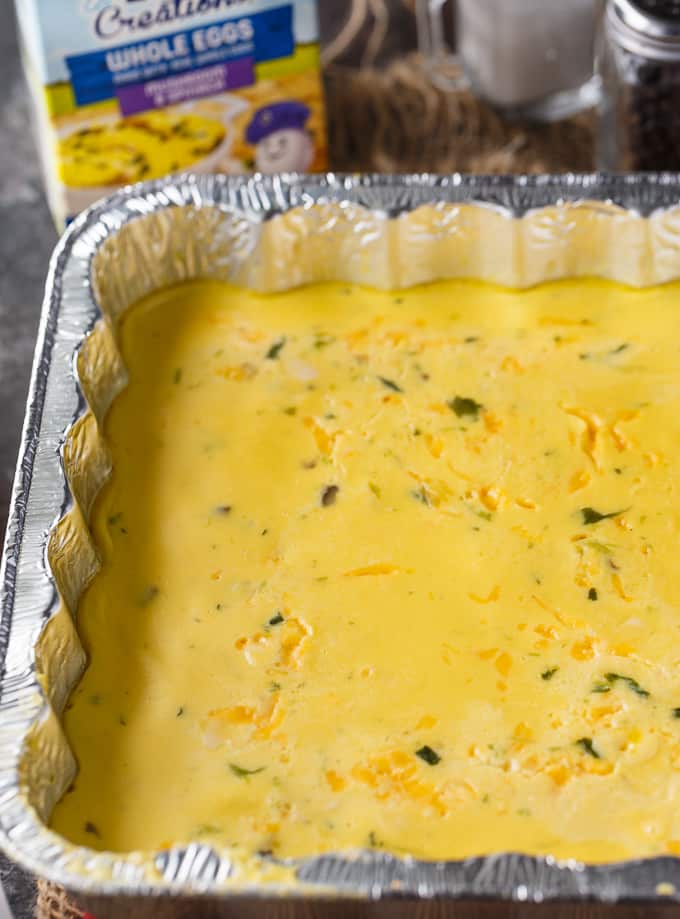 I shredded the cheese and put it in a plastic baggie so it would be easy to travel with. You could also buy the cheese already shredded if you prefer.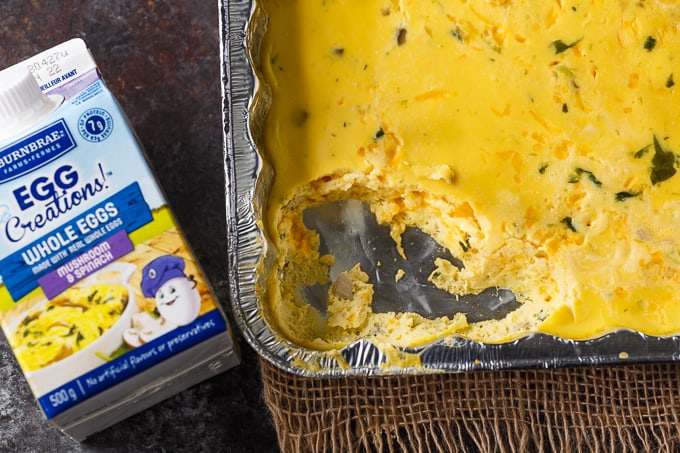 Cover the BBQ pan with aluminum foil and place on the BBQ. Cook for 20 to 25 minutes, or until the eggs are set.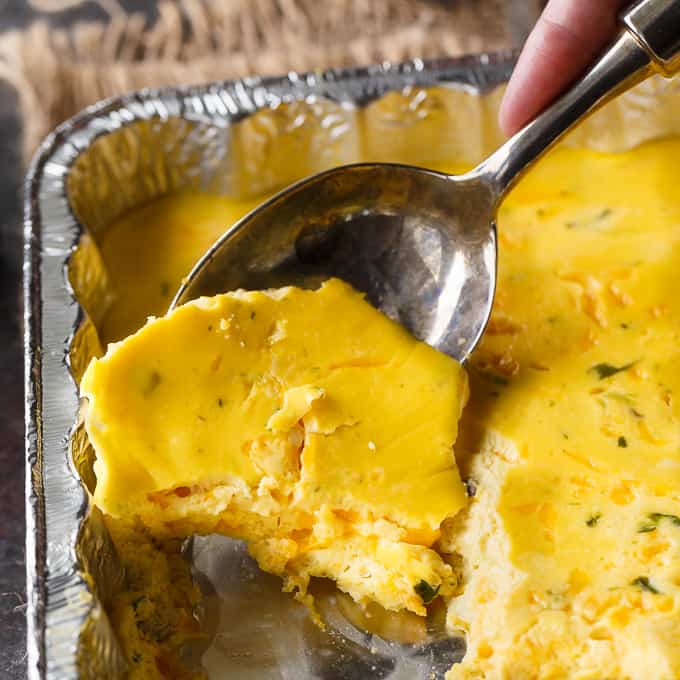 Serve them while they are hot for best results. They are creamy, cheesy and packed full of flavour. It's like eating an omelet made on the BBQ.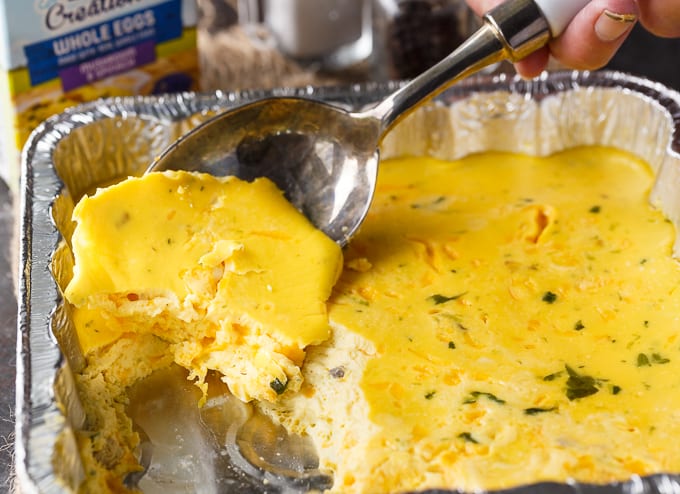 My family gobbled up the eggs like there was no tomorrow. I was glad to see they were a hit with my clan.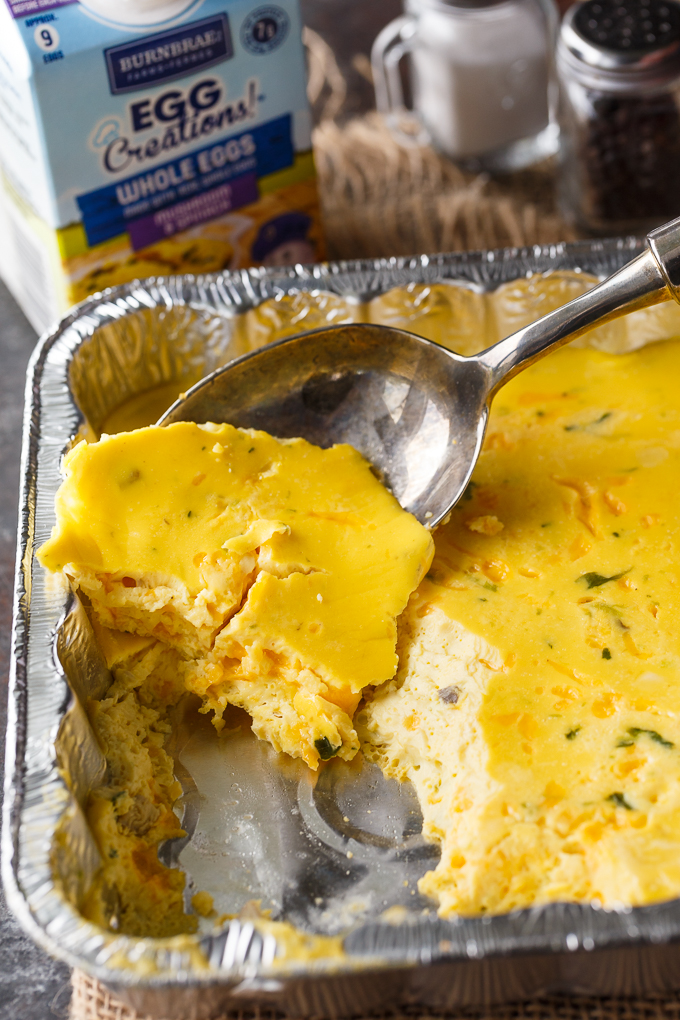 Camping Hacks
If you are a regular reader of this blog, you know I love my hacks! Here are a few camping hacks to help you out this summer:
Freeze the Burnbrae Farms Egg Creations to keep your cooler cold and then thaw them when you want to use.
Use a pill organizer to store seasonings like salt and pepper.
Prepare as much as you can ahead of time at home and store in plastic baggies in your cooler.
Bring microfibre towels for clean up. Less to throw away and they dry super quickly.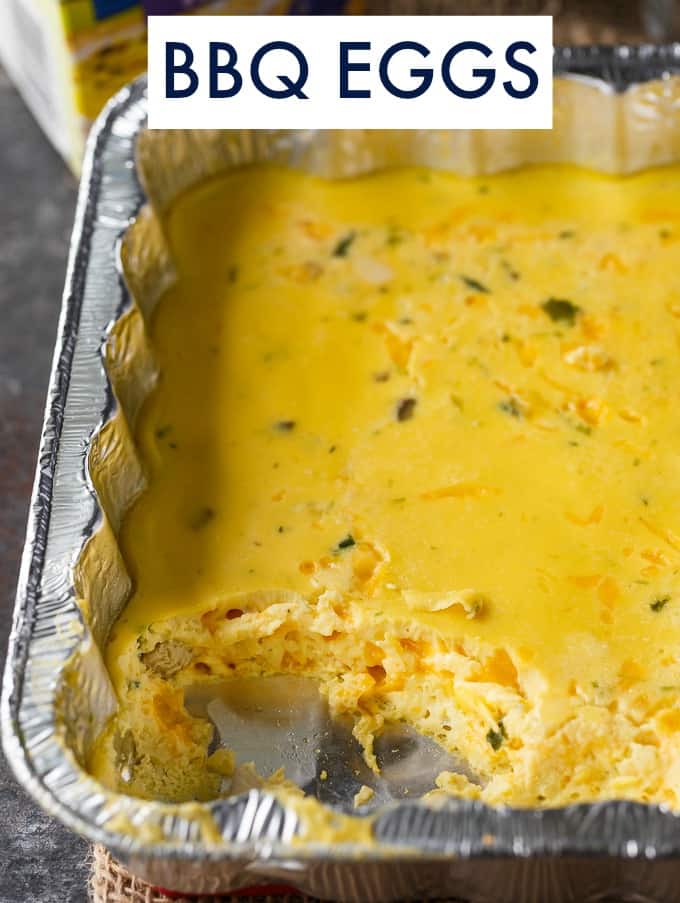 Friends of ours have a camper in a local trailer park and have invited us out for a visit this summer. You can bet I'll be bringing some Burnbrae Farms Egg Creations to enjoy for breakfast.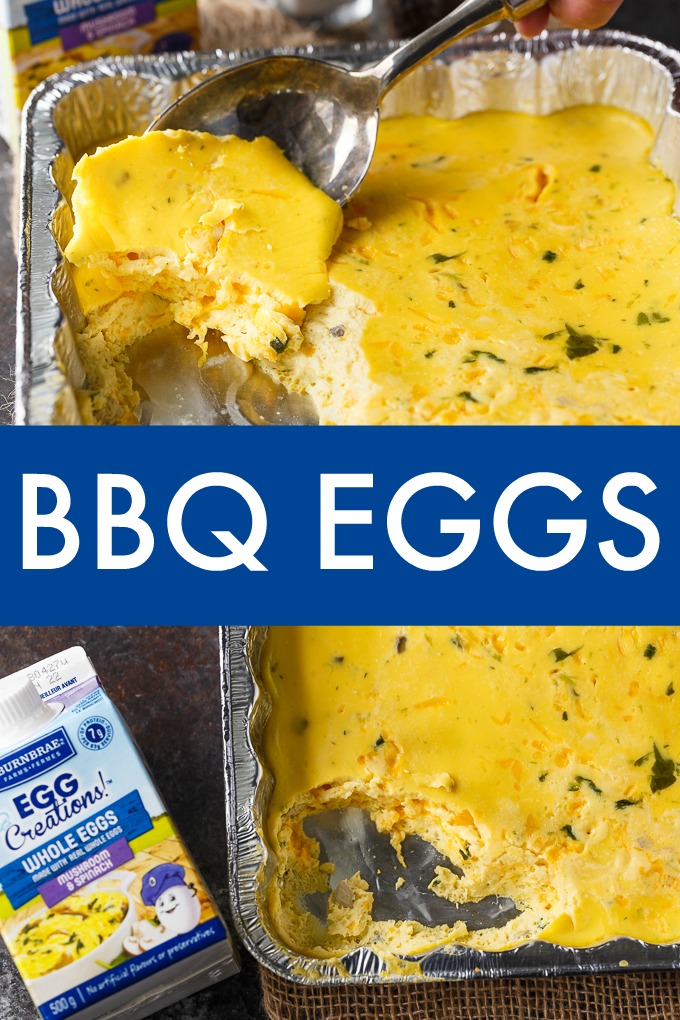 Even if you aren't camping this summer, you can still give this recipe a try on your BBQ. We aren't allowed fires in city limits so BBQ'ing it is to get the camping experience at home.

What are your favourite camping breakfasts?
Craving a sweet camping treat? Try these Banana Boats.
You'll also like these Indian Scrambled Eggs.
Connect with Burnbrae Farms on Facebook, Twitter, Instagram, Pinterest and YouTube.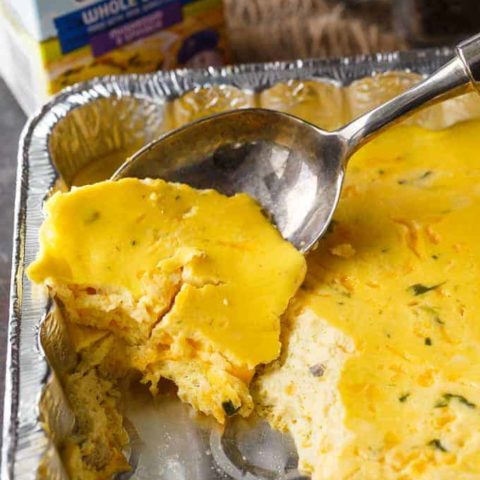 BBQ Eggs
A delicious camping breakfast! So easy to make and tastes delicious. Creamy, cheesy and full of flavour!
Ingredients
1 500g carton Burnbrae Farms Egg Creations Whole Eggs Mushroom & Spinach
1/2 cup cheddar cheese, shredded
Instructions
Preheat BBQ to medium heat (350F).
Pour Egg Creations into a greased BBQ pan. Top with cheddar cheese. Cover with aluminum foil.
Grill for 20 to 25 minutes, or until eggs are set. Serve hot.
Recommended Products
As an Amazon Associate and member of other affiliate programs, I earn from qualifying purchases.
Nutrition Information:
Yield:

5
Serving Size:

1 slice
Amount Per Serving:
Calories:

46
Total Fat:

3.8g
Saturated Fat:

2.1g
Trans Fat:

0.1g
Unsaturated Fat:

1.2g
Cholesterol:

11.2mg
Sodium:

73.8mg
Carbohydrates:

0.3g
Sugar:

0.1g
Protein:

2.6g