If you'd like to put a spring in your step tomorrow morning, try out these incredible Indian Scrambled Eggs. Packed with classic Indian spices and ingredients like cumin, onion, chilis, tomatoes, turmeric, and cilantro, this recipe is bound to please anyone's palate.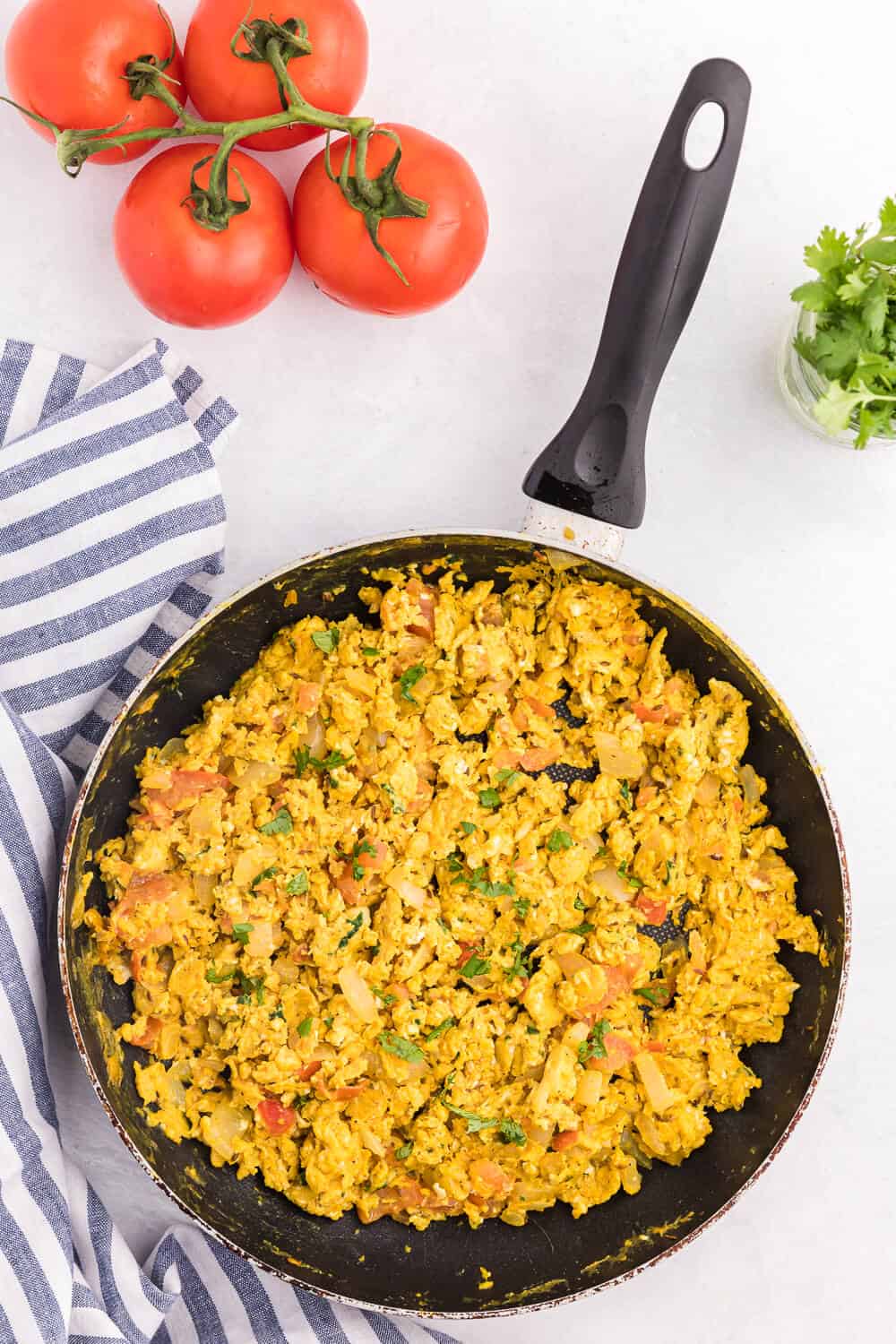 This post contains affiliate links.
I first came across this wonderful recipe in Suneeta Vaswani's bestselling cookbook, Easy Indian Cooking, and I've not looked at eggs the same way since. These scrambled eggs are absolutely brimming with flavor, and you'll be surprised at just how authentic they taste. Sure, they may not look like the traditional scrambled egg dishes that you're used to, but I promise that you'll be completely converted at first bite!
If the idea doesn't immediately grab you, perhaps you'll be swayed by the fact that this recipe is so easy to replicate. There are no complex ingredients, no ridiculous steps, and it won't take hours to make – it's just a reliable, breakfast staple that the whole family will be clamoring for every weekend.
I personally eat a ton of scrambled eggs on my low-carb diet, so I'm always looking for ways to switch things up flavor-wise. When I came across this recipe, I knew that I had to try it.
I did initially have to change out a few ingredients. For example, I couldn't find cumin seeds at my local store, so I used cumin powder instead. I never felt that the substitutes diminished the dish in any way, but I'm envious of anyone who lives in a big city and has access to incredible world food markets!
Unlike other Indian dishes that I've tried in the past, I didn't find this dish too spicy or hot. If you're partial to carbs, you can also pile these eggs high on buttered toast or a warm pita. However, I felt that they were delicious enough to fly solo.
Easy to make and featuring a whole host of unique, layered flavors, this is a dish that I'll keep firmly in my breakfast recipe binder for years to come!
Why You'll Love Indian Scrambled Eggs
The flavors are incredible
They take just minutes to prepare and cook
They're perfect for the whole family
They're packed with veggies, so are great for getting your five-a-day
They're a well-balanced meal with plenty of protein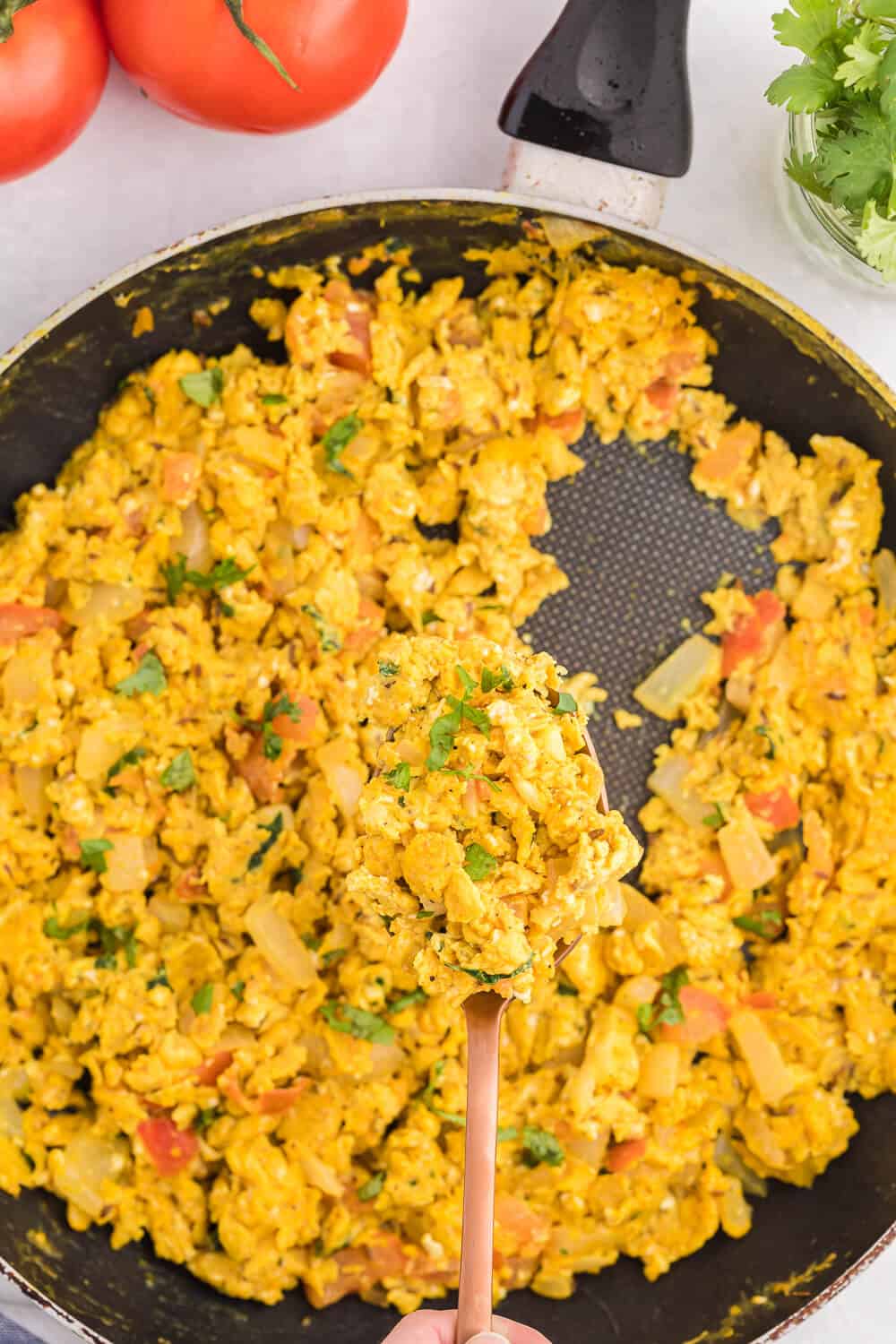 Ingredients
Eggs
Salt
Black pepper
Vegetable oil
Cumin seeds
Onion
Green chilies
Tomato
Cayenne pepper
Turmeric
Cilantro
Tomato wedges and cilantro sprigs, for garnish
How to Make Indian Scrambled Eggs
Step One: In a bowl, gently whisk eggs, salt, and pepper, but do not beat them.
Step Two: In a large skillet, heat oil over medium-high heat and add the cumin seeds. Stir in onion and green chili, and sauté until golden. This usually takes 3 to 4 minutes.
Step Three: Add tomato and sauté, stirring continuously for around 1 minute. Then, stir in cayenne, turmeric, and cilantro. Cook for 1 minute longer. Reduce the heat to medium-low, and slowly add the egg mixture.
Step Four: Cook the mixture, stirring gently until eggs are soft and creamy. This usually takes 3 to 4 minutes. Do not overcook.
Step Five: Serve garnished with tomato wedges and cilantro springs.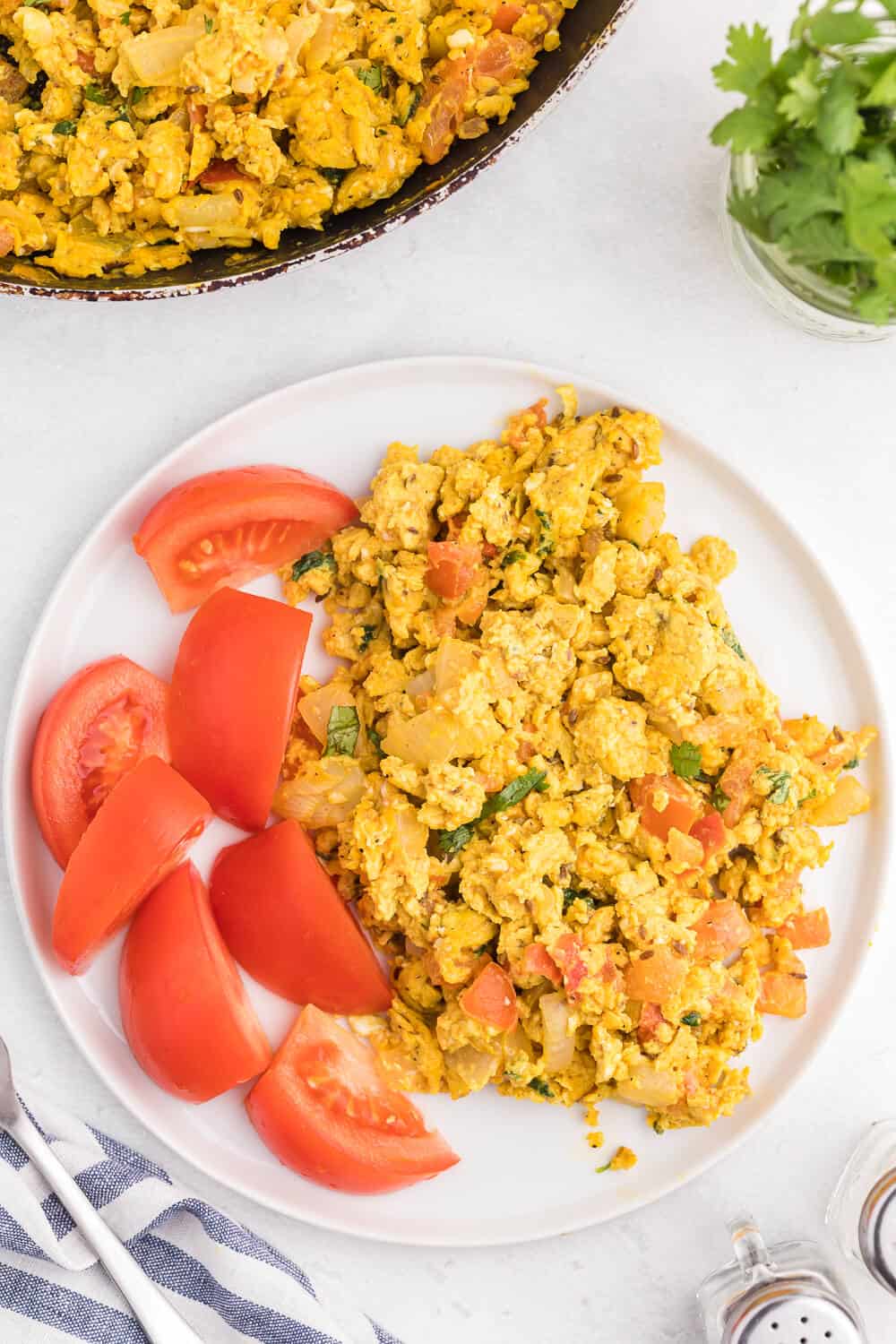 Equipment Needed
There are a few key pieces of equipment that we recommend having to hand for this recipe:
What to Serve with Indian Scrambled Eggs
Recipe Tips and Tricks
Don't overcook your eggs: Seriously, you don't want to be chewing on cardboard with this recipe, so don't overcook your eggs. I recommend removing them from the pan when they're still slightly runny. When they cool a bit, you'll be left with an ideal texture.
Always use a nonstick pan: Cooking scrambled eggs in anything but a nonstick pan is a recipe for disaster. If your eggs stick to the pan, they may overcook and become crusty, (which you'll want to avoid!).
Use a silicone spatula: I adore using a silicone spatula for this recipe, as it's perfect for moving the eggs around the pan gently. It also allows you to scoop the eggs up from the bottom without damaging your nonstick coating.
Don't have the heat too high: If you're in a rush, it can be tempting to whack the heat up high on your pan. The key to a great scramble is a slightly lower temperature and longer cooking times, so be patient to avoid dry eggs and an unpleasant texture.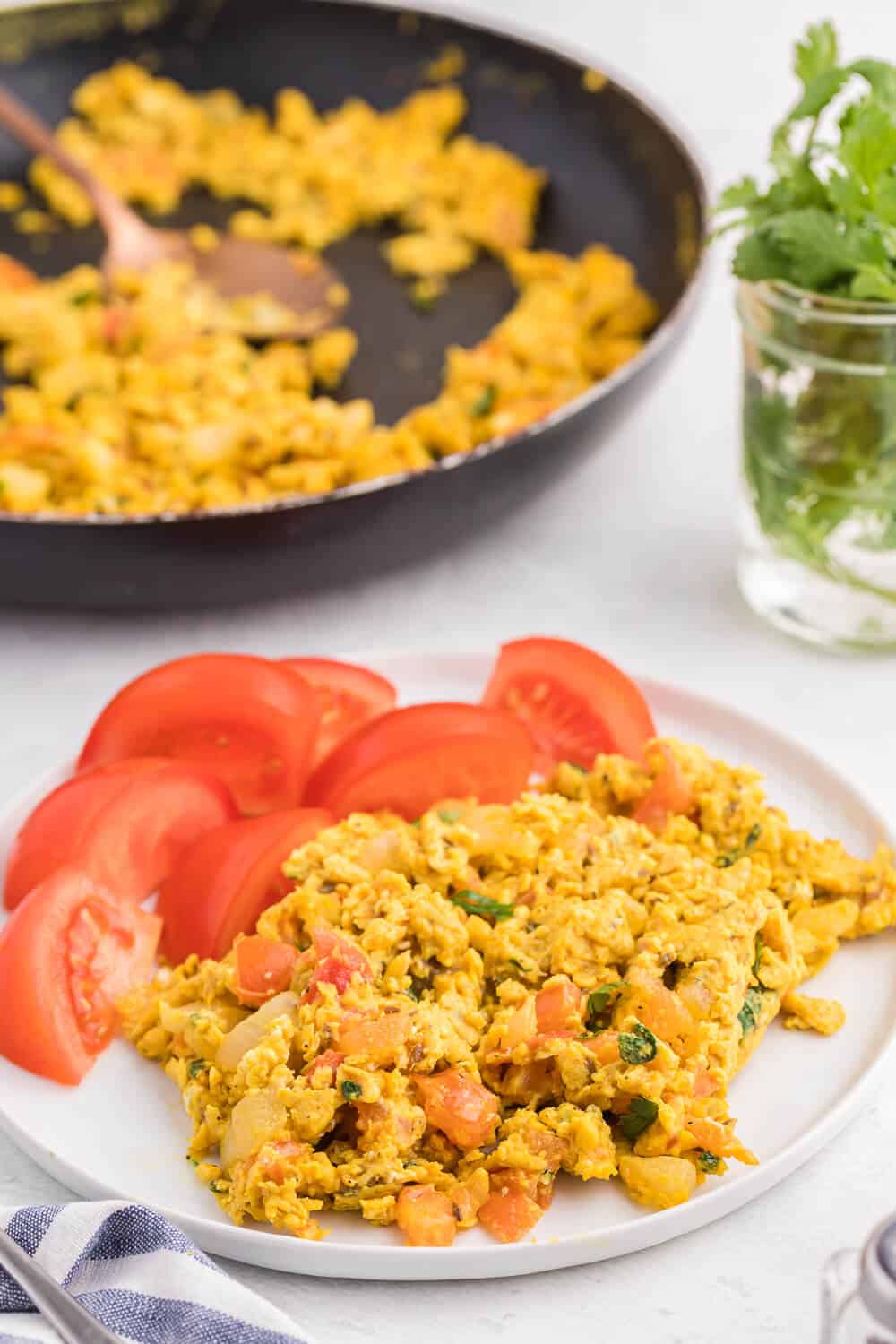 Variations and Substitutions
Don't be afraid to swap out spices for equivalents: I completely understand that you may not be able to find every single spice on this recipe at a local store. If you need to swap out the cumin seeds or any other seasonings, just do a bit of research on suitable alternatives and go to town!
Don't skip the salt: The recipe only calls for a small amount of salt, but it makes all the difference to this recipe – trust me.
Skip the chili if you don't want the spice: Not everyone adores the kick of green chili, so feel free to leave it out of the recipe for a less spicy variation. I feel that you'd be missing out slightly, but it won't alter the overall feel of this dish too much.
Substitute vegetable oil for spray oil to save on calories: This recipe tastes slightly better with vegetable oil, but if you're trying to cut calories, you can use a few spritzes of spray oil instead!
Storage Instructions
You can reheat your scrambled eggs safely for up to 4 days if you store them in an airtight container in the body of your fridge. It's not wise to store them on the door shelves, as they tend to spoil more quickly.
To reheat your eggs, place them in a microwave-safe dish and cook them on high for 20 seconds at a time, stirring after each interval. Ensure they're piping hot and evenly heated before serving.
Can I Freeze?
These Indian Scrambled Eggs are surprisingly easy to freeze, and they don't lose much flavor or texture when reheated. It's best to cook your scrambled eggs so that they're slightly runny.
Then, let them fully freeze before putting them into freezer-safe bags. They should be good for up to 3 months.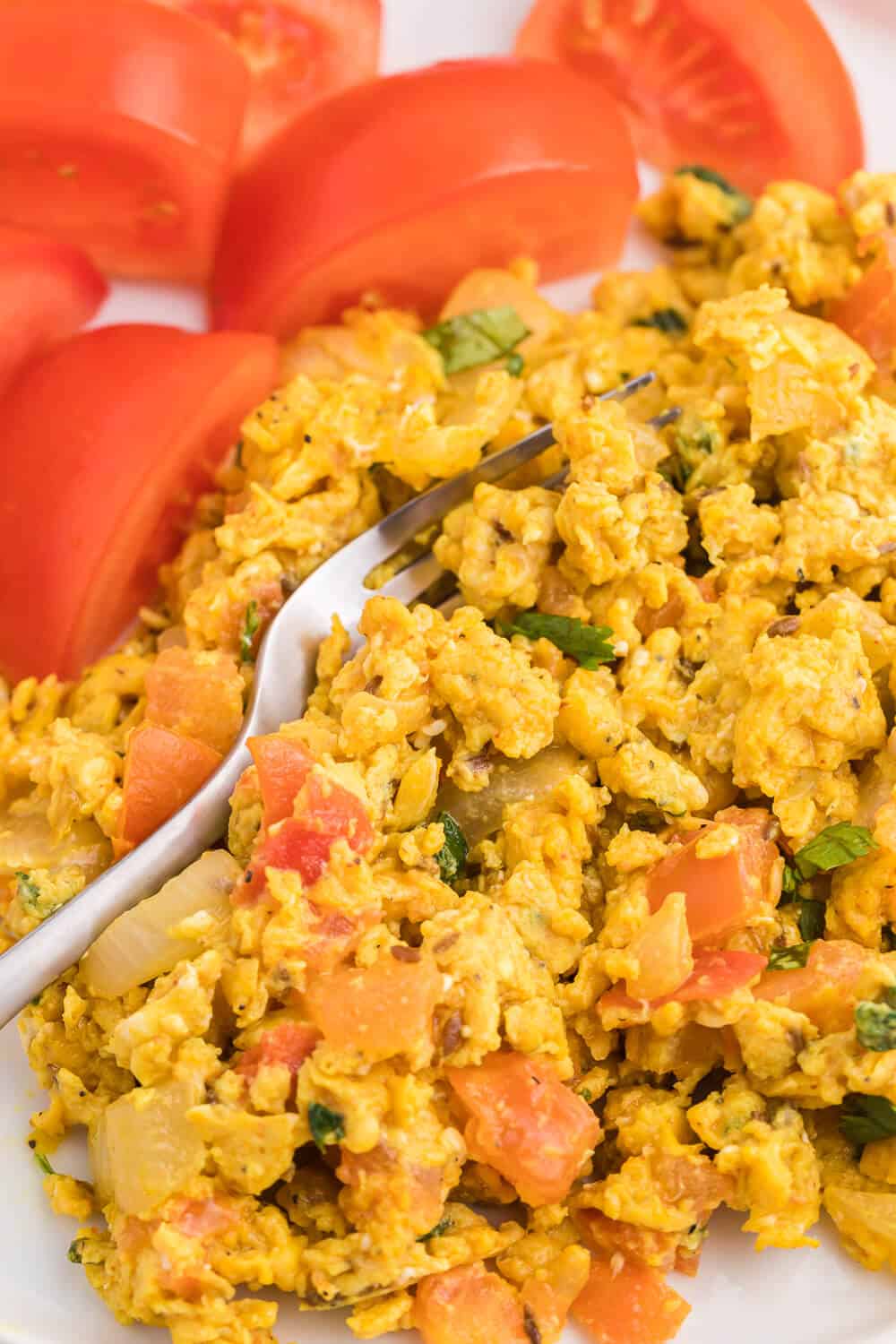 Egg Recipes
You'll also like Slow Cooker Butter Chicken.
Follow me on Instagram @simplystacieblog, Facebook at Simply Stacie, TikTok @simplystacierecipes or Pinterest at @simplystacie and let me know how you liked this recipe and my other recipes.
If you make the recipe, rate it on the recipe card below and tag me on Instagram and use #simplystacie. I like sharing the photos on my Instagram stories!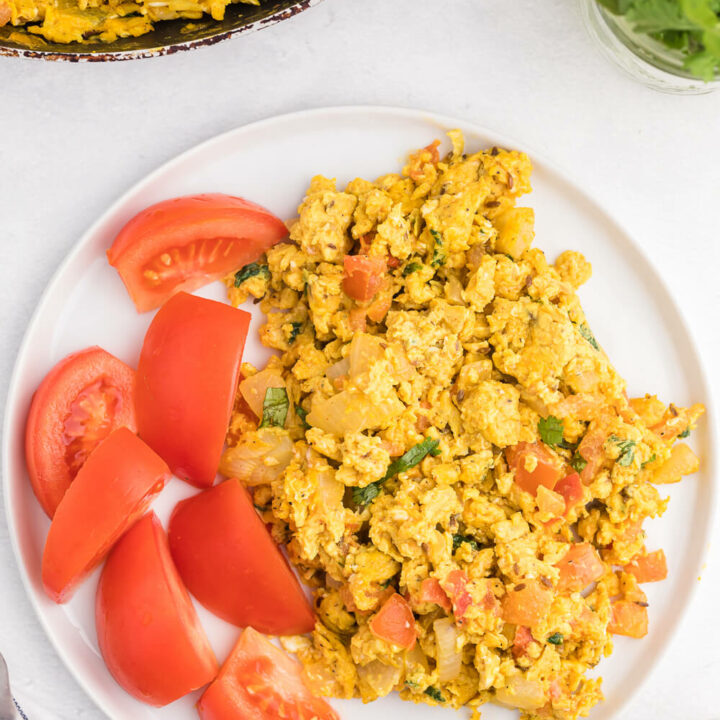 Indian Scrambled Eggs
Bring Indian seasonings to the breakfast table! This quick morning staple is packed with cumin, onion, green chiles, tomatoes, turmeric, and cilantro.
Ingredients
8 eggs
1 teaspoon salt
1/4 teaspoon black pepper
3 tablespoons vegetable oil
1 teaspoon cumin seeds
1 cup onion, chopped
2 teaspoons green chilies, finely chopped
1 cup tomato, chopped
1/2 teaspoon cayenne pepper
1/4 teaspoon turmeric
1/4 cup cilantro, chopped
Tomato wedges and cilantro sprigs, for garnish
Instructions
In a bowl, gently whisk eggs, salt and pepper. Do not beat.
In a large skillet, heat oil over medium-high heat and add cumin seeds. Stir in onion and green chile and saute until golden, 3 to 4 minutes.
Add tomato and saute, stirring continuously, for 1 minute. Stir in cayenne, turmeric and cilantro. Cook for 1 minute longer. Reduce heat to medium-low, and slowly add egg mixture.
Cook, stirring gently, until eggs are soft and creamy, 3 to 4 minutes. Do not overcook.
Serve garnished with tomato wedges and cilantro springs.
Recommended Products
As an Amazon Associate and member of other affiliate programs, I earn from qualifying purchases.
Nutrition Information:
Yield:

4
Serving Size:

1
Amount Per Serving:
Calories:

278
Total Fat:

20g
Saturated Fat:

4g
Trans Fat:

0g
Unsaturated Fat:

15g
Cholesterol:

372mg
Sodium:

731mg
Carbohydrates:

10g
Fiber:

2g
Sugar:

5g
Protein:

14g