Tiramisu Brownies are the dream chocolate dessert for coffee lovers! These fudgy brownies are covered in coffee-soaked ladyfingers and topped with a swirled sweet cream cheese and mascarpone top for a stunning and easy dessert.
If you love tiramisu and chocolate, you'll love these Tiramisu Brownies! The fudgy brownie base is covered in soaked ladyfingers with a sweet mascarpone and cream cheese top. It's my favorite coffee dessert!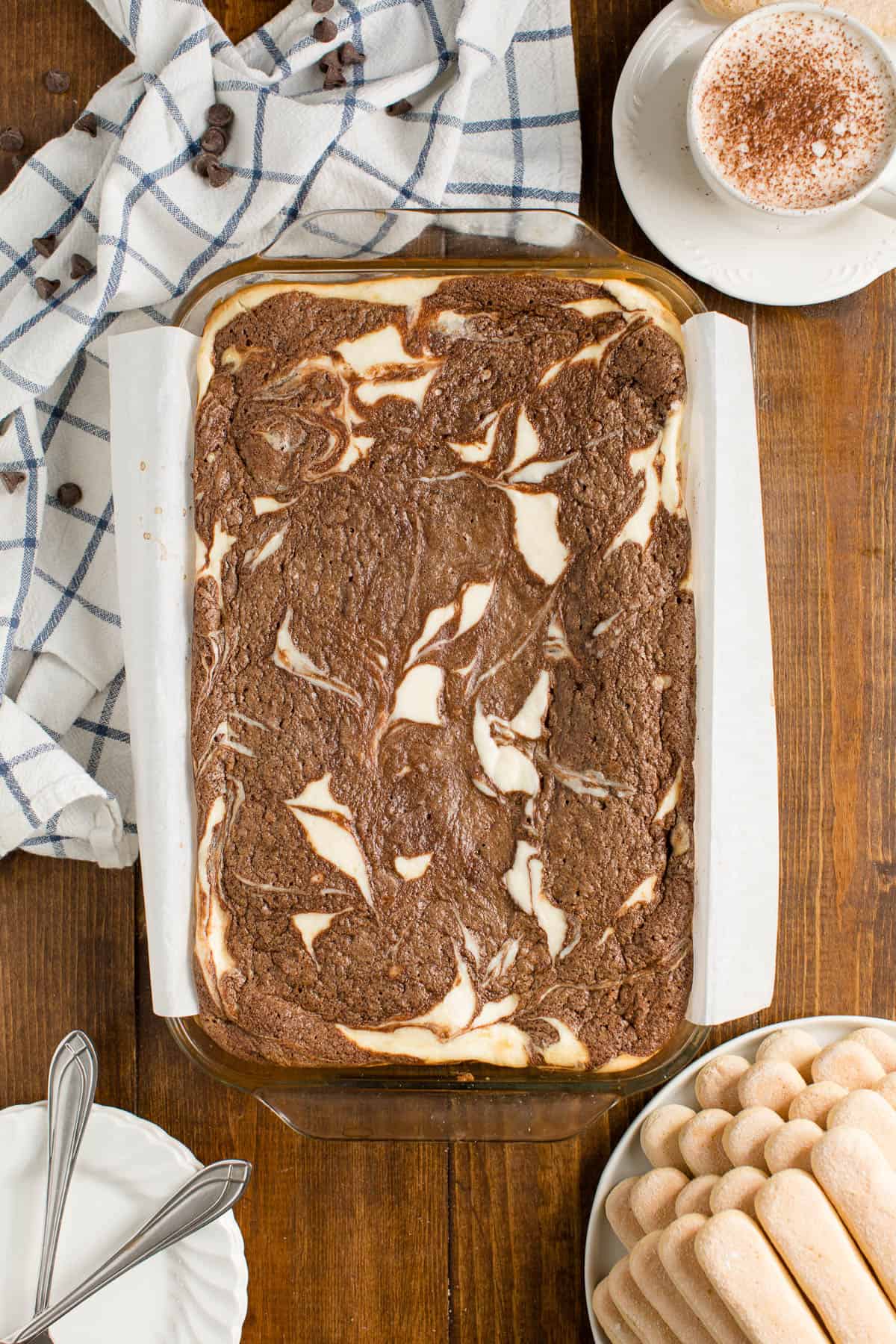 These are so rich and sweet, and I can definitely taste the coffee, too. If you are looking for a dessert to impress, try this recipe!
I've also been known to treat myself to this for a weekend breakfast with the perfect cup of coffee.
What is Tiramisu?
Traditionally, tiramisu is an Italian coffee-flavored dessert with layers of coffee-soaked ladyfingers, and mascarpone cheese dusted with cocoa powder. The beautiful layers and cocoa-covered top have made this iconic.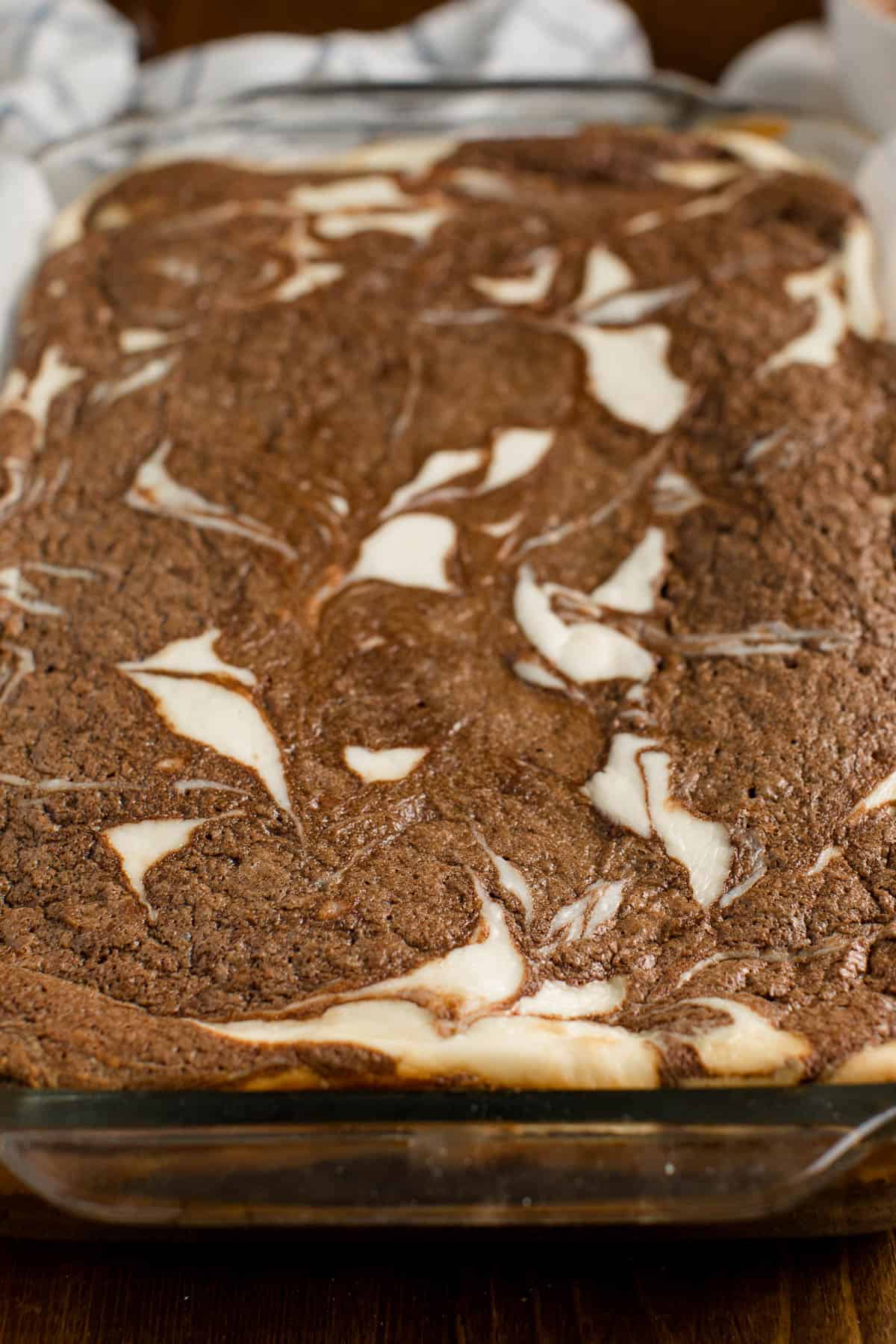 The term literally means "pick me up" which is exactly what these Tiramisu Brownies are! I took the basic steps of tiramisu minus the cocoa powder dusting and put them on top of a rich brownie for the best of both worlds.
These Tiramisu Brownies are divided into the brownie base and the cheese topping by a layer of coffee-and-rum-soaked ladyfingers. These are just like authentic tiramisu but with a fudgy brownie underneath!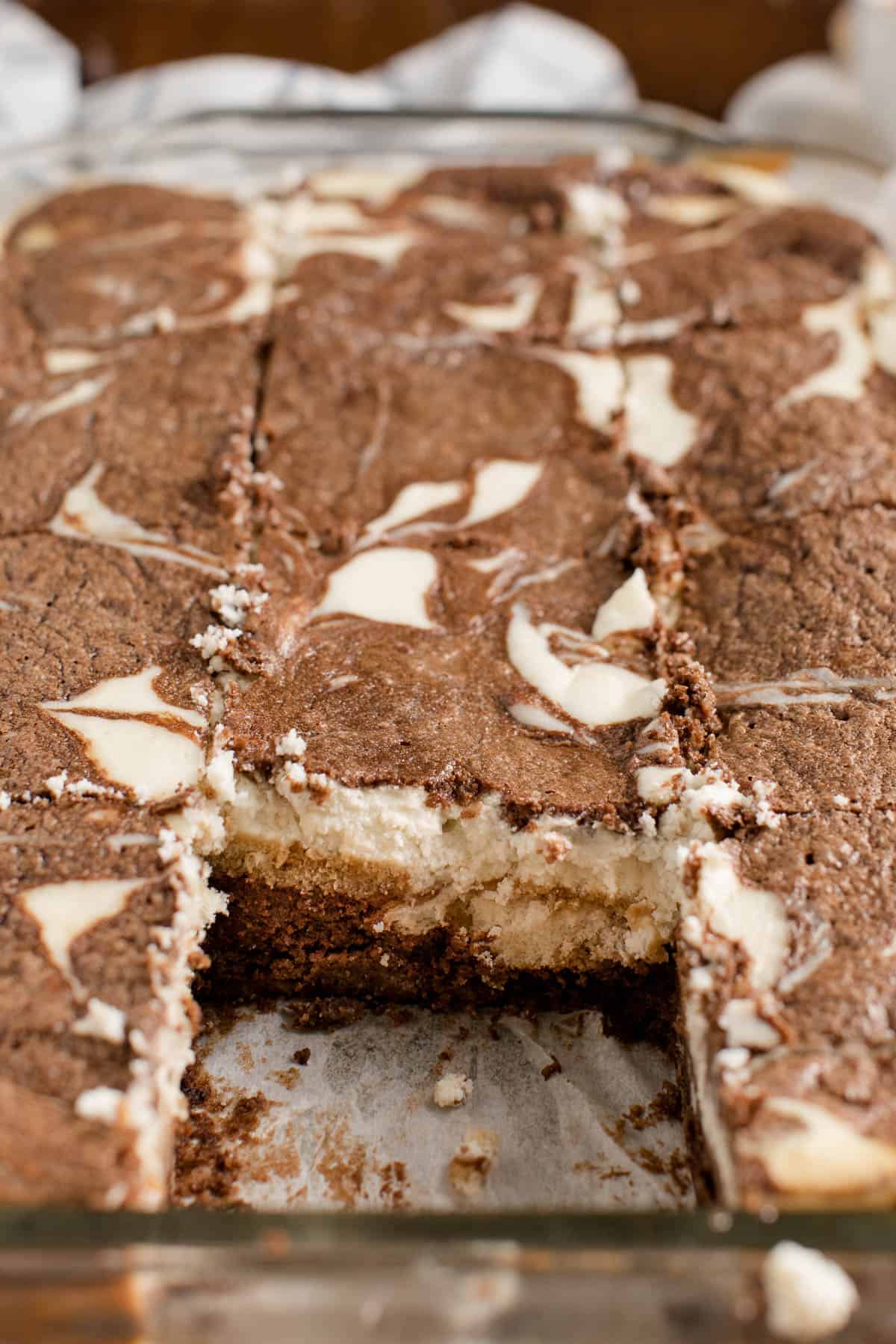 Ingredients
BROWNIES. These Tiramisu Brownies have the perfectly fudgy brownie base, made with melted chocolate, softened butter, sugar, whole eggs, egg whites, flour, and coffee extract.
TOPPING. The creamy white top is a delicious mixture of mascarpone and cream cheese with sugar, egg whites, and vanilla extract. I like to mix a bit of brownie batter into the cheese mixture for a beautiful swirl for a show-stopping dessert!
You can also add liquid coffee extract to increase the coffee flavor! You can also add other things like mint extract, raspberry preserves, or nuts if you want.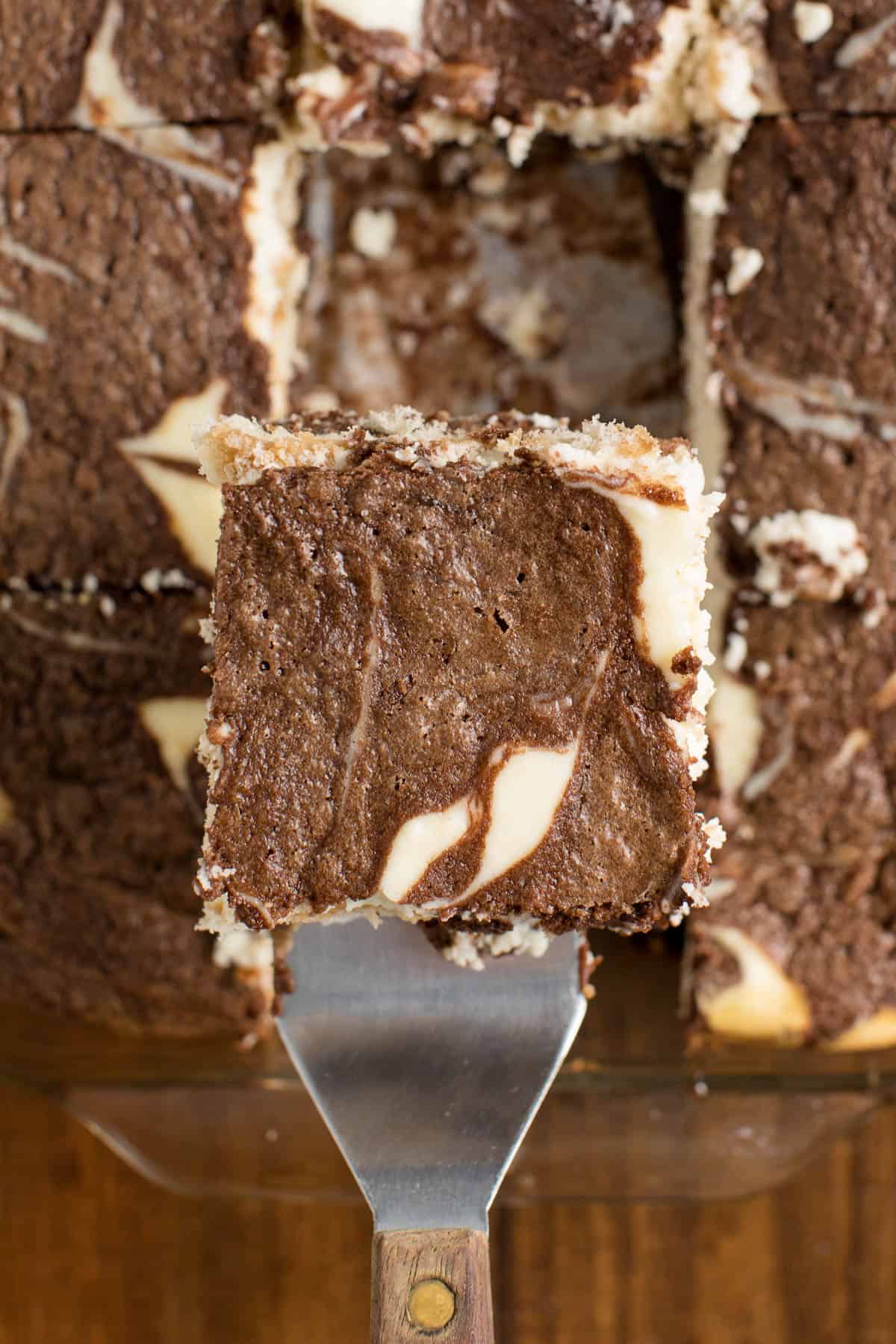 What I used for my Tiramisu Brownies
This post contains affiliate links.
Hand mixer: If you don't have a stand mixer, I definitely recommend a hand mixer for this recipe! It's hard to beat properly by hand, but this mixer will definitely leave your biceps pain-free.
Mixing bowls: I prefer using glass mixing bowls and these have been my go-to for years. My kids love looking inside them while I'm baking!
Covered baking dish: I love this covered Pyrex dish because it's so easy for leftovers or potlucks!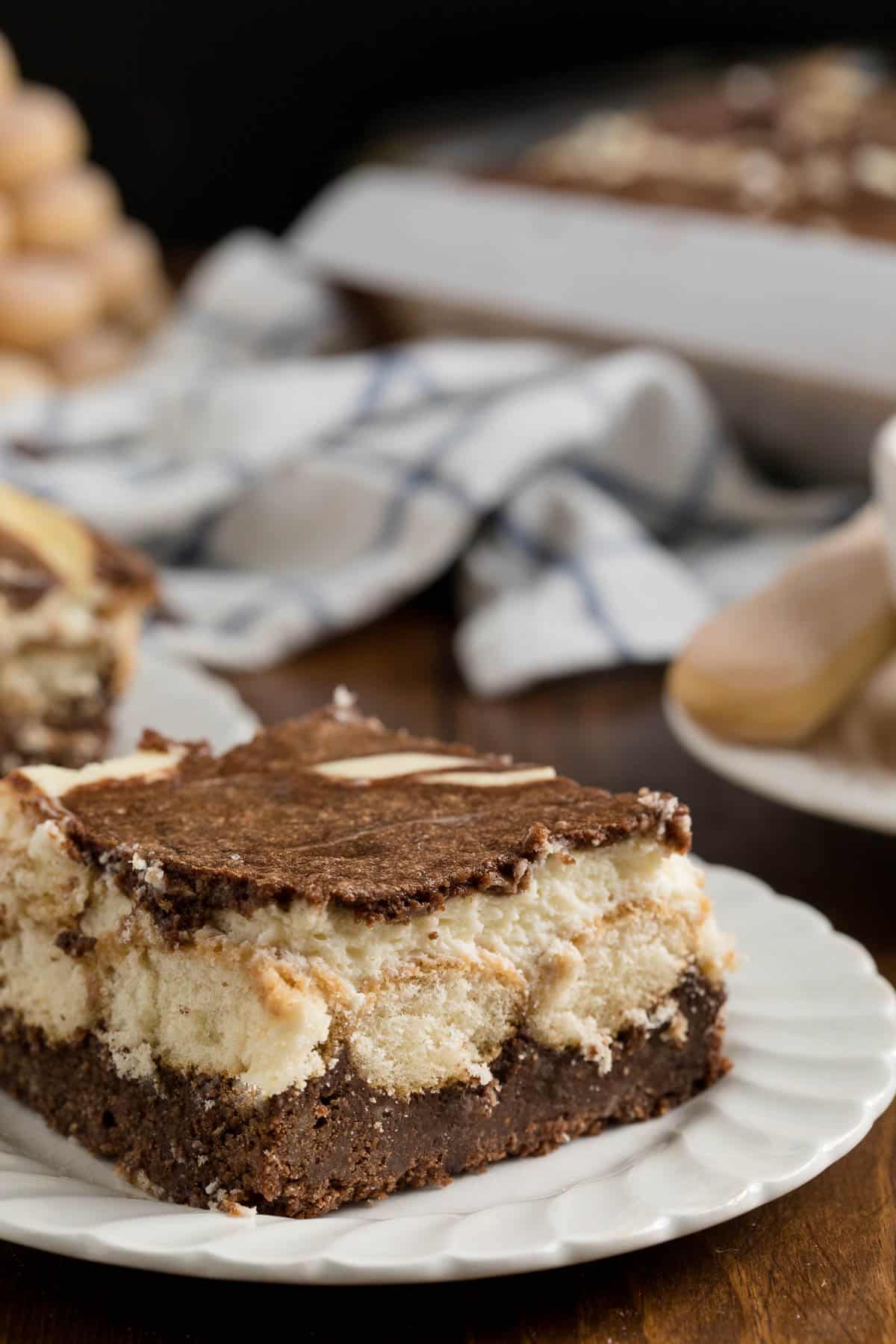 How to Make Tiramisu Brownies
First, preheat the oven, line your baking sheet, and melt the chocolate. You'll also want to prep your stand mixer now with a paddle.
Next, beat the melted chocolate, butter, sugar, eggs, and egg whites. Once combined, mix the coffee extract and flour on low until just combined. Overbeating the batter will make your brownies more cakey and less moist!
Now, add most of the batter to your baking pan and top the batter with the ladyfingers. Press them down slightly into the batter but not so far you can't see them anymore.
Then, brew your coffee and mid it with the rum. Brush the liquid over the lady fingers until they're saturated with coffee goodness.
When you're done, mix the mascarpone, cream cheese, sugar, more egg whites, and vanilla extract together. Spread the cheese mixture over the soaked ladyfingers. To make the chocolate swirl, put spoonfuls of brownie batter onto the cheese mixture and swirl them together. I use a toothpick, but a knife also works! If you're adding anything extra toppings, now is the time to do it.
Finally, bake until the center is almost set and the brownies begin to pull away from the pan. Let the Tiramisu Brownies cool completely before serving. It's a hard wait, but it's worth it!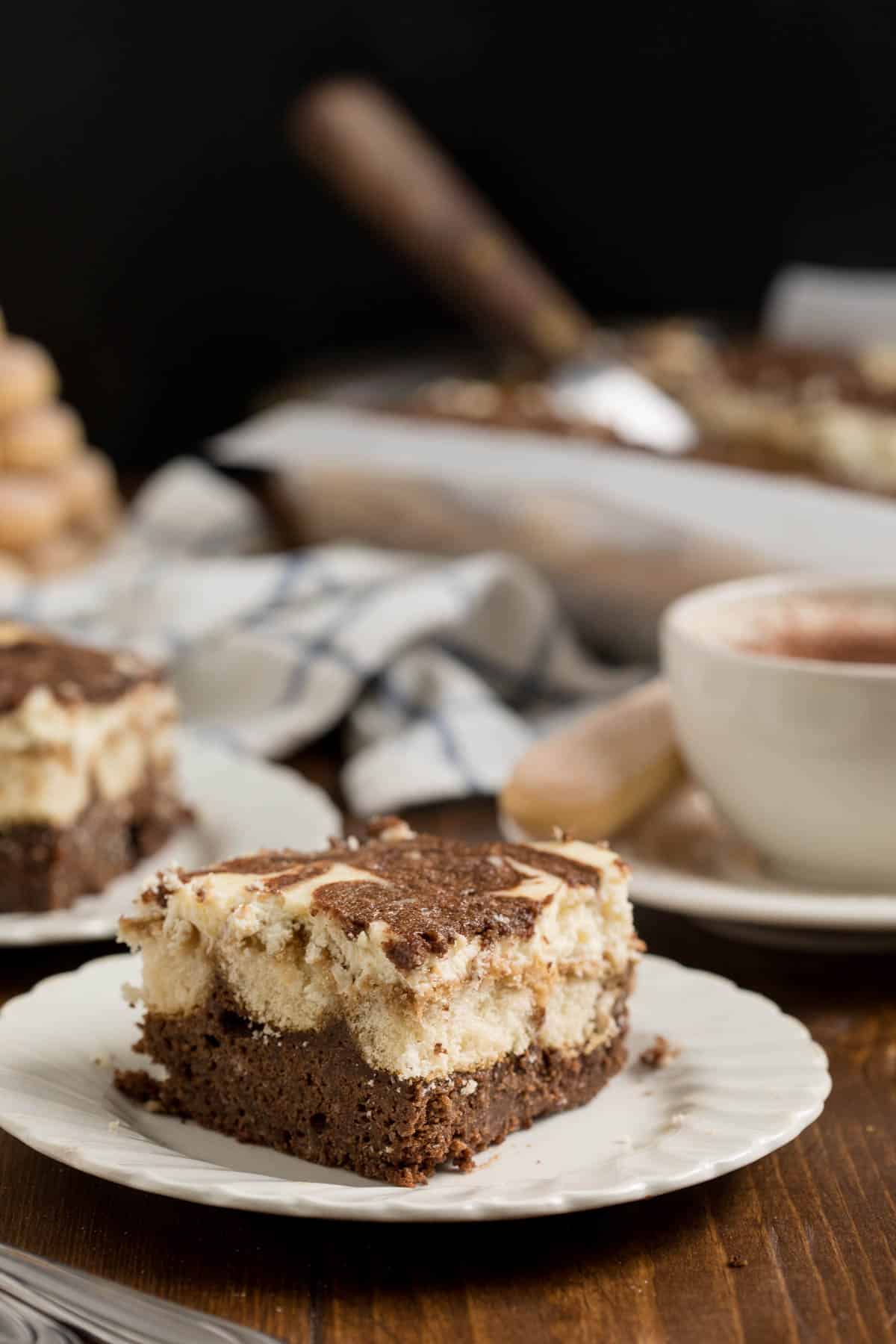 What to Serve with Tiramisu Brownies
Tiramisu is traditionally served with coffee. It's the perfect post-dinner treat!
As soon as the weather turns to fall, all I make is this Pumpkin Spice Latte. Or, when Thanksgiving is over, I go straight for the Gingerbread Latte recipe.
If you're hosting brunch or a dinner party, this Slow Cooker Chai Latte is a great hands-off drink recipe that's ready when you are.
Prefer your coffee iced, this Honey Almond Milk Latte is easily chilled and dairy-free!
Love cappuccino? You'll never stop drinking this Cinnamon Cappuccino!
Or if you're an ice cream fan, this Nutella Coffee Milkshake is the perfect compliment to these Tiramisu Brownies!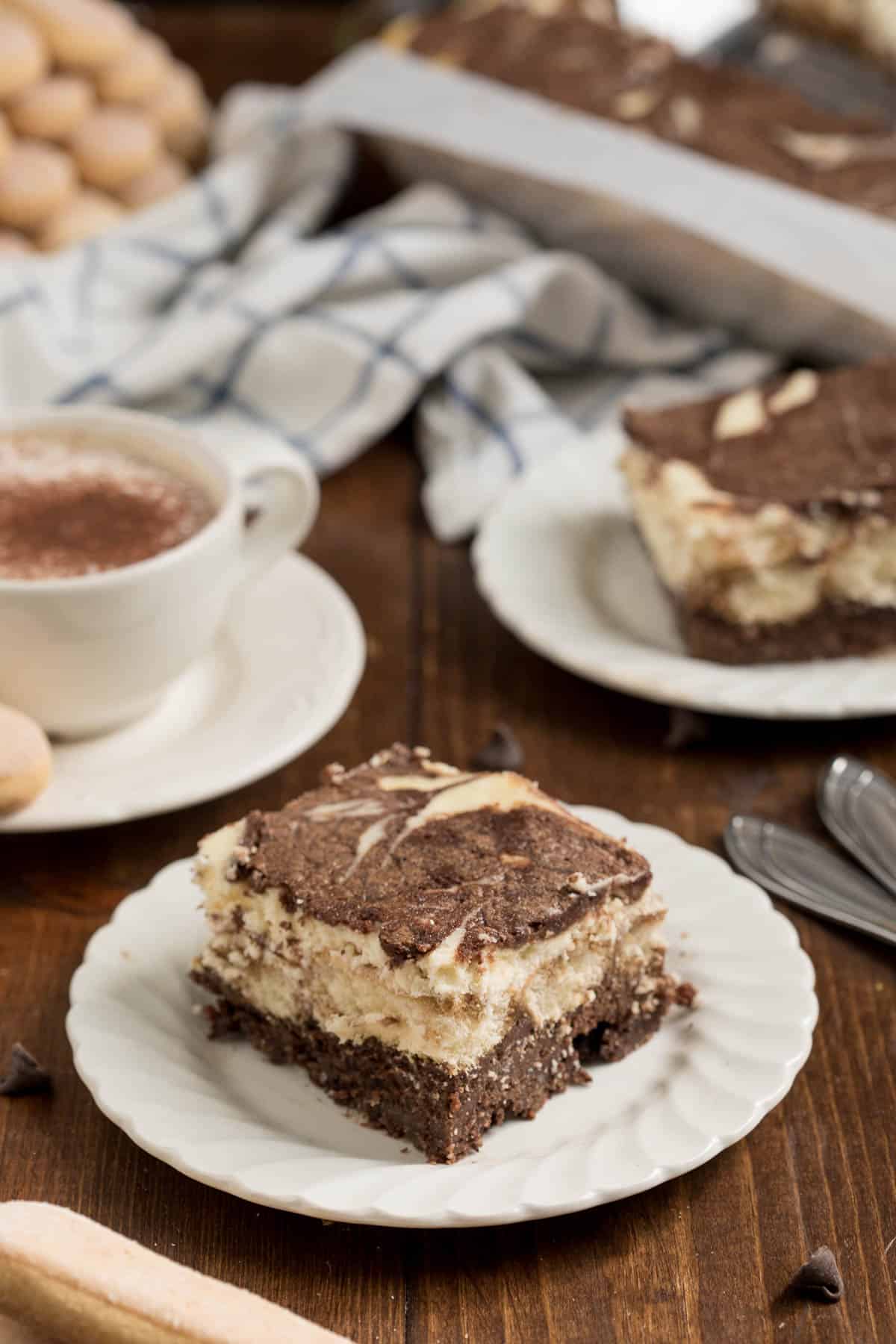 Other amazing brownie recipes to try…
Do you have any amazing dessert recipes? I'm always looking for more recipes to try! Follow me on Instagram @simplystacieblog, on Facebook at Simply Stacie, and on Pinterest @SimplyStacie and let me know how you liked this and my other recipes!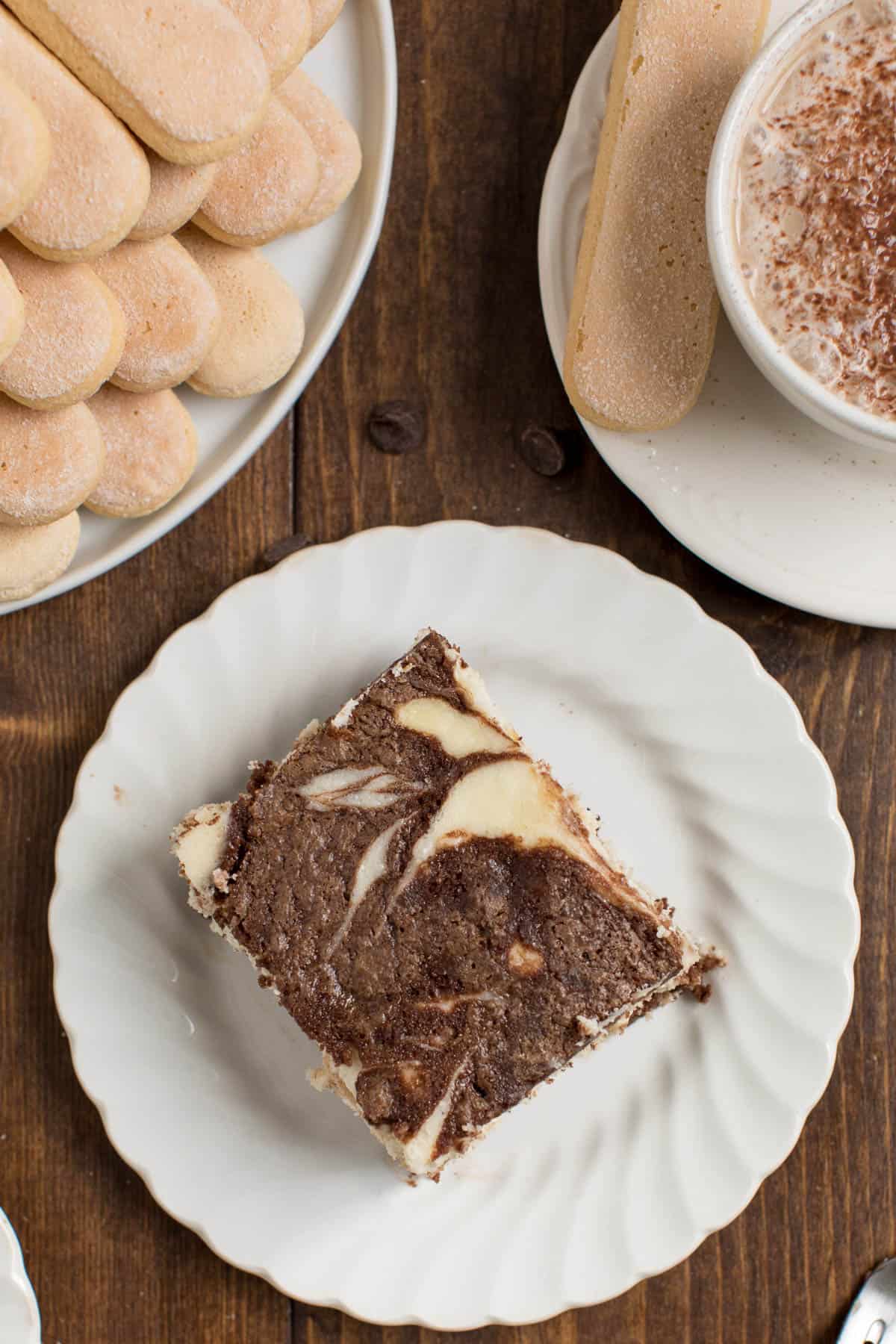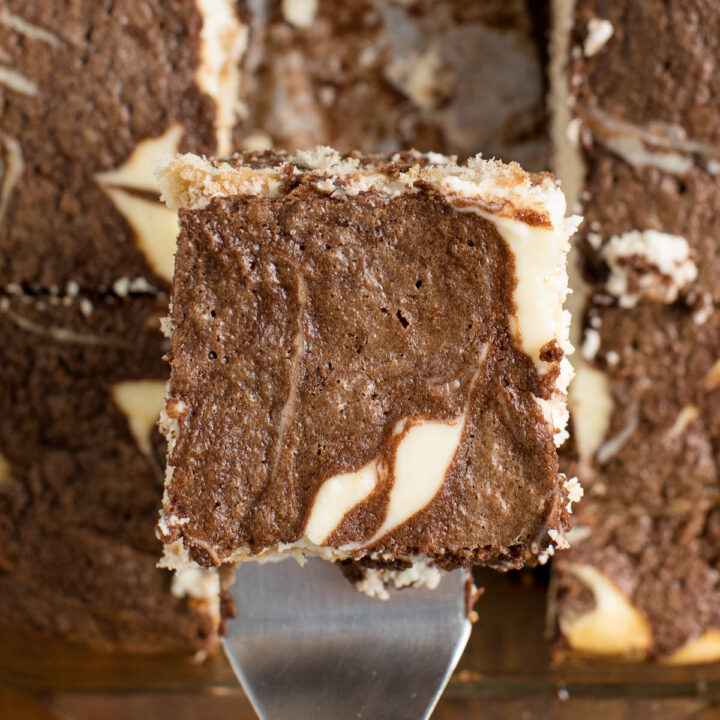 Tiramisu Brownies
Total Time:
1 hour
10 minutes
Rich and sweet with a subtle coffee flavour, this layered dessert is a perfect ending to a meal.
Ingredients
12 oz. chocolate chips
1 cup butter, softened
1 cup sugar
4 whole eggs
4 egg whites
1 cup cake flour
8 oz. Mascarpone cheese, room temperature
8 oz. cream cheese, room temperature
1/4 cup sugar
4 egg whites
2 tsp. vanilla extract
1 package soft ladyfingers
1 cup Barista Prima Coffeehouse Italian Roast coffee, brewed
2 tbsp. Dark Rum
Optional: liquid coffee extract, to taste
Wild Card Ingredients: Mint extract, raspberry preserves, nuts
Instructions
In a large bowl, melt the chocolate. Stir until smooth and leave it to cool.
Heat the oven to 350°F. Line a 13″ x 9″ baking pan with parchment paper.
Add chocolate to a mixing bowl with the paddle attachment on. Beat in the butter followed by 1 cup of sugar and the 4 eggs and 4 egg whites. Add the coffee extract followed by the flour. Mix on low speed until just combined.
Pour the batter into the prepared baking pan minus 1 cup of the brownie batter. Lay the ladyfingers upside down on top of the batter, and push down slightly.
Brew 1 Barista Prima Coffeehouse Italian Roast K-Cup pack and combine the hot coffee and dark rum. Using a pastry brush, carefully brush the Barista Prima Coffeehouse coffee & rum mixture over the ladyfingers until they are saturated.
In another bowl combine the mascarpone cheese, cream cheese, and 1/4 cup of sugar, 4 egg whites and vanilla extract. Spread topping over ladyfingers over ladyfingers. Place spoonful of brownie batter on top of the creamy filling and swirl it lightly with a toothpick or knife. Optional: add wild card ingredients as you wish.
Bake for 45 to 50 minutes or until center is almost set and brownies begin to pull away from sides of pan. Cool completely in the pan before slicing it.
Notes
Recipe courtesy of Chef Maureen Joyce and Barista Prima Coffeehouse.
Recommended Products
As an Amazon Associate and member of other affiliate programs, I earn from qualifying purchases.
Nutrition Information:
Yield:

12
Serving Size:

1
Amount Per Serving:
Calories:

628
Total Fat:

43g
Saturated Fat:

25g
Trans Fat:

1g
Unsaturated Fat:

15g
Cholesterol:

158mg
Sodium:

340mg
Carbohydrates:

52g
Fiber:

2g
Sugar:

39g
Protein:

12g