Disclosure: This post is brought to you by St. Martins Press. All opinions on this blog are my own.
Is there anything better than curling up with a good book and a delicious hot beverage? I don't think so. Reading has always been a favourite hobby of mine since I was a toddler. It's what I consider "me time". I make sure I schedule at least 20 minutes into my day. I find it really helps my stress levels and it's something nice I can do for myself.
My favourite kind of books to read are thrillers. I love books that are fast paced with lots of twists and turns. I just finished reading a book that I gave 5 stars to on my Goodreads profile. Lies by T.M. Logan is a MUST-READ. I finished the book in a matter of days which is quick for me. A fast read is a good read and a book that I'll be putting on my recommended books to read blog post that I write once a year.
Lies by T.M. Logan
Have I intrigued you yet about Lies? Here's a brief look at what the book is about:
What if you have the perfect life, the perfect wife and the perfect child–and then, in one shattering moment, you discover nothing is as it seems?
It's the evening drive home from work, a route Joe Lynch has taken a hundred times with his young son. But when he unexpectedly sees his wife's car ahead of them, he decides to follow her–and ends up witnessing her secret rendezvous with another man. The encounter will tear two families apart and leave an innocent man set up to take the fall for a murder.
Joe finds himself in the sights of a ruthless killer determined to destroy everything he treasures. He will do whatever it takes to protect his family, but as the net tightens around him, his life begins to fall apart. Soon, Joe is in a life or death struggle with a cunning opponent who is always one step ahead.
Lies poses the question: Can we ever really trust those closest to us?
Lies by T.M. Logan is an unputdownable thriller in which each chapter changes the meaning of what came before, keeping the reader guessing until the jaw-dropping finale.
My Thoughts
Lies is T.M. Logan's first novel and he has a new fan in me. The book was incredible. It's the kind of book that catches your attention in the very first chapter and hooks you in. I just had to keep reading and spent a few late nights devouring this book to find out what would happen next.
I found myself very attached to the main character, Joe. I saw all that he was going through and felt so frustrated for him. I just wanted to shake the police officers and say, "Don't you see what is happening here!". It made me want to keep reading because I had to know if the truth would finally clear his name and what exactly that truth was.
It's not what you think it will be and that is the beauty of this page-turning thriller. I did not see it coming at all. My jaw literally dropped at the end of the book when I found out the truth. All the pieces of the puzzle will come together and you will be shocked. At least, I was shocked and didn't figure things out till the very end.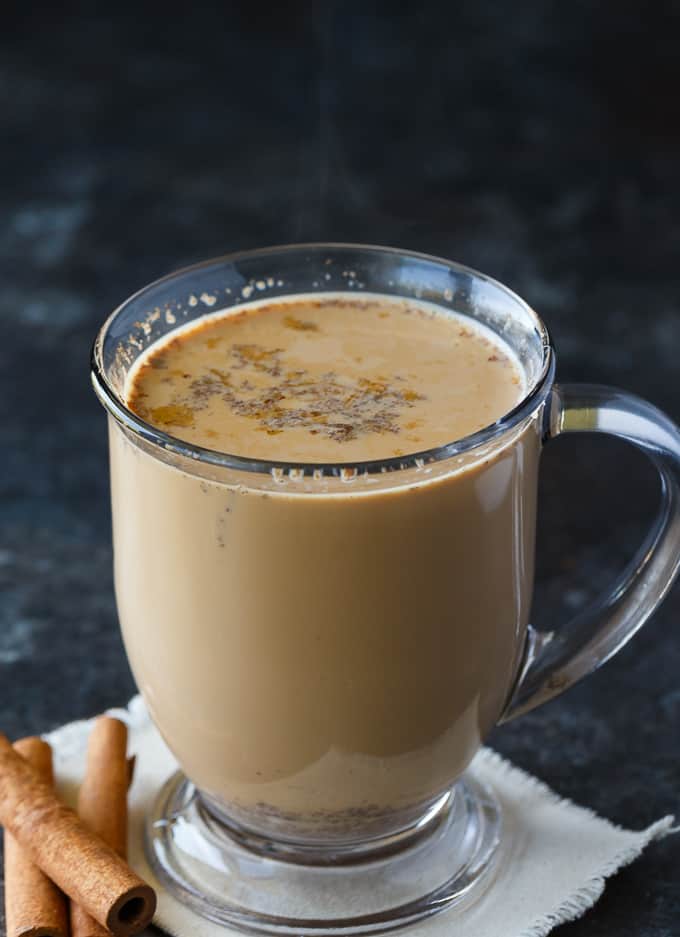 Slow Cooker Chai Latte
I recommend you pick up a copy of Lies ASAP and cozy up with this delicious Slow Cooker Chai Latte. I thought a recipe with tea would be the perfect accompaniment to this book because it's set in London, England. I always think of tea when I think of England. It seemed like a fitting recipe to share with this book.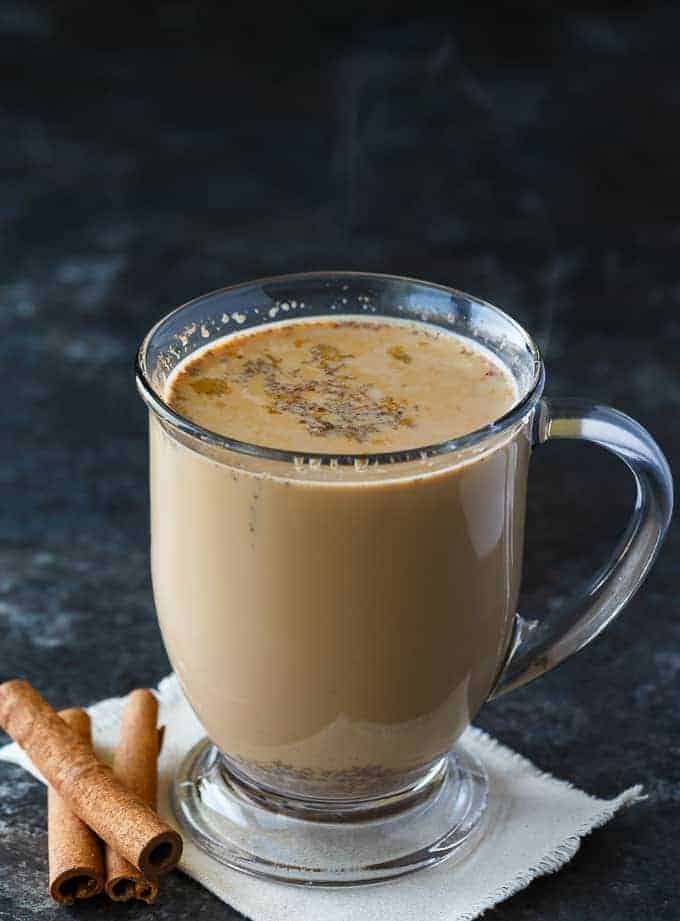 I love the sweet and spicy flavours of Chai Lattes. I think this recipe is so much better than the kind you can buy in the coffee shop. It's homemade and your slow cooker will do all the work for you. Sip and relax while you curl up on the couch and read.
You'll also like this Gingerbread Latte and Pumpkin Spice Creamer.
How to Make Slow Cooker Chai Latte
The cold weather is coming (ugh), but that's ok because you can warm yourself up with a hot beverage. This Slow Cooker Chai Latte is super easy to make with little effort. If you can measure ingredients, you can make this recipe.
Add milk to the slow cooker and stir in cloves, nutmeg, ginger, vanilla extract, cinnamon and sugar. Float the cardamom seeds and tea bags on top. Their flavours will permeate into the mixture as it cooks.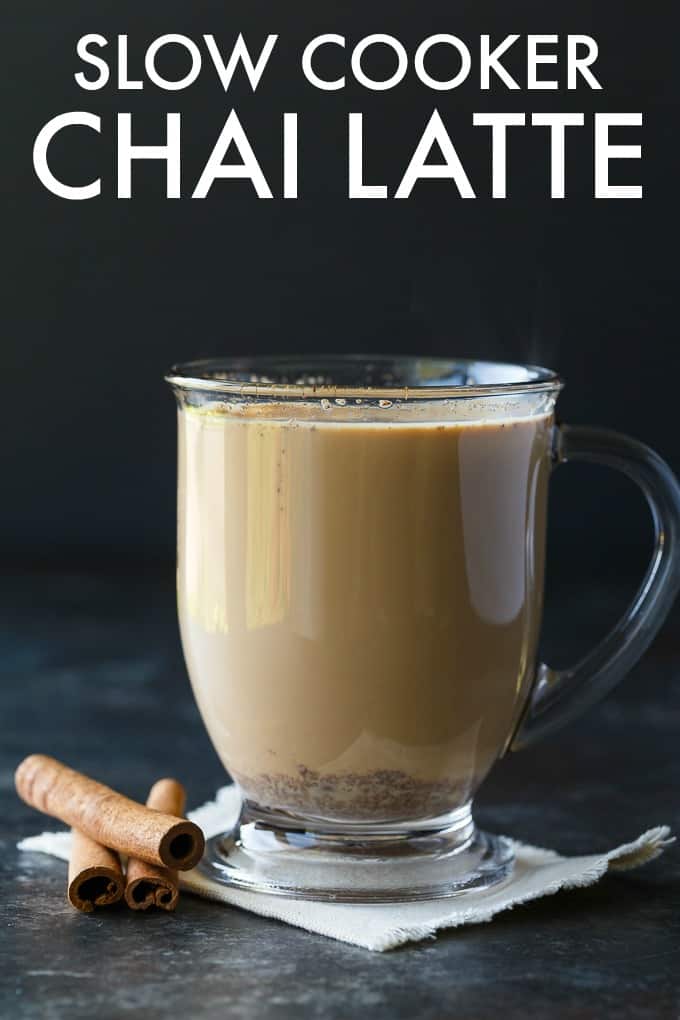 Cover and cook for two hours on high. Enjoy a big mug while it's nice and piping hot!
My favourite spot to read is on the couch in the living room. I get in my pjs and wrap myself in a fuzzy blanket. I might light a candle or two to increase the ambience. I'll sip and savour my hot drink while I read. Pure bliss.
Go ahead and pick up your copy of Lies today and try my recipe. You can thank me later!
You might also like Cinnamon Cappuccino, Maple Latte, Slow Cooker Peanut Butter Hot Chocolate, Butterscotch Steamer and Pumpkin Spice Latte.
For something cold, try this Iced Honey Almond Milk Latte.
Ingredients
4

cups

milk

¼

tsp

cloves

½

tsp

nutmeg

½

tsp

ginger

1

tsp

vanilla extract

¼

cup

sugar

2

tsp

cinnamon

4

cardamom seeds

4

black tea bags
Instructions
Add milk to the slow cooker and stir in cloves, nutmeg, ginger, vanilla extract, cinnamon and sugar. Float the cardamom seeds and tea bags on top.

Cover and cook for 2 hours on high. Serve hot.
Kitchen Tools
Nutrition
Serving:
1
cup
|
Calories:
186
kcal
|
Carbohydrates:
27.2
g
|
Protein:
8.4
g
|
Fat:
5.1
g
|
Saturated Fat:
3.2
g
|
Polyunsaturated Fat:
1.6
g
|
Trans Fat:
0.2
g
|
Cholesterol:
19.7
mg
|
Sodium:
116.8
mg
|
Fiber:
1.4
g
|
Sugar:
25.1
g
The information shown is an estimate provided by an online nutrition calculator. It should not be considered a substitute for a professional nutritionist's advice.
Love Recipes? Join our Free Facebook Group!
Join Mom's Best Recipes to find more delicious family recipes.
Save
Saved!