Gingerbread Latte is my go-to fall and winter drink. This slow cooker gingerbread latte recipe is easy to make, and great for serving up to guests. It warms you up, gives you those rich spices that make you feel like fall is in the air, and tastes beyond amazing.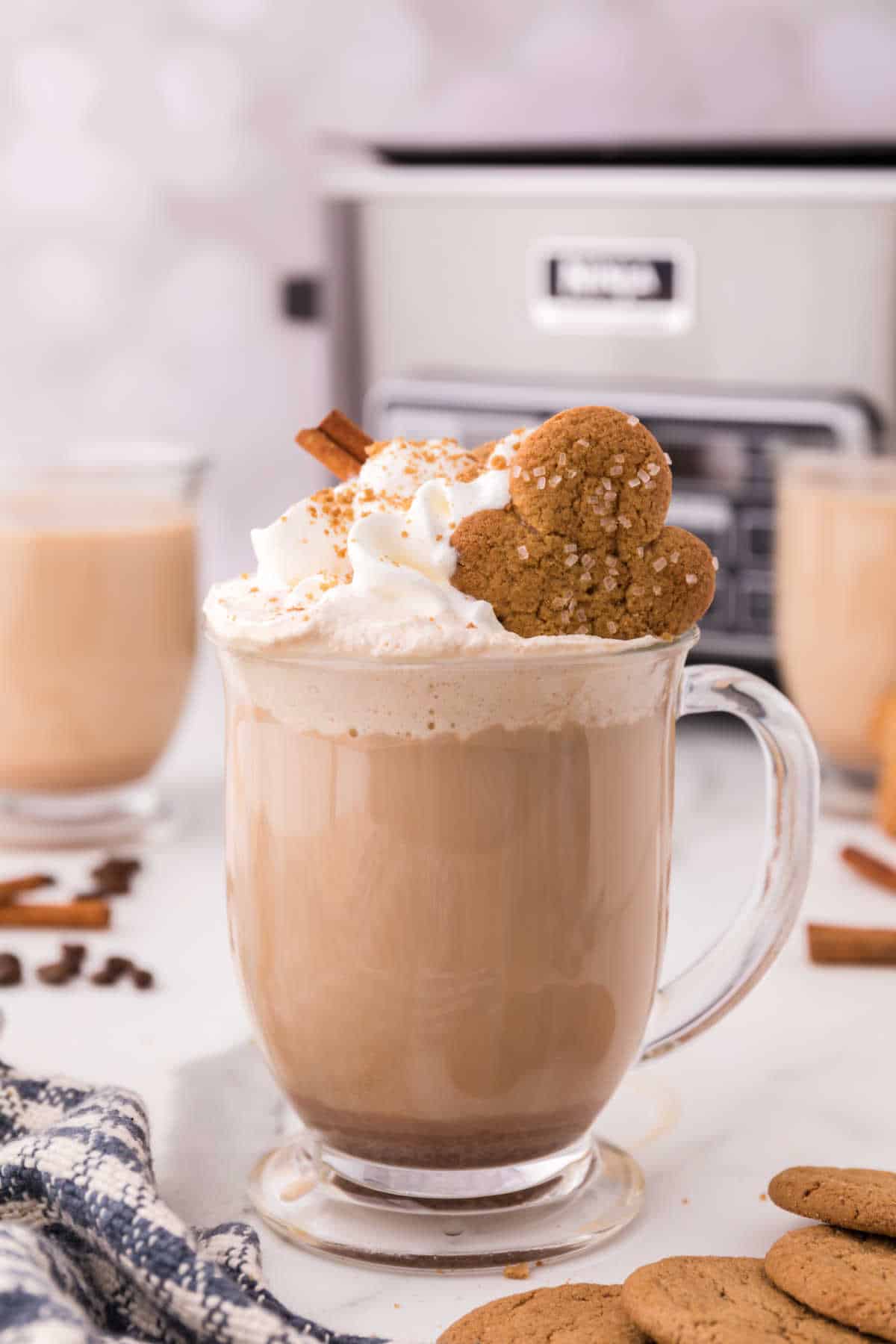 I don't know of any fancy coffee shops near me so I usually make my own specialty drinks. Normally just drink coffee, but once in awhile I like to indulge in a special treat! I make sure to savour every last drop.
This Gingerbread Latte recipe is made in the slow cooker. It tastes divine and perfect to enjoy on a cold winter's day. Even if you do live near a Starbucks or Second Cup, sometimes you just don't feel like venturing outside in this kind of weather. I'm a homebody in the winter months and will choose to stay home than go out to try and wipe a mountain of snow off my car.
Ingredients
Milk – I used 2% milk.
Cinnamon
Ground cloves
Ground nutmeg
Ground ginger
Granulated sugar
Vanilla extract – Make your own homemade vanilla extract.
Brewed black coffee
Whipped cream, for garnish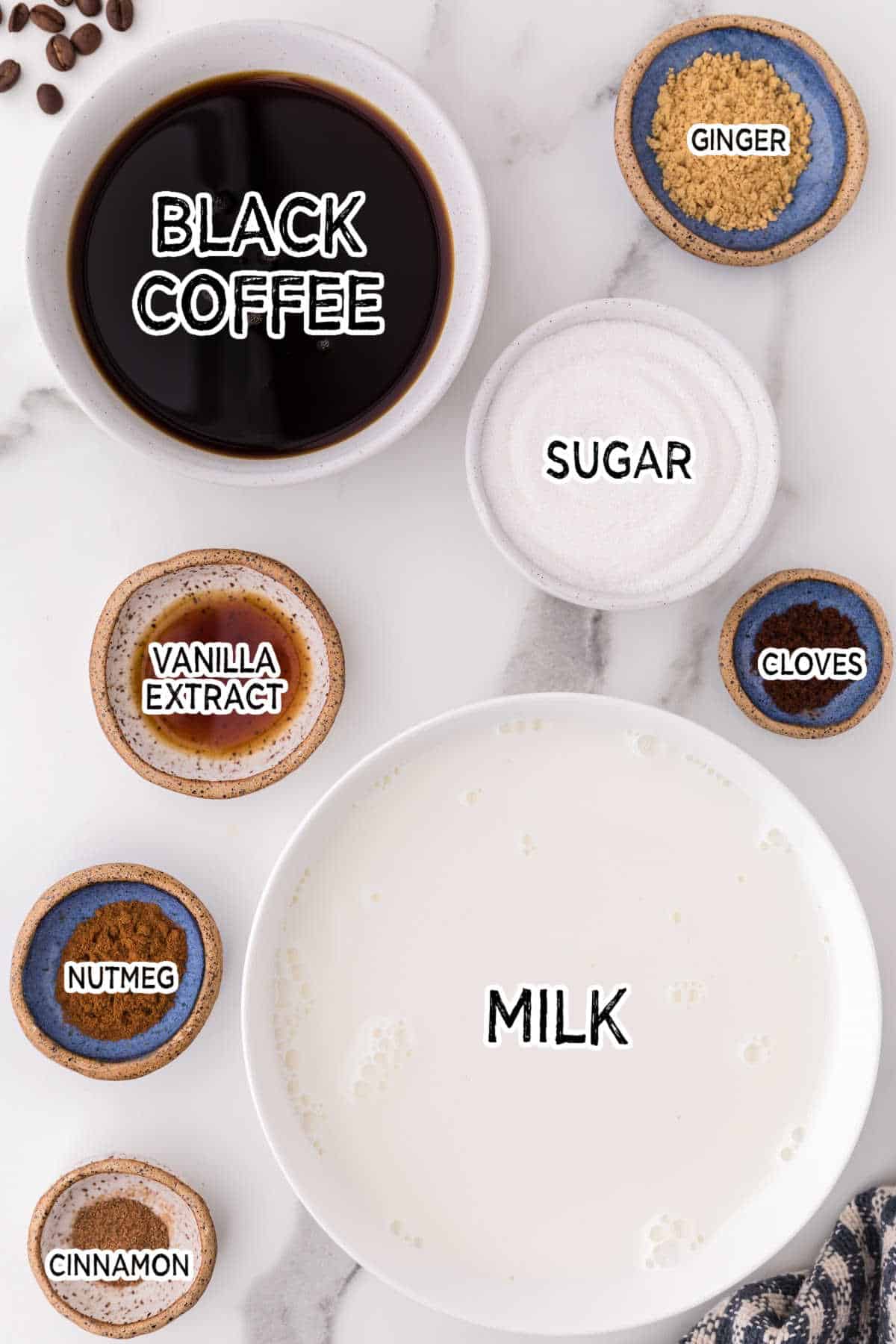 How to Make a Gingerbread Latte
Step One: Pour the milk in to the slow cooker and add in spices, sugar and vanilla. Stir to combine.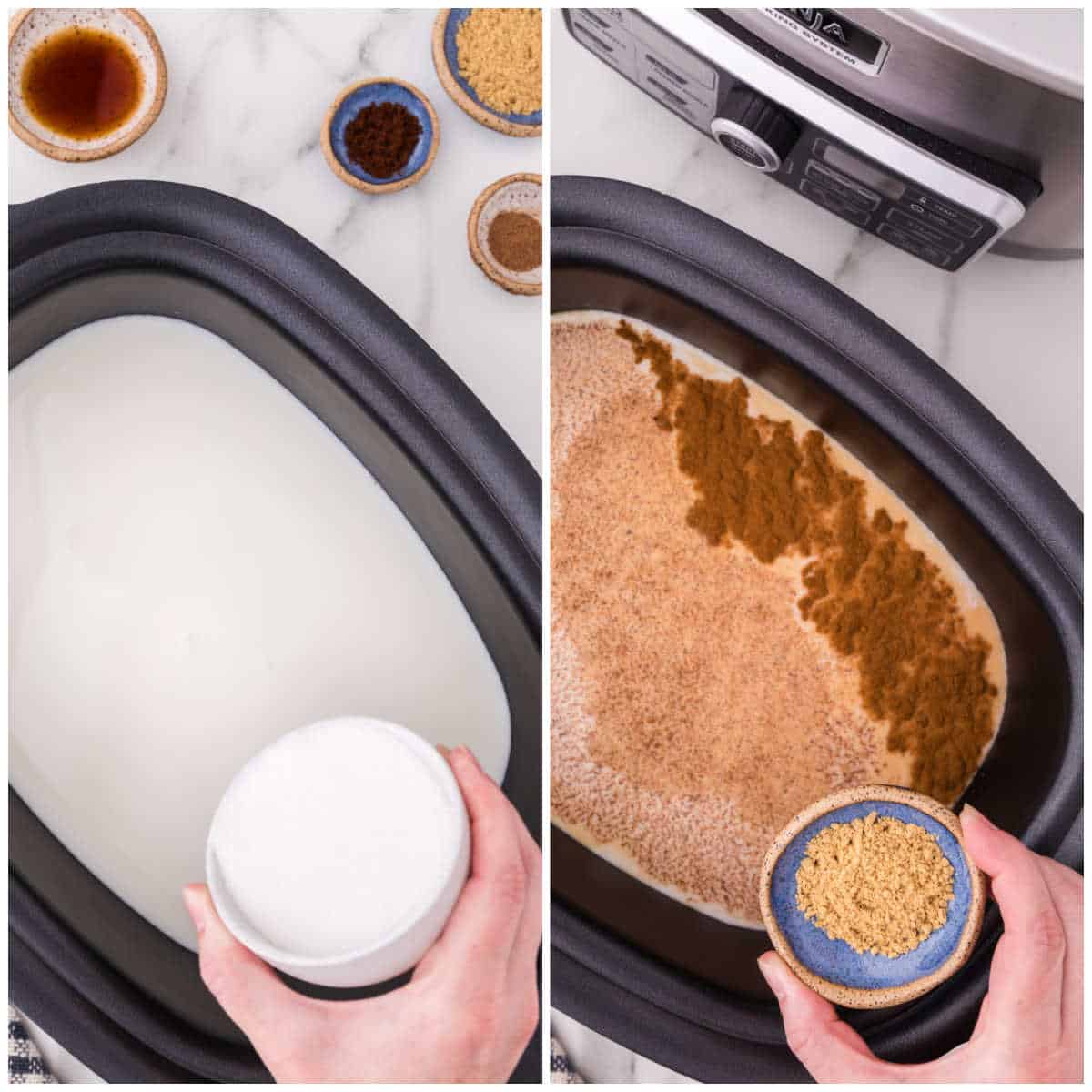 Step Two: Cover and cook on LOW for 3 hours, but keep an eye on it if it gets too hot. You don't want the milk to boil.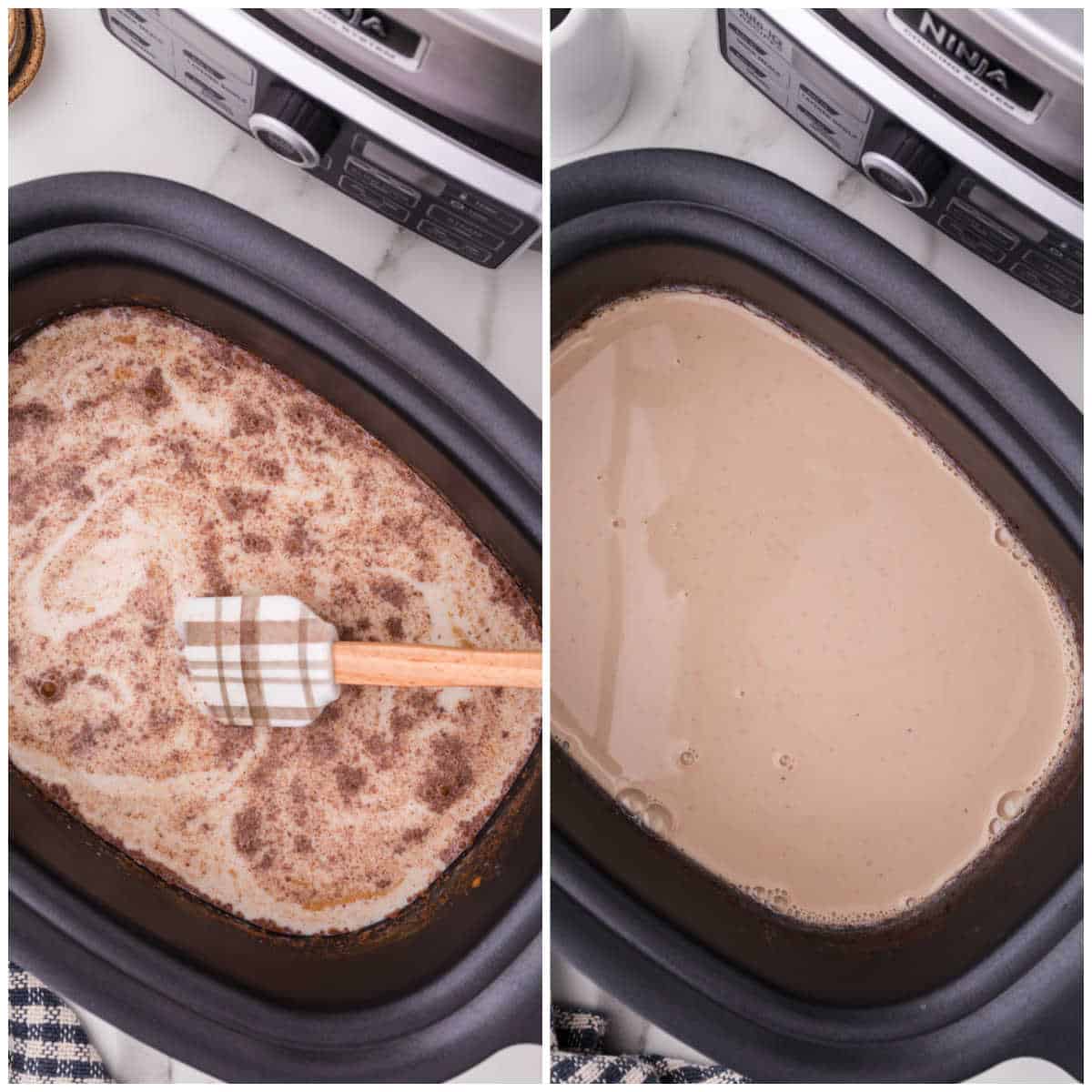 Step Three: After 3 hours, turn off the slow cooker. Pour into mugs about half way and then add hot coffee to fill up the mugs.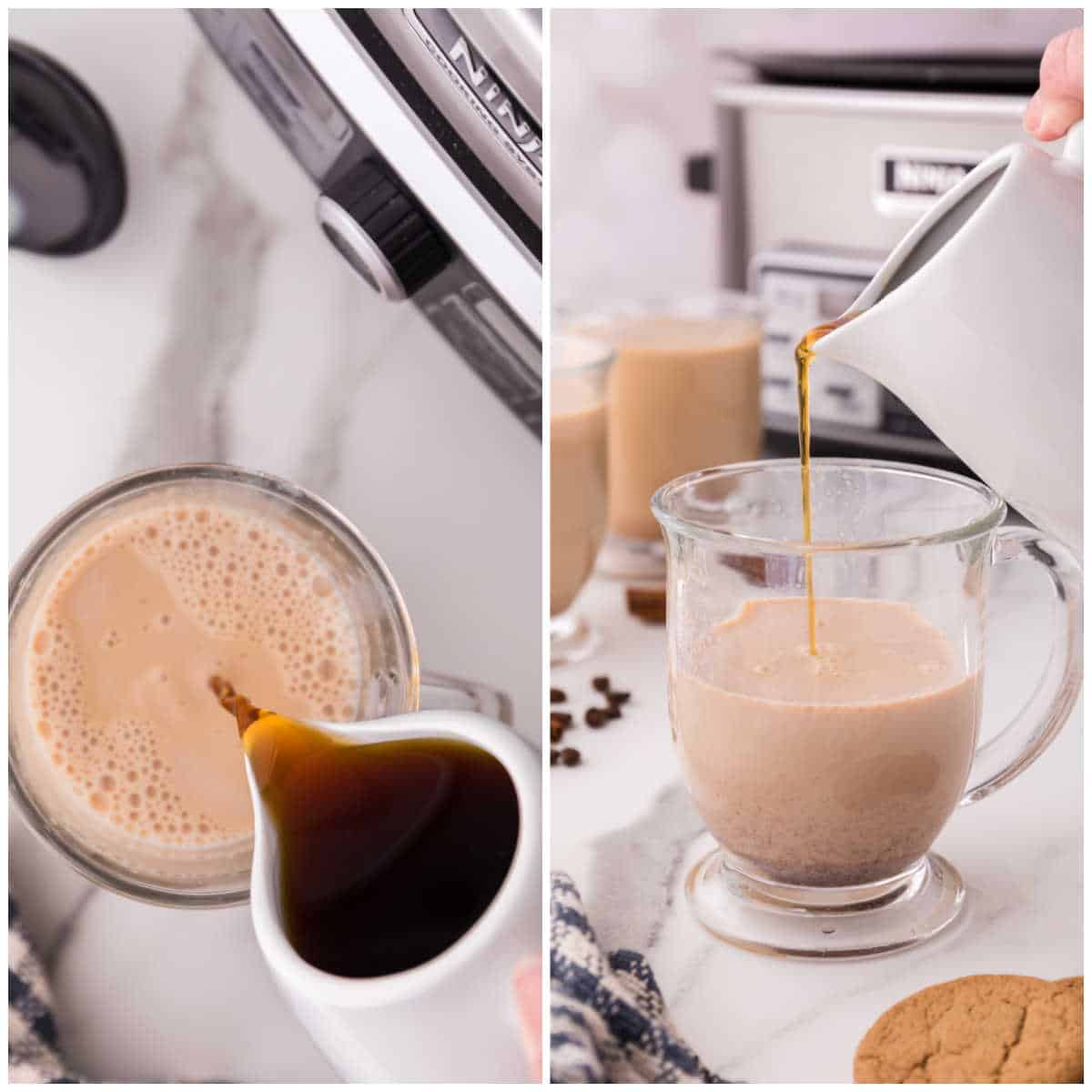 Step Four: Stir to mix. Garnish with whipped cream, if desired.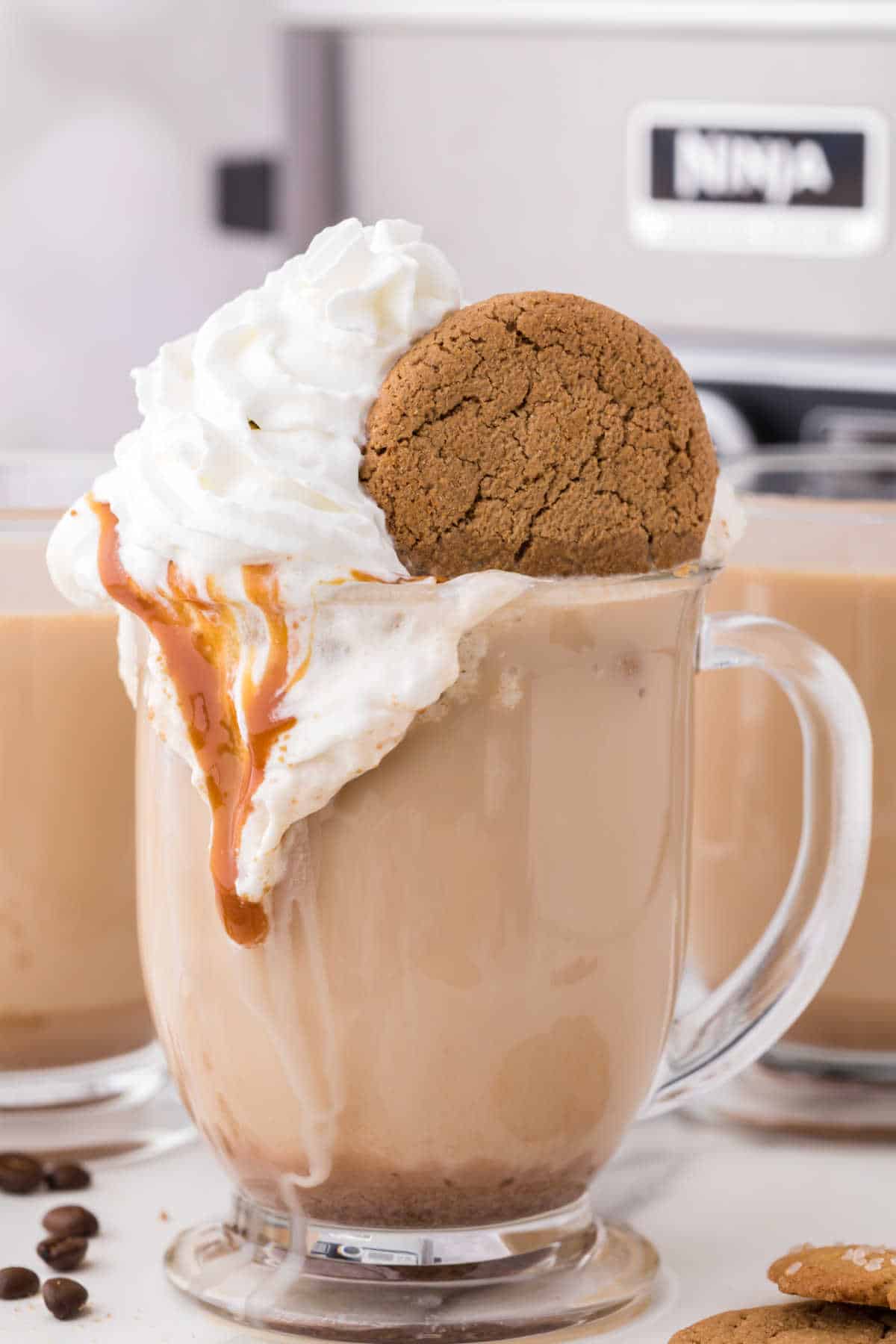 Pair this recipe with one of my Gingerbread desserts
Slow Cooker Gingerbread Latte
Instead, grab your slow cooker, some milk and coffee, and spices from your pantry. Whip up a steaming hot mug of decadence. Gingerbread may be more known as a holiday drink, but I crave them all winter long.
The hardest part about this recipe is waiting the three hours for it to be ready! It's delayed gratification. My house smells spicy and sweet and the taste makes the wait worthwhile.
You might also like this Slow Cooker Chai Latte.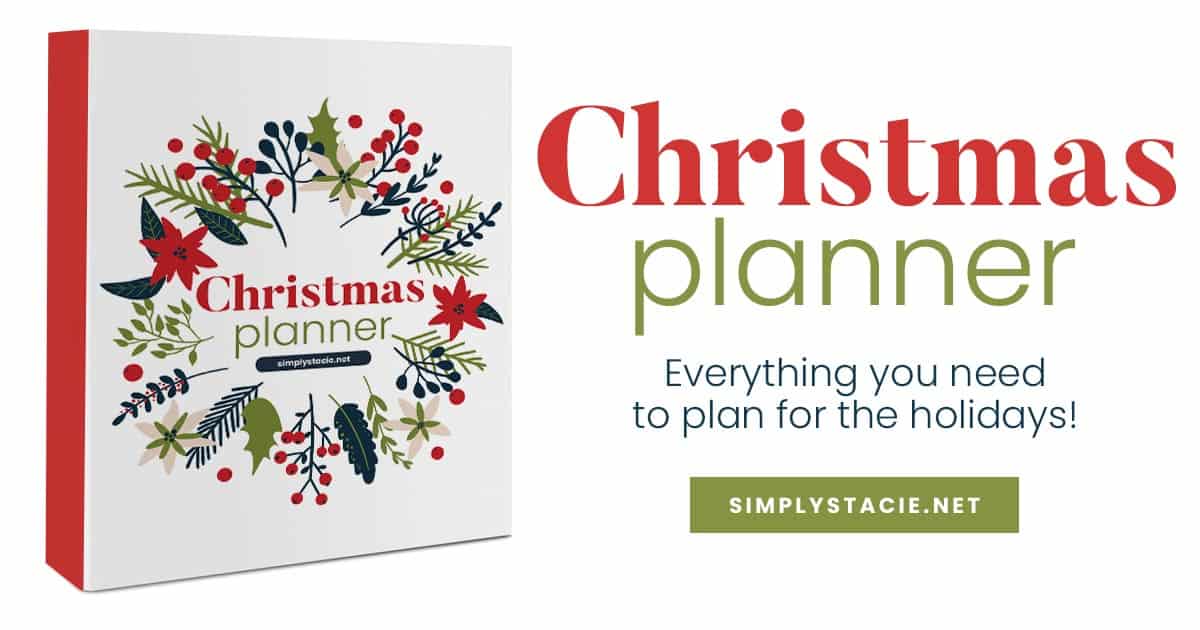 What Does a Gingerbread Latte Taste Like
In all honesty, like Christmas in a cup. You have all the spices that make you think of the holiday season, in a creamy and smooth drink. Add that dollop of whipped cream on top, and it takes this to a whole new level of tasty.
Can I Substitute for Almond Milk in Gingerbread Latte Recipe
Yes. You can use almond milk, coconut milk or even soy. This recipe is super versatile to fit your needs. I would use a vanilla or plain milk and not use any other flavor if you do decide to swap out the milk. Just make sure like the regular milk your slow cooker doesn't boil the milk.
Topping Ideas For Gingerbread Latte
Dollop of Whipped Cream
Drizzle of Caramel Sauce
Crumble of Gingerbread Cookie
Side of Gingerbread Cookies
Gingerbread Sprinkles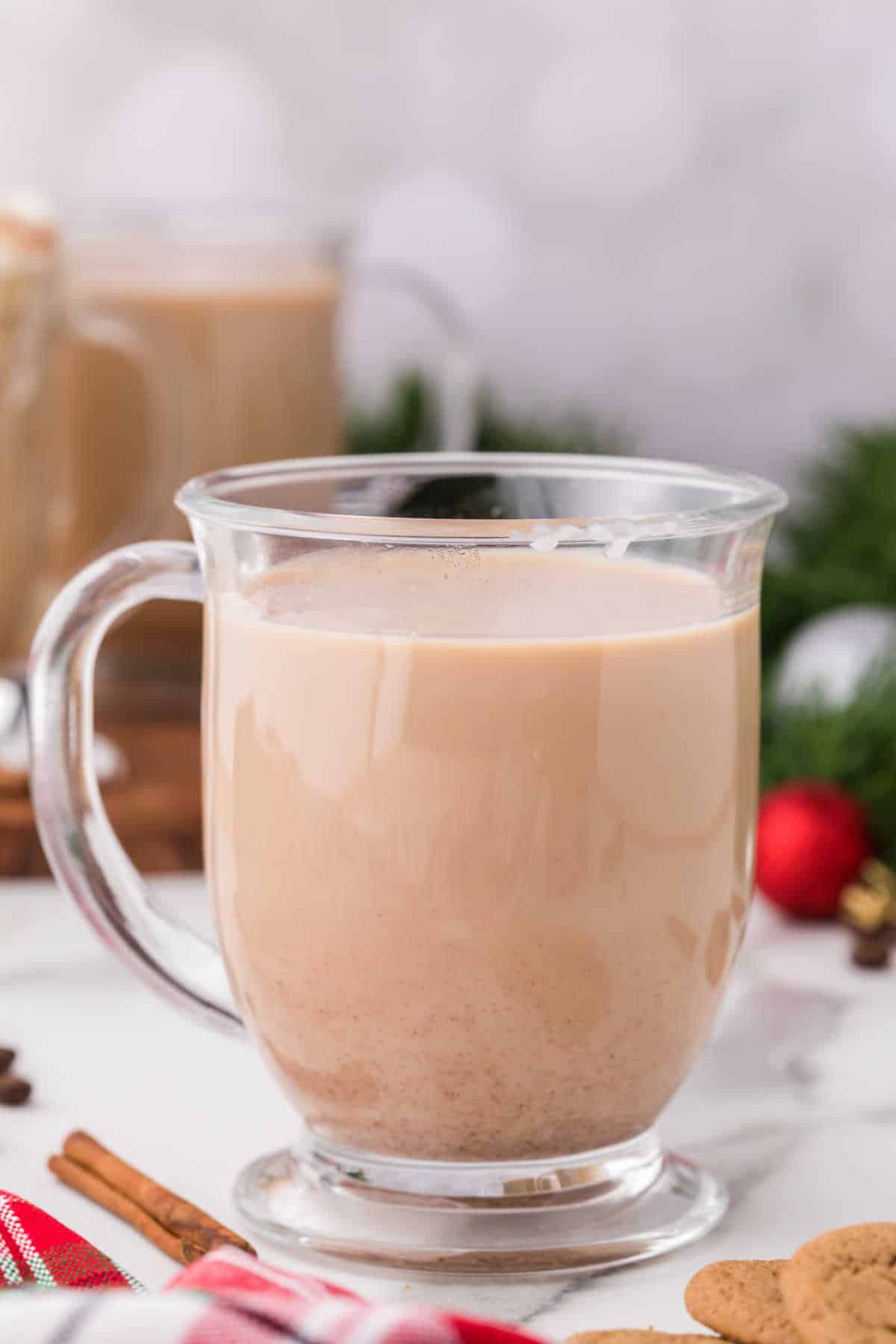 You don't have to add any topping to the latte, but if you do those are a few of my favorite ways to serve it up. If I am serving it at the holidays and have guests over, I set out all the items and let them decorate their drinks as they prefer.
Tools Needed For Gingerbread Latte
This post contains affiliate links.
Look at how low maintenance this recipe is! Minimal items are needed to get that coffee shop quality latte at home.
How to Make Gingerbread Latte
Add in your milk, spices, sugar, and vanilla into your slow cooker. Give it a good stir, and then cover and cook on low for up to three hours. Make sure that the mixture doesn't boil, that it stays calm in the slow cooker.
After the time is up, stir and then spoon the mixture halfway up in a cup. Then pour in some fresh coffee of your choice. Mix, garnish with whipped cream and serve.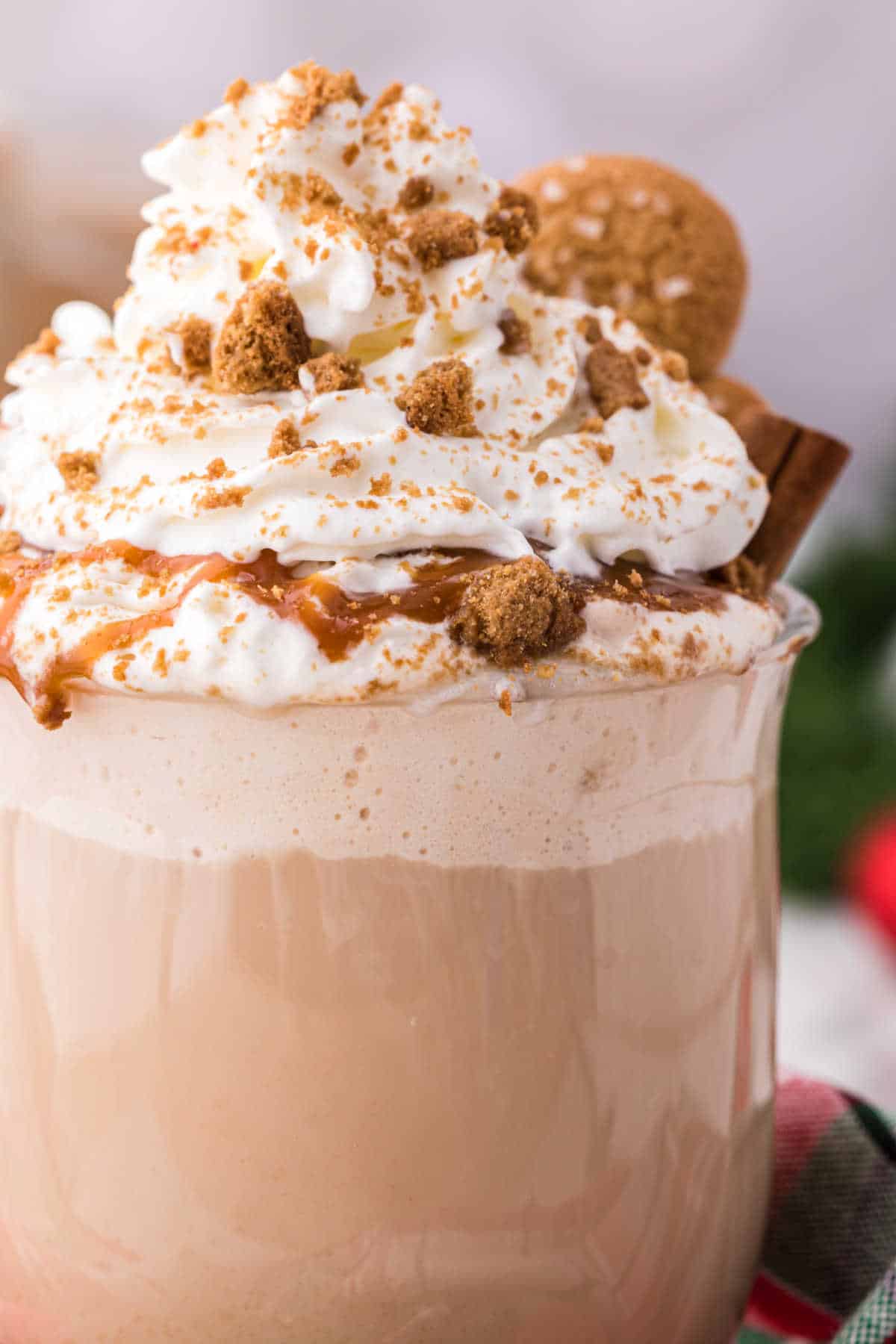 What is the Best Coffee to Use for Gingerbread Latte
Any coffee that you enjoy will work. Whether you want a decaf version or reach for a stronger coffee. Any works, you just want a plain coffee. If you add a flavored coffee into the mix, it will affect the gingerbread flavor and could make the drink taste a bit off.
Can I Use Espresso in Place of Coffee
Sure. If you want a stronger flavor to feel free to swap out the coffee for espresso. Just do a shot or two of espresso paired with the latte mixture. Create a blend that fits to your tasting.
How to Store Leftover Gingerbread Latte Mix
If you have any leftover mixture, you can store it in an airtight container in the fridge. It will last 2-3 days in the fridge. Just warm it up and then mix with your coffee.
To reheat you can warm in the microwave or pour some into a pan and heat up on the stovetop. Either method works great.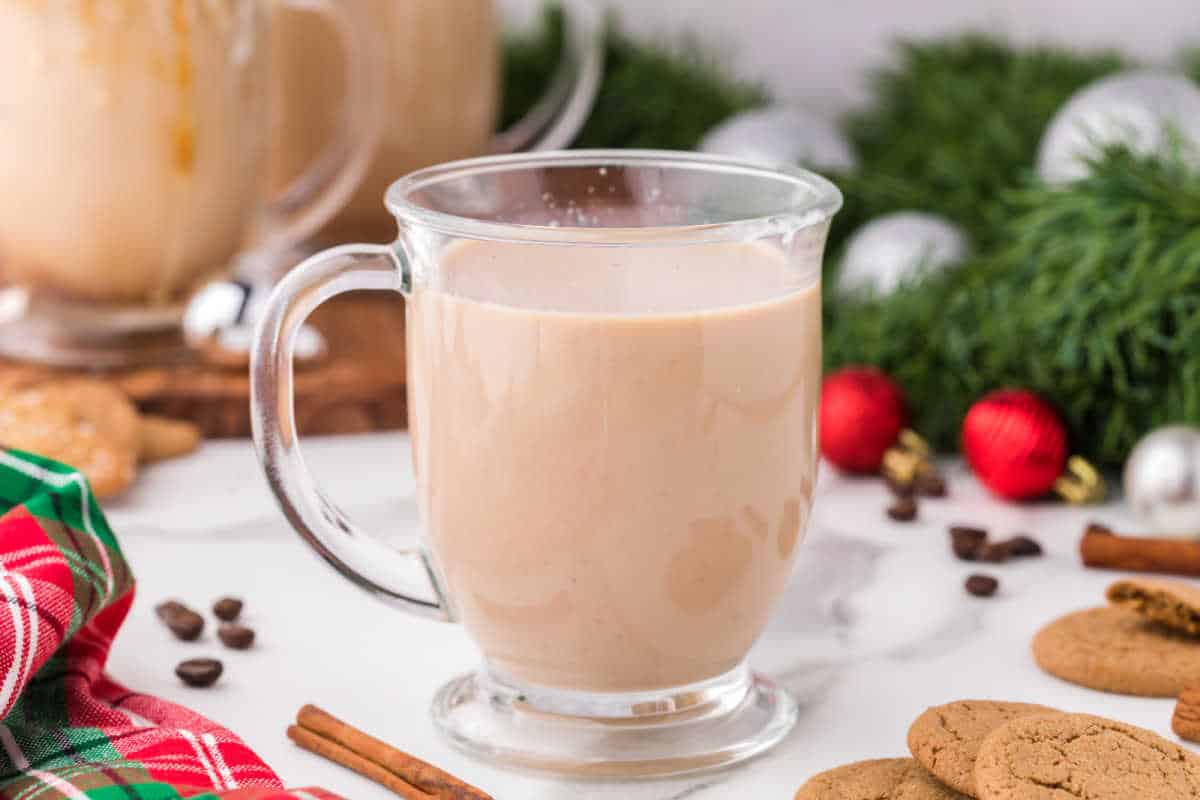 Why Did a Skin Form over my Gingerbread Latte Mixture
This can happen, and to get rid of it, simply take a spoon and run over the top of the mixture. The skin will form to the spoon and you can easily remove it. Sometimes this happens, and there is nothing wrong with your mix, and to remove it is the best step. It will not dissolve if you try to stir it into the mixture.
You might also like this Iced Coffee, Homemade Eggnog, Cranberry Mint Mocktail or Pumpkin Spice Latte.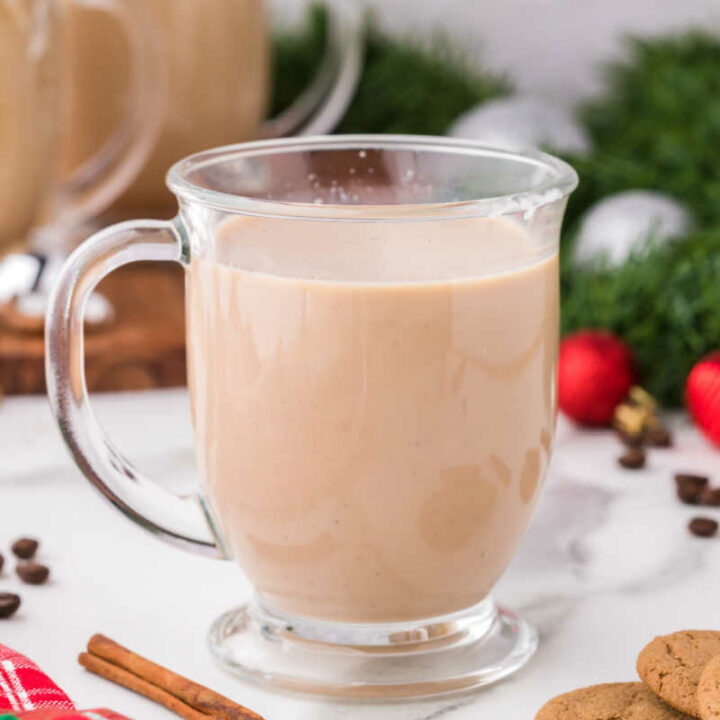 Gingerbread Latte
Total Time:
3 hours
15 minutes
Quick and easy to make in your slow cooker, this flavour packed latte is full of holiday spice flavours, but can warm you up any time of year.
Ingredients
4 cups milk
1 teaspoon cinnamon
¼ teaspoon cloves
¼ teaspoon nutmeg
2 teaspoon ginger
½ cup sugar
2 teaspoon vanilla extract
½ cup black coffee
Whipped cream (optional)
Instructions
Pour milk into the slow cooker and add in spices, sugar and vanilla. Stir to combine.
Cover and cook on low for 3 hours, but keep an eye out if it gets too hot because you don't want the milk to boil.
After 3 hours turn off the slow cooker. Pour into mugs about half way and then add hot coffee to fill up the mugs. Stir to mix. Garnish with whipped cream if desired.
Recommended Products
As an Amazon Associate and member of other affiliate programs, I earn from qualifying purchases.
Nutrition Information:
Yield:

4
Serving Size:

1
Amount Per Serving:
Calories:

233
Total Fat:

5g
Saturated Fat:

3g
Trans Fat:

0g
Unsaturated Fat:

2g
Cholesterol:

21mg
Sodium:

116mg
Carbohydrates:

38g
Fiber:

0g
Sugar:

38g
Protein:

8g