These Penuche Squares have been a part of my family since before I was born! This is another family favorite and I just know you are going to love these squares! Remember that Chess Pie recipe I posted back at the beginning of December? This is another southern classic from that same aunt that brought you the chess pie!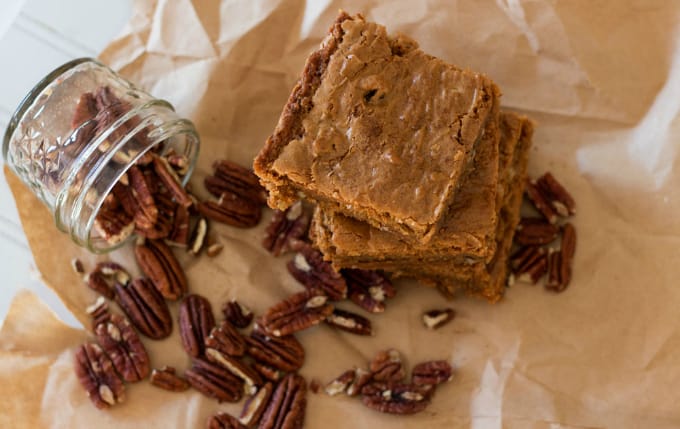 These Penuche Squares have that home cooked taste that will remind you of your grandmother cooking in the kitchen! When I made these Penuche Squares this afternoon, my kitchen filled with the wonderful aroma of melted butter and brown sugar and oh my goodness, these brought back some of the best memories from my childhood!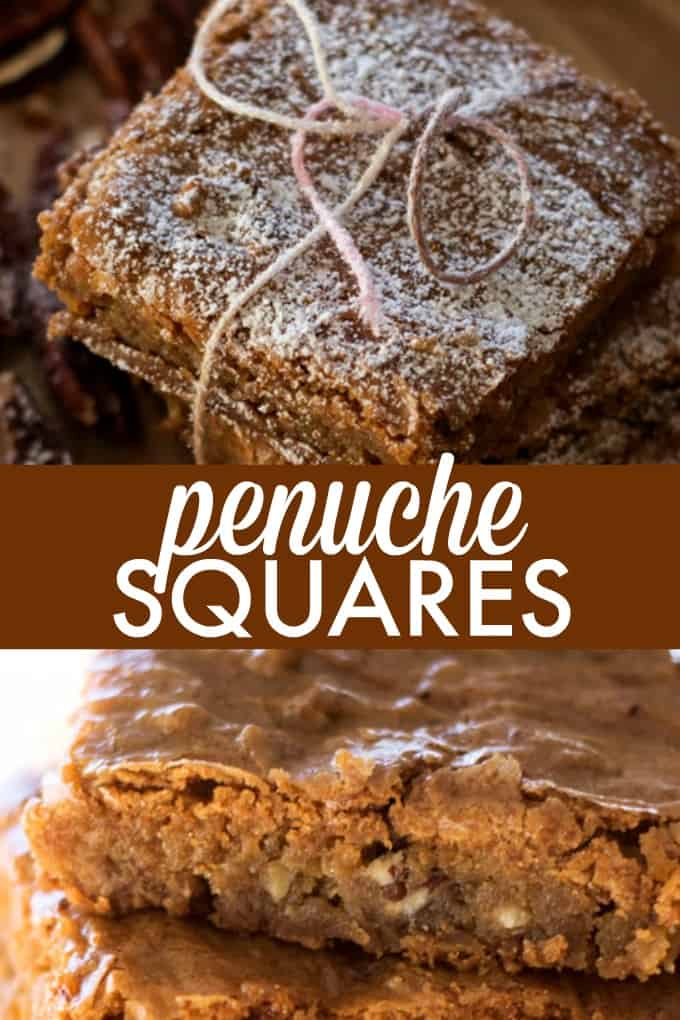 When I moved to California back in 2003 from Tennessee, my aunt mailed me some of her classic recipes. I stuffed them away in a folder and totally forgot about them…until about a month ago. I was cleaning out some folders and low and behold, there were my aunt's recipes! She hand wrote them and mailed them to me so I'd have a bit of home with me on the West Coast!
These are so simple to make. The key to this recipe is a good brand of dark brown sugar and yes, this recipe calls for a full box. See below for the box I used. But don't worry! These Penuche Squares make 15 bars so they feed a lot!
When baking these in the oven, a crust will naturally rise on the sides. Oh my don't these look so amazing!
You'll want to cook these for 25 minutes and not a minute more. They don't taste good when they are overcooked. Let these Penuche Squares completely cool before cooking.
Once they've cooled and you've cut them into squares, feel free to sprinkle powdered sugar on top. It helps them look extra appetizing!
These Penuche Squares are great for any potluck or as a dessert for your family. Not to be morbid, but my aunt used to takes these to the funeral homes when a loved one had passed away. With a lot of sad faces and heavy hearts, she loved to serve this sugary sweet treat to help brighten other people's days. Bless her sweet soul!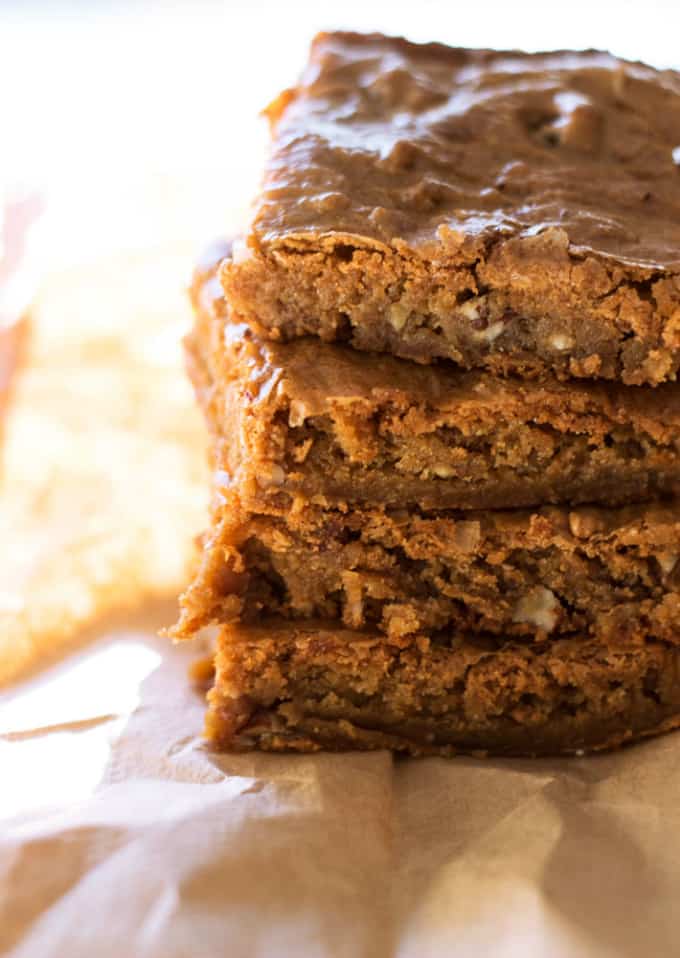 If you're looking for other sweet treat recipes to make that your family will love, check out my Flourless Chocolate Torte and my Homemade Apple Pie.
You'll also enjoy these Christmas Chewy Bars or Butter Tart Squares.
Enjoy these Penuche Squares and happy eats!

Penuche Squares
Delicious Southern dessert! Top with powdered sugar for a beautiful baked bar.
Ingredients
1 ½ stick of unsalted butter
1 (16 ounce) box of dark brown sugar
2 eggs
1 ½ cup all purpose flour
2 teaspoons baking powder
1 teaspoon vanilla extract
1 teaspoon salt
1 cup chopped pecans
Instructions
Preheat oven to 350 Fahrenheit.
Melt the sticks of butter in a saucepan.
Stir in the brown sugar, eggs and vanilla extract and mix well until all ingredients are melted.
In a separate large bowl, combine all dry ingredients.
Pour the wet ingredients into the bowl of dry ingredients and stir with a large wooden spoon until ingredients are mixed well.
Grease a 9×13 glass casserole pan with butter. Pour the batter into the Pyrex dish and bake for 25 minutes uncovered.
Let these completely cool on a wire rack before cutting into squares.
Optional – top with powdered sugar.
Recommended Products
As an Amazon Associate and member of other affiliate programs, I earn from qualifying purchases.
Nutrition Information:
Yield:

15
Serving Size:

1 square
Amount Per Serving:
Calories:

298
Total Fat:

14.7g
Saturated Fat:

6.3g
Unsaturated Fat:

7.5g
Cholesterol:

49.1mg
Sodium:

175.1mg
Carbohydrates:

40.5g
Fiber:

1g
Sugar:

29.7g
Protein:

2.9g