Caramel Apple Cake Cups are a bite-size apple cake dessert that will melt in your mouth. A boxed cake mix gets a makeover with caramel, apple pie filling, and a caramel drizzle.
The apple desserts are starting to pop up everywhere and I'm jumping on the apple wagon too. I adore the apple and caramel combination and imagined a cake cup with the perfect marriage of flavours.
In this recipe, I used a butter pecan cake mix, Kraft caramels, and apple pie filling. You know me and my cake mix hacks.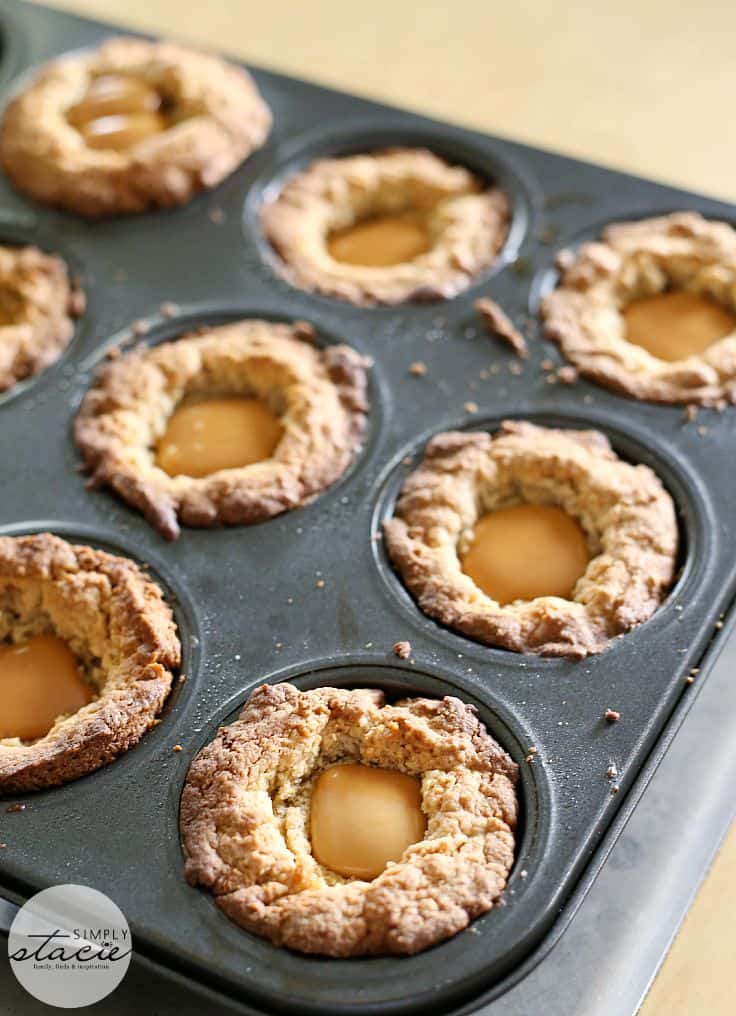 Caramel Apple Cake Cups
I had the idea of the caramel melting at the bottom of the cake cup. I had to time it so the cake cup was almost baked and that the caramel had enough time to soften and melt.
It gets even better with caramel sauce drizzled on top. It's sooooo sweet and perfectly decadent. I didn't know whether or not to lick off all that sweet sticky caramel first or pop the cake up in my mouth and experience all the deliciousness simultaneously.
Best Way to Serve Caramel Apple Cake Cups
They look a bit like little apple caramel pies don't they? Serve with some vanilla ice cream if you like! Out of all the cake and cookie cups I've made recently, this recipe is one of my faves.
What Flavor of Cake Mix to Use for Caramel Apple Cake Cups
I used a butter pecan cake mix. I find it offers incredible flavor to these cake cups. Now if you can't find it, you are welcome to use a white, yellow or even spice cake mix. I think any of those would work just as good as the butter pecan.
What If I Don't Have Caramel Cubes
If you don't have caramel cubes to place in the center of your cups, you can use a caramel sauce instead. Just fully bake your cups, and then spoon in a bit of the caramel sauce. Then top with the apple pie filling like normal and drizzle on more sauce if you want.
You don't have to have the caramel cubes, but they offer a tasty flavor to the cups that we enjoy.
How to Get The Filling in Center of Cake Cups
As your cake cups bake you will push down the center with the bottom of a spoon or kitchen utensil. This will keep the center hollowed out so you can then fit in your caramel and apple pie filling.
The key is to not overfill the muffin tin either with dough. If you put too much in it will not work out. Aim for around a tablespoon of dough.
Can I Use Homemade Apple Pie Filling
Sure. Reach for a canned apple pie filling or whip up some homemade pie filling. Either will work and it is all about your taste preference. I went for canned since you only use a little bit for this recipe.
How to Make Caramel Apple Cake Cups
You want to start by preheating the oven and spraying your muffin tin with a cooking spray. Then in a bowl mix up your cake mix, butter, and eggs. Then take a tablespoon of dough and place it in each muffin tin. Then cook for a portion of the time. You will remove it from the oven and push it down in the center. Place back in the oven and cook for another five minutes.
Now when you remove your cake cups again, push down and then place a caramel in each cup. Then cook an additional amount of time till they are fully cooked.
Once the cups have cooled a bit you can spoon the apple pie filling on top, and drizzle with caramel sauce.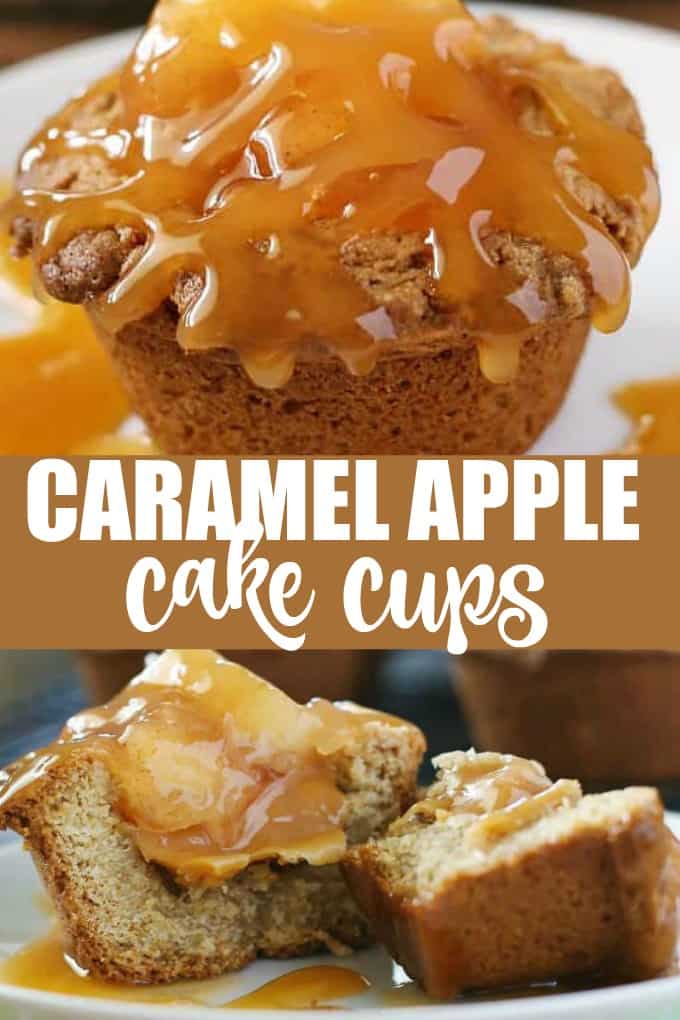 How to Store Cake Cups
These apple cake cups can be stored in the refrigerator for 4-5 days. Because of the apple pie filling it is best to keep in the fridge so it extends the life of these cake cups. If you like them warm then just heat up for a few seconds in the microwave until it is warmed up.
Can You Freeze Caramel Apple Cake Cups
Yes, you can freeze these bite-size cake cups. Once cooled down, you can then transfer to an airtight container. Then toss in the freezer for up to three months. Then thaw in the fridge the night before you plan to enjoy. Or warm them up in the microwave on defrost to get them soft.
Want More Caramel Apple Recipes
Try these Caramel Nut Brittle, Caramel Apple Tarts and salted caramel fudge.
What are your thoughts on the caramel apple flavor combo?
Caramel Apple Cake Cups
These quintessentially fall cake cups are perfect! A little Butter Pecan cake mix becomes the perfect vessel for these handheld desserts.
Ingredients
1 box Butter Pecan Cake Mix
2 eggs
1/2 cup butter, softened
10 – 12 caramels
1/4 cup apple pie filling
caramel sauce, for garnish
Instructions
Preheat oven to 350F. Spray a muffin tin with cooking spray.
In a mixing bowl, stir together cake mix, butter and eggs.
Take about a 1 tbsp of dough and press it into the muffin tin. Make sure to not make it too thick or it won't cook entirely in the center.
Place in oven for about 7 minutes. Remove from oven and poke the center with a spoon to create your cup. Put the cake cups back in the oven for another 5 minutes and then repeat the process to create your cup.
Place back in the oven for another 5 minutes. They should be almost ready by now. Remove from the oven and use the spoon again to poke the center to make it cup-shaped. Then place one caramel in each cup. Put back in the oven for another 5 to 9 minutes, until caramel is melted and cake cups are golden.
Remove from oven and let cool.
Once cool, add about 1 tsp of apple pie filling to each cake cup. Drizzle with caramel sauce if desired.
Recommended Products
As an Amazon Associate and member of other affiliate programs, I earn from qualifying purchases.
Nutrition Information:
Yield:

10
Serving Size:

1
Amount Per Serving:
Calories:

379
Total Fat:

14g
Saturated Fat:

8g
Trans Fat:

1g
Unsaturated Fat:

5g
Cholesterol:

68mg
Sodium:

525mg
Carbohydrates:

59g
Fiber:

1g
Sugar:

37g
Protein:

4g