Peanut Butter Cookie Cups are one sweet treat that doesn't take much effort to make. A peanut butter cookie cup that has a peanut butter filling that is a sweet delight. Whip these up for any occasion and watch peanut lovers jump for joy at this peanut butter duo.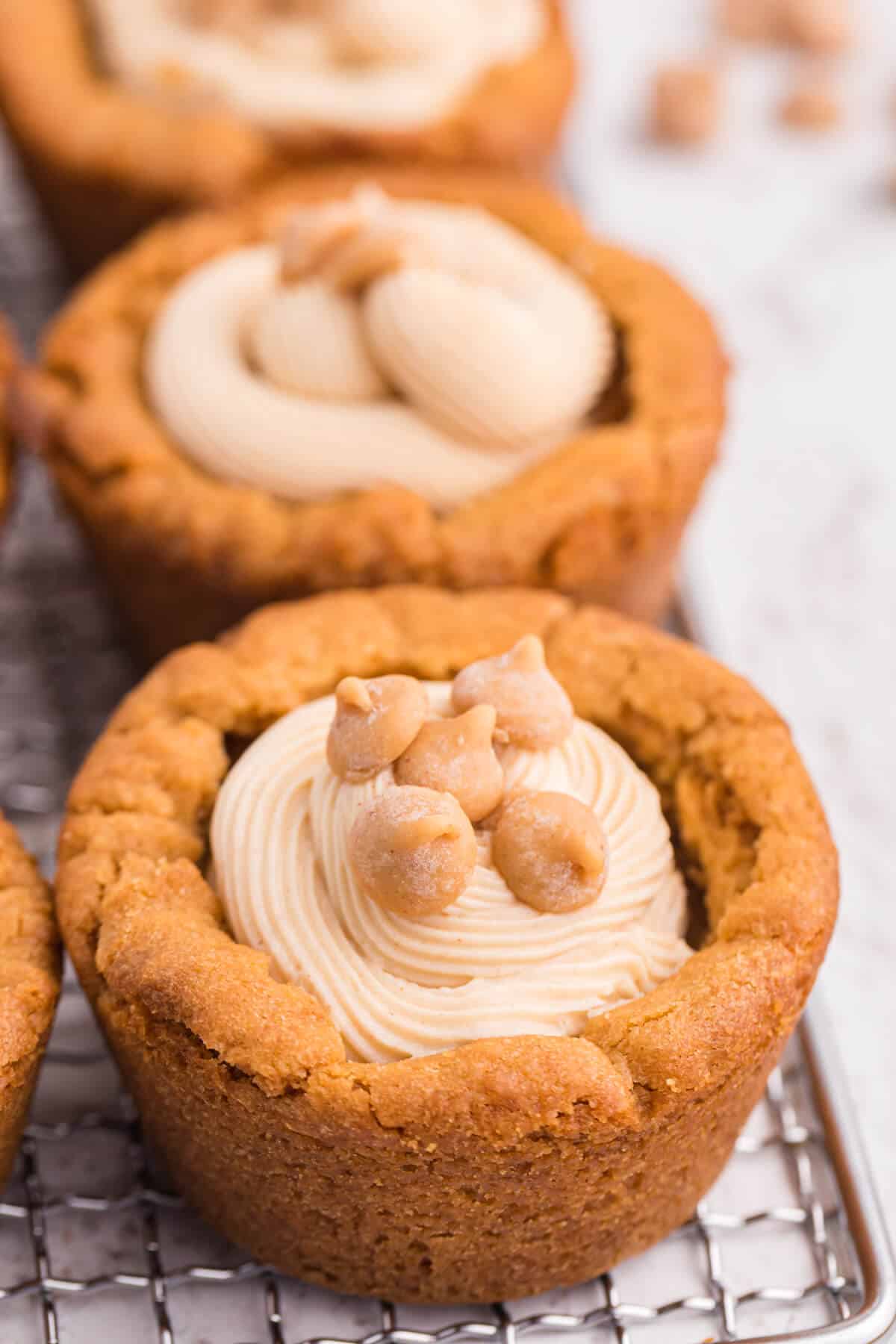 I hope you like peanuts because today we have a whole lotta peanut going on! My latest cookie cup creation is these sweet delights: Peanut Butter Cookie Cups.
The cup is a moist and chewy peanut butter cookie. I melted some Reese peanut butter chips at the bottom of each cup to take this dessert to a whole new level. And does it ever soar!
Cream Cheese Filling for Peanut Butter Cookie Cups
The filling is creamy and sweet made with a combination of cream cheese, smooth peanut butter and icing sugar (otherwise known as powdered sugar). I finished it off with a couple of Reese peanut butter chips on top. You could also be bold and put peanuts if you wish. How daring of you!
This batch did not last long. No one could resist, myself included!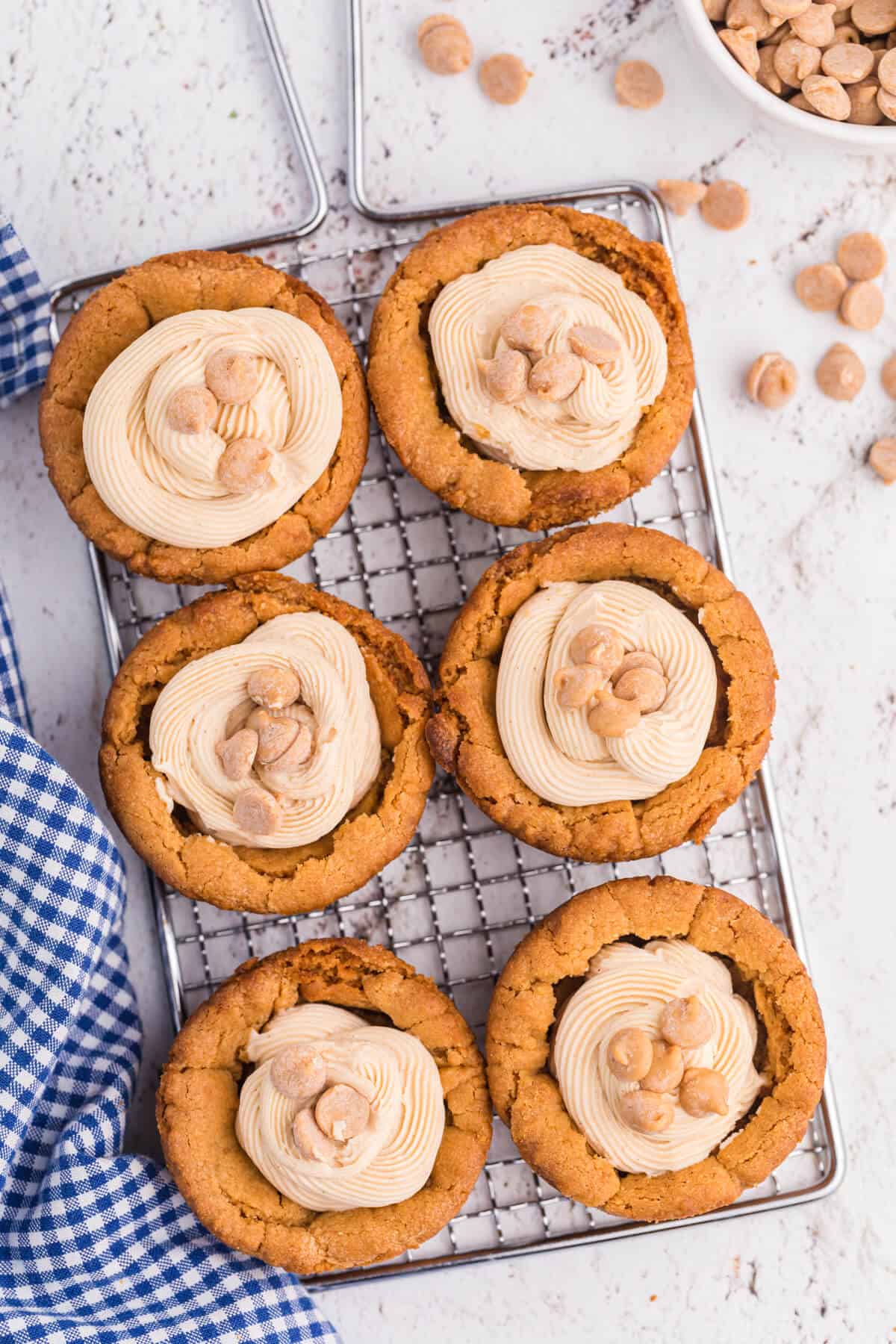 Could I Use Homemade Peanut Butter Cookie Dough for the Cup
Yes, you sure can. If you have a favorite peanut butter cookie recipe, go ahead and use that. I wanted to create a really simple recipe that you can toss together in a hurry and I found boxed cookie mix was perfect. But, feel free to reach for your favorite dough and use it accordingly.
You will still follow the recipe as directed, just assemble cookie dough and then jump back on in the steps for how to make the cookie cups.
How Do You Keep The Cookie Cup Hollow in Center
As the cookie cup bakes, you will randomly take it out of the oven and push down the center. This will keep you from having the center hollow and that is where the filling will go. It will help you not waste but cutting out the center.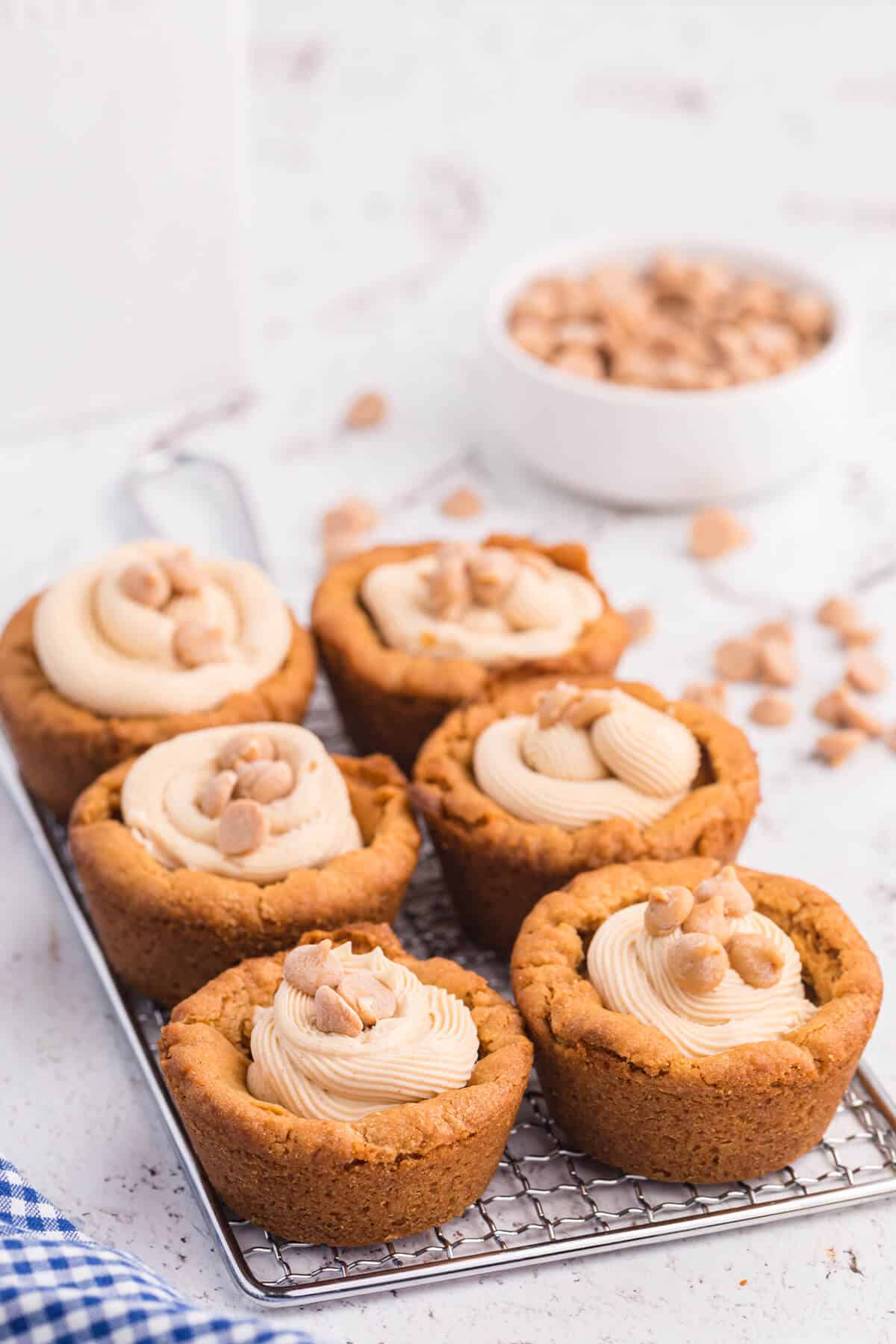 How to Make Peanut Butter Cookie Cups
Start by making your cookie dough, and then placing the cookie dough into a greased muffin tin. Make sure to not use cupcake liners, as you don't want the cookie sticking to the liner.
Bake for 7 minutes and then remove from the oven and take a spoon to push down the center of the cups. Repeat this step a few more times as it bakes, I share full directions below.
Once your cookies are done, allow them to cool and then work on the cream cheese mixture. You can pipe the cream cheese filling into the center of each cup. If you are not good at piping you can spoon it in as well. Top with peanut butter chips and serve.
How to Store Peanut Butter Cup Cookie Cups
You will want to store your cookie cups in the refrigerator. Because of the cream cheese filling, you will want to ensure it stays refrigerated as it will go bad at room temperature.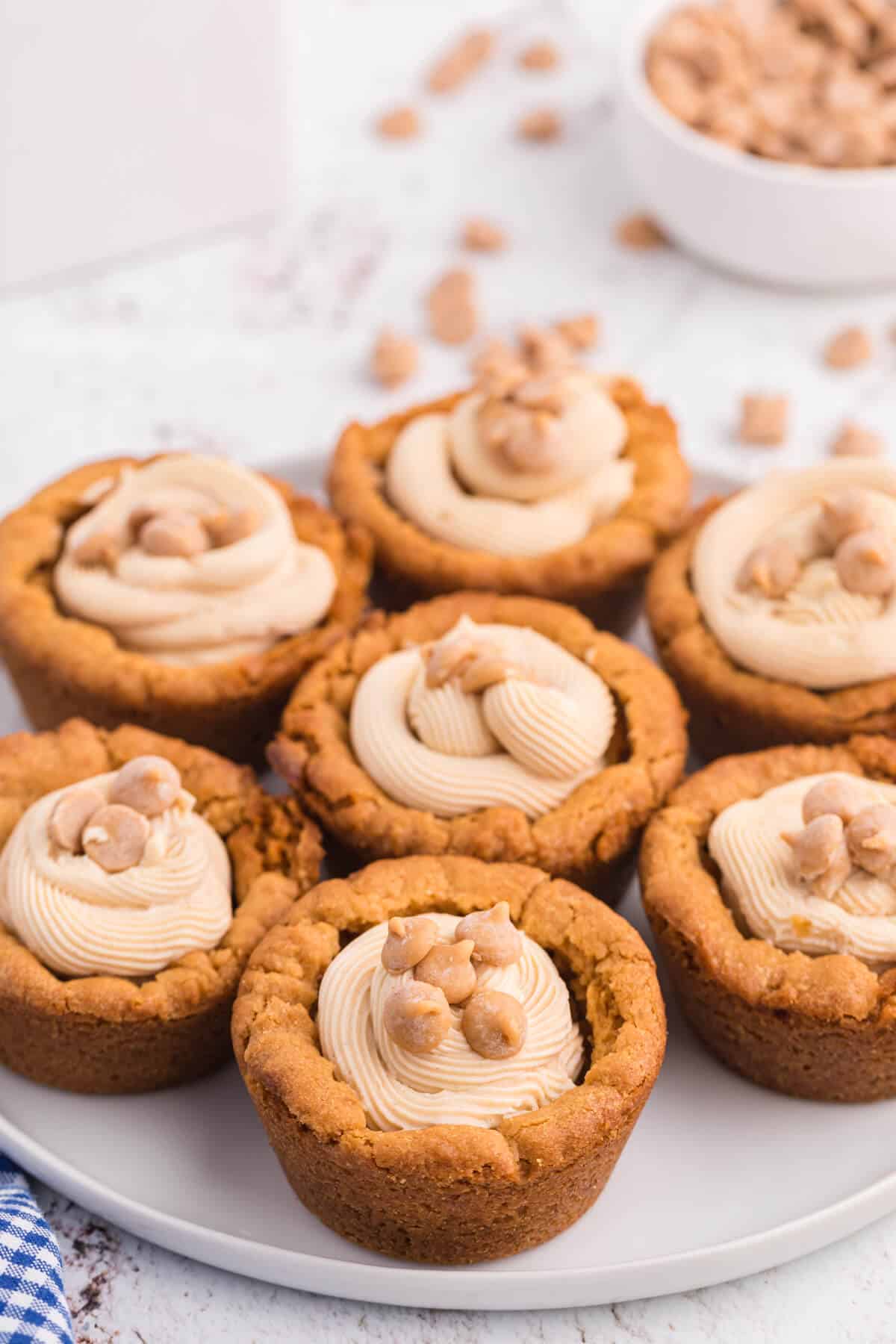 Can I Make Peanut Butter Cookie Cups Ahead of Time
What I would recommend is making the peanut butter cookie cups and leave them out to cool and then store at room temperature. Then assemble the cream cheese filling and store in the fridge. Right before you are ready to serve, pipe filling into cups and serve. They will store best when they are separated.
Will Peanut Butter Cookie Cups Freeze Well
I have not tried freezing these cookie cups as they disappeared so fast. The cream cheese filling is the part I am unsure would thaw out well. It could separate as it thaws. I would almost recommend that you freeze the cookie cups empty and then fill later, or try one or two with the filling and see if they thaw properly or not.
Searching for more peanut butter lover recipes
Peanut Butter Pie | If you are looking for a silky smooth peanut butter pie, you will love this recipe. A super simple recipe that will win over the whole family.
Easy Peanut Butter Squares | A thick creamy layer of peanut butter that is topped with rich and creamy chocolate. These squares are so delicious any time of the year.
No-Bake Chocolate Peanut Butter Balls | A chocolate peanut butter flavored ball that is covered in chopped up Reese's pieces. A crunchy treat.
Variations to Peanut Butter Cookie Cups
Add in some chopped Reese's peanut butter cups
Drizzle with chocolate syrup
Add a few chopped peanuts on top
Make a chocolate cream cheese filling instead of peanut butter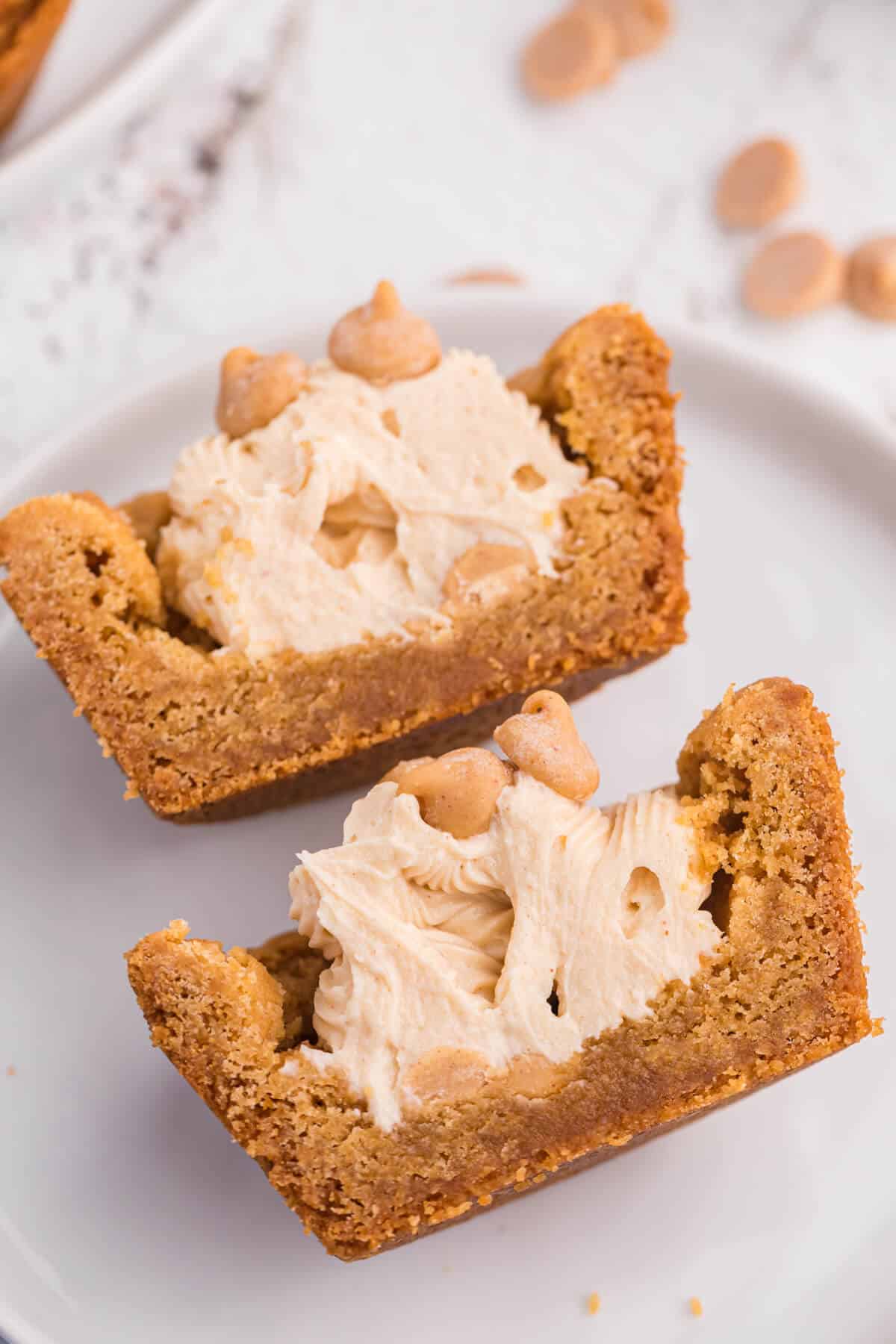 There are tons of ways to change up this recipe to give you exactly what you want. I love it just as it is, but feel free to make it fit exactly what you want.
You'll also like these Caramel Cookie Cups.
Are you a peanut butter fan?
Ingredients
1

package

peanut butter cookie mix

17.5oz package or your fave peanut butter cookie recipe

¼

cup

peanut butter chips

divided

1

package

cream cheese

8oz/250g package, room temperature

½

cup

smooth peanut butter

¼

cup

powdered sugar
Instructions
Preheat oven according to directions on cookie package.

Prepare cookie dough according to recipe or package directions. Press cookie dough into a greased muffin tin to form a cup. Bake for 7 minutes.

Remove tray from oven when cups are rising. Take a small spoon and deflate the centers of the cups while leaving the sides of the cookie cup untouched. Put back in the oven and bake for another 5 minutes.

Again, remove from oven and with a small spoon, deflate the centers of the cups while leaving the sides of the cookie cup untouched. Add a four to five peanut butter chips to each cookie cup.

Place back in the oven again and finish baking until the cookie cups are golden brown. Remove from oven and let cool completely.

In a mixing bowl, beat with a mixer the cream cheese, powdered sugar and peanut butter together until light and fluffy.

Place cream cheese mixture into a piping bag and pipe the mixture into the cooled cookie cups with a decorative tip. Top with remaining peanut butter chips.
Kitchen Tools
Nutrition
Serving:
1
g
|
Calories:
132
kcal
|
Carbohydrates:
10
g
|
Protein:
4
g
|
Fat:
9
g
|
Saturated Fat:
3
g
|
Polyunsaturated Fat:
5
g
|
Cholesterol:
6
mg
|
Sodium:
89
mg
|
Fiber:
1
g
|
Sugar:
6
g
The information shown is an estimate provided by an online nutrition calculator. It should not be considered a substitute for a professional nutritionist's advice.
Love Recipes? Join our Free Facebook Group!
Join Mom's Best Recipes to find more delicious family recipes.
Save
Saved!