Eggnog Breakfast Casserole is the perfect stress-free Christmas breakfast to whip up for your family. You have a rich and creamy eggnog casserole that is made with croissants.
We're breaking out the eggnog! No other drink reminds of the holidays quite like eggnog. I have to actively remind myself to not drink the whole carton. My kids aren't though. They used to call it "yellow milk". Maybe eggnog is an acquired taste? Anyways, I think it tastes delicious!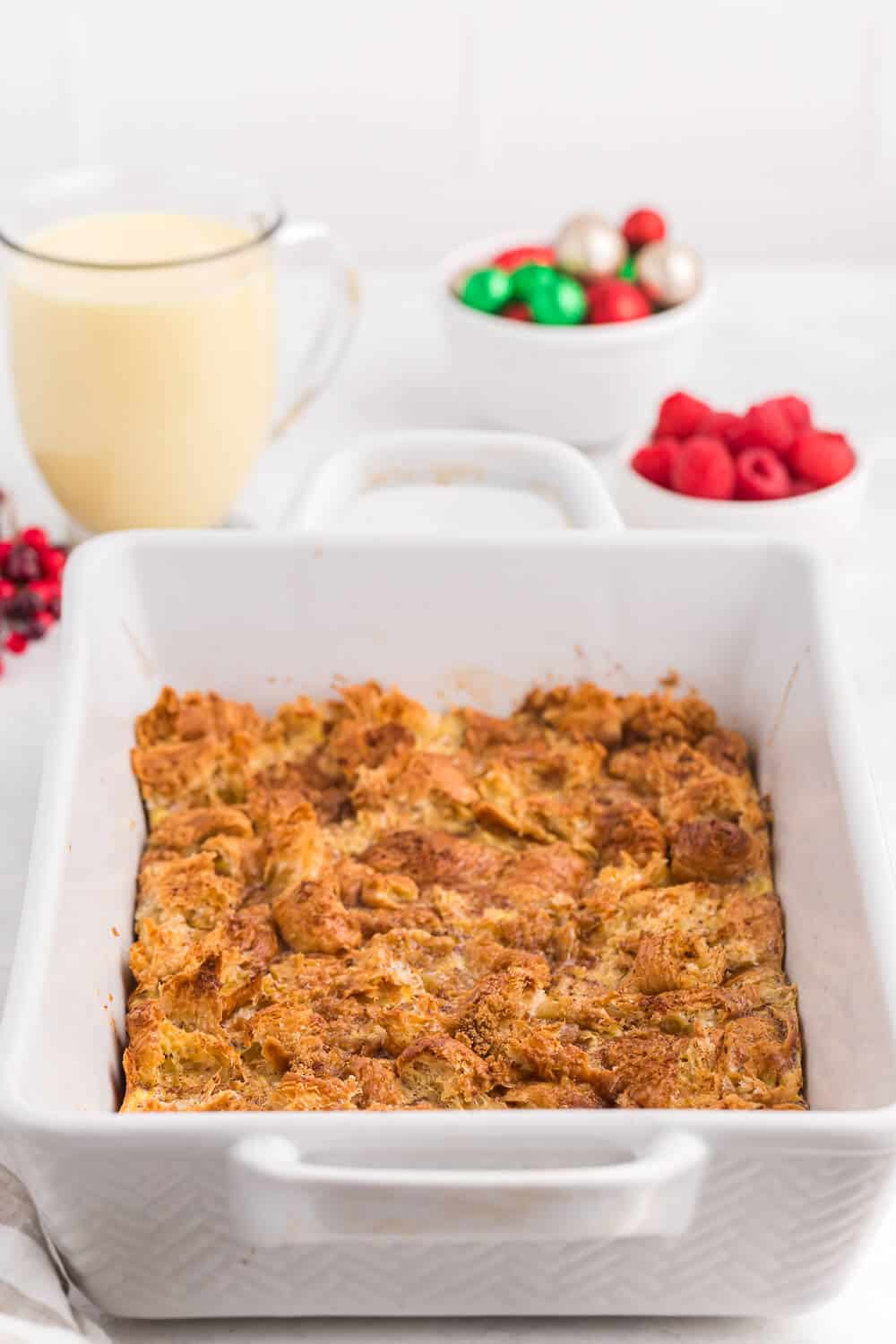 Eggnog Breakfast Casserole
This year, I made it my mission to do more than just drink our eggnog. I wanted to use it in some recipes and share them with you. Since I'm the queen of breakfast casseroles these past couple months, I figured I'd whip up an Eggnog Breakfast Casserole. I used eggnog in place of the milk/cream. Boy, am I glad I did. This may very well be the best breakfast casserole EVER.
What Type of Bread to Use for this Breakfast Casserole
For the bread layer, I used croissants. I love the buttery flavor they add to a breakfast casserole. Plus they bake up really nicely in the oven. If you didn't want to use croissants, you could easily swap for a French bread that is diced up as well or thick Texas-style toast.
We always sprinkle nutmeg on top of our eggnog so I had to make sure it was included. It's mixed in with the eggs and eggnog.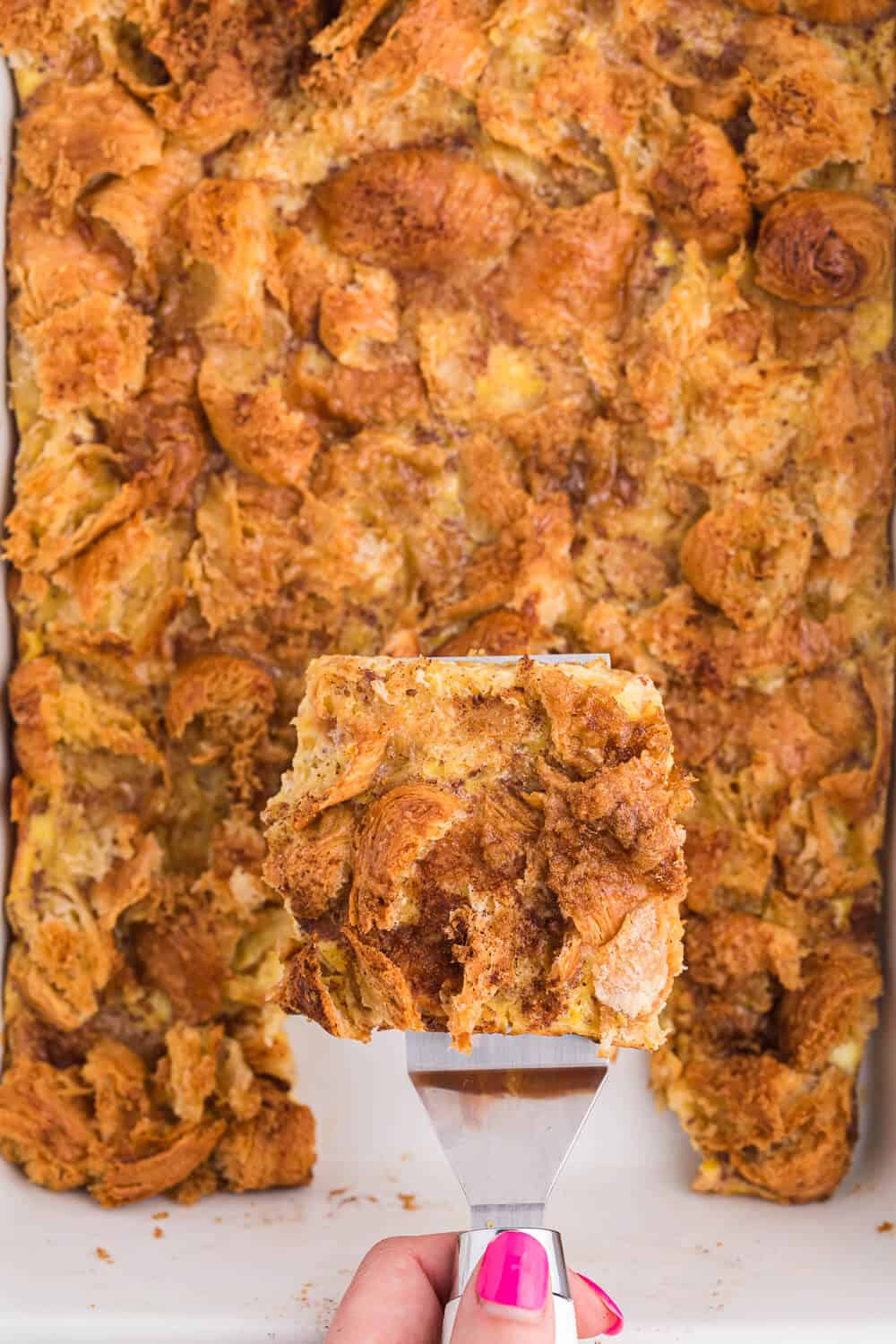 How Do You Top the Eggnog Casserole
For the topping, I sprinkled on brown sugar and cinnamon. It bakes into a sweet, crispy crust. Beneath that is the creamy eggnog custard and croissants. If you wanted to add maple syrup you can. Fresh berries also work. I thought it tasted fine on its own and it didn't need any extras.
Consider this recipe for Christmas morning! My kids are not a fan, but I sure enjoy it. Maybe they'll like eggnog when they are older? You never know. I was a veggie hater till my early 20s.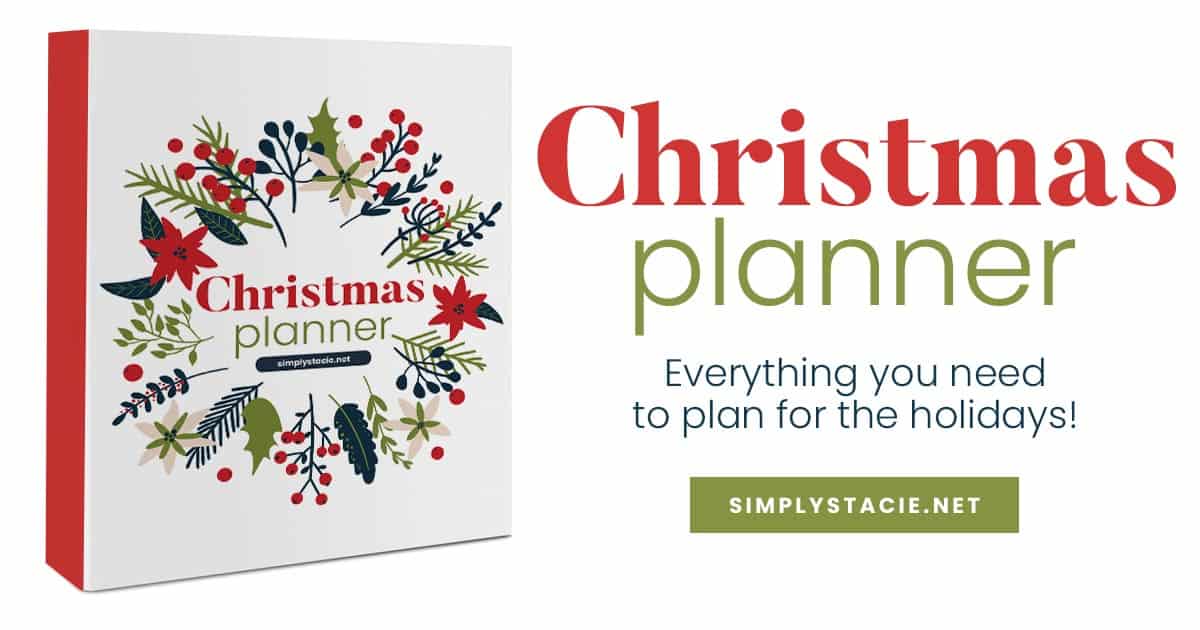 Other Topping Ideas for Casserole
Fresh fruit
Chopped nuts
Whipped Cream
A drizzle of maple syrup or honey
You can honestly top your casserole once it is cooked with almost anything. We tend to eat it with fruit on top or even a sprinkle of nuts for a crunchy texture.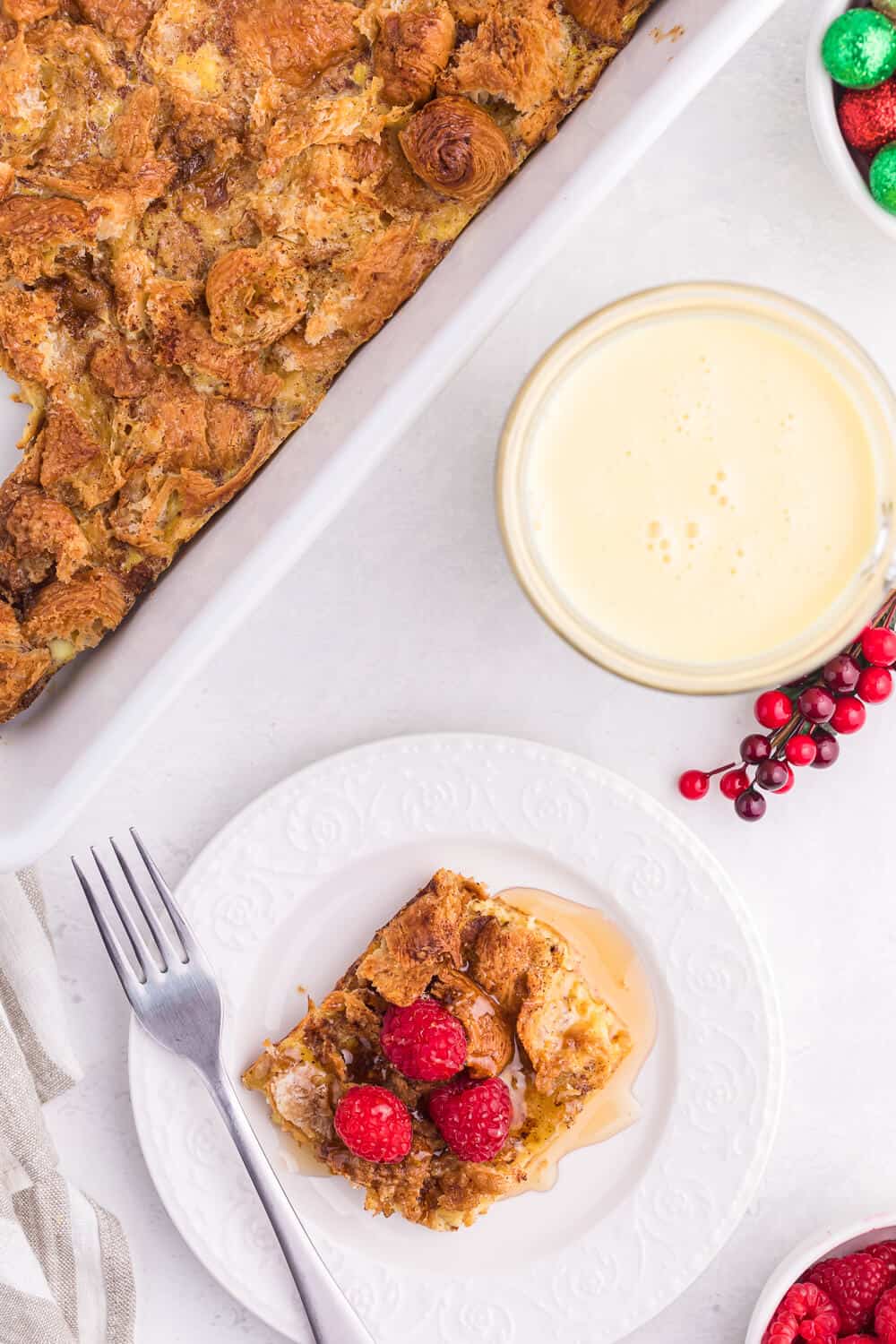 Can I Double this Recipe
Of course, feel free to make as much of this as you would like. The cooking time may be longer if you double the recipe so keep an eye on it when it's in the oven.
Looking for More Breakfast Recipes
Apple Cinnamon Bun Breakfast Casserole is also delicious!
Make sure to try my Homemade Eggnog.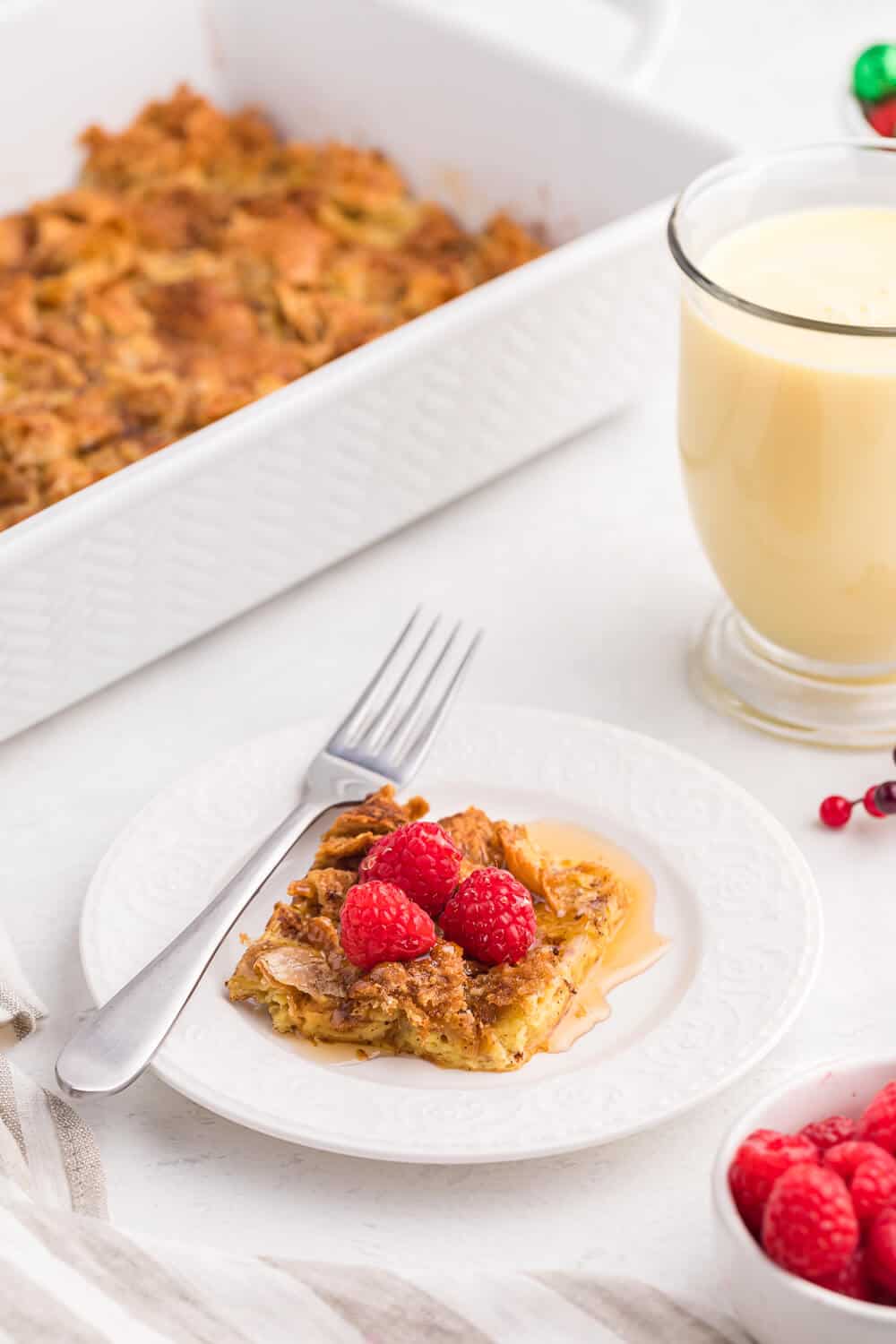 What Type of Croissants to Use in this Breakfast Casserole
You want to buy the pre-made deli-style croissants for this recipe. Not the Pillsbury dough style croissants. You will find the bakery-style that are pre-cooked are airy, light and soak up all the custard mixture perfectly making this one incredible dish to serve up.
What to Serve with Eggnog Bake
Side of bacon, ham, or sausage
Fresh fruit salad
Scrambled eggs
Or whatever else you enjoy eating for breakfast.
There is no wrong side to pair next to your bake. Or eat it alone if you don't want to pair it with anything else. I personally love serving it next to some meat. It helps to counteract the sweetness of the casserole.
How to Store Leftover Eggnog Casserole
If you have leftovers, make sure to toss them in the fridge and ensure they are covered. Then you can store this casserole in the fridge for 3-5 days. Warm it up in the microwave for a quick reheat, or cover with aluminum foil and heat in the oven. This is even great cold if you don't want to warm it up.
Like any casserole, this tends to offer the best texture fresh and warm, but it still tastes pretty fantastic reheated.
If you are an eggnog fan, I highly recommend grabbing your jug and giving this recipe a try. We love this eggnog breakfast recipe, and will be making it soon once winter begins.
You'll also like these Eggnog Cupcakes, Eggnog Cheesecake Bars and Apple Pie French Toast Casserole.
Are you a fan of eggnog?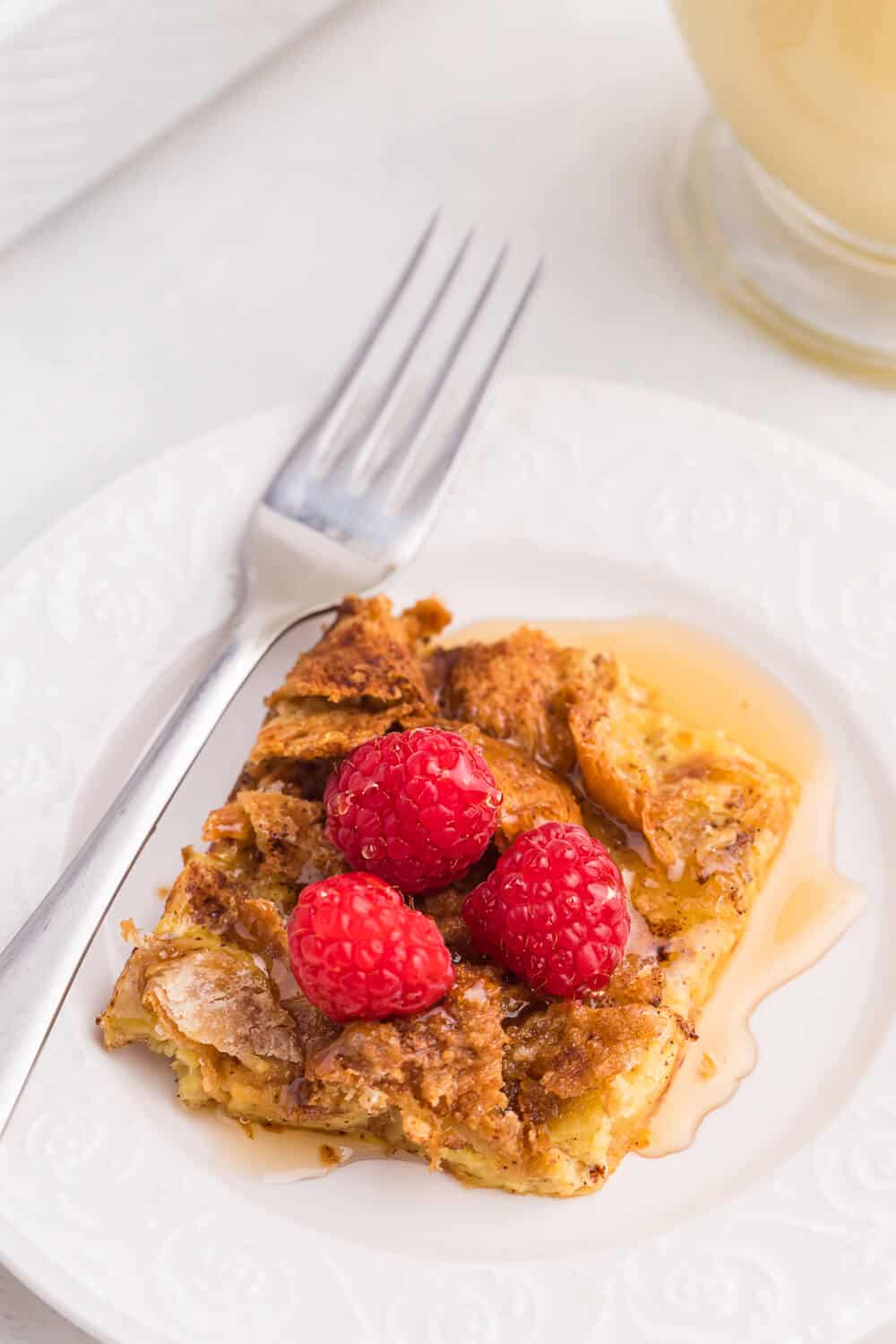 Eggnog Breakfast Casserole
Nothing says "holidays" like eggnog! This breakfast casserole is made extra special with a croissant base, a sprinkling of sweet brown sugar, cinnamon and nutmeg.
Ingredients
4 croissants, ripped into bite sized pieces
3 eggs
1 cup eggnog
1 teaspoon vanilla extract
1/2 teaspoon cinnamon
1/4 teaspoon nutmeg
Pinch salt
Topping
1/8 cup brown sugar
Sprinkle of cinnamon
Instructions
Spray a 9x13 casserole dish with cooking spray. Spread croissants on the bottom of the dish. Set aside.
In a medium size bowl, whisk together eggs, eggnog, vanilla, cinnamon, nutmeg and salt. Pour over the croissants.
Sprinkle brown sugar and cinnamon on top.
Bake, uncovered, in a 350F preheated oven for30 minutes, or until top is golden brown. Serve hot.
Recommended Products
As an Amazon Associate and member of other affiliate programs, I earn from qualifying purchases.
Nutrition Information:
Yield:

6
Serving Size:

1
Amount Per Serving:
Calories:

120
Total Fat:

6g
Saturated Fat:

3g
Trans Fat:

0g
Unsaturated Fat:

3g
Cholesterol:

123mg
Sodium:

115mg
Carbohydrates:

11g
Fiber:

1g
Sugar:

8g
Protein:

6g