Eggnog Cupcakes are a holiday favorite cupcake that is loaded with eggnog flavor. Topped with a sweet and velvety smooth eggnog frosting to throw this into an award-winning cupcake recipe.
Today's post will demonstrate that the carton of eggnog in your fridge right now is not just for drinking. Though I adore a mug of eggnog while I sit by the twinkling lights of the Christmas tree, I wanted to branch out this year and use eggnog in a few different recipes.
The first one that came to mind was Eggnog Cupcakes with an Eggnog Buttercream Frosting. They turned out to be a beautifully festive dessert perfect for the holidays.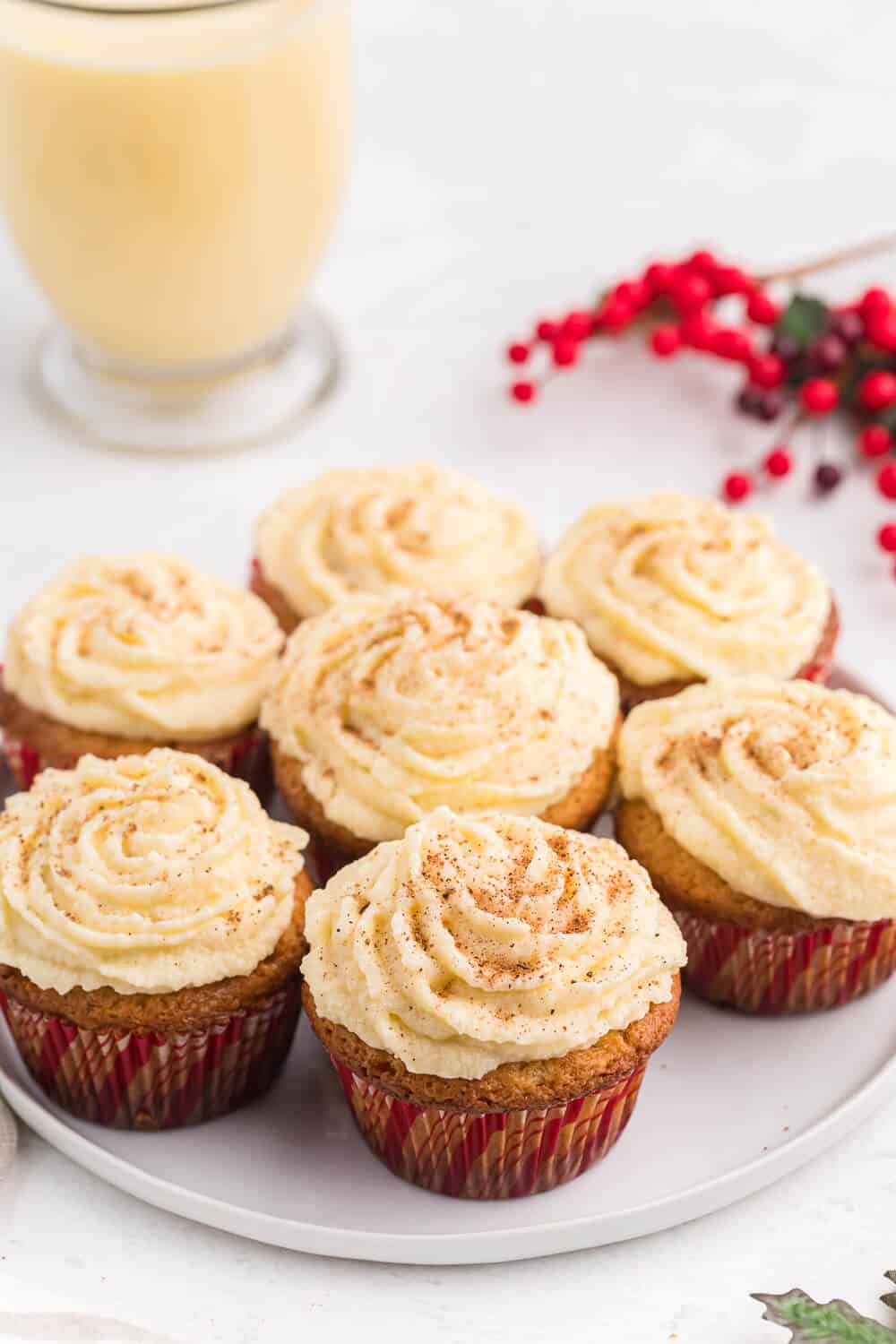 You'll need 1/2 cup eggnog for the cupcake batter and 1/4 cup for the frosting. The eggnog makes the cupcakes moist and dense.
I think my favourite part may be the frosting. I had several "taste tests" before it made its way onto the cupcakes. I had to make sure it passed the taste test!
I always sprinkle nutmeg on top of my eggnog so I did the same with the cupcakes.
Your holiday baking will not be complete without a batch of these Eggnog Cupcakes. Save the recipe or pin it to your Christmas boards because trust me, you'll want to make them before Christmas!
My daughter, Bridget, who normally despises eggnog ate a bunch and even took one to school for lunch. I didn't tell her they were Eggnog Cupcakes though. Eek! I knew she wouldn't even try them if she had known. Maybe her tastes are changing because she loved this recipe.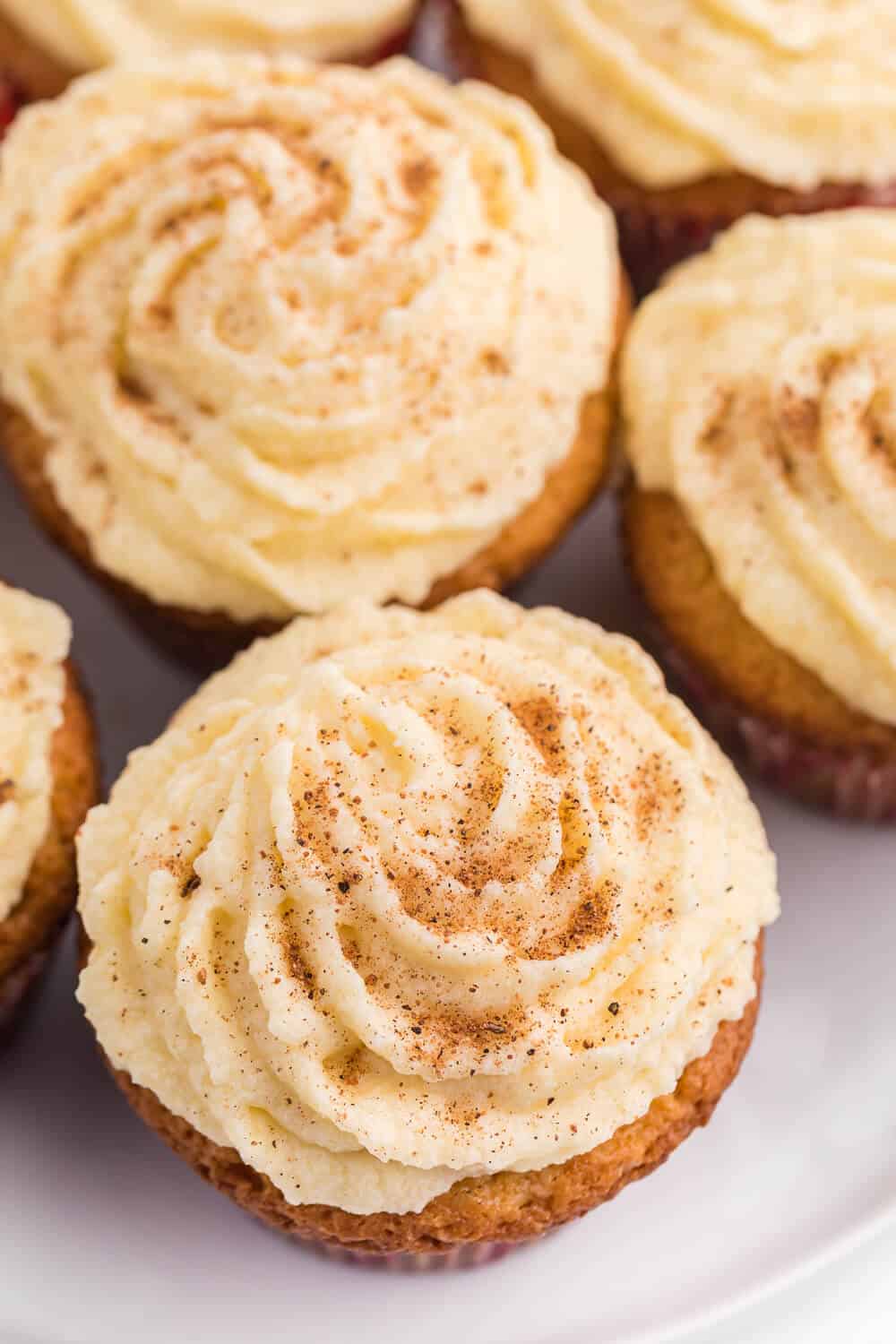 Do You Use Eggnog in these Eggnog Cupcakes
Yes, you are going to make a homemade cupcake batter that uses real eggnog in the recipe. I found this helps truly infuse the flavor into the cupcakes, and then the frosting as well. This eggnog cupcake recipe is for any real eggnog fan.
Make sure to try my homemade eggnog.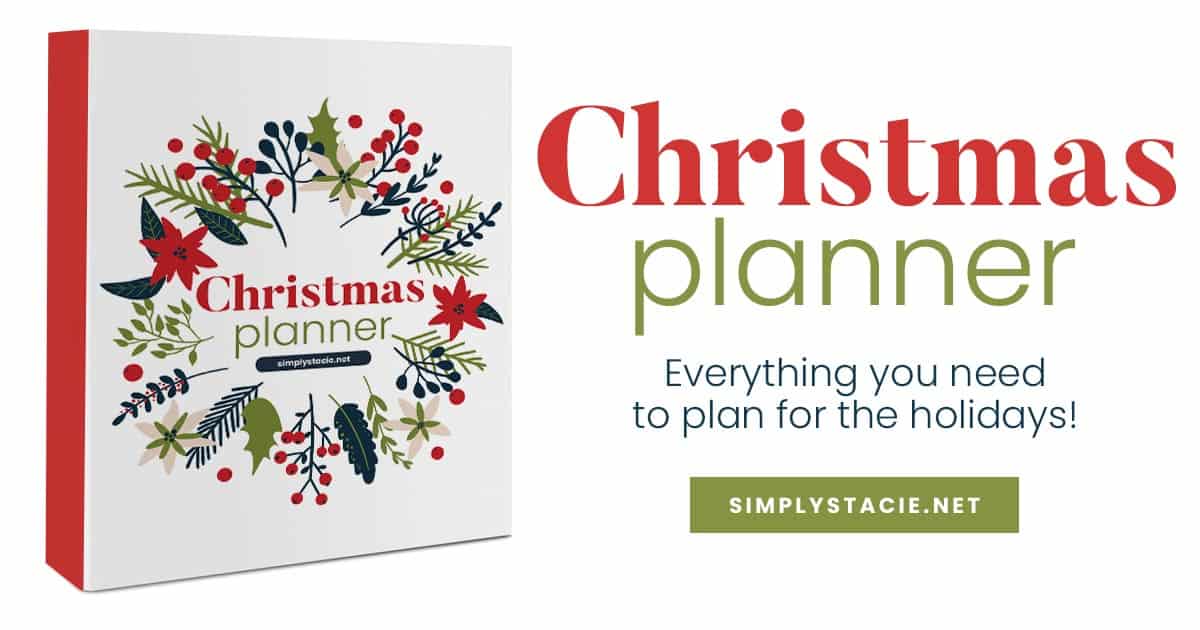 Interested in more Eggnog Recipes
Eggnog Bread Pudding | Custardy eggnog flavored bread pudding that is the perfect dessert or even breakfast to whip up for any time of the day.
The Best Eggnog Cheesecake Bars | Crunchy crust with a rich and velvety eggnog cheesecake bars that slice up perfectly. This is one easy cheesecake recipe that is perfect for the holidays.
Eggnog Breakfast Casserole | A croissant based breakfast casserole that is hearty and perfectly sweet. Eggnog flavored breakfast casserole that melts in your mouth.
Other Ways to Top your Eggnog Cupcakes
Sugar cranberries and top cupcakes
Top with some orange zest
Sprinkle with nutmeg or even cinnamon
Feel free to decorate your cupcakes however you like. I like simplicity and it offers an elegant look. Use any toppings you would like to add new elements of flavor to your cupcakes.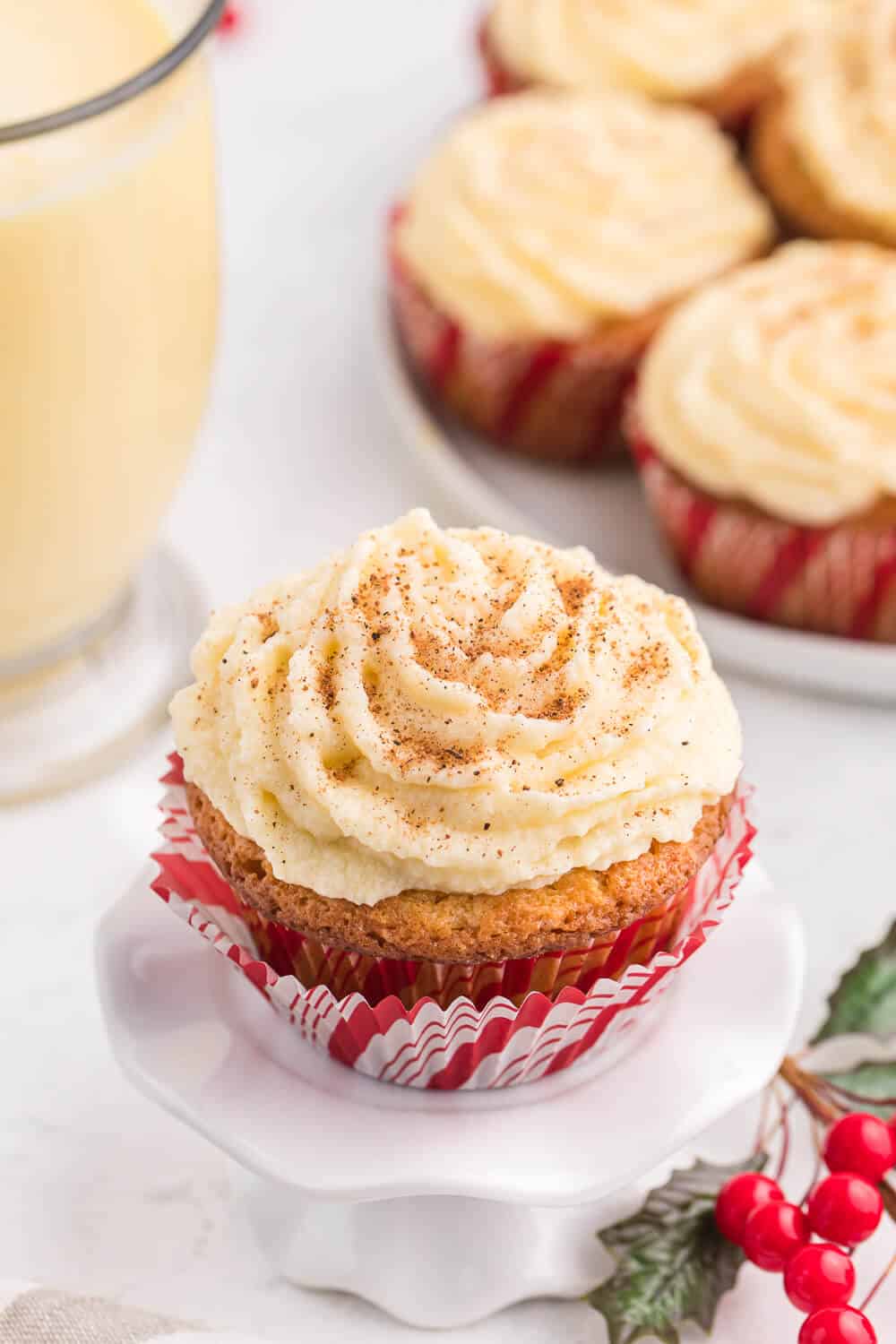 How to Make Eggnog Cupcakes
Start by preheating the oven and lining your cupcake pan. Then begin mixing your dry ingredients in a bowl and set aside. Then in a new bowl begin beating your butter and sugar together until it is nice and creamy. Slowly add in one egg at a time.
Now you want to pour in your eggnog and then slowly mix in the dry ingredients. Once the batter is well mixed, pour into the muffin tin, and bake until the cupcakes are cooked through. Use a toothpick to test and ensure the cupcakes are cooked through. Then allow cupcakes to cool.
When the cupcakes are cool you will then work on your frosting. I cream the butter with the powdered sugar with a mixer on medium. Then slowly add in extract and eggnog and mix until smooth.
Once it is all mixed up, top cupcakes with frosting. Dust with a little nutmeg and dive in.
How to Store Eggnog Cupcakes
You will need to store your cupcakes in the refrigerator. They will store for 3-6 days. Cupcakes are always best when served within the first few days of making them. Cupcakes are best when they are fresh so they don't dry out too much.
You are more than welcome to freeze your cupcakes if you don't plan on eating them right away. Place in a freezer-friendly container and store for up to 3 months. Thaw on the counter or put in the fridge overnight for thawing.
Give this easy eggnog cupcake recipe a try today, and let me know how you like them. If you are a fan of eggnog, I think these cupcakes will be a tasty treat.
Are you a fan of eggnog?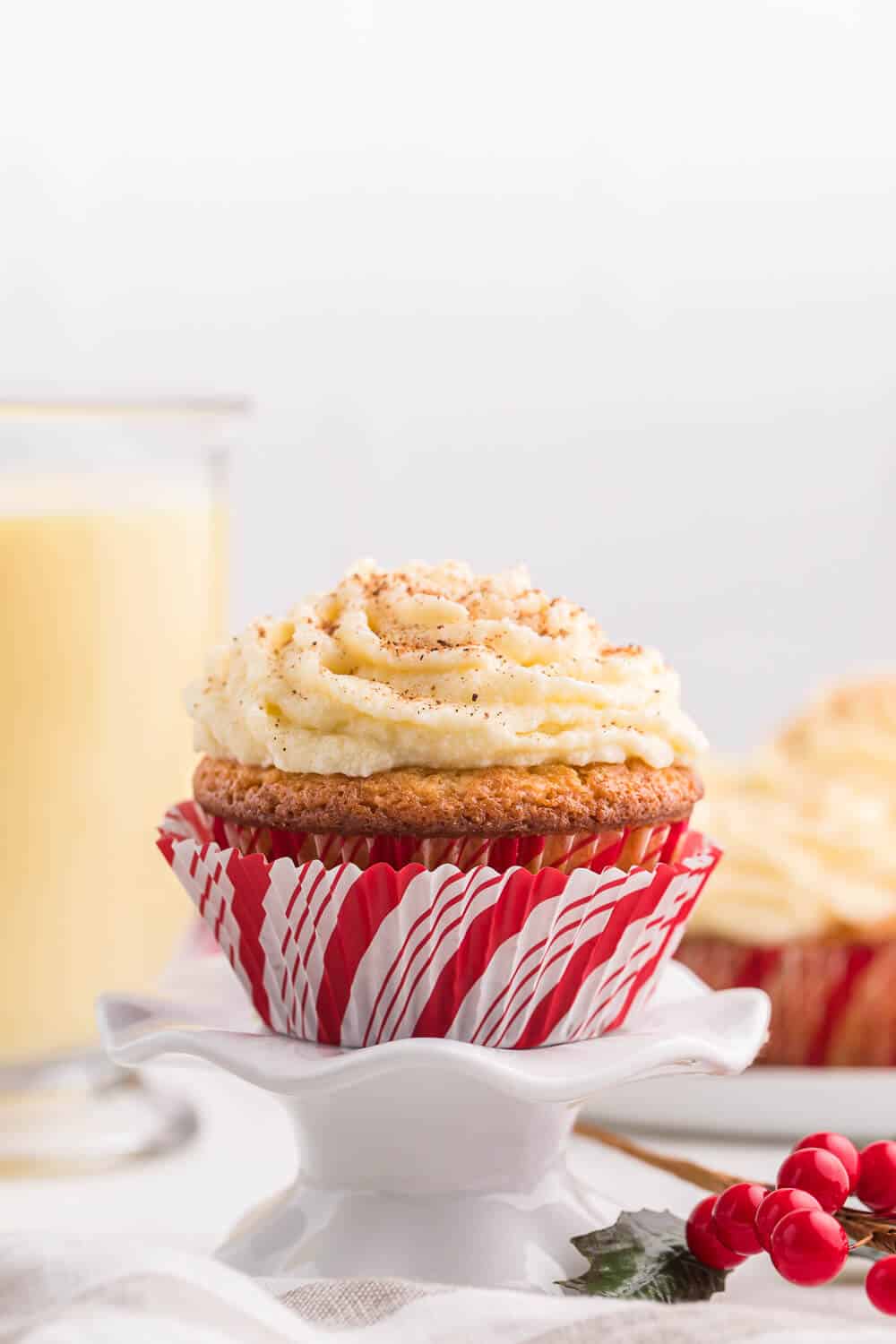 You'll also like this Eggnog Pie.
Eggnog Cupcakes
Christmas is calling! Eat your eggnog with this delicious and decadent holiday dessert. Sweet eggnog is infused in the cupcakes and topped with a creamy eggnog buttercream icing.
Ingredients
1 1/4 cup all-purpose flour
1/2 teaspoon nutmeg
1/2 teaspoon baking powder
1/4 teaspoon baking soda
Pinch of salt
1 cup sugar
1/2 cup butter, softened
2 eggs
1/2 cup eggnog
Frosting
1/2 cup butter, softened
2 cups powdered sugar
1/4 cup eggnog
1/2 teaspoon vanilla extract
Nutmeg, for garnish, if desired
Instructions
Preheat oven to 350F. Line a cupcake pan with paper liners.
Add flour, nutmeg, baking powder, baking soda and salt in a large bowl and stir to combine.
In another bowl add butter and sugar and beat with an electric mixer on medium until creamy (about 2 to 3 minutes). Add in eggs, one at a time, continuing to beat. Then add in the eggnog and beat to combine.
Pour wet mixture into dry mixture and stir to combine.
Spoon batter into muffin tin, about 1/2 way full.
Bake for 25 minutes or until a toothpick comes out clean. Allow to cool for 10 minutes before transferring to a wire rack. Once cooled completely, you are ready to frost the cupcakes.
To Make the Frosting
Cream the butter and powdered sugar together with an electric mixer on medium. Add in eggnog and vanilla extract and cream till smooth.
Scoop icing into a pastry bag with a large tip to frost the cupcakes. Start from the outside edge and work your way towards the centre. Sprinkle with nutmeg, if desired.
Recommended Products
As an Amazon Associate and member of other affiliate programs, I earn from qualifying purchases.
Nutrition Information:
Yield:

12
Serving Size:

1
Amount Per Serving:
Calories:

347
Total Fat:

17g
Saturated Fat:

10g
Trans Fat:

1g
Unsaturated Fat:

5g
Cholesterol:

81mg
Sodium:

200mg
Carbohydrates:

46g
Fiber:

0g
Sugar:

36g
Protein:

3g