What are Fiddle Diddles? They are basically a no-bake cookie. If you google, you'll find a ton of variations!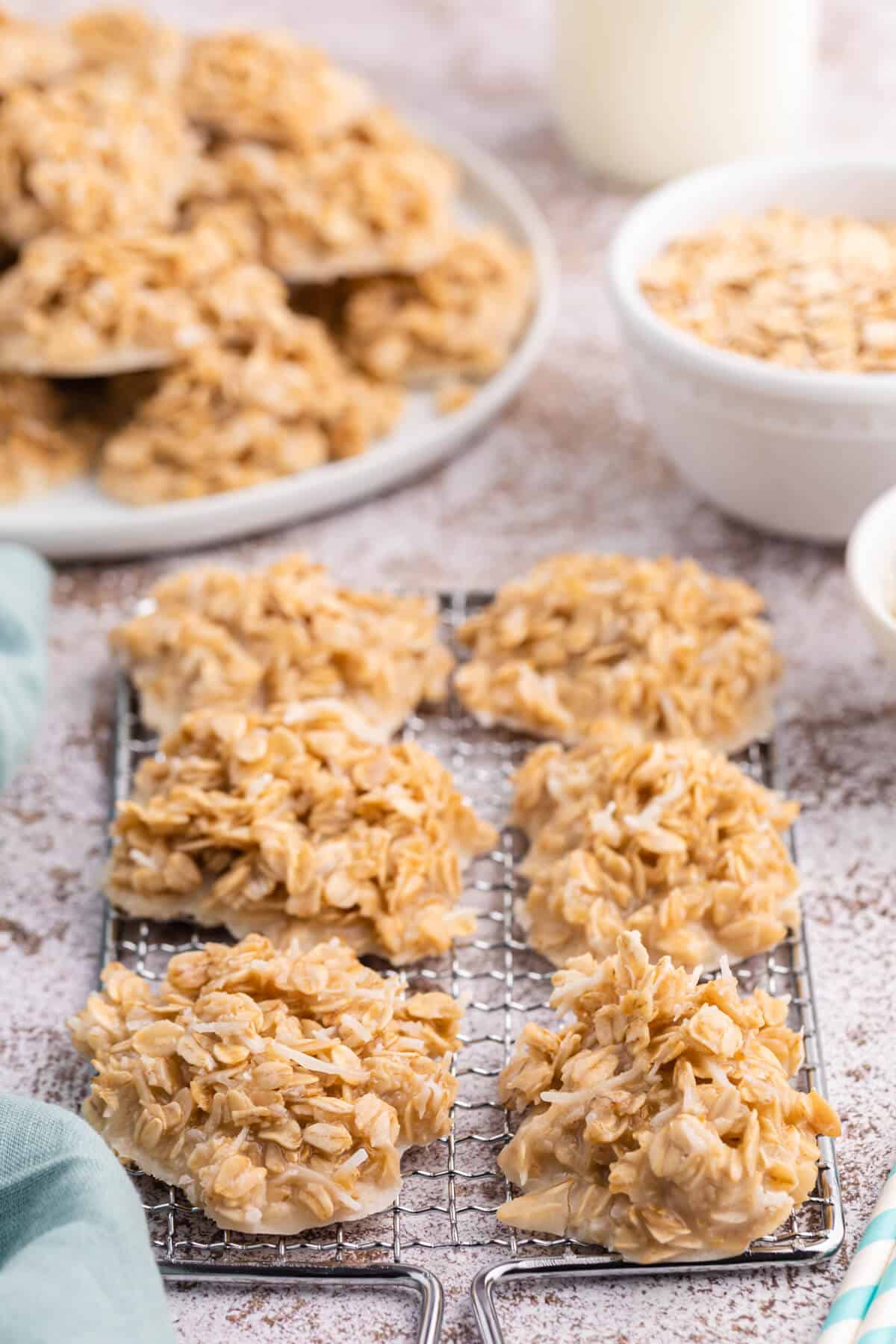 They are easy to make and cheap, using whatever ingredients you have on hand. Try them with chocolate, butterscotch, or plain like my recipe. Fiddle Diddles are always a hit!
Fiddle Diddles
Coconut and oats add some texture and chewiness. Bet you can't eat just one!
I love that they set up quickly. You don't have to wait all day until you can enjoy them. Plus, they freeze well so make a bunch and freeze the extras.
Doing some baking over the holidays? You'll love the simplicity of making these no-bake treats!
What are the Best Oats for Fiddle Diddles
You can either use quick oats or old fashioned oats. I find that old fashioned oats offer a nice and chewy texture. Quick oats are a lot more tender and not near as chewy.
I have not attempted using steel cut oats, so I would suggest in texture preference go with one from above.
Or if you are low mix and match your oatmeal to add even more texture to the cookies.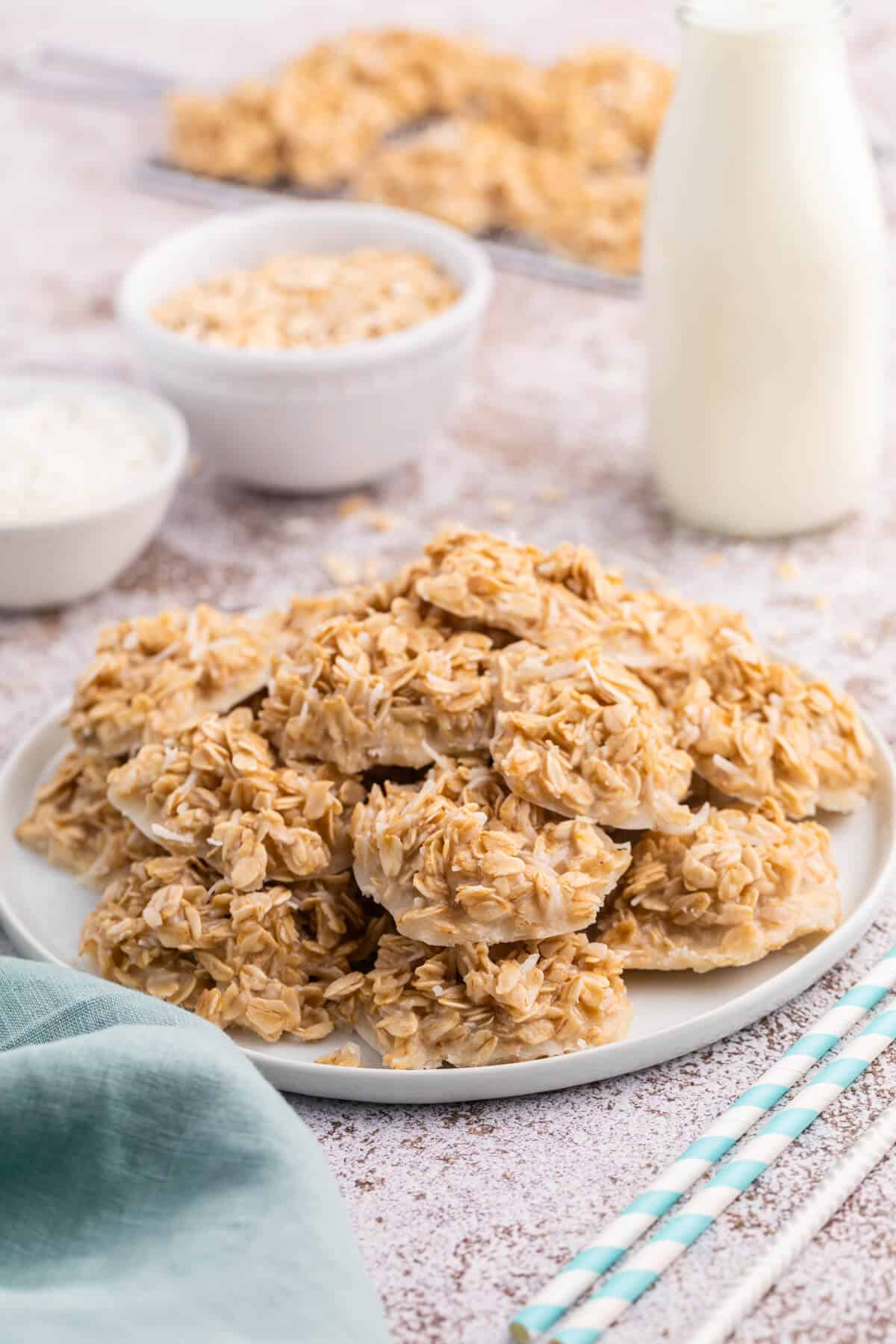 Need a Reason to Make These Oatmeal Coconut No Bake Cookies
Whip up for a weeknight dessert. Great to even let little hands help with some steps.
Bring as a dessert to a picnic or potluck.
Bake sales! Great for an affordable and delicious easy cookie recipe.
Parties! If you have a birthday or other party in the works, make these for a simple dessert.
You will find any and every reason to make these coconut oatmeal cookies. I love them cause they are a fantastic pantry cookie recipe.
You might find you have all the items on hand and ready to go.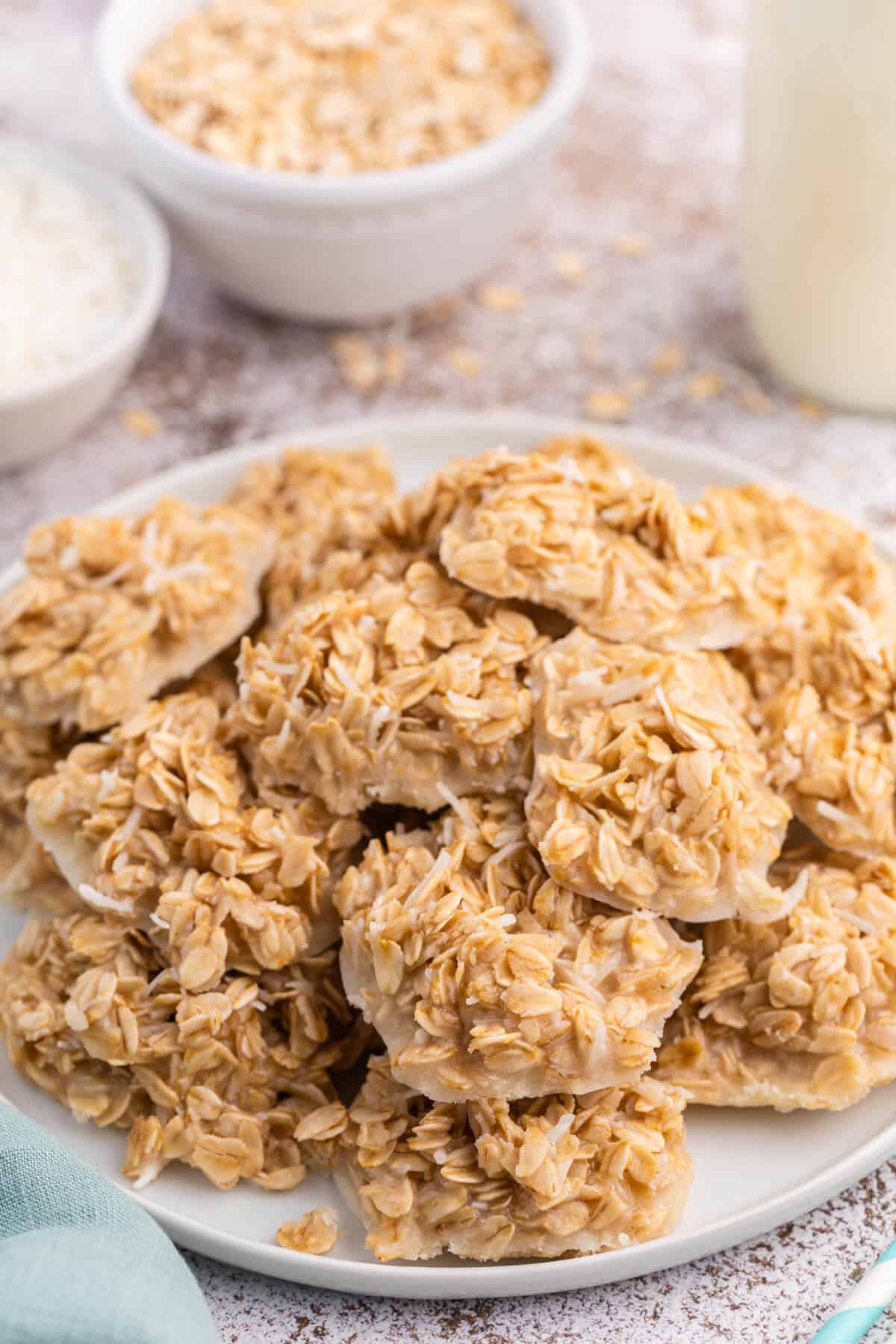 How to Make Fiddle Diddle Cookies
Start by melting your butter, milk and sugar in a pot on the stove. It is important to stir the mixture a lot or it can burn very easily.
You want to mix until your sugar is melted and you don't hear or see the gritty texture in the mixture. If you don't allow it to melt you will taste the crystals of the sugar.
Once your base is mixed you will add in the remaining ingredients, stir and spoon onto a parchment lined baking sheet or counter.
How Long Till Cookies Set Up
Depending on the liquid to oats ratio you will find that setup time varies. For the most part an hour or two is all you need.
If they have more oats in them and are a bit drier, you might find they take a bit longer to set.
You can also move the cookies on a tray to the freezer. This can speed up the setup process quite a bit! Just freeze 30 minutes to an hour.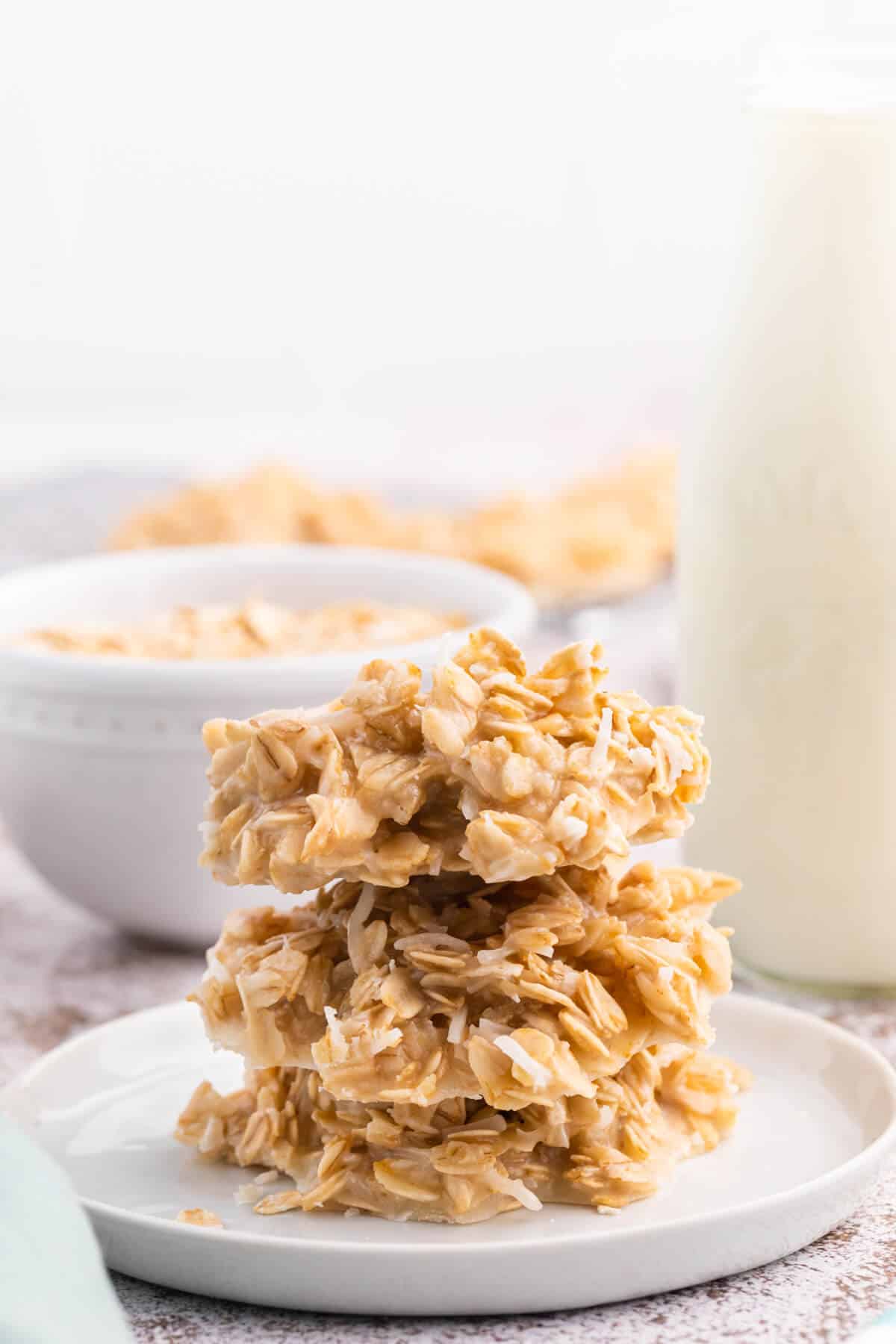 Looking for More Tasty Cookie Recipes
For more no-bake desserts, try my No-Bake Chocolate Peanut Butter Cookies, No-Bake Chocolate Peanut Butter Haystacks, No-Bake Butterscotch Cookies, Marshmallow Bars and Chocolate Confetti Bars. You might also like this Cream Cheese Cookie Recipe.
How to Store Cookies
Fiddle Diddles can be stored at room temperature on the counter for up to 5-7 days. These are best when eaten sooner than later as they will dry out as each day passes.
If you prefer them chilled you can place in a covered container and store in the fridge. They taste awesome cold.
Can You Freeze Leftover Fiddle Diddles
Sure, if you want to store some for a later time, go ahead. Simply place your fiddle diddles in a single row with wax paper in between the layers of cookies.
The wax paper will help to prevent cookies from sticking together. Then toss cookies in freezer for up to 3 months.
Thaw on the counter when you are ready to enjoy. You could even toss in the microwave on defrost for a quicker thaw. do short increments of time,
If you over thaw it can burn really easy. So just be aware then warming up from frozen.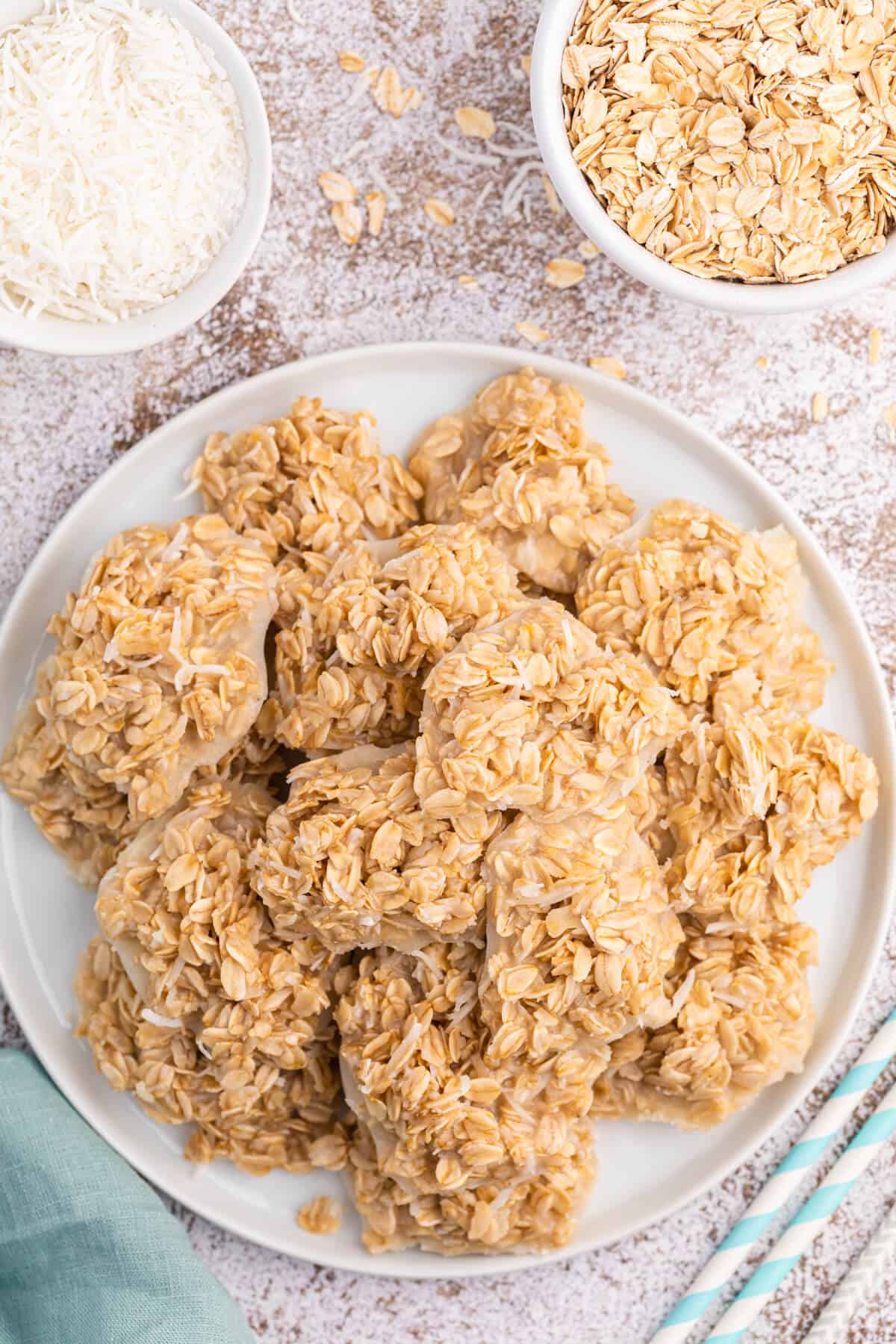 Can I Double The Recipe
You bet! Just make sure you have a large enough pan.
This is such a fun and easy recipe I can't wait for you to try it yourself. I have doubled this recipe many times and it always turns out fantastic!
If you are looking for an easy and simple dessert give this recipe a try and let me know how you enjoy it.
For more no-bake desserts, try my Pecan Pie Balls, Peppermint Crockpot Candy, Goldfish Drops, Rocky Road Bites, No-Bake Butterscotch Cookies, Marshmallow Bars and Chocolate Confetti Bars. You might also like this Cream Cheese Cookie Recipe.
You'll also like Sugar Pie and Oatmeal Cake.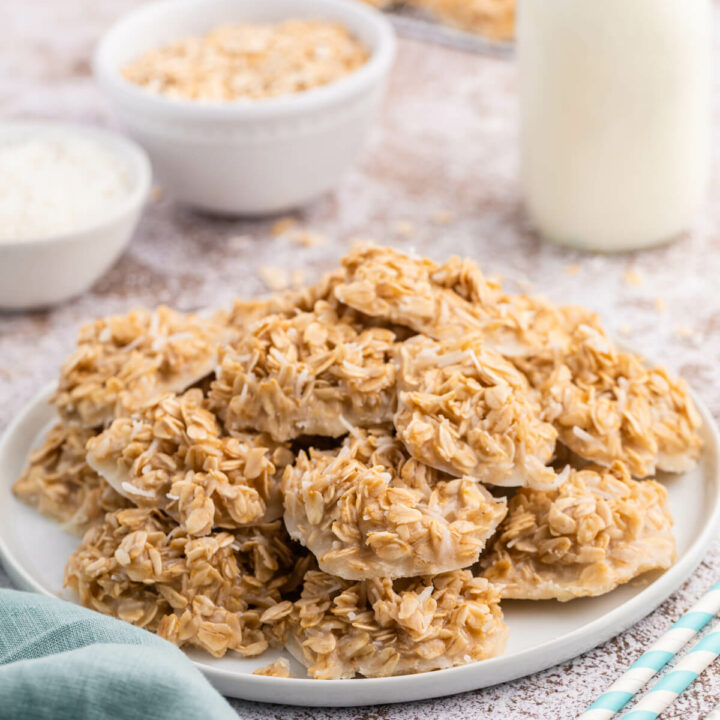 Ingredients
½

cup

unsalted butter

½

cup

milk

2

cups

granulated sugar

3

cups

rolled oats

1

tsp

vanilla extract

½

cup

sweetened shredded coconut

pinch

salt
Instructions
Add butter, milk and sugar to a large saucepan and bring to a boil. Remove from heat.

Stir in oats, vanilla extract, coconut and salt. Drop by teaspoonfuls on to wax paper. Cool completely. Enjoy once firm.
Kitchen Tools
Nutrition
Serving:
1
g
|
Calories:
148
kcal
|
Carbohydrates:
25
g
|
Protein:
2
g
|
Fat:
5
g
|
Saturated Fat:
3
g
|
Polyunsaturated Fat:
2
g
|
Cholesterol:
11
mg
|
Sodium:
14
mg
|
Fiber:
1
g
|
Sugar:
18
g
The information shown is an estimate provided by an online nutrition calculator. It should not be considered a substitute for a professional nutritionist's advice.
Love Recipes? Join our Free Facebook Group!
Join Mom's Best Recipes to find more delicious family recipes.
Save
Saved!