This vintage Sugar Pie recipe is a beautifully caramelized dessert with only four ingredients! It's super easy to make and you'll feel like you're in your grandmother's kitchen again with the smells of bubbling brown sugar, vanilla, and cream.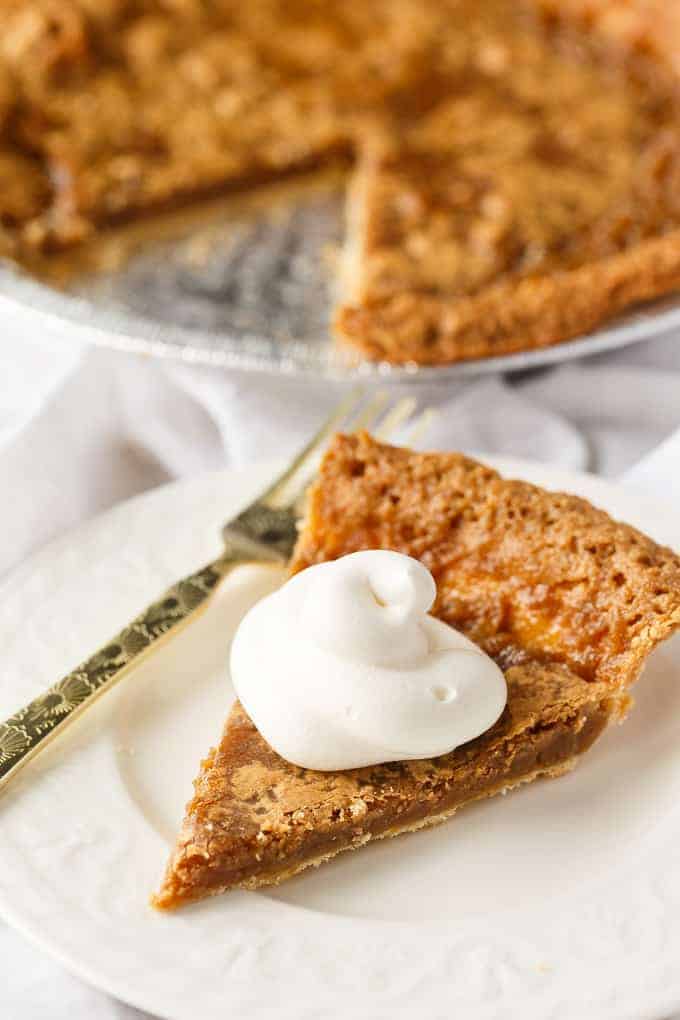 Sugar Pie
This Sugar Pie recipe is a vintage find from one of my grandma's old church cookbooks. It looked easy enough so I decided to try it out. The sweet sugary filling practically melts in your mouth and reminds me a little of the flavour of a butter tart but with a different texture.
Love trying new vintage dessert recipes? Try this Millionaire Pie, Wacky Cake, or Shoofly Pie for some of your grandmother's favorite dessert ideas with lots of fun history!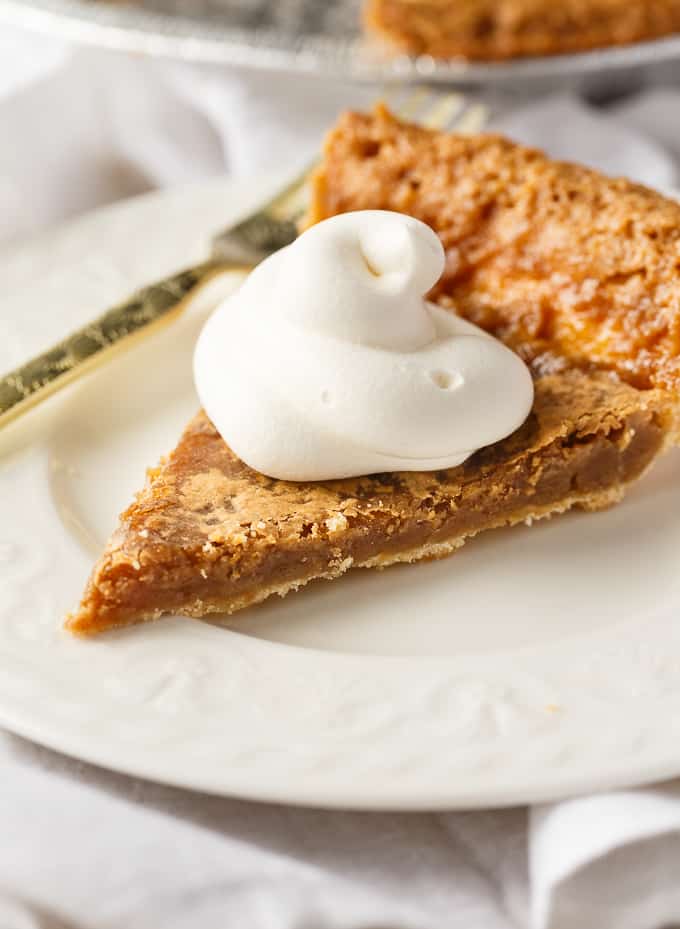 This pie is so basic and delicious you'll forget it's only four ingredients plus a crust! The brown sugar, cream, and vanilla bake together to form a caramel-like filling that's incredibly rich.
Ingredients
Brown sugar
Flour
Cream
Vanilla extract
Unbaked pie shell
I used a ready-made pie unbaked pie shell to keep things easy. If you are a pro at making your own pie shells, go for it!
What I used for my Sugar Pie
This post contains affiliate links.
Measuring spoons and cups: Everyone needs a good set of measuring cups and spoons, and these are excellent! The handles make the measuring tools easy to attach and stay together, so no more losing that tiny teaspoon in your drawer!
Mixing bowls: These glass mixing bowls are beautiful and practical. I love being able to see all my ingredients through the bowl and they nest inside each other for space saving!
Wooden spoon: There's nothing I use more in my kitchen than this wooden spoon. Perfect for cooking, mixing, and serving, this spoon also has a flat edge to easily scrape pans, pots, and slow cooker sides to keep my food from sticking.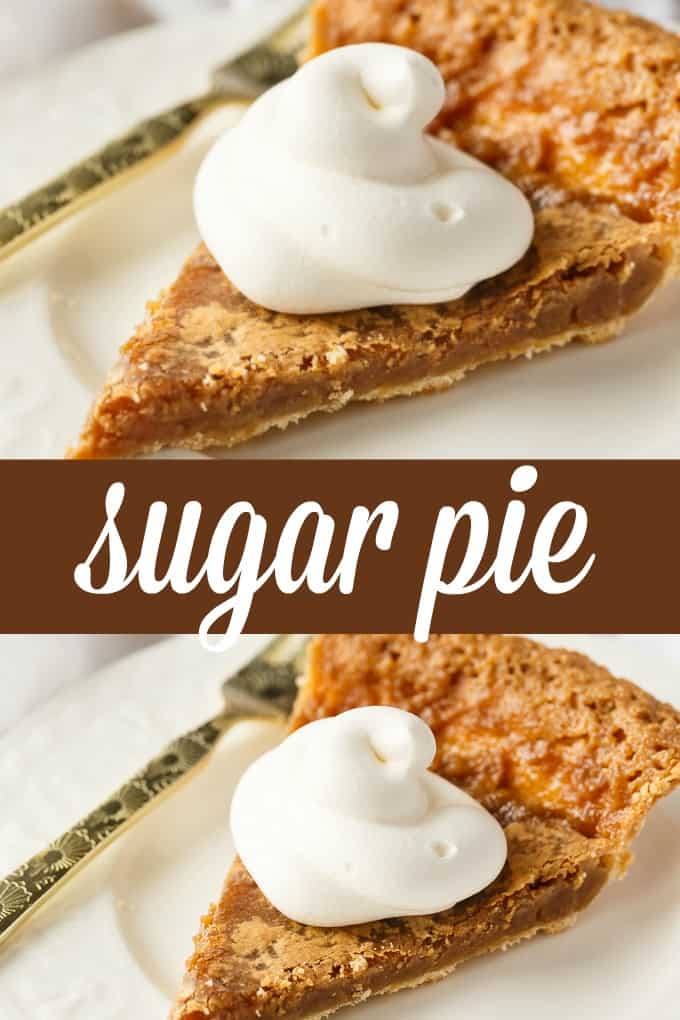 How to Make Sugar Pie
It's so easy you'll forget you're baking until you smell the brown sugar and vanilla wafting from your oven!
Start by mixing your brown sugar, flour, cream, and vanilla in a bowl. Once mixed, pour it into the pie shell.
Bake your pie for about 10 minutes at 425 degrees F. Then, reduce the heat to 350 degrees F and bake an additional 20 to 25 minutes, or until filling is set. Cool before cutting into slices. That's it!
I recommend putting the pie on a baking sheet because it will likely bubble over the pie pan edges. I would have had a big mess in my oven if I didn't!
What is Sugar Pie?
Also known as Tarte au Sucre, Sugar Pie is a popular dessert from Northern France and Belgium with some popularity in the Midwestern United States and Quebec! Similar to the British treacle tart or the English Canadian butter tart, this simple pie has been around for generations.
In Indiana, where the largest commercial producer of these pies resides, the pie is believed to have originated with the Quaker settlers who came from the East Coast in the early 19th century, bringing this recipe from Europe before it was officially documented in the U.S. Many Sugar Pie recipes date back to the 19th century, making this pie a 200-year-old vintage dessert!
Does your family have any amazing vintage dessert recipes? I'm always looking for more recipes to try! Follow me on Instagram @simplystacieblog, on Facebook at Simply Stacie, and on Pinterest @SimplyStacie and let me know how you liked this and my other recipes!
What to serve with Sugar Pie
This pie is an amazing sweet and sugary treat, but some people say it's missing a little something extra when served on its own. I say that thing is almost certainly a little extra cream!
For some, that just means a big glass of milk, but for others, serve this pie with some ice cream or whipped cream on top! It's a decadent dessert that is rich and perfectly sweet, and the added dollop of cream on top helps balance the rich sweetness.
Looking for a little something extra? Sprinkle a dusting of ground nutmeg or cinnamon on top after it's baked!
Other amazing recipes to try…
Have you tried Sugar Pie before?

Sugar Pie
Bubbling brown sugar, vanilla, and cream will take you back to grandma's kitchen with this vintage pie.
Ingredients
1 1/2 cup brown sugar
1/2 cup flour
1/2 cup cream
1/2 tsp vanilla extract
1 9″ unbaked pie shell
Instructions
Preheat oven to 425F.
Mix brown sugar, flour, cream and vanilla in a bowl. Pour into pie shell.
Bake for 10 minutes. Reduce heat to 350F and bake an additional 20 to 25 minutes or until filling is set. Cool before serving.
Recommended Products
As an Amazon Associate and member of other affiliate programs, I earn from qualifying purchases.
Nutrition Information:
Yield:

6
Serving Size:

1 slice
Amount Per Serving:
Calories:

392
Total Fat:

17.4g
Saturated Fat:

7.1g
Trans Fat:

0.2g
Unsaturated Fat:

9.3g
Cholesterol:

22.4mg
Sodium:

171.6mg
Carbohydrates:

57g
Fiber:

2.2g
Sugar:

35.9g
Protein:

3.8g