Impossible Pie is the easiest pie you will ever bake! It magically forms its own crust plus two delicious layers while baking.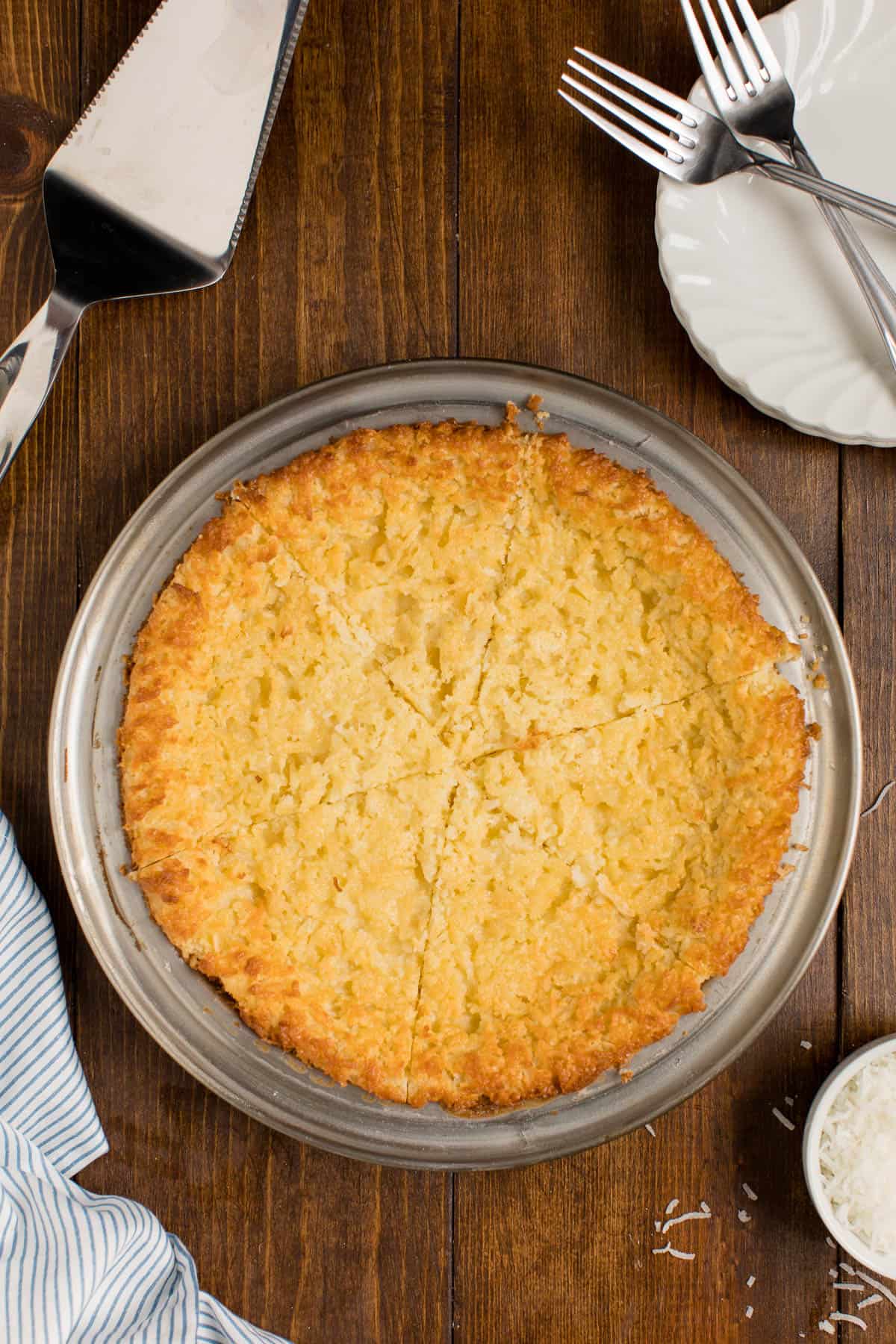 This vintage pie has been around for a long time and I can see why. It's easy to make and is scrumptious to eat!
Why is it called Impossible Pie? I think it has something to do with the fact that it bakes its own crust. All the ingredients are dumped into the pie plate and you let your oven work its magic to do the "impossible." It comes out with three delicious layers!
The filling is an egg custard that's creamy and smooth. The topping is a crunchy layer of coconut shreds. It looks a lot like my Coconut Pie, another of my easy pie recipes.
Grandma's everywhere have recipes like this one. It's easy to see why it's stood the test of time. Did your grandma make Impossible Pie, too?
Make it for a scrumptious dessert to enjoy after a hearty meal. If you are looking for a recipe for a bake sale, it's also a yummy one to do.
If you google Impossible Pie, you'll see a bunch of different ways to make it. I've seen it made with lemon and Bisquick. Someone wrote that the recipe was on the back of the Bisquick boxes in the 1970s. Interesting!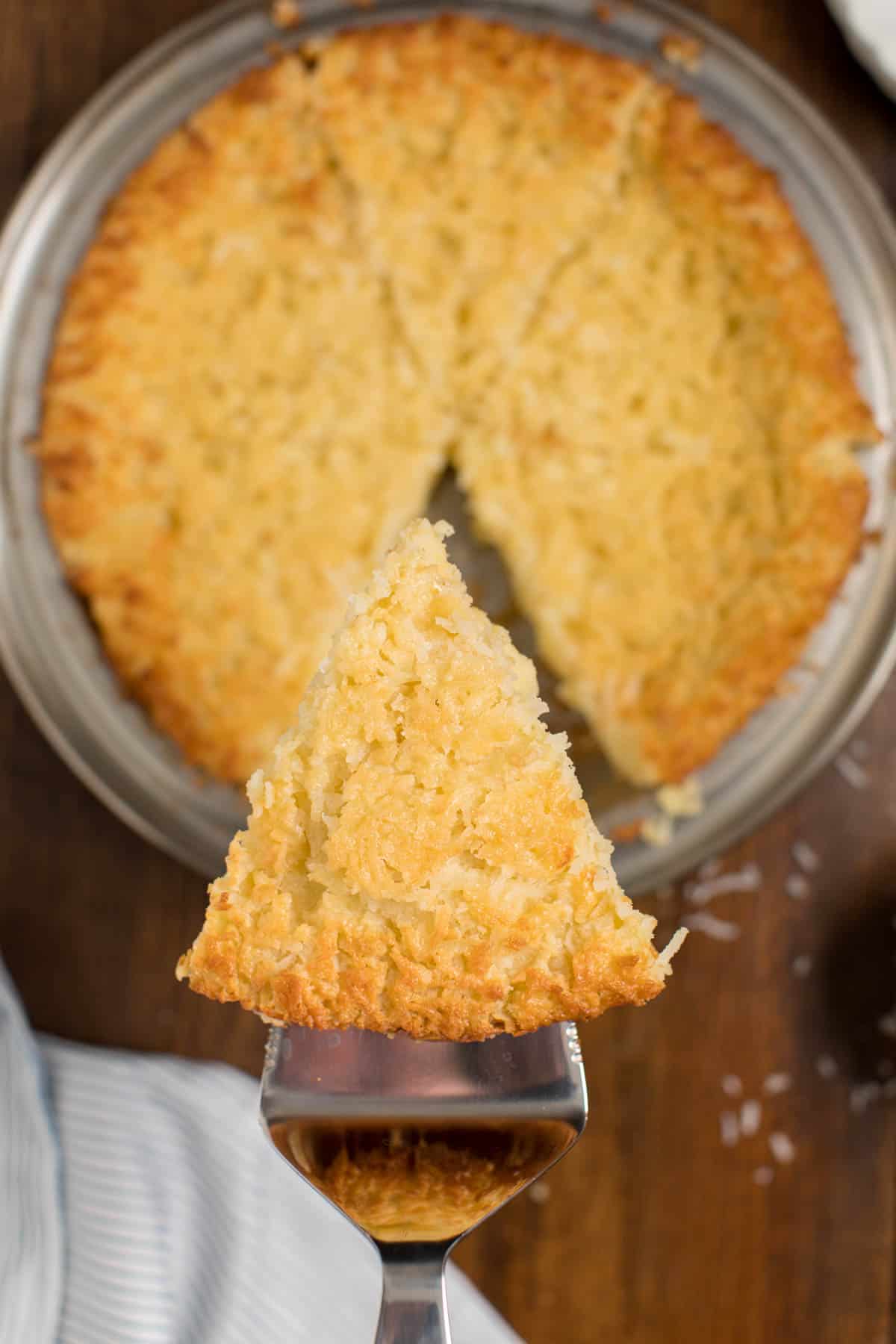 Why You'll Love Impossible Pie
It's a very easy recipe. Just combine the ingredients, pour into a pie dish, and let the oven do all the work.
The flavors are easily adaptable by adding simple ingredients, swapping out the extract, or adding spices.
It's the perfect pie for holidays but is easy enough to make anytime you have a craving for something sweet. The whole family will love it.
Amazing recipe for bake sales or church potlucks.
You probably have all the basic ingredients you need for it in your pantry right now!
Ingredients
Butter: I typically use unsalted butter in baked goods, but salted butter works out fine in most cases. Did you know that salt brings out sweet flavors? Culinary Lore explains how this works. However, if you're watching your sodium, use unsalted butter. Remember to let it soften to room temperature before combining with the remaining ingredients.
Flour: I used all-purpose flour, but you may use cake flour if you prefer. For cake flour, you'll need an additional 2 tablespoons of flour. It will sink to the bottom during the baking process to make the scrumptious crust.
Sugar: Granulated sugar sweetens the pie just the right amount. Substitute the granulated sugar with brown sugar to give the pie more of a molasses or butterscotch flavor.
Vanilla: Pure vanilla extract is preferable, but imitation vanilla works in a pinch. Alternatively, you can use paste or fresh vanilla bean to add flavor.
Eggs: Use large eggs. Since this pie is a sort of custard pie, eggs are an essential ingredient!
Milk: Any type of milk works (low fat, skim, etc.), but whole milk yields the richest flavor.
Shredded Coconut: You can use sweetened or unsweetened shredded coconut. Sweetened coconut will make a much sweeter pie (which I prefer), while unsweetened coconut is a nice balance with the other ingredients.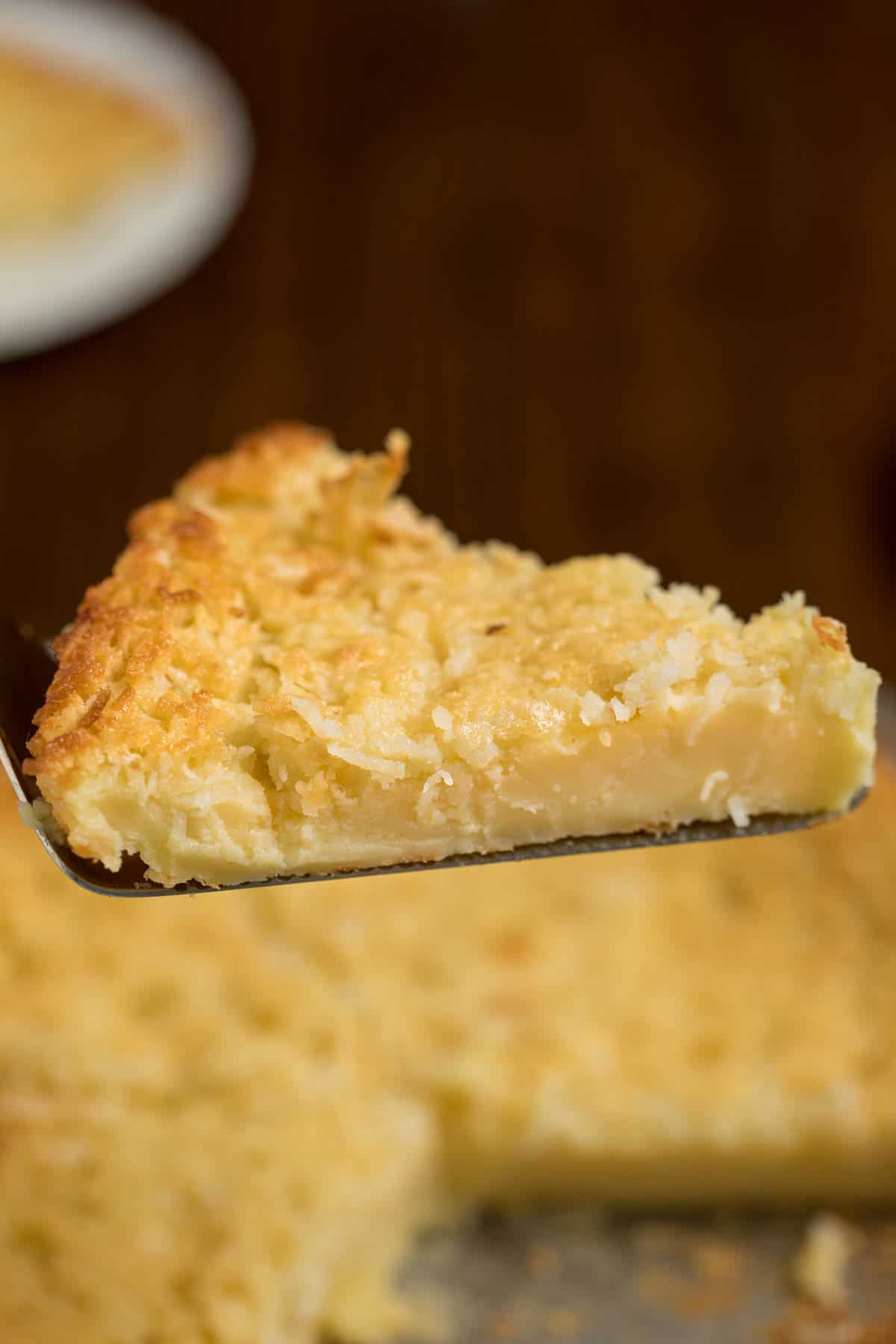 How to Make This Impossible Pie Recipe
Ready to make some Impossible Coconut Pie? Roll up your sleeves and let's get started. You'll see just how easy (and delicious!) it is for yourself.
Step One: Preheat your oven to 350°F. Meanwhile, add the butter, flour, cup of sugar, vanilla extract, eggs, milk and shredded coconut to a large bowl. Beat together until the mixture is combined.
Step Two: Pour custard filling into a greased 9″ pie pan. Bake for 1 hour at 350°F until the center is firm and the pie is golden brown.
Step Three: Cool this magical pie on a cooling rack and then let it chill in the fridge until you're ready to serve it. I recommend waiting for a few hours to make sure the pie has completely firmed up.
See how simple it is? Make this delicious recipe once and you'll always remember how to make it. This is a timeless dessert that you'll serve again and again.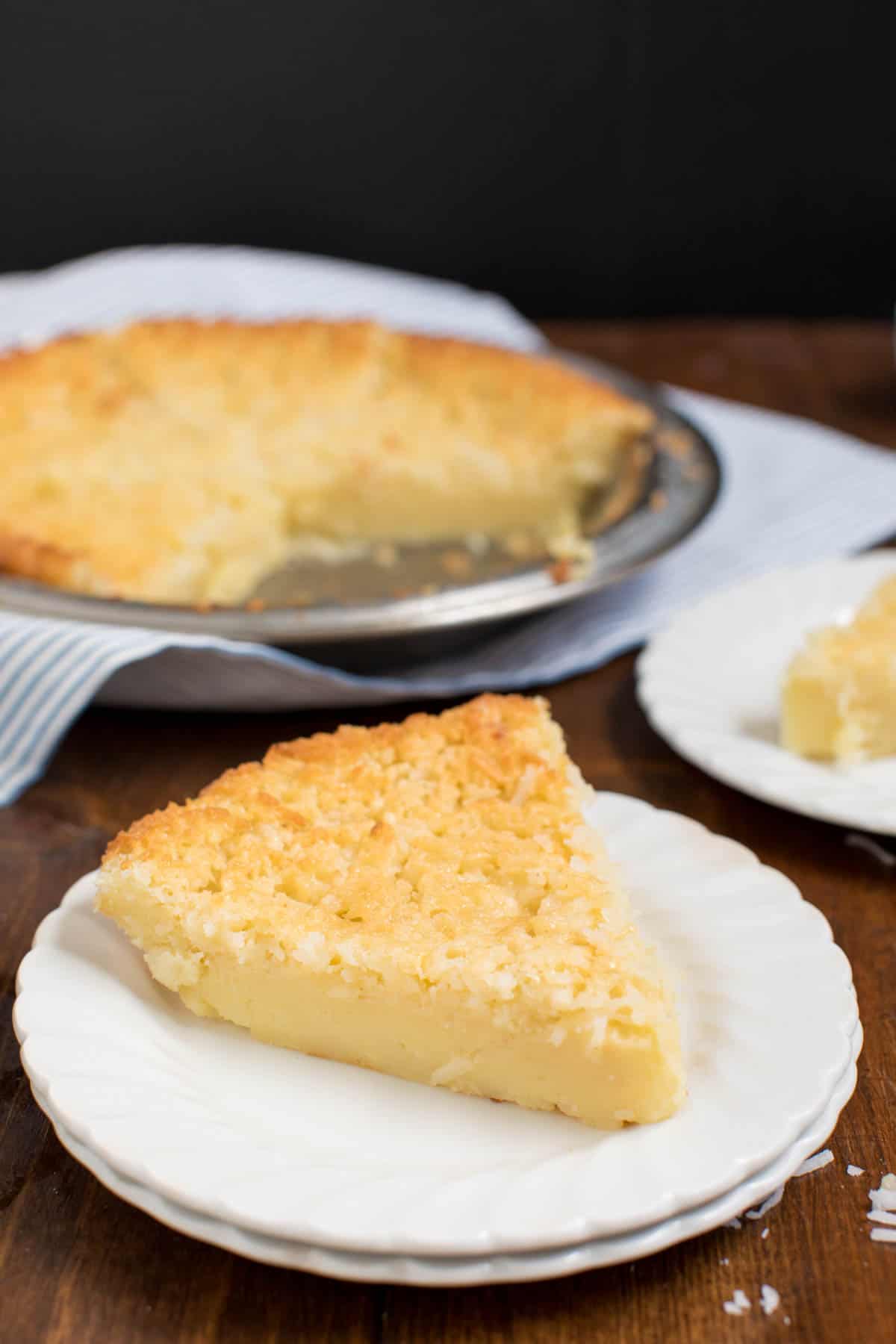 Helpful Kitchen Tools
Here a few helpful kitchen tools you'll need to have on hand to make this recipe.
This post contains affiliate links.
What to Serve with Impossible Pie
I like to serve mine with a little bit of whipped cream or vanilla ice cream. Add toasted coconut flakes, caramel sauce, or shaved chocolate for an extra decadent version. Of course, coffee and dessert is one of life's greatest pleasures.

Impossible Pie Recipe Tips and Tricks
Put a baking sheet under your pie plate in case the mixture bubbles over while baking.
If you don't have coconut, you can simply leave it out and enjoy an egg custard pie instead or try one of the variations below.
Dust a little powdered sugar over the top for added sweetness and a pretty presentation if you're making this without the coconut.
Refrigerate overnight for richer flavor! It tastes even better the next day.
Use a deep dish pie plate for best results.
Variations and Substitutions
Add raisins. One commenter mentioned that her husband enjoyed a raisin pie that made its own crust, and the sweetness of the raisins would go perfectly with the other ingredients.
Incorporate warming spices. Cinnamon, ground nutmeg, or even apple pie spice or pumpkin spice can be added to this scrumptious pie for extra flavor.
Make Chocolate Impossible Pie. Add a few tablespoons of cocoa powder to this recipe to make a pie that any chocolate fan would love. Mix in a couple tablespoons of peanut butter to turn it into Chocolate Peanut Butter Impossible Pie.
Use buttermilk. You may have heard of Buttermilk Impossible Pie, as buttermilk desserts are quite popular in old-fashioned cookbooks. This could be a tasty option if you like pies with a little tang.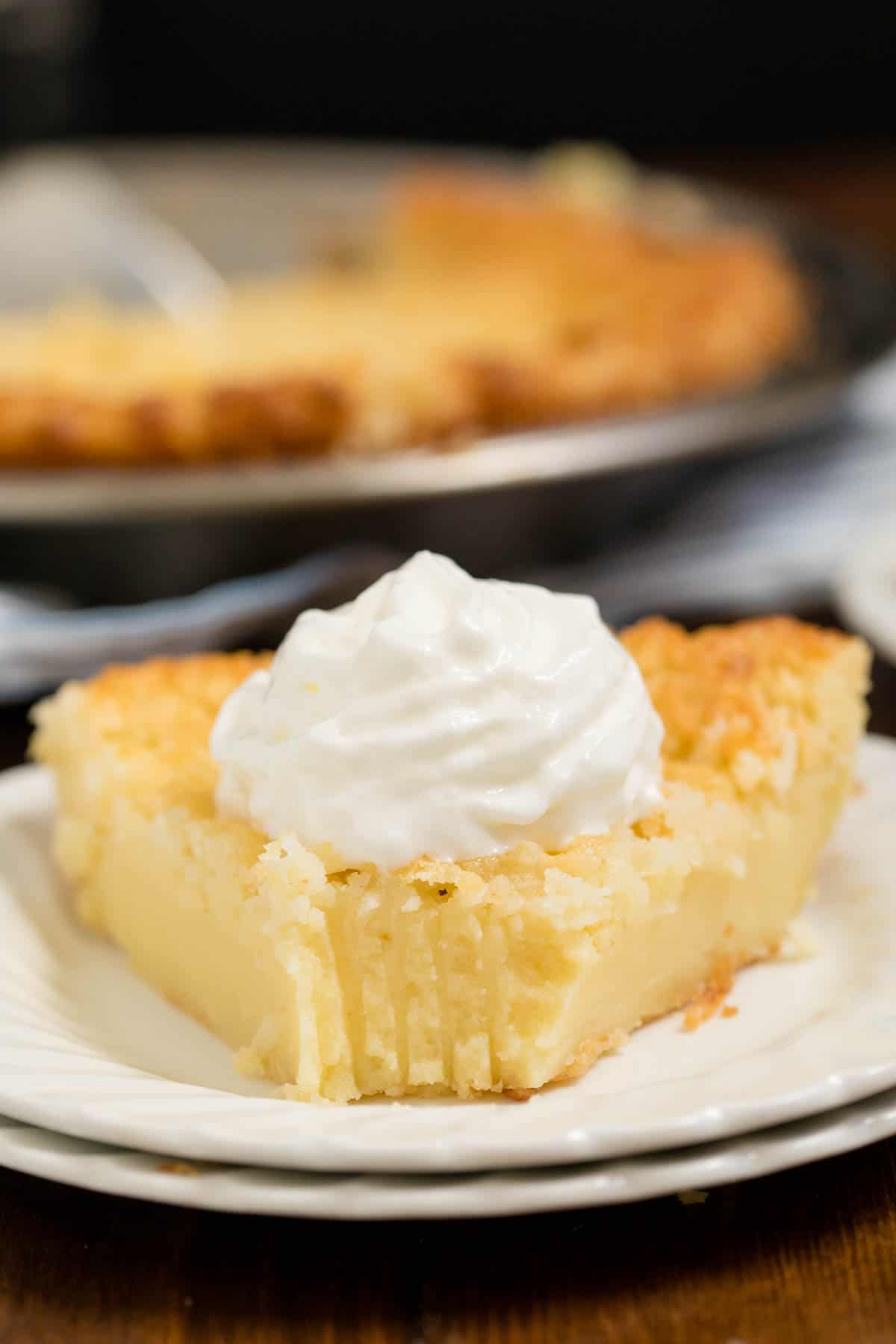 Storage Instructions
Since this pie is made with dairy and eggs to make a custard, it should be kept refrigerated. It'll be good in the fridge for up to a week. Make sure you wrap the pie pan tightly with plastic wrap or store leftovers in an airtight container.
Can I Freeze Impossible Pie?
Since you may need your pie pan for other recipes, I recommend flash freezing the pie in the pan for an hour or two before wrapping individual slices in plastic wrap and storing them in an airtight container for up to 3 months.
FAQ
What is Impossible Pie?
It's an impossibly easy pie! Seriously, all you have to do is beat all the ingredients together, pour into a greased pie pan, and let it bake. It'll form its own pie crust as well as a custard layer during the baking process.
What does Impossible Pie taste like?
It tastes like coconut custard, but you can easily adapt the flavor to your tastes. Impossible Lemon Pie is a yummy variation.
Can I omit the coconut?
Yes, if you don't like coconut or have an allergy to it, you can leave it out to make a delicious egg custard pie.
More Vintage Pie Recipes
I love my old fashioned recipes and vintage desserts! I have a vintage cookbook you can snag at the bottom of this post. Just fill out the form to get it delivered to your inbox. In the meantime, check out these yummy pies.
You'll also like this Chess Pie and Fudge Pie.

Follow me on Instagram @simplystacieblog, Facebook at Simply Stacie, TikTok @simplystacierecipes or Pinterest at @simplystacie and let me know how you liked this recipe and my other recipes.
If you make the recipe, rate it on the recipe card below and tag me on Instagram and use #simplystacie. I like sharing the photos on my Instagram stories!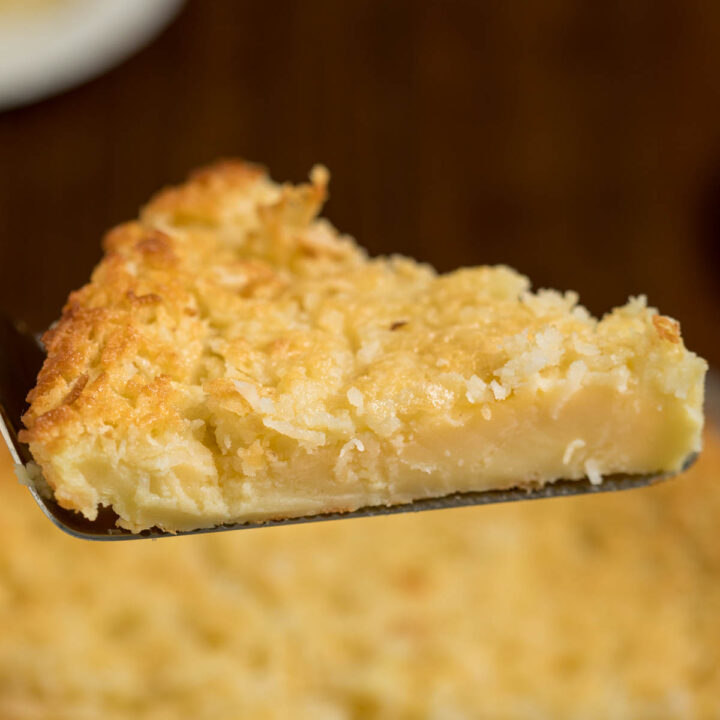 Impossible Pie
Total Time:
1 hour
10 minutes
The easiest pie you will ever bake! It magically forms its own crust plus two delicious layers while baking.
Ingredients
1/2 cup salted butter, softened
1/2 cup all-purpose flour
1 cup granulated sugar
2 tsp vanilla extract
4 eggs
2 cups milk
1 cup shredded sweeteened coconut
Instructions
Preheat oven to 350F.
Add all ingredients to a large bowl and beat together until combined.
Pour into a 9-inch greased pie pan. Bake for 1 hour or until centre is firm and pie is golden.
Cool on a cooling rack and then put in the fridge until ready to serve. I recommend waiting a few hours so the pie has a chance to firm up.
Notes
Reader tip: Mix the butter, sugar, flour and vanilla together first. Then add the eggs and milk. This is helpful to prevent clumping.
Place a baking sheet under the pie in case it runs over the top while baking.
Recommended Products
As an Amazon Associate and member of other affiliate programs, I earn from qualifying purchases.
Nutrition Information:
Yield:

8
Serving Size:

1 slice
Amount Per Serving:
Calories:

345
Total Fat:

18g
Saturated Fat:

12g
Trans Fat:

1g
Unsaturated Fat:

5g
Cholesterol:

128mg
Sodium:

186mg
Carbohydrates:

40g
Fiber:

1g
Sugar:

32g
Protein:

6g