I've already made two recipes for the Team Spicy fans (Spicy Stir-Fry and Spicy Chili Nachos). I think it's about time I made a recipe for Team Smokie fans, don't you think? I ended up finally picking a side in Maple Lodge Farm's Great Canadian Cook-off (Team Spicy for the win!). However, my youngest daughter and husband are HUGE Smokie fans so I had to come with a delicious summer recipe just for them (and of course, all you Team Smokie fans out there, too). Don't worry, I didn't forget about you!
This German Sausage and Potato Salad recipe was inspired by my German paternal grandmother. I remember her telling me she used to be able to speak German as a child and it inspired me to study German for three years in high school. Mind you, I pretty much forgot everything I learn. Age does that to a person.
For this recipe, you'll need some potatoes (I used white potatoes, but use whatever you have on hand), dill pickles, grainy mustard, a whole garlic head, onions, mayonnaise, white vinegar, parsley for some colour and the star ingredient, Maple Lodge Farms Smokies Chicken Sausages.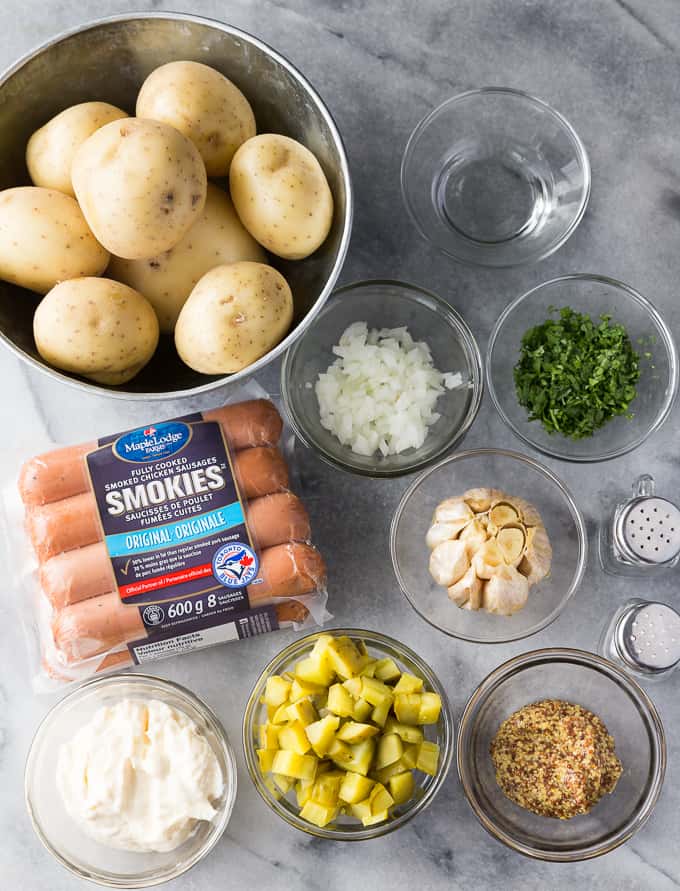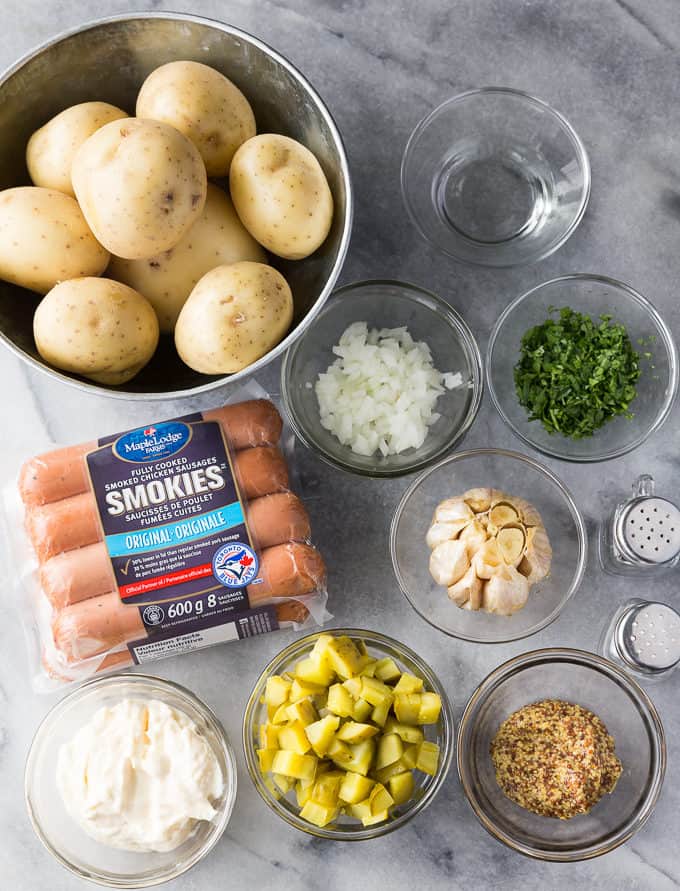 German Sausage & Potato Salad
Even though I said I was on Team Spicy, that doesn't mean I don't also love the Smokies Chicken Sausages. They are packed full of yummy flavour and taste delicious on their own, in recipes and served on a bun at a summer BBQ.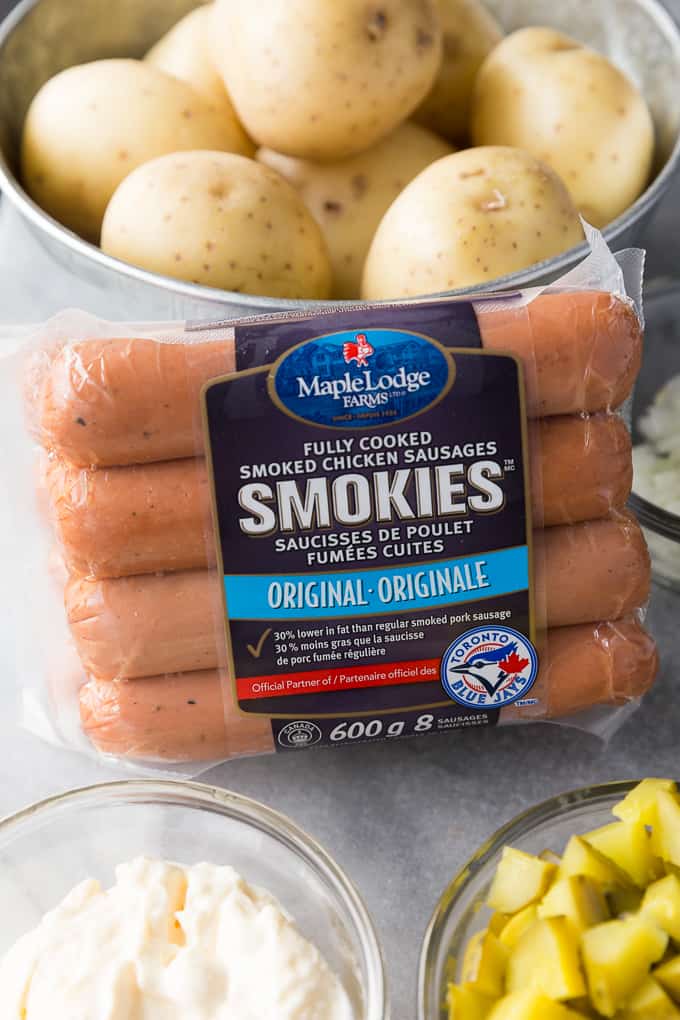 We've been grilling lots this summer. I'm not a person who grills in the winter months so I'm trying to take full advantage of the season. Maple Lodge Farms Smokies Chicken Sausages are frequently served at our family's dinner table.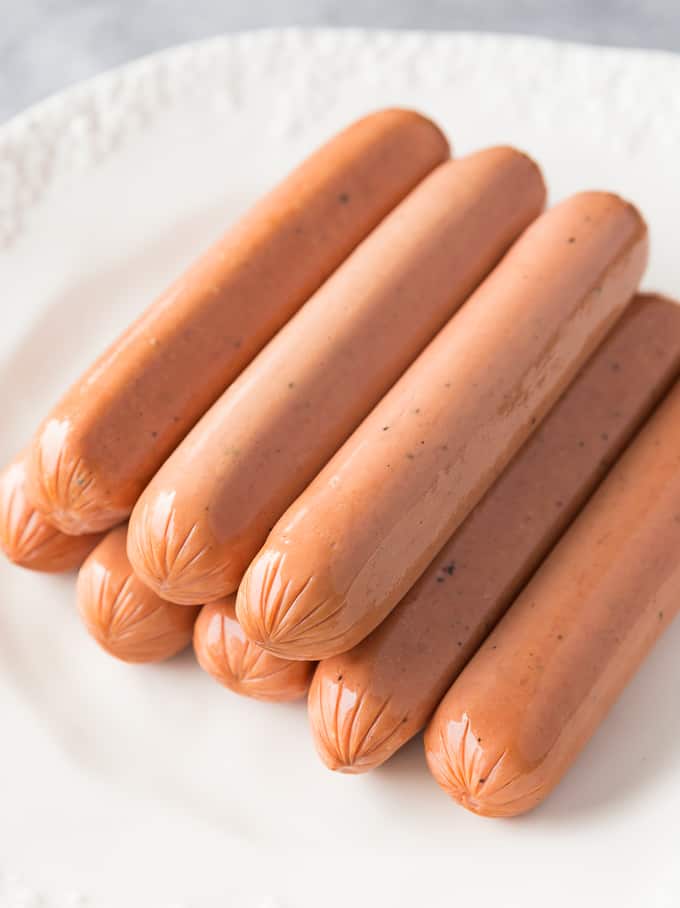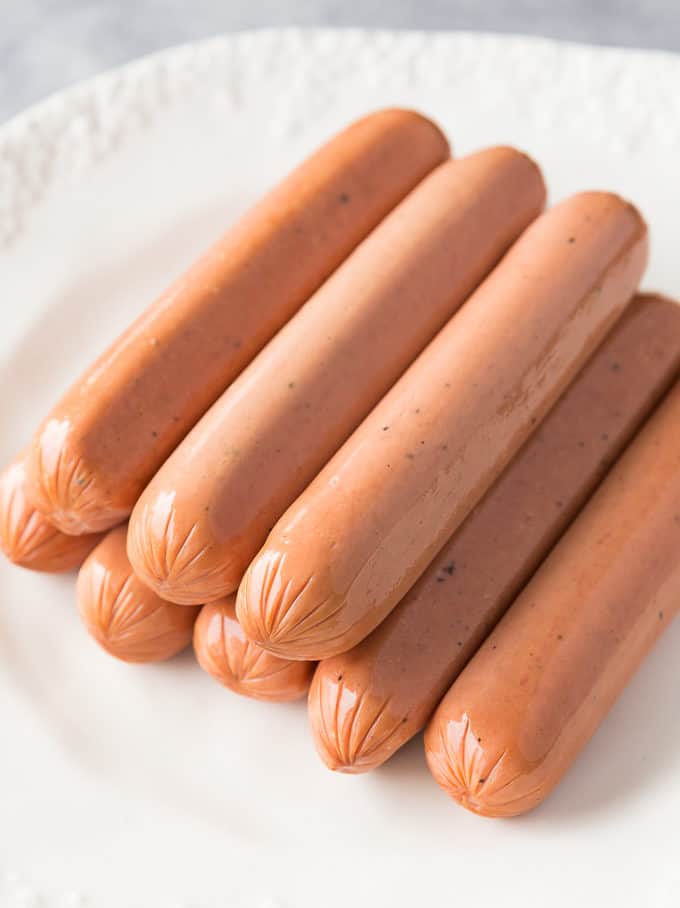 There are few steps to making this German Sausage & Potato Salad, but, trust me, the extra effort is worth it in the end. You'll need to cook the potatoes on the stove for about 15 minutes. You want them fork tender, but not too mushy since you won't be mashing them up.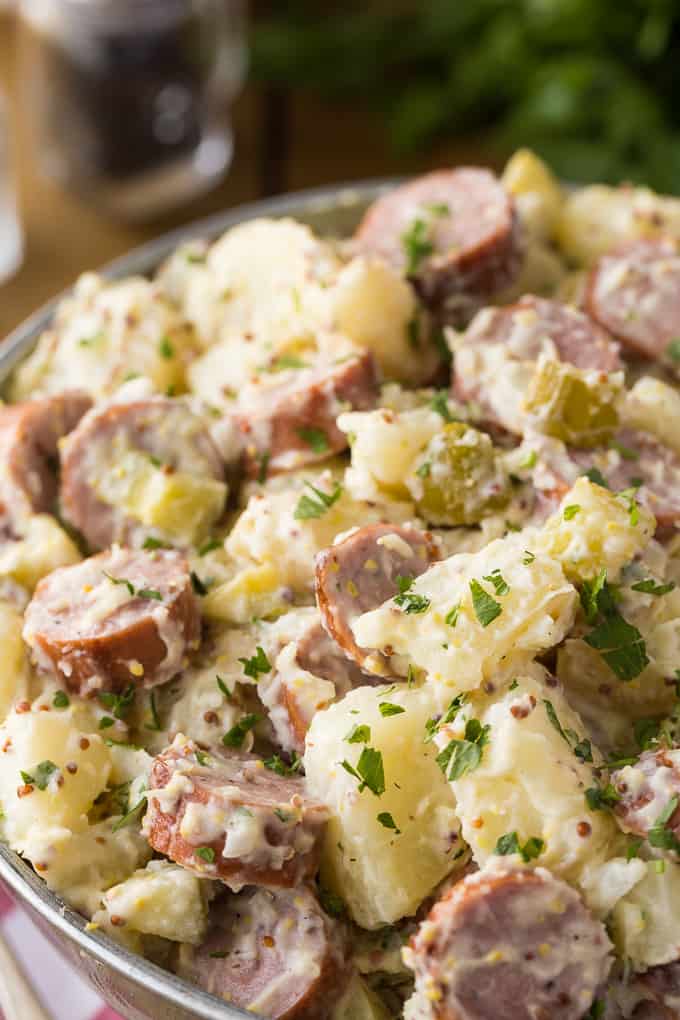 You'll also need to prepare the garlic. And yes, you are using an entire head! Peel off the extra papery layers and cut across the top so the cloves are exposed. Place the head of garlic on a sheet of aluminum foil and drizzle with extra virgin olive oil. It roasts in the oven for about 40 minutes. Note: I recommend putting a baking sheet underneath the garlic because it may leak!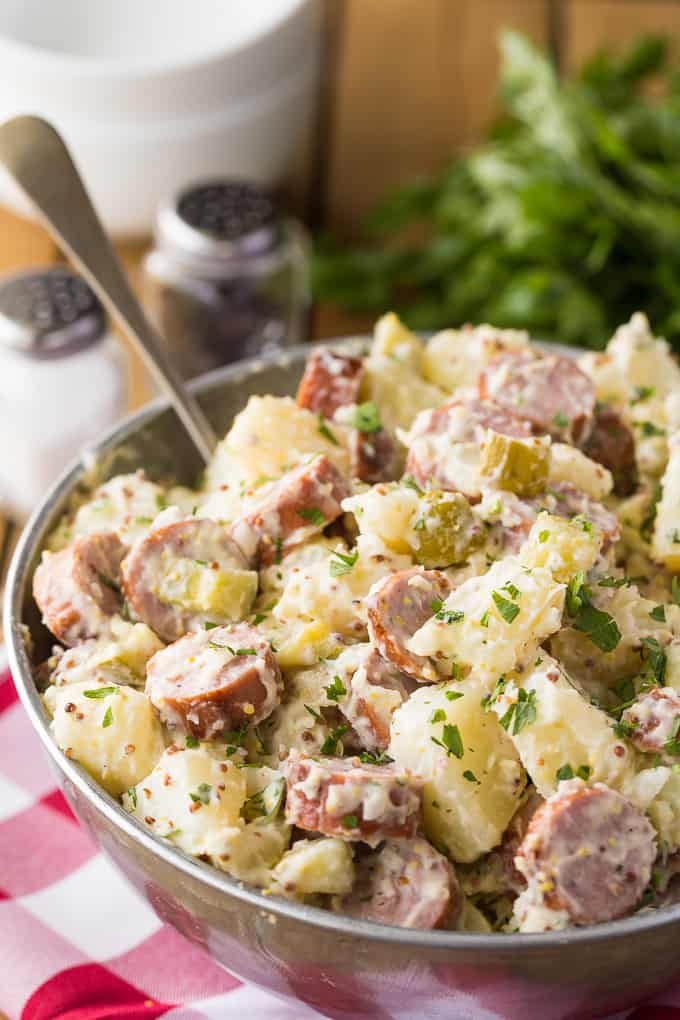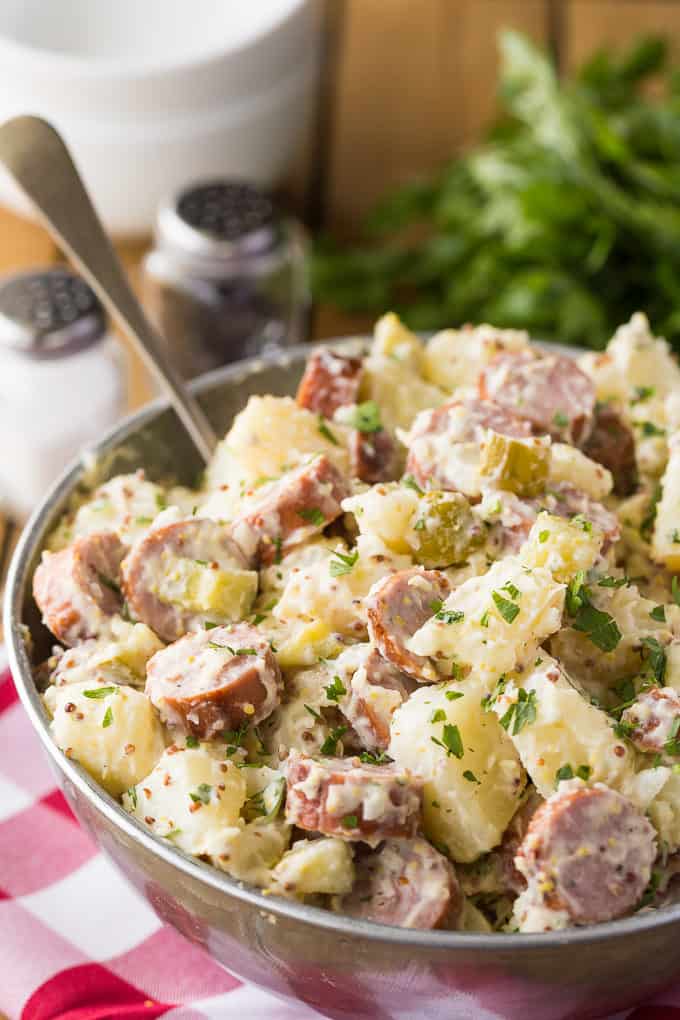 While the garlic is roasting and your potatoes are cooling, head outside to fire up the grill. It's time to cook the Smokies! I used the entire 600g package of Smokies (8 in total). Once they are cool, slice them into 1/2 inch rounds.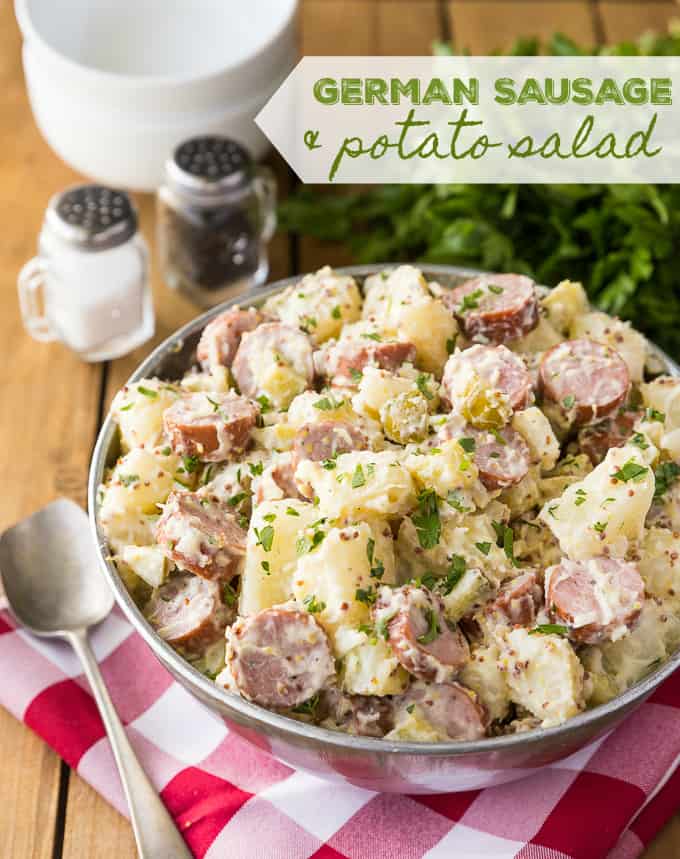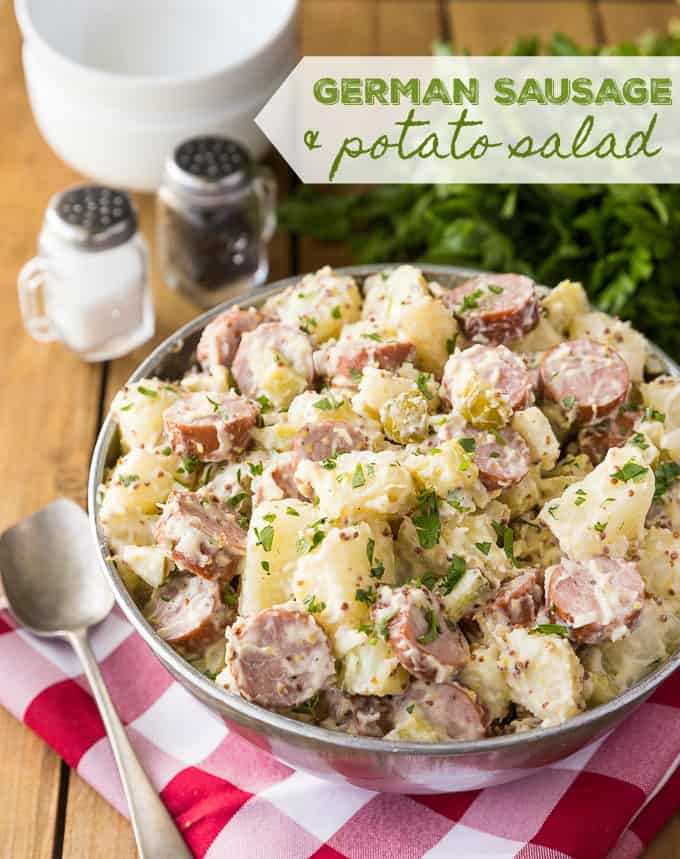 By this time, your garlic should be almost done. Let it cool a bit before squeezing out the cloves into a bowl. I know you may be thinking that is a crazy amount of garlic for a recipe. However, when garlic is roasted, it takes on a sweet flavour so you won't have to worry about having dragon breath. It's going to be part of your dressing.
I used grainy mustard to add a little extra texture to the dressing. If you don't have any, regular mustard will work just fine.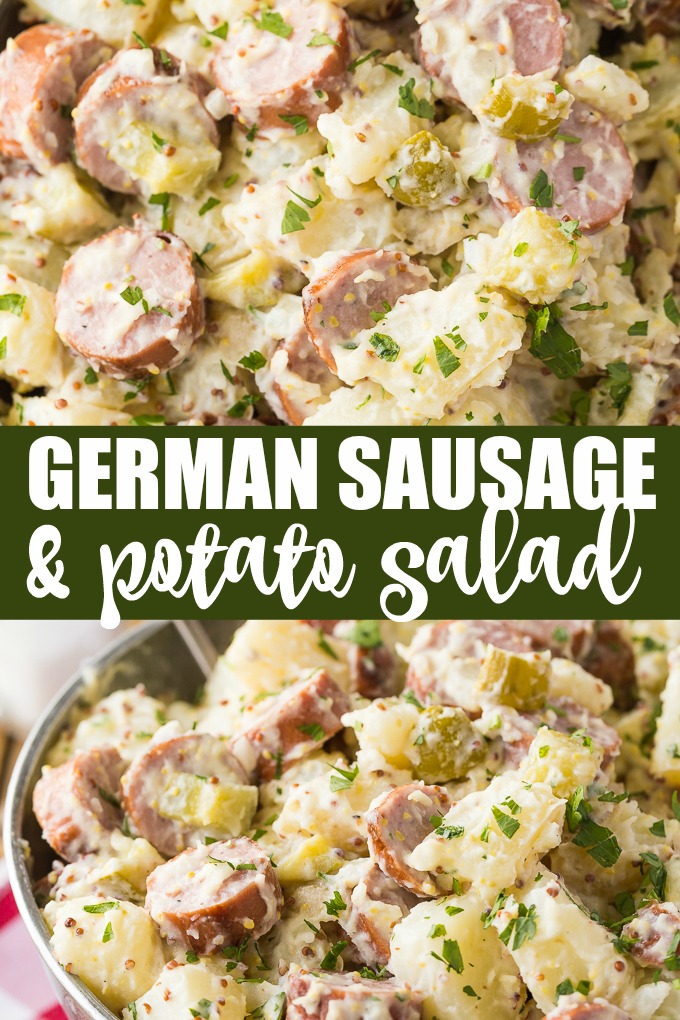 Once you've combined all the ingredients, pop the salad in the fridge to chill until you are ready to serve. It's a wonderful side dish to serve with some Smokies on a bun topped with sauerkraut and more grainy mustard. I'm keeping up with the German theme here!
I served this salad at a recent BBQ and it received rave reviews. It's creamy, full of savoury/smoky flavour and was devoured in its entirety! I was sad there wasn't leftovers, but I guess that's a good thing. It means everyone enjoyed it.
We still have a few more weeks here in Canada before school starts. I plan to host a few more BBQs and every last bit of summer vacation! This German Sausage & Potato Salad will be on the menu again soon.
There's also still time to enter Maple Lodge Farms Great Canadian Cook-off for a Family BBQ prize pack. Choose Team Spicy or Team Smokie and enter to win.
You might also like this Herb Potato Salad, Ranch Potato Salad, Warm Caesar Potato Salad, Cheese Potato Salad, Sauerkraut Salad or Cucumber Salad. Try this yummy German Potato Soup.
What side dishes are you serving at your BBQs?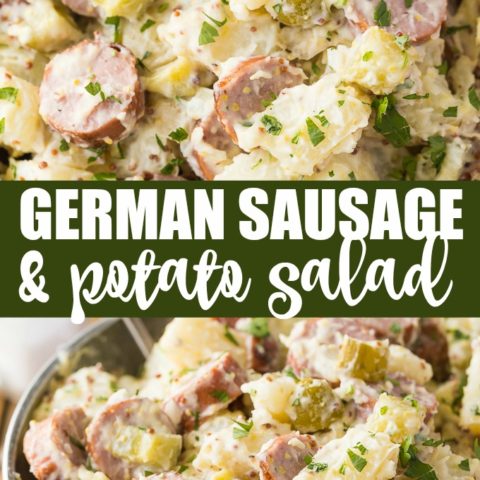 German Sausage & Potato Salad
Cook Time:
1 hour
10 minutes
Total Time:
1 hour
25 minutes
This side dish is a whole meal! This smoky potato salad is filled with chicken sausage and a flavorful dressing with mustard.
Ingredients
8 potatoes, unpeeled, coarsely chopped
2 tbsp white vinegar
3 large dill pickles, chopped coarsely
3 tbsp onion, finely chopped
1 head garlic
2 tsp extra virgin olive oil
1 package Maple Lodge Farms Smokies Chicken Sausages
1/2 cup mayonnaise
1 1/2 tbsp grainy mustard
1 tbsp fresh parsley, chopped
salt and pepper, to taste
Instructions
Add potatoes to a large saucepan filled with salted water and bring to a boil. Cook until tender (about 15 minutes). Drain. Add potatoes to a large bowl and sprinkle with white vinegar. Stir in dill pickles and onions. Let cool.
Preheat oven to 400F. Remove any loose layers from the garlic head. Cut the top of the garlic head to expose the cloves. Place on a sheet of aluminum foil and drizzle with olive oil. Bake for 40 to 45 minutes, until softened. Squeeze garlic into a bowl and mash with a fork. Set aside.
Preheat the BBQ to medium-high heat. Grill Smokies for about 8 to 10 minutes, turning often. Remove from grill and set aside to cool. Once cool to touch, slice into 1/2 inch coin sized pieces. Add to potato mixture.
Add mayonnaise, mustard, salt and pepper to the bowl with the garlic. Stir to combine. Pour over potato mixture and toss. Sprinkle on parsley and stir to combine. Refrigerate until ready to serve.
Recommended Products
As an Amazon Associate and member of other affiliate programs, I earn from qualifying purchases.
Nutrition Information:
Yield:

6
Serving Size:

1
Amount Per Serving:
Calories:

405
Total Fat:

18g
Saturated Fat:

3g
Trans Fat:

0g
Unsaturated Fat:

14g
Cholesterol:

20mg
Sodium:

876mg
Carbohydrates:

53g
Fiber:

6g
Sugar:

4g
Protein:

10g
Disclosure: I was compensated for this post. All opinions on this blog are my own.