Cheese Potato Salad is a deliciously easy summer salad recipe perfect for BBQs! Tender potatoes are covered in a creamy, flavorful dressing.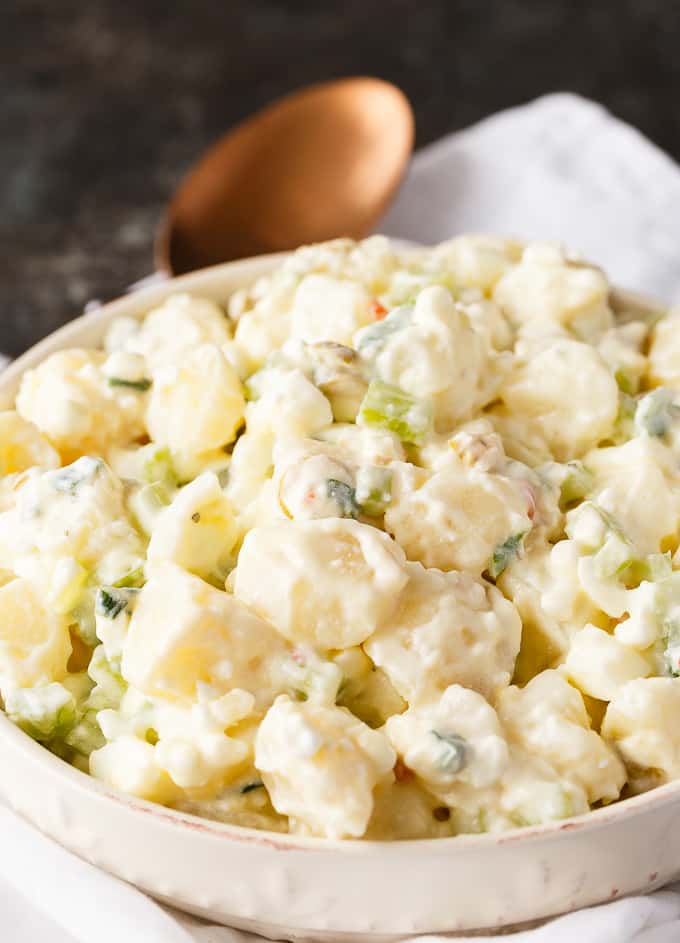 Cheese Potato Salad
A summer BBQ is never complete without a round of yummy sides! This Cheese Potato Salad is perfect for those outdoor entertaining occasions.
I know there are sooo many yummy recipes for Potato Salad (check out my Dutch Potato Salad) and I think this one is pretty spectacular. It's easy to make and always receives rave reviews. I love to put a big heaping pile on my plate beside my hotdog or hamburger.
You can buy already made Potato Salad at the grocery, but I don't think it compares to a homemade version. Take a little extra time and make it at home instead. You'll be happy with the final result!
Cheese Potato Salad Ingredients
Potato Salad can include a whole range of ingredients. The one key element in every recipe, though, is the boil potatoes.
In this Cheese Potato Salad, you'll find boiled potatoes (obviously) as well as hard boiled eggs, celery, green olives and green onions.
The creamy dressing to cover the salad is a mixture of sour cream, Italian salad dressing, cottage cheese and salt. Easy peasy!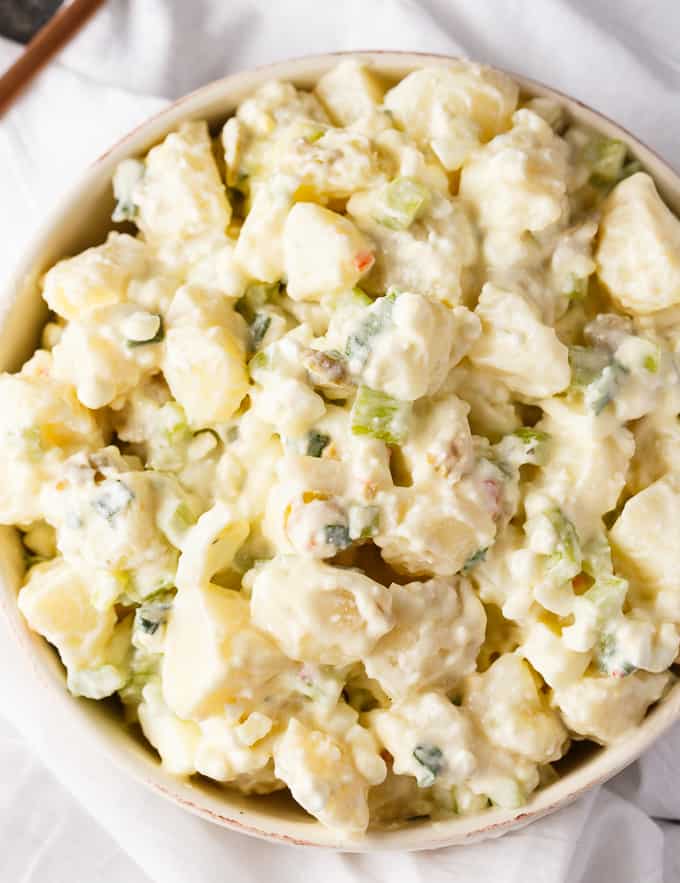 How to Make Cheese Potato Salad
The first step is to add the sour cream and Italian dressing to a large bowl and stir to combine. Add in the cooked potatoes and eggs.
Then, stir in the cottage cheese, celery, green olives, green onions and salt.
Cover the boil and chill in the fridge for at least 1 hour before serving. Make sure to refrigerated any uneaten salad.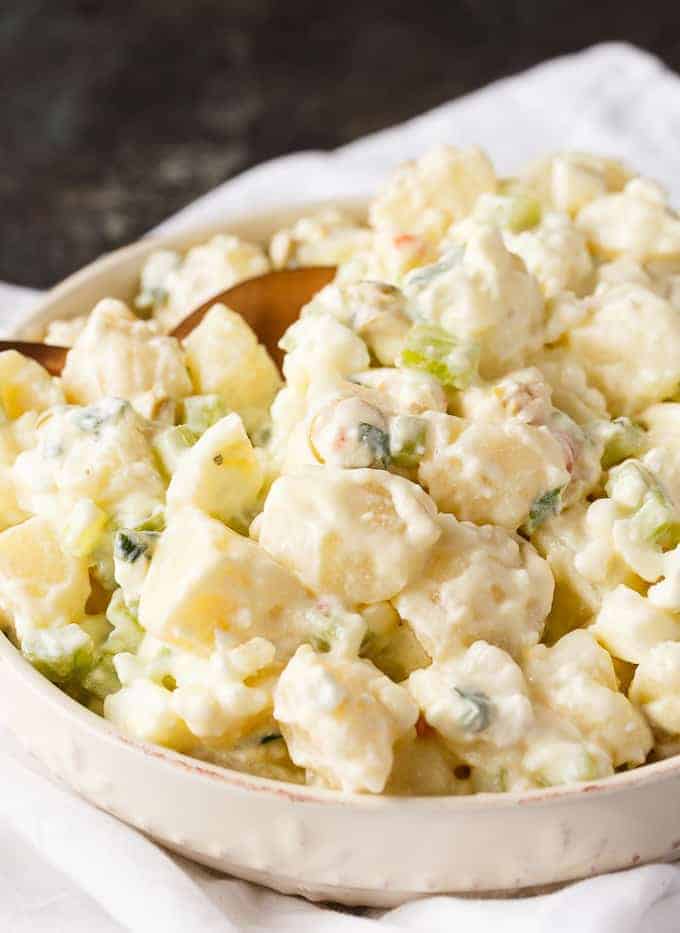 Helpful Kitchen Tools
These kitchen tools will help you make this recipe.
This post contains affiliate links.
Can You Make Potato Salad the Day Before?
Yes, you can make Potato Salad the day before. All you need to do is to make sure to cover it and refrigerate it till you are ready to serve to your guests.
How Long Will Potato Salad Keep in the Fridge?
I wouldn't keep it any longer than three to four days in the fridge. After that, put any remaining salad in the compost. Hopefully, everyone will eat it before that happens though!
What to Serve with Potato Salad
Lots and lots of summer fare!
Hotdogs and hamburgers
Steak
Grilled pork chops
Grilled chicken
Kebabs
Summer Salad Recipes
I have several more summer salad recipes for you to put to the test.
Corn Salad – Bright, colorful and tasty! Serve this delicious summer salad recipe at your BBQs and outdoor parties.
Bean Salad – Packed full of yummy fibre. This easy salad recipe is loaded with beans and a flavorful dressing.
Beet Salad – Creamy with a kick! This easy side dish recipe pairs well with steak.
Macaroni Salad – This simple summer salad will be a hit at your BBQs and picnics! It's full of fresh crunchy veggies, tender macaroni and a sweet mouthwatering dressing.
Cucumber Salad – Fresh, easy and so delicious! Each bite of this summer side dish is bursting with flavor of cucumbers, onions and a yummy vinegar dressing.
German Sausage & Potato Salad -You'll love how creamy this savoury/smoky salad is! It's the perfect summer side for your BBQs.
What is your favorite recipe for Potato Salad?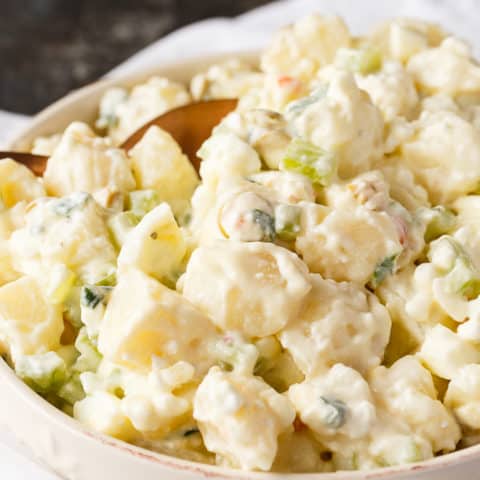 Cheese Potato Salad
Total Time:
1 hour
10 minutes
Who doesn't love cheese?! Add some to this BBQ side dish with hard boiled eggs, green olives, celery, and green onions.
Ingredients
1/2 cup sour cream
1/4 cup Italian salad dressing
2 cups potatoes, diced and cooked
2 hard boiled eggs, diced
1 cup cottage cheese
1/2 cup celery, chopped
1/2 cup green olives, sliced
1/2 cup green onions, sliced
1/2 tsp salt
Instructions
Add sour cream and Italian salad dressing to a large bowl and stir to combine. Add potatoes and eggs.
Stir in cottage cheese, celery, green olives, green onions and salt.
Cover and chill in fridge for 1 hour before serving.
Recommended Products
As an Amazon Associate and member of other affiliate programs, I earn from qualifying purchases.
Nutrition Information:
Yield:

8
Serving Size:

1 cup
Amount Per Serving:
Calories:

155
Total Fat:

9g
Saturated Fat:

3g
Trans Fat:

0g
Unsaturated Fat:

5g
Cholesterol:

60mg
Sodium:

571mg
Carbohydrates:

13g
Fiber:

2g
Sugar:

3g
Protein:

6g