Everyone knows that the first rays of summer sun mean BBQs, pool parties, and plenty of cocktails. However, in our household, it also signals the return of my famous Curried Potato Salad!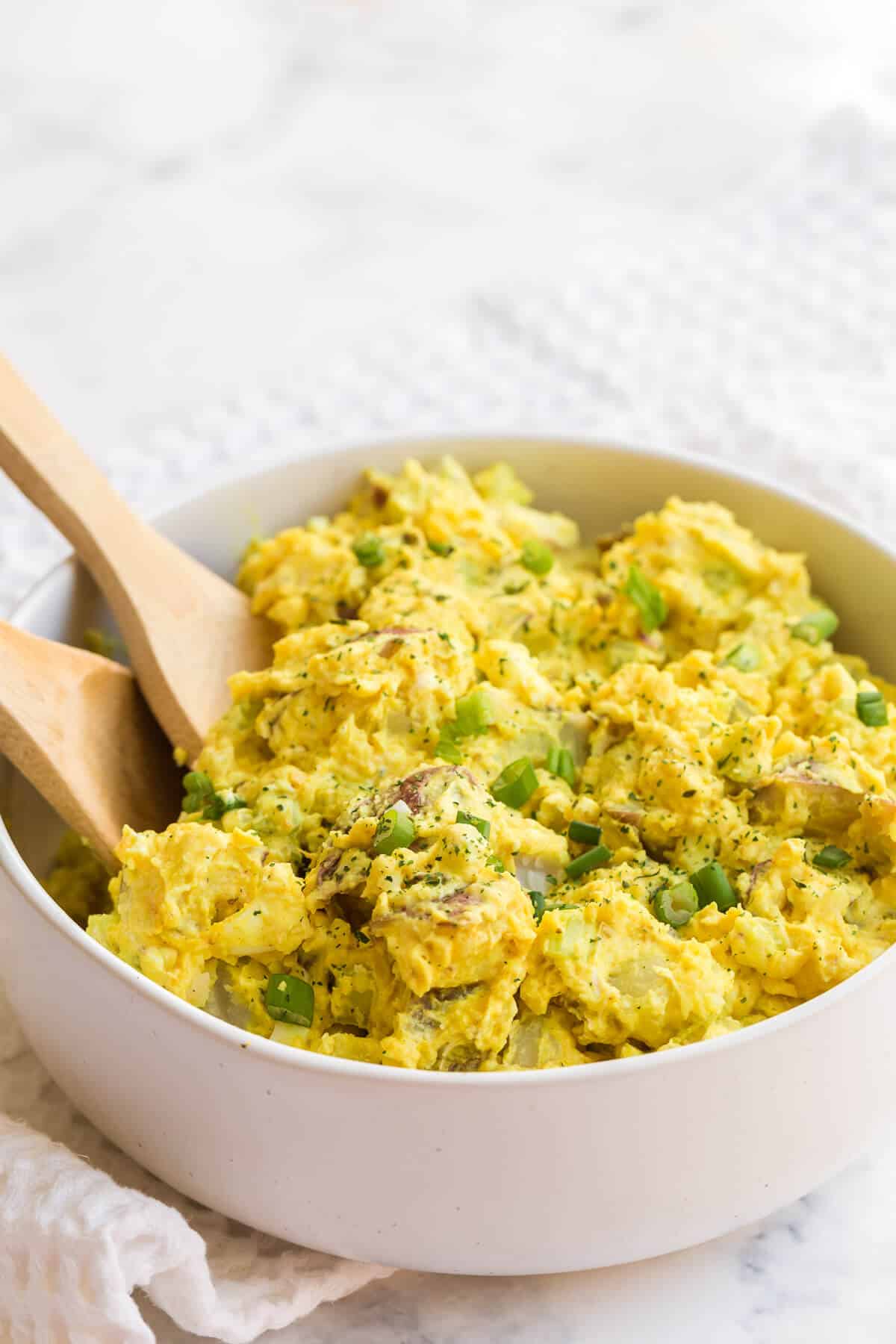 Made with just a hint of curry powder and plenty of fresh ingredients, it's one of my BBQ staples that sees people coming up to the buffet table for seconds, thirds, and fourths. So, if you're on the hunt for a recipe that will make you the proverbial "belle of the barbeque", look no further.
If you're wondering why I don't opt for a traditional potato salad during the summer, then let me fill you in. Although I love the indulgent creaminess of a typical potato salad, the calories can quickly add up. Of course, there's nothing wrong with the occasional decadent treat (just look at the rest of my recipes!), but if you're looking for a staple that you can enjoy all summer long, it's best to keep things lighter.
And hey – it's not just about the calories! The inclusion of delicious tandoori spices, celery ribs, and a hint of mustard takes any humble potato salad to new heights. Pairing perfectly with chicken, ribs, and roasted veggies, it's a total slam dunk dish.
Why You'll Love Curried Potato Salad
Super easy to make
Great for making in large batches for BBQs
Always a crowd-pleaser
Stores well in the fridge for lunch leftovers
Can be kept on a BBQ table for quite some time without spoiling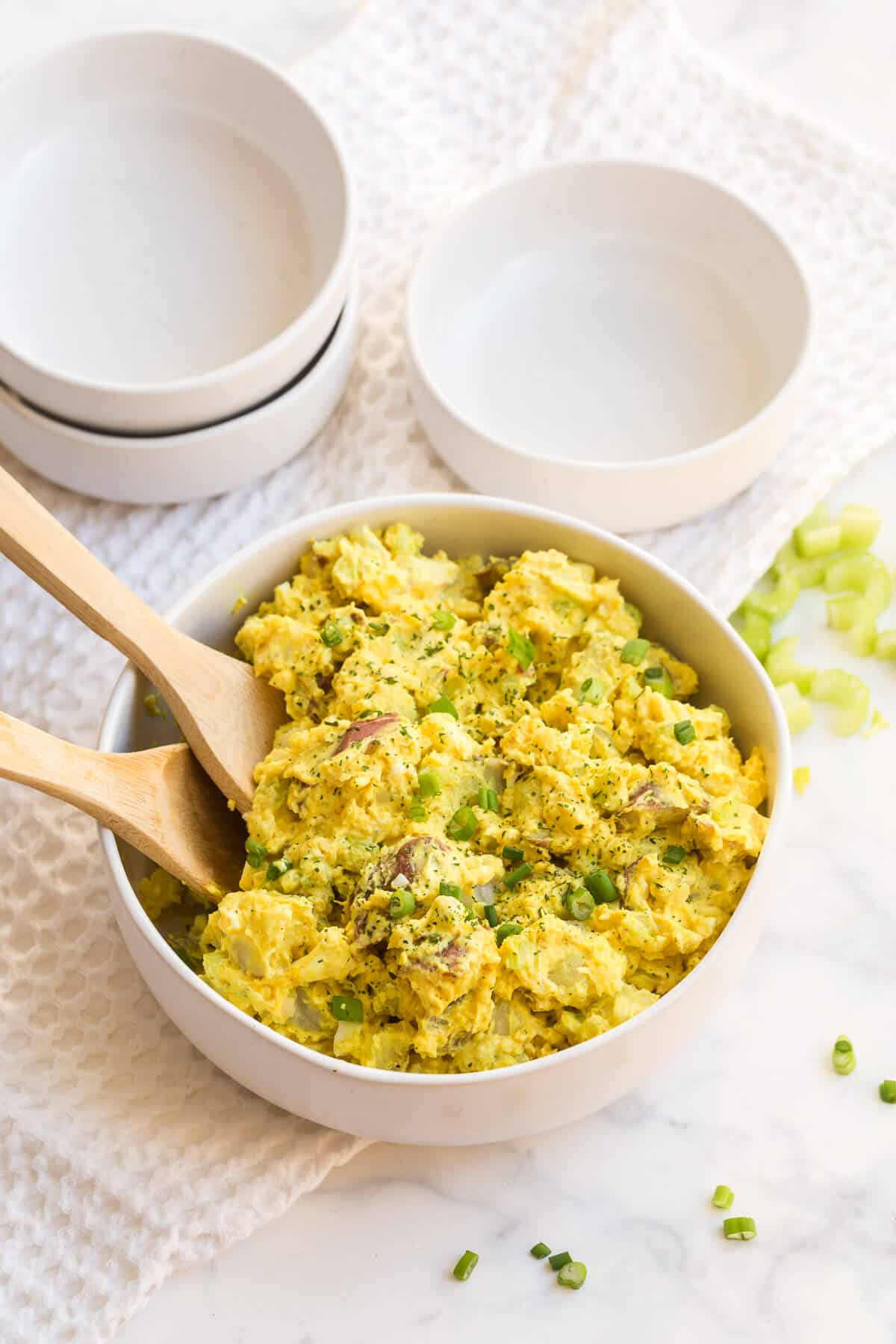 Ingredients
Red potatoes
Hard-boiled eggs
Celery
Plain yogurt
Mayonnaise
Mustard
Curry powder
Garam masala
Turmeric
Salt and pepper
How to Make Curried Potato Salad
Step One: Wash your potatoes thoroughly and then cut them into bite-sized pieces.
Step Two: Cook three eggs until hard-boiled.
Step Three: At the same time, boil potatoes until tender. This typically takes around 10 or 15 minutes.
Step Four: While you're waiting, chop your celery into small chunks.
Step Five: When they're ready, take the eggs off the heat and roughly chop them.
Step Six: Remove the potatoes from the boiling water and add them to a large bowl.
Step Seven: Stir in remaining ingredients until neatly combined.
Step Eight: Chill until time to serve.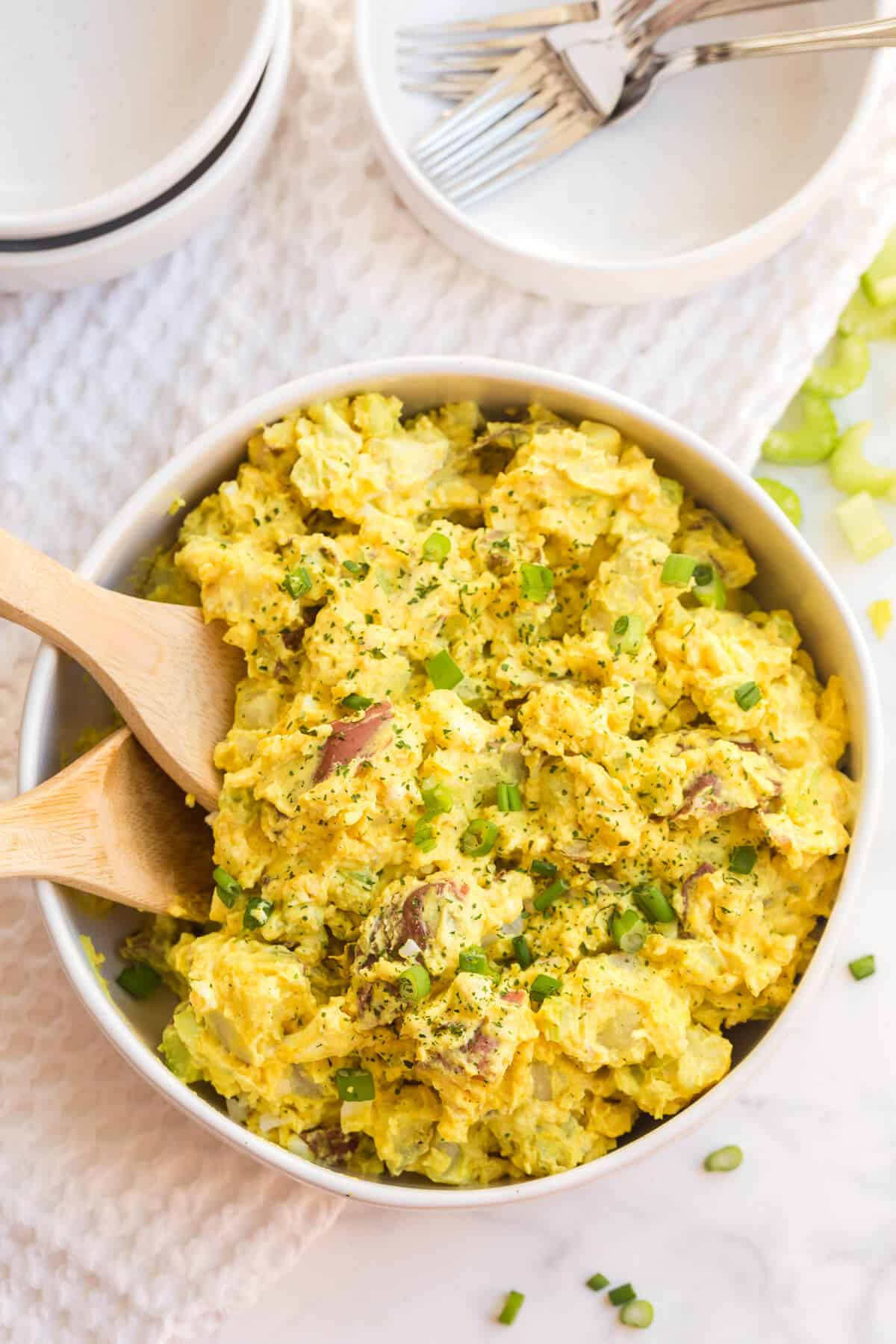 Equipment Needed
This post contains affiliate links.
What to Serve with Curried Potato Salad
To take a weeknight meal or backyard BBQ to the next level, pair your curried potato salad with any of the following dishes:
Recipe Tips and Tricks
Don't overcook your potatoes – I get that you can put potatoes on to boil and completely forget they're there. However, if you let them turn to slop, you'll be dealing with mashed potatoes! To check that they're at the optimal texture, give them a poke with a skewer before pulling them out. It should slide through but not break the potato apart.
Don't overdo it on the curry powder – it's an important flavor, but you don't want to overwhelm the dish.
Cut your potatoes small, but not too small – you'll want them to cook reasonably quickly, but tiny potato chunks just don't look right in a potato salad. Keep them uniform and bite-sized for best results.
When combining ingredients, gently work them together with a wooden spoon. Some ingredients are hardier than others – while your celery is unlikely to break apart, working egg or potatoes too hard may cause them to get soft and mushy.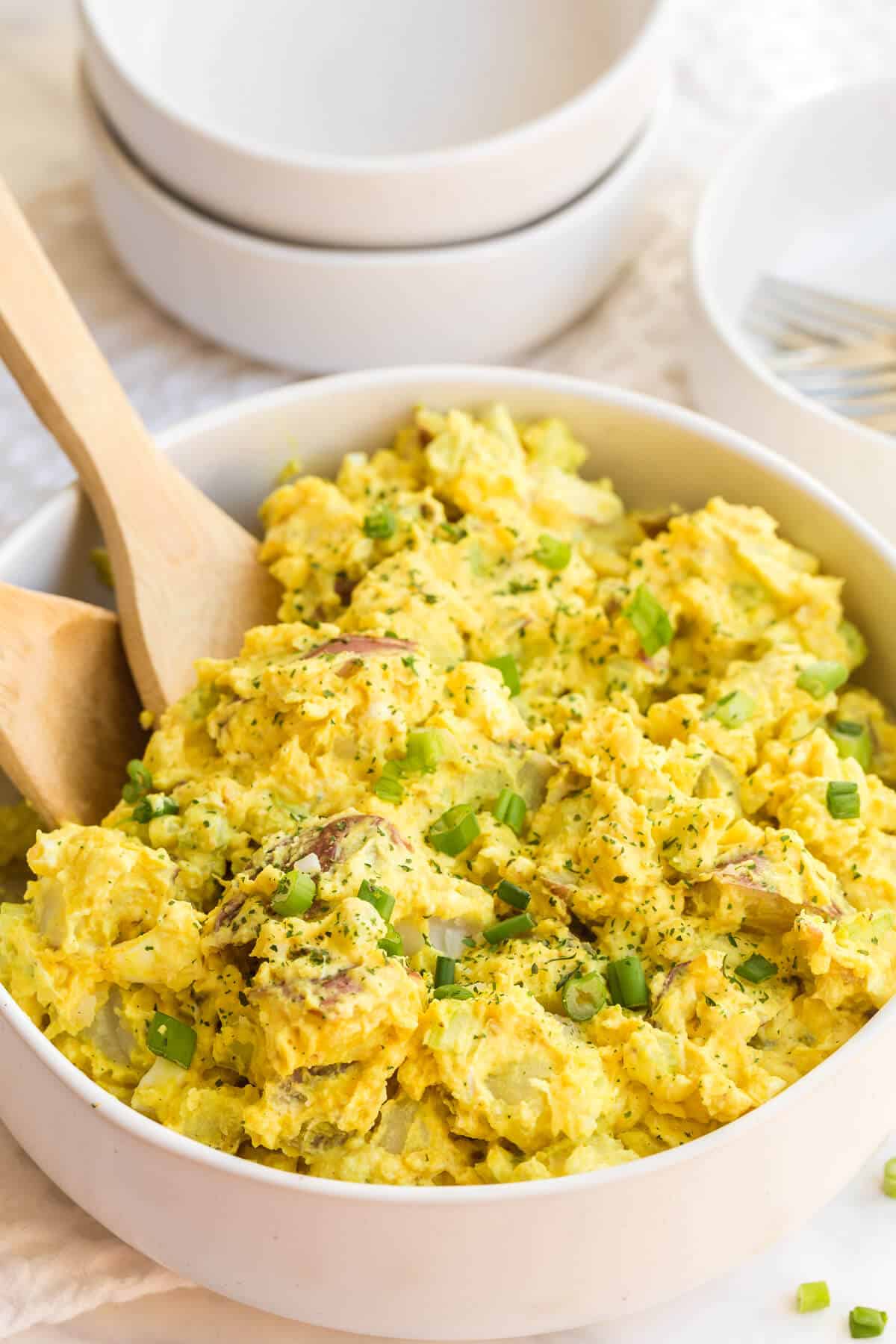 Variations and Substitutions
For an even lighter dish, switch out the plain yogurt for a low-fat variety and regular mayonnaise for light mayo. It will be slightly less creamy, but you shouldn't notice a massive difference.
If you're on a low-carb kick (or are trying out the Keto diet), sacrifice the potatoes for cauliflower!
Add a few celery seeds to your dish for an extra kick of flavor!
Storage Instructions
This curried potato salad is easy to store.
Simply place it in an airtight container and refrigerate as soon as your guests have helped themselves. If stored properly, this dish should last for up to 4 days (although I doubt it will last this long!).
Before eating, double-check whether your curried potato salad smells off or has started to separate. Although this shouldn't happen before the 4-day mark, it's always better to be safe than sorry!
Be aware that potato salad shouldn't be kept out for longer than 2 hours at room temperature. If it's been sitting on a picnic table for longer than this, it's best to toss it out.
Can I Freeze?
You can freeze this curried potato salad, but it doesn't freeze well. This is because the mayonnaise and yogurt are likely to separate when frozen and the crispy celery pieces will turn soft.
It's a modern-day tragedy!
So, although it's safe and you will be able to eat this dish after freezing, you just won't get the same experience as the very first BBQ bite.
If you want to freeze this dish, simply put a portion in a freezer-proof container and place it in the freezer for up to 3 months. When you're ready to relive your potato salad dreams, remove a portion from the freezer the night before you plan to eat it. It should be fully defrosted the next day.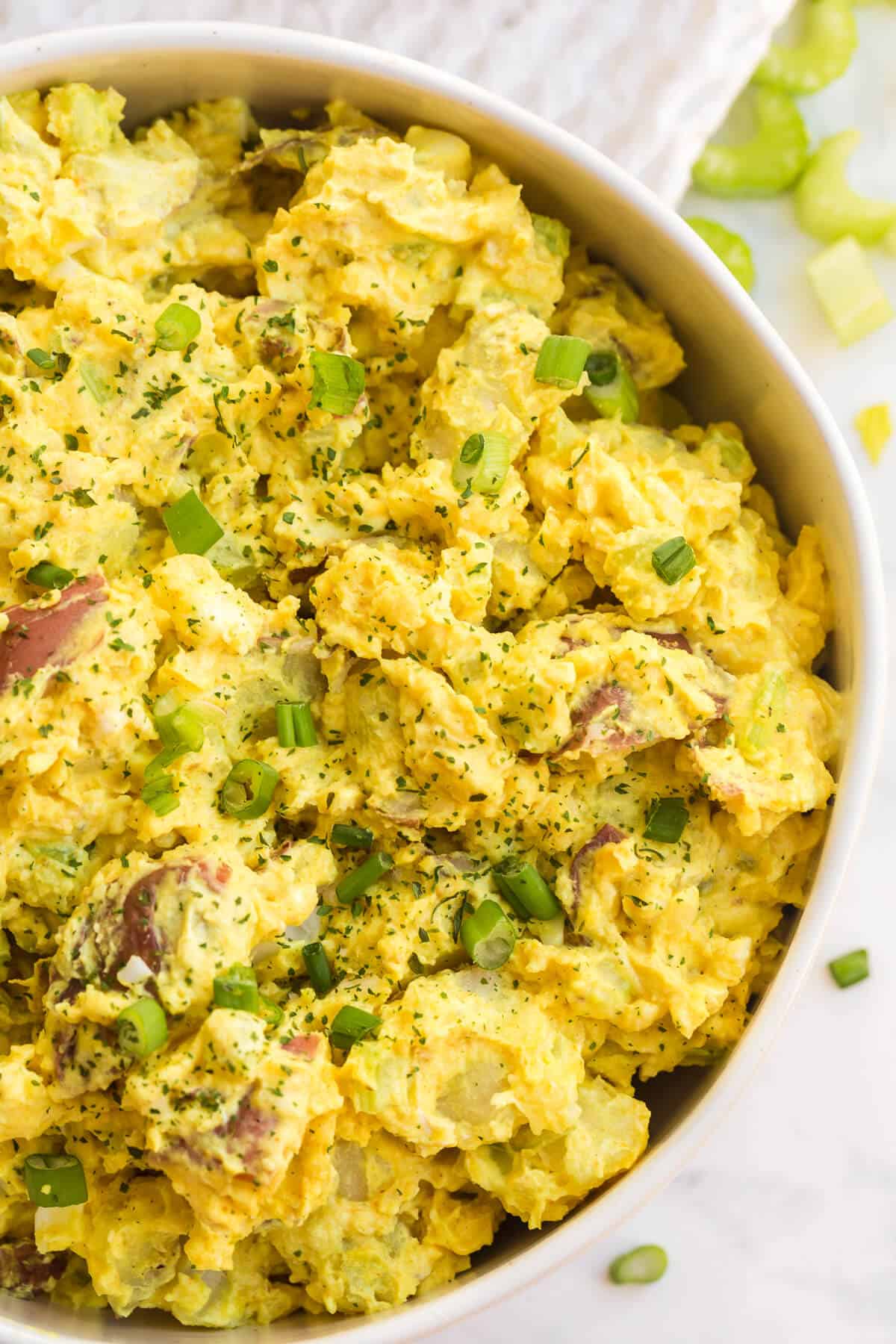 More Recipes with Curry
You'll also like this Herb Potato Salad.

Follow me on Instagram @simplystacieblog, Facebook at Simply Stacie, or Pinterest at @simplystacie and let me know how you liked this recipe and my other recipes.
If you make the recipe, rate it on the recipe card below and tag me on Instagram and use #simplystacie. I like sharing the photos on my Instagram stories!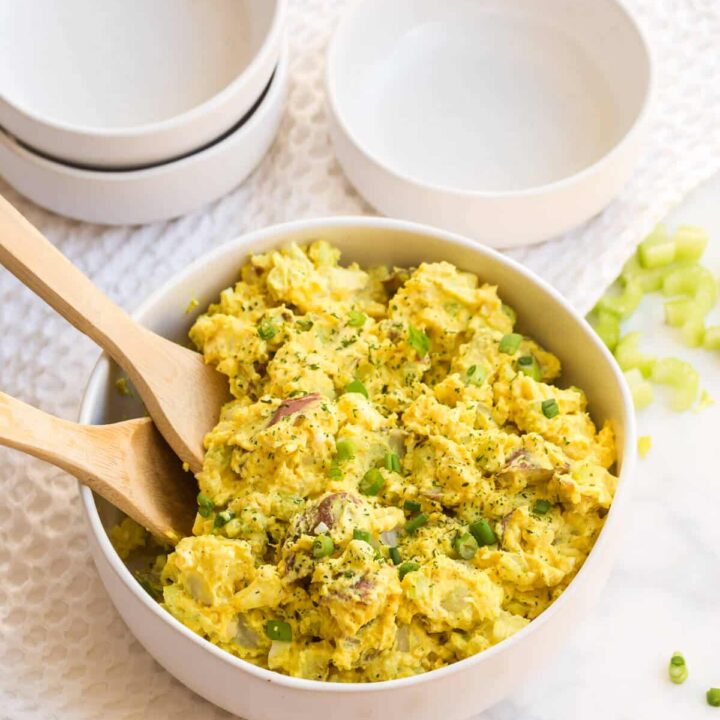 Curried Potato Salad
Packed full of YUM! Dress up potato salad with a pinch of curry powder to impress your friends and family at your next potluck or BBQ.
Ingredients
8 red potatoes, unpeeled, cut into bite-sized pieces
3 hard-boiled eggs, roughly chopped
3 celery ribs, chopped
1 cup plain yogurt
1 cup mayonnaise
1 teaspoon mustard
1 1/2 teaspoon curry powder
1 teaspoon garam masala
1 teaspoon turmeric
Salt and pepper, to taste
Instructions
Boil potatoes until tender. Drain and cool.
Add potatoes to a large bowl. Stir in remaining ingredients until combined. Chill until time to serve.
Recommended Products
As an Amazon Associate and member of other affiliate programs, I earn from qualifying purchases.
Nutrition Information:
Yield:

10
Serving Size:

1
Amount Per Serving:
Calories:

202
Total Fat:

19g
Saturated Fat:

3g
Trans Fat:

0g
Unsaturated Fat:

15g
Cholesterol:

67mg
Sodium:

221mg
Carbohydrates:

5g
Fiber:

1g
Sugar:

2g
Protein:

4g