Green Beans with Warm Pistachio Vinaigrette is an elegant but easy green bean recipe to serve up any day of the week. Whether you are looking for a green bean dish for the holidays or to pair with Monday nights meatloaf. This green bean vinaigrette recipe is such a delight.
And my green bean obsession continues….I've been eating them like they are going out of style. I go in phases where I seem to eat a lot of the same type of food before I move on to something else. I guess it could be worse though right? Beans are yummy and healthy! They also take hardly any time at all to cook.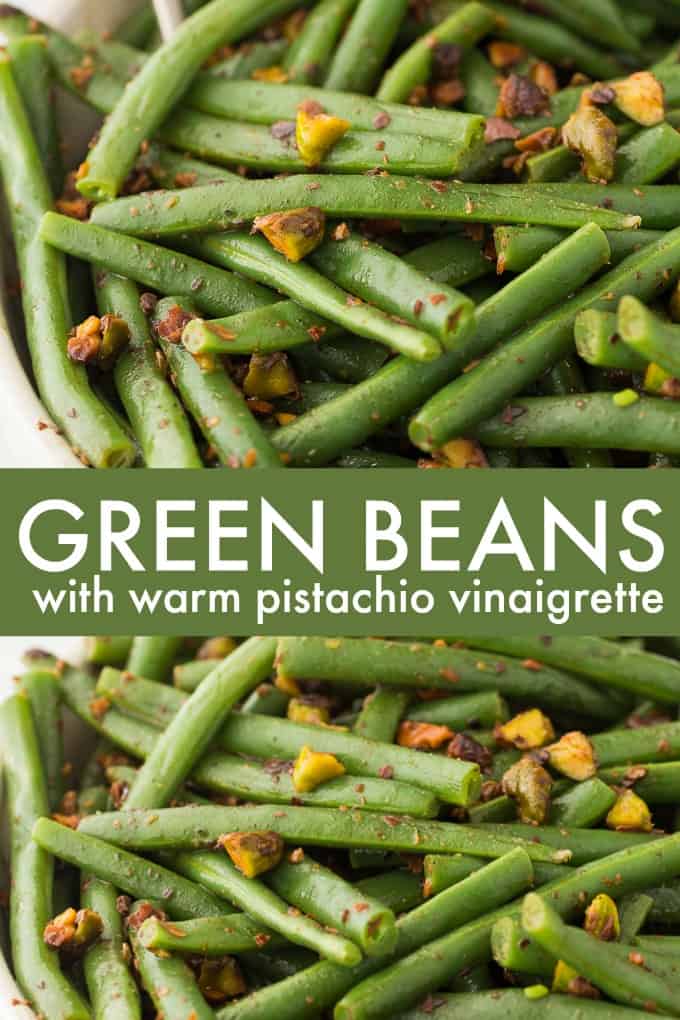 Green Beans with Warm Pistachio Vinaigrette
I've used nuts with beans before, but never pistachios. I could only find pistachios in the shell at our local grocery store so I had to break open the shell before I could start my recipe. I ended up eating quite a few pistachios. They are addicting!
This recipe was in Today's Parent magazine August 2013 issue, but I ended up changing a few things. First off, I didn't use the sherry vinegar and choose red wine vinegar instead. As it happens stores around here don't carry sherry vinegar.
No big surprise there since this is a fairly rural area. I also skipped the fresh basil and the sugar. Despite these variations, I thought the dish turned out really well. It was flavourful and the beans were cooked to perfection. I loved the buttery crunch the pistachios added to the mix!
Fresh Green Bean Recipe
Head to your farmer's market or in your garden and pick some fresh green beans and use them in this recipe. You can also, of course, buy fresh green beans in the store to use for this recipe! I just always like to share fun ways to use fresh produce from your own garden if you choose to garden.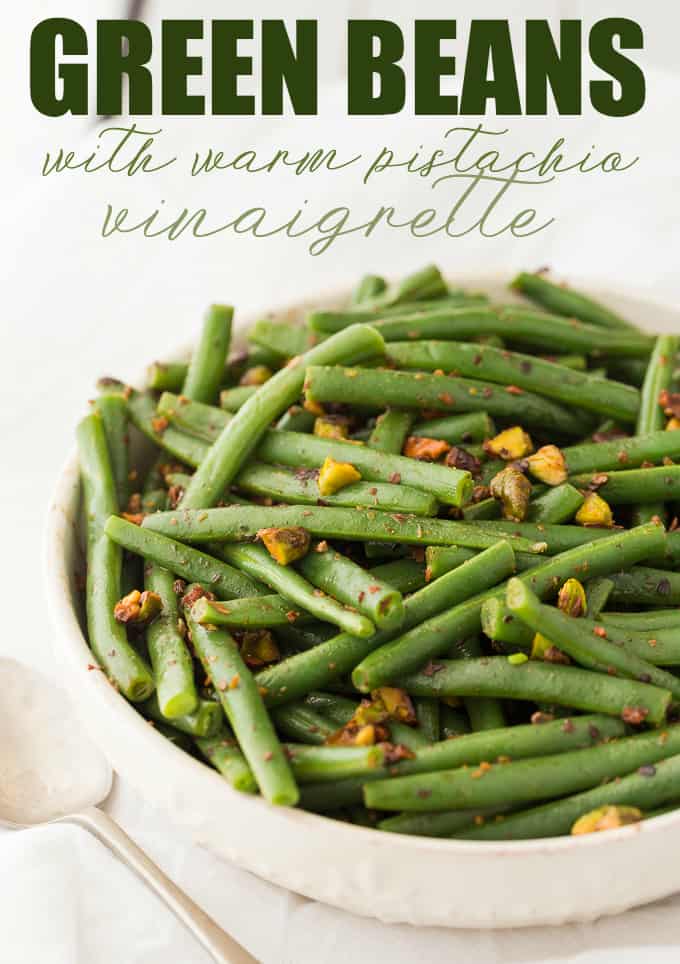 How to Prep Green Beans
Fresh green beans require a bit of prep before you can go and cook with them. You want to wash up your beans and then snap off the ends of the beans. Now if you buy them in the store, they might already have the ends off.
One quick way to do this if you don't want to snap them by hand is to lay them out on a cutting board, and take a knife and slice off the ends. It is a lot quicker if you are short on time.
If you want smaller green beans, just cut them in half, so they are smaller pieces.
How Do You Wash Fresh Green Beans
I place fresh green beans in a strainer and place them under running cold water in the sink. Then lift the beans up and massage them a bit to help break away any dirt or debris left on the beans. Then shake off any excess water once all rinsed.
Why Are My Green Beans Tough
Sometimes you will find that your green beans can be tough or stringy in texture. This can happen if they are picked too late, and they are past the prime. Aim to pick smaller pods so they will be less apt to be tough.
How To Make Green Beans with Warm Pistachio Vinaigrette
Start by melting your butter in a pan and add in your pistachios to toast them. This will take around 2 minutes. Then remove from heat. Pour in your water, vinegar, and salt to frying pan and stir.
Then in a bowl with salt bring it to a boil and blanch your green beans for 4 minutes. Drain and rinse in cold water to stop the cooking process, and toss in vinaigrette and stir and serve.
Main Dishes That Pair Well with Green Beans Vinaigrette
Sunday Meatloaf | I make this meatloaf a lot. Juicy, tender, and bursting with savory flavors. Pairing green beans next to it is always a success. Topped with a tomato sauce and bacon for added flavor.
No Peek Chicken | Chicken and rice is such a comfort dish. Pair with this green bean recipe and watch the dinner table elevate a few notches on one incredible dinner.
Orange Mustard Pork Tenderloin | Pork tenderloin is a very mild dish, but when you add in the orange mustard it just transforms it. I have made these green beans next to it, and it was a great pairing of recipes.
As you can see this green bean vinaigrette recipe is versatile. The dish isn't overpowering so it pairs nicely with so many main dishes.
How to Store Leftover Green Beans
Place your leftovers in an airtight container and store in the fridge for up to three days. Anything after use your best judgment on if the dish is going bad or not.
How to Reheat Green Beans
You can reheat these vinaigrette green beans in the microwave or even stovetop. Just make sure to add a little water or sauce to the pan if on the stove so they don't dry out.
You might also like these Pistachio Cream Bars.


Try my Chili Buttered Green Beans.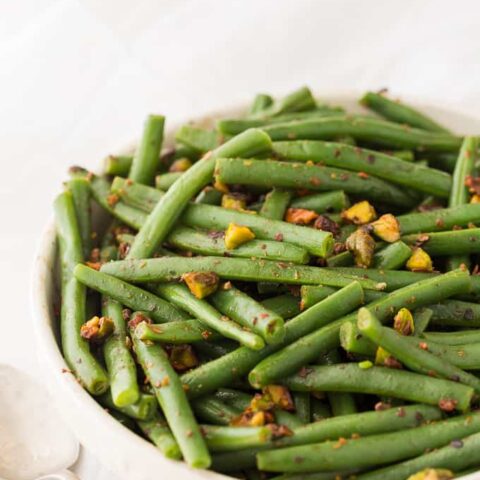 Green Beans with Warm Pistachio Vinaigrette Recipe
This recipe is as easy as it is elegant! Make these crispy green beans with a delicious red wine vinaigrette with crushed pistachios for the best holiday side dish ever.
Ingredients
1/4 cup butter
1/2 cup shelled pistachios, chopped
2 tbsp red wine vinegar
1 tbsp water
1/4 tsp salt
1 lb green beans, trimmed
Instructions
Melt butter in a frying pan over medium heat. Add pistachios and saute for 2 minutes. Remove from heat.
Add vinegar, water and salt to frying pan. Stir to combine.
Bring a medium pot of salted water to a boil and blanch green beans for 4 minutes. Drain and rinse with cold water.
Toss beans with vinaigrette.
Recommended Products
As an Amazon Associate and member of other affiliate programs, I earn from qualifying purchases.
Nutrition Information:
Yield:

4
Serving Size:

1
Amount Per Serving:
Calories:

144
Total Fat:

12g
Saturated Fat:

7g
Trans Fat:

0g
Unsaturated Fat:

4g
Cholesterol:

31mg
Sodium:

239mg
Carbohydrates:

9g
Fiber:

4g
Sugar:

4g
Protein:

2g