Finding incredible mid-week meals can be a challenge for any home cook. Whether your current staples are feeling tired or you're just looking to spice up your weekly menu with some Caribbean flavor, this Jamaican Curried Rice promises to be exactly what you've been searching for!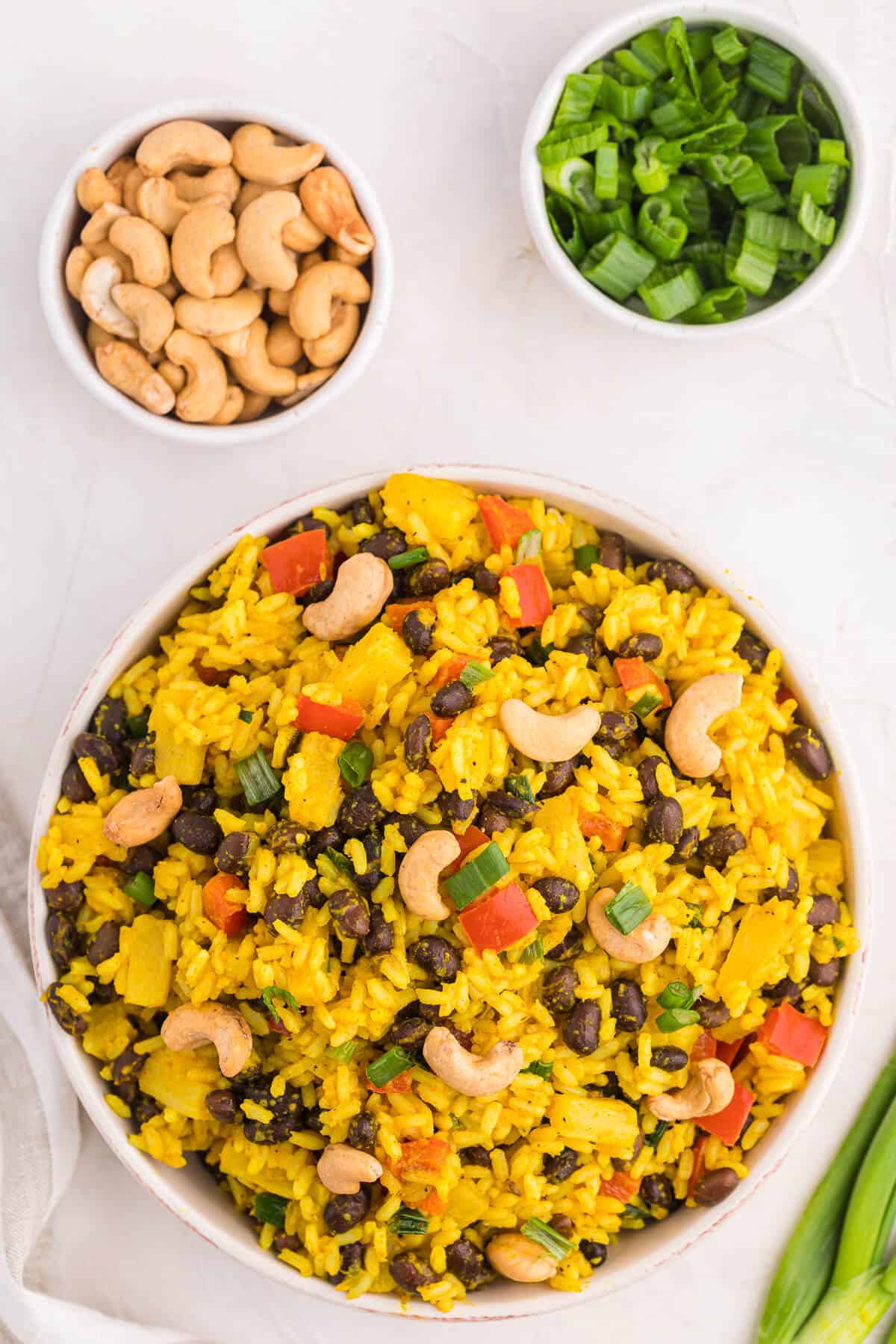 Sure, you can throw some grilled chicken in the air fryer and boil some rice on the stove for a quick meal, but there's something about a deliciously spiced, perfectly balanced dish that makes Hump Day slightly easier to push through!
I originally made this Jamaican Curried Rice from a recipe I found on the Equal Canada Facebook page and found that the incredible blend of sweet and savory flavors hit the palate just right. Surprisingly simple to make and ready in a flash, I immediately added it to my mighty mid-week recipe binder.
After all, I adore quick and easy meals!
I found most of my ingredients for this dish at Sobey's (and Atlantic Superstore), and most keep well enough to last a few days in the refrigerator. The ingredients include red pepper, green onions, curry powder, sugar, lime juice, a can of pineapple chunks, black beans, salted cashews, and rice.
As you can see, it's a diverse family of flavors we've got there!
If possible, I recommend getting your prep work for this dish done ahead of time. It's full of small pieces, and it can take the stress out of the job if you have everything cubed, sliced, and ready to go!
To make your life easier, measure everything out a couple of hours before and place your ingredients in the fridge for when you're ready to cook. Not only will this take a lot of the mess out of cooking, but it'll be far easier to face when your energy's starting to wane after work.
When you're cooking, the first thing you'll notice is the incredible aroma released from the curry powder, olive oil, and green onions. However, the best part of cooking this Jamaican Curried Rice recipe is seeing the dish take shape after you stir in the pineapple, black beans, and veggie mixture. Suddenly packed with texture and color, it'll make all that prep work feel worth it!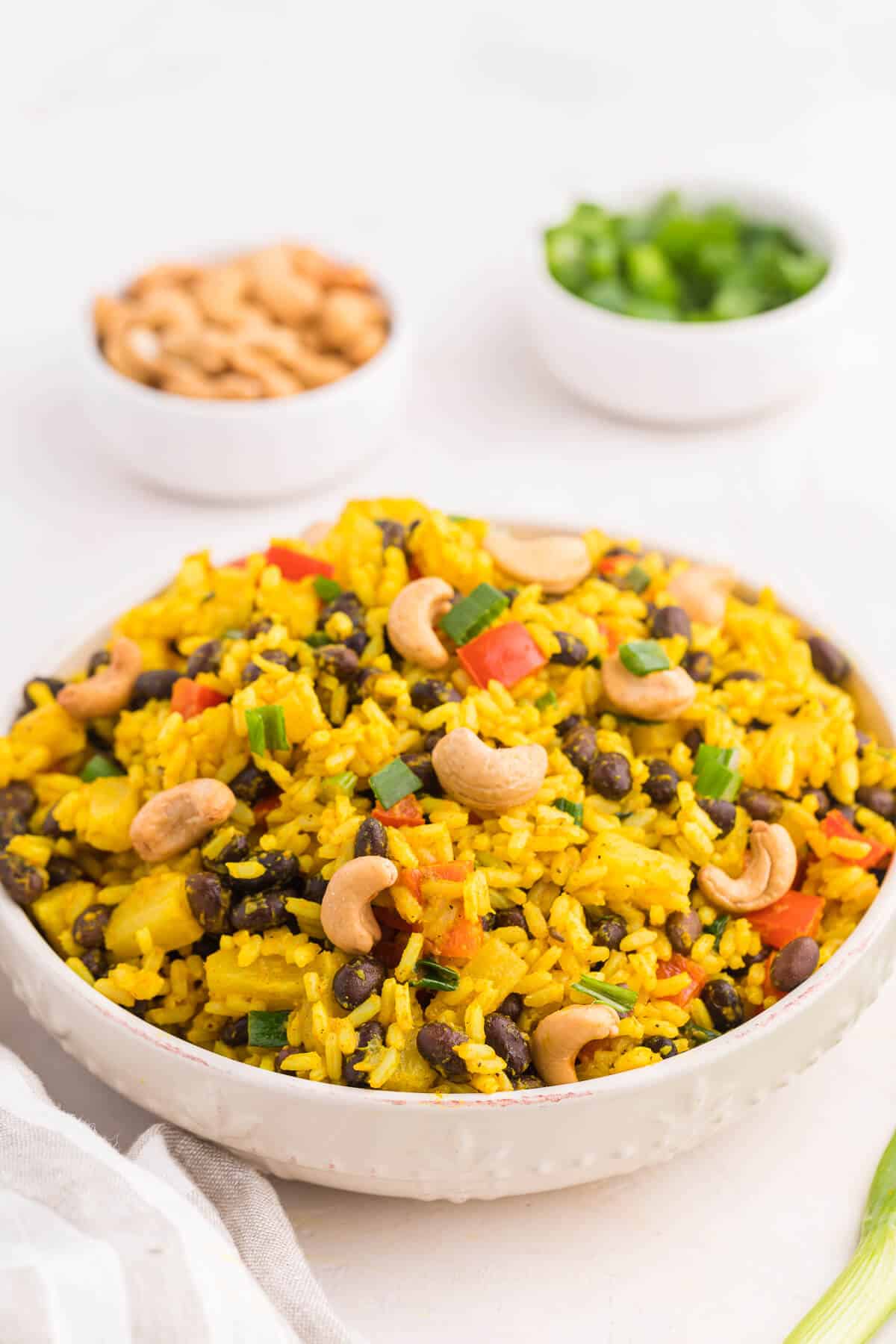 Why You'll Love Jamaican Curried Rice
It's ridiculously easy to make
Uses fresh ingredients for a healthy balance of flavors
All ingredients can be found at local grocery stores
It reheats amazingly and loses none of its texture
Ingredients
Extra virgin olive oil
Red pepper, diced
Green onions, sliced
Curry powder
Hot cooked rice
Sugar
Lime juice
Salt
Pineapple chunks
Black beans
Salted cashews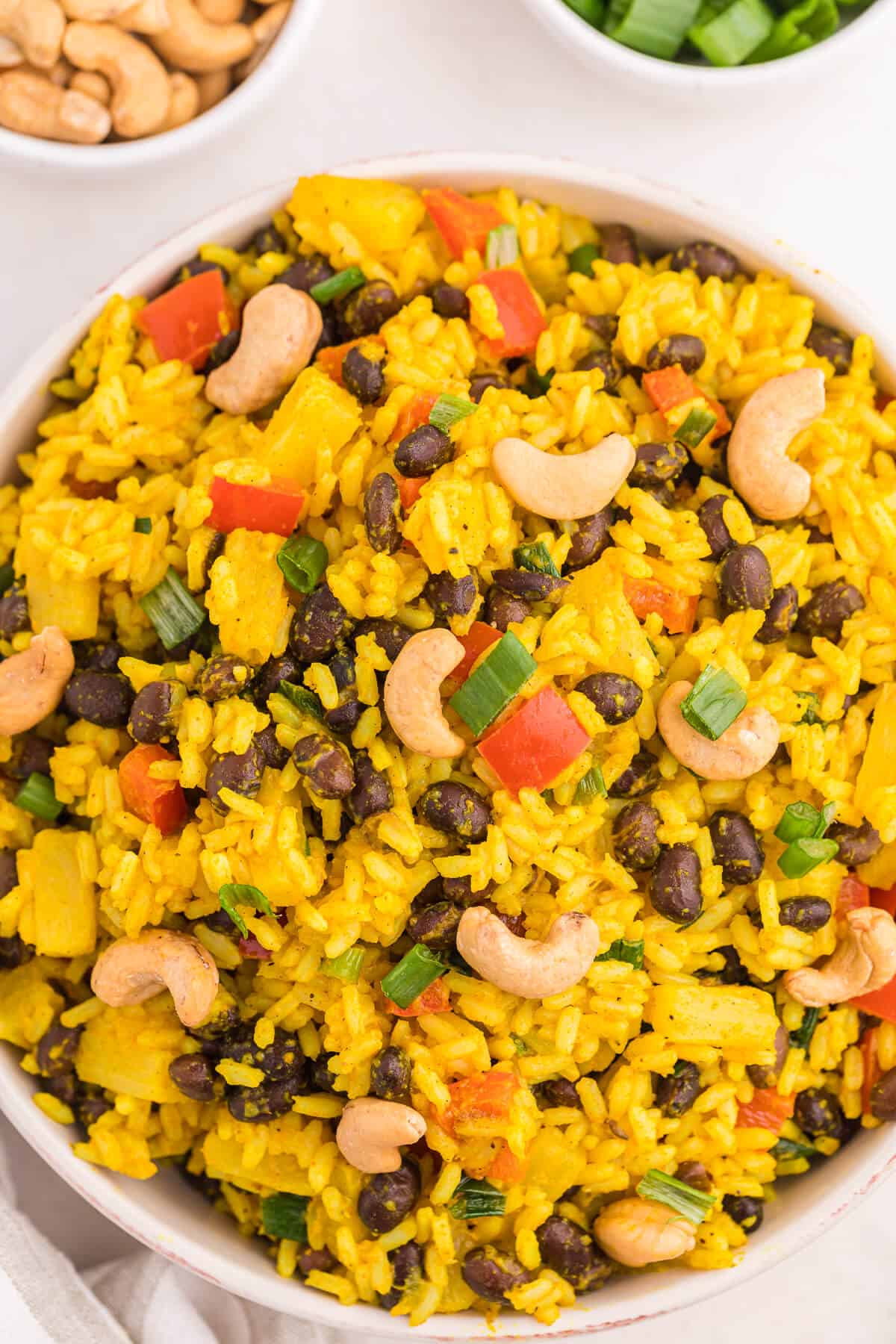 How to Make Jamaican Curried Rice
Step One: Heat oil in medium skillet.
Step Two: Cook and stir red pepper and green onions for 2 to 3 minutes. Then, add the curry powder and stir for 30 seconds until fragrant.
Step Three: Combine cooked rice, sugar, lime juice and salt in medium-sized bowl.
Step Four: Stir in the cooked vegetable mixture, pineapple, and black beans. Just so you're aware, the rice may be served warm or at room temperature.
Step Five: Sprinkle with cashews just before serving and enjoy!
Equipment Needed
This post contains affiliate links.
What to Serve with Jamaican Curried Rice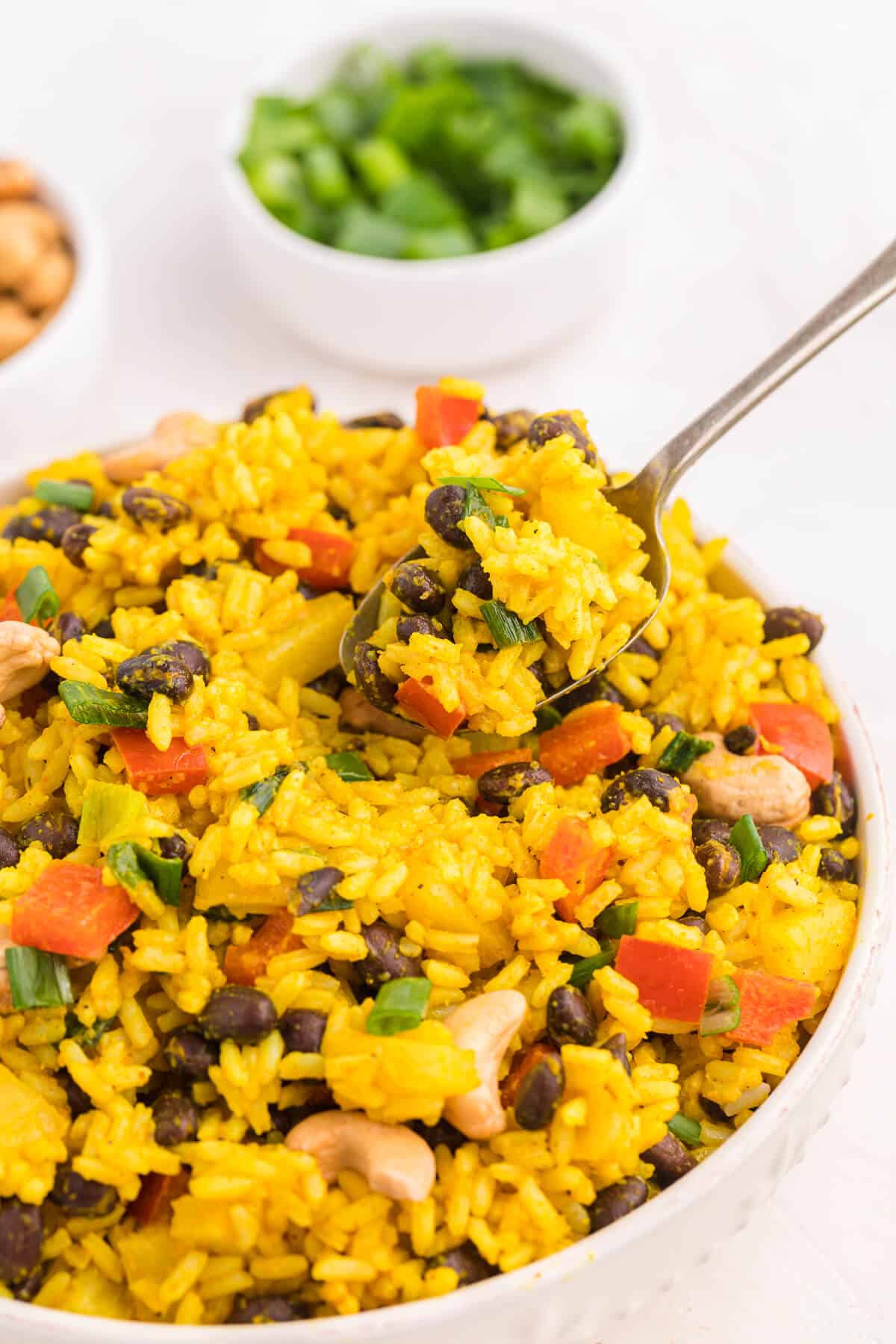 Recipe Tips and Tricks
Wash your rice – you may know this already, but it's worth washing your rice 4 or 5 times before cooking to release the starch. This should avoid your dish getting too sticky!
Watch out for seasonings – the seasonings you'll use for this recipe are simple, but you want to be careful with how much you add. Although the curry powder may smell and look delicious, overloading your dish with the stuff can make it taste bitter and overpowering (which we obviously want to avoid!).
Don't be afraid to toast your rice – If you're feeling bougie, try toasting your rice for a few minutes before cooking. This should lend your grains extra depth which will only elevate your dish.
Check your curry powder – basic curry powders usually include Indian spices. To make this dish correctly, look for a Jamaican or Caribbean-style curry powder. However, there's nothing wrong with using Indian curry powders – you'll just get a slightly different, but still delicious result.
Look carefully at your salt – when cooking, you'll want to use kitchen or cooking salt. Although you can certainly use table salt to make this dish, I recommend using slightly less than called for in the recipe to avoid your dish tasting too salty.
Variations and Substitutions
Switch things up on the rice front! You can use whatever rice you have on hand for this recipe, but I recommend paying attention to the kind of rice you use. For example, using brown rice will give your dish an earthier, nutty taste, while white basmati rice will be naturally softer. Once you've made the recipe a few times, switch things up for a different feel.
To add more greens to your dish, add some frozen peas to the mix. Kids usually tolerate peas well, so they're an excellent way to hit that 5-a-day if they're fussy about the other ingredients.
You can add raisins or slivered almonds to the mix for extra sweetness and crunch!
If you fancy dialing up the heat even further, consider adding chopped red or green chili. To keep things slightly more manageable on the spice front, remove the seeds!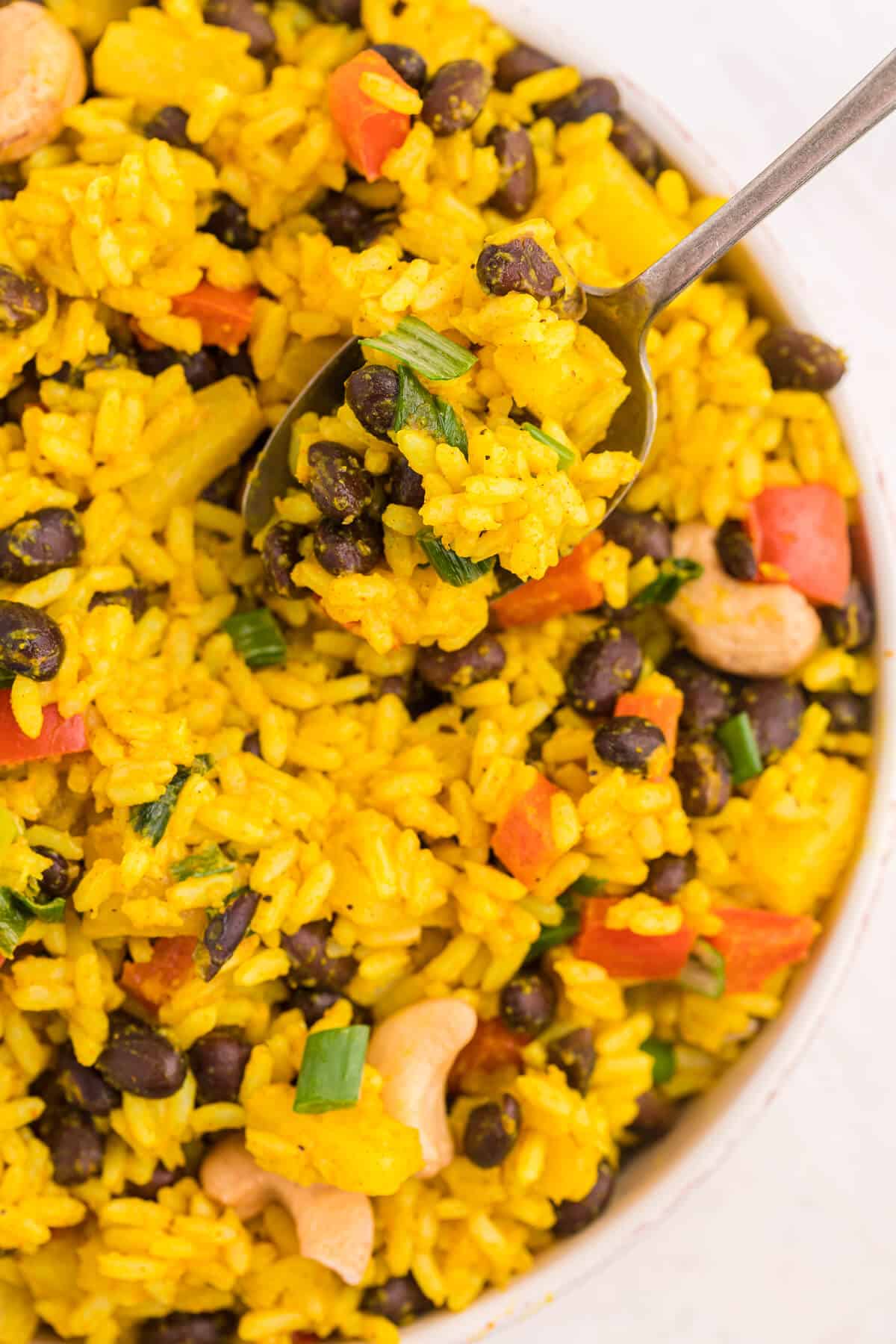 Storage Instructions
This Jamaican Curried Rice dish keeps well in the refrigerator for 4 or 5 days.
Although you can leave it in a bowl covered with plastic wrap, I recommend keeping bacteria out with an airtight container.
Before putting it in the fridge, just remember to let it cool completely first!
Can I Freeze?
Yes, you can certainly freeze this Jamaican Curried Rice Recipe!
Simply pop each portion into a ziptop freezer bag and remove as much air as you can. You can then seal and freeze. If properly stored, your rice will last for up to 6 months in the freezer.
When you come to eat it, you can either thaw your rice in the freezer, cook it directly from frozen in a hot pan, or add a bit of water to the rice and blast it in the microwave. The most important thing to remember is that your rice needs to be piping-hot before serving!
Recipes with Curry Powder

Follow me on Instagram @simplystacieblog, Facebook at Simply Stacie or Pinterest at @simplystacie and let me know how you liked this recipe and my other recipes.
If you make the recipe, rate it on the recipe card below and tag me on Instagram and use #simplystacie. I like sharing the photos on my Instagram stories!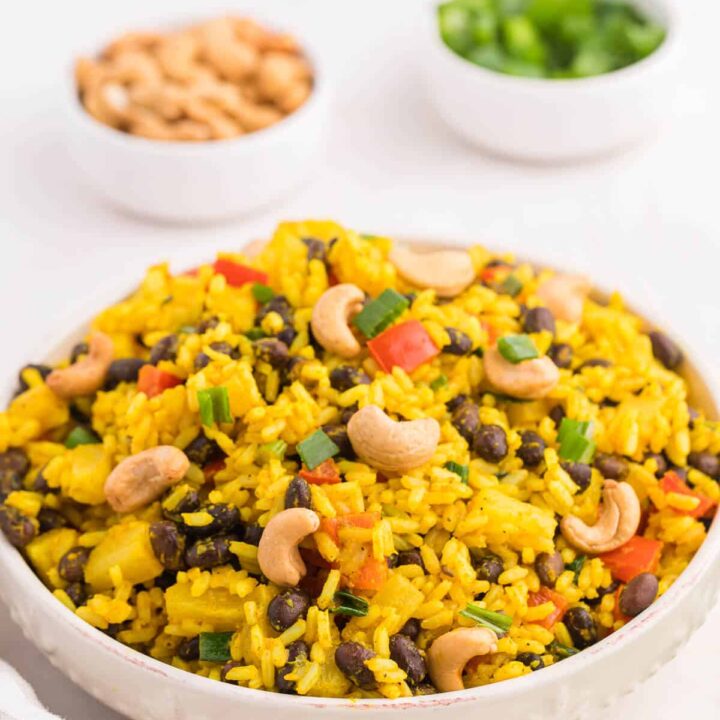 Jamaican Curried Rice Recipe
This easy side dish is packed full of delicious flavor. A curried rice medley with pineapple, veggies, black beans and cashews.
Ingredients
2 teaspoons extra virgin olive oil
1 red pepper, diced
1/2 cup green onions, sliced
2 tablespoons curry powder
4 cups hot cooked rice
1 tablespoons sugar
2 tablespoons lime juice
1/2 teaspoon salt
1 can (20 oz) pineapple chunks, drained
1 can (15 oz) black beans, rinsed and drained
1/4 cup salted cashews
Instructions
Heat oil in medium skillet. Cook and stir red pepper and green onions 2 to 3 minutes. Add curry powder; stir 30 seconds.
Combine cooked rice, sugar, lime juice and salt in medium-sized bowl.
Stir in cooked vegetable mixture, pineapple and black beans. Rice may be served warm or at room temperature.
Sprinkle with cashews just before serving.
Recommended Products
As an Amazon Associate and member of other affiliate programs, I earn from qualifying purchases.
Nutrition Information:
Yield:

6
Serving Size:

1
Amount Per Serving:
Calories:

264
Total Fat:

8g
Saturated Fat:

1g
Trans Fat:

0g
Unsaturated Fat:

6g
Cholesterol:

0mg
Sodium:

398mg
Carbohydrates:

45g
Fiber:

4g
Sugar:

11g
Protein:

7g