Take your side dish game to the next level with this delicious Poutine. This classic Canadian dish is easy to make and a huge hit for your next summer get-together, game day party, and more. Combining crispy homemade fries, delectable poutine gravy, and squeaky, delicious cheese curds, this dish will have you craving it time and time again, whether you are Canadian or not.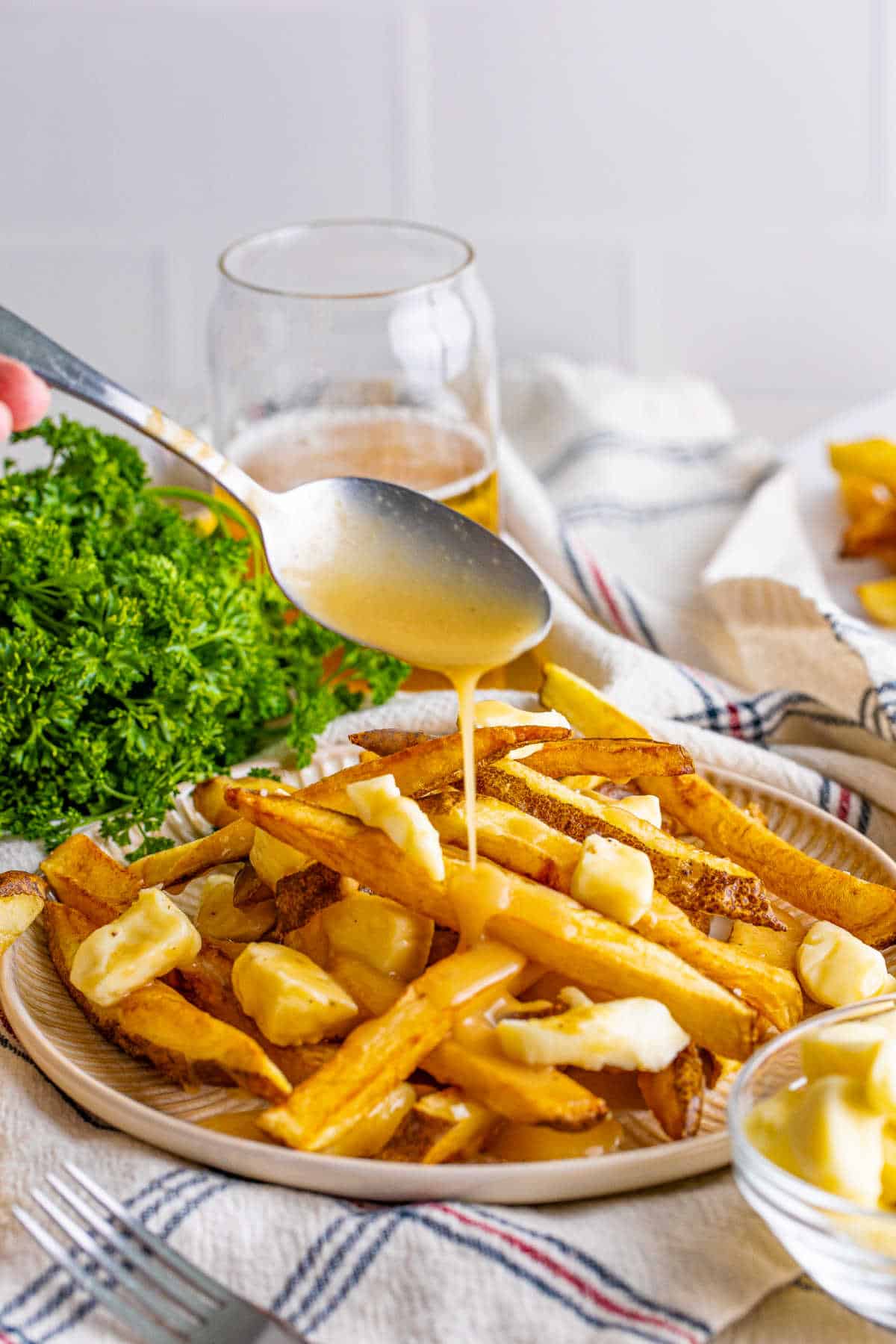 Have a hankering for something incredibly indulgent? Look no further than this great recipe. This poutine makes an amazing side dish, main dish, snack, and more. No matter why you choose to try this authentically Canadian dish, you will be incredibly impressed by its simplicity. Combining delicious homemade french fries with hot gravy and fresh cheese curds creates a fantastic and delicious comfort food, perfect for any occasion.
Make this poutine recipe for your next gathering and watch people devour this amazing treat. The squeaky cheese, the extra-crispy fries, and the brown gravy combined take traditional fries to the next level. Easy to make and using incredibly simple ingredients, you will never want to enjoy fries any other way.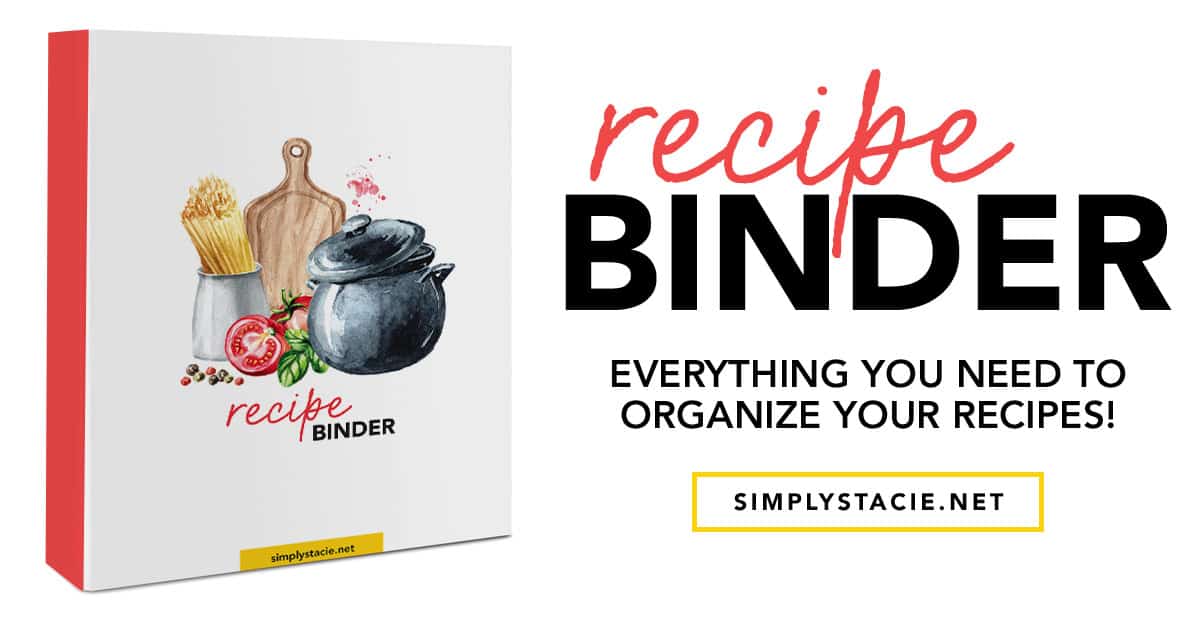 Why You'll Love Poutine
Comfort Food: Poutine is the epitome of comfort food. Combining crispy fries, squeaky cheese curds, and savory gravy creates a satisfying and indulgent dish that provides warmth and indulgence.
Unique and Delicious Flavor: Poutine has a unique flavor profile that combines the fries' saltiness, the cheese curds' squeakiness, and the gravy's richness. This combination creates a harmonious blend of savory and satisfying flavors.
Versatile: While a classic poutine recipe consists of fries, cheese curds, and gravy, there is room for creativity and customization. People can experiment with different cheese curds, add toppings like bacon or mushrooms, or even incorporate different types of gravies to personalize their poutine experience.
Crowd-pleaser: Poutine is a dish that can be enjoyed and shared with friends and family. It often serves as a crowd-pleasing appetizer or a main course at gatherings, parties, and events.
Canadian Culture: Poutine is strongly associated with Canadian cuisine and is considered a cultural icon in Canada. It is a source of pride for many Canadians and has gained popularity internationally. Making, eating, and serving poutine can be a way to celebrate and embrace Canadian culture and traditions.
Easy to Make: Poutine is relatively easy to make, making it an excellent choice for the at-home cook. The process involves frying the potatoes, preparing a simple gravy, and topping them with cheese curds. The ease of making this recipe means that anyone can enjoy the deliciousness of poutine without too much fuss.
Ingredients
The full printable recipe card with measurements and instructions is found at the bottom of the post.
Large russet potatoes
Kosher salt
Peanut oil
Unsalted butter
All-purpose flour
Garlic powder
Onion powder
Black pepper
Low-sodium beef stock
Unsalted chicken stock
Cheese curds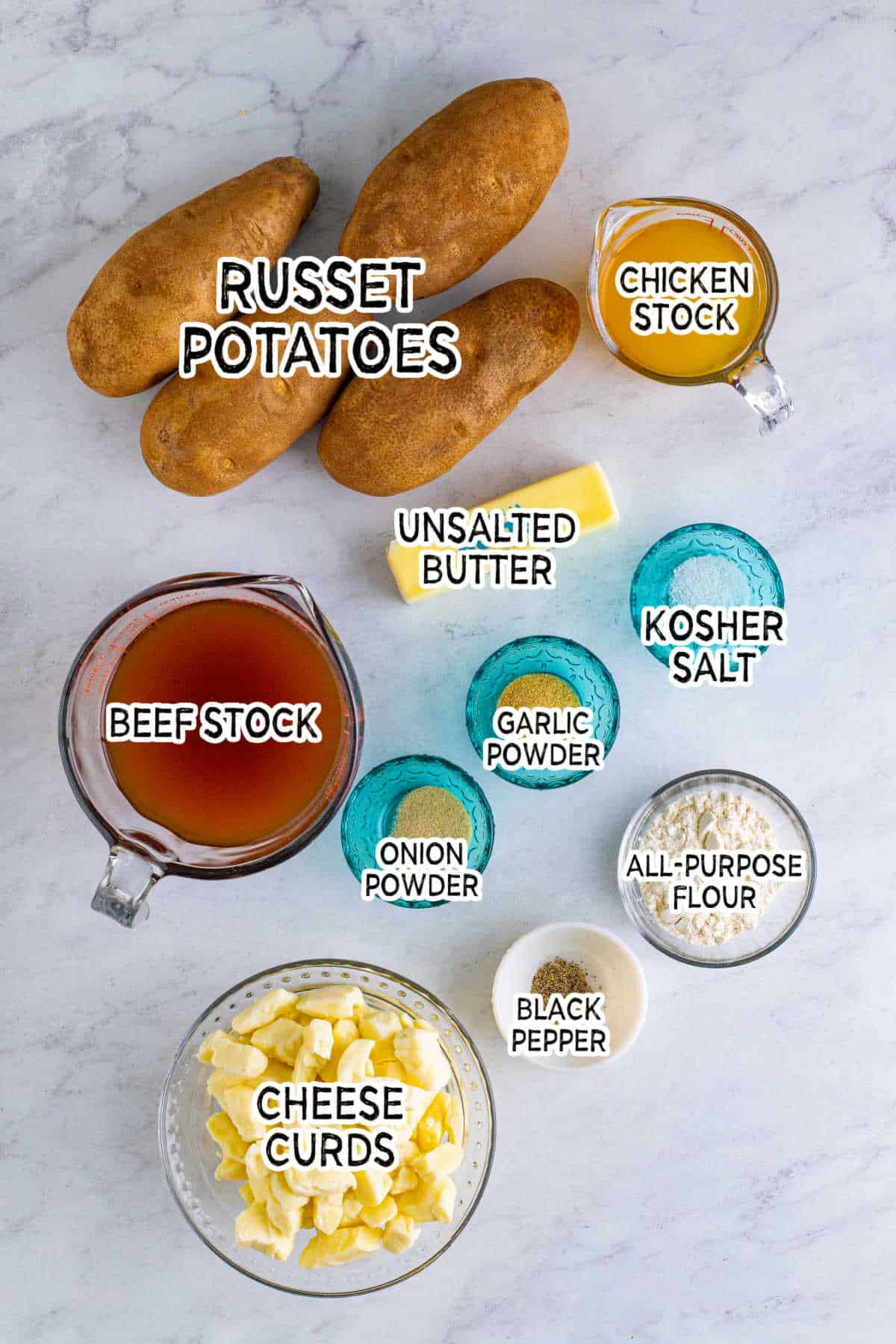 How to Make Poutine
Step One: Begin by washing the potatoes and optionally peeling them. Cut the potatoes into ½ inch planks, then slice them into sticks of the same thickness. Place the cut potatoes in cold water until ready to fry.
Step Two: Heat peanut oil or your preferred cooking oil in a deep fryer or large Dutch oven. The oil level should be about 5 inches up the side of the pot. Heat the oil to 325°F.
Step Three: Once the oil reaches the desired temperature, remove the potatoes from the water and thoroughly dry them. Removing excess moisture from the potatoes is crucial to prevent oil splattering.
Step Four: Add handfuls of the potatoes to the hot oil, blanching them. Cook for approximately 10 minutes, gently stirring occasionally to prevent sticking. The aim is to cook the potatoes without excessive browning. Transfer the cooked potatoes to a cooling rack placed on a sheet tray. Repeat with the remaining potatoes.
Step Five: While the potatoes are cooking, prepare the gravy. Melt the unsalted butter in a small saucepot over medium heat. Add the flour, garlic powder, onion powder, salt, and pepper, whisking until it forms a paste. Cook for 2 minutes, whisking constantly.
Step Six: Gradually pour the beef stock, followed by the chicken stock, into the saucepot while whisking constantly to prevent lumps. Bring the mixture to a simmer and let it simmer for approximately 20 minutes to thicken slightly. Whisk occasionally to prevent burning.
Step Seven: Increase the fryer temperature to 375°F. Place handfuls of the cooked fries back into the hot oil to crisp them up. Fry for 2-3 minutes until they turn golden. Drain the fries on a wire rack placed on a sheet tray. Sprinkle a little kosher salt on top. Repeat the process with the remaining fries.
Step Eight: Place the fries on a plate when ready to serve. Top them with the prepared gravy. Add ½ cup of cheese curds on top. Serve immediately while hot, and enjoy!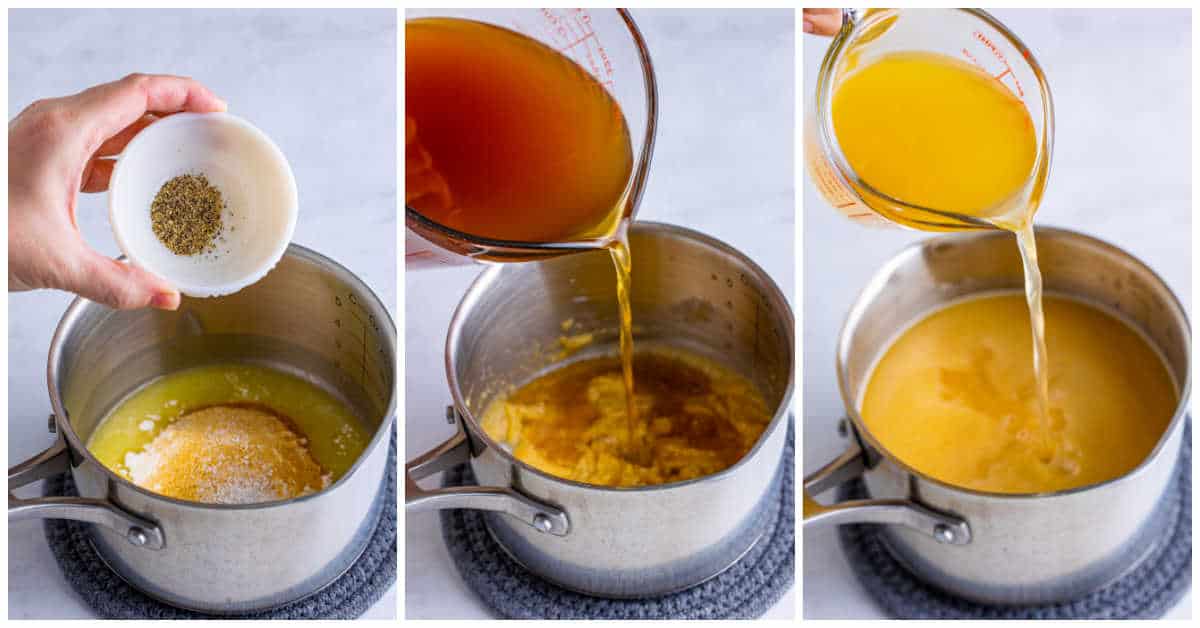 Equipment Needed
This post contains affiliate links.
What to Serve with Poutine
Poutine is usually served as a side dish or a main dish. It can be enjoyed with several different recipes to make it a delicious meal.
Variations and Substitutions
Gravy Options: Get creative with different types of gravy for your poutine. Adding herbs like rosemary or thyme to the gravy gives it an additional depth of flavor. You can also use onion or mushroom gravy for a unique twist and flavor profile.
Cheese Options: While traditional, authentic poutine calls for cheese curds, you can experiment with different types of cheese or cheese blends. Just remember, making these changes will ultimately change the flavor and authenticity of the dish. Mozzarella, cheddar, or a combination can be great alternatives to cheese curds. Use your favorite melting cheese or try different combinations to find your preferred flavor and texture.
Garnishes and Toppings: Poutine can be customized with fun toppings and garnishes. Some popular garnishes and toppings include mushrooms, bacon, caramelized onions, green onions, or delicious smoked pulled pork. These toppings can take your poutine to the next level.
Sweet Potato Fries: Rather than russet potatoes, use sweet potato fries for a healthier or sweeter twist. The sweet and savory combination of sweet potato fries with cheese curds and gravy can be a fun variation that will impress.
Spices and Seasonings: Experiment with other seasonings and spices to enhance the flavor of your poutine. Add a pinch of smoked paprika, cayenne pepper, or chili powder to the fries or gravy for a hint of spice. You can also sprinkle freshly chopped herbs like parsley or cilantro for freshness and color.
Vegetarian or Vegan Options: Use vegetable or mushroom stock instead of beef and chicken stock in the gravy. This will suit those who prefer a vegetarian take on poutine. For vegan poutine, choose plant-based cheese alternatives instead of cheese curds.
Storage Instructions
Leftover poutine? Very doubtful. However, if you are looking to store your Poutine for future meals, you will want to ensure that you follow a few simple steps. First, you will want to ensure that you only assemble the amount of poutine you intend to eat. Store the rest separately. Place your fries, gravy, and cheese curds in separate air-tight containers in the fridge, and enjoy them within 3-4 days.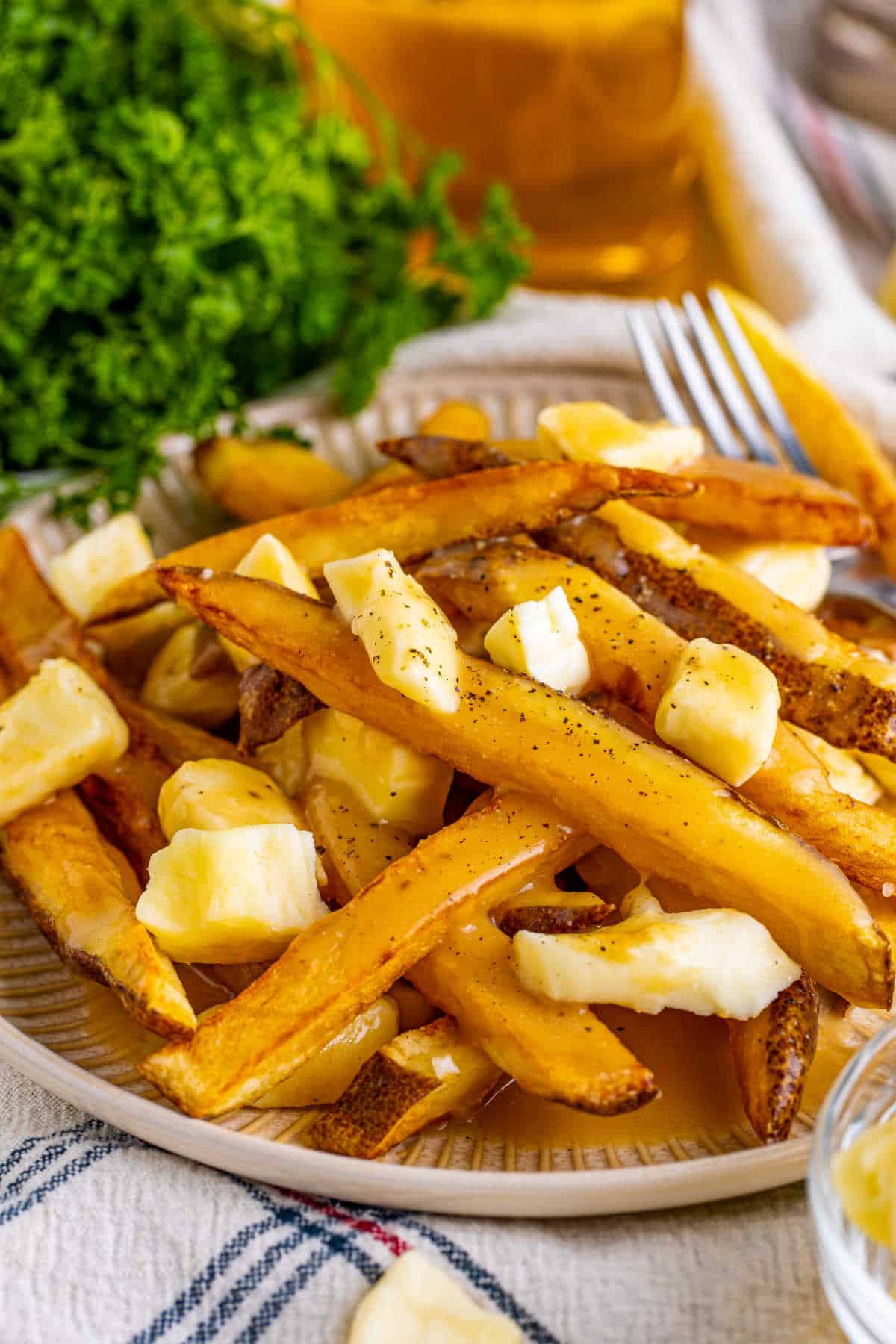 Can I Freeze?
No. You do not want to freeze your poutine. Freezing will threaten the integrity of the ingredients and change the flavor profile.
Recipe Tips and Tricks
Skin-on potatoes: Leave the skin on your potatoes for texture and extra color. This adds visual appeal and a better mouth feel to your french fries.
Uniform cuts: Ensure you cut your potatoes into uniform-sized pieces. This will ensure that the fries all cook at the same rate.
Thoroughly dry the fries: Start with dry potatoes to ensure your fries are crispy. Once you have cut and washed the potatoes, you want to dry them properly before you fry them. Any additional moisture on your potatoes can prevent your fries from achieving the crispy result you are looking for.
Use authentic cheese curds: For the most authentic poutine experience, you want to use real squeaky cheese curds. While they are generally easy to find in Canada (or Wisconsin), you may find it somewhat difficult to find them at your local supermarket. You may have to check an artisan cheese shop to find them.
Assemble when ready to serve: Do not assemble your poutine until prepared to serve it. Making this delicious dish too early will cause it to become soggy and not quite as enjoyable as it should be.
What is Poutine?
Poutine is a delicious dish from fries topped with squeaky cheese and warm and comforting gravy. It makes for a delightful side dish, main dish, or snack.
Where Did Poutine Originate?
While the exact origins of poutine are still highly debated, there is no doubt that it was created and enjoyed in rural Quebec. In the late 1950s, Poutine was born, and to this day, no one knows who created it.
Several restaurants claimed they originated poutine, but there is no absolute consensus. The most popular story is that poutine was first created at a restaurant, formerly Le Lutin Qui Rit, in Warwick. However, in 1964 Jean-Paul Roy, the owner of Le Roy Jucep, registered a trademark claiming they were the originators of the Canadian dish.
This can be a heated debate amongst Canadians, so it is best to enjoy the dish.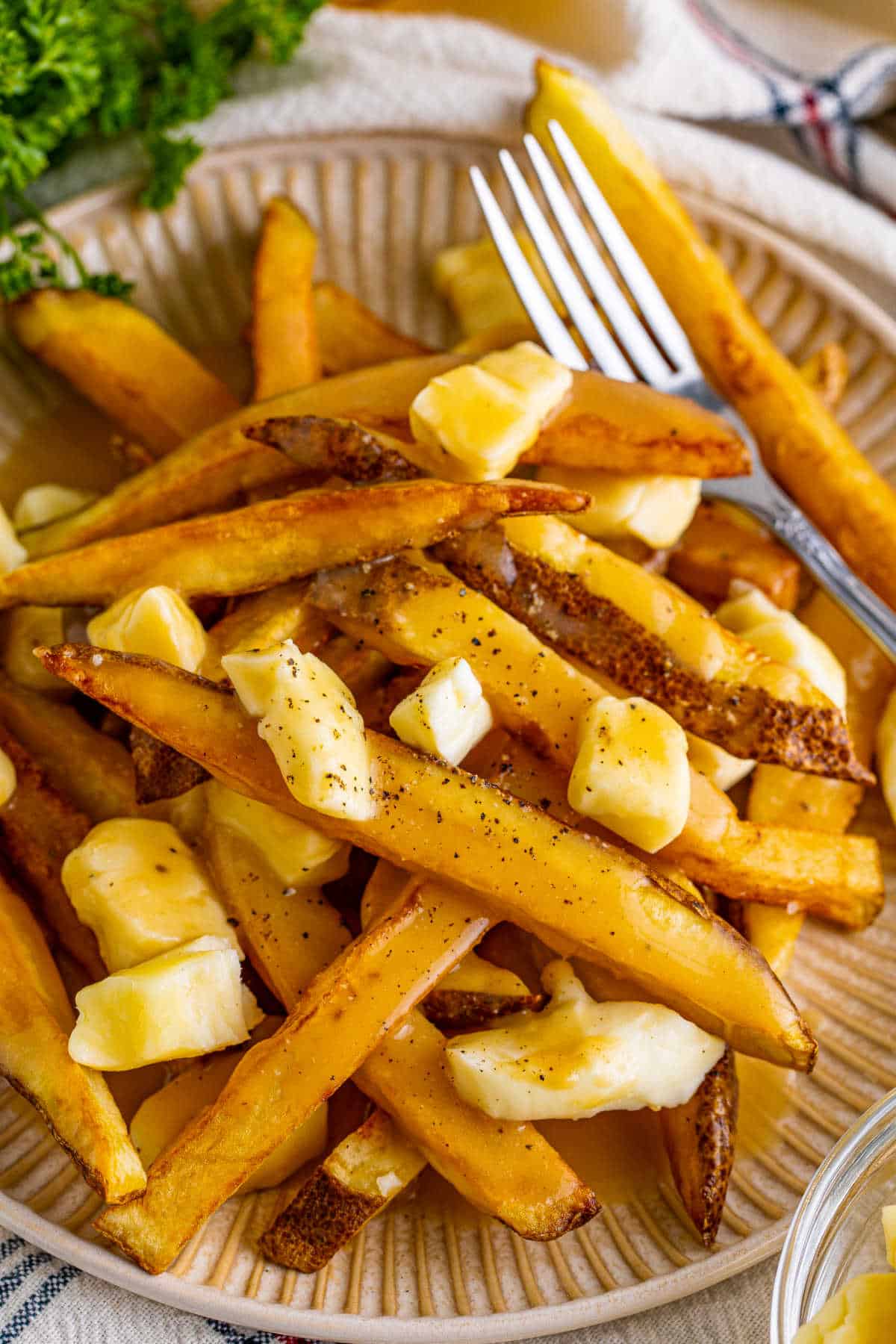 How Do You Pronounce Poutine?
How people pronounce poutine is highly debated. Some say it like: "Poo-teen," While others call it "Poo-tin." French Canadians generally pronounce poutine as "PutsIn."
What Kind of Cheese to Use?
To make authentic poutine, you must use white cheese curds. While some people use mozzarella cheese or other hard cheeses in poutine, this detracts from its authenticity. If you want authentic Canadian poutine, use salty cheese curds.
Substitute for Cheese Curds
While traditional poutine uses real squeaky cheese curds as the key ingredient, you can substitute the type of cheese you use if you can't find them at your local grocery store or artisan cheese shop. Use cheddar, mozzarella, or even Monterey jack cheese instead of the cheese curds if necessary.
Can Poutine be Reheated, and if so, What is the Best Way to do it?
Poutine can easily be reheated, but you must reheat the ingredients individually. Reheat your fries in the oven or air fryer, gravy stove top, or microwave. Then assemble and serve.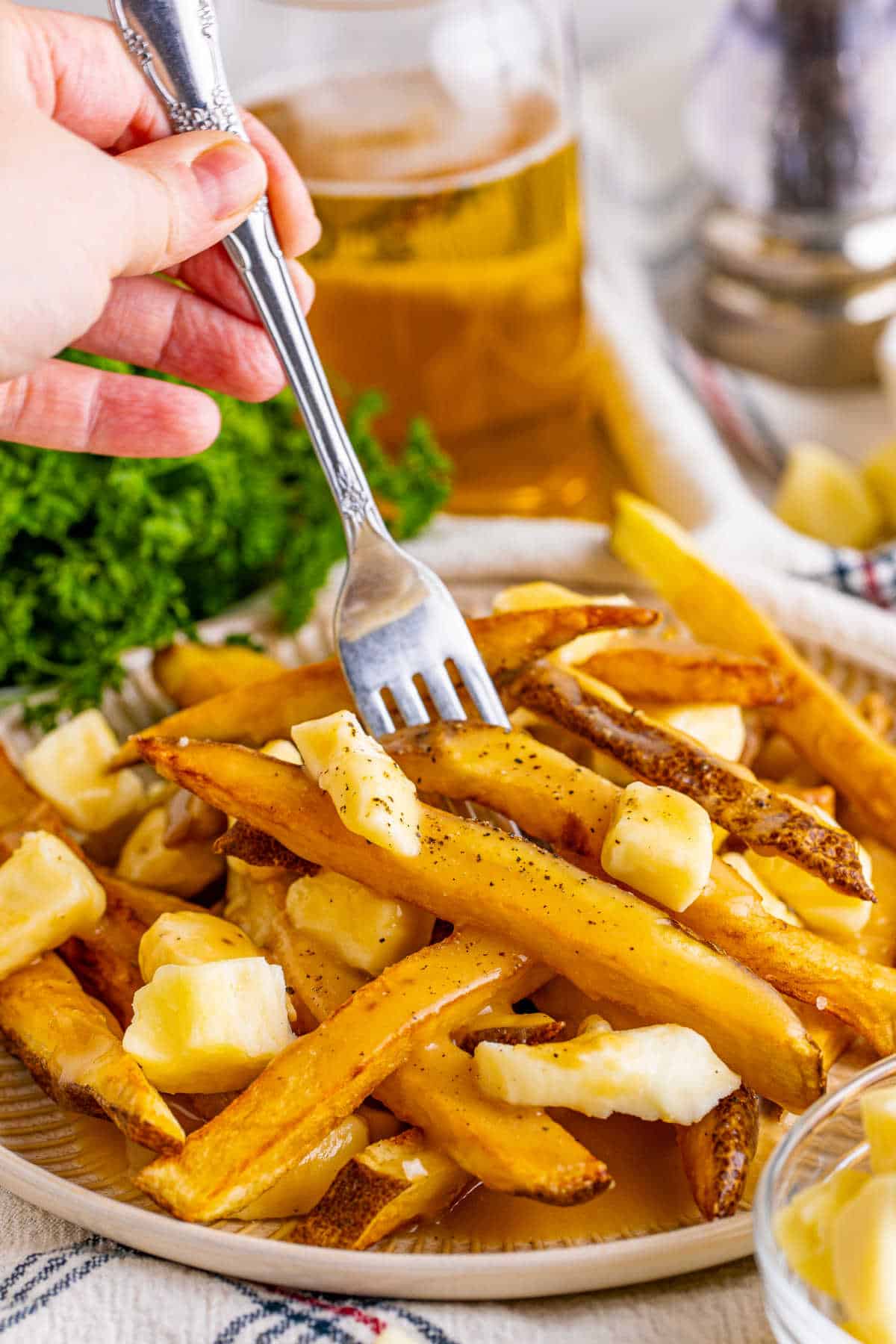 Can You Use Other Types of Potatoes for Poutine?
Yes, you can. Use any kind of potatoes you desire to make your poutine. Just keep in mind that russet potatoes make the best fries for poutine. They have less moisture than other potato types and result in crispier fries.
What Type of Fries is the Best for Poutine – Crispy or Soft?
The best type of fries for poutine is very crispy. Their crispness will allow them to stand up to the gravy and create a great texture to your poutine.
Can I make Poutine with Store-Bought Ingredients?
You can choose to substitute store-bought ingredients into your poutine. However, it will provide a different result than making them at home. You can use your favorite frozen french fries and a premade gravy mix if you so desire.
Canadian Recipes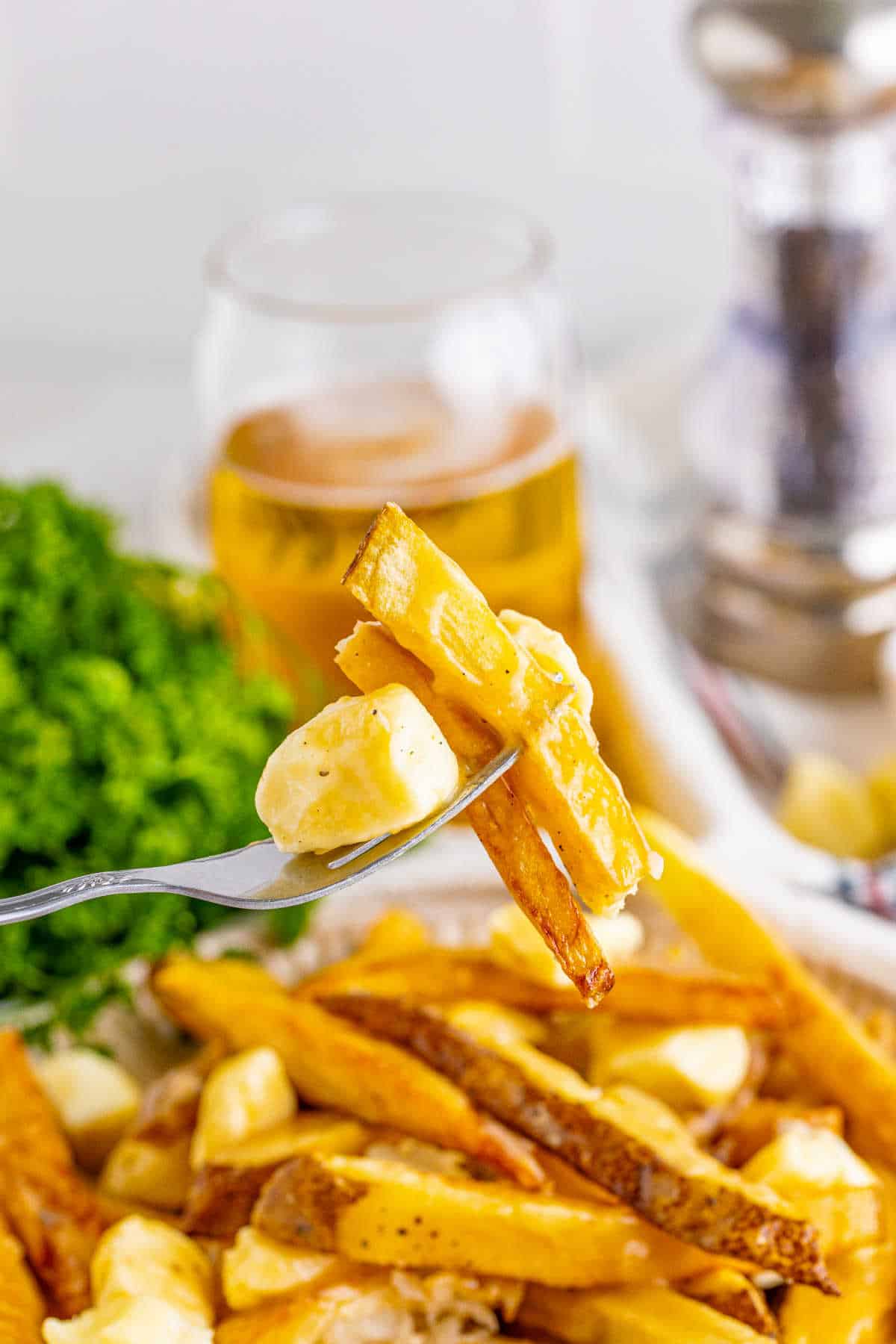 FAQ
How long does this recipe take to make?
The prep time for this poutine is 15 minutes, and the cooking time is 1 hour. You can enjoy this delicious Canadian delicacy in less than an hour and a half.
Does this recipe make many servings?
You can make four servings of poutine with this recipe. It can easily be doubled to serve a larger crowd.
Fry Recipes
Follow me on Instagram @simplystacieblog, Facebook at Simply Stacie, TikTok @simplystacierecipes or Pinterest at @simplystacie and let me know how you liked this recipe and my other recipes.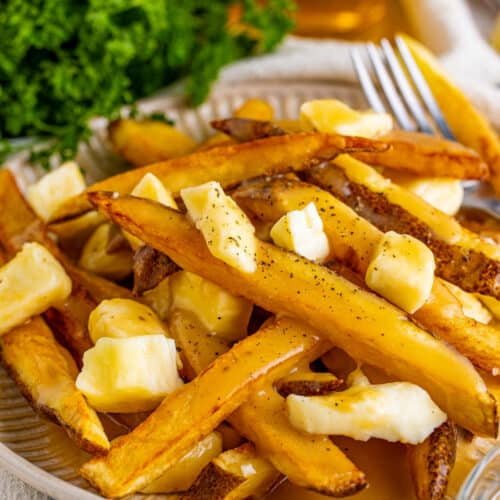 Ingredients
Fries
4

large Russet potatoes

½

tsp

kosher salt

peanut oil

for frying
Gravy
¼

cup

unsalted butter

¼

cup

all-purpose flour

1

tsp

garlic powder

1

tsp

onion powder

½

tsp

kosher salt

¼

tsp

black pepper

3

cups

low sodium beef stock

1

cup

unsalted chicken stock
Instructions
Wash the potatoes and peel them if desired. Cut into ½ inch planks. Cut them don into sticks again at ½ inch. Place them in cold water until ready to fry.

Add peanut oil or your favorite cooking oil to a deep fryer or to a large dutch oven. The oil should go about 5 inches up the side of the pot. Heat to 325°F.

Once at temperature, take the potatoes ouf of the water and pat them dry. It is very important the potatoes are dry so the oil won't splatter.

Place handfuls of the potatoes in the oil. This is the blanching step where you cook the potatoes, but are not browning them at this point. Cook for 10 minutes, gently stirring them every so often so they don't stick together. Take the potatoes out and place them on a cooling rack that is sitting on a sheet tray. Repeat with remaining potatoes.

While you are cooking the potatoes, make the gravy. Place the unsalted butter into a small saucepan over medium heat. Once melted, add the flour, garlic powder, onion powder, salt, and pepper and whisk it in so it is like a paste. Cook 2 minutes, whisking constantly.

Slowly stream in the beef stock followed by the chicken stock while whisking constantly so there are no lumps. Bring to a simmer and simmer for 20 minutes to thicken slightly. Whisk occasionally so it doesn't burn on the bottom.

To serve, raised the oil temperature to 375°F. Place handfuls of the the fres back into the hot oil to crisp. It should only take about 2 to 3 minutes. Drain them on a wire rack that is sitting on a sheet tray. Immediately sprinkle a little of the kosher salt on top and top with the remaining fries.

For serving, place the fries on a plate. Top with gravy. Add ½ cup of cheese curds on top. Serve immediately.
Nutrition
Calories:
570
kcal
|
Carbohydrates:
50
g
|
Protein:
25
g
|
Fat:
31
g
|
Saturated Fat:
18
g
|
Polyunsaturated Fat:
1
g
|
Monounsaturated Fat:
3
g
|
Trans Fat:
1
g
|
Cholesterol:
93
mg
|
Sodium:
1400
mg
|
Potassium:
1312
mg
|
Fiber:
3
g
|
Sugar:
3
g
|
Vitamin A:
359
IU
|
Vitamin C:
12
mg
|
Calcium:
455
mg
|
Iron:
3
mg
The information shown is an estimate provided by an online nutrition calculator. It should not be considered a substitute for a professional nutritionist's advice.
Love Recipes? Join our Free Facebook Group!
Join Mom's Best Recipes to find more delicious family recipes.
Save
Saved!