Corn Chowder is the best summer soup recipe ever! Sweet corn with tender potatoes and red bell pepper in a slightly spicy broth with creamed corn, too!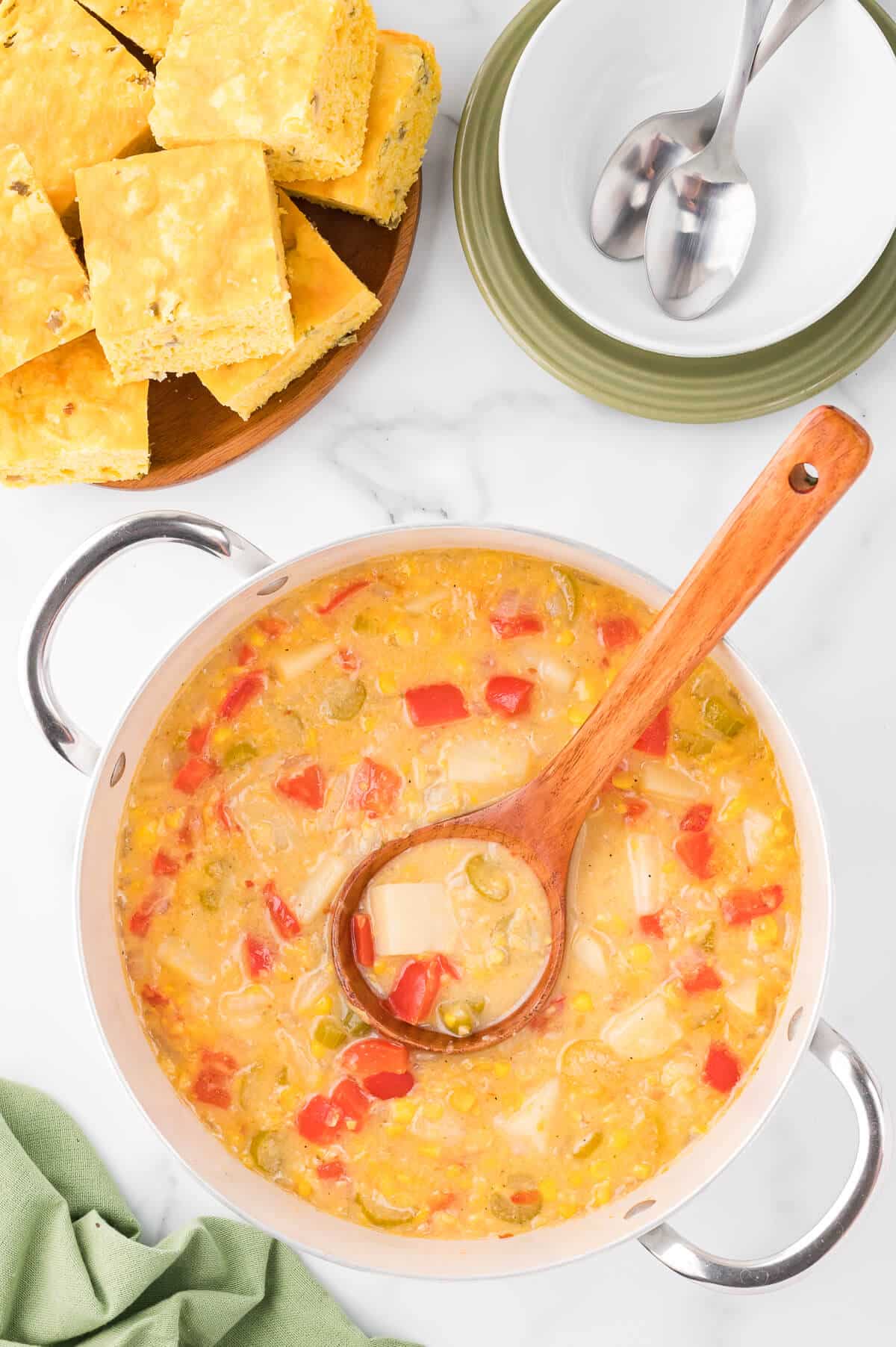 Made from a rich combination of corn and hearty potatoes, this classic soup is a crowd-pleaser that will satisfy your taste buds.
I'm not a big corn fan but I enjoy a bowl of piping hot Corn Chowder. I'll make an exception this time for creamed corn. Corn Chowder is typically a summer soup recipe, but you can make it anytime. This recipe uses canned cream corn and frozen corn, so you don't have to worry about finding fresh corn for the ingredients.
I first tried corn chowder during a visit to a historical site in New Brunswick. We'd stopped for lunch at the little café, and the soup of the day was corn chowder. I thought I'd try it because I didn't want to order a big meal. It was delicious! I love the sweetness of the corn and the savory flavors of the veggies. It even came with a side of cornbread which I devoured by dipping it into my soup. So good.
If you want to impress your whole family or simply treat yourself to a comforting meal, this easy corn chowder recipe is the way to go.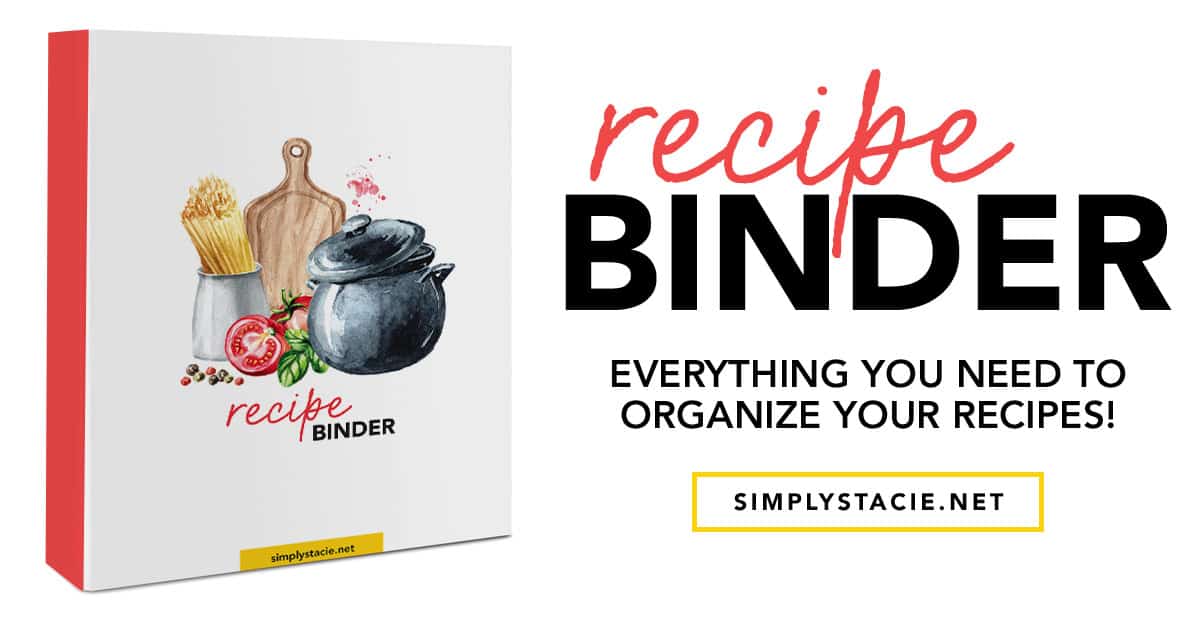 Why You'll Love This Corn Chowder
Sweet, savory taste: The combination of corn, tender vegetables, and a creamy base creates a perfect harmony of sweet and savory flavors that can't be resisted.
Comforting texture: This corn chowder has a rich broth that's both comforting and satisfying, making it ideal for those chilly evenings when you need warmth and comfort.
Easy, adaptable recipe: You don't need to be a seasoned chef to whip up a delicious pot of this hearty soup, as the straightforward instructions make it a breeze to prepare. You can easily customize the dish by adding more vegetables or your preferred protein, like bacon or chicken breasts, to suit your taste preferences.
Ingredients
The full printable recipe card with measurements and instructions is found at the bottom of the post.
Extra virgin olive oil: This will be used for sautéing the vegetables, giving them a nice, light flavor.
Yellow onion: The onion adds a sweet, slightly tangy taste to the chowder base.
Potato: The diced potato provides texture and thickness to the chowder and creates a more satisfying result.
Celery stalk: Celery gives your chowder a delightful crunch and a mild flavor.
Red pepper: Red pepper adds color and sweetness, enhancing the overall taste of the chowder.
Red pepper flakes: A pinch gives the chowder a subtle, spicy kick you'll enjoy.
Chicken broth: The chicken broth provides the base for your chowder, imparting a savory background flavor.
Milk: Milk adds a creamy texture to the chowder and helps blend all the flavors smoothly.
Creamed corn: The cream-style corn is the star ingredient, giving the chowder its unmistakable, sweet corn flavor.
Frozen corn kernels: Adding some extra corn kernels lends a satisfying crunch to every bite of your chowder.
Salt: A little salt helps to bring out the flavors of all the other ingredients in a balanced way.
Black pepper: Finally, pepper adds a bit of warmth and depth to the chowder, rounding out the delicious taste.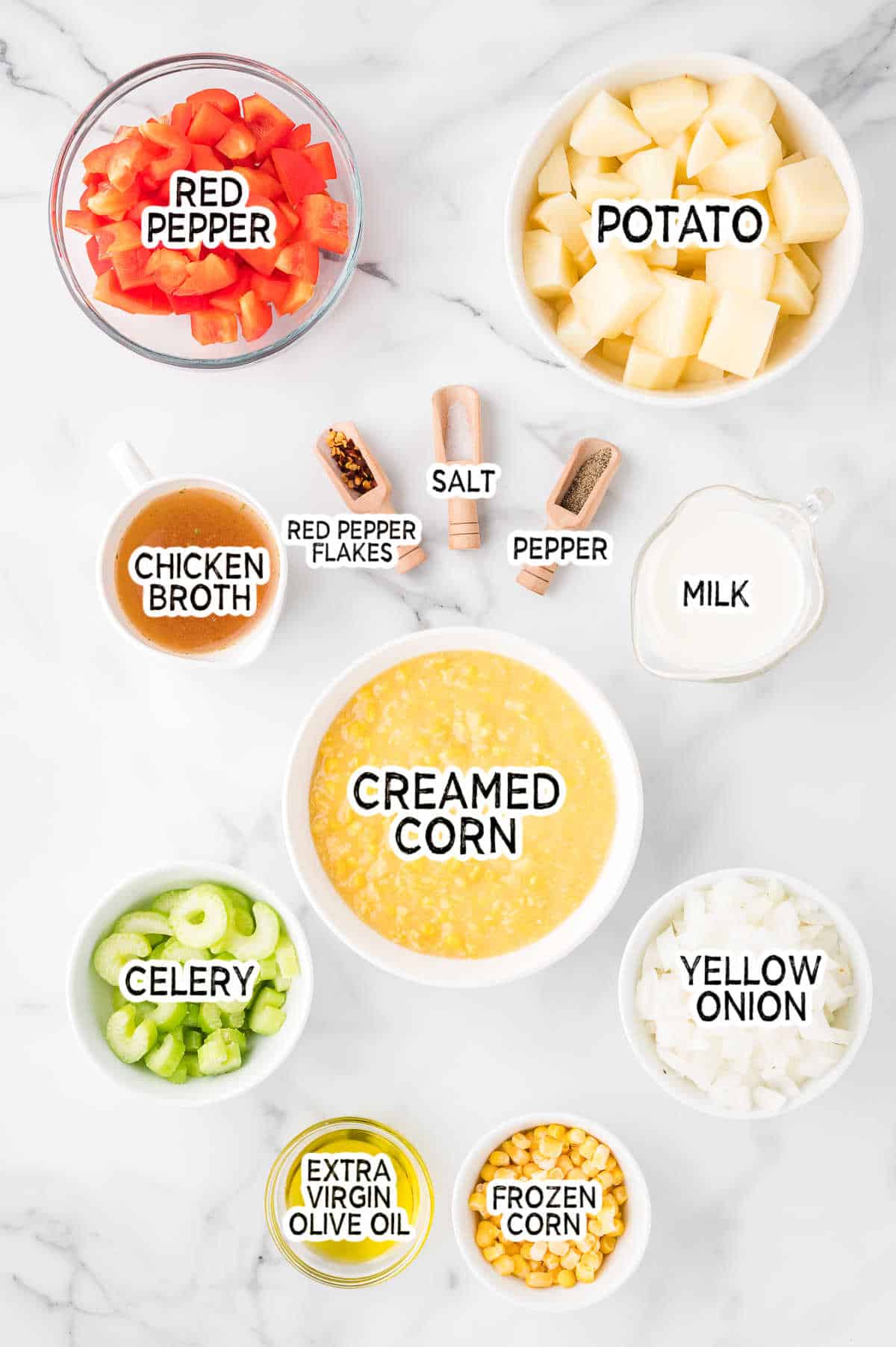 How to Make Corn Chowder
Step One: Grab a large pot and heat some olive oil over medium heat. Add your onion, potato, celery, red pepper, and red pepper flakes into the pot. Make sure to stir the mixture often and let it cook for about 5 minutes, allowing the vegetables to soften and release their flavors.
Step Two: Pour in the chicken broth and bring the mixture to a boil. Once it's boiling, reduce the heat to medium-low, cover the pot, and let it simmer for 10 minutes. This will allow the flavors to meld together and the potatoes to become tender.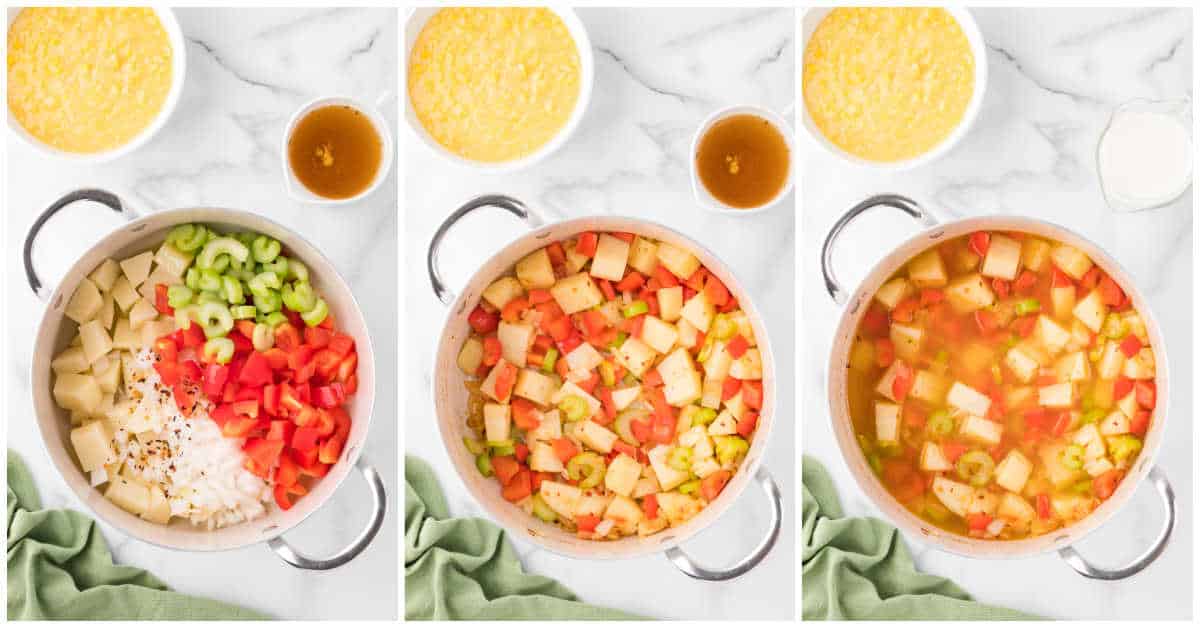 Step Three: Pour in the milk, creamed corn, and frozen corn. Season the chowder with salt and pepper to your preference. Heat the chowder for 5 to 10 minutes until everything is hot and the flavors have all come together.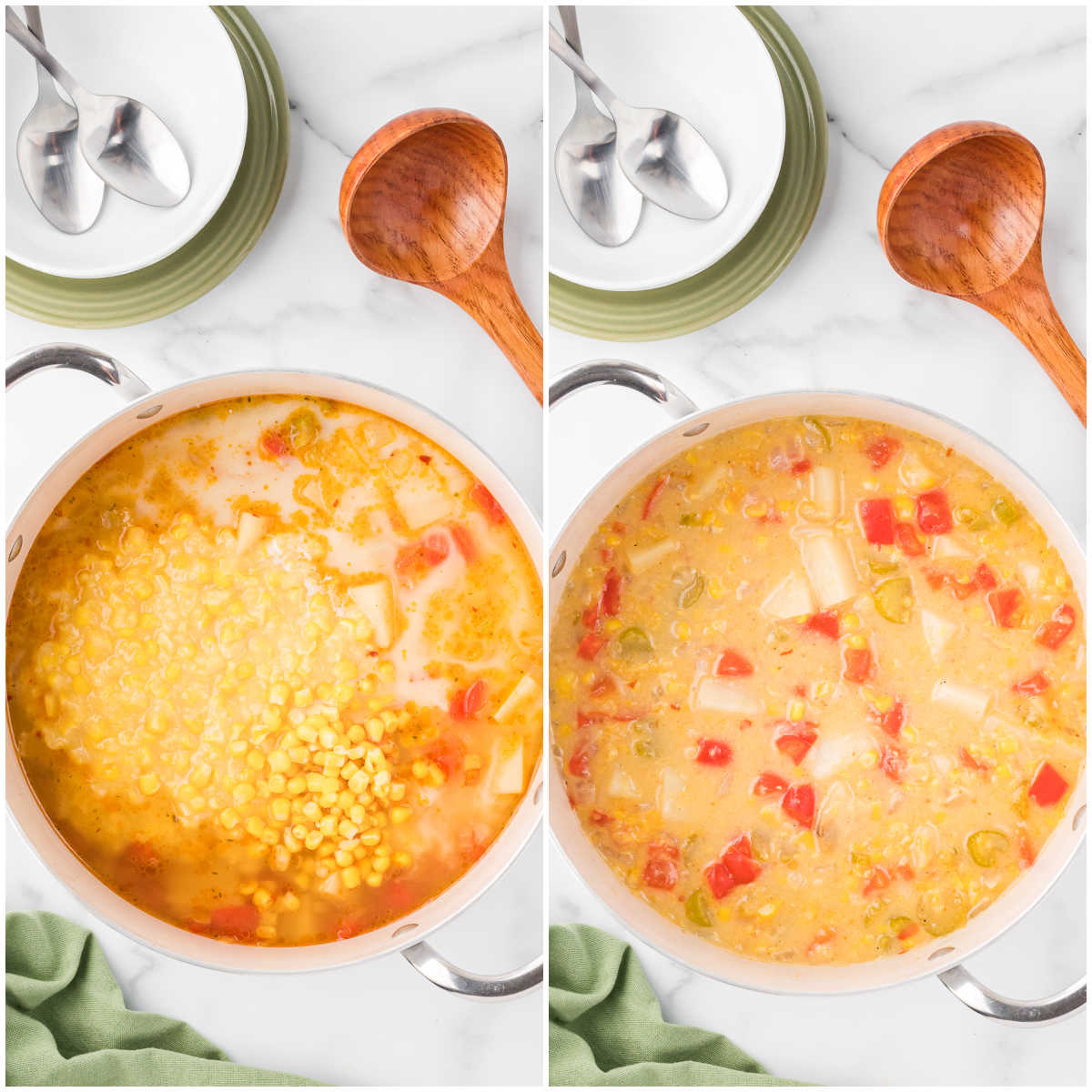 Equipment Needed
This post contains affiliate links.
Serving Suggestions
One popular option is to serve corn chowder with fresh-baked bread, such as crusty bread, rustic focaccia, or pillowy brioche. These bread options allow you to dip and soak up every last bit of the chowder's creamy goodness.
Another savory option is a grilled cheese sandwich. The combination of crispy bread and gooey cheese complements the creaminess and sweetness of the chowder. For an added twist, try experimenting with various cheese or bread combinations for that perfect grilled cheese.
If you want something more substantial to pair with corn chowder, consider adding a side of smoked sausage. The salty and garlicky flavors of kielbasa, Andouille, or cajun-smoked sausages pleasantly contrast the chowder's richness.
Variations and Substitutions
One popular variation of corn chowder is adding protein, such as chicken or bacon.
If you're looking to adjust the ingredients for dietary restrictions or preferences, you can make some simple substitutions. For example, you can swap in:
Vegetable broth for chicken broth to make the dish vegetarian.
Dairy-free milk and cream alternatives to cater to vegan or lactose-intolerant guests. Try coconut milk or cashew cream.
When it comes to the base of your corn chowder, consider modifying the texture to suit your taste—puree half of the corn kernels in a blender to create a smoother chowder. You can also use fresh sweet corn.
Now let's say you don't have any corn on hand, but you still crave a similar chowder. Some potential corn substitutes include:
Broccoli: offers a slightly sweet, mild flavor and crunchy texture.
Green peas: another vegetable with a sweet, mild flavor that can work well in a chowder.
Slow Cooker Method
Making corn chowder in a slow cooker is a simple and convenient way to enjoy this classic comfort food. Add all the ingredients except the milk and olive oil to the slow cooker. Cover and cook on LOW for 6 hours. In the last half hour of cooking, stir in the milk.
Add-Ins
When making corn chowder, you have plenty of options for additional ingredients to enhance the flavor and texture of your dish. Here are a few suggestions to consider:
Protein: You can easily add proteins like diced bacon, cooked turkey, or shredded chicken to make this chowder heartier. Simply cook the meat separately and add it to the chowder once the vegetables are tender.
Vegetables: Include other vegetables to add nutrients and flavor. Some popular choices are bell peppers, celery, and carrots. You can cook these along with onions and corn kernels.
Herbs and Spices: Customize the taste of your corn chowder by experimenting with different herbs and spices. Fresh herbs like thyme, cilantro, or rosemary can be added during the cooking process, while dried herbs and spices like onion powder, bay leaf, cumin, curry powder, or paprika can be stirred in just before serving.
Spicy, cheesy twist: Add bacon, shredded cheddar cheese, and a dash of hot sauce. Garnish with green onions.
Southwestern-style: Add roasted red peppers or poblano pepper, smoked paprika, and fresh cilantro.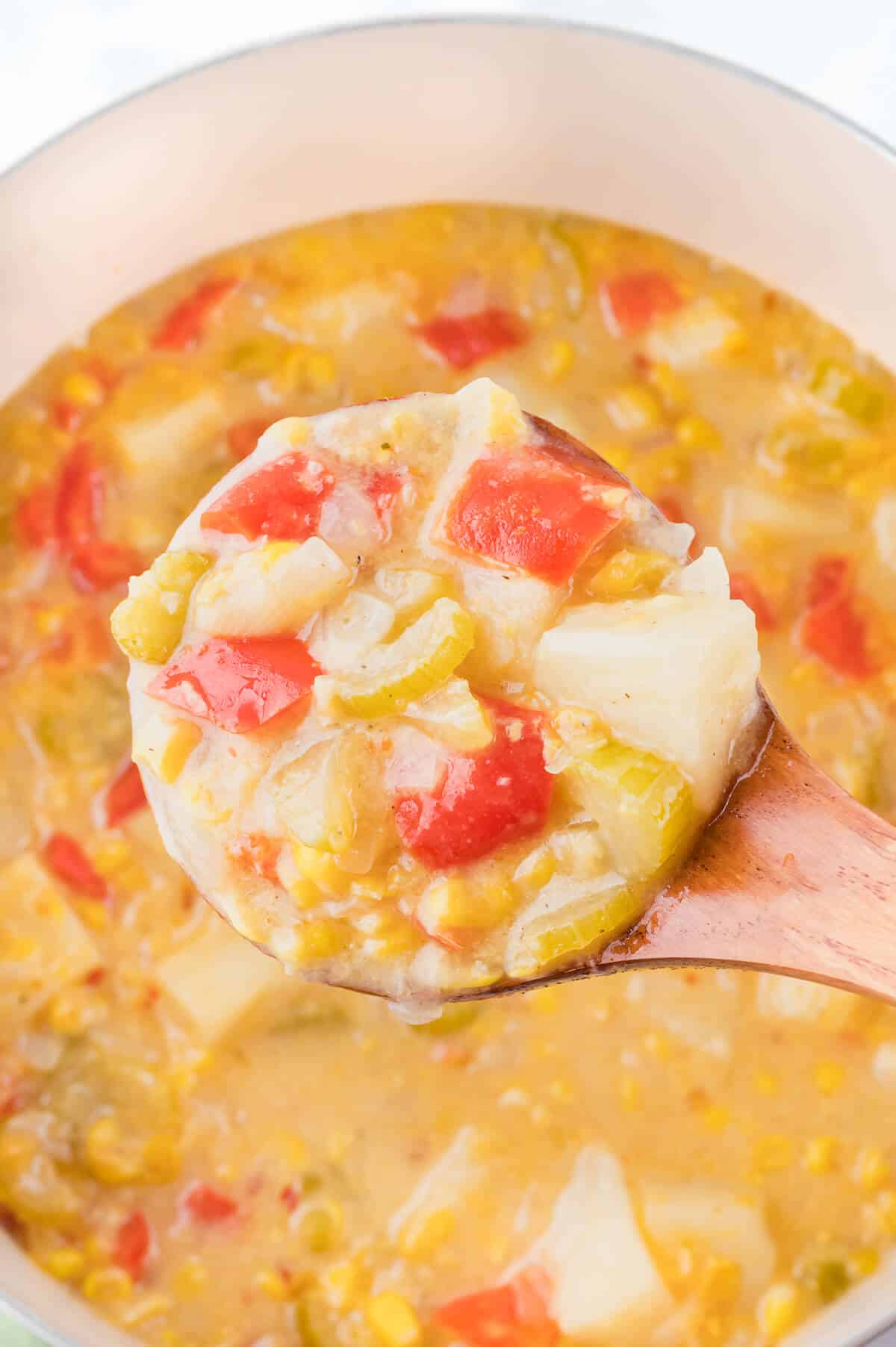 Storage Instructions
Allow your corn chowder to cool down to room temperature. It's best not to place hot soup directly into the refrigerator as it can raise the temperature and potentially encourage bacterial growth.
Next, choose an appropriate container for storage. Airtight containers are best for preserving the freshness of your corn chowder. Glass or BPA-free plastic containers with tight-fitting lids will do the job effectively.
Now that your corn chowder has cooled and you've selected a suitable container transfer the soup into the container and ensure the lid is securely in place. This step helps avoid spillages and ensures the chowder doesn't absorb any lingering odors from the fridge.
Once your corn chowder is safely stored, place it in the refrigerator, ideally at around 40°F (4°C). Under these conditions, your soup should stay fresh for up to 5 days.
If you want to keep your corn chowder longer, consider freezing it. Transfer the cooled soup into freezer-safe containers or heavy-duty freezer bags, leaving some space for expansion. Label and date the containers before placing them in the freezer. Frozen corn chowder can last up to 2-3 months, but consume it sooner for optimal flavor and texture.
When it's time to enjoy your corn chowder again, reheat it in a saucepan on the stovetop over medium-low heat, stirring occasionally, until it's warmed. Be mindful not to boil it rapidly, as this may adversely affect the chowder's texture. Enjoy your reheated corn chowder, and savor the friendly flavors of this comforting dish.
Can I Freeze?
If you want to keep your corn chowder longer, consider freezing it. Transfer the cooled soup into freezer-safe containers or heavy-duty freezer bags, leaving some space for expansion. Label and date the containers before placing them in the freezer. Frozen corn chowder can last up to 2-3 months, but consume it sooner for optimal flavor and texture.
When it's time to enjoy your corn chowder again, reheat it in a saucepan on the stovetop over medium-low heat, stirring occasionally, until it's warmed. Be mindful not to boil it rapidly, as this may adversely affect the chowder's texture. Enjoy your reheated corn chowder, and savor the friendly flavors of this comforting dish.
History of Corn Chowder
Origins
The first instances of corn chowder can be traced back to the late 1800s in the United States. It's believed that Native Americans introduced early colonizers to corn and the concept of using it in soups. One of the first documented recipes for corn chowder is from 1884, published in the Boston Cook Book authored by Mary Lincoln of the Boston Cooking School.
Some of the earliest corn chowder recipes were inspired by the Iroquois tradition of using parched green corn in soups.
Cultural Impact
Corn chowder has become a popular comfort dish in American cuisine, especially in New England, where local, fresh corn makes the dish even more delicious. The various tweaks and additions to the original recipe, like incorporating fresh corn stock or different types of proteins, reflect the diverse influences and food cultures in the United States.
What is the Difference Between Corn Chowder and Corn Soup?
When craving a warm bowl of comfort, you might wonder which dish to choose: corn chowder or corn soup. While both dishes feature corn as a main ingredient, there are some key differences between the two.
First, let's talk about texture. Corn chowder is a thick, creamy soup that usually contains a mixture of corn, potatoes, and other vegetables. Its consistency is closer to that of a stew than a typical soup. On the other hand, corn soup tends to be thinner, with a more delicate texture. It's often pureed smooth or includes smaller pieces of corn and vegetables.
Another difference between the two dishes lies in the ingredients used. While corn chowder and corn soup can use ingredients like corn, onion, and celery, corn chowder typically relies on milk or cream as its base, giving it a richer taste. Corn soup, however, can have a variety of bases, such as broth or vegetable stock, and might not necessarily include cream.
Cooking techniques for each dish can also vary. Chowders are often simmered to allow the flavors to meld together, which creates a thicker and heartier soup. Corn soups, particularly pureed versions, usually require blending or straining to achieve their desired consistency.
In summary, corn chowder might be the perfect choice if you're looking for a hearty, creamy dish. However, if you prefer a lighter, more delicate soup, try corn soup. Both options can be delicious and satisfying, but their differences in texture, ingredients, and cooking techniques set them apart.
How to Make Corn Chowder Thicker
Using flour or cornstarch: To thicken your corn chowder, you can make a roux using butter and flour. Melt four tablespoons of butter in a pan, then whisk in 1/4 cup of flour. Cook for a couple of minutes until it's bubbly and slightly golden. Slowly add this mixture to your simmering chowder, stirring constantly to avoid lumps.
Similarly, you can also use cornstarch to thicken the chowder. Mix 1 to 2 tablespoons of cornstarch with equal cold water and stir until smooth. Add this slurry mixture to the bubbling chowder, stirring constantly until it thickens.
Using more potatoes: Adding diced potatoes to your corn chowder can help thicken it naturally. As the chowder cooks, the released starch from the potatoes will help to add thickness. Ensure you simmer the chowder until the potatoes are fully cooked and tender.
Adding cream: Incorporating cream is another effective method for making corn chowder thicker. Add a cup or more of heavy cream or milk to your chowder and let it simmer for a few minutes, resulting in a creamy and delicious texture.
Blending some chowder: To achieve a thicker consistency without adding extra ingredients, simply blend a portion of the chowder to create a puree and then mix it back into the pot. Use an immersion blender or a regular blender to puree a small amount of the cooked chowder, making sure to avoid blending any large chunks of vegetables. Once you've created a smooth puree, stir it back into the rest of the chowder.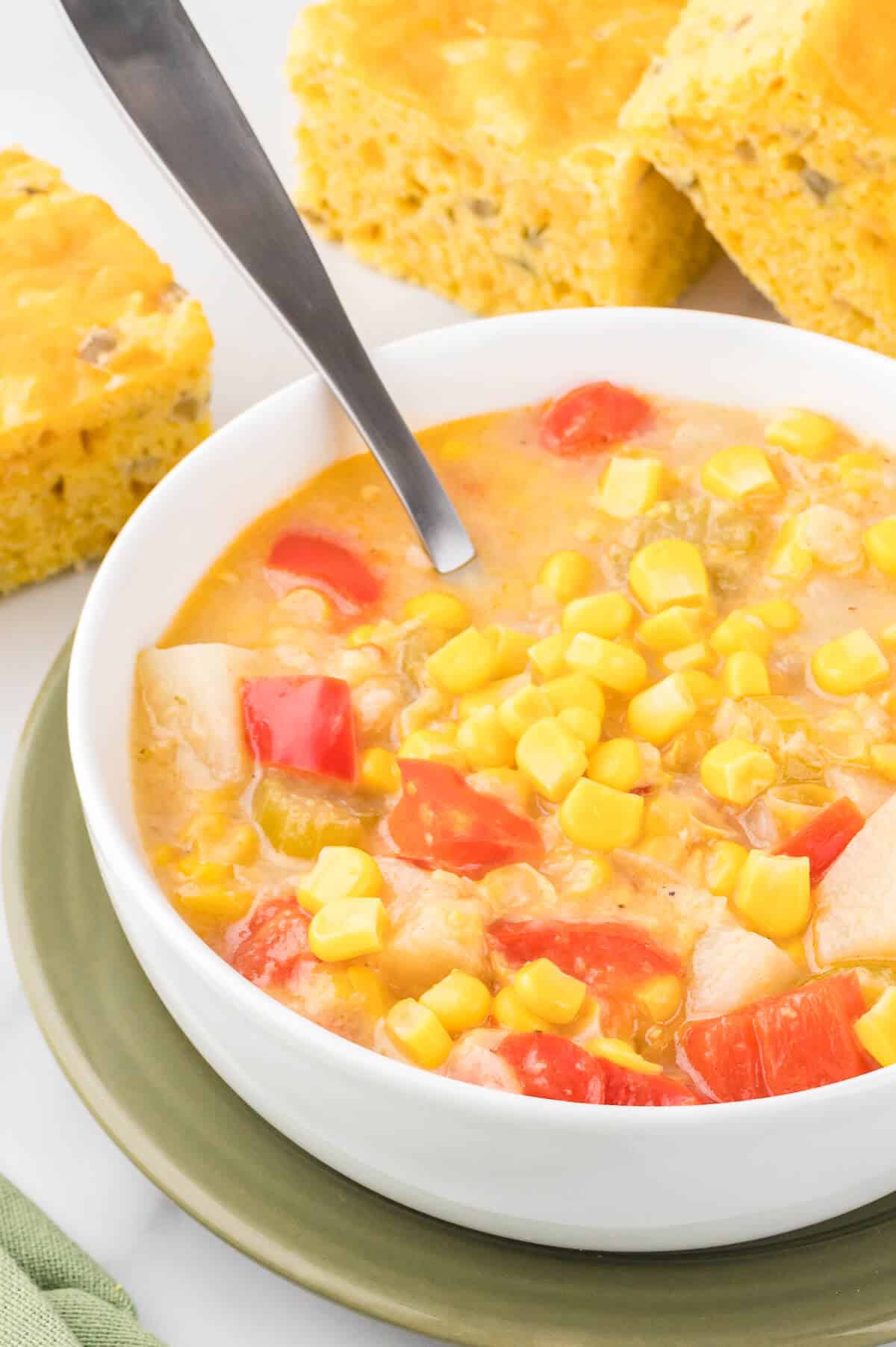 FAQ
Can I Use Fresh Corn?
Yes, you certainly can! Using fresh corn in your corn chowder is a fantastic way to take advantage of corn's natural sweetness and juicy texture. Many recipes recommend using fresh corn for the best flavor.
Start cutting the kernels off the corn cobs when making fresh corn chowder.
If fresh corn isn't available, don't worry. You can still make a delicious chowder using frozen corn.
What Kind of Potatoes to Use
When making delicious corn chowder, the potato you use can make a difference in texture and flavor. Ideally, you should be looking for a potato that maintains its shape well during the cooking process while absorbing the chowder flavors.
Russet potatoes are a great choice for your corn chowder as they have a high starch content, which can help thicken your soup and provide a creamier texture. Their mild flavor also complements the sweetness of the corn, allowing the star ingredient to shine through.
On the other hand, if you're looking for a firmer texture in your chowder, consider using Yukon Gold potatoes. These have a mix of waxy and starchy properties, which helps them maintain their shape throughout cooking. Their naturally buttery flavor adds richness to the dish, making your corn chowder even more satisfying.
If you prefer a more waxy potato, red or new potatoes can also work well in a corn chowder. Their low starch content ensures they hold their shape when cooked, and their thin skins are tender enough to be left on, offering an additional textural element.
Corn Recipes
Want more soup recipes? Try this Hamburger Soup, Seafood Chowder, Salmon Chowder, Cheesy Chicken Chowder, Cream of Carrot Soup, Busy Day Soup or Minestrone Soup.
Follow me on Instagram @simplystacieblog, Facebook at Simply Stacie, TikTok @simplystacierecipes or Pinterest at @simplystacie and let me know how you liked this recipe and my other recipes.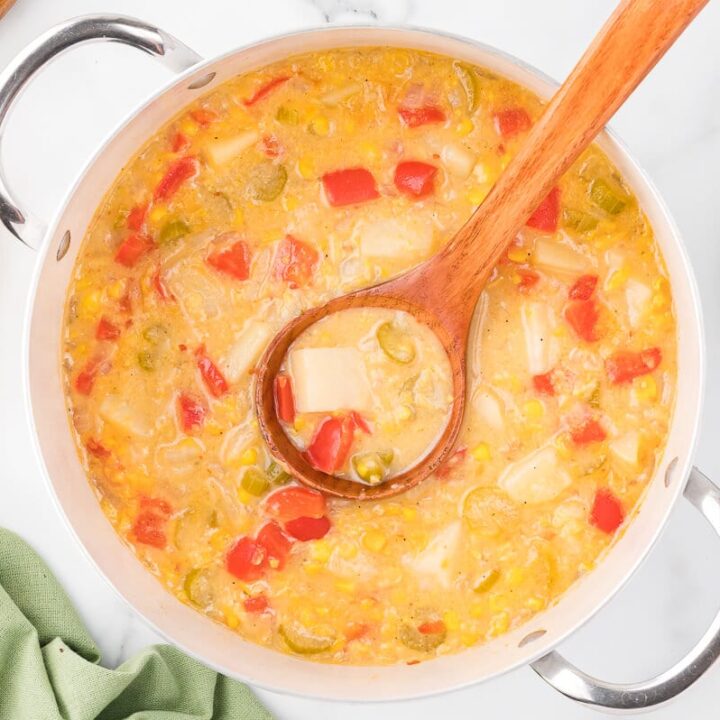 Ingredients
1

tsp

extra virgin olive oil

1

yellow onion

chopped

1

potato

peeled and diced

1

celery stalk

chopped

1

red pepper

chopped

pinch

red pepper flakes

1

cup

chicken broth

½

cup

milk

1

can

creamed corn

14.74oz/398ml can

¼

cup

frozen corn kernels

¼

tsp

salt

¼

tsp

pepper
Instructions
In a large pot, heat olive oil over medium heat. Add onion, potato, celery, red pepper and red pepper flakes. Cook, stirring often, for 5 minutes.

Pour in chicken broth. Bring to a boil then reduce heat to medium low. Simmer, covered, for 10 minutes.

Add in milk, creamed corn, frozen corn, salt and pepper. Heat for an additional 5 to 10 minutes, until hot.
Kitchen Tools
Nutrition
Serving:
1
cup
|
Calories:
153
kcal
|
Carbohydrates:
30.7
g
|
Protein:
4.7
g
|
Fat:
2.7
g
|
Saturated Fat:
0.7
g
|
Polyunsaturated Fat:
1.7
g
|
Cholesterol:
4.7
mg
|
Sodium:
449.3
mg
|
Fiber:
4.9
g
|
Sugar:
6.7
g
The information shown is an estimate provided by an online nutrition calculator. It should not be considered a substitute for a professional nutritionist's advice.
Love Recipes? Join our Free Facebook Group!
Join Mom's Best Recipes to find more delicious family recipes.
Save
Saved!