Get the party started at your summer gatherings with this fantastic Corn Salsa! Packed with fresh corn and vibrant ingredients, this hearty and healthy dip is perfect for grilled chicken, pork, or anything else you're throwing on the BBQ. Its bright and refreshing taste will have everyone returning for more, making it an absolute must-have for any spread.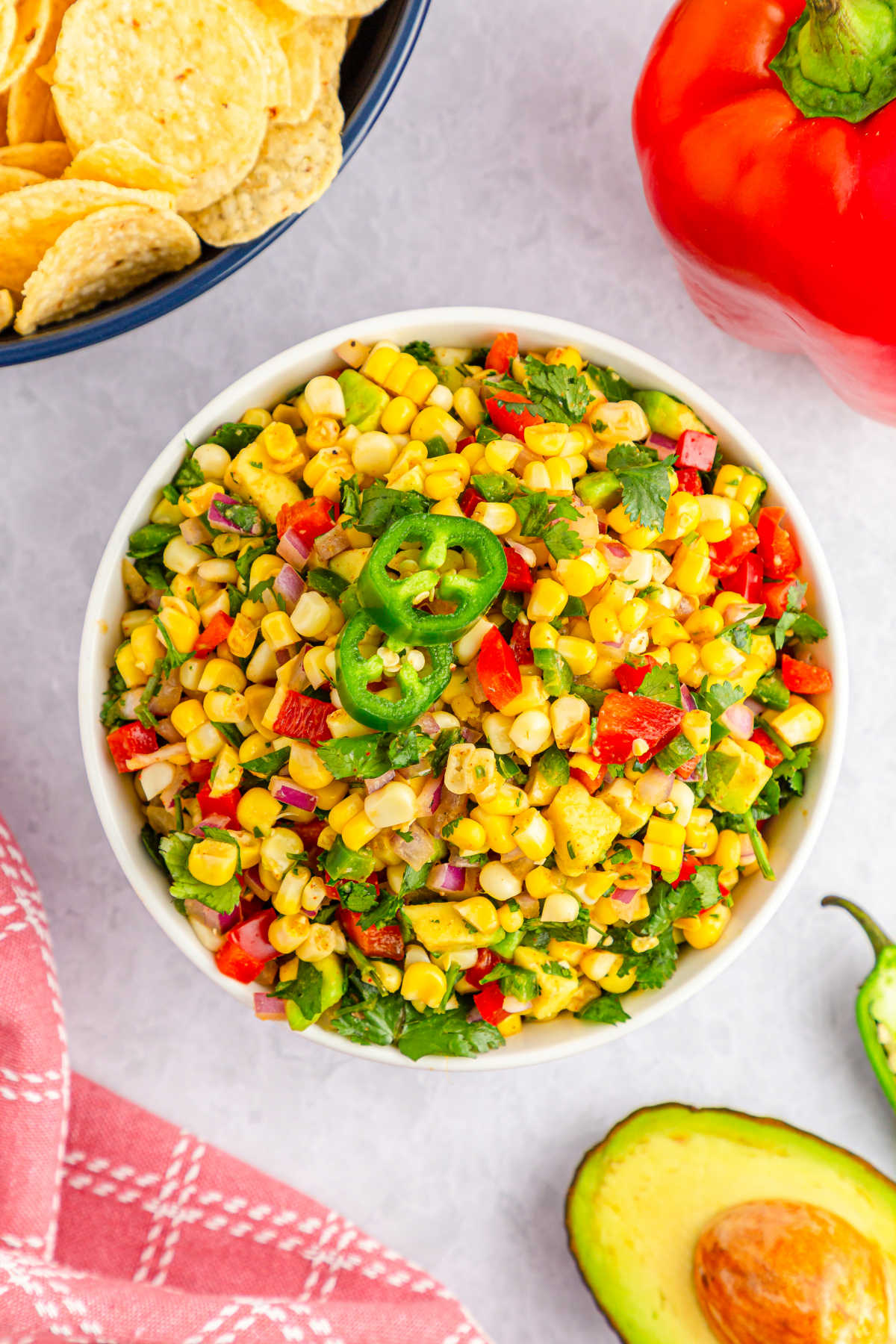 There is almost nothing better than fresh salsa on a hot summer day. This corn salsa will soon become your favorite way to cool down and fill your belly with something refreshing and delicious. Combining the pop of fresh corn kernels, the crunch of yummy bell peppers and red onions, the tang of fresh lime juice, and the vibrancy of fresh cilantro, this summer salsa is a must-serve at your next get-together.
It is an absolute crowd-pleaser whether you serve this amazingly fresh corn salsa recipe with tacos, tortilla chips, or burrito bowls. The added spice from the jalapeno peppers offers a welcome kick to this dish, making it a great way to enjoy simple ingredients that pack fantastic flavor.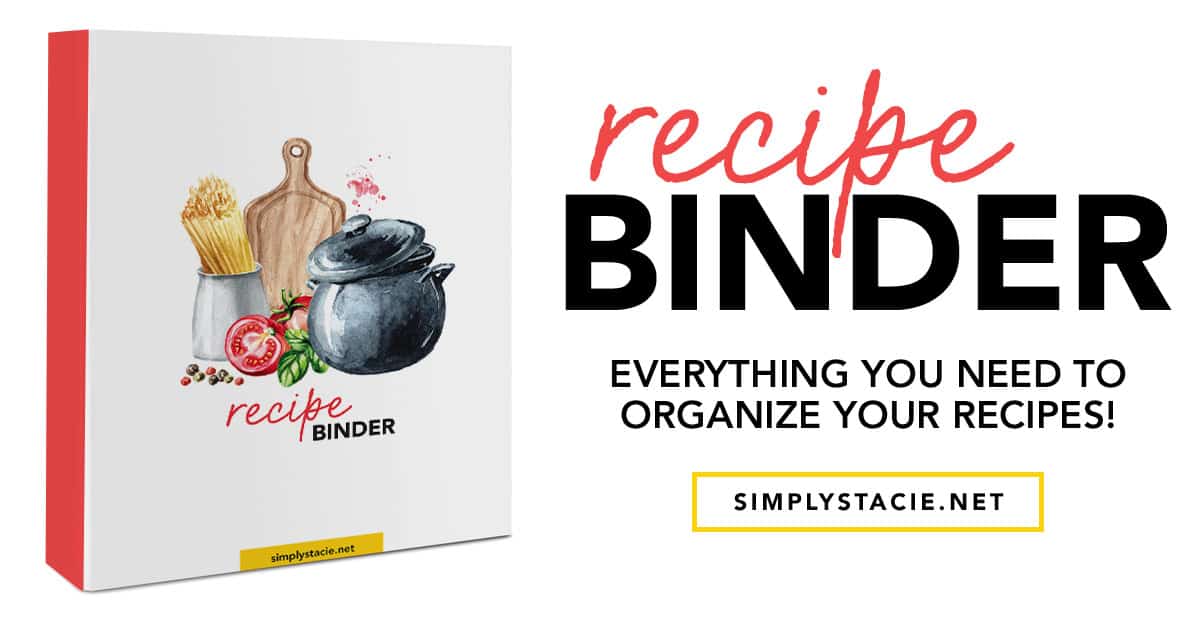 Why You'll Love Corn Salsa
Easy to make: This corn salsa is an easy recipe for any night of the week using simple yet fresh ingredients. Whether you enjoy it for weeknight dinner like taco night or want to feed a crowd at your next summer BBQ, you can whip this up in no time.
Crowd pleaser: Serve this with some of your grill favorites at your next BBQ. This easy corn salsa recipe pairs well with pretty much anything you will be serving up this summer and is sure to have people coming back for more.
Make ahead: If you are looking for a fresh summer snack to have on hand, this simple dish can be made ahead of time. It even gets more flavorful as it sits, allowing the flavors to meld perfectly. Expecting company? Make this corn salsa the night before and store it in the fridge.
Versatile and customizable: This recipe is easily customizable and rather versatile. You can use sweet raw corn, frozen corn, or even a mixture of both. Want it a little spicer? Use more
jalapeño peppers to add a little heat.
Ingredients
The full printable recipe card with measurements and instructions is found at the bottom of the post.
Corn kernels
Diced red onion
Diced red bell pepper
Large ripe diced avocado
Chopped fresh cilantro
Seeded and diced jalapeno
Juiced limes
Chili powder
Salt and pepper, to taste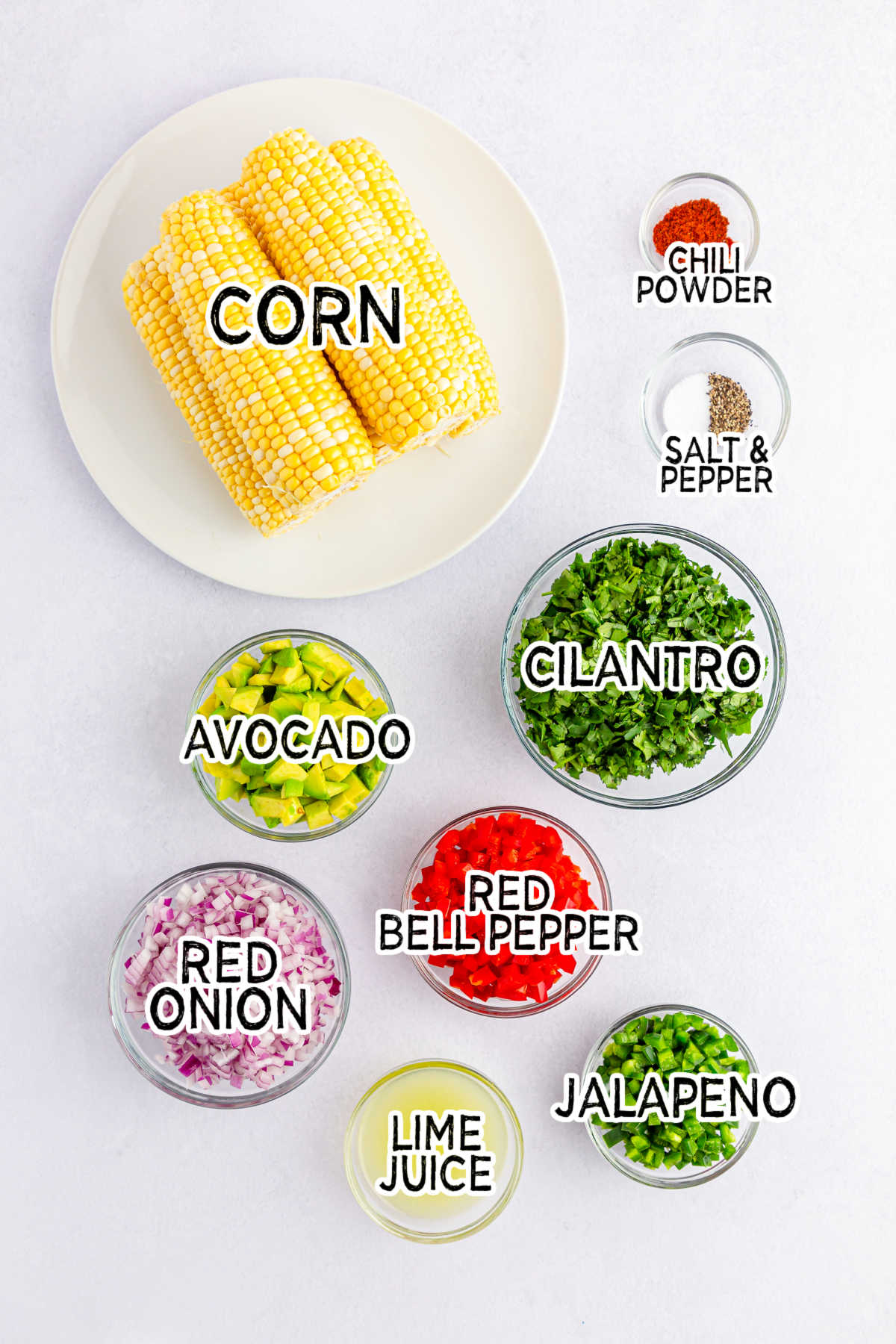 How to Make Corn Salsa
Step One: In a medium bowl, combine the ingredients together. Squeeze lime juice all over and season with chili powder, salt, and pepper. Give everything a good mix and then a taste. Adjust the seasonings as needed.
Step Two: Refrigerate for 20-30 minutes for the best flavor so that the lime juice and spices can be soaked in the ingredients.
Step Three: Serve with a side of tortilla chips or eat it with salads, tacos, or even burgers.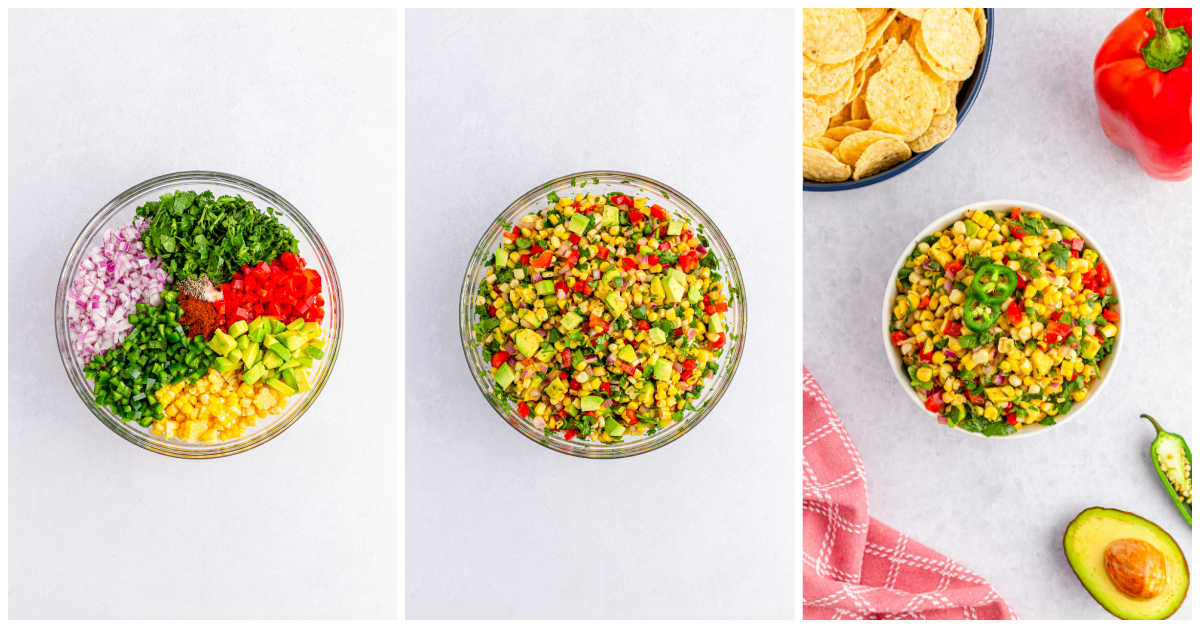 Equipment Needed
This post contains affiliate links.
What to Serve with Corn Salsa
There are several fantastic ways to serve this great recipe. You can choose to serve it as a side dish or use it as a dip.
Variations and Substitutions
Corn varieties: Several different types of corn can be used for this recipe. The possibilities are endless, Whether you choose fresh, frozen, white, yellow, or sweet corn.
Corn cooking methods: This recipe suggests using raw or lightly cooked corn kernels. You can, however, choose different cooking methods to add a little more flavor to the dish. Why not grill your ears of corn to add a slightly smokey flavor to the salsa?
Pepper varieties: Red pepper isn't the only color of pepper you can add to this delicious salsa. Why not add some pops of color by adding yellow peppers, orange peppers, or even green peppers?
Cilantro options: Not everyone enjoys the flavor of cilantro, and if you are one of those people, you don't have to worry. You can easily substitute the cilantro by using fresh parsley.
Spice options: If you crave a spicer corn salsa, you can add some delicious heat by upping the number of jalapenos you use in the dish. You can also add poblano pepper to increase the kick. Want the salsa a little less spicy? Decrease the amount of jalapeno used, or forgo it altogether.
Storage Instructions
Leftover corn salsa? (Probably not, because this stuff usually gets gobbled up quickly.) In case, you can store your salsa in the refrigerator. If you are making this ahead, you will want to keep it in the refrigerator until you are ready to serve. The best part is that this easy corn salsa tastes better the longer you allow it to sit in the fridge. Store leftovers in an airtight container and consume them within three days.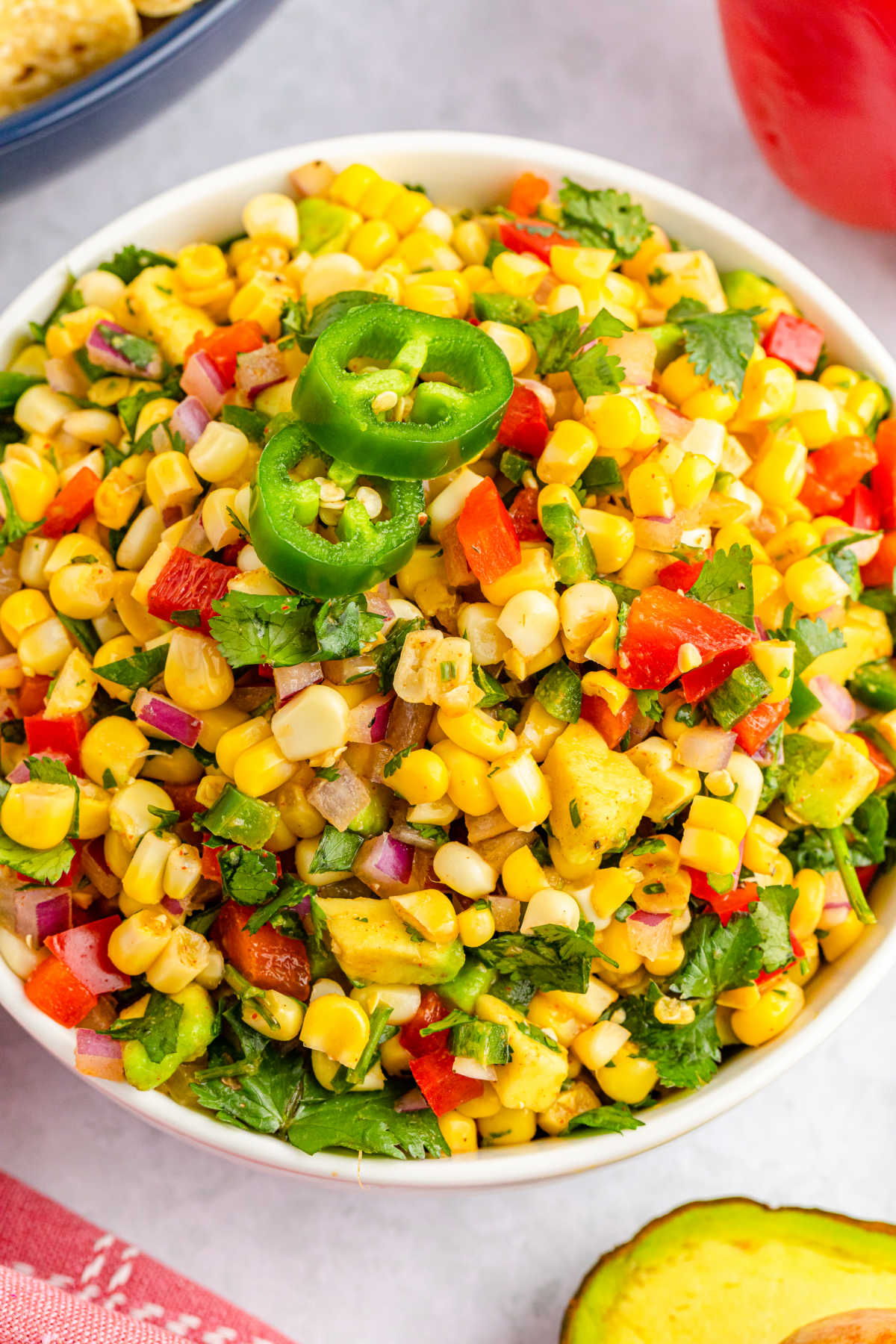 Can I Freeze?
Yes. This corn salsa recipe can be kept in the freezer for up to 3 months. Place the salsa in an airtight container to prevent freezer burn. When you are ready to eat it again, pull it out of the freezer and let it thaw in the refrigerator until you are prepared to serve it.
Recipe Tips and Tricks
Fresh corn: Use fresh corn rather than frozen corn for the best flavor and texture. Grilling or roasting the corn kernels adds a smoky flavor to the salsa.
Dice ingredients uniformly: Ensure that the red onion, red bell pepper, avocado, and jalapenos are diced into similar-sized pieces. This helps to achieve a balanced distribution of flavors and textures in every bite.
Lime juice: Use freshly squeezed lime juice for the brightest and most vibrant flavor. Roll the limes on a countertop before juicing to extract more juice.
Cilantro flavor: To enhance the cilantro flavor, add it towards the end of the preparation process to preserve its freshness. Gently chop the cilantro leaves just before incorporating them into the salsa.
Seasoning: Taste the salsa after adding the lime juice, chili powder, salt, and pepper. Adjust the seasoning according to your preferences. Remember that flavors develop and intensify over time, so it's best to slightly under-season initially.
Let it marinate: For the flavors to meld together and develop fully, allow the salsa to marinate in the refrigerator for at least 30 minutes before serving. This allows the ingredients to infuse properly and enhances the overall taste.
Customize: Feel free to experiment and add your own twists to the recipe. For flavour and variety, you can incorporate additional ingredients like diced tomatoes, black beans, or mango.
How Do I Cook the Corn for the Salsa?
The corn can be cooked for the salsa in a few different ways. If you want the best corn salsa, it is ideal to lightly cook the corn as you want it to maintain its freshness. You can lightly grill the corn to add a slightly smokey, grilled flavor or toast the corn kernels in a pan. You can also boil the corn on the cob for a few minutes. It is up to your preferences.
How Spicy is Corn Salsa?
This recipe provides a subtle hint of spiciness that is perfect for those who prefer milder corn salsa. If you prefer a spicier kick, you can include the seeds and membranes of the jalapeno or add more jalapeno, poblano peppers, or chili powder.
Can I use Frozen or Canned Corn?
Frozen corn works as a great substitution in this recipe. Just allow it to thaw, and drain it before adding it to your salsa. Using canned corn is not suggested as it can alter the flavor profile, but it does work in a pinch.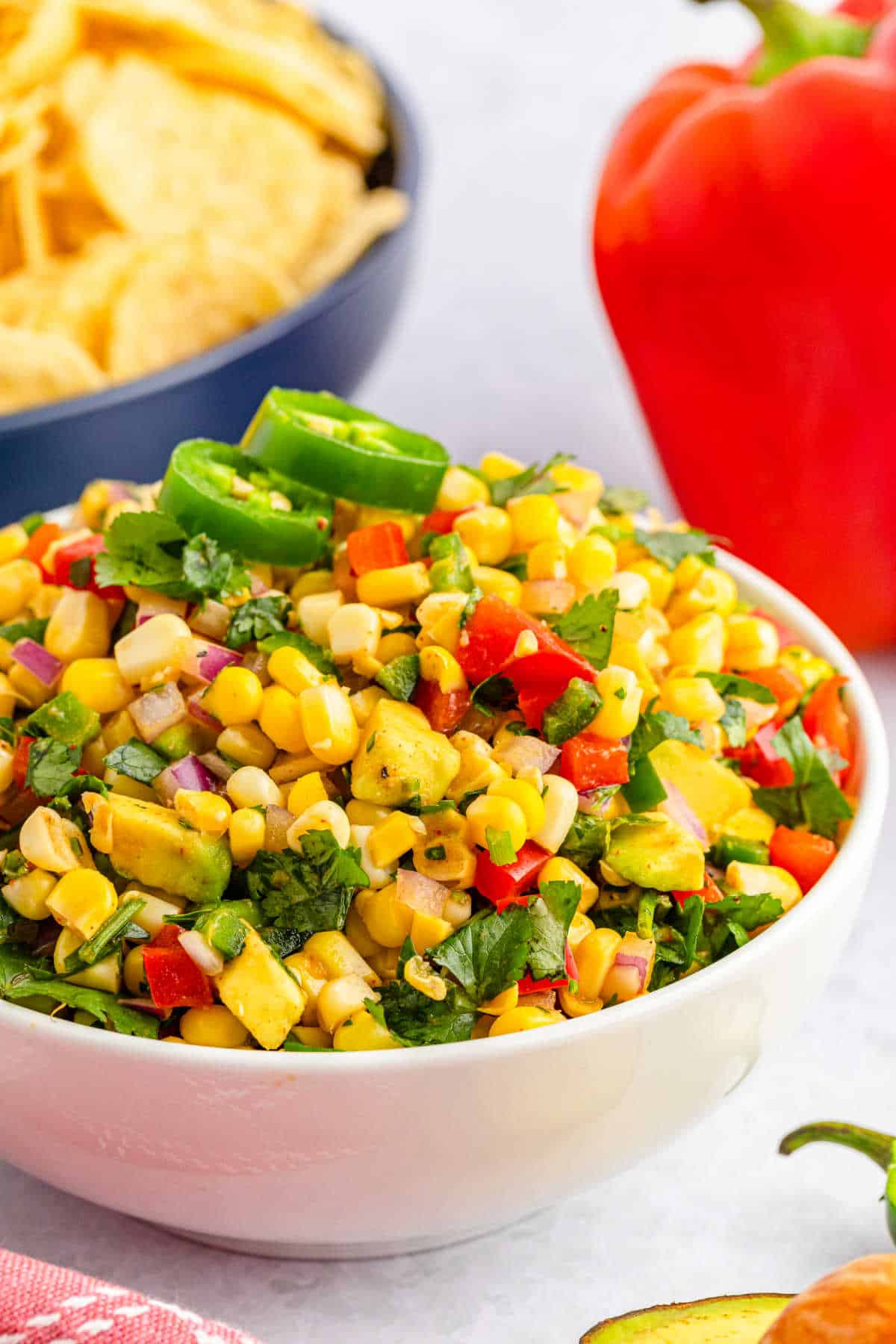 How to get Grill Marks on Corn on the Cob without Grilling
You can use the stovetop method to get grill marks on your corn on the cob without grilling it. Preheat a grill pan or cast-iron skillet on medium-high heat. Make sure the pan is well-seasoned or lightly oiled to prevent sticking.
Once the pan is heated, place the corn cobs in a single layer. You may need to work in batches if your pan is not large enough to hold all the cobs simultaneously. Allow the corn to cook for 3-4 minutes on each side or until grill marks form. Use tongs to rotate the corn cobs and ensure even browning carefully. Repeat the process for all sides of the corn until you achieve the desired grill marks.
Remove the corn from the pan and let it cool slightly before serving or using it in your corn salsa recipe.
Using a grill pan or cast-iron skillet on the stovetop, you can mimic the appearance of grilled corn. This method allows you to enjoy grilled corn's smoky flavor and beautiful presentation without needing an actual grill.
Do you use White or Yellow Corn?
Both white and yellow corn can be used for this salsa recipe. The choice between the two usually comes down to availability and personal preference.
White corn does tend to have a slightly milder and sweeter flavor when compared to yellow corn. It can add a subtle sweetness to your salsa, changing the flavor profile ever so slightly.
Yellow corn, on the other hand, has a richer flavor and firmer texture. It also adds a beautiful vibrant yellow hue to your salsa.
No matter what variety of corn you choose to use, your corn salsa is sure to be delicious.
How to Shuck Corn
Start by choosing fresh corn with tightly wrapped, green husks. The husks should feel slightly moist and not dry or discolored.
Hold the corn cob upright with the tip pointing downward. You can place it on a cutting board or hold it in your hand.
Using a sharp knife, make a horizontal cut across the top of the corn husks, just below the stem. This will remove the bulk of the silk and make it easier to handle.
Grip the husks firmly near the cut end and gently pull them down towards the bottom of the cob. Peel away the outer layers of husks, one at a time, working your way down to the base.
You'll reveal the corn kernels as you peel off the husks. Remove the husks until all the layers are stripped away, exposing the cob.
Once the husks are removed, you may notice some strands of silk still clinging to the corn. To remove them, hold the corn under running water and rub the kernels with your hands to loosen and wash away the remaining silk. Alternatively, you can use a soft-bristled brush to remove stubborn silk strands.
After washing off the silk, pat the corn dry with a paper towel or let it air dry before using it in your recipe.
Can I use Corn Salsa as a Topping or Garnish for Other Dishes?
Absolutely! Corn salsa can be a versatile topping or garnish for various dishes. Whether you use it as a garnish for tacos, burgers, or even salads, this corn salsa will surely impress.
Tacos: Use corn salsa as a flavorful and colorful topping for tacos. It adds a refreshing crunch and a burst of flavor. It works well with various fillings like grilled chicken, beef, fish, or vegetarian options.
Grilled meats: Serve corn salsa as a side or topping for grilled meats such as steak, chicken, or pork. Combining the smoky flavors from the grill and the vibrant corn salsa creates a delicious contrast.
Nachos: Sprinkle corn salsa over a bed of tortilla chips along with other toppings like melted cheese, guacamole, sour cream, and chopped tomatoes. It adds a fresh and zesty element to the nachos.
Salads: Use corn salsa as a topping or mix it into your favorite salads. It can add sweetness and texture to green salads, grain salads, or even pasta salads.
Burgers and Sandwiches: Add a spoonful of corn salsa on top of your burgers or sandwiches to elevate the flavors. It adds a vibrant and refreshing element to the savory components.
Mexican-inspired dishes: Corn salsa complements a wide range of Mexican dishes. Use it as a garnish for enchiladas, burritos, quesadillas, or even a topping for Mexican-style rice and beans.
Whatever you choose to top or garnish with this corn salad, you will surely enjoy the delicious flavor it adds to your favorite dish.
Salsas and Dips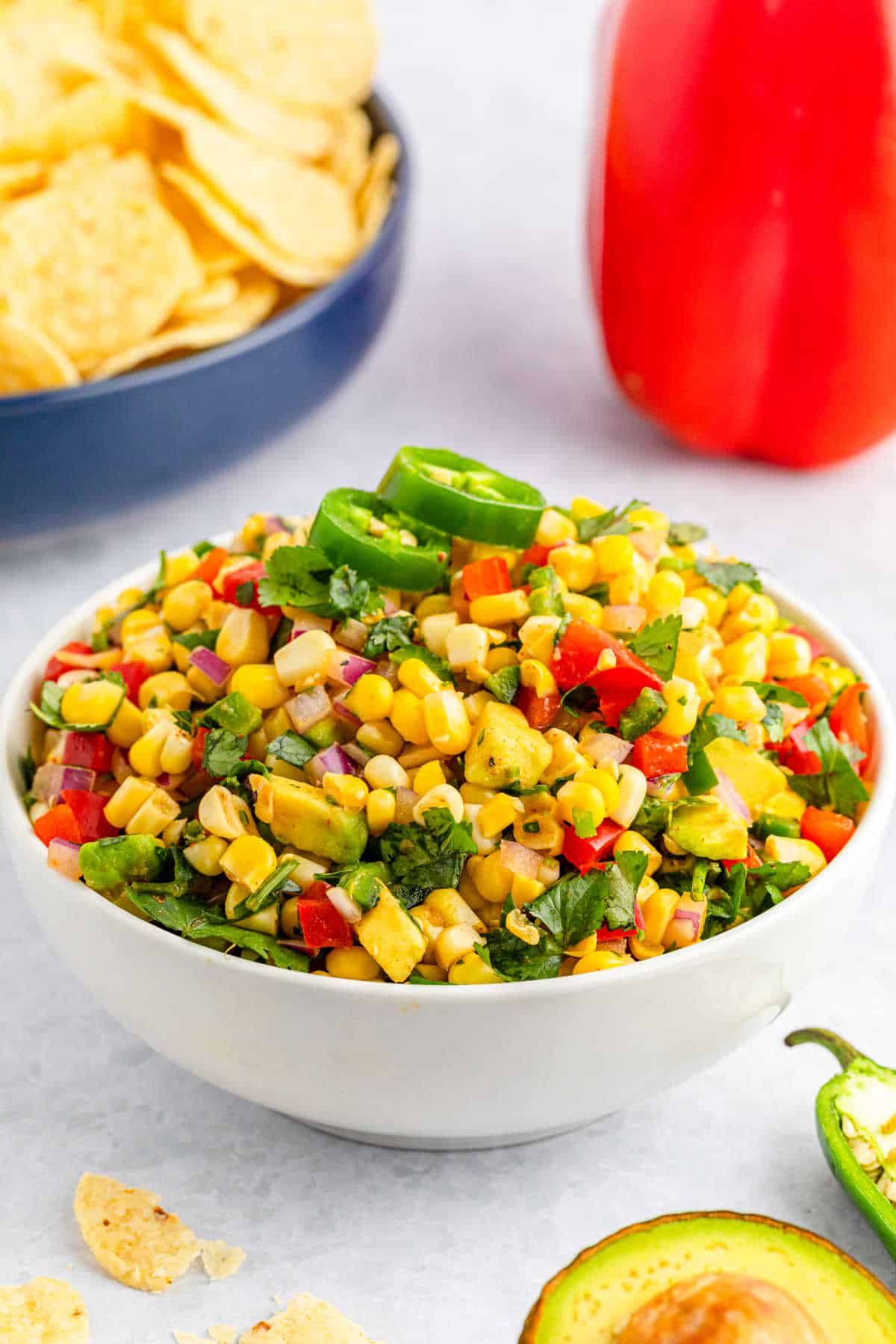 FAQ
How much corn salsa does this recipe make?
This delicious recipe makes approximately 7 cups of corn salsa, perfect for serving a crowd.
How long does it take to make this salsa?
It takes approximately 15 minutes of preparation to make this salsa. For the flavors to come together, it must chill in the fridge for at least 20 minutes before serving.
Corn Recipes
Follow me on Instagram @simplystacieblog, Facebook at Simply Stacie, TikTok @simplystacierecipes or Pinterest at @simplystacie and let me know how you liked this recipe and my other recipes.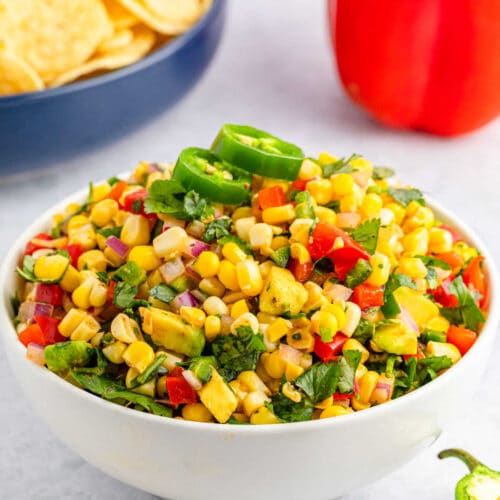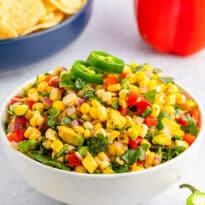 Corn Salsa
Get the party started at your summer gatherings with this amazing Corn Salsa! Packed with fresh corn and vibrant ingredients, this hearty and healthy dip is the perfect match for grilled chicken, pork, or anything else you're throwing on the BBQ. Its bright and invigorating taste will have everyone coming back for more, making it an absolute must-have for any spread!
Print
Facebook
Pin
Share by Text
Share by Email
Rate
Ingredients
4

cups

raw or lightly cooked corn kernels

½

medium red onion

diced

1

large red bell pepper

diced

1

large ripe avocado

diced

1

cup

fresh cilantro

chopped

2

jalapenos

seeded and diced

2

limes

juiced

½

tsp

chili powder

salt and pepper

to taste
Instructions
Add the corn, red onion, red pepper, avocado, cilantro and jalapenos to a large mixing bowl. Stir to combine.

Add the lime juice, chili powder, salt and pepper. Toss to combine. Adjust the seasoning if needed.

Refrigerate for 20 to 30 minutes.

Serve chilled with tortilla chips or enjoy with salads, tacos or burgers.
Kitchen Tools
Notes
Makes 7 cups of corn salsa.
Nutrition
Calories:
73
kcal
|
Carbohydrates:
13
g
|
Protein:
2
g
|
Fat:
3
g
|
Saturated Fat:
0.4
g
|
Polyunsaturated Fat:
1
g
|
Monounsaturated Fat:
2
g
|
Sodium:
4
mg
|
Potassium:
211
mg
|
Fiber:
3
g
|
Sugar:
3
g
|
Vitamin A:
528
IU
|
Vitamin C:
20
mg
|
Calcium:
9
mg
|
Iron:
0.4
mg
The information shown is an estimate provided by an online nutrition calculator. It should not be considered a substitute for a professional nutritionist's advice.
Love Recipes? Join our Free Facebook Group!
Join Mom's Best Recipes to find more delicious family recipes.
Save
Saved!