Start prepping those garden tomatoes and peppers! This is the best fresh Garden Salsa made with fresh ingredients including loads of veggies, herbs and spices.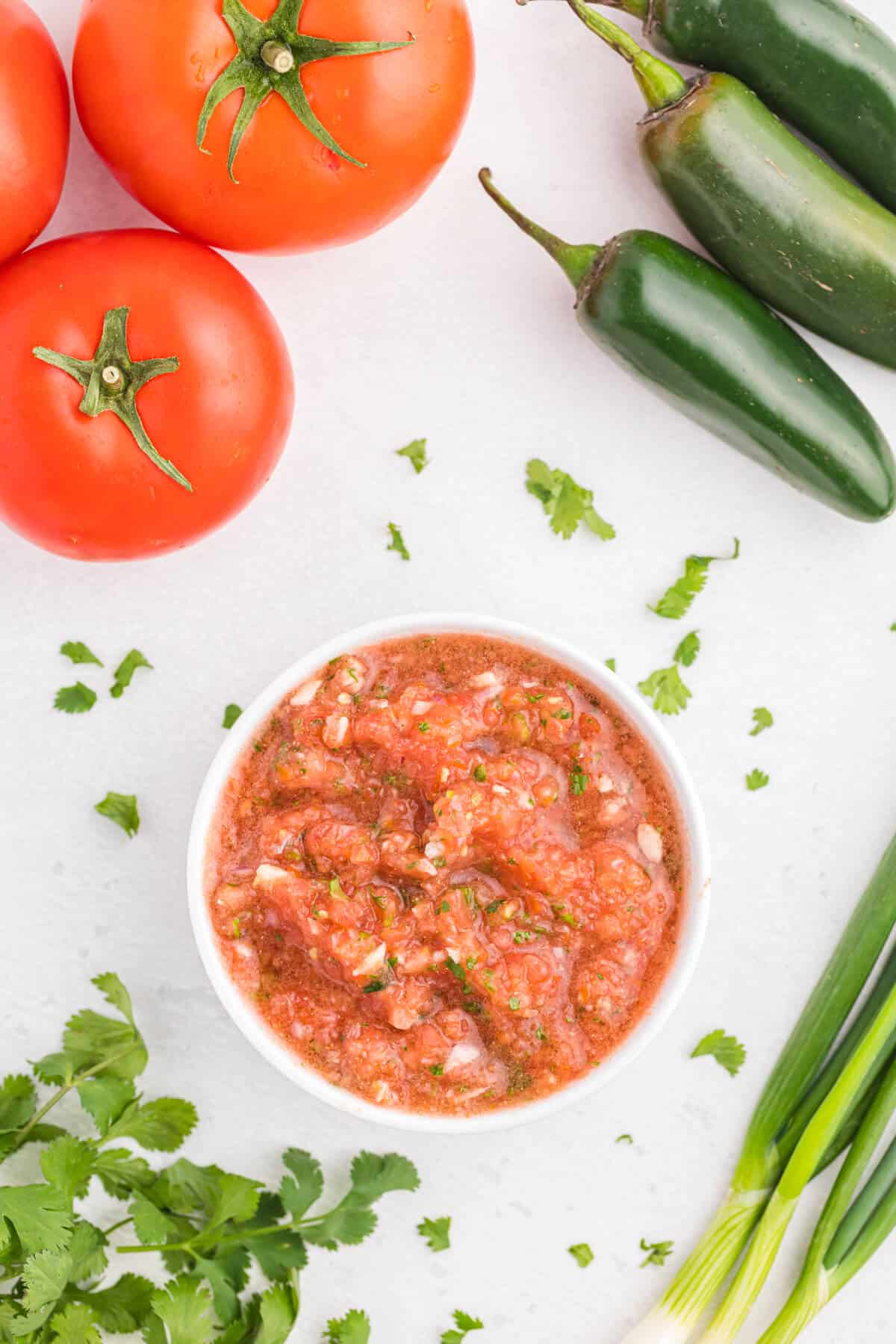 I think it was the early 90s when my mom started cooking with salsa. Back then, it was a new and exciting sauce that everyone was talking about. My mom used it in everything. Okay maybe not everything, but it seemed that salsa was included in many of our meals.
We had fajitas, tacos, dips and my mom's specialty, chicken breasts covered in salsa and cheese. Yum! Nowadays, salsa is pretty mainstream and most people have a jar or two in their homes.
Do you know what's even better than the salsa in a jar? Homemade salsa, of course! Nothing beats the fresh flavor of garden veggies, herbs and spices. I can eat it right out of the bowl by itself (and I've done that on more than one occasion!).
This is the best homemade salsa recipe. I use fresh tomatoes, a jalapeno pepper, shallot, green bell pepper, green onions, fresh cilantro, garlic and more. If you have tomato plants in your garden, then you're all set. If not, no worries. You can pick some up at the grocery store or local farmer's market.
Unfortunately, I have a black thumb so I don't have a garden with fresh veggies. Let's just say I'm having trouble keeping the hostas alive so I doubt veggies would stand a chance under my care. Good thing there is the farmer's market and friends and family members with green thumbs. Finding fresh garden veggies and herbs is a non-issue. Making your own salsa couldn't be easier!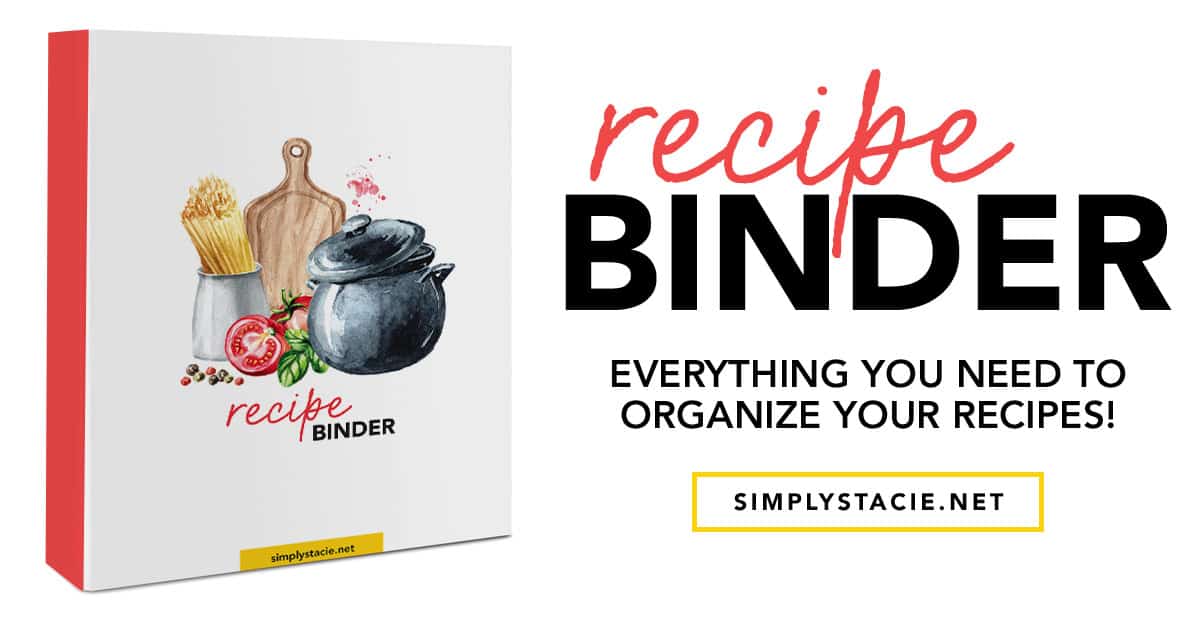 Why You'll Love this Easy Homemade Salsa Recipe
Ready to enjoy in minutes
No artificial flavors or preservatives – only delicious garden salsa flavor
A great way to use up those homegrown tomatoes
Makes the BEST salsa
Can be used in a variety of easy recipes
You can make mild salsa or spicy salsa depending on your preferences
Tastes so much better than store-bought
Salsa Ingredients
The full printable recipe card with measurements and instructions is found at the bottom of the post.
Ripe steak tomatoes
Jalapeno pepper with the seeds
Shallot
Green pepper
Green onion
Fresh cilantro
Garlic cloves
Cumin
Fresh lemon juice
Salt and pepper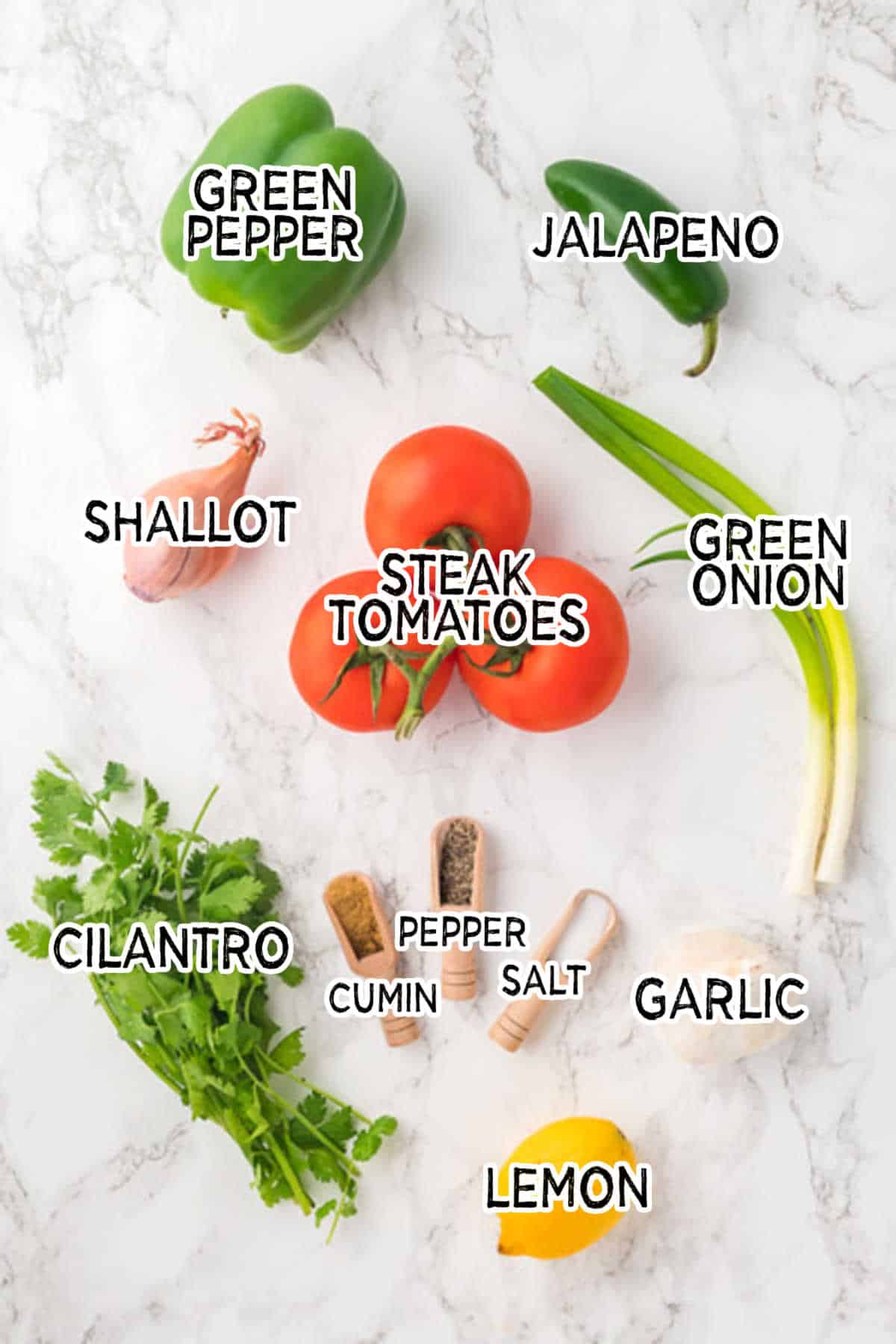 How to Make This Fresh Garden Salsa Recipe
Step One: Add all the ingredients in a food processor and pulse until everything is combined, diced finely. Be careful to not pulse too much or it will become more like a gazpacho!
Step Two: Taste and adjust the salt/pepper to your taste. It will keep in fridge for about 5 days.

Equipment Needed
This post contains affiliate links.
What to Serve with Garden Salsa
Regular potato chips or your favorite tortilla chips. I like my air fryer tortilla chips! You could also try whole grain chips or garden salsa sun chips.
Add to your taco salad.
Use a topping for fajitas or tacos.
Use as a dip for veggies for a flavorful snack.
Serve on top of grilled meats.
Add to your scrambled eggs or omelets.
Make some nachos – perfect for game day!
Add to sandwiches or wraps.
Variations and Substitutions
Switch out the green onion and shallot for a yellow onion, white onion or red onion.
Use fresh roma tomatoes, heirloom tomatoes or cherry tomatoes instead of steak tomatoes.
Add more medium-hot peppers like serrano peppers or ancho peppers.
Use a couple teaspoons cider vinegar instead of lemon juice.
Skip the onions and use onion powder instead.
Switch out the lemon juice for fresh lime juice.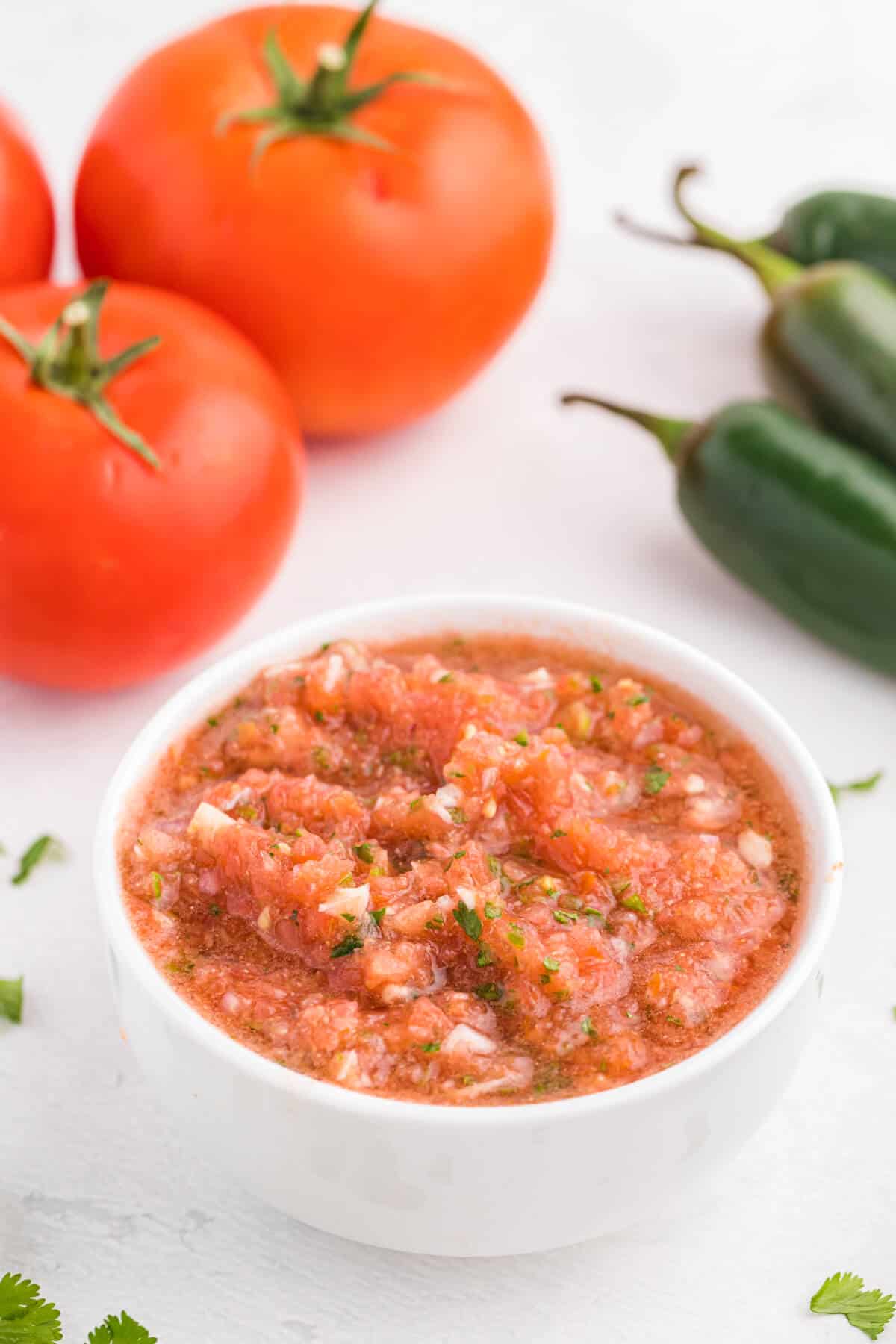 Storage Instructions
Store this fresh salsa recipe in an airtight container or mason jar in the refrigerator for up to 5 days.
Can You Freeze Homemade Salsa?
I will say this salsa is best fresh, but if you have extra you can freeze it. The only thing I warn is it will change the flavor slightly when you go to thaw and serve it up. It won't taste as fresh as when you made it that day.
If you plan to freeze your salsa, leave some room at the top. Salsa will expand as it freezes. Store in the freeze for 2 to 3 months. Thaw in the fridge the night before you plan to use it.
If you plan to freeze in mason jars, use the wide-mouth mason jars. They are more freezer-friendly than regular mason jars.
Can I Make This Salsa Ahead of Time?
I actually recommend this! Whip up a batch and let it sit in the fridge for a day to really let the flavours mingle together. Then you will have an incredible flavor that really showcases your salsa in a whole new light. It is hard to resist to eat it right away, but trust me it is worth the wait.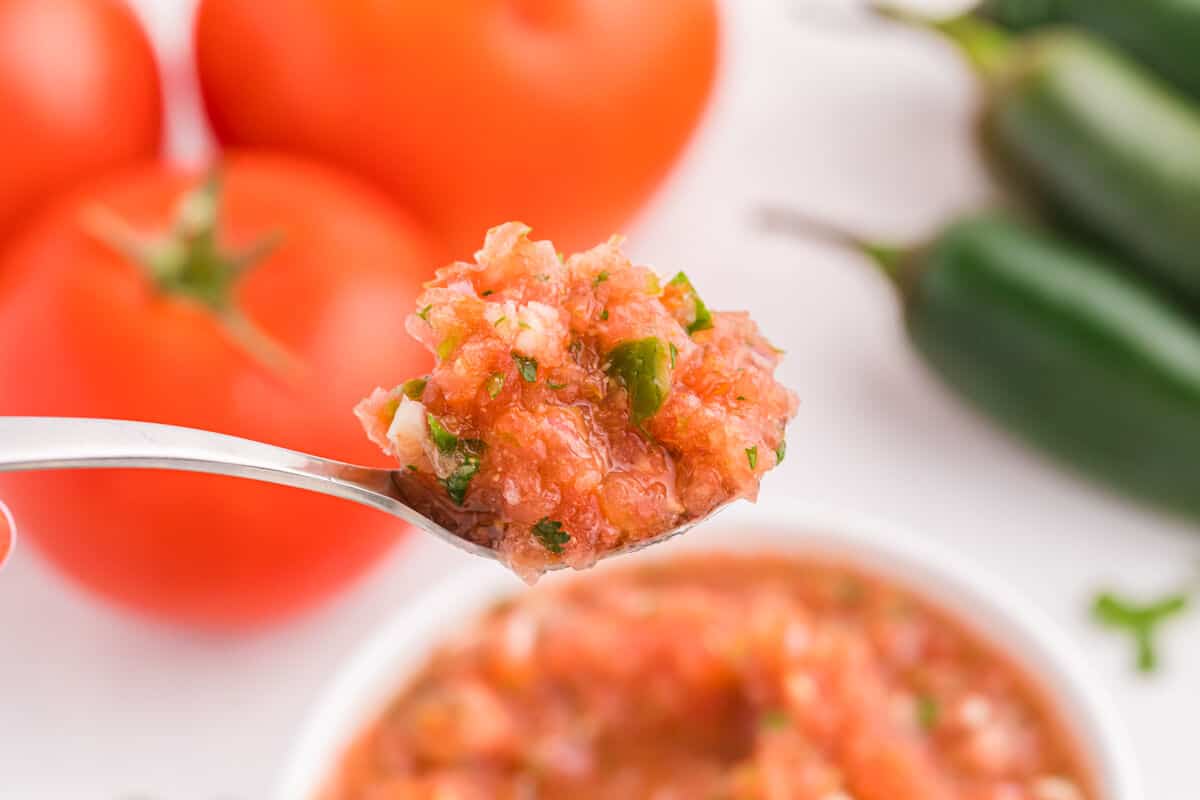 How Do You Preserve Garden Salsa?
If you want to preserve your salsa, I suggest going through the canning process. This is a great way to maximize the fresh summer produce so that you can enjoy it all year round. Find a good tutorial on canning if you don't know-how and learn how to transform salsa into canned salsa that has a nice shelf life.
What Are The Best Tomatoes to Use to Make Salsa?
I like beefsteak tomatoes. They are large and juicy with rich flavor. They also have a high water content and make for a juicy, chunky salsa.
You could also try other types of tomatoes.
Roma tomatoes: They are firm with fewer seeds and less juice. They have a slightly sweet flavor and a lower acidity level.
Cherry tomatoes: These are sweet and more on the acidic side. Great for a chunky salsa!
Vine-ripened tomatoes: So sweet and juicy! They have a thin skin, less seeds and aren't too acidic.
Whatever tomatoes you choose, look for ones that are ripe, but still firm and have no bruises or soft spots. Experiment with the different kinds of tomatoes and find your favorite!
Should I Peel The Tomatoes?
I don't peel my tomatoes. The peel adds texture to the salsa and it's less time consuming to not peel. Plus, they all get mashed up in the food processor anyways. If you prefer a smoother salsa, you can peel the tomatoes.
How to Make Salsa More Smooth
Peel the tomatoes.
Use the food processor for a longer time till it gets to your desired consistency.
Strain the salsa with a fine-mesh sieve to remove the chunks.
How to Make Salsa Chunkier
Chop the ingredients by hand instead of using a food processor.
Use more chunky veggies like green peppers and larger onions.
Mix ingredients lightly versus stirring vigorously so they don't break down.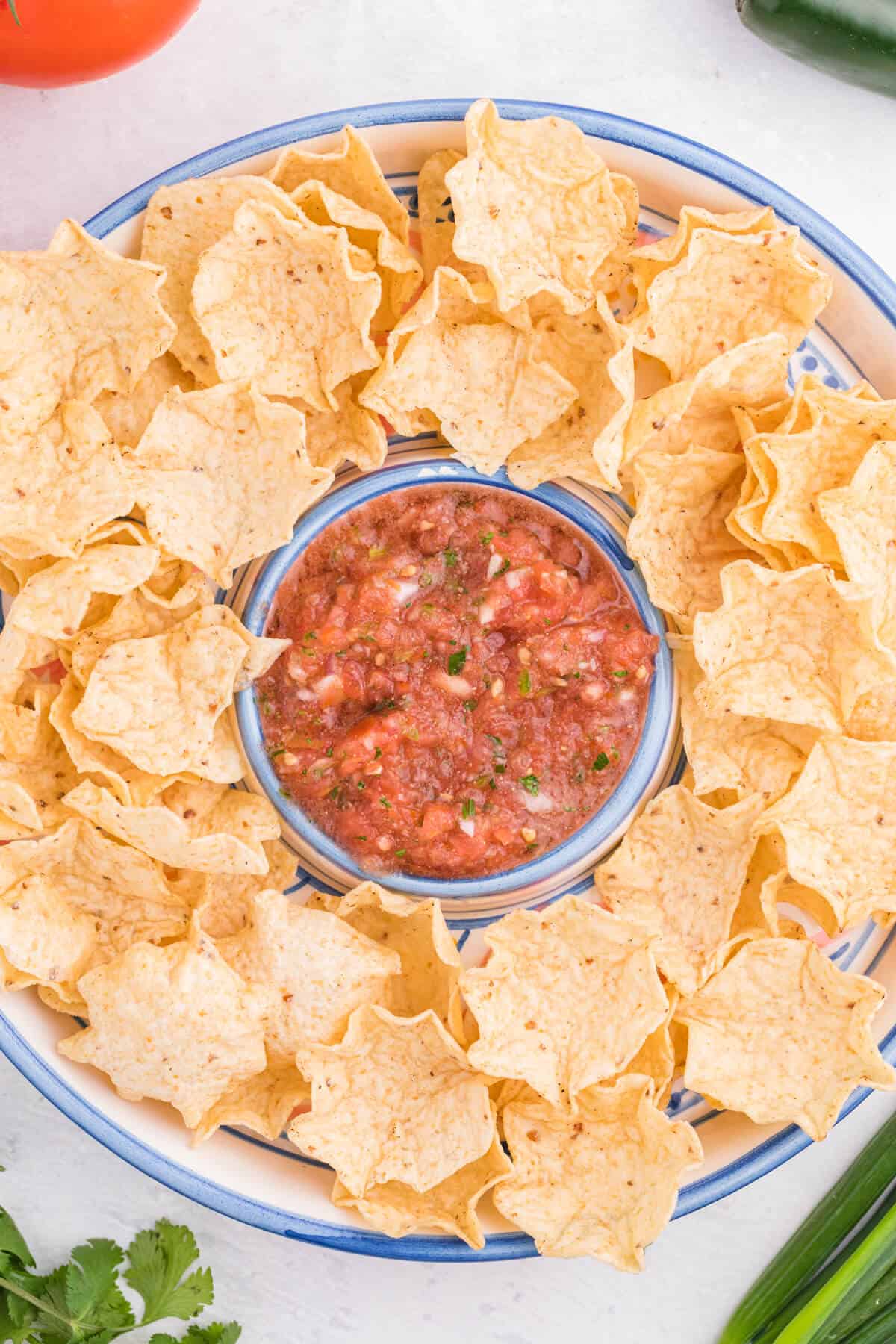 FAQ
How Long Should I Store Homemade Salsa?
You can store this salsa in the fridge for 5 days. Place in a sealed jar or airtight container to ensure it is stored properly. I find day 2-3 to be the best days for the flavor of this salsa. It has tons of flavor.
Can I Leave Cilantro out of Garden Salsa?
You either love cilantro or you hate it. If you absolutely despise cilantro feel free to leave it out. Of course, it will affect the flavor of your salsa a bit, but you wouldn't enjoy it in there if you are not a fan anyways.
How to Adjust the Spiciness
Add an extra jalapeno to add more heat. You could also increase the amount of cumin to 1 tablespoon.
If you prefer a less spicy, salsa, don't use the jalapeno seeds. Also, remove the jalapeno membrane as the seeds and membrane contain most of the heat. You can also add extra veggies to tone down the impact of the jalapeno on the salsa.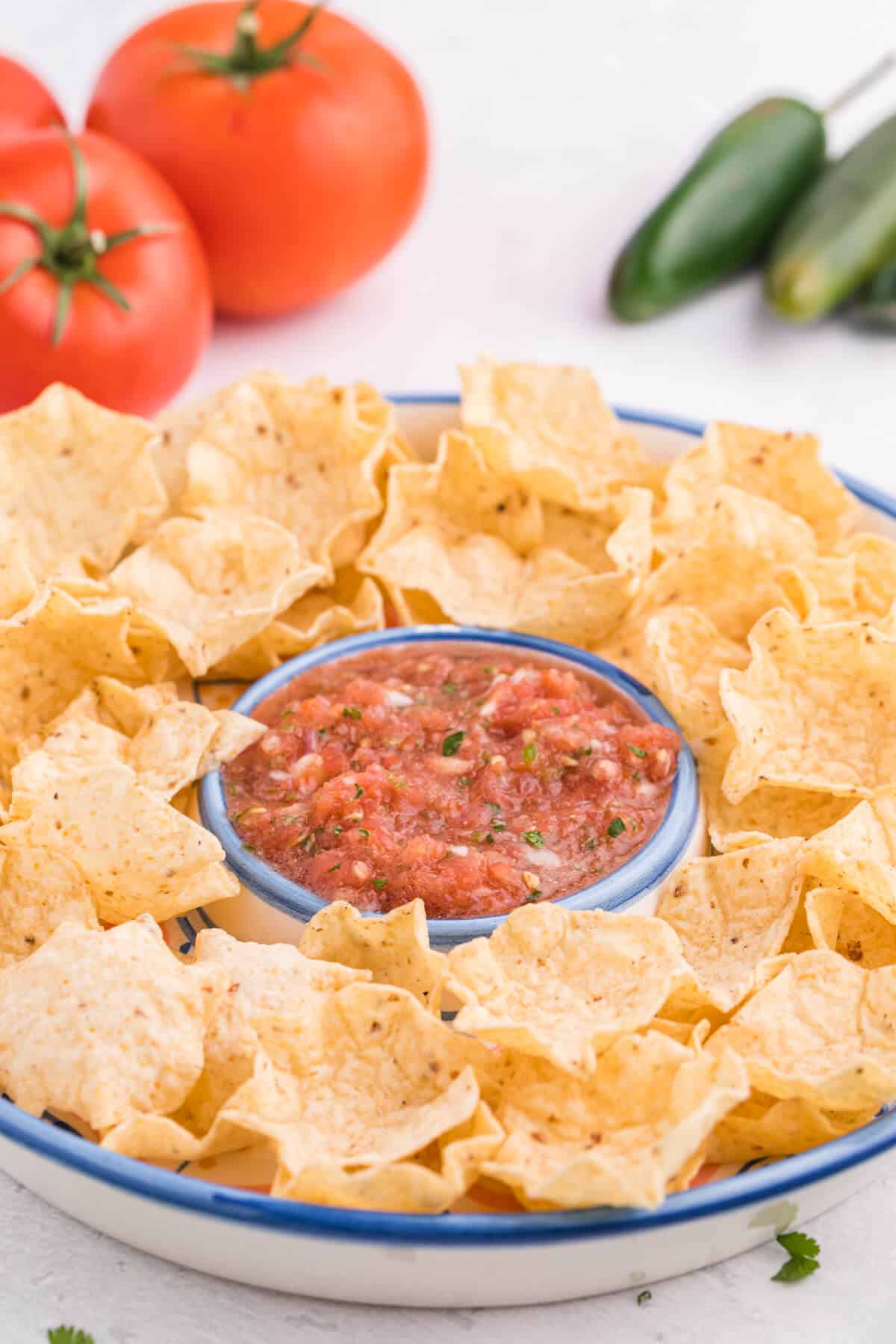 Recipes with Salsa
You'll also love these Walking Tacos, Corn Salsa and Cowboy Caviar.
Follow me on Instagram @simplystacieblog, Facebook at Simply Stacie, TikTok @simplystacierecipes or Pinterest at @simplystacie and let me know how you liked this recipe and my other recipes.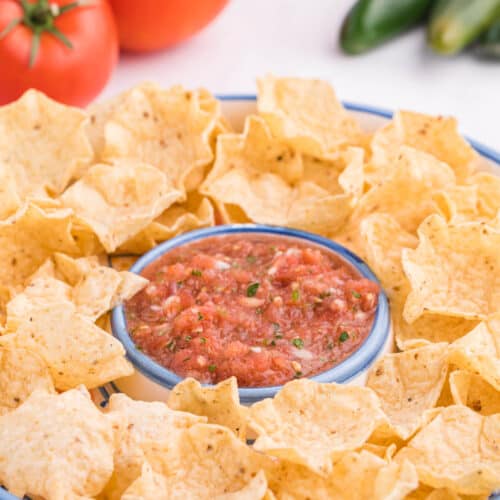 Garden Salsa
Start prepping those garden tomatoes and peppers! This is the best fresh summer dip made with fresh veggies, herbs and spices.
Print
Facebook
Pin
Share by Email
Rate
Ingredients
4

large ripe steak tomatoes

chopped

1

jalapeno pepper with seeds

stem removed

1

shallot

½

green pepper

1

green onion

½

cup

fresh cilantro

2

garlic cloves

2

tsp

cumin

2

tbsp

fresh lemon juice

Salt and pepper

to taste
Instructions
Add all the ingredients in a food processor and pulse until everything is combined, diced finely. Be careful to not pulse too much or it will become more like a gazpacho!

Taste and adjust the salt/pepper to your taste. It will keep in fridge for about 5 days.
Kitchen Tools
Nutrition
Serving:
1
g
|
Calories:
644
kcal
|
Carbohydrates:
6
g
|
Protein:
59
g
|
Fat:
41
g
|
Saturated Fat:
16
g
|
Polyunsaturated Fat:
19
g
|
Cholesterol:
214
mg
|
Sodium:
267
mg
|
Fiber:
1
g
|
Sugar:
3
g
The information shown is an estimate provided by an online nutrition calculator. It should not be considered a substitute for a professional nutritionist's advice.
Love Recipes? Join our Free Facebook Group!
Join Mom's Best Recipes to find more delicious family recipes.
Save
Saved!