Garden Salsa is a fresh and easy way to get fresh salsa at home in a hurry. Grab those garden tomatoes, peppers and get to prepping or make a pit stop at the farmer's market. This Garden Salsa is an absolute treat, that no jarred salsa could even hold a candle to.
I think it was the early 90s when my mom started cooking with salsa. Back then, it was an exotic sauce that everyone was talking about. My mom used it in everything. Okay maybe not everything, but it seemed that salsa was included in many of our meals.
We had fajitas, tacos, dips and my mom's specialty, chicken breasts covered in salsa and cheese. Yum! Nowadays, salsa isn't exotic and most people have a jar or two in their homes.
Garden Salsa
Do you know what's even better than the salsa in a jar? Homemade salsa, of course! Nothing beats the fresh flavor of garden veggies, herbs and spices. I can eat it right out of the bowl by itself (and I've done that on more than one occasion!).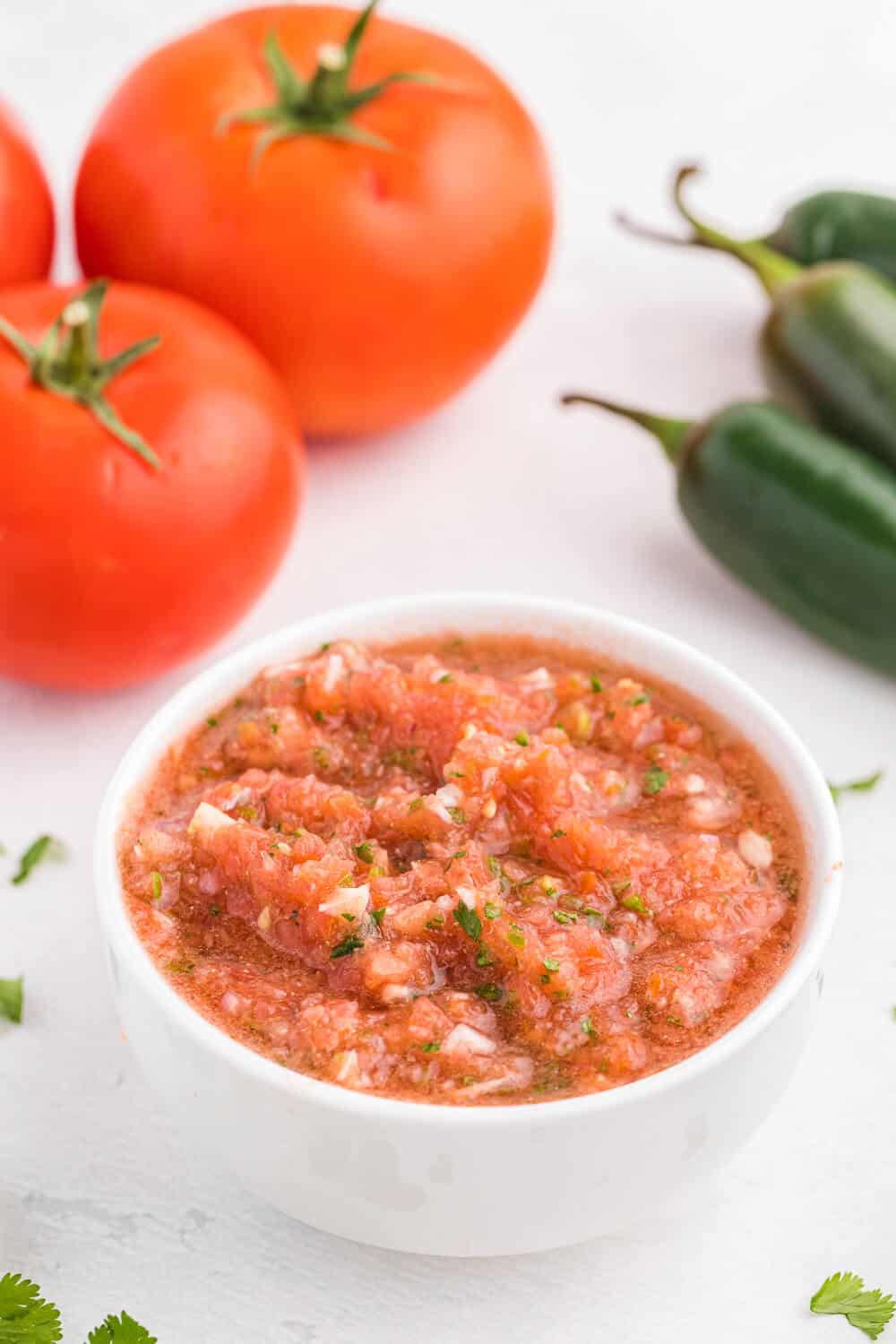 Garden or Farmer's Market Garden Salsa
Unfortunately, I have a black thumb so I don't have a garden with fresh veggies. Let's just say I'm having trouble keeping the hostas alive this summer so I doubt veggies would stand a chance under my care. Good thing there is the farmer's market and friends and family members with green thumbs. Finding fresh garden veggies and herbs is a non-issue. Making your own garden salsa couldn't be easier!
What to Serve with Garden Salsa
Don't you just want to dig in? So so good. Serve your Garden Salsa with some air fryer tortilla chips – bonus points if the chips are homemade too! Or just pour some into a dish and eat. I won't judge, promise! Or top your taco salad, Mexican dishes and more with this tasty salsa.
Can I Make This Salsa Ahead of Time
I actually recommend this! Whip up a batch and let it sit in the fridge for a day to really let the flavours mingle together. Then you will have an incredible flavor that really showcases your salsa in a whole new light. It is hard to resist to eat it right away, but trust me it is worth the wait.
For more salsa recipes, check out Slow Cooker Salsa Chicken, Mexican Meatballs and Salsa Deviled Eggs.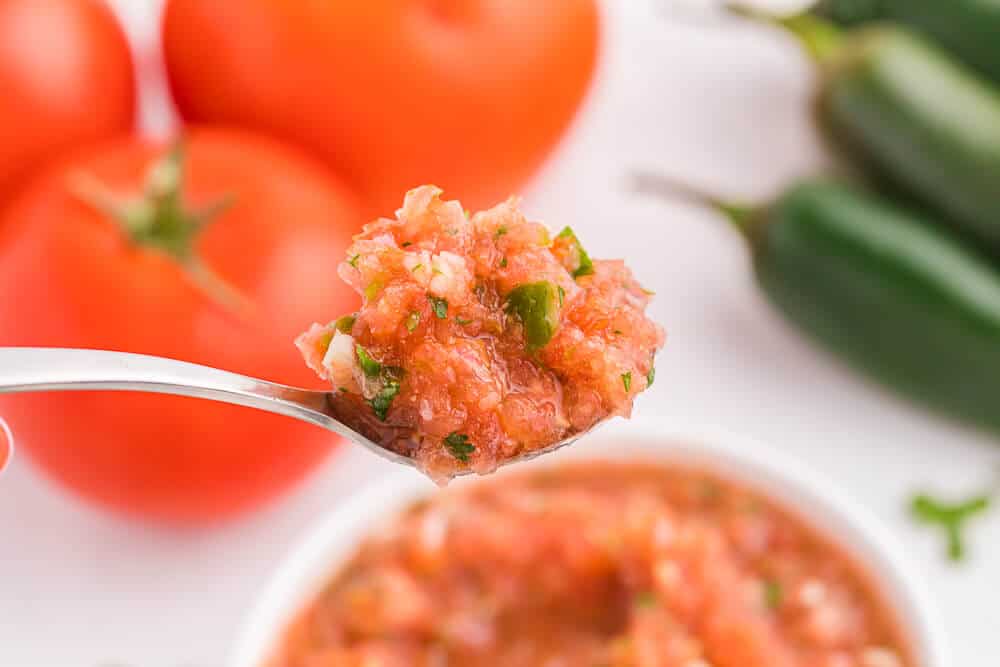 How to Make Garden Salsa
You will start by washing and prepping all your ingredients. Then in a food processor, you will add in all the ingredients. Pulse so everything gets finely diced up. If you pulse too much it becomes liquid so pay attention. Then salt and pepper to taste!
If you have a blender you can use that instead, just pulse or it will turn to liquid fast.
How Long Will Homemade Salsa Store
You can store this salsa in the fridge for 4-5 days. Place in a sealed jar or airtight container to ensure it is stored properly. I find day 2-3 to be the best days for the flavor of this salsa. It has tons of flavor that just works so well together.
Can I Leave Cilantro out of Garden Salsa
You either love cilantro or you hate it. If you absolutely despise cilantro feel free to leave it out. Of course, it will affect the flavor of your salsa a bit, but you wouldn't enjoy it in there if you are not a fan anyways.
Can You Freeze Homemade Salsa in Mason Jars
I will say this salsa is best fresh, but if you have extra you can freeze it. The only thing I warn is it will change the flavor slightly when you go to thaw and serve it up. It won't taste as fresh as when you made it that day.
If you plan to freeze your salsa in mason jars, leave some room at the top. The reason being is as that salsa freezes it will expand. If you don't leave room it will leave you with one massive mess.
Then store your garden salsa in the freezer anywhere from 2-3 months. Then thaw in the fridge the night before you plan to use it.
How Do You Preserve Garden Salsa
If you want to preserve your salsa, I suggest going through the canning process. This is a great way to maximize the fresh summer produce so that you can enjoy it all year round. Find a good tutorial on canning if you don't know-how and learn how to transform salsa into canned salsa that has a nice shelf life.
Garden salsa is an absolute favorite in our home. Whether it is a mid-day snack or topping to go with dinner, we devour it. I have been making this salsa recipe for years.
You'll also love this Cowboy Caviar.
Garden Salsa
Start prepping those garden tomatoes and peppers! This is the best fresh summer dip made with fresh veggies, herbs and spices.
Ingredients
4 large ripe steak tomatoes, chopped
1 jalapeno pepper with seeds, stem removed
1 shallot
1/2 green pepper
1 green onion
1/2 cup of fresh cilantro
2 garlic cloves
2 teaspoons cumin
2 tablespoons fresh lemon juice
Salt and pepper, to taste
Instructions
Add all the ingredients in a food processor and pulse until everything is combined, diced finely. Be careful to not pulse too much or it will become more like a gazpacho!
Taste and adjust the salt/pepper to your taste. It will keep in fridge for about 5 days.
Recommended Products
As an Amazon Associate and member of other affiliate programs, I earn from qualifying purchases.
Nutrition Information:
Yield:

4
Serving Size:

1
Amount Per Serving:
Calories:

644
Total Fat:

41g
Saturated Fat:

16g
Trans Fat:

0g
Unsaturated Fat:

19g
Cholesterol:

214mg
Sodium:

267mg
Carbohydrates:

6g
Fiber:

1g
Sugar:

3g
Protein:

59g