If you are a fan of pesto, give my Chicken Pesto Pizza recipe a try. It is a pizza crust that uses a pesto sauce as the base, chicken, cherry tomatoes, onions, mushroom, cheese and more. A restaurant-quality pizza made right in the comfort of your home. Skip takeout and skip frozen pizzas.
I'm having fun experimenting with pizza recipes! I've got another home run to share today. This pizza you'll want to keep a fork close by because it's LOADED with toppings. You can try and pick it up and eat it, but you may have some casualties!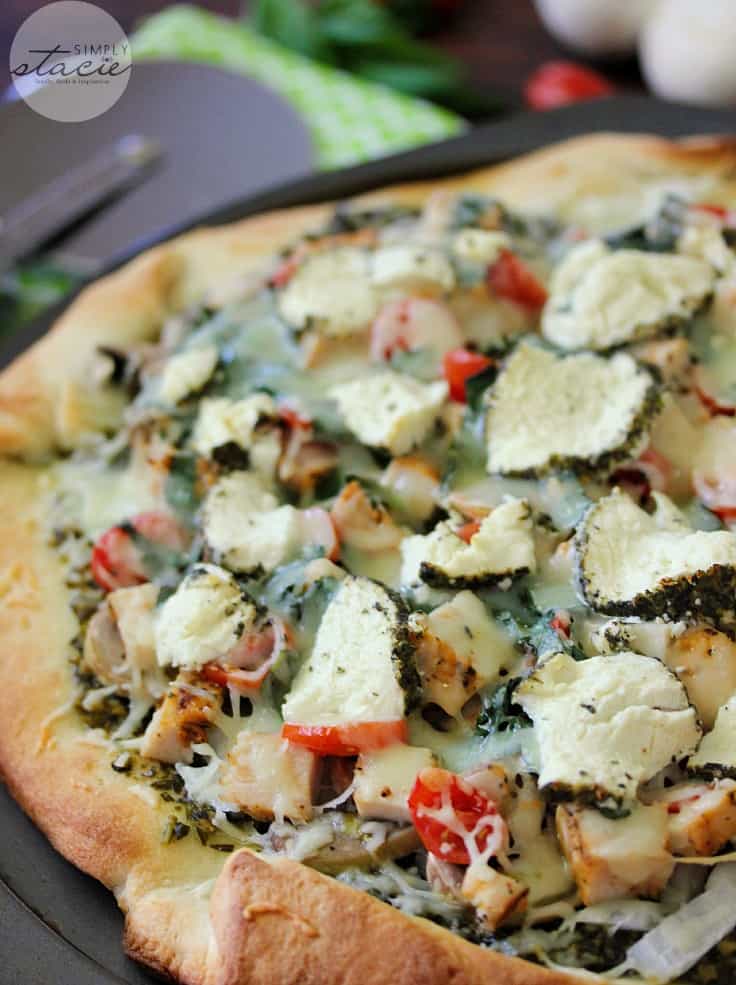 Chicken Pesto Pizza
I present to you Chicken Pesto Pizza! It has pesto sauce in place of pizza sauce. Make your own pesto sauce or use the jar of the store-bought kind to save on time. I had a jar of Classico Pesto Sauce in the pantry so that's what I used on mine.
For veggies and herbs, I loaded it up with sliced mushrooms, white onions, cherry tomatoes, and fresh basil. If you have leftover chicken, chop it up for your pizza. If not, bake two boneless, skinless chicken breasts and chop them up once they've cooled.
What is Pesto
You will find that there are a variety of pestos out there. Some use pine nuts, other use pistachios and so on. But in general, it is a nut and basil leaf mixture that is blended with items like salt and garlic and oil, along with parmesan cheese. Then it creates a sauce, that you can use to stir in pasta, top pizza, and so on.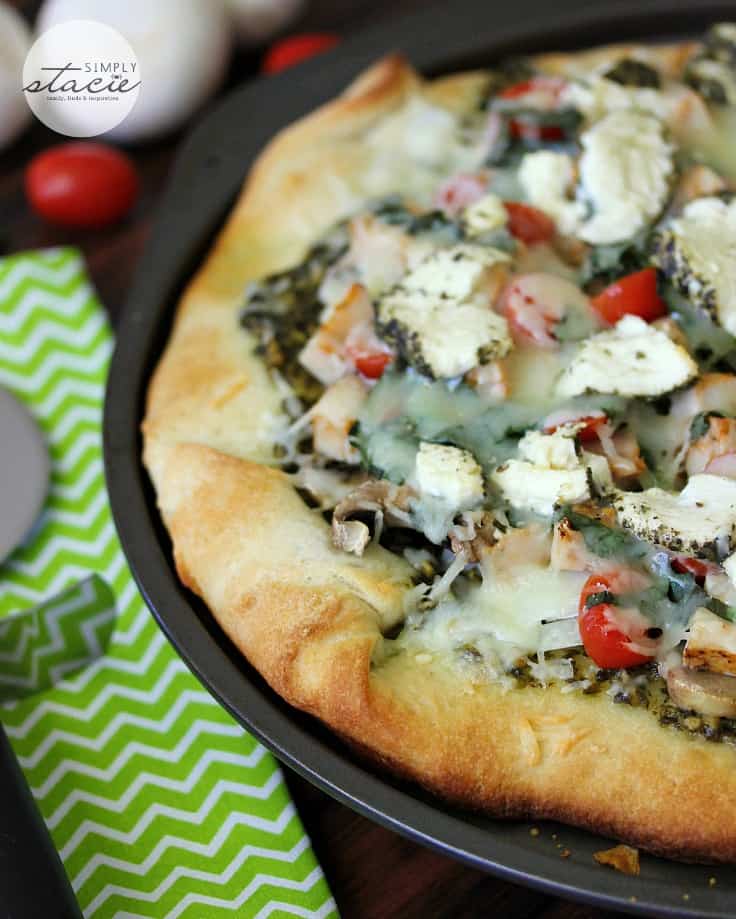 More Ways to Use Pesto
Garlic Shrimp with Chili Pesto | A homemade pesto that is paired with pasta, shrimp, on a bed of greens. This recipe tastes like the restaurant quality but is incredibly easy to make.
Pesto Chicken Pasta Salad | This pasta salad is incredible and different from others out there. A pesto based sauce that pairs with chicken, pasta, and loads of veggies.
How Long Will Homemade Pesto Stay Good for
You can store homemade pesto in the refrigerator for up to one week when it is stored properly. This pizza you have the option to use store-bought pesto or find a recipe to make for your own version.
What Type of Cheese to Use for Pesto Pizza
I bought a small package of goat cheese with fine herbs to finish off the pizza along with a sprinkling of mozzarella cheese. It smelled so good baking in the oven! I had to stop myself from immediately grabbing a slice so I could take some photos. Oh, the life of a blogger!
My youngest daughter was not crazy about this pizza. I think she was turned off by the pesto sauce. She prefers the more traditional pizza with regular ol' pizza sauce and pepperoni. Me, on the other hand, though it turned out perfectly!
Craving more pizza recipes
For more pizza recipes, check out my recipes for Buffalo Chicken Pizza, BBQ Chicken Pizza, Vegetable Pizza, Italian Meatball Pizza, Sweet Chili Chicken Thai Pizza and Cheeseburger Pizza.
How to Make Chicken Pesto Pizza
Preheat the oven for at least five minutes to get it nice and hot. Then roll out your dough and form into a pizza shape on a greased pan. Bake for 8 minutes with just the crust to allow it to cook up a bit.
Once it hits the 8-minute mark, remove the partially cooked dough, and then top with the pesto. Make sure to leave a gap for your crust edge. Then add on your onions, mushroom,s chicken, tomatoes, and basil. Now top with the goat cheese and mozzarella and then bake until crust is golden and cheese is melted.
Can I Adjust Toppings on Chicken Pesto Pizza
Absolutely! Feel free to leave off ingredients if you are not a fan. If you don't like mushrooms or onions it is totally optional. Feel free to dress your pizza how you would like. Just make sure to not overload the pizza with toppings to make it too heavy.
Can I Use Fresh Mozzarella for this Pizza
You are more than welcome to top your pizza with round mozzarella slices if you would like. Just aim to make them thinner, so they have a chance to melt up as the pizza bakes. If they are too thick or they won't fully warm and meltdown.
Best Way to Store Leftover Pizza
I find allowing your pizza to cool and then place in a sealable bag or even airtight container. Your pizza will store for up to three days in the fridge. You are welcome to eat leftovers cold or heat them in the microwave, skillet, or oven.
If you are a fan of pizza, you might really enjoy this recipe for a change to something different. I find this recipe is so easy, a great way to use up leftover chicken, and a dish even little ones can enjoy.
Have you tried pesto sauce on a pizza?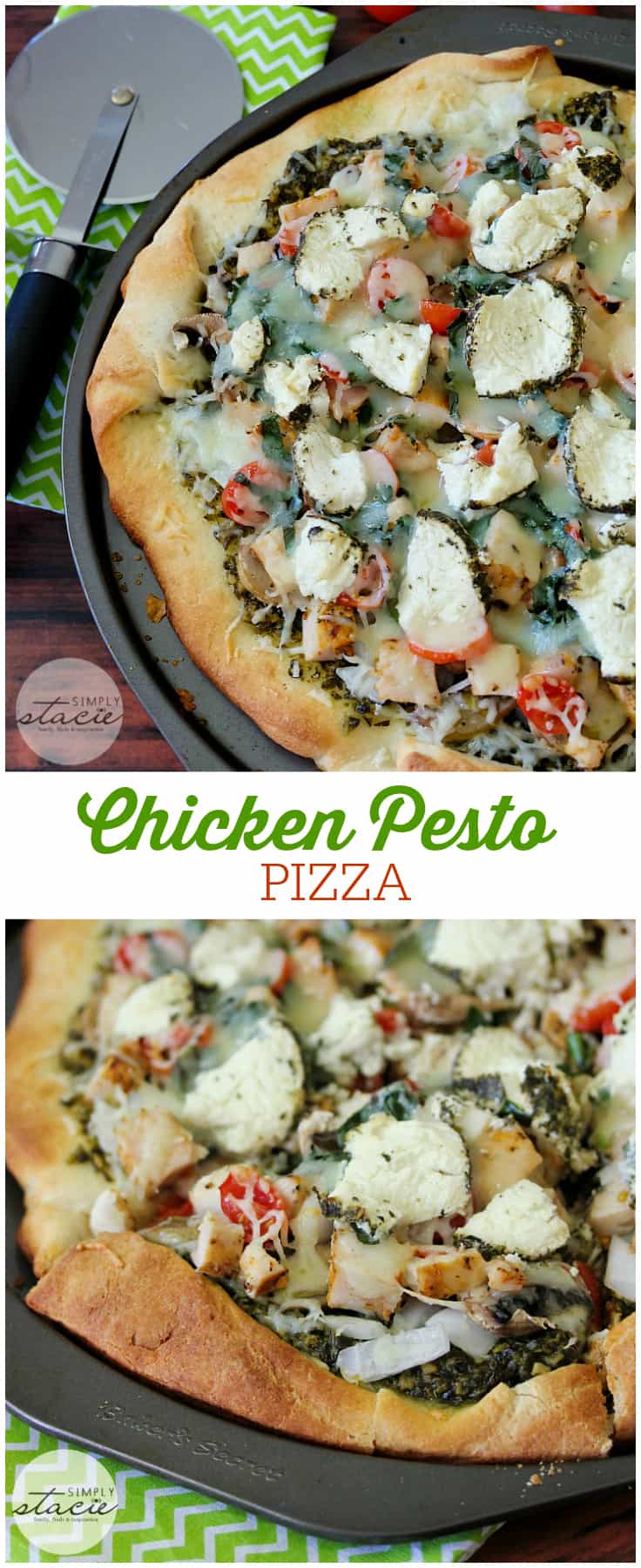 Chicken Pesto Pizza
Skip the frozen aisle and try this pizza recipe! Made with a simple pesto, tender chicken chunks, mushrooms, tomatoes and cheese.
Ingredients
1 Pillsbury Pizza Crust (or your own homemade pizza crust or other brand of refrigerated pizza crust)
¾ cup pesto sauce
1 cup cooked chicken breasts, chopped
1 small white onion, chopped
½ cup sliced mushrooms
1/4 cup cherry tomatoes, sliced
2 tbsp fresh basil, chopped
¾ cup mozzarella cheese, shredded
¼ cup goat cheese, sliced or crumbled
Instructions
Prepare the pizza crust according to package directions. For the Pillsbury Pizza Crust I used, I greased a pizza pan and spread the dough to fit. Then I pre-baked for 8 minutes in a 400°F oven.
Spread pesto sauce evenly over pizza crust, leaving a gap around the edge.
Evenly distribute onions, mushrooms, chicken, basil and cherry tomatoes over the sauce. Then top with mozzarella cheese and goat cheese cheese.
Bake an additional 7 to 10 minutes or until crust is golden and cheese is melted.
Recommended Products
As an Amazon Associate and member of other affiliate programs, I earn from qualifying purchases.
Nutrition Information:
Yield:

6
Serving Size:

1
Amount Per Serving:
Calories:

512
Total Fat:

27g
Saturated Fat:

7g
Trans Fat:

0g
Unsaturated Fat:

18g
Cholesterol:

43mg
Sodium:

703mg
Carbohydrates:

45g
Fiber:

2g
Sugar:

2g
Protein:

22g