Disclosure: I am participating in the Chicken Farmers of Canada campaign managed by SJ Consulting. I received compensation in exchange for my participation in this campaign. The opinions on this blog are my own.
I swear my house feels like Grand Central Station with all the coming and going! My oldest daughter just started her first job a couple weeks ago and works a few days a week. My youngest is in hockey and piano lessons several nights a week. I joke sometimes that we have a revolving door! Quality family time can be challenging. It seems the only time we do spend time together lately is over a meal at the dinner table. After dinner is over, it's once again chaotic.
I think time flies by the older you get. My kids are growing up right before my eyes. It's hard to believe that Olivia will be leaving home in less than two years. I want to make sure we get as much quality family time as possible before she leaves the nest.
I enjoy cooking and preparing meals for my family. I try to accommodate everyone's likes and dislikes (and there are many) so that everyone is happy. Both my daughters are picky eaters. One thing we can all agree on is chicken. I know when I make a chicken dish chances are that there will empty plates at the end. It always makes me feel good to see them clean their plates!
One of my go-to sources for recipes is the Chicken Farmers of Canada website. They have a bunch of recipes to suit most tastes, preferences and dietary restrictions. I discovered a recipe for a Pizzeria Quesadilla and thought it would be perfect for my brood to eat.
Their recipe has ground chicken, but I decided to change it up and use some seasoned chicken breasts. I added bacon and peppers. John suggested mushrooms, but the kids will end up picking them off so I didn't include them. The beauty of this recipe is that anything goes. Add whatever toppings you enjoy!
I used regular white tortillas, but next time I might try whole wheat tortillas.
Use a little pizza sauce or spaghetti sauce – whatever is in your pantry.
Pile on your toppings and a little Italian seasoning. It's ready to go in the oven!
I left it in about 5 minutes until the cheese was melted and the tortilla started to crisp up a little. So easy!
I like that it's not as carb heavy as a regular pizza would be. Add a side salad to make it into a nice dinner for your family.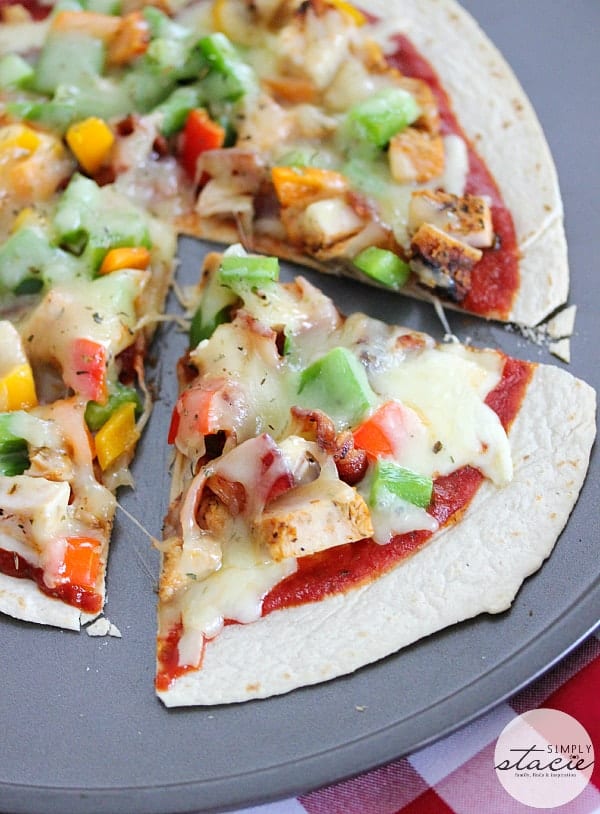 They are so fast to whip up if anyone is really hungry and wants seconds or thirds.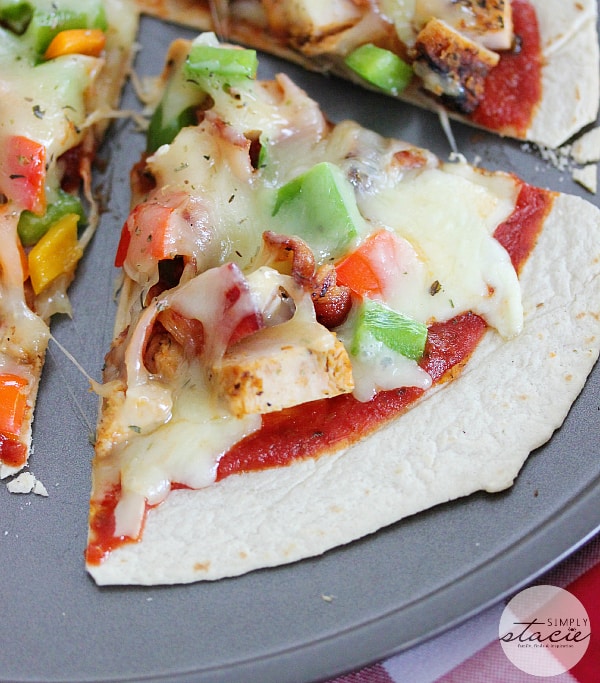 This recipe was a hit with the girls and John. I'll be making it again very soon!
I always look for the Raised by a Chicken Farmer logo when I'm buying chicken. That's how I know that the chicken I'm purchasing is Canadian Chicken. It's never been easier to tell thanks to this new logo.
Another helpful way to plan your family meals and shop for groceries is with the Shopping with Chicken App. Browse recipes and make your grocery list right on your smartphone. It's a free app and worthwhile to download! I've got it on my phone.
What is your family's favourite meal with chicken?
Connect with Chicken Farmers of Canada on Facebook, Twitter, Instagram and Pinterest.
Chicken & Bacon Pizza Quesadilla
Put an Italian spin on this open-faced quesadilla. This super easy recipe is one your family will crave again and again!
Ingredients
2 large tortillas
2 – 3 cooked chicken breasts, cubed
5 strips bacon, cooked and chopped
1/2 cup pizza sauce
1 green pepper chopped
1 red pepper chopped
1 1/2 cup mozzarella cheese, shredded
1/8 tsp Italian seasoning
Instructions
Preheat oven to 350F.
Place tortillas on baking sheets, Spread pizza sauce evenly over tortilla leaving a gap around the edges.
Top with chicken, bacon, peppers and then cheese. Sprinkle Italian seasoning over top.
Bake for 5 to 7 minutes or until cheese is melted.
Recommended Products
As an Amazon Associate and member of other affiliate programs, I earn from qualifying purchases.
Nutrition Information:
Yield:

4
Serving Size:

1
Amount Per Serving:
Calories:

454
Total Fat:

20g
Saturated Fat:

9g
Trans Fat:

0g
Unsaturated Fat:

9g
Cholesterol:

124mg
Sodium:

800mg
Carbohydrates:

21g
Fiber:

2g
Sugar:

4g
Protein:

45g