BBQ Chicken and Pineapple Quesadillas are that perfect combinations of sweet and savory. Tender chicken smothered in bbq sauce, paired with fresh and sweet pineapple. Loads of cheese cooked together for a crunchy quesadilla packed full of vibrant flavors.
Is it a snack, appetizer or a meal? Who cares? It's a quesadilla and it's good eats! I remember the first time I tried quesadillas. It was at a new Mexican restaurant that just opened up in Petawawa called, "Que Pasa". I saw quesadillas listed on the menu and the description sounded like something I'd enjoy so I ordered one. That was about 16 years ago and I've expanded my quesadilla recipe box quite a bit since then!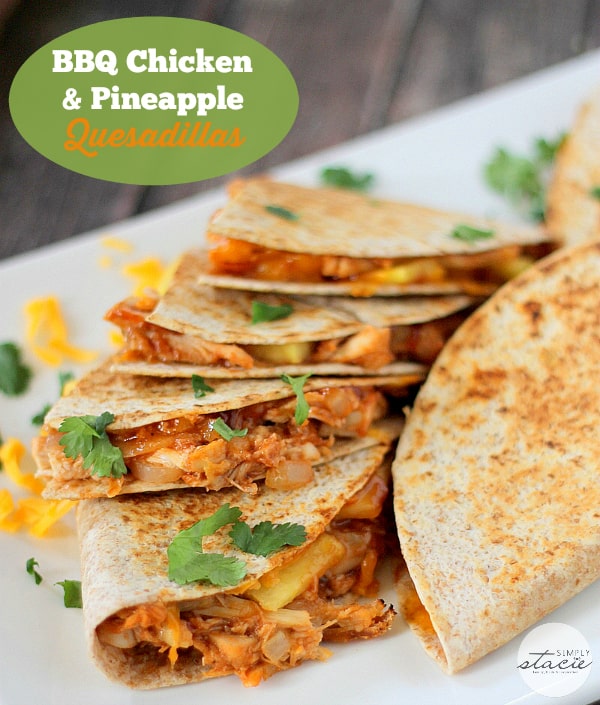 BBQ Chicken & Pineapple Quesadillas
Last week I shared a recipe for Chicken & Bacon Pizza Quesadilla. It's basically a pizza on a tortilla instead of pizza dough. Today I have a spicy/sweet recipe for BBQ Chicken & Pineapple Quesadillas that will make your taste buds sing! It's that yummy.
Can I Use PreCooked Chicken for this BBQ Chicken Quesadilla Recipe
Yes. You are welcome to use shredded chicken, chopped chicken, or sliced. You will still want to place the sauce over the chicken and onions and bake for a bit in the oven, to help blend the flavors. Just make sure if you use leftover chicken it isn't overly seasoned. If so you run the risk of blending flavors and changing it to where it might be less than appealing paired the barbeque and pineapple.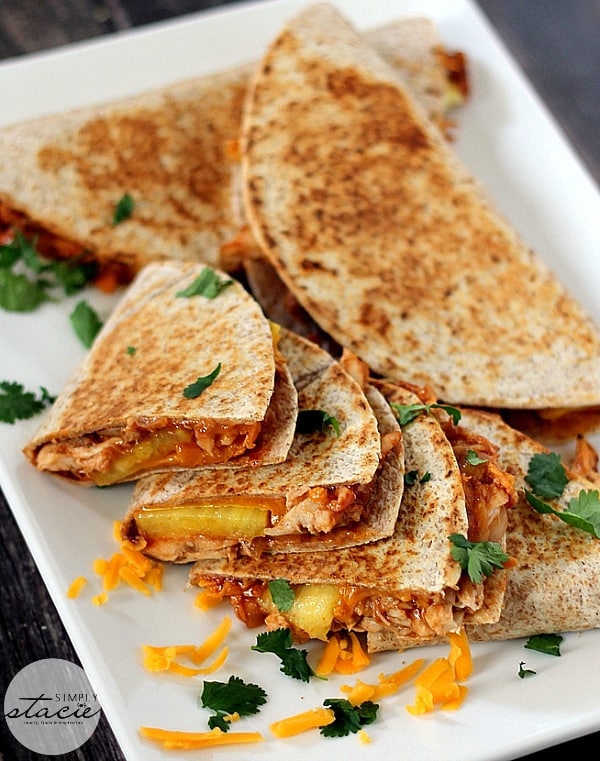 What Kind Of Pineapple Do You Use for Pineapple Chicken Quesadillas
Fresh or canned will work. Just make sure to drain off the juice of canned before you go and place it on the quesadilla. If you don't it could become soggy rather fast. Depending on the season will show if I use canned or fresh. When pineapple is ripe and on sale, I love using fresh. If it is winter and the pineapple is not in season, I reach for slices in a can.
Do You Dip Your BBQ Chicken and Pineapple Quesadillas in Sauce
You are welcome to dip or eat them as is. I love eating them without sauce, but we have paired with a barbeque sauce in the past for added flavor. Or if you have a homemade sauce you feel would be a nice pairing you could do that as well. Even dipping is a sour cream or Greek yogurt is a tasty combination.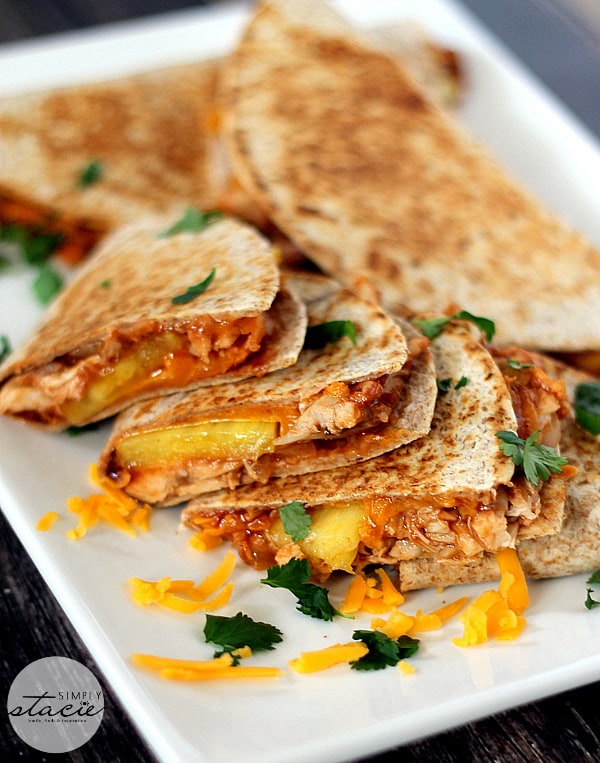 Are These Quesadillas Low Carb
No, they are not. You are welcome to buy low carb tortilla's and use them. Then reach for a lower carb barbeque sauce, to help cut down on the carbs. There are ways to cut down and make these healthier with a few swaps of ingredients. Just watch the sugar content in the barbeque sauce.
How to Make BBQ Chicken and Pineapple Quesadillas
First you start out by cooking your chicken with the onions and bbq sauce in the oven. You want to cook your chicken until fully cooked.
Then shred the chicken and place in a bowl with 1/2 cup bbq sauce. Now lay out 5 tortillas and spread the chicken mixture evenly on each. Place pineapple on top, and add cheese. Add sauce if you want more bbq flavor, then fold the tortilla in half. In a pan heat it up and spray with non-stick spray. Then place the quesadilla in pan and cook for 2-3 minutes on each side.
Remove let cool a minute, slice and then top with cilantro and serve.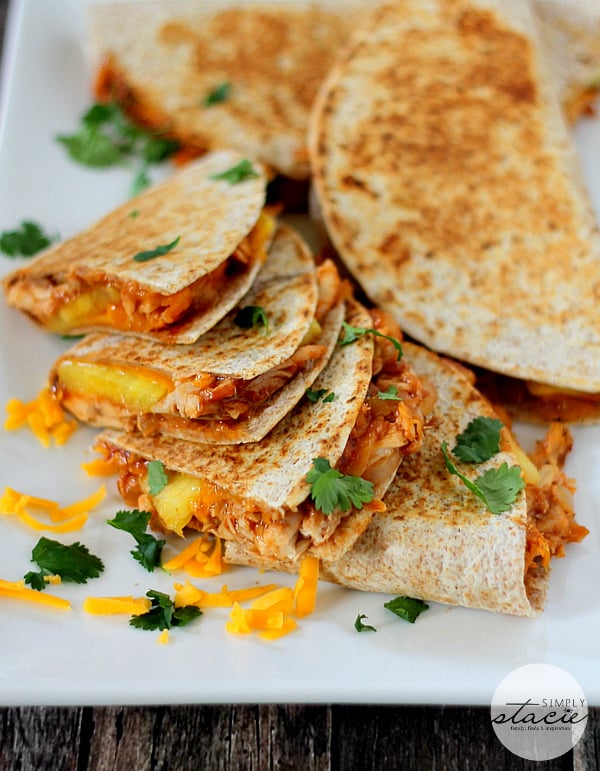 Can You Make BBQ Chicken Quesadillas in Slow Cooker
Yes! You are welcome to cook the chicken with the onions and barbeque sauce and pineapple in the slow cooker. Then assemble the quesadillas and cook on stovetop accordingly.
I have all the directions listed below for the slow cooker recipe.
Love Quesadillas? Check out these recipes
Chicken Bacon Ranch Quesadilla Pizza | Talk about incredible! The flavors work well, the tortilla is crunchy, and topped with incredible flavor. Serve this up as an appetizer, lunch or even dinner.
Turkey Cranberry Quesadilla | Another sweet and savory combo that I am loving. Creamy, savory, and downright addictive. Great for using leftover turkey and cranberry from the holidays.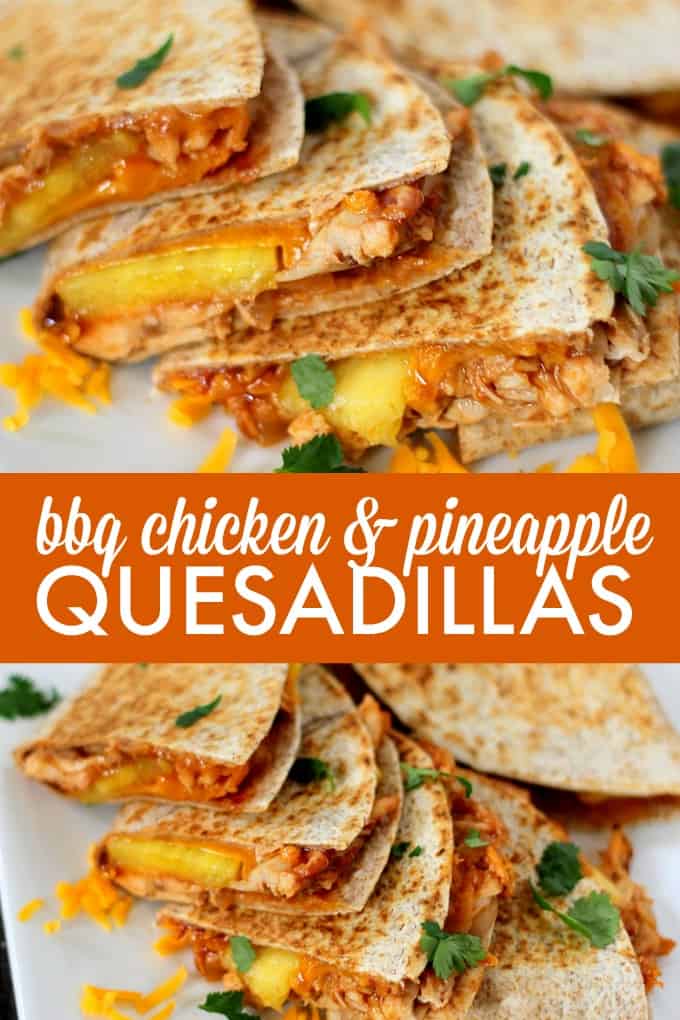 How to Store Leftover Quesadillas
These are best served fresh. The quesadilla will soften as it sits in the fridge. You can place in an airtight container for 2-3 days. Then to reheat I just toss back onto the skillet and get a bit of the crunch back to the outside of the quesadilla. Or opt for the microwave for a quick reheat.
Have you ever tried a BBQ Chicken Quesadilla before?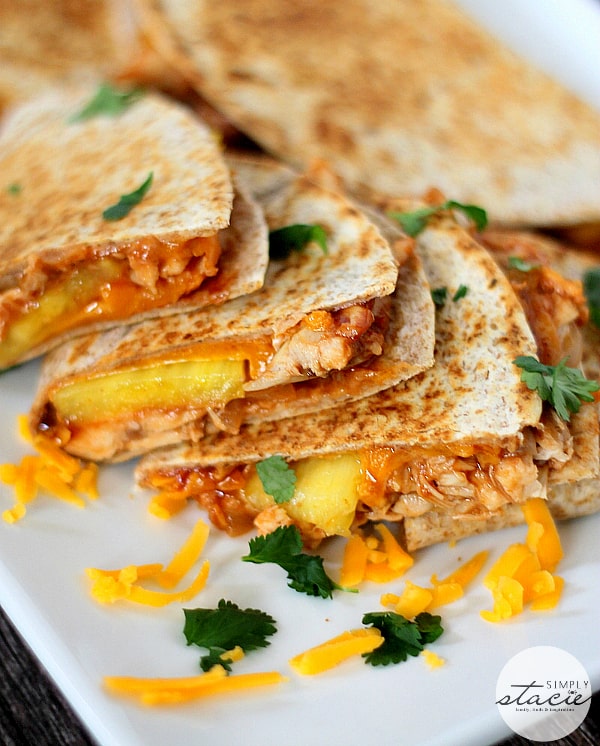 You'll also like these Ham and Cheese Sliders.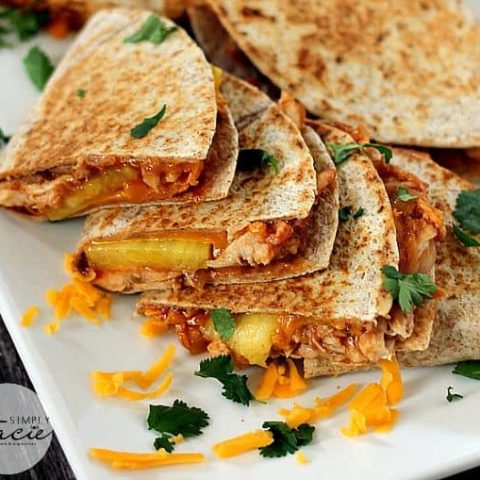 BBQ Chicken & Pineapple Quesadillas
A modern twist on the classic Mexican handheld meal! Smothered in smoky sauce, tender chicken and juicy pineapple, it's the perfect sweet and savory recipe.
Ingredients
2 boneless, skinless chicken breasts
1 1/4 cups sweet and spicy BBQ sauce (or your favourite kind!), divided
1/2 yellow onion, diced
5 medium size whole wheat flour tortillas
1 cup shredded cheddar cheese
1/2 pineapple, sliced thinly (you could also use canned pineapple, sliced thinly)
cilantro, optional
Instructions
Preheat oven to 350 F. Line a baking sheet with foil, and spray the foil with nonstick spray. Place chicken breasts on top of foil, spread 1/2 cup BBQ sauce over the tops. Use a spoon or hands to spread around and coat the chicken with sauce. Sprinkle onions over the top of the chicken. Place in oven and bake for 20 minutes or until cooked through.
Remove from oven and shred chicken with 2 forks. Place shredded chicken and onions into a bowl and add 1/2 cup BBQ sauce, mix until evenly coated.
Lay out 5 whole wheat tortillas, spread chicken mixture on half of the tortillas, then place sliced pineapple on top of the chicken, then sprinkle cheese on top of the pineapple. Add about a tablespoon of BBQ sauce to the other side of the tortillas, then close them up by bringing the side coated in BBQ sauce over the side with the chicken mixture, pineapple, and cheese.
Heat a skillet or grill pan over medium heat and spray with non stick spray. Place the quesadillas down on the pan, and cook for 2-3 minutes, or until browned. Flip and cook on the other side for 1-2 minutes or until browned. *Careful, they tend to cook fast on the second side. Repeat these steps until all quesadillas are cooked.
Slice, top with cilantro (optional), and serve.
Notes
These can also be made in the crock pot: Spray crock pot, add chicken, onions, BBQ sauce (1 cup), and pineapple. Cook for 4 hours on high. Remove chicken, shred. Follow directions above from step #3.​
Recommended Products
As an Amazon Associate and member of other affiliate programs, I earn from qualifying purchases.
Nutrition Information:
Yield:

5
Serving Size:

1
Amount Per Serving:
Calories:

407
Total Fat:

14g
Saturated Fat:

7g
Trans Fat:

0g
Unsaturated Fat:

5g
Cholesterol:

63mg
Sodium:

974mg
Carbohydrates:

46g
Fiber:

5g
Sugar:

22g
Protein:

25g