Slow Cooker Cranberry Orange Chicken is a great Asian-inspired dish you can make for a busy weeknight dinner! This shredded chicken is simmered in a sticky cranberry orange ginger sauce and is perfect over rice.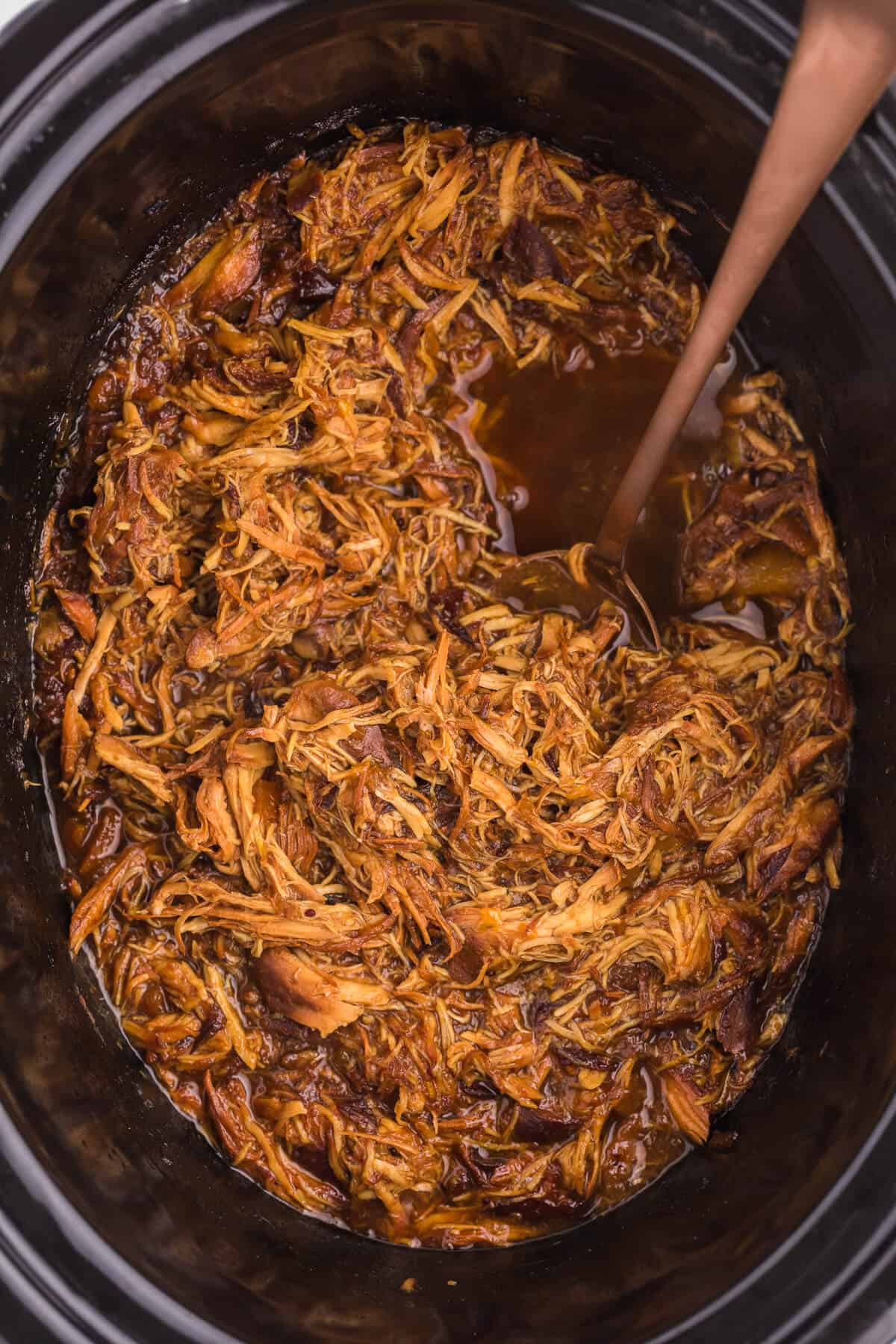 Asian-inspired nights are some of my favorites, but they're also often a lot of work. Slow Cooker Cranberry Orange Chicken is a great easy chicken dinner you can make on a weeknight and serve with fluffy white or brown rice.
I'm not a big fan of orange jam, but I like it with chicken! I had a jar sitting in my fridge from another recipe, but we never use it on toast. I felt bad for it sitting there, alone and unwanted. Immediately, my brain landed on a sticky orange chicken recipe with a tangy cranberry sauce — all in a Crockpot!
My Slow Cooker Cranberry Chicken inspired me to use some of it in another easy chicken recipe. The result was pure deliciousness! Orange jam, you have redeemed yourself.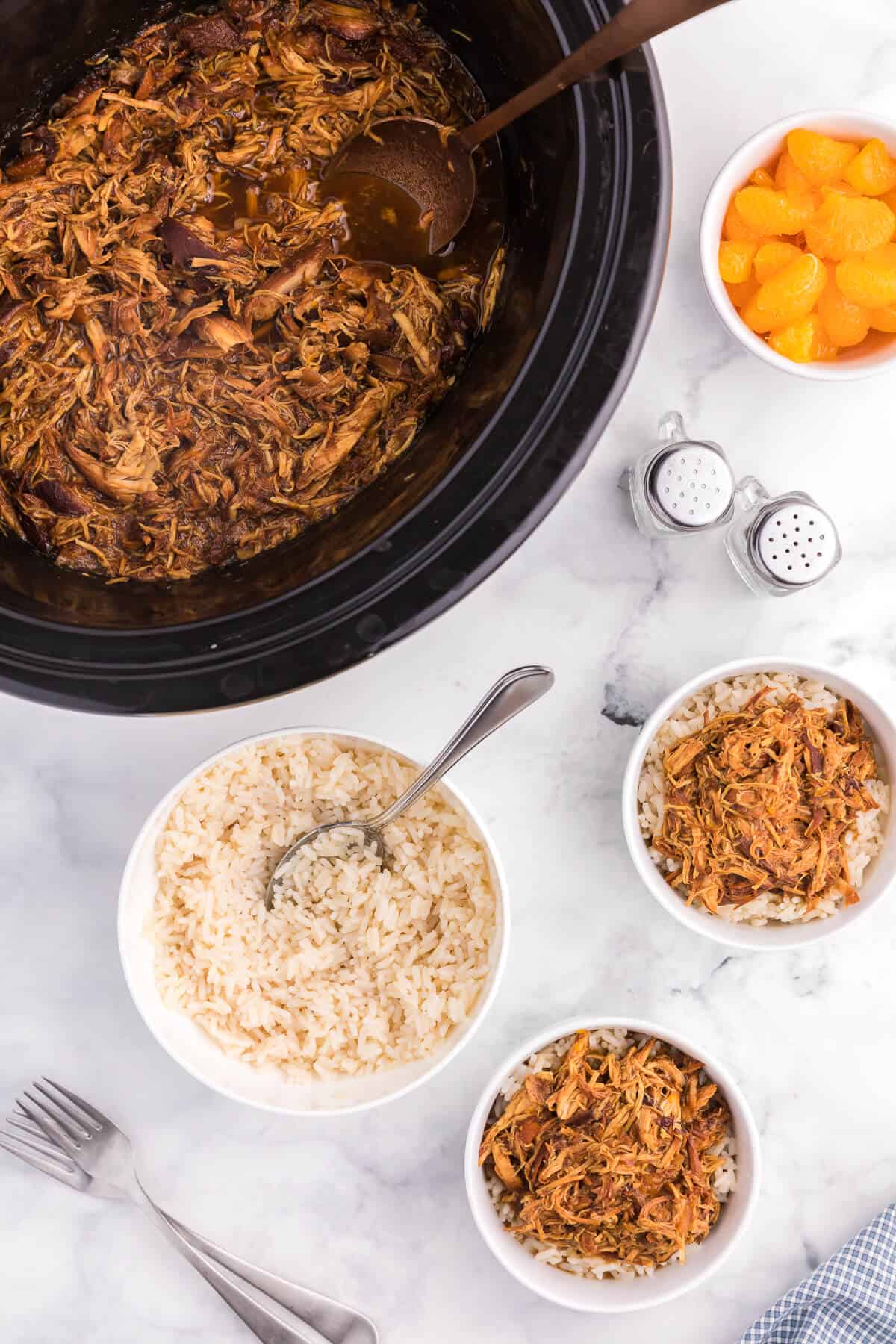 You only need a few pantry staples and one of my Thanksgiving favorites — cranberry sauce — for this shredded chicken recipe. I always keep onion soup mix packets on hand because they're packed with tons of savory seasoning.
Ingredients
Boneless, skinless chicken breasts
Cranberry sauce — with or without whole cranberries!
Orange jam
Mandarin orange pieces
Ginger
Onion soup mix
Balsamic vinegar
I love the extra acidic flavor balsamic vinegar brings to this sticky orange chicken sauce. You can also make rice, noodles, or even Asian tacos with this shredded chicken! The options are endless with Slow Cooker Cranberry Orange Chicken.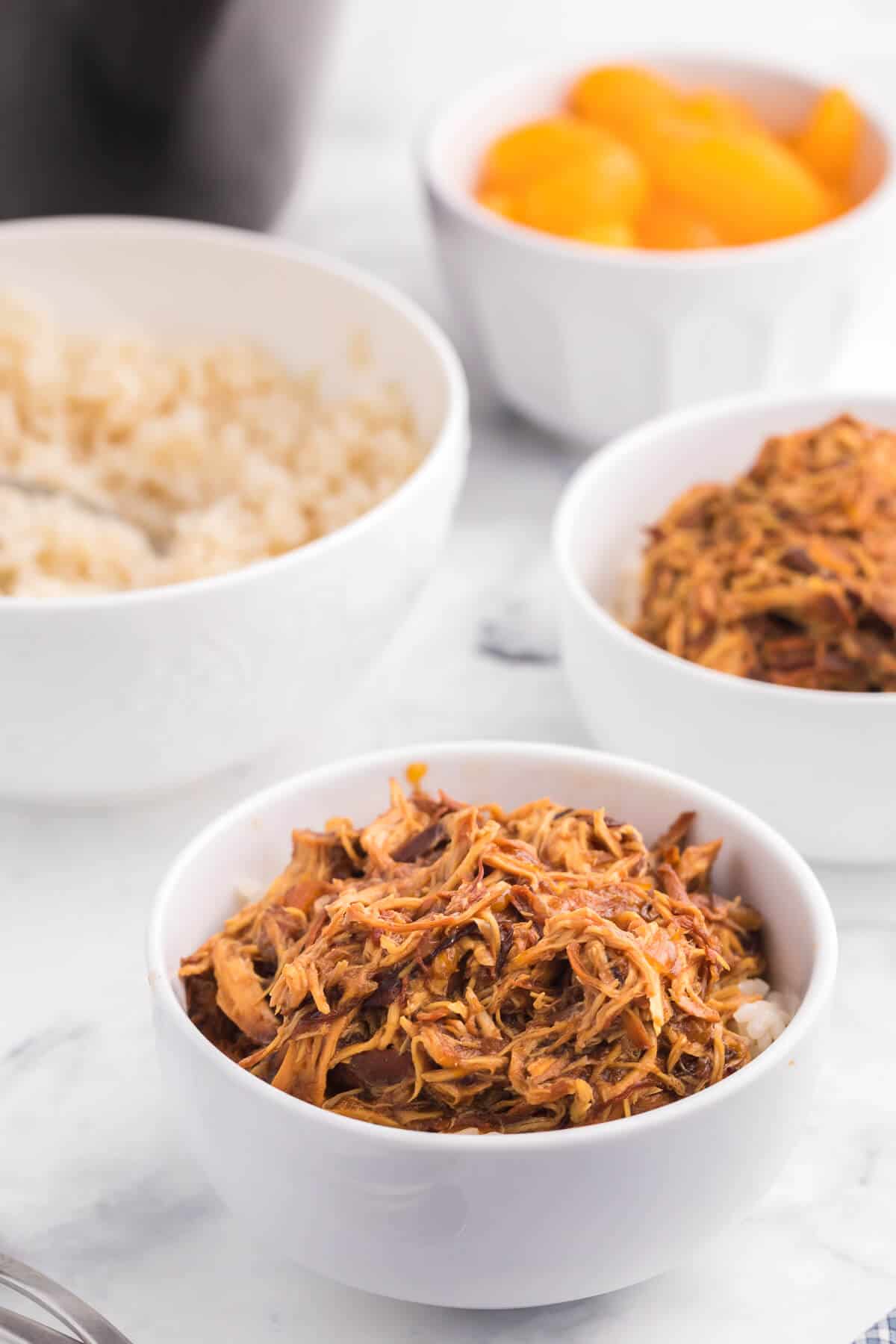 What I used for my Slow Cooker Chicken
This post contains affiliate links.
Measuring spoons: There's a lot of seasonings and jams in this shredded cranberry orange chicken, but very little measuring! Everything melds together into one flavor in the slow cooker.
Mixing bowls: A good set of mixing bowls is key for making sauces and spice blends. I prefer glass, but all mixing bowls are essential in the kitchen.
Crockpot: There's nothing better for a busy mom than a slow cooker! I like one with a locking lid for easy transport.
How to Make Cranberry Orange Chicken
First, put the raw chicken breasts into the Crockpot. They can even be frozen!
Then, mix together the cranberry orange dressing and pour it over the chicken. Cover the slow cooker and cook on low for at least 6 hours. You can also cook this on high in a pinch for half the time!
Once the chicken reaches 165 degrees F internally, shred it with forks in the Crockpot or on a cutting board. Serve from the Crockpot with all the delicious sauce, and enjoy!
Pile on the sauce and add a few extra mandarin orange slices and green onions to serve. This chicken main dish pairs beautifully with a crisp tossed salad with more mandarin oranges, slivered almonds, and a ginger dressing.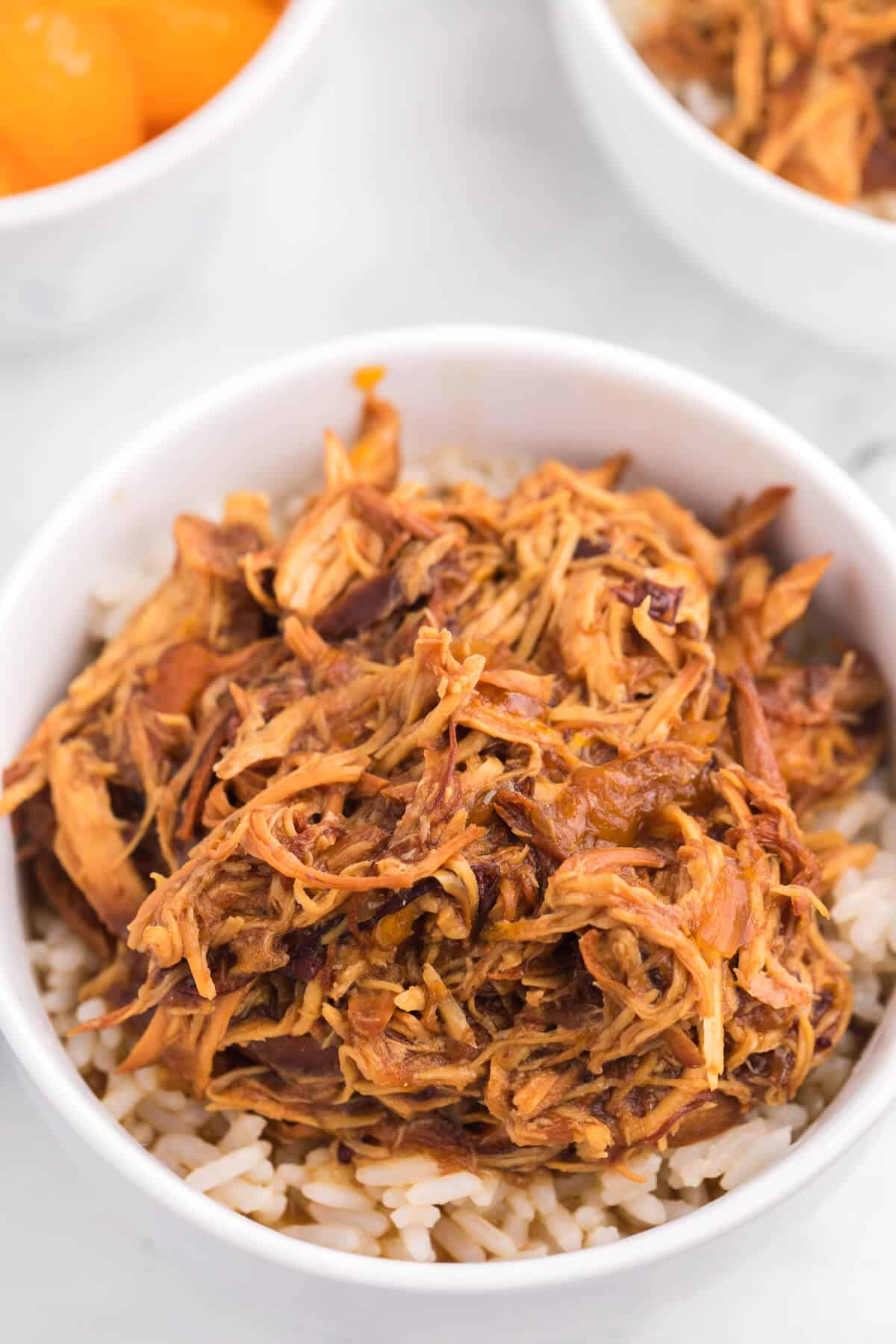 Is Orange Chicken Spicy?
There are definitely spices in orange chicken, but it's got zero heat in the flavor!
I love cranberry orange chicken because it's a great sweet, fruity flavor. The ginger helps enhance the flavor, but the sharpness of raw ginger vanishes when it's cooked.
Like many Asian dishes, however, you can totally add some extra spice to the mix! Try adding some crushed red pepper, a little cayenne pepper.
A little goes a long way with spice, so be careful! I always start with a pinch, and taste as I go. You can always add, but you can't take it back!
Is It Ok to Put Raw Chicken in a Slow Cooker?
The beauty of the Crockpot is it can handle almost anything. Even raw chicken!
When the raw chicken simmers in the cranberry orange sauce all day, it absorbs the flavor so much better than a plain roasted chicken covered in sauce.
You can even use frozen chicken breasts in a pinch! Always make sure your chicken is cooked thoroughly, at least 165 degrees F before serving. You can check with a meat thermometer just to be sure!
What to Serve with Slow Cooker Cranberry Orange Chicken
I love simple Asian recipes, and this is one of my favorites because it's a great family meal!
If you don't serve this over white rice, I highly recommend chicken fried rice! It's the perfect grain to absorb all the yummy cranberry orange sauce, and it's packed with veggies, too!
Wrap this easy shredded chicken in lettuce wraps for a low-carb option. These crunchy wraps are a great way to get your vegetables and protein in after a long day.
You can always use the leftover chicken for these amazing Asian chicken nachos the next night!
Other amazing Crockpot recipes to try…
Do you have any amazing slow cooker recipes? I'm always looking for more recipes to try! Follow me on Instagram @simplystacieblog, on Facebook at Simply Stacie, and on Pinterest @SimplyStacie and let me know how you liked this and my other recipes!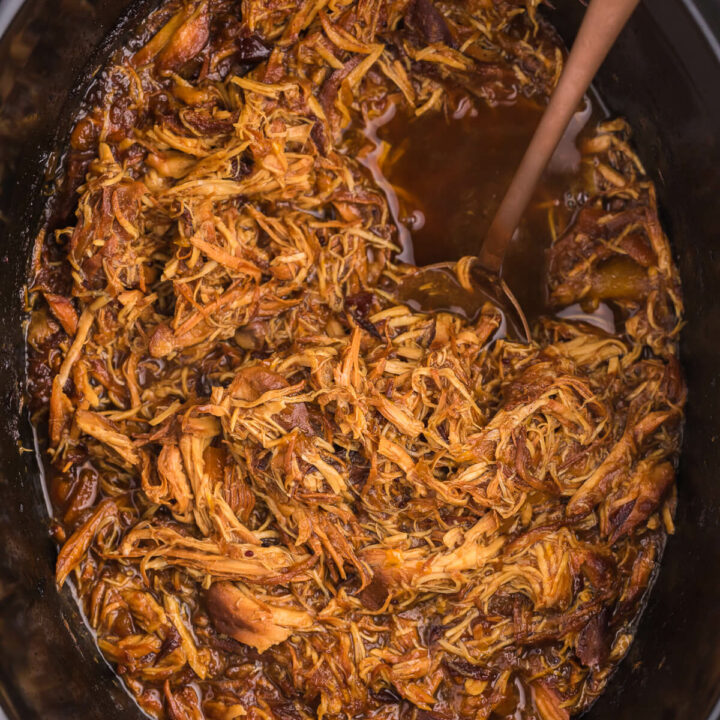 Slow Cooker Cranberry Orange Chicken
Total Time:
8 hours
5 minutes
Serve up this Slow Cooker Cranberry Orange Chicken for dinner tonight. Juicy, tart, sweet, and a seasonal recipe to make this fall and winter month.
Ingredients
4 boneless, skinless chicken breasts
1 can cranberry sauce (348ml)
1/2 cup orange jam
1/4 cup mandarin orange pieces
1/4 tsp ginger
1 package onion soup mix
2 tbsp balsamic vinegar
Instructions
Place chicken breasts in a slow cooker.
In a medium mixing bowl, combine the rest of the ingredients. Pour mixture over chicken breasts.
Cook on high 3 to 4 hours or low for 6 to 8 hours.
Shred chicken with two forks in the crockpot. Serve hot.
Recommended Products
As an Amazon Associate and member of other affiliate programs, I earn from qualifying purchases.
Nutrition Information:
Yield:

4
Serving Size:

1
Amount Per Serving:
Calories:

351
Total Fat:

4g
Saturated Fat:

1g
Trans Fat:

0g
Unsaturated Fat:

2g
Cholesterol:

102mg
Sodium:

247mg
Carbohydrates:

38g
Fiber:

2g
Sugar:

29g
Protein:

38g