Slow Cooker Cinnamon Raisin Bread Pudding is the ultimate breakfast or even dessert to serve up family and friends. This cinnamon raising bread pudding is made in your slow cooker for an easy hands-off approach.
I'm so glad it's a slow cooker season once again! To be honest though, I never really stopped using my slow cooker. I use it less often in the summer months, but it never ever collects dust. The old girl has lasted me many years and is still going strong.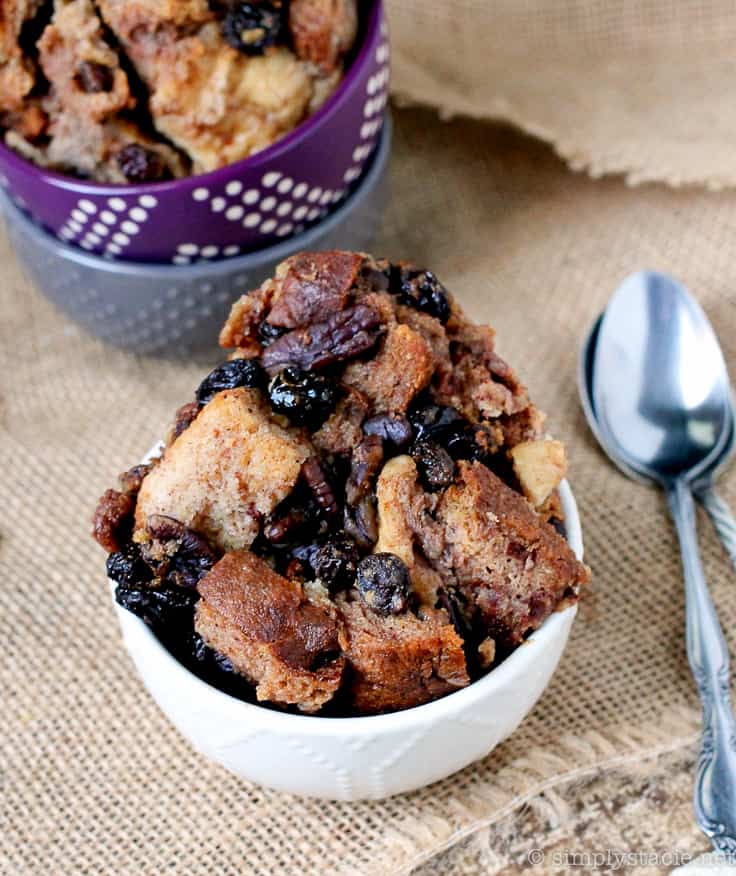 Slow Cooker Cinnamon Raisin Bread Pudding
I'm branching out more now with slow cooker recipes. When I first started using it, I only cooked meat in it – mainly roasts. Now I do entire chickens, soups, quiche and even desserts. Your trusty slow cooker can cook pretty much anything.
Take this Slow Cooker Cinnamon Raisin Bread Pudding. It's super easy to make and is the epitome of comfort food. It's heavy on the carbs and calories, but oh so good!
As for raisins, usually, you either love 'em or hate 'em. I'm definitely a fan. I adore raisin toast with butter for breakfast. And this dessert? Even better!
Ways to Serve Cinnamon Raisin Bread Pudding
Top with some whipped cream or vanilla ice cream. This dessert will make your guests swoon!
When you make this dessert, make sure you leave the room. It's pretty filling! You might also like these Sour Cream Raisin Bars or Half Hour Pudding.
Can I Make this Without Cinnamon Raisin Bread
Absolutely! You can make this with plain white bread and use it in your recipe. Since you add in your raisins it will still give you a raisin flavor you want. You could even add in extra raisins if you are a big fan. This recipe is able to be adapted to fit your needs.
Can Bread Pudding Be Made Ahead of Time
You can whip up this bread pudding the day before you plan to serve it. Just cook as directed and then allow it to cool and store in the fridge. Then right before you want to serve, simply cover and warm in the oven or even slow cooker for serving. You just don't want it to dry out as it warms up.
Where is Bread Pudding From
Bread pudding is dated back all the way to the 13th century from England. It was originally called the poor man's pudding! You would always use stale bread that you didn't plan to eat.
Is Bread Pudding Served Cold
You can actually serve bread pudding at any temperature. It is most often served warm fresh from the oven. But, with leftovers, you can eat chilled or warm it up in the microwave or even the oven.
How to Make Cinnamon Bread Pudding
You will start by adding the eggs, sugar, and spices along with vanilla in a bowl and whisk well. Then add in your butter, cream, and milk. Add in raisins and pecans and stir.
You will add in your chopped bread and gently fold it. Then cover the bowl and let it sit for 30 minutes to an hour in the fridge. This is going to help soak up all the mixture.
Place a rack in the bottom of your slow cooker as directed below. Then use a glass dish or souffle dish and grease and pour the bread mixture into the bowl and place it in the slow cooker. Cover tight with aluminum foil and cook 3-4 hours. Remove lid, and remove foil and cook 20 minutes.
Can You Freeze Leftover Bread Pudding
You can freeze you cooked bread pudding for up to 2-3 months. Just place in a dish and cover tightly and store in the freezer. Or place in a freezer-friendly container. When you are ready to eat just thaw the bread pudding in the refrigerator overnight. Then reheat or eat it cold, whichever you prefer.
Looking for more raisin filled recipes
Sour Cream Raisin Bars | A mix between a date bar and butter tart, you will be reaching for one more bite or slice!
Apple Raisin Cake | Here is a fantastic cake that brings you the flavor of apple and raisins in every single bite. Moist, light, and downright refreshing.
Oatmeal Raisin Cookie Cups | These cookie cups are incredible. They are a bite-size delight in every bite. Tender oatmeal with a raisin filling and topped with a cream cheese mixture.
What is your favourite dessert to make in your slow cooker?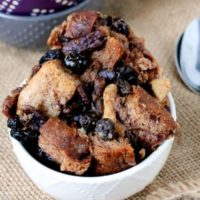 Slow Cooker Cinnamon Raisin Bread Pudding
Cook Time:
4 hours
20 minutes
Total Time:
4 hours
40 minutes
Slow cooker dessert alert! Make the best sweet comfort food so easily with this recipe.
Ingredients
1 loaf of raisin bread, cut into bite size pieces
¼ cup raisins
⅓ cup pecans, chopped
3 eggs, lightly beaten
½ cup sugar
1 tsp cinnamon
¼ tsp nutmeg
1 tsp vanilla
1 cup milk
1 cup heavy cream
1 tbsp butter, melted
whipped cream, for garnish
Instructions
In a large bowl, combine eggs, sugar, cinnamon, nutmeg, and vanilla' whisk well to combine. Add milk, heavy cream, and butter; whisk again to combine. Add raisins and pecans and stir. Add bread pieces, and carefully fold to coat bread. Once coated, cover bowl with plastic wrap, and place into fridge for 30 minutes to 1 hour.
In a large slow cooker, place a rack in the bottom (I like to use 1-2 mason jar tops – without pop in lid, these work great as a 'rack'). Add 1 cup of water to the slow cooker. Using an oven proof souffle dish or glass baking dish (must fit in the slow cooker), grease liberally with nonstick spray or butter. Add bread mixture to bowl, cover tightly with foil, then top with slow cooker lid, and cook on high for 3-4 hours.
Remove lid, and carefully remove foil from the top. Allow to cook for 20 minutes. Serve and garnish with additional raisins, pecans, and whipped cream if desired.
Recommended Products
As an Amazon Associate and member of other affiliate programs, I earn from qualifying purchases.
Nutrition Information:
Yield:

4
Serving Size:

1
Amount Per Serving:
Calories:

525
Total Fat:

36g
Saturated Fat:

18g
Trans Fat:

1g
Unsaturated Fat:

15g
Cholesterol:

220mg
Sodium:

148mg
Carbohydrates:

43g
Fiber:

2g
Sugar:

34g
Protein:

10g