I was officially diagnosed with Irritable Bowel Syndrome (IBS) in 2013. I have friends and relatives with the condition so I was aware of what it was and suspected that I might also have it. IBS is a serious GI issue that affects the large intestine (colon) and commonly causes cramping, abdominal pain, bloating, gas, diarrhea and constipation. There is no cure or known cause for IBS. My doctor said that I'd have to learn to manage my symptoms and that he had many patients who were in the same boat as me.
I know when I'm experiencing a flare up of my IBS symptoms, I'm anxious for them to go away so I can get back to my life. Managing symptoms is important! It's not fun to be afraid to leave the house.
Diet plays a big role in managing IBS. It was one of the things my doctor recommended for me. I now know which foods trigger my symptoms. My case is fairly mild, for the most part. Some of my friends have to carefully watch everything they eat to avoid a flare up. With the holidays coming up, this can be especially tricky! Good thing there are many IBS-friendly recipes for people to enjoy.
Patsy Catsos, a medical nutrition therapist and registered dietitian, has created some new IBS-friendly recipes perfect for the holiday season. I made a cookbook featuring these yummy recipes. It was a hard decision to decide which one I wanted to make first.
The recipe I ended up selecting was a scrumptious Pumpkin Gingerbread Pudding! Is it breakfast or dessert? You decide. I had it for both!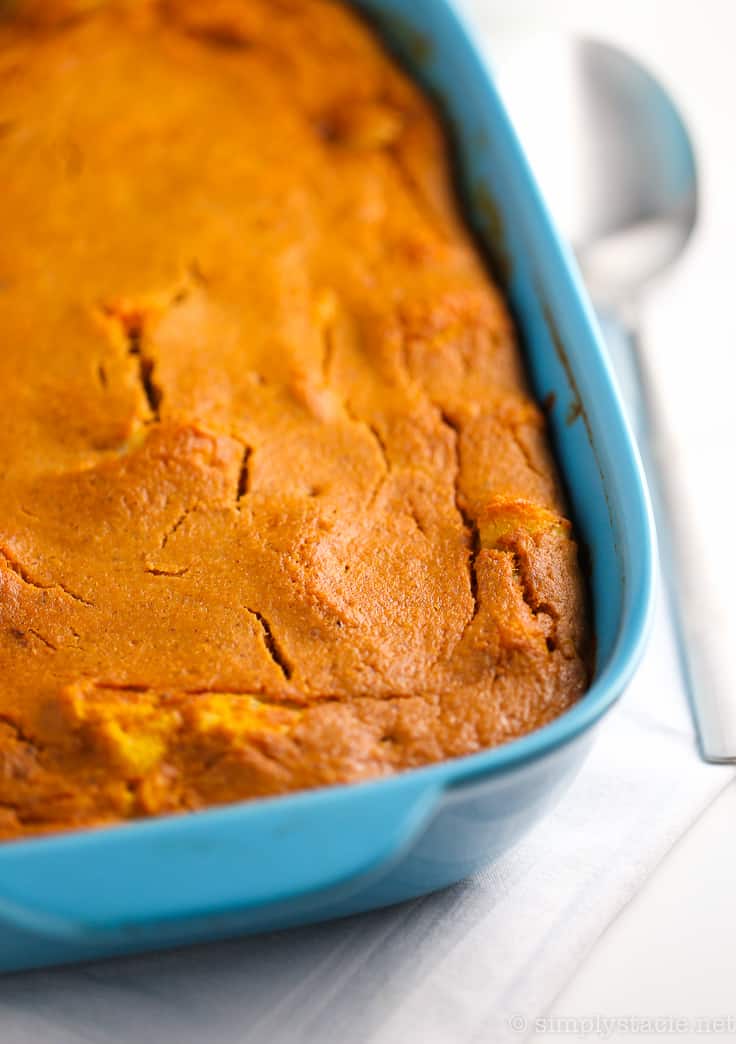 Patsy's recipe was super easy to make and it smelled so good as it was baking in the oven. I adore anything pumpkin so could not wait to dig right in.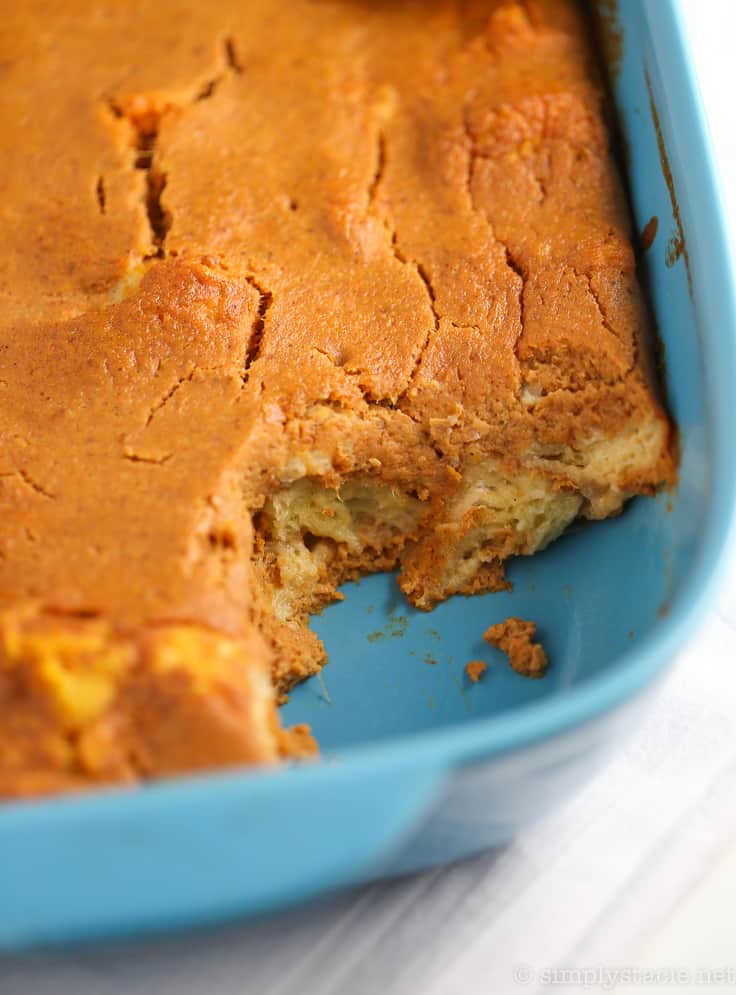 Meet your holiday breakfast! It's GOOD.
The bottom layer is sourdough bread which is easier to digest than regular bread. My favorite part is the pumpkin gingerbread layer! It reminds me of pumpkin pie.
Who would have guessed this is an IBS-friendly recipe? I hope you'll try it out and see how yummy it is.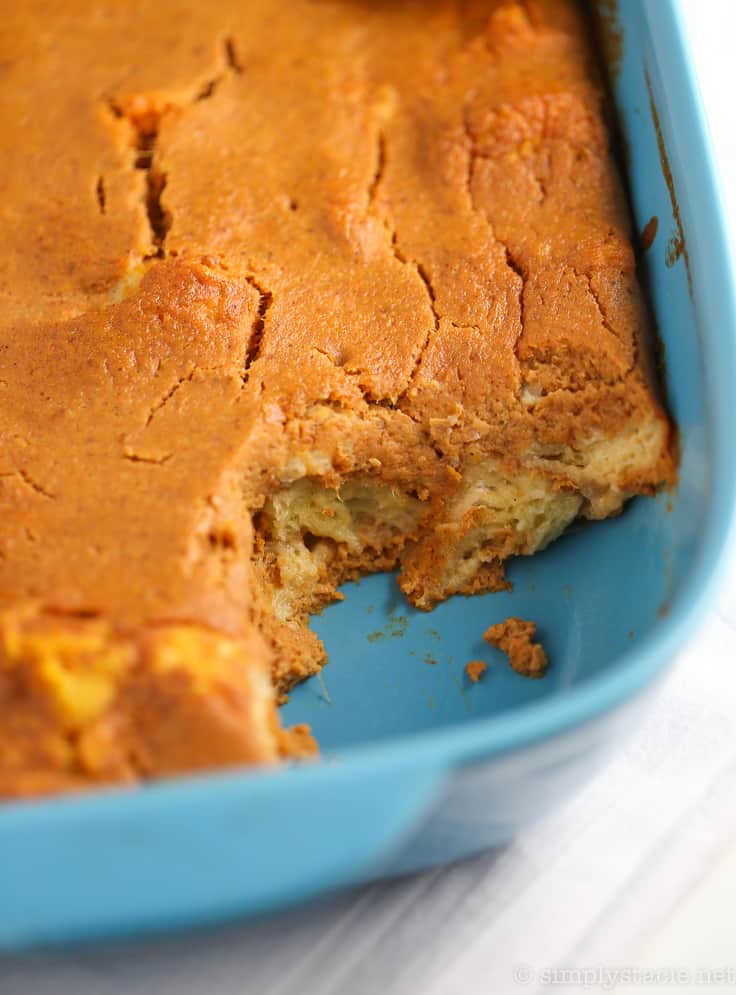 Pumpkin Gingerbread Pudding
Total Time:
1 hour
15 minutes
Serve this delicious Pumpkin Gingerbread Pudding recipe for breakfast or dessert! Another big bonus is that it's an IBS-friendly recipe, too.
Ingredients
2 tbsp melted butter
3 1/2 cups cubed day-old sourdough bread
1/2 can (16oz) pumpkin
5 large eggs
2/3 cup brown sugar, firmly packed
1 tsp cinnamon
1 tsp ginger
1/2 tsp nutmeg
2 cups lactose-free milk
Instructions
Preheat oven to 350F.
Grease a 7×10 inch pan heavily with the melted butter. Distribute cubed bread in the pan, and set aside.
In a medium-sized mixing bowl, combine the remaining ingredients, stirring in the milk last.
Pour pumpkin mixture over the cubed bread and allow the bread to soak up the milk mixture for about 10 minutes while the oven pre-heats.
Bake until a little puffy in the middle and golden brown around the edges, about 55 minutes.
Cool for 20 minutes then serve warm, with vanilla ice cream.
Notes
Sourdough bread is easier to digest than regular bread, so you can enjoy a bowl of this bread pudding for either dessert or breakfast! Freeze sourdough bread odds and ends until your next batch of bread pudding.
Recommended Products
As an Amazon Associate and member of other affiliate programs, I earn from qualifying purchases.
Nutrition Information:
Yield:

10
Serving Size:

1
Amount Per Serving:
Calories:

140
Total Fat:

6g
Saturated Fat:

3g
Trans Fat:

0g
Unsaturated Fat:

2g
Cholesterol:

103mg
Sodium:

108mg
Carbohydrates:

17g
Fiber:

0g
Sugar:

12g
Protein:

5g