Easy and quick, this Quiche Lorraine will quickly become a weekly staple! It's full of flavor from that dreamy combination of bacon, cheese, cream, and eggs.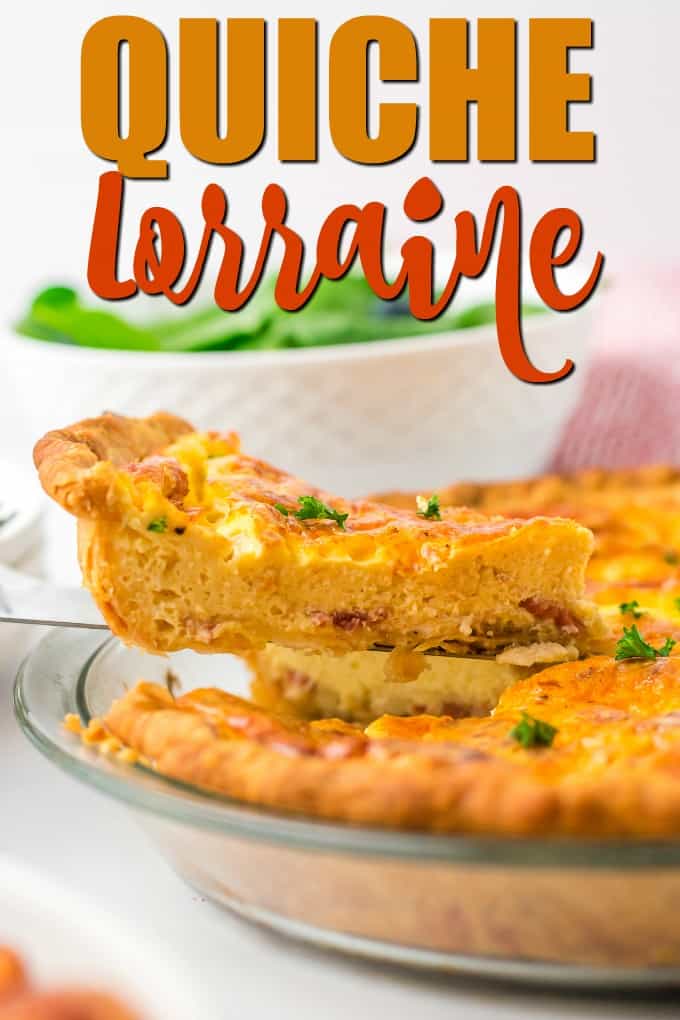 I'm always a fan of traditional recipes because they remind me of cooking with my grandmothers as a little girl. Quiche Lorraine is one of those jaw-dropping recipes that looks so much fancier and more difficult than it is! This recipe is perfect for breakfast, brunch, or a hands-off breakfast-for-dinner dish!
Have you ever tried a crustless quiche? I love my Bacon, Spinach, and Mushroom Crustless Quiche recipe that's just as delicious without fussing with pie crust!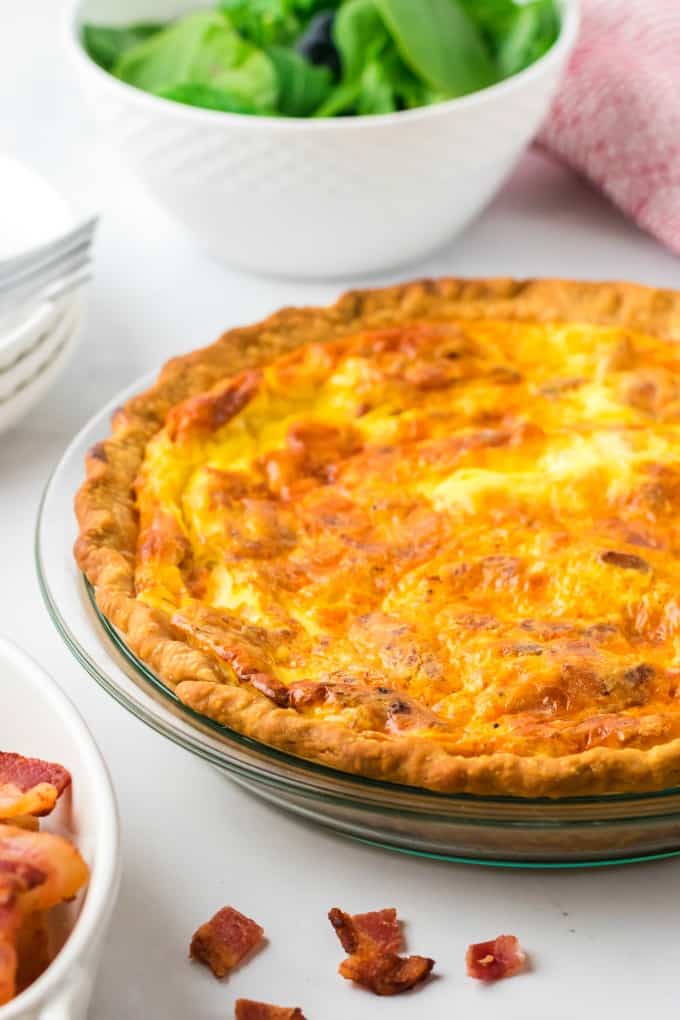 Ingredients
Pie crust — I recommend Pillsbury's refrigerated pie crust
Bacon
Half and half
Eggs
Salt
Pepper
Ground nutmeg
Paprika
Swiss cheese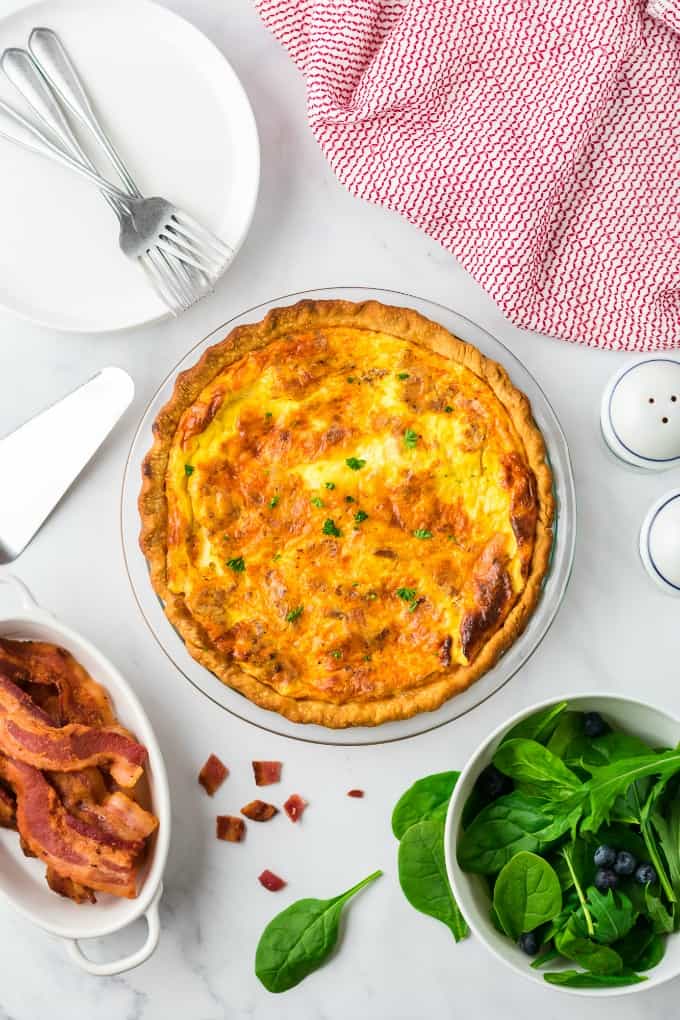 What I used for my Quiche Lorraine
This post contains affiliate links.
Fluted pie pan: This pie pan takes my pies and quiches from average to extraordinary! The fluted edge makes your presentation a step above the rest.
Spatula: This is my favorite spatula for flipping pancakes, vegetables, sandwiches and more on the stove. Perfect for your nonstick pans!
Measuring cups: A good set of measuring spoons and cups is essential in every kitchen and these are great! They nest into each other for easy storage and stay clipped together!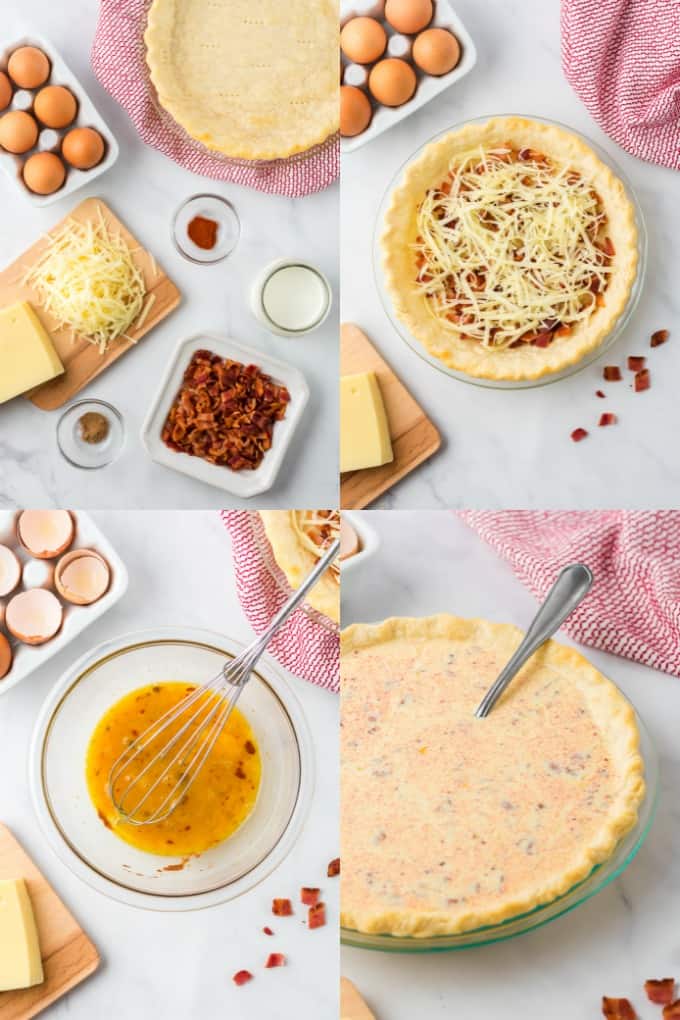 How to Make Quiche Lorraine
Start by baking your pie crust a few minutes less than the packaging suggests. My crust package said cook for 10 minutes, so I did 8 instead. Don't forget to prick the sides and bottom with a fork before baking!
Then, reset your oven to 425 degrees F.
Next, add your chopped bacon and cheese into the pie crust.
Now, in a large mixing bowl, whisk together your eggs, spices, and half and half. Pour this mixture into the crust over the bacon and cheese. Gently stir the bacon and cheese into the egg mixture; otherwise, you'll end up with clumps of cheese and bacon stuck to the bottom!
Finally, bake your quiche for about 15 minutes at 425 degrees F, then drop the heat to 375 degrees F and bake another 50 minutes. If your crust begins to brown too much, cover the edges with aluminum foil. I tend to do this about half an hour into baking.
When you're done, the quiche should be FULLY set with no jiggle. If it's not quite firm, keep baking but cover your crust to keep it from burning.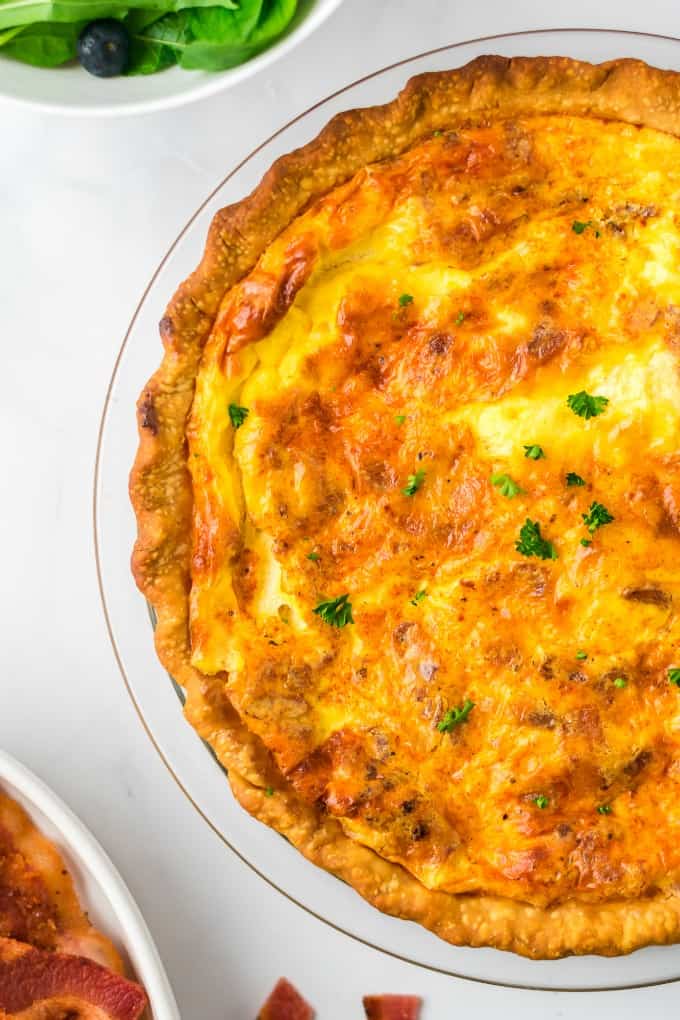 History of Quiche Lorraine
The limit of quiche recipes does not exist, but this is probably the most popular variation on the delicious egg-and-custard pie.
Originally from France, this dish is now popular worldwide with numerous spins on the classics. While the first known use of Quiche Lorraine in English was around 1925, the dish dates back at least to the early 1800s in France. Similar versions have also been seen in English cuisine since the 1400s and in Italy a century earlier.
What makes it a Quiche Lorraine is the bacon. All quiches are some mixture of eggs and cream with different meats, cheeses, vegetables, and spices.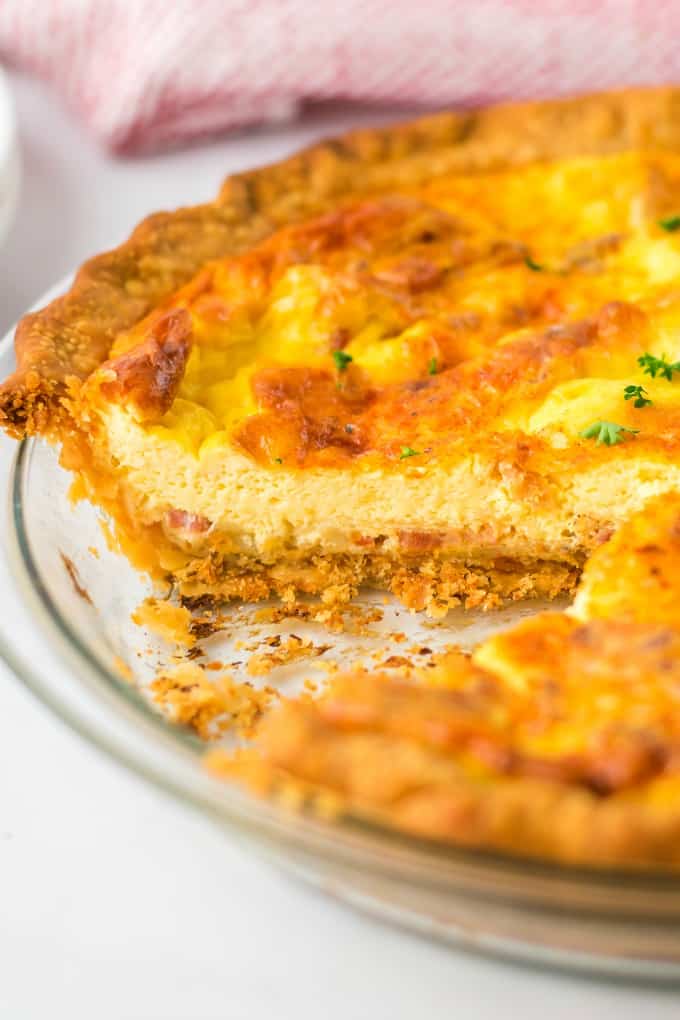 How to Make Ahead
There are so many options to make this quiche ahead of time!
First, you can fully bake the quiche and freeze it to be used far in the future. I would only recommend this if you don't plan to eat it within the next few days, but this is great for stocking the freezer with delicious homemade items!
You can also do exactly the same thing but put it in the fridge instead. For this method, I wouldn't let it sit more than 2 days before reheating. To reheat it, let it sit on your counter briefly to come to room temperature to ensure even reheating. NEVER leave a quiche out for more than 2 hours. Cover the crust with foil again and warm it for about 15 minutes in a 350-degree oven.
For a completely uncooked quiche, it should never sit more than 24 hours before baking. You can follow all the steps in this recipe and mix it together the night before and bake quickly the morning of your brunch. Again, let it come to room temperature slightly before baking.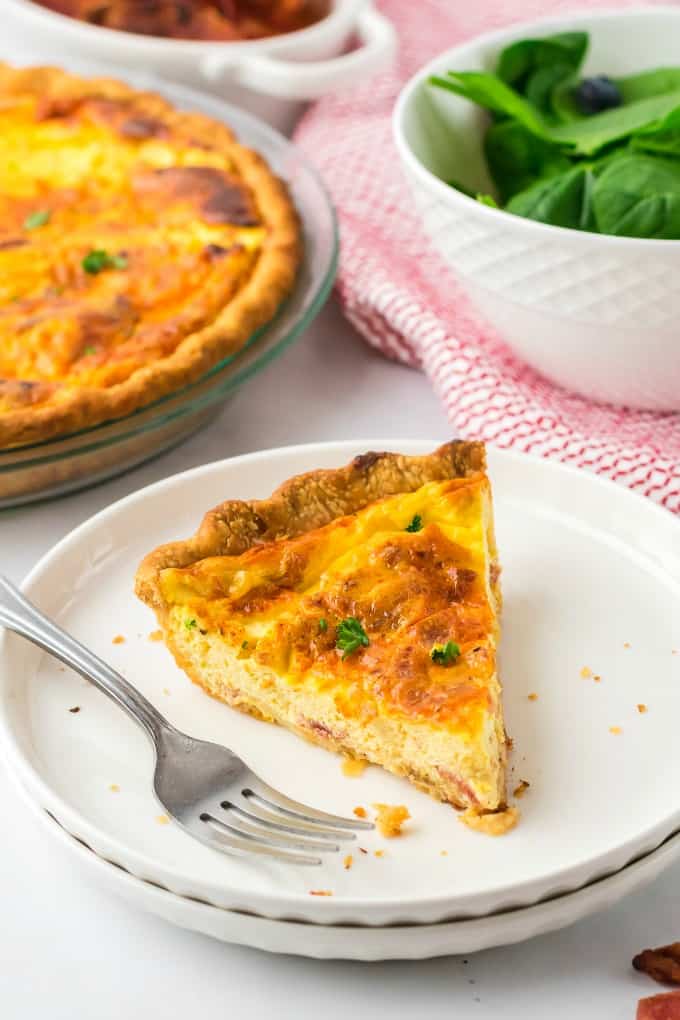 Ingredient Substitutions
There is no end to the ingredients you can swap or add in this quiche!
Cheese is one of the staples for a quiche, but not everyone loves Swiss cheese. You can use cheddar, mozzarella, Colby Jack, or anything that gives you a little meltiness. Parmesan is a great addition too but leaves you with a dryer quiche.
Vegetables are popular add-ins for a quiche to take it from a dish to a meal. Some of my favorites veggies in quiche are:
Mushrooms
Spinach
Asparagus
Potatoes
Onions
Green Onions
Bell pepper
Zucchini
Squash
Tomato
The ideas really are endless. If you like it, it will likely work in a quiche!
How to Freeze
If you feel like making a ton of quiche one night but have no one to eat it, that's ok! These are great freezer-bound dishes for that night you forgot about dinner.
Let your quiche cool to room temperature (but don't leave it out too long!) before wrapping it tightly and freezing.
How to Reheat
The oven is always your best bet for reheating a quiche, whether it's one slice or a whole pie, but the microwave and toaster oven are also options here. As long as it comes to 165 degrees F, it works!
If your quiche was in the refrigerator, you can reheat it in the oven in about 15-20 minutes at 350 degrees F.
If your quiche is frozen, you can reheat it at the same temperature in about half an hour. Make sure the middle is thawed before taking it out of the oven. I would not recommend using a higher temperature setting to reheat it faster.
For both methods, covering the crust is required to keep it from burning and covering the whole pie helps keep its moisture during the second baking.
Make sure then you reheat you only cook it as long as you need! You can turn your oven down if you're reheating the quiche while making other things around your kitchen.
Other amazing recipes to try…
Do you have any amazing traditional recipes passed down through the generations? I'm always looking for more recipes to try! Follow me on Instagram @simplystacieblog, on Facebook at Simply Stacie, and on Pinterest @SimplyStacie and let me know how you liked this and my other recipes!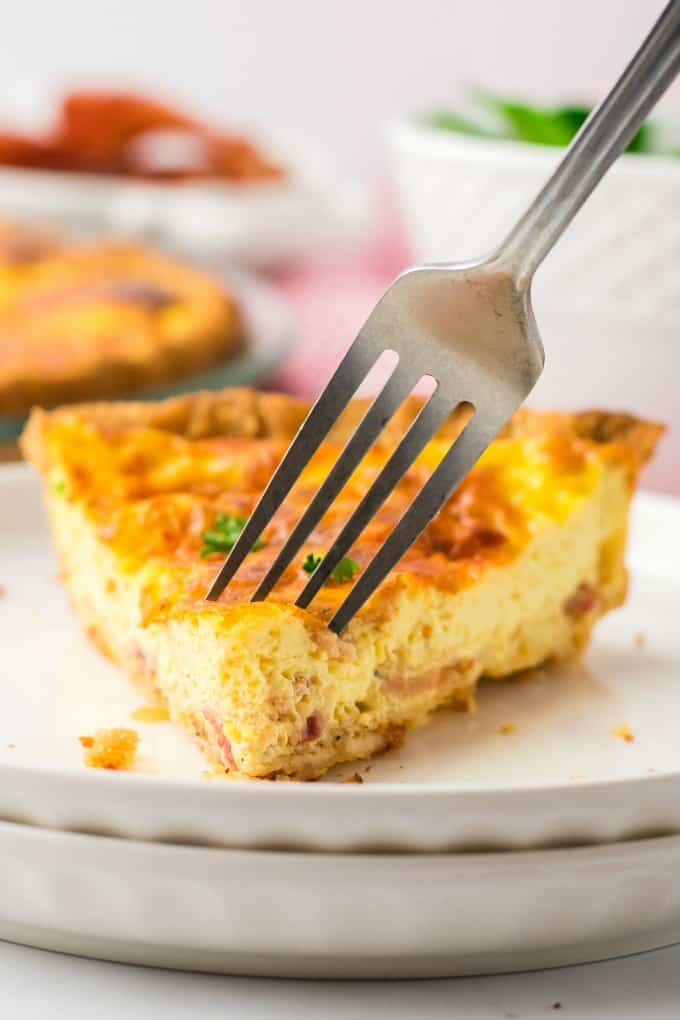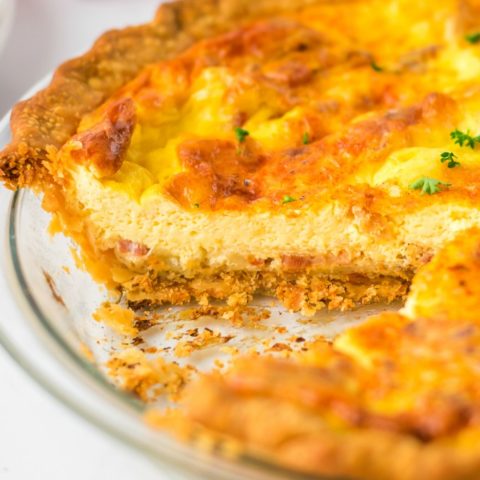 Quiche Lorraine
Easy and quick to prepare, this breakfast or brunch recipe will quickly become a weekly staple. It's full of flavor that comes from just the right combination of bacon, cheese, half and half and eggs. Plus a little nutmeg and paprika to take it to the next level.
Print
Facebook
Pin
Share by Email
Rate
Ingredients
1

pie crust

recommended: Pillsbury Refrigerated Pie Crust

½

lb

bacon

chopped

2

cups

half and half

4

large eggs

½

tsp

salt

½

tsp

pepper

¼

tsp

ground nutmeg

¼

tsp

paprika

1

cup

Swiss cheese

shredded
Instructions
Bake your pie crust for a couple minutes less than suggested on the package. I used a refrigerated pie crust and cooked for 8 minutes, 2 minutes under the recommended full cook time. Don't forget to prick the sides and bottom of your crust with a fork.

Preheat the oven to 425℉.

Add chopped bacon and cheese into the crust.

In a large bowl, whisk together the eggs, spices and half and half. Pour the mixture into the crust. Gently stir the bacon and cheese on the bottom of the crust into the egg mixture.

Bake in the oven for 15 minutes at 425. Then turn down the heat to 375℉ and bake for 45 – 50 minutes more. If your crust is browning too much, add strips of tin foil over it to prevent it from browning further. When cooked, your quiche should be golden brown and fully set (not jiggly).
Notes
Cover your pie crust with tin foil: If your quiche is baking in the oven and you find that your crust is getting too brown, add a few strips of tin foil around the edges and fold them over so that they cover the crust. I tend to add this about 30 minutes after my quiche has gone into the oven.
Stir your filling: When you pour your egg mixture into your quiche, give it a gentle stir so that the cheese and bacon mixes well with the filling. Otherwise you'll end up with your bacon and cheese clumped together at the bottom of your quiche.
Nutrition
Serving:
1
g
|
Calories:
534
kcal
|
Carbohydrates:
20
g
|
Protein:
27
g
|
Fat:
38
g
|
Saturated Fat:
17
g
|
Polyunsaturated Fat:
19
g
|
Trans Fat:
1
g
|
Cholesterol:
208
mg
|
Sodium:
1084
mg
|
Fiber:
1
g
|
Sugar:
5
g
The information shown is an estimate provided by an online nutrition calculator. It should not be considered a substitute for a professional nutritionist's advice.
Love Recipes? Join our Free Facebook Group!
Join Mom's Best Recipes to find more delicious family recipes.
Save
Saved!