This fresh Spinach Mushroom Quiche recipe is so easy to make with a flaky homemade crust that is the perfect base for the savory egg filling! Serve this quiche warm for a flavorful and wholesome meal that is great for breakfast or brunch.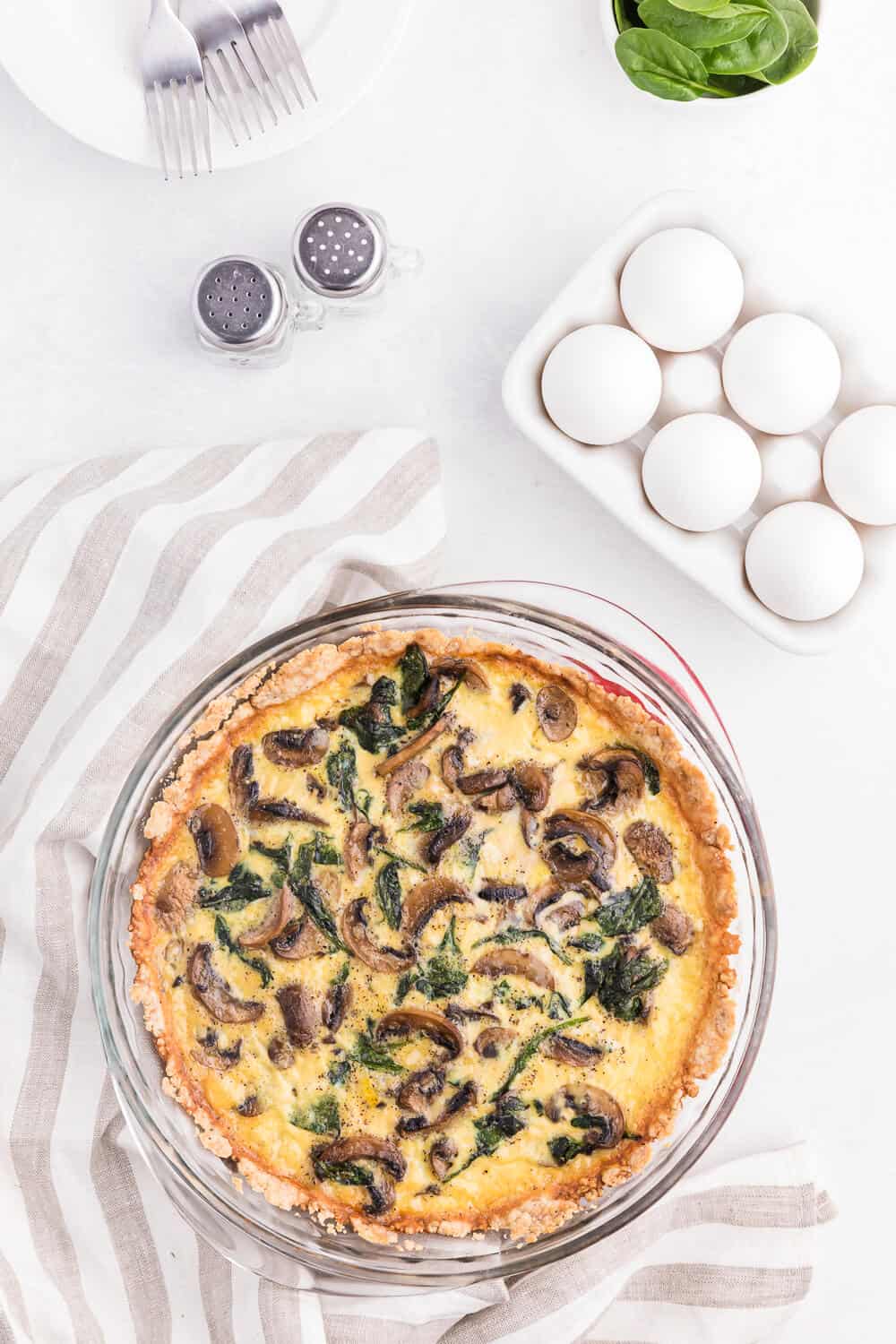 Enjoy fresh flavors of sautéed mushrooms and wilted spinach for this savory spinach mushroom quiche recipe. Combined with rich flavors of nutmeg, olive oil, and salt, this quiche delivers flavors that are well-rounded and comforting–things we all love about quiche.
This breakfast quiche is great for the holidays when you are in need of a recipe that is quick and easy but does not lack any flavor whatsoever. This classic recipe is one that I make often because the steps are so easy plus I love quiche.
I love to experiment with different styles of quiche such as this crustless bacon, spinach, and mushroom quiche or my quiche lorraine. Another thing I enjoy about homemade quiche is that there are just so many options and different ways to prepare it.
Ingredients
Flour: I like to use all-purpose flour because it is easy to work with and creates a crust that is perfectly crispy but soft at the same time.
Pepper: You will need black pepper for the seasoning and to give this quiche extra flavor. Feel free to experiment with different types of peppers for some heat.
Salt: Salt gives this quiche its savoriness and is a great way to make a recipe stand out!
Oil: I use extra virgin olive oil for this recipe, but you can use any kind of neutral oil.
Milk: Use dairy milk or unsweetened soy milk for the creamiest quiche filling.
Mushrooms: Use any varieties of mushrooms such as portobello or button mushrooms. You can use shiitake, oyster, chanterelle, morel, etc.
Spinach: Fresh baby spinach is great for this quiche or you can use the regular kind of spinach. Feel free to switch things up with different greens if you don't have spinach on hand!
Eggs: Eggs are the protein-rich filling for this spinach mushroom quiche and what makes this quiche so good.
Nutmeg: Ground nutmeg is used to give the quiche a little bit of rich spiciness. If you don't have ground nutmeg, then you can grate a whole nutmeg with a boxed or micro grater.
What I Used For This Recipe
This post contains affiliate links.
How To Make It
Preheat oven to 350 degrees Fahrenheit. In a medium bowl, whisk together the flour, salt, and pepper until well combined. Pour in the oil and milk until the mixture forms into a dough.
Evenly press the dough in the pie plate making sure to press the sides and bottom of the pan. Transfer the crust to the oven and bake for ten minutes. Remove the crust from the oven and cool.
To make the filling, heat olive oil in a large saué pan over medium heat. Add the sliced mushrooms and cook while occasionally stirring for seven minutes or until they begin to brown.
Next, add the spinach to the pan and stir for two minutes or until the spinach wilts.
Carefully spoon with spinach and mushroom mixture onto the baked pie crust.
In a medium bowl, whisk together the eggs, milk, salt, pepper, and nutmeg. Pour the egg mixture over the vegetables.
Bake the quiche in the oven for 45 minutes or until it is puffed and set.
Allow the quiche to cool five to ten minutes before serving.
What is the secret to a good quiche?
The secret to a good quiche is the perfect ratio of milk and eggs. We want to avoid a quiche that is too eggy, so this recipe uses only four eggs which allows it to be light and creamy.
Should quiche crust be pre-baked?
To avoid a crust that is too soft and gummy, then you will want to make sure you bake your crust until it is lightly crispy!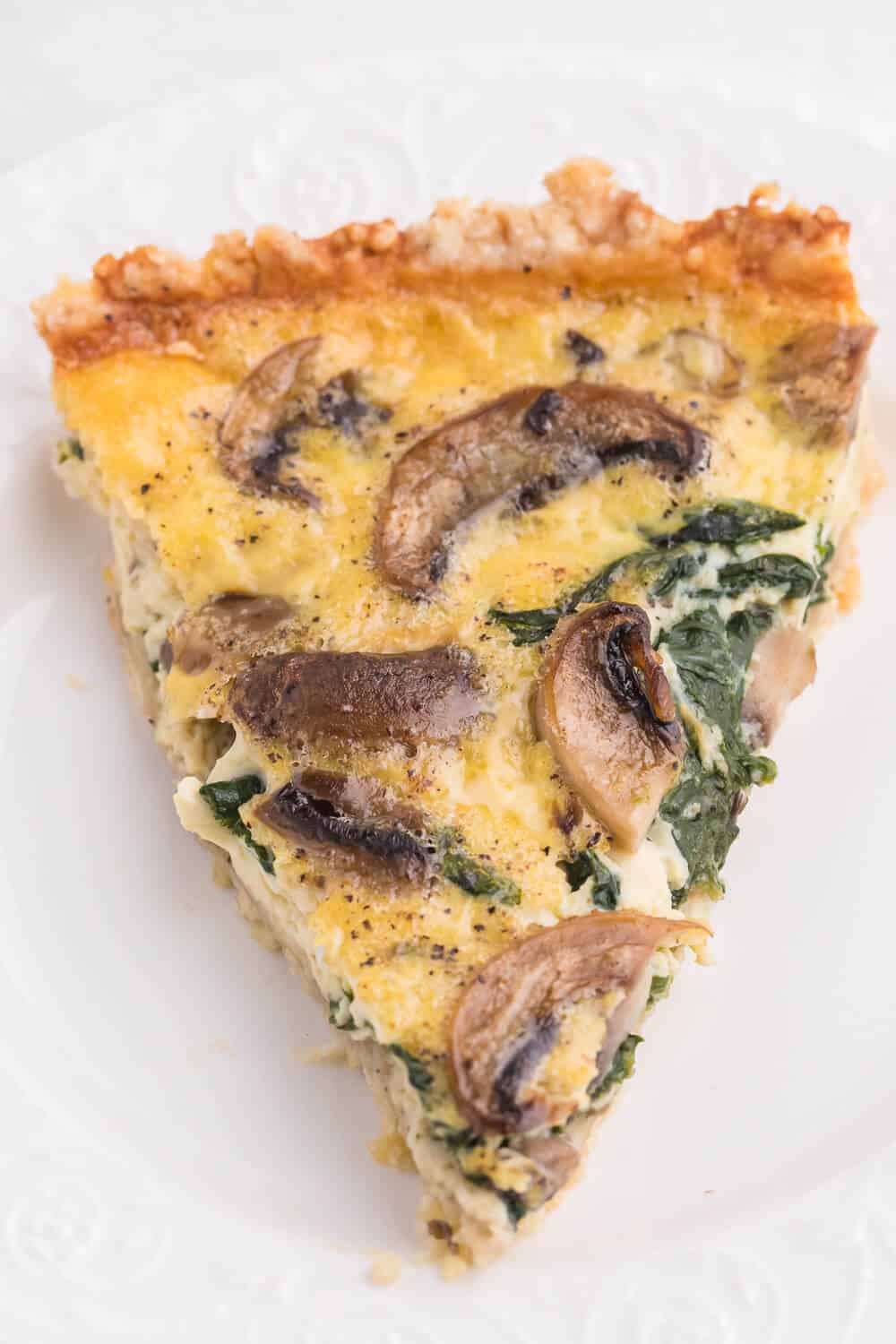 Can I make quiche filling the night before?
Yes, it is so easy! Just sautée the veggies and whisk the egg mixture the night before baking the quiche. Store in the refrigerator until ready to use.
What To Serve With This
This vegetarian quiche is great with so many things! We love to pair it with salads like this green bean and tomato salad recipe, or other things like apple cinnamon bun casserole and honey almond breakfast cups.
More Quiche Recipes You'll Love
You'll also like this Cheese and Butterbean Stuffed Mushrooms.
Do you have any amazing easy breakfast recipes? I'm always looking for more recipes to try! Follow me on Instagram @simplystacieblog, on Facebook at Simply Stacie, and on Pinterest @SimplyStacie and let me know how you liked this and my other recipes!
Spinach Mushroom Quiche
Total Time:
1 hour
15 minutes
Fresh baby spinach, sliced mushrooms nestled in a creamy blend of eggs!
Ingredients
Crust
1¼ cups flour
¼ teaspoon pepper
½ teaspoon salt
1/3 cup extra virgin olive oil
3 tablespoons milk OR unsweetened soy milk
Filling
1 tablespoon extra virgin olive oil
2 cups mushrooms, sliced
2 cups fresh baby spinach (or regular spinach)
4 eggs
1 cup milk OR unsweetened soy milk
½ teaspoon salt
¼ teaspoon pepper
1/8 teaspoon nutmeg
Instructions
Crust
Preheat oven to 350°F. In a medium bowl, whisk together the dry ingredients. Stir in oil and milk until mixture sticks together to form dough. Press the dough evenly onto the bottom and sides of a deep dish, 9-inch pie pan. Bake for 10 minutes. Remove from oven and cool.
Filling
Heat olive oil in a large sauté pan over medium heat. Add mushrooms and cook, stirring occasionally, for about 7 minutes or until they begin to brown.
Add spinach to your sauté pan and stir for about two minutes, or until the spinach wilts.
Spoon the mushroom/spinach mixture evenly on your pie crust.
In a medium bowl, whisk together eggs, milk, salt, pepper and nutmeg. Pour egg mixture over the vegetables.
Bake in the 350°F oven for 45 minutes or until puffed and set.
Cool 5 to 10 minutes before serving.

Recommended Products
As an Amazon Associate and member of other affiliate programs, I earn from qualifying purchases.
Nutrition Information:
Yield:

6
Serving Size:

1
Amount Per Serving:
Calories:

321
Total Fat:

19g
Saturated Fat:

4g
Trans Fat:

0g
Unsaturated Fat:

15g
Cholesterol:

128mg
Sodium:

438mg
Carbohydrates:

26g
Fiber:

2g
Sugar:

2g
Protein:

11g