Hi Everyone, it's Nicky again from Kitchen Sanctuary.
I'm so glad you liked the Snickers Brownie recipe – thank you for all of the kind comments.
Today I'm back with a savoury recipe in the form of these scrumptious stuffed mushrooms. They're so quick and easy for a weekday dinner. You can literally have them in the table in less than 25 minutes.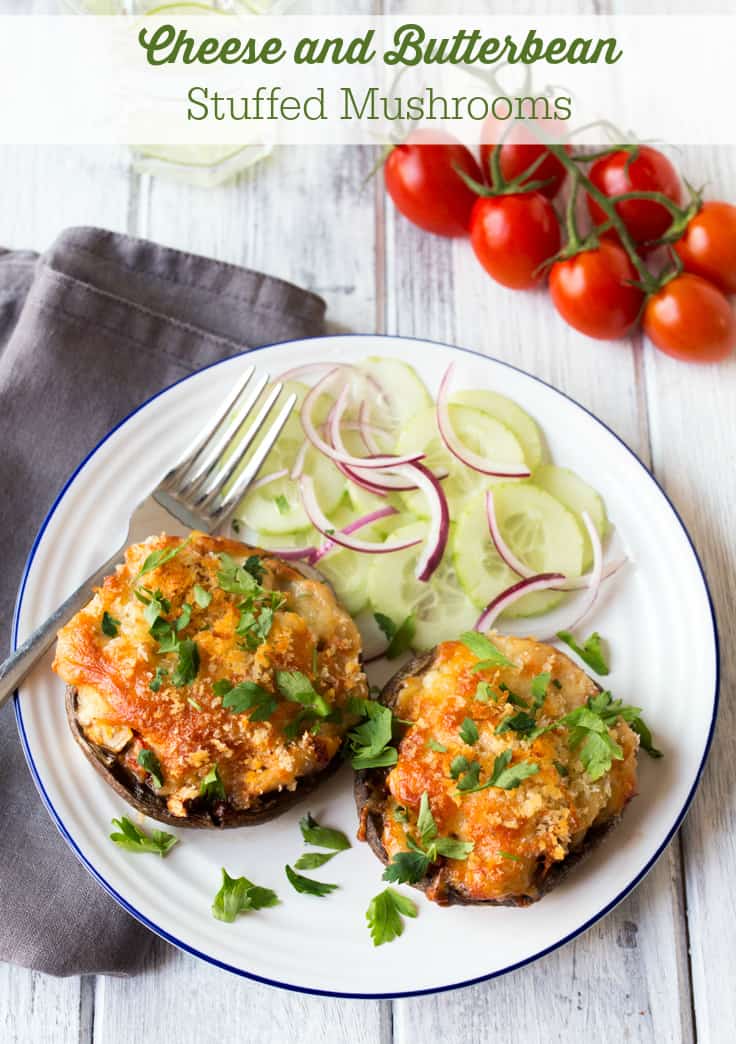 The mushrooms are filled with garlicky, cheesy butterbeans and tomato puree and then sprinkled with more cheese. One top of that goes a pile of seasoned panko breadcrumbs that have been drizzled in a little oil to help them crisp up beautifully.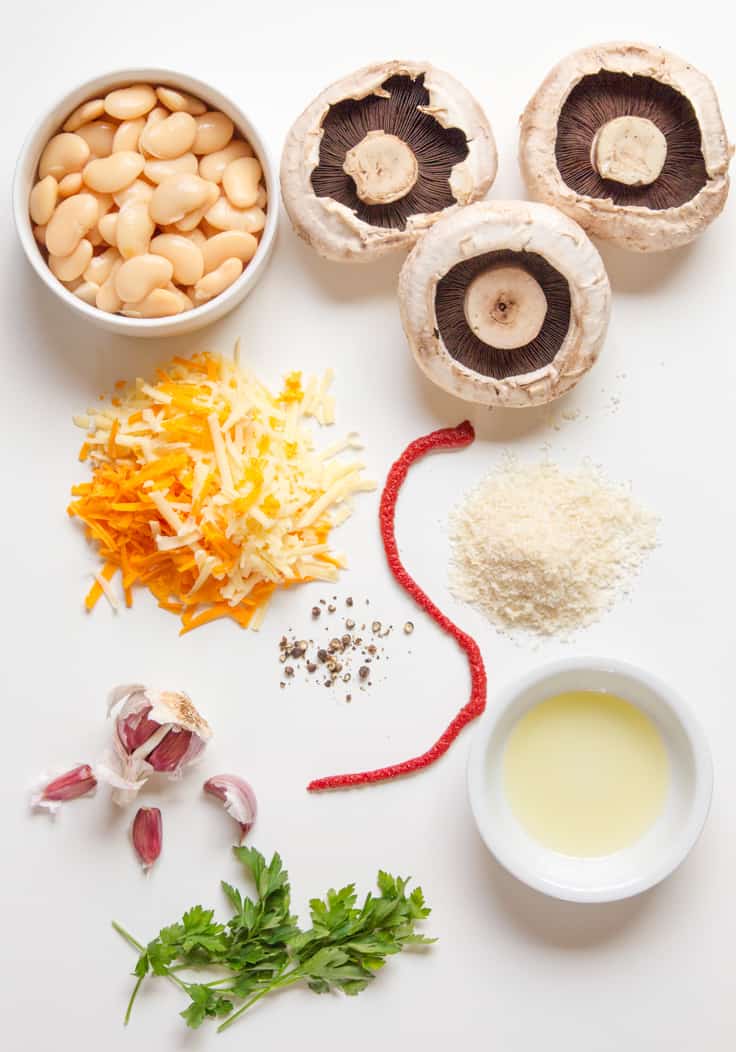 The butterbeans and cheese provide a lovely creamy texture, whilst the mushrooms ensure a good meaty bite.
It really is vegetarian food for carnivores.
Finding this kind filling and satisfying meat-free meal is something I'm constant striving for.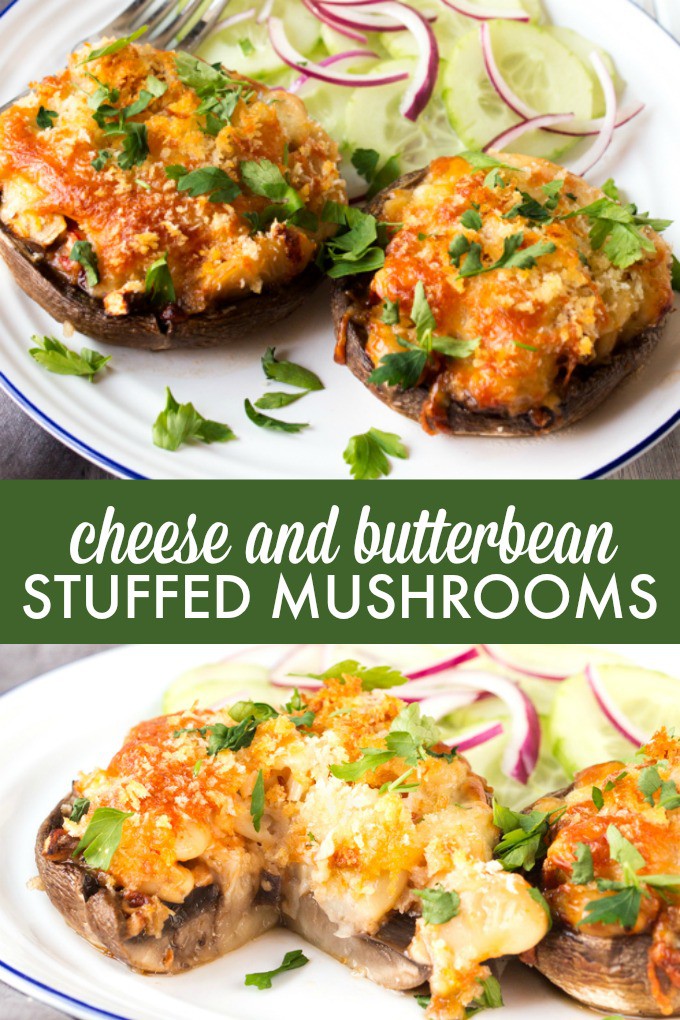 My husband is the kind of guy who see's anything without meat as nothing more than a side dish. I manage to get the odd vegetarian meal into him, but they're few and far between. I know this would have been a winner – if only he liked mushrooms!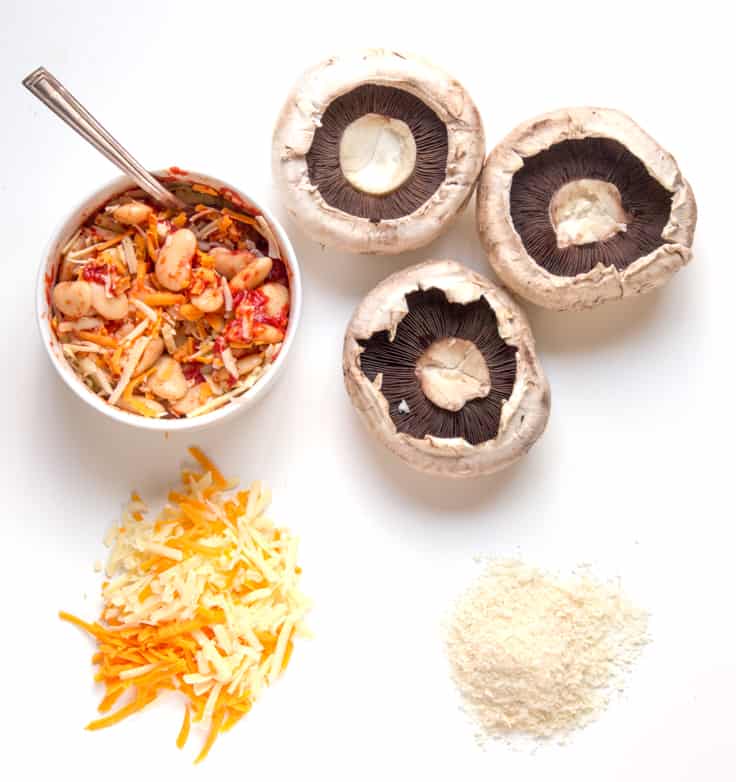 Unfortunately my kids don't eat mushrooms either, so I was forced to eat all of them after the photo shoot. It's a tough life…..
Just before we get to the recipe, let's talk butterbeans. Have you tried them? They are sometimes known as mature lima beans and they're light brown in colour rather than the young green version.
Although reasonably plain by themselves, it means they're the perfect vehicle to soak up strong flavours – like garlic and tomato.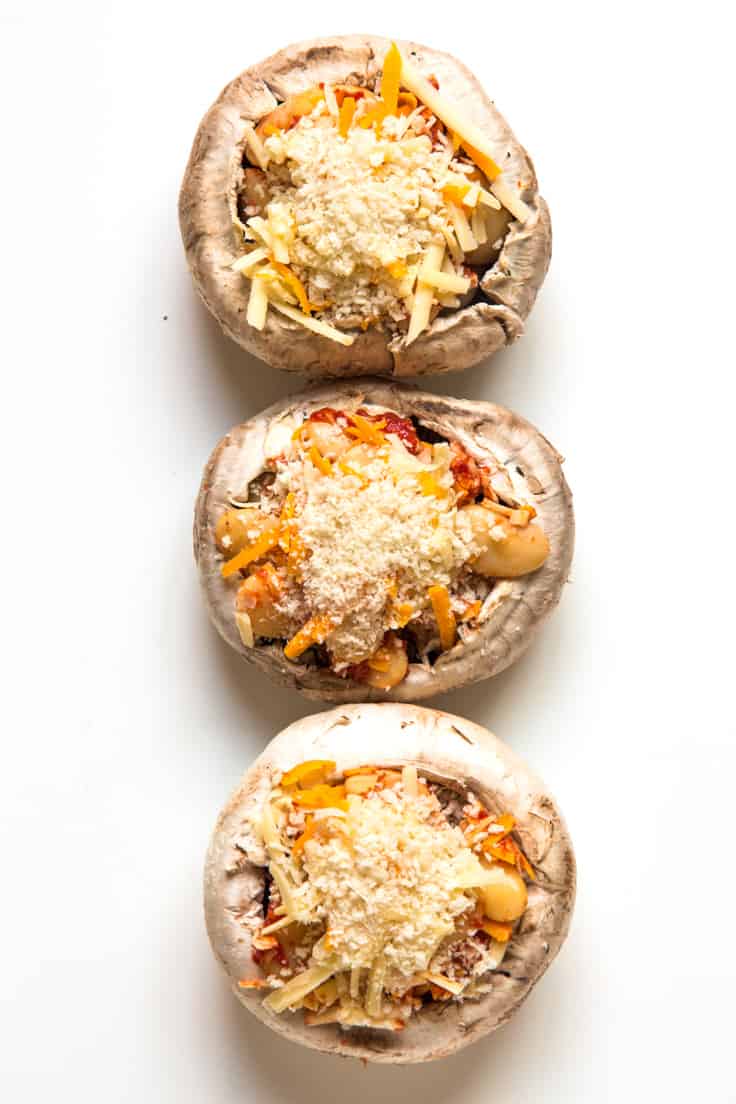 I use tinned butterbeans for this recipe as I think they work really well. However if you wanted to use dried butterbeans, simply soak a cupful in a large pan of cold water overnight. Then the next morning pour the water away, rinse and and boil the butterbeans up with some fresh water (no salt until the end! It will toughen the beans) for about 1 hour-to-1hour 30 mins (check they're soft and cooked by tasting a few). Then you can drain and use them as you would the tinned beans.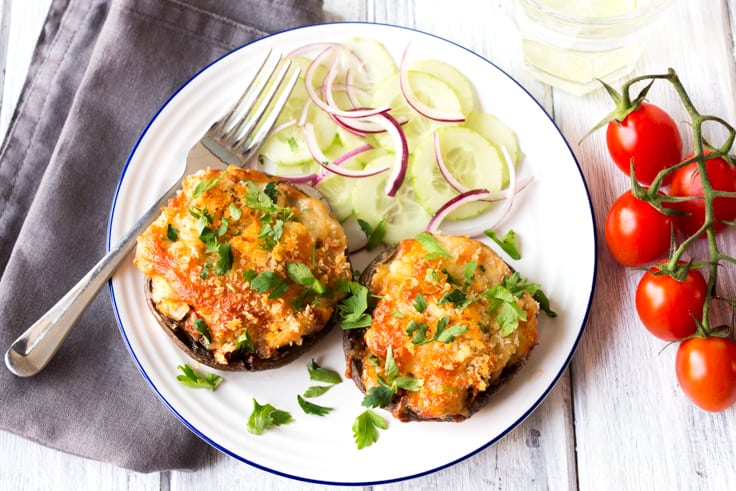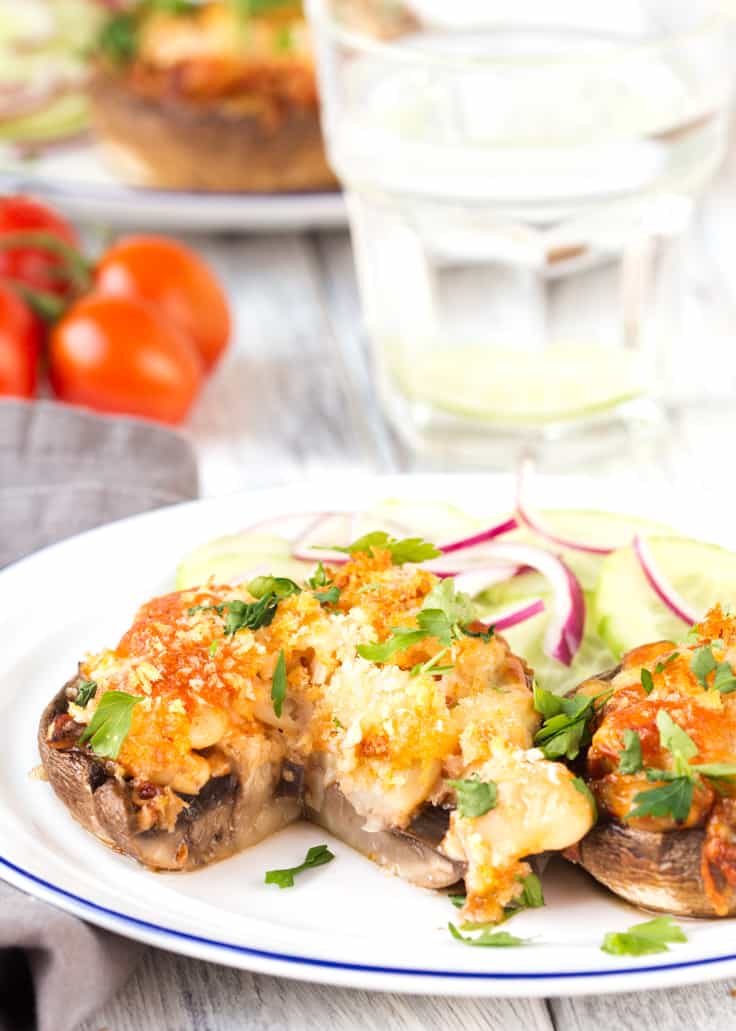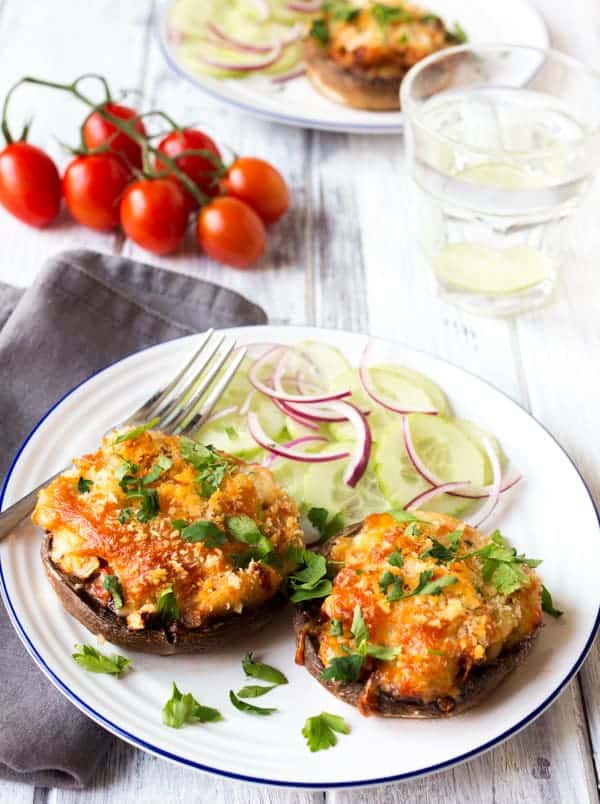 Nicky lives in Cheshire in the UK with her husband and two children. She blogs over at Kitchen Sanctuary where she creates family friendly recipes and mouth-watering photos. Connect with Nicky on Facebook, Instagram, Pinterest and Twitter.
You'll also like this Bean Casserole.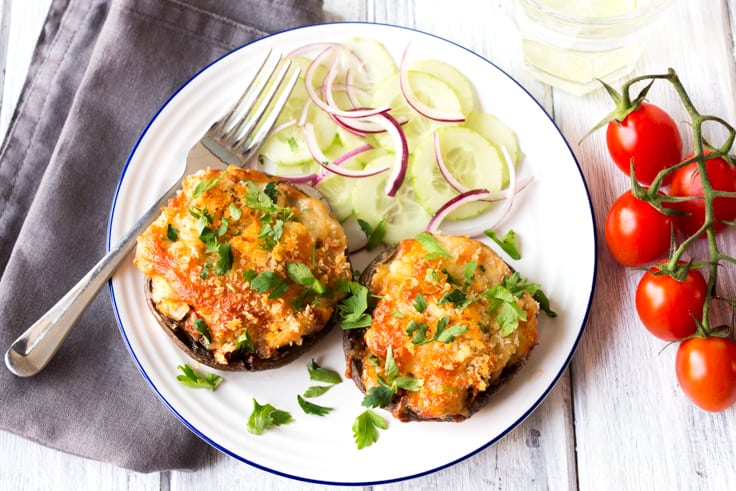 Cheese and Butterbean Stuffed Mushrooms
This delicious vegetarian dish is perfect for parties or a Meatless Monday meal. Easy to make vegan!
Ingredients
Mushrooms
4 large portobello mushrooms
8 tbsp of tinned butterbeans (drained)*
2 cloves of garlic, peeled and minced
1.5 tbsp tomato puree
large pinch of ground black pepper
100g/1 cup (firmly packed) of strong cheddar cheese (or your favourite cheese), grated
4 tbsp panko breadcrumbs seasoned with a pinch of salt and pepper
1 tbsp olive oil
Cucumber and Red Onion Salad (optional)
1 cucumber, peeled and thinly sliced
½ a red onion, peeled and thinly sliced
1tsp caster sugar
2tsp white wine vinegar
1tsp olive oil
Instructions
Preheat the oven to 180c/350F.
Cut the stalks out of the mushrooms using a small, sharp knife. If you like you can cut the stalks up and add them to the filling. Place the mushrooms on a baking tray.
In a small bowl mix the butterbeans, garlic, tomato puree, black pepper and ¾ of the cheese. Spoon this mixture into the mushrooms, then top with the remaining cheese. Carefully spoon over the breadcrumbs and drizzle a ¼ tbsp. of olive oil over each one.
Place in the oven and cook for 15 minutes until the breadcrumbs are golden brown.
Whilst the mushrooms are cooking, mix together the cucumber and red onion salad ingredients in a small bowl.
Once cooked, serve the mushrooms straightaway with the cucumber and red onion salad.
Notes
*These are sometimes known as mature lima beans – they're light brown in colour rather than the young green version.
Recommended Products
As an Amazon Associate and member of other affiliate programs, I earn from qualifying purchases.
Nutrition Information:
Yield:

2
Serving Size:

1
Amount Per Serving:
Calories:

428
Total Fat:

16g
Saturated Fat:

4g
Trans Fat:

0g
Unsaturated Fat:

10g
Cholesterol:

14mg
Sodium:

254mg
Carbohydrates:

55g
Fiber:

15g
Sugar:

13g
Protein:

21g