Goat Cheese and Sun-dried Tomato Mushrooms are the tastiest bite-size appetizer to serve up at summer cookouts, holiday events, parties and more. Or if you are like us, eat them for dinner! Grab your mushrooms and let's get to stuffing and baking these bite-sized beauties.
You don't need to have a party to serve appetizers. In fact, I often make a variety of apps for supper. Finger food is fun and changes up the routine a little bit. In the May 2013 issue of Canadian Living, there's a feature called "There's An App for That".
They had a few variations of stuffed mushrooms with one of them being Goat Cheese & Sun-Dried Tomato Mushrooms. I thought they looked interesting and weren't like anything I'd served before. I usually make my stuffed mushrooms loaded with garlic and escargot.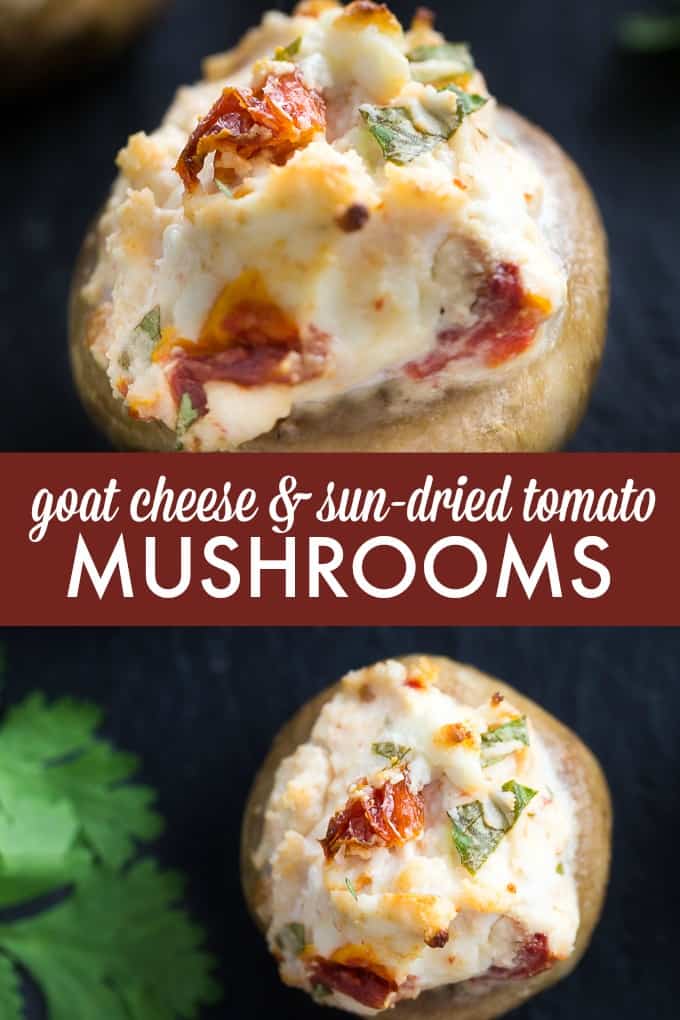 Goat Cheese & Sun-Dried Tomato Mushrooms
The Goat Cheese & Sun-Dried Tomato Mushrooms were really simple to make and take about 40 minutes to prep and cook. They were yummy and perfect party food. Stuffed mushroom caps are tasty, for lunch, supper or as an appetizer.
Craving More Appetizers
Pizza Dip | A cheesy, saucy dip that mimics the flavors of pizza. Trust me, this recipe is dynamite and gets gobbled up anytime I serve it.
Cheesy Bacon Pinwheels | A crescent roll transformed into one savory and bite-size appetizer. Cheese, bacon, all rolled up into one delicious appetizer.
Mac and Cheese Cups | Love mac and cheese? You will swoon over these cups that are filled with mac and cheese. The crispy edges are phenomenal and so delightful to snack on.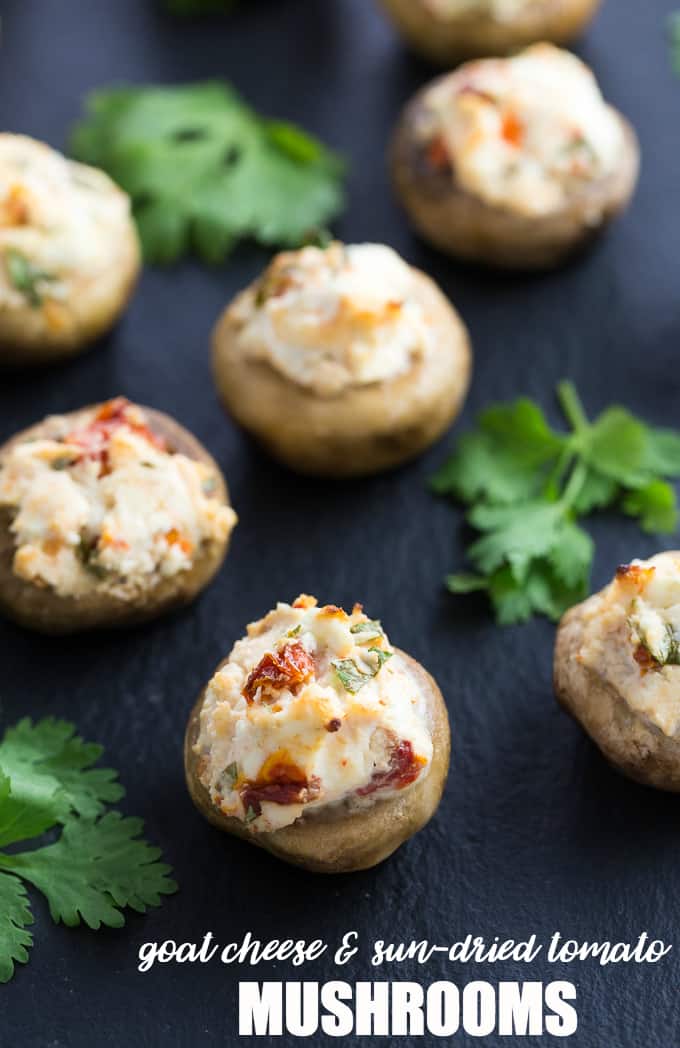 How Long to Cook Stuffed Mushrooms
I first start by cooking the mushrooms alone to help tenderize them. I cook the plain mushrooms for about 8 minutes. Then once cooled stuff and then bake for an additional 12 minutes or so. So overall you have about 20 minutes of cook time on these stuffed mushrooms.
Do You Wash Mushrooms Before Stuffing Them
You do need to clean your mushrooms to remove any dirt or grime left on the mushrooms. You have to wash and dry really well or you run the risk of your mushrooms turning slimy. Just make sure to pat them dry wit ha paper towel or even place them in a salad spinner.
How to Make Goat Cheese & Sun-Dried Tomato Mushrooms
First, you want to prep your mushrooms. Remove the stems of each mushroom and sit the caps hollow side down on a foil-lined baking sheet. Then brush lightly with oil and cook for around 8 minutes. Allow the mushrooms to cool, drain off any liquid, and lay down on a clean foil-lined baking sheet.
Now you want to make your filling for the mushrooms. Take softened cream cheese, goat cheese, sun-dried tomatoes, lemon juice, parsley and pepper, and mix until creamy. Spoon into each mushroom and bake for 12 minutes or until golden brown.
How to Store Stuffed Mushroom Caps
If you don't eat all your mushroom caps right away, place any leftovers in the fridge. This will help preserve them and keep them good. You will want to eat all of them within 2 days, or they will begin to get rather mushy and go bad.
Can Stuffed Mushrooms Be Reheated
Yes! You can easily reheat any of the leftover mushrooms you have. Just place on a baking sheet and heat up in the oven, toaster oven, or place on a plate and do the microwave. Just heat until they are warmed through, then serve. The mushrooms will offer a slight variation in texture after they are refrigerated.
Can You Freeze Stuffed Mushrooms
Yes! Stuffed mushrooms do freeze rather well. You can prep your mushrooms and then freeze a portion of them. You can place in an airtight container and store in the fridge for around 2 months time.
Then when you pull them from the freezer simply place on a baking sheet with aluminum foil and bake. You will need to add around 10 minutes extra to allow them to fully cook.
Here are more Mushroom Recipes
If you love mushrooms and want a fancy but easy appetizer or dinner idea, give these mushrooms a try. You can use any variation of mushrooms that your store carries or you prefer. I think they are delicious, easy, and quick to make. You can play around with the flavor combination and create the best-stuffed mushroom recipe that fits you and your taste buds.
Have you ever tried a Goat Cheese Stuffed Mushroom before?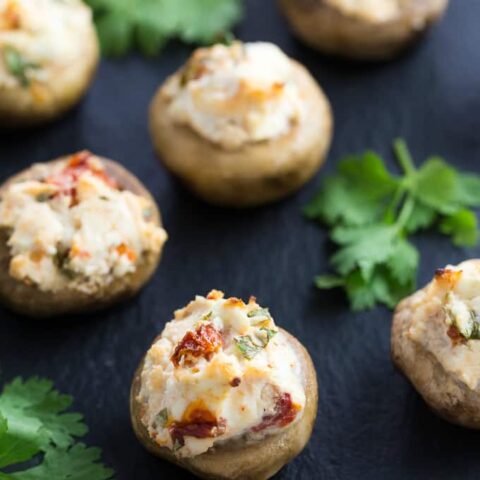 Goat Cheese & Sun-Dried Tomato Mushrooms
Creamy and full of flavour. These mushrooms will melt in your mouth. This recipe serves double-duty as an easy appetizer or a succulent side dish.
Ingredients
24 mushrooms
1 tbsp. vegetable oil
Stuffing:
5 oz (140g ) soft goat cheese
half of 250g package cream cheese
1/3 cup oil-packed sun-dried tomatoes, drained, rinsed and chopped
2 tbsp. fresh parsley, chopped
1 tbsp. lemon juice
1/4 tsp. pepper
Instructions
Remove stems from mushrooms; place caps, hollow side down, on foil-lined rimmed baking sheet. Brush with oil. Bake in 400°F oven for about 8 minutes. Let cool; drain off liquid. Place, hollow side up on clean foil-lined rimmed baking sheet.
In a bowl, mash together goat cheese, cream cheese, sun-dried tomatoes, parsley, lemon juice and pepper. Spoon into mushroom caps.
Bake in 375°F until golden, about 12 minutes.
Recommended Products
As an Amazon Associate and member of other affiliate programs, I earn from qualifying purchases.
Nutrition Information:
Yield:

24
Serving Size:

1
Amount Per Serving:
Calories:

46
Total Fat:

4g
Saturated Fat:

2g
Trans Fat:

0g
Unsaturated Fat:

2g
Cholesterol:

8mg
Sodium:

48mg
Carbohydrates:

1g
Fiber:

0g
Sugar:

0g
Protein:

2g