Bacon and Gouda Frittata is one sophisticated frittata that will leave you reaching for one more bite. Moist, fluffy, and incredibly flavorful. The perfect breakfast, light lunch, brunch or dinner option for you and your family. Frittatas are like a fancy omelette, except no flipping and SO much easier to make.
I discovered frittatas last year when I started my low carb diet. I've tried a variety including Pancetta & Onion Frittata, Broccoli Frittata, Turkey Bacon Frittata, Caramelized Onion, Red Pepper & Zucchini Frittata, and even Steak Frittata! You can pretty much be as creative as you like. It's such an easy dish to make.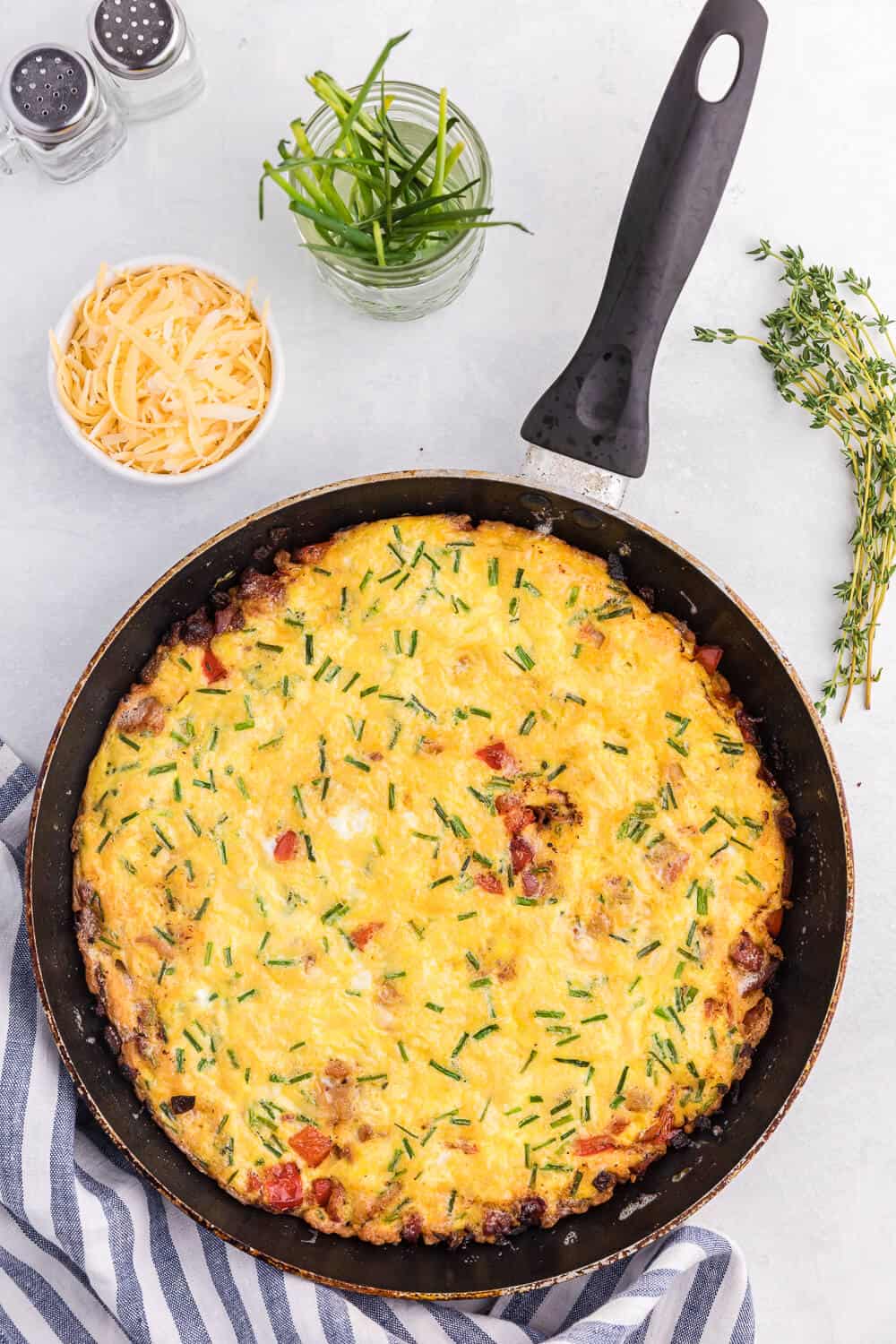 It's a more sophisticated flavour than my standard bacon and onion frittata with the addition of thyme, garlic, and the chives. Overall, it's a keeper and one that is going in my recipe vault!
What is a Frittata
Frittatas are an egg-bake that is generally filled with veggies, meat, herbs and of course a sprinkle of cheese. They are great to serve for breakfast, brunch, or even supper. Many who are on low carb enjoy the light option and versatility of flavors you can use when making a frittata.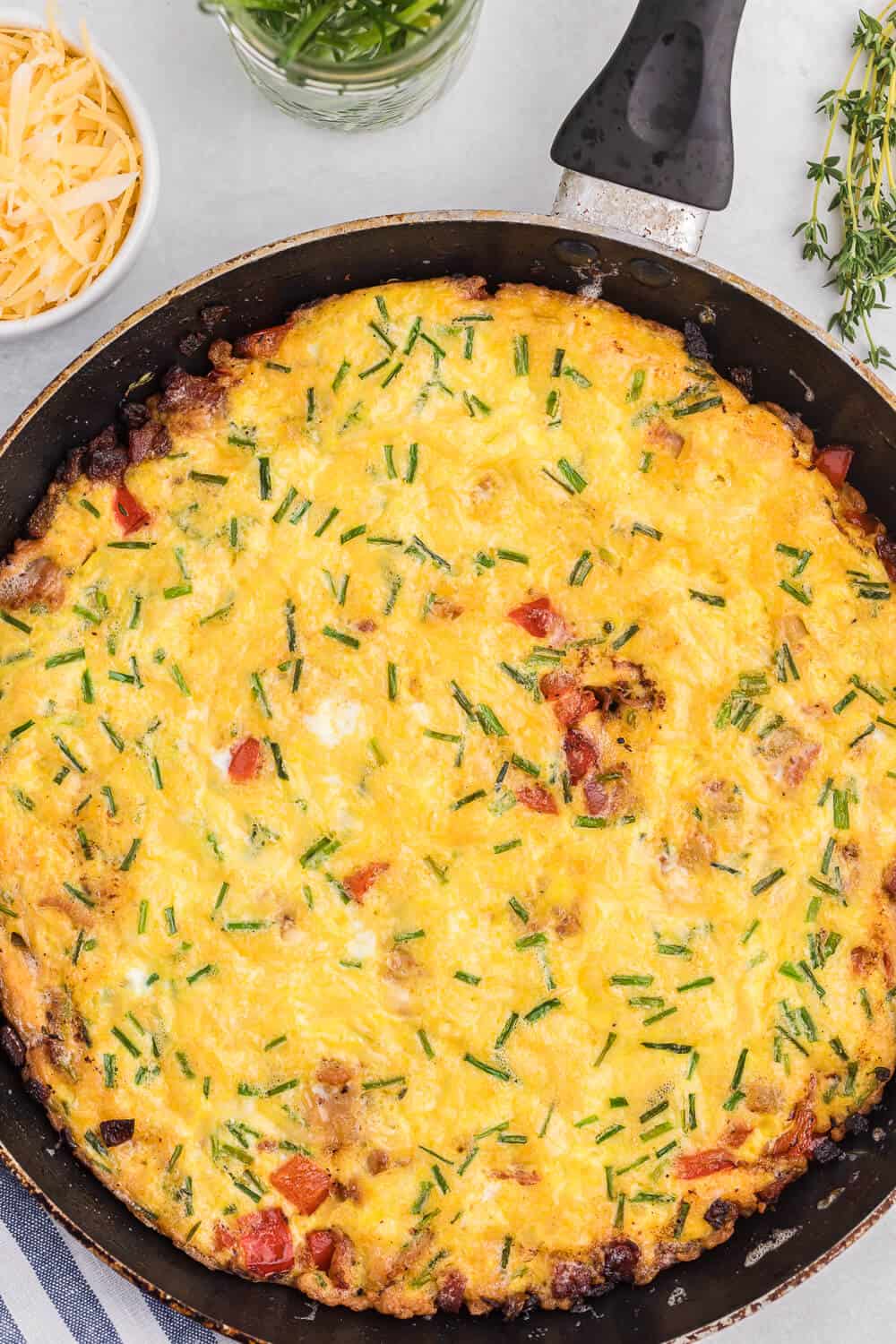 How to Make Bacon and Gouda Frittata
Start by whisking eggs in a bowl, and then adding in cheese and chives. Once well mixed, set aside.
Then in a sturdy skillet that is oven safe, cook your bacon over medium heat. Then about four minutes in from cooking bacon toss in your shallots, garlic, red pepper, thyme, and the salt and pepper. Cook for about ten more minutes until the shallots are nice and softened.
Pour in your egg mixture, and continue cooking on the stove for two minutes, just don't stir it. Transfer to the preheated oven and cook for 15 minutes or until frittata is cooked through.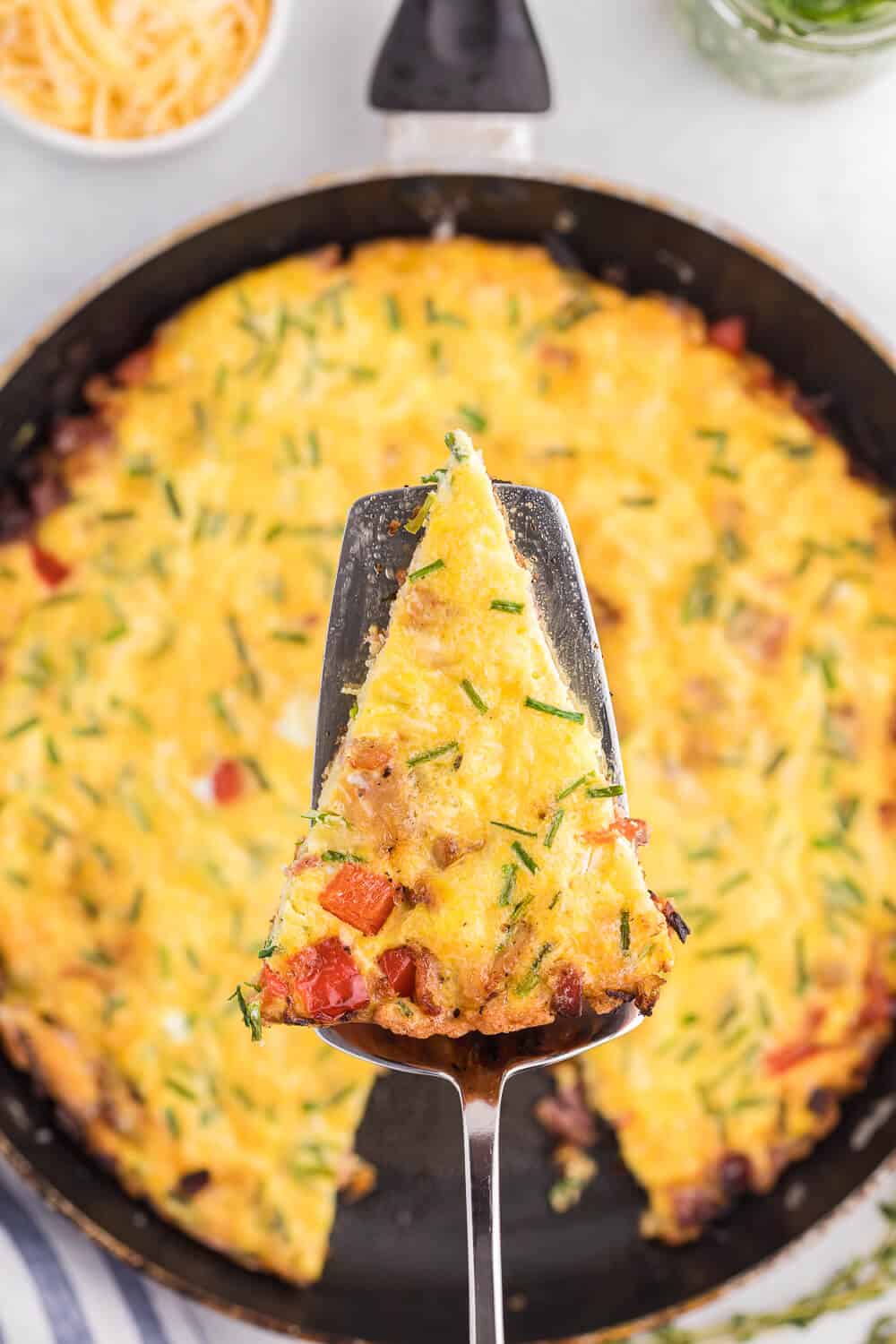 Topping Ideas for Frittata
Fresh chives
Dollop of Sour Cream
Greek Yogurt
Pico De Gallo
Salsa
Fresh Avocado
Tips for Making the Best Frittata
Ingredients In Pan | Before you pour in your eggs you want to make sure that your bacon and veggies are even in the pan. Then slowly pour in your eggs so it covers everything. Don't stir the eggs, which is hard just let it cook for two minutes. Having even vegetables will give you that even flavor in the frittata.
Oven Safe Pan | Having a pan that can go from the stove top to oven is key. You will want to ensure the handle of your pan will not melt if placed in oven. We love cast iron skillets, but non-stick pans work just as good.
Variation | Frittatas are versatile. You can easily swap and switch out ingredients to make sure the flavors are exactly what you want. You can play around with the cheese you use, swap out herbs, add in different meat, etc. You can mix and match and it generally always works well.
Full Dairy | This recipe doesn't use dairy, but one note for recipes that do is always using full dairy. Skim milk or lower percentages will result in a watery texture. So always remember, full dairy is best.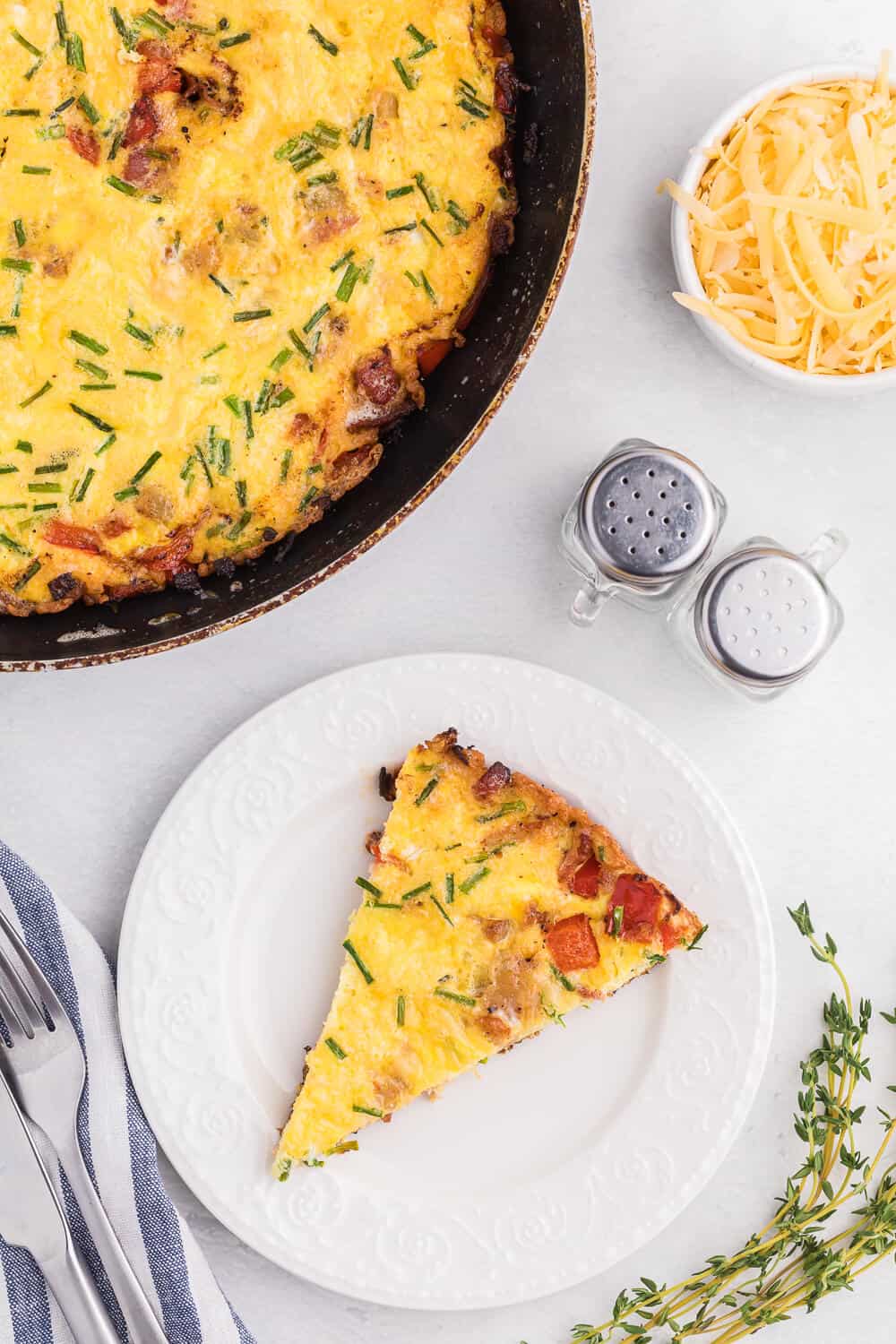 How to Tell When a Frittata is Done
You want to bake your frittata until the eggs offer a puffed texture that is opaque. You will notice a slight jiggle in the center of the mix, and it will be slightly shimmery. Once you remove frittata it will continue cooking in the pan a bit.
What to Serve with Frittatas
Frittatas are a great main dish, but they also are a great addition to a variety of dishes for a brunch or entertaining purpose. Let me share some great ideas on what to serve with frittatas.
As A Main Dish | Potatoes, Hashbrowns, Side Salad, Toast.
As A Breakfast or Brunch Spread | Fruit Salad, Bacon or Sausage, Yogurt Parfaits with Granola, Muffins, etc.
How to Store Bacon And Gouda Frittata
Store your Bacon and Gouda Frittata in the fridge for up to three days. Use your best judgment call on if the frittata is smelling or looking like it is going bad. This does reheat beautifully and is a great prep for breakfast, lunch or dinner for the week.
Best Way to Reheat Frittata
You can easily warm this up in the microwave for a really quick reheat. You do have to watch not to overheat or it will give the frittata a rubbery texture. If you don't want microwave you can wrap up and place in the pan with aluminum foil and warm it in the oven until heated through. Either option works well.
If you haven't tried frittatas yet, give this no-fail recipe a go. It is such an easy recipe that is savory and delightful down to the last bite.
Have you ever tried a Bacon and Gouda Frittata?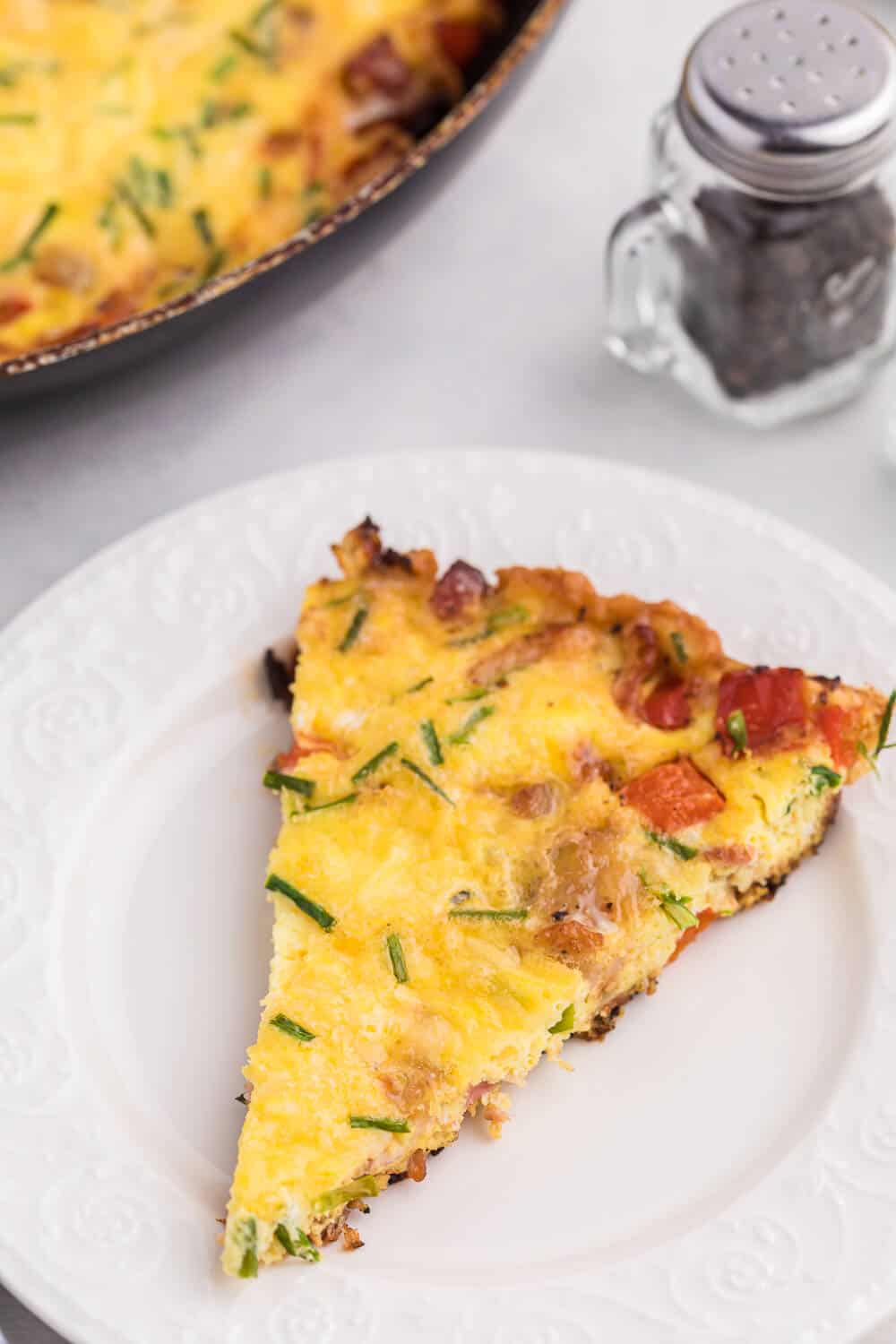 Bacon and Gouda Frittata
This breakfast/brunch recipe is a sophisticated twist on traditional bacon and eggs! Including gouda, chives and shallots, these elegant ingredients make this quick and easy meal seems like a special occasion.
Ingredients
8 eggs
3/4 cup Gouda cheese, shredded
2 tablespoons fresh chives, chopped
6 strips of bacon, chopped
1 whole shallot, chopped finely
2 cloves garlic, minced
1 red pepper, chopped
1/4 teaspoon dried thyme OR 1 tablespoon fresh thyme
1/4 teaspoon pepper
Pinch salt
Instructions
Preheat oven to 350°F.
In a large bowl, whisk eggs, Gouda cheese and chives and set aside.
In a large skillet, cook bacon over medium-high heat. After about 4 minutes add in the garlic, shallots, red pepper, thyme, salt and pepper.
Cook for another 7 to 9 minutes or until shallots are softened and bacon is cooked.
Add egg mixture to the skillet and continue cooking on the stove for 2 minutes. Do not stir.
Move the skillet to oven and cook for 15 minutes. Let cool 5 minutes before cutting into slices.
Recommended Products
As an Amazon Associate and member of other affiliate programs, I earn from qualifying purchases.
Nutrition Information:
Yield:

6
Serving Size:

1
Amount Per Serving:
Calories:

219
Total Fat:

15g
Saturated Fat:

6g
Trans Fat:

0g
Unsaturated Fat:

8g
Cholesterol:

273mg
Sodium:

404mg
Carbohydrates:

4g
Fiber:

1g
Sugar:

2g
Protein:

16g