Apple Cinnamon Bun Breakfast Casserole is the perfect sweet breakfast treat! Cinnamon roll crust covered with apple pie filling and topped with creamy eggs for the best start to your day.
Nothing makes me happier than an easy breakfast casserole. Meet the Apple Cinnamon Bun Breakfast Casserole: part sweet treat, part breakfast dream. This casserole is super filling and great to serve when you have company over. I've made many varieties of breakfast casseroles in the past, but this was my first time using cinnamon buns as a base.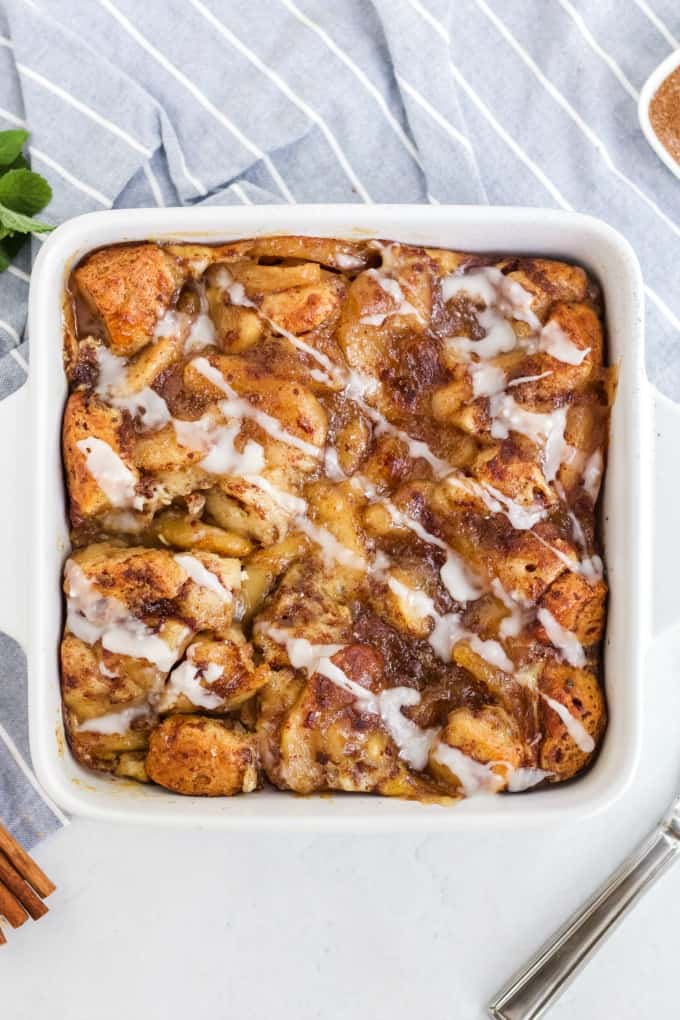 Now that I've got you thinking about dessert, try this Apple Cake with Butterscotch Sauce for a true apple dessert that's so rich a decadent with a homemade sauce!
Save time and use refrigerated cinnamon buns. I also used canned apple pie filling to keep things easy peasy. It's bound together by a creamy egg mixture and bakes to a perfect golden brown. You don't even need any extra toppings because it's sweet enough on its own!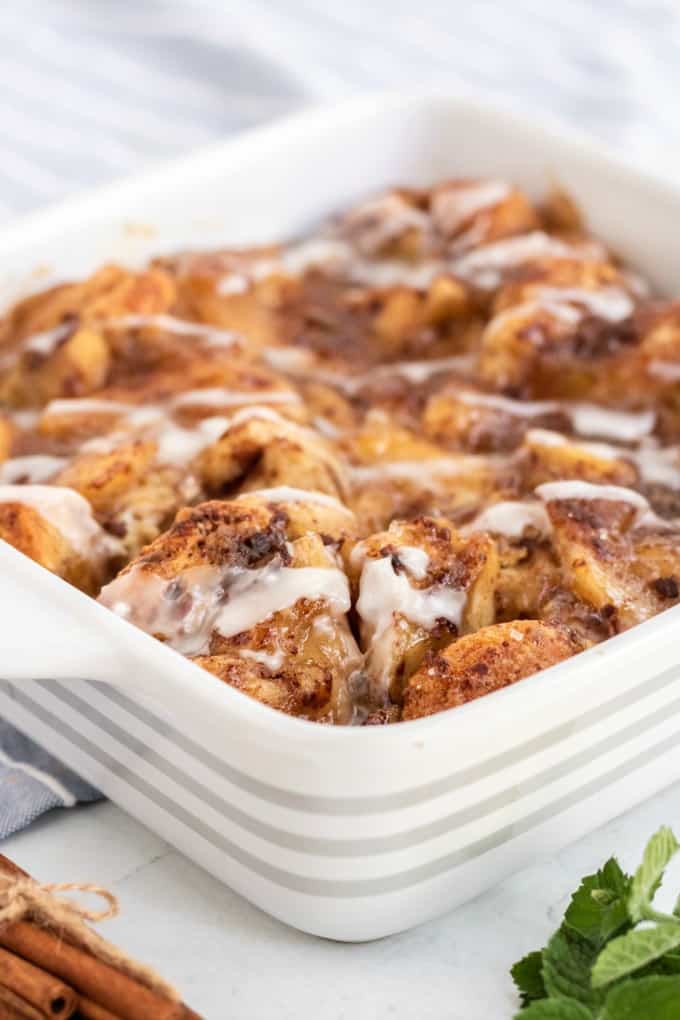 Ingredients
Pillsbury Cinnamon Rolls — the can in the refrigerated section!
Apple pie filling
Eggs
Milk
Vanilla extract
Salt
Cinnamon — you'll use this in the filling and the topping
Brown sugar
Yes, it's almost like a dessert! If you wanted to serve it for dessert, you could. I prefer it first thing in the morning though as a sweet treat to wake up to. It smells so good while it's baking in the oven!
What I used for my breakfast casserole
This post contains affiliate links.
Mixing bowls: These glass mixing bowls are beautiful and practical. I love being able to see all my ingredients through the bowl and they nest inside each other for space saving!
Whisk: Whisking is hard work, but this ergonomic handle makes it less hard. I've had this sturdy whisk for years.
Baking dish: This covered baking dish is great for baking and serving! The dual piece has great handles and a textured exterior to look perfect on your table.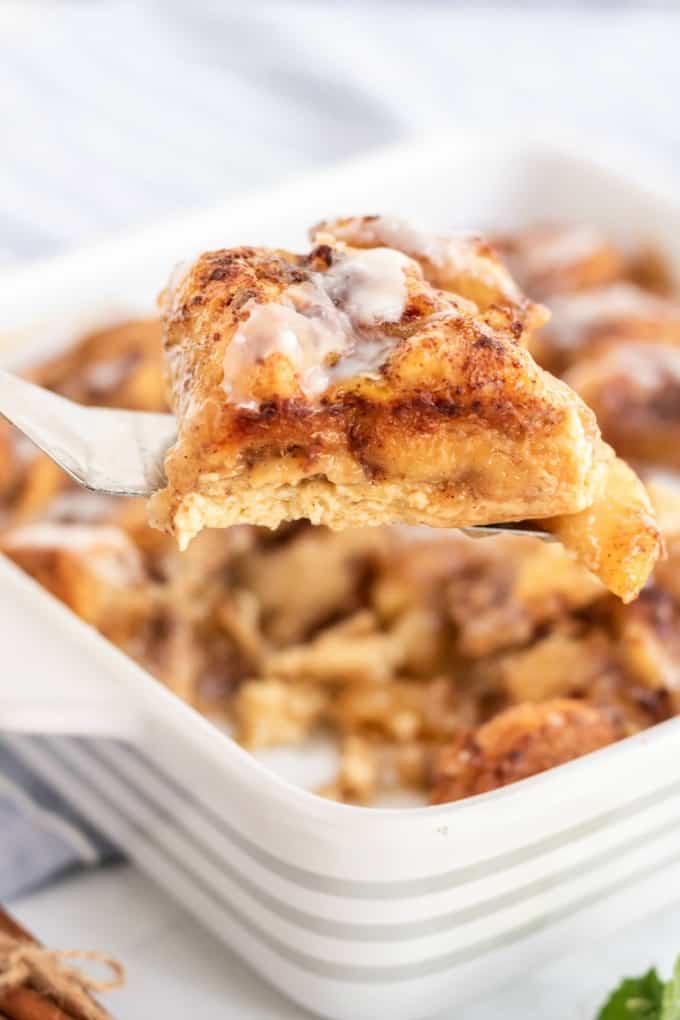 How to Make Apple Cinnamon Bun Breakfast Casserole
First, let's prep! Preheat your oven to 350 degrees F, and spray a 1.5-quart baking dish with cooking spray.
Next, cut up your cinnamon rolls into bite-size pieces and spread them evenly across the bottom of the greased dish.
Now, spread the apple pie filling over the cinnamon roll base. Make sure it's even!
Then, in a large mixing bowl, whisk together your milk, eggs, salt, vanilla extract, and cinnamon. Pour this mixture over the apple filling.
For the topping, stir together your brown sugar and cinnamon in a small bowl. Sprinkle it evenly over the egg mixture and cover the dish with foil.
Finally, bake for half an hour, covered. Then, remove the foil and cook for about 30 minutes more, or until the eggs have set. Serve immediately. Enjoy!
The easier the recipe, the better, at least in my books! Breakfast casseroles are one of my fav types of recipes to wake up to. You can start the prep work the night before and finish the next day.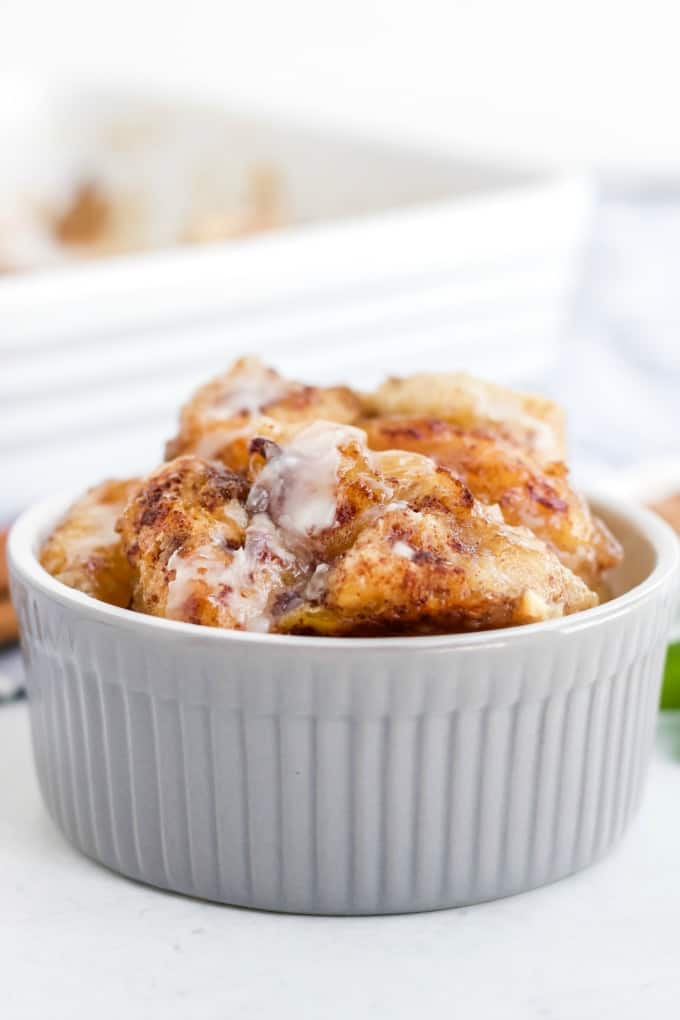 How to Make Ahead
No one wants to wake up and spend hours in the kitchen BEFORE breakfast. That's just cruel.
To do this in advance, you want to keep the parts separate until baking time. If you have space in the fridge, you can cut the cinnamon rolls and finish the bottom layer in the baking dish and leave it to chill. If so, let it sit out a little bit before baking to bring the dish back to room temperature.
For the egg mixture, you can whip that together and refrigerate it overnight. If you're using canned apple pie filling, you can leave it or refrigerate it if it's opened. Assemble, bake, and you're done!
How to Freeze
Whether it's a whole casserole or one piece, this recipe can definitely be frozen! It will last about 4 or 5 days in your refrigerator, but if you want to keep any leftovers longer than that, freeze them before then.
Make sure your casserole is in an airtight container with as little space for freezer burn to develop as possible. You can do individual servings for easy weekday breakfasts or a whole recipe for a surprise brunch.
This will last about six months in the freezer.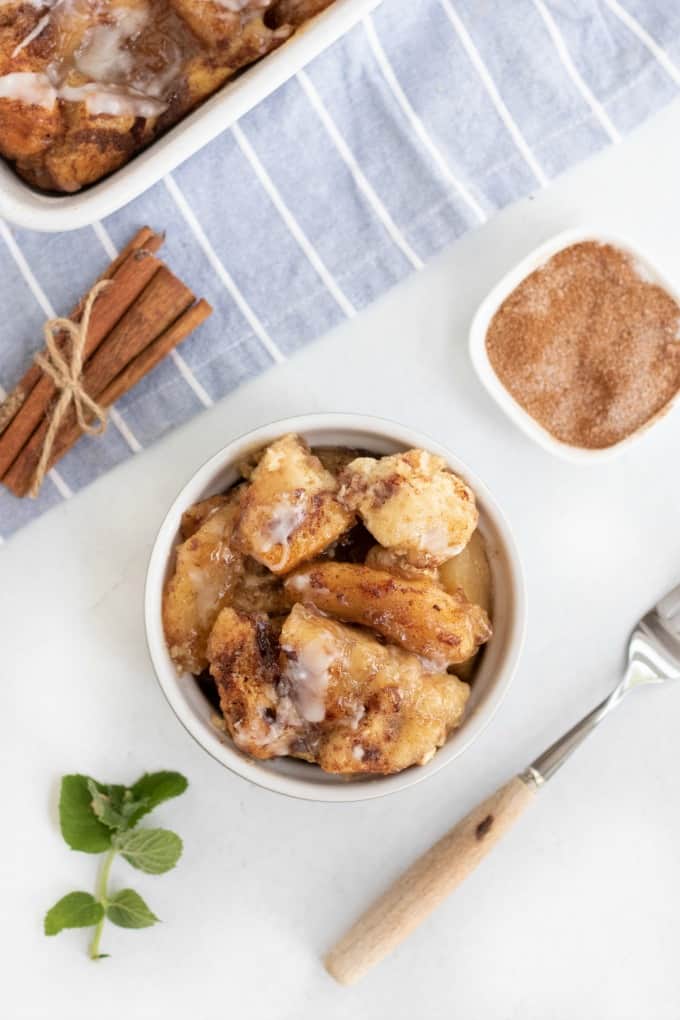 How to Reheat
Assuming you even have leftovers, you'll definitely want to eat this again soon. Because of the egg mixture, it can only safely sit out for about 2 hours, so make sure to refrigerate or freeze any leftovers ASAP.
I prefer reheating this in the oven over the microwave because the egg texture can get gummy. Set your oven to 350 degrees F and reheat covered for about 15 minutes to start, and check the temperature. If you're doing one piece, it will be faster than a full dish.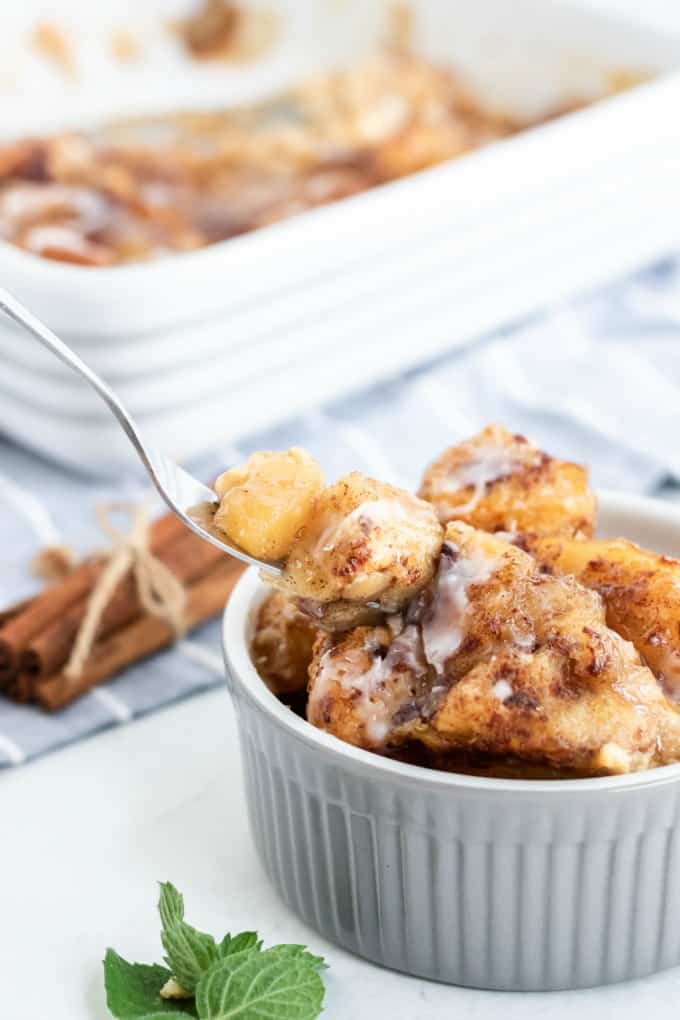 Other amazing casserole recipes to try…
Make sure to try my Mini Rum Butter Cinnamon Rolls, Banana Bread Overnight Oats, Cinnamon Roll Monkey Bread, Baked French Toast and Cinnamon Bread, too!
Do you have any amazing breakfast casserole recipes? I'm always looking for more recipes to try! Follow me on Instagram @simplystacieblog, on Facebook at Simply Stacie, and on Pinterest @SimplyStacie and let me know how you liked this and my other recipes!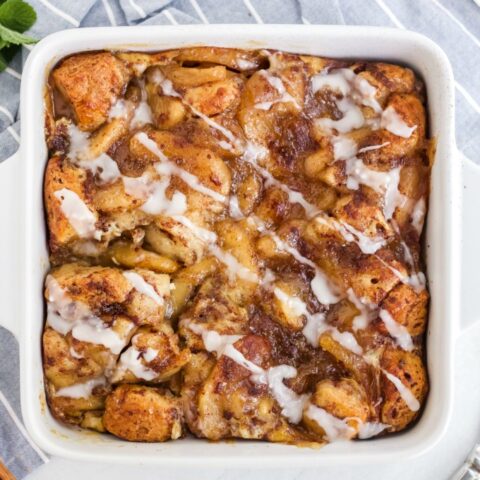 Apple Cinnamon Bun Breakfast Casserole
Total Time:
1 hour
15 minutes
A sweet way to start your day and feed your guests! It's made with cinnamon buns + apple pie filling for a mouthwatering breakfast casserole you'll make again and again.
Ingredients
Cooking spray
1 container Pillsbury Cinnamon Rolls
1 can (540 mL/20oz) apple pie filling
3 eggs
1 cup milk
1 tsp vanilla extract
pinch of salt
1/2 tsp cinnamon
Topping
1/8 cup brown sugar
1/4 tsp cinnamon
Vanilla Glaze
1/2 cup powdered sugar
1 tbsp milk
1/2 tsp vanilla extract
Instructions
Preheat oven to 350F. Spray a 8 inch square baking pan with cooking spray.
Cut up cinnamon rolls into bite sized pieced and spread evenly on the bottom of the casserole dish.
Spread apple pie filling evenly over top of the cinnamon rolls.
In a large mixing bowl, whisk together milk, eggs, salt, vanilla extract and cinnamon. Pour over top of the apple pie filling.
To make the topping, stir together brown sugar and cinnamon in a small bowl. Sprinkle over top of the egg mixture. Cover.
Bake for 30 minutes, covered. Then remove the cover and bake an additional 30 minutes or until egg mixture is set. Serve hot. Drizzle with vanilla glaze.
Vanilla Glaze
Add powdered sugar, milk and vanilla extract to a bowl. Whisk until smooth. Add more milk/sugar to reach desired consistency.
Recommended Products
As an Amazon Associate and member of other affiliate programs, I earn from qualifying purchases.
Nutrition Information:
Yield:

6
Serving Size:

1
Amount Per Serving:
Calories:

171
Total Fat:

7g
Saturated Fat:

3g
Trans Fat:

1g
Unsaturated Fat:

3g
Cholesterol:

96mg
Sodium:

236mg
Carbohydrates:

21g
Fiber:

1g
Sugar:

10g
Protein:

6g