Strawberry and Coconut Breakfast Casserole is a quick and easy way to dress up your mornings. Whether you are hosting a get-together and want a creative breakfast or wanting something to dish up to the family on the weekend. Broken up croissants that are topped with strawberries, coconut with a French toast bake twist.
The thrill of the Easter Egg hunt is still with me 30+ years later! I have many fond Easter memories from my childhood with many of them including food. The Easter Egg hunt is high on the list, but there are also a few other cherished memories including the matching Spring outfits my sister and I would receive an Easter breakfast that my parents insisted we eat before the festivities began. I would have loved to enjoy a Strawberry & Coconut Breakfast Casserole!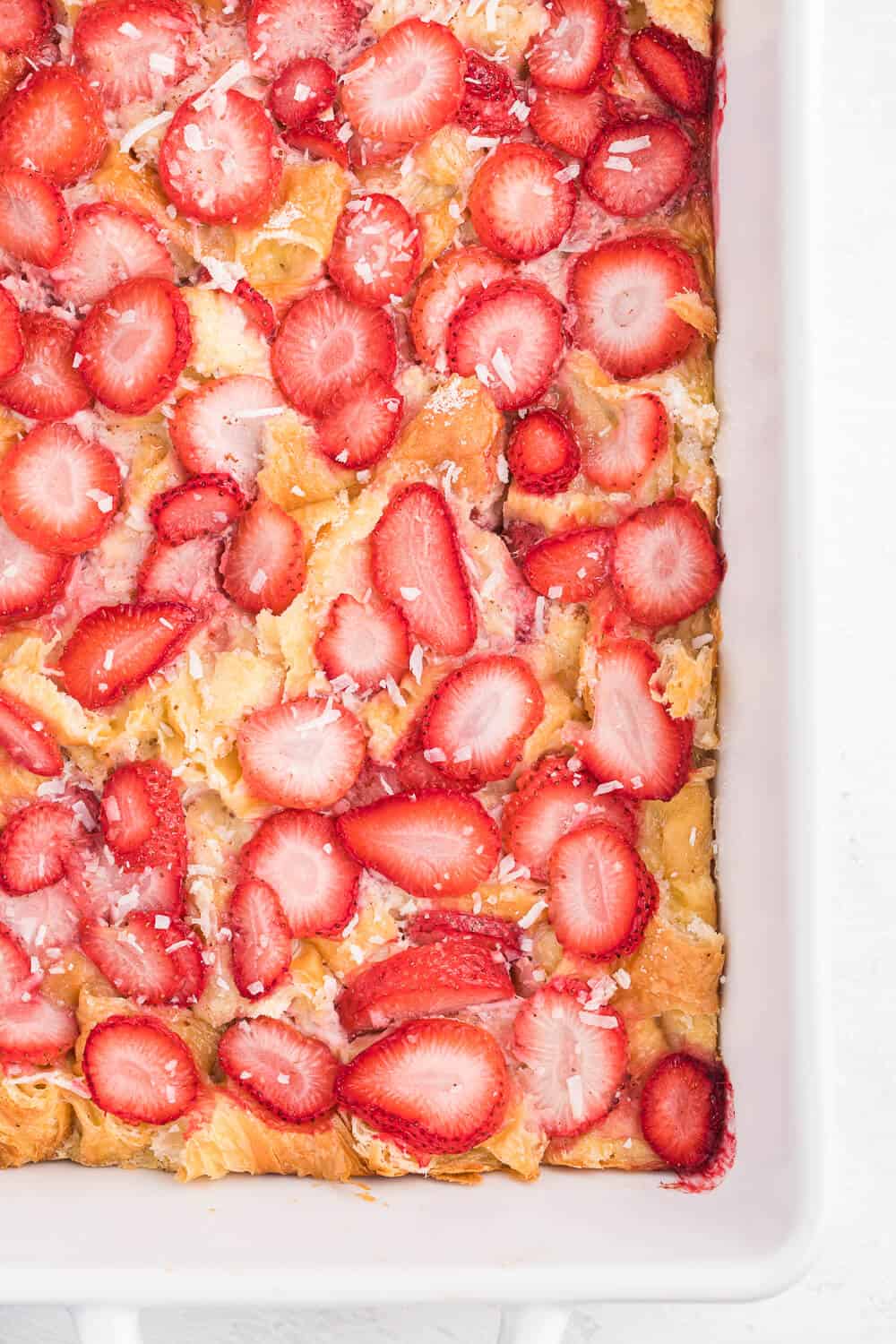 Strawberry Coconut Breakfast Casserole
I don't hunt for chocolate anymore, but I enjoy watching my daughter's take part in these Easter traditions. We have Easter breakfast, but we do the hunt first! The kid in me approves.
My childhood Easter breakfasts varied depending on who was doing the cooking. My dad's specialty is fried eggs like Egg in a Hole, Eggs Sunny Side Up, Eggs & Fried Bologna. His sister teases him that eggs are the only thing he knows how to cook. On the other hand, my mom would make a breakfast casserole with ham, veggies, and eggs.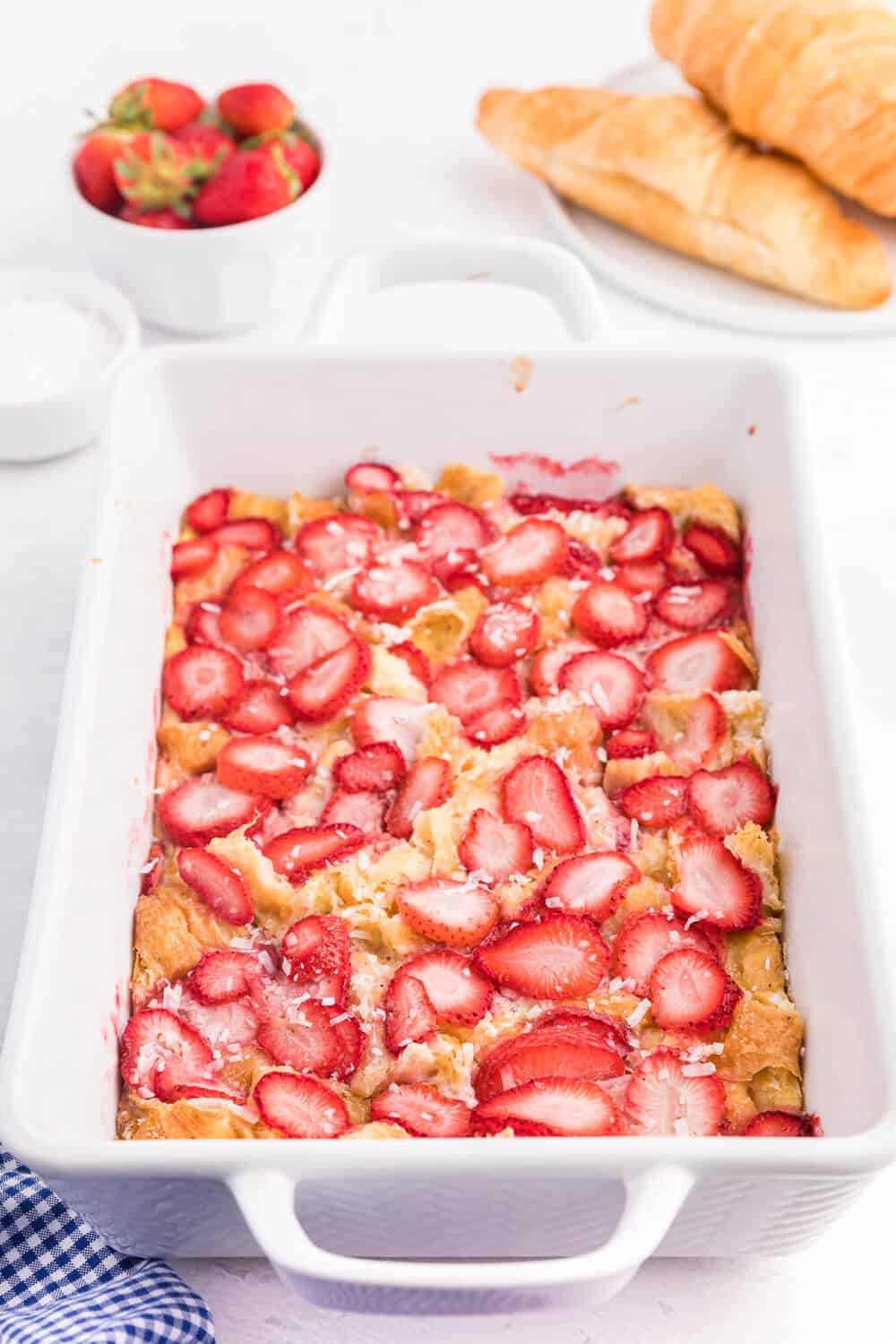 Disclosure: I am participating in the Burnbrae Farms campaign managed by SJ Consulting. I received compensation in exchange for my participation in this campaign. The opinions on this blog are my own.
While my parents (mostly my mom) found their recipes from cookbooks or relied on memory, these days we've also got an extra advantage with the Internet. Burnbrae Farms has a Recipe Nest on their website where you can find loads of delicious and nutritious recipes. Check out their Breakfast or Brunch recipes for some inspiration for Easter!
The Perfect Brunch or Easter Breakfast Recipe
For Easter breakfast (or brunch), I tend to follow in my mom's footsteps and stick with casseroles. My favorite is the overnight breakfast casseroles that you prep the night before and bake in the morning. No muss, no fuss!
I also like using Liquid Eggs in these recipes because of the convenience. I had a carton of Naturegg Simply Eggs from Burnbrae Farms in my fridge ready to go.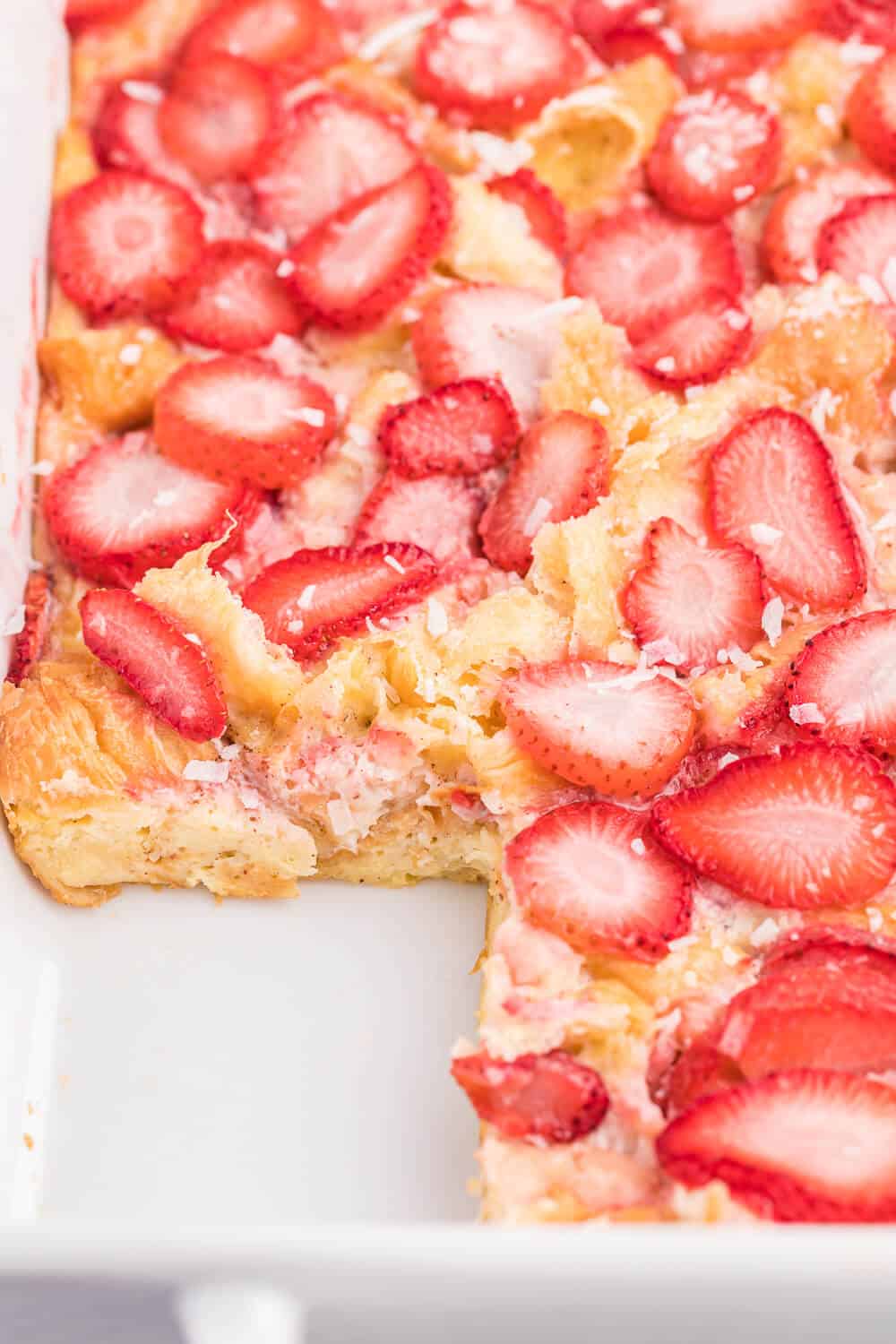 Strawberry & Coconut Breakfast Casserole
I had just the recipe in mind to use them in – Strawberry & Coconut Breakfast Casserole!
Most of the work is done the night before. Place your croissant pieces on the bottom of a baking pan and then pour on your egg mixture. Cover in aluminum foil in the fridge overnight. In the morning, add some fresh strawberries on top and pop in the oven. It will be ready in 30 to 35 minutes.
I can't even describe how GOOD it smells baking! You are in for a real treat. A little bit of decadence in the morning is a good thing! Special occasions and all…..
John says it reminds him of a pastry. It does in away. It's got the flaky, buttery croissants with the creamy, smooth egg filling. The strawberries and coconut and dusting of sugar make it complete.
Easter is a special day so start it off with a special breakfast. I think this casserole fits the bill perfectly! Though it's not the same recipe my mom used to make, I think she will still be impressed by this one. Change is a good thing!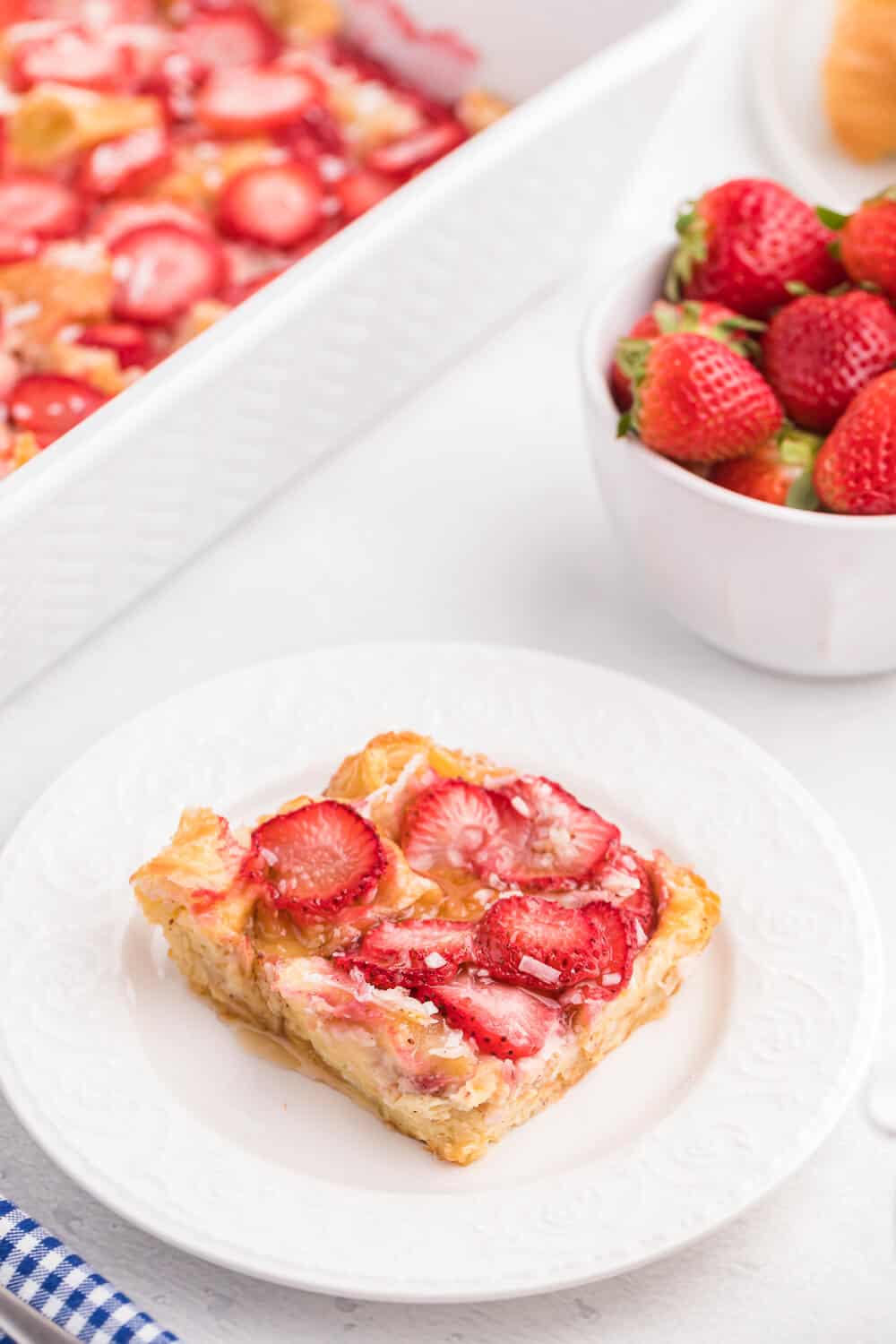 Can You Change out the Fruit in this Recipe
The beauty of this recipe is that you can easily change up the fruit if strawberries aren't your thing. Try it with blueberries, peaches or raspberries. It should still taste just as yummy!
You are more than welcome to play around with all berries, taking a tropical twist with pineapple and coconut, and whatever else you decide to come up with. The base of this croissant breakfast casserole is versatile so you can truly transform the flavors easily.
Do I have to Refrigerate this Breakfast Casserole Overnight
No. If you don't want to wait till the next morning, you can prep in the morning and bake in the evening. You need a little time for the flavors to blend and soak into the croissants. What I recommend doing is giving it at least four hours in the fridge, and then feel free to bake early.
How Far in Advance Can I Make this Strawberry Breakfast Casserole
You want to make this up to 18-24 hours in advance. If you let it set any longer it will become rather mushy over time. So for the best results is to prep the night before you plan to bake for optimal texture and flavor.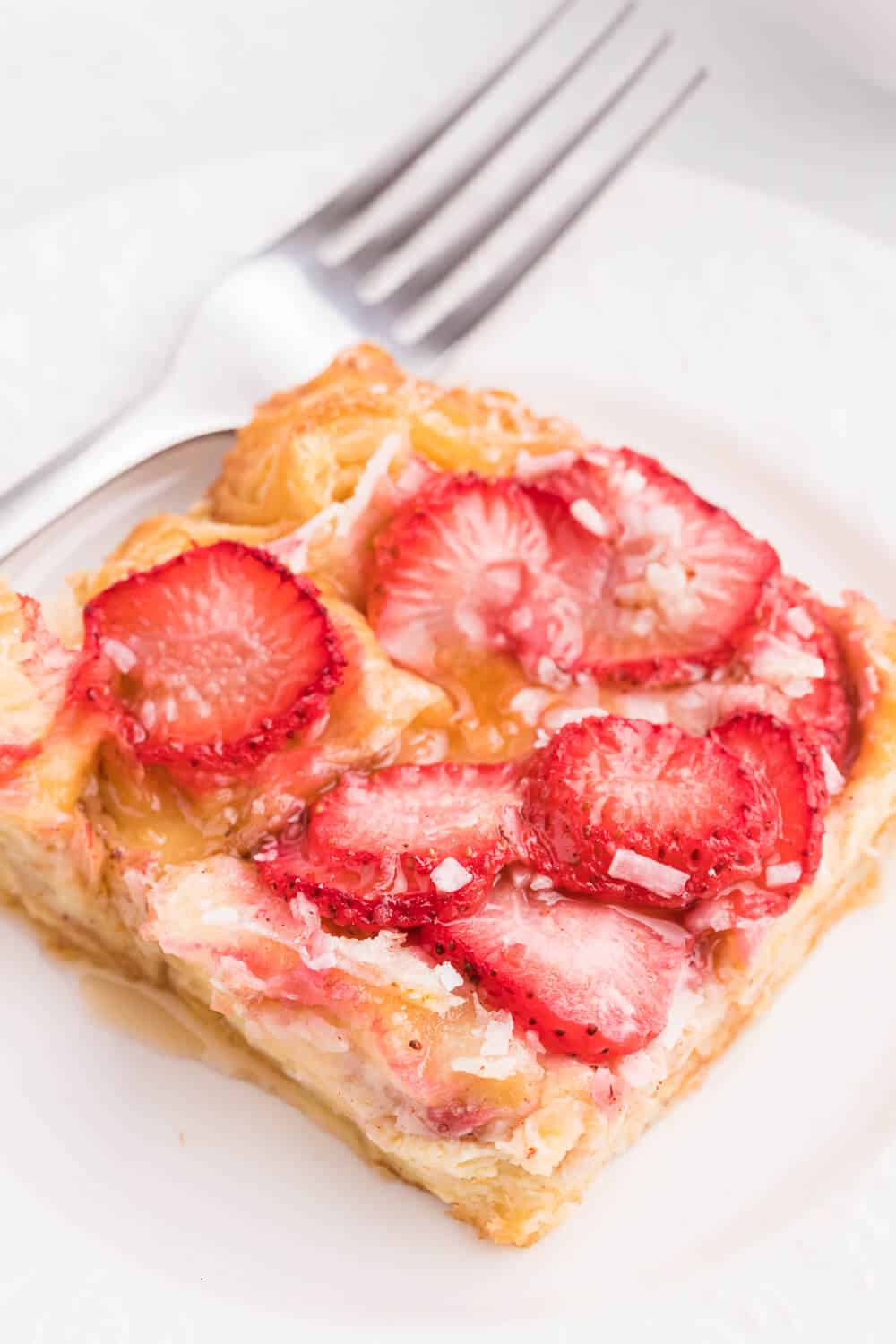 Can I Use Frozen Fruit for this Strawberry Coconut Casserole
Yes. Since you are baking the dish with the fruit on top, you can opt for frozen. I recommend thawing the strawberries and allow the juice to drain. Then slice or chop the fruit and sprinkle over the mixture. Frozen fruit will change the texture slightly but it will taste incredible.
What If I Don't Have Croissants
Reach for a French loaf of bread or something that is a bit sturdier than a classic slice of bread. Then tear it up just like you would the croissants and follow the recipe.
Looking for more breakfast casseroles? Try my Banana Bread Breakfast Casserole, Scrambled Egg Casserole, Apple Cinnamon Bun Breakfast Casserole, and Oatmeal Casserole.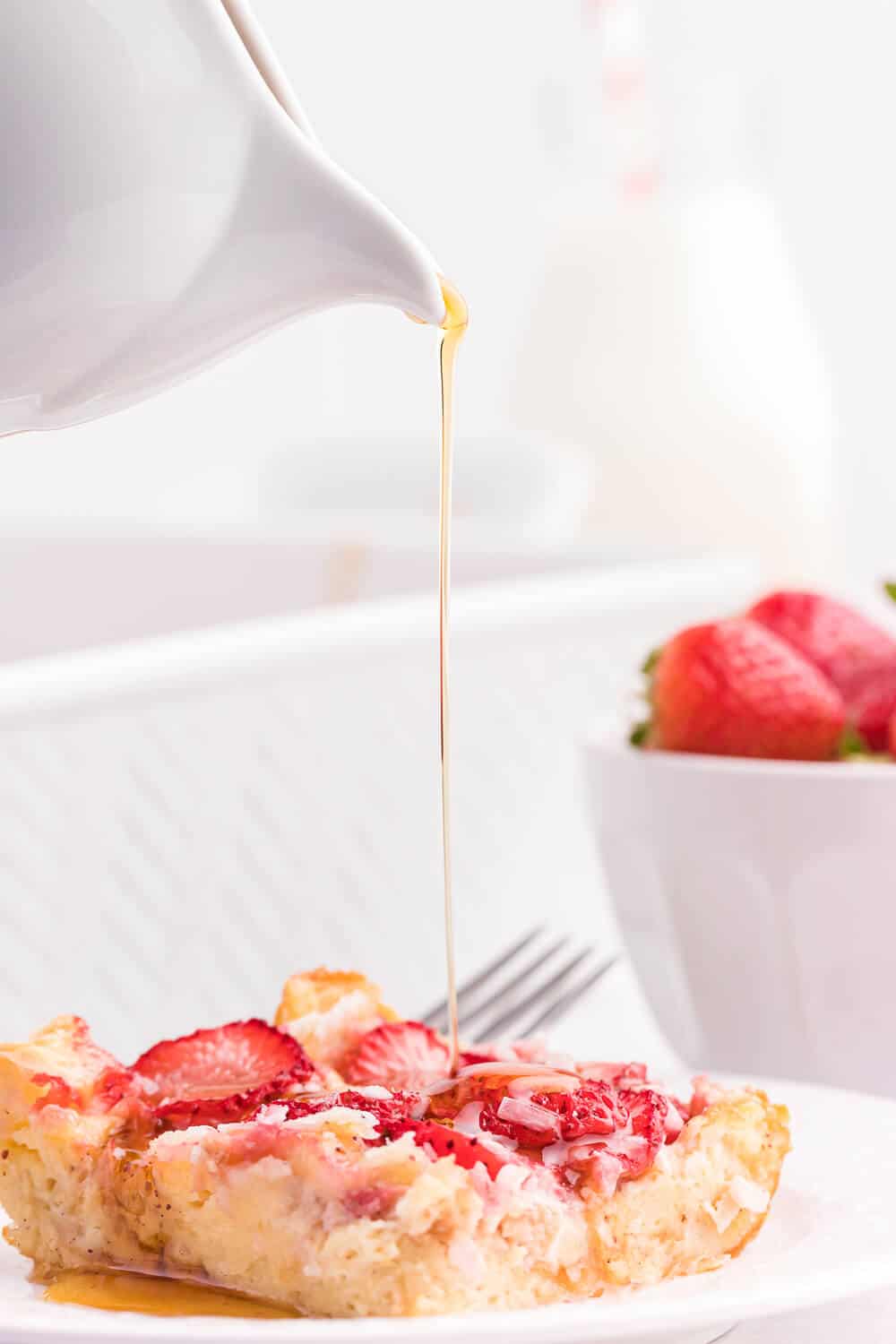 How to Make Strawberry and Coconut Breakfast Casserole
Start by greasing a 9×13 pan. Then tear up your croissants into bite-size pieces, and then spread them out on the bottom of the pan. Then reach for a medium bowl and add in eggs, heavy cream, milk, vanilla, sugar, cinnamon, and coconut flakes. Whisk until combined.
Then stir in a cup of the strawberries, and pour over the croissants. Cover and refrigerate overnight. Then in the morning remove the foil and place the rest of strawberries on top. Then cover back up with foil, and bake for around 20 minutes. When you pull it out remove foil and add a sprinkle of sugar over the casserole. Bake for another 10-15 minutes or until it is cooked through. Then serve with syrup.
Can I Double this Recipe
Of course. If you plan to serve a larger crowd feel free to double or even triple the recipe. Or if you are not planning to serve many, break the recipe down in size and make a 9×9 size instead. This recipe truly is versatile.
What to Serve with a Croissant French Toast Bake
Meat | Consider whipping up some meat. Sausage, bacon, Canadian bacon, or even ham are all great options. It will help balance out the sweet with some savory.
Fresh Fruit | Create a fresh fruit salad to pair next to the dish. Some might even want to top the bake with the fruit. Either way, it is always a good option.
Scrambled Eggs or Egg Dishes | Eggs are a great source of protein. Plus they pair with almost any recipe. This is a great side that is cheap and easy to make.
Those are my go-to options. If it is going to be more of a feast, then I would add-in other sides like ones listed above or other breakfast bake casseroles. Probably a variety of sweet and savory.
How Long will this Croissant Bake Store for
You can expect this to store in the fridge cooked for up to three days. As each day passes it will lose slight quality in texture. But I always recommend using your best judgment.
What do you typically make for Easter breakfast (or brunch)?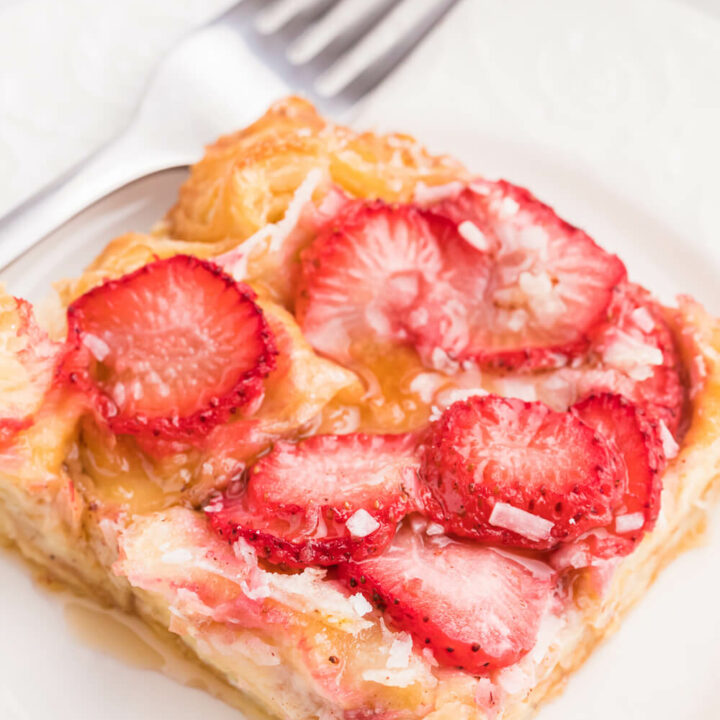 Strawberry & Coconut Breakfast Casserole
This is such a quick and easy overnight breakfast casserole to throw together. The strawberries add a beautiful colour, and the coconut is a delicious surprise flavour!
Print
Facebook
Pin
Share by Text
Share by Email
Rate
Ingredients
6

croissants

4

large eggs

1

cup

heavy cream

½

cup

milk

2

tsp

vanilla extract

¼

tsp

cinnamon

¼

cup

sweetened coconut flakes

¼

cup

sugar

plus 1 tbsp sugar reserved

2

cups

sliced strawberries

divided
Instructions
Grease a 9×13 inch baking pan. Break croissants into bite sized pieces and spread on the bottom of the pan.

In a medium sized bowl, whisk together eggs, heavy cream, milk, vanilla extract, sugar, coconut flakes, and cinnamon. Add in 1 cup of strawberries and stir to combine.

Pour mixture evenly over top of the croissants in the baking pan. Cover with foil and refrigerate overnight.

In the morning, remove foil and place remaining 1 cup of sliced strawberries evenly on top. Replace foil.

Preheat oven to 350°F. Bake for 20 minutes. Remove foil and sprinkle 1 tbsp sugar evenly over casserole. Put back in the oven without foil for an additional 15 minutes.

Serve with maple syrup, if desired.
Nutrition
Serving:
1
g
|
Calories:
566
kcal
|
Carbohydrates:
50
g
|
Protein:
14
g
|
Fat:
35
g
|
Saturated Fat:
20
g
|
Polyunsaturated Fat:
12
g
|
Trans Fat:
1
g
|
Cholesterol:
273
mg
|
Sodium:
414
mg
|
Fiber:
3
g
|
Sugar:
24
g
The information shown is an estimate provided by an online nutrition calculator. It should not be considered a substitute for a professional nutritionist's advice.
Love Recipes? Join our Free Facebook Group!
Join Mom's Best Recipes to find more delicious family recipes.
Save
Saved!