I'm in my element when I can let my creativity shine in the kitchen. One of my passions is coming up with new mouthwatering recipes to share with my family, friends and of course, you, my wonderful readers. I'm not alone either as many Canadians also share this same love for experimenting in the kitchen.
If you're a regular reader, you've probably noticed that I use many Pillsbury and Betty Crocker products in my recipes. There's a reason for that – they are super easy and so versatile to use in the kitchen. Think Betty Crocker Cake Mix doughnuts, Pillsbury stuffed crescent rings and the obvious one, Monkey Bread. And yes, I have several versions of Monkey Bread if you search through my dessert recipe box.
Pillsbury and Betty Crocker are celebrating this creativity with their first-ever Bake It Possible contest where they are encouraging Canadians to share their best new creations made with Pillsbury and/or Betty Crocker products. The lucky winner will receive $10,000 and 15 minutes of fame. Sweet!
This contest is totally up my alley and I'm sure many of yours too. And great news – it's really easy to enter. Create an original recipe using Pillsbury and/or Betty Crocker product(s), snap a photo of your finished recipe and upload it to BakeItPossible.com or to Instagram or Twitter using the hashtag #BakeItPossible.
Recipes will be judged on creativity, taste appeal and WOW factor. Your recipe must also take under an hour to create. Learn more about the contest and the judging criteria on BakeItPossible.com.
I came up with a new original recipe using Pillsbury Refrigerated Flaky Rolls. Meet the sweetest, most decadent dessert (or breakfast!): Apple Butterscotch Buns. It's a cross between a breakfast casserole and Chelsea buns. My family enjoyed it for dessert after our dinner and I ate the leftovers the next day for breakfast.
The first step is cutting your Pillsbury Refrigerated Flaky Rolls into quarters and then spreading them on the bottom of a greased square pan. Then it's time to add your layers. Whisked eggs are next and are followed by apple pie filling.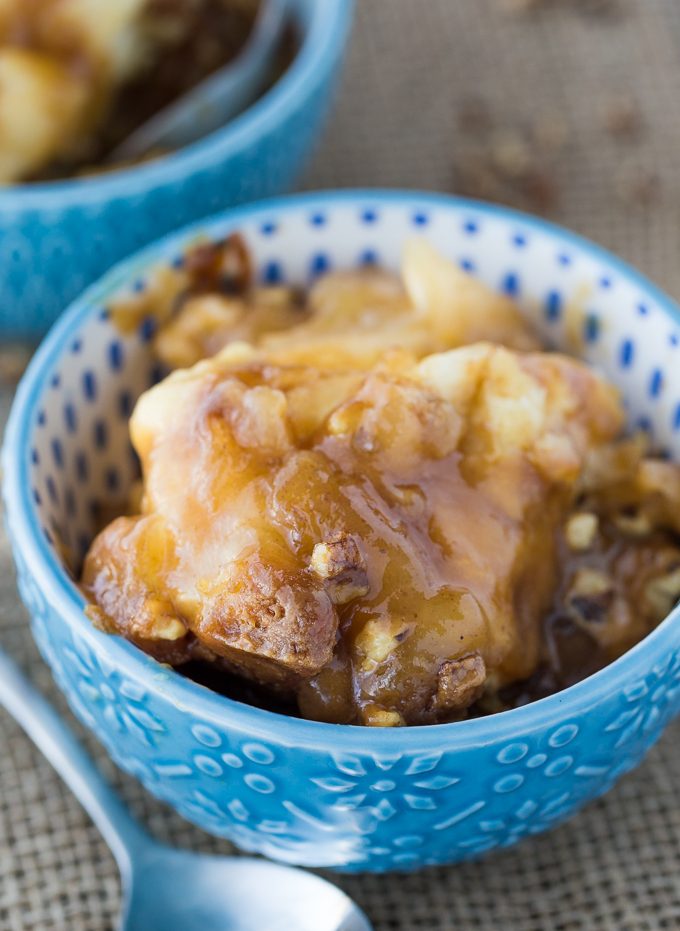 The homemade butterscotch sauce layer is divine! I thought about using caramel, but went for butterscotch since you see so many caramel apple recipes. You don't see as many butterscotch apple. The sauce is SO good that you'll be tempted to eat it right out of the pot. I may have licked the spoons and sides of the pot afterwards.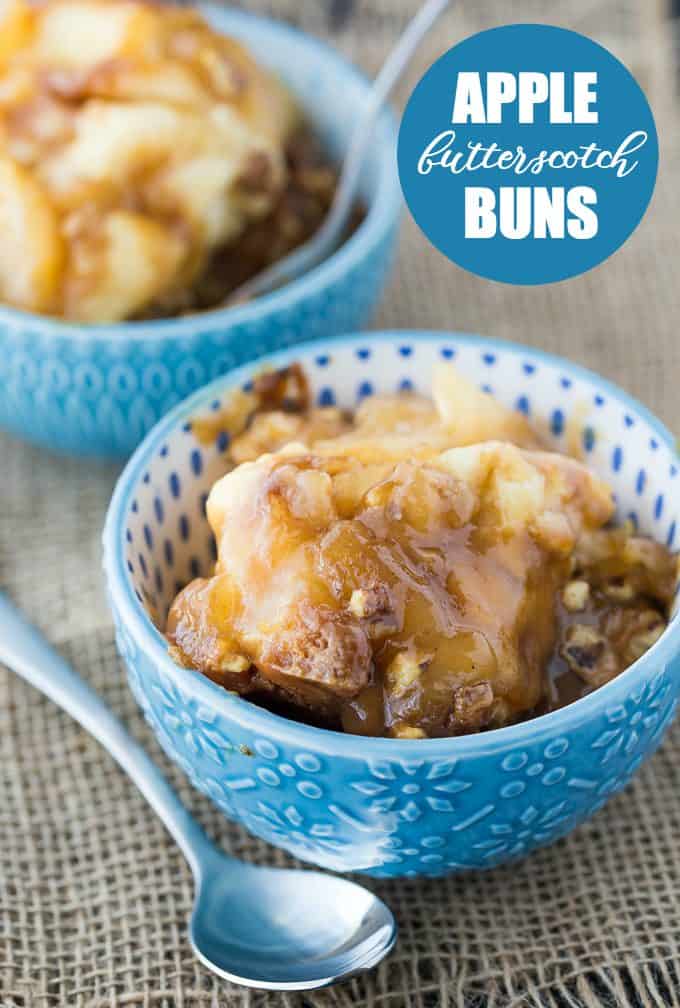 All this yummy goodness bakes in the oven for about 30 minutes. I recommend letting it cool for a good 15 minutes because it will be super hot and you don't want to burn your mouth. Once it's ready, scoop generous portions into bowls and enjoy. This is one dessert that I'm still thinking about days later and craving more. It's a keeper and I'm definitely going to make it again!
I hope you'll enter the Bake It Possible contest. I'm so excited to see everyone's recipes and plan to try a few of them out!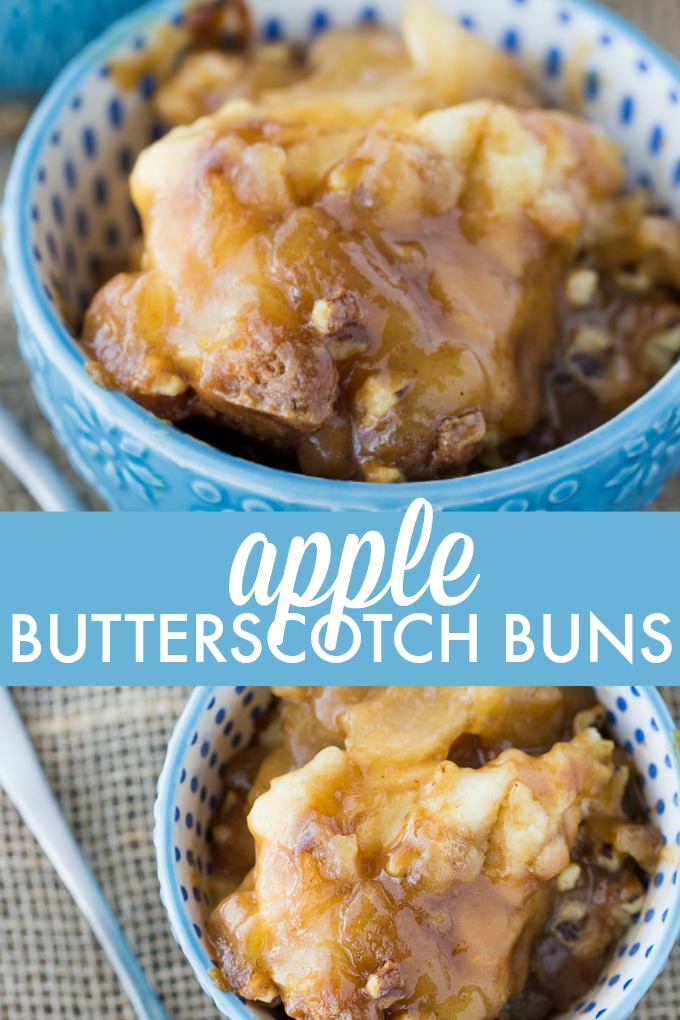 You might also like these Butterscotch Cheesecake Bars, Classic Monkey Bread, Butterscotch Pudding or Cinnamon Roll Monkey Bread.
What will you make for the Bake It Possible contest?
You'll also like these No-Bake Butterscotch Cookies.
Apple Butterscotch Buns
Soft, tender buns topped with sweet apples, rich butterscotch sauce and chopped walnuts. This easy dessert will quickly become a favourite!
Ingredients
Cooking spray
1 package Pillsbury Refrigerated Flaky Rolls
2 eggs
2 1/4 cup apple pie filling
1/4 cup butter
1/2 cup brown sugar
1 tsp salt
1/2 cup table cream (heavy cream)
1 tsp vanilla extract
1/4 walnuts, chopped
Instructions
Preheat oven to 375F. Grease a 9 inch square baking pan with cooking spray.
Cut flaky rolls into quarters. Place evenly on the bottom of the baking pan.
Whisk eggs and pour over flaky rolls.
Spread apple pie filling on top.
Add butter, brown sugar, salt and table cream to a pan over medium heat. Once butter melts, turn up to high and bring to a boil. Boil for 4 minutes, stirring frequently. Remove from heat and stir in vanilla extract.
Pour butterscotch sauce over flaky rolls. Top with walnuts.
Bake for 30 minutes. Remove from heat and let cool 15 minutes before serving.
Recommended Products
As an Amazon Associate and member of other affiliate programs, I earn from qualifying purchases.
Nutrition Information:
Yield:

8
Serving Size:

1
Amount Per Serving:
Calories:

228
Total Fat:

13g
Saturated Fat:

8g
Trans Fat:

0g
Unsaturated Fat:

4g
Cholesterol:

79mg
Sodium:

406mg
Carbohydrates:

27g
Fiber:

1g
Sugar:

23g
Protein:

2g
Disclosure: I was compensated for this post. All opinions are my own.