Pineapple Upside Down Cupcakes are the ultimate dessert to whip up. A yellow box cake mix gets transformed into a moist and sweet cake that melts in your mouth.
One of my Facebook friends shared an easy recipe from Inspired Dreamer that looked too good to pass up! I've made Pineapple Upside Down Cake many times in the past, but I've never made it in a cupcake form until now.
Pineapple Upside Down Cupcakes
This recipe uses cake mix which is something I've been doing a lot lately with my small collection of cake mix hack recipes. I figured I'd try it out too and see how it turned out for me.
How Many Cupcakes Does This Recipe Make
I was only able to get 18 cupcakes out of this particular recipe vs. the 24 cupcakes from the original. I think they would have been too small had I tried to spread everything out to fit the 24 muffin tins.
How to Make Pineapple Upside Down Cupcakes
The full recipe is in the printable card below. You will start by preparing your batter for your cake portion. Then add your pineapple slices and cherry to each muffin tin, top with cake mix, and bake accordingly.
They bake upside down just like the cake version. The brown sugar and butter mixture caramelizes over the pineapple slices and cherry creating a sinfully sweet topping. The cake mixture is incredibly moist and pineapple flavoured thanks to the addition of the juice leftover from the can.
Are They Hard to Remove from Muffin Tin
I was curious to see how easy they would be to remove from the muffin pan. It was surprisingly easy. I had to loosen a few around the edges with a butter knife, but most of them plopped right out for me still intact.
They are a bit retro looking don't you think? They turned out beautifully. Each glorious bite is something meant to be savoured. If you love the traditional pineapple upside down cake, try the muffin version. It's an incredibly easy recipe that my whole family enjoyed!
You might also like this Pineapple Pie.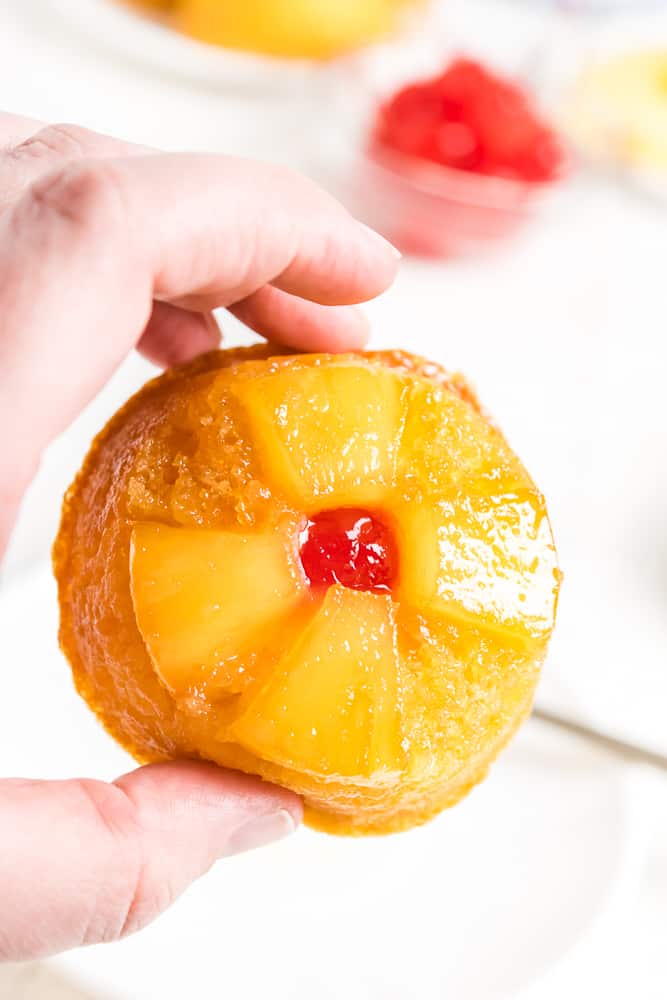 Interested in More Cupcake Recipes
How to Know When Cupcakes are Done
To know when these pineapple cupcakes are done you will want to take a toothpick and stick in the center. If it comes out clean then your cupcakes are done. If you find there is batter on the tootpick you will need to cook for a bit longer.
Since pineapple upside down has a super moist texture they will be a lot softer than say a classic cupcake. So make note of that, and don't over-bake.
I also can just gently push on the cupcake portion and if it feels a little spongy and bounces back you know they are done or close to being done.
Can You Freeze Pineapple Upside Down Cupcakes
This recipe is one that you can freeze. After you flip over each cupcake and allow them to fully cool you can then lay them flat in an airtight container and store in the freezer.
These cupcakes can store for 2-3 months when stored properly. Then to thaw just store in the fridge overnight or even toss in the microwave to thaw on defrost.
How Long Will These Cupcakes Store For
Pineapple upside down needs to be stored in the refrigerator in an airtight container. They will store for 3-4 days in the fridge. You will find the texture changes and they will need to be tossed out.
But if you know you won't eat right away then freeze them. That way you don't waste these gems.
What If I Don't Have Pineapple Rings
All out of pineapple rings? Well you can use chunks of pineapple if you would like. You might want to slice them down so they are not so thick. I find that is helpful and then just add enough to cover the bottom of each cupcake spot.
I know it is traditional for rings, but can improvise if you need be. We love making them and I have used other forms of pineapple in the past.
Crushed pineapple is my least favorite as it kind of blends in with the cake, and doesn't leave that defined layer.
You'll also like this Pineapple Pie.
Have you tried this retro dessert?
Pineapple Upside Down Cupcakes
These retro inspired cupcakes make things in the kitchen a little more convenient by using a yellow cake mix. They are moist, full of pineapple and caramel flavour and are so eye catching with the pineapple and cherry design!
Ingredients
1 can of pineapple slices, cut each slice into 4 pieces, reserve juice
1 box yellow cake mix
3 eggs
1/2 cup vegetable oil
1/3 cup butter, melted
2/3 cups brown sugar
9 maraschino cherries, halved
Cooking spray
Instructions
Preheat oven to 350F. Spray muffin tins with cooking spray. Set aside.
Add cake mix, vegetable oil, pineapple juice (this is the juice you saved from the can of pineapple), eggs to a large bowl and beat with an electric mixer on medium speed until smooth.
In another bowl, stir together brown sugar and butter. Add a small spoonful of sugar mixture to each muffin tin. Then add two pineapple slices to each muffin tin followed by a cherry half with the cut side up in the centre of the pineapple slices. Add cake batter to each muffin tin.
Bake for 20 minutes or until a toothpick comes out clean from the middle of the cupcakes. Let cool for a few minutes and then invert on a baking rack.
Recommended Products
As an Amazon Associate and member of other affiliate programs, I earn from qualifying purchases.
Nutrition Information:
Yield:

18
Serving Size:

1
Amount Per Serving:
Calories:

246
Total Fat:

11g
Saturated Fat:

3g
Trans Fat:

0g
Unsaturated Fat:

7g
Cholesterol:

40mg
Sodium:

261mg
Carbohydrates:

35g
Fiber:

1g
Sugar:

23g
Protein:

2g