Cherry Coke Cupcakes are a cupcake with all the tasty flavors of cherry coke in a cupcake form! Each cupcake has a cherry in the middle, glazed with a Coca-Coca sugar glaze and topped with sweet and fluffy whipped cream. Super yum. If you enjoy cherry coke, you will go nuts over these cherry coke cupcakes.
One of my daughter's favorite desserts to make is cupcakes. She was my helper making these Cherry Coke Cupcakes from the recipe on CherryMan. CherryMan sent me some Farm to Market Maraschino cherries with stems to try out in some recipes. I thought these Cherry Coke Cupcakes looked scrumptious and almost too pretty to eat. Almost.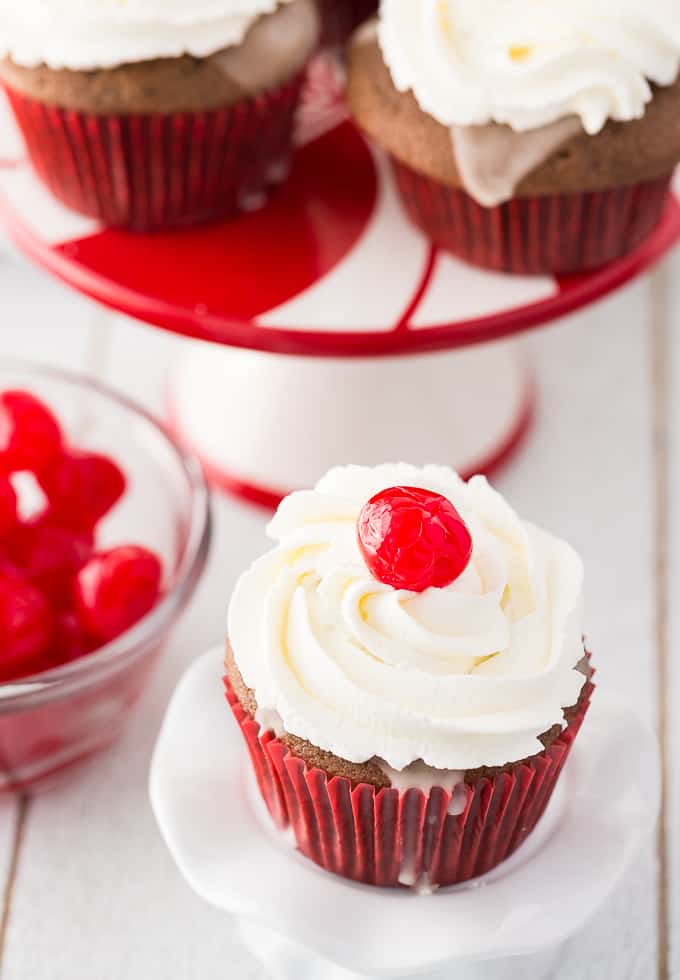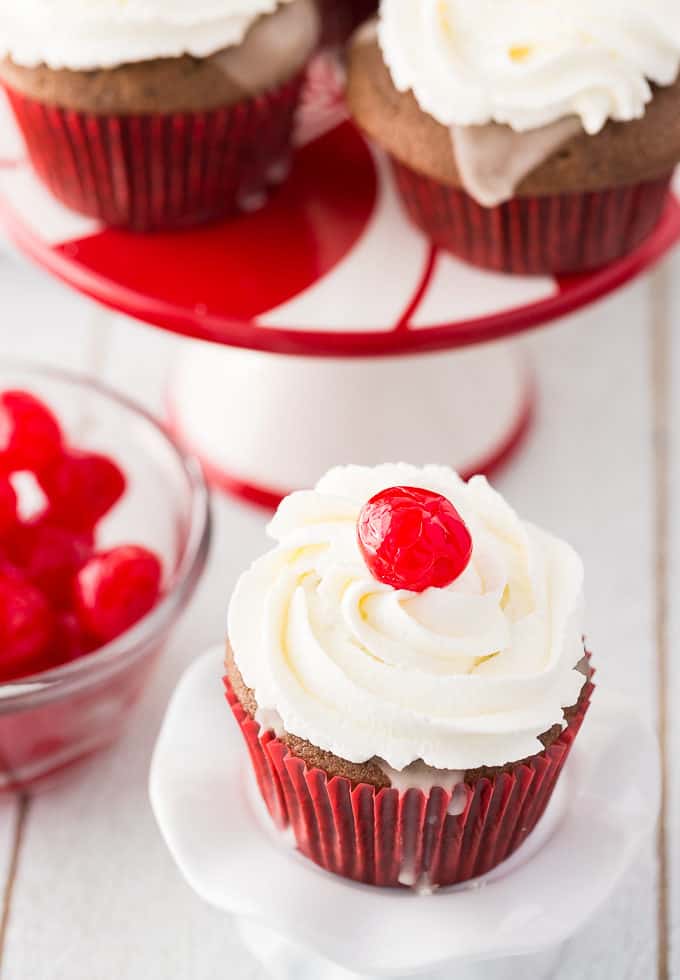 Cherry Coke Cupcakes
You use real Coca Cola in the cupcake batter and for the icing that you top your cupcakes with. If you have ever made cake or cupcakes with Coke you know it adds so much lightness and fluffiness to the batter. So your cupcakes are extra tender!
Coke Glaze
I love cupcakes but not a huge fan of piping cupcakes. For that reason, I reach for a coke glaze. It adds more of that coke flavor to your cupcake but also offers a simple and easy method for decorating. So you don't have to have a piping bag and tips! Trust me, it is a breeze.
Here Are More Tasty Cupcake Recipes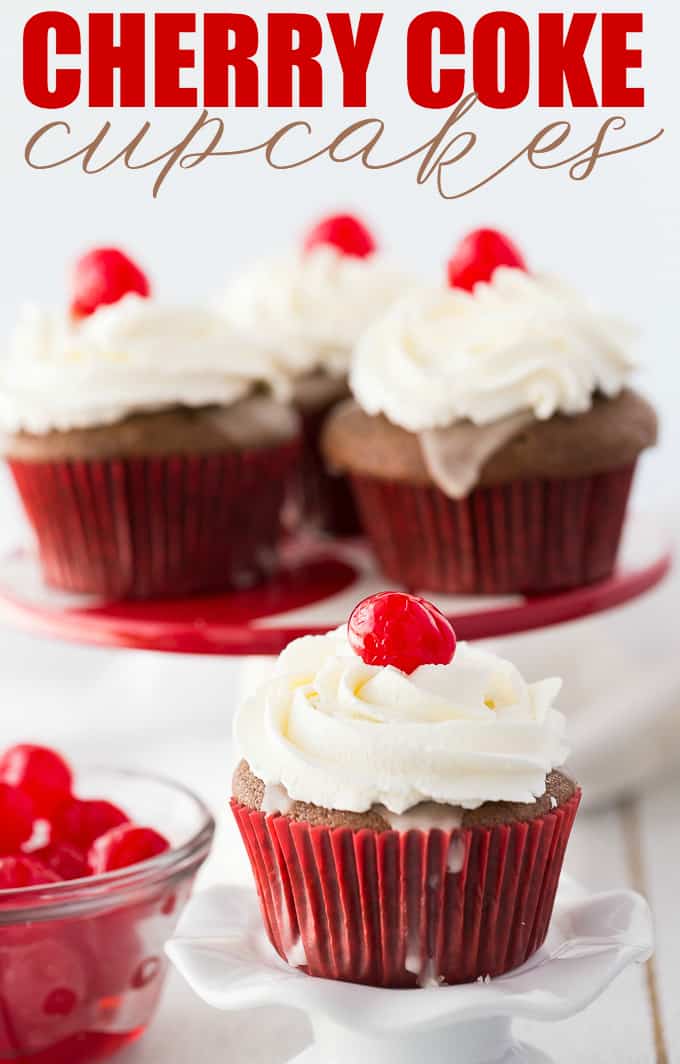 What Type of Cherries do you use for Cherry Coke Cupcakes
I used maraschino cherries, but if you had fresh you would be more than welcome to swap. I find maraschino offers more of a cherry coke flavor since they are sweeter, but fresh cherries would work if you prefer. Just remember to pit the cherries before serving.
Can I Use Boxed Cake Mix Instead of Homemade
You could use a boxed cake mix instead of making a homemade batter for the cupcakes. The only thing in that is you will lose a bit of the cherry coke twist to the cake. But, it won't affect it too much.
How to Make Cherry Coke Cupcakes
First, start by lining your muffin tins and then preheat your oven. Then in a bowl, you want to add your dry ingredients for the cupcakes, stir and set aside.
Then in another bowl cream your butter and sugar together, until it becomes light and fluffy. This takes around 2-3 minutes. Then add in the egg. Next, grab one more bowl and mix in your buttermilk, cherry juice, and coke, along with vanilla.
Now comes time to go from liquid ingredients to dry, alternating as you mix it in. Start with dry and then add wet, next dry, and so on. Try making sure you end with dry through the process.
Once mixed, divide the batter between cupcake liners, and place 1 cherry in the center of each cupcake. Bake until done and then wait to cool for the glaze.
To make the glaze mix the icing sugar and Coke in a bowl, and then spoon over the cupcakes once they have cooled.
For the whipped topping, mix the heavy cream on high in a stand mixer with a whisk attachment. Then slowly add in icing sugar and whip till it has stiff peaks.
Top your cupcake and then add a maraschino cherry to each cupcake.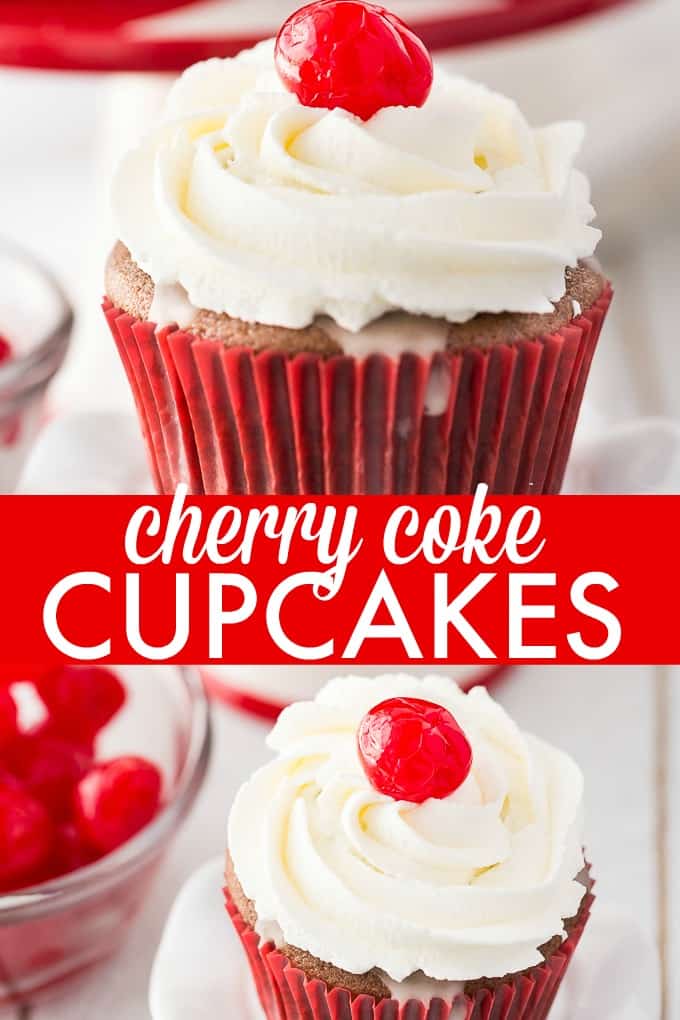 How to Know Cupcakes Are Done
You will want to take a toothpick and stick in the center of your cupcake. If your toothpick comes out clean with no batter on it, your cupcakes are done. Allow them to cook five minutes in the pan before you transfer to a wire rack.
How to Store Coke Cupcakes
I store these cupcakes in the fridge, they will last better in the fridge for 4-5 days. Make sure that you cover your cupcakes so they are protected from air in the fridge.
Can You Freeze These Coke Cupcakes
You can freeze these Cherry Coke cupcakes. I would recommend leaving the glaze and whipped cream off, and just freeze the plain cupcakes. Allow them to fully cool and then store in a freezer bag or airtight container. Then freeze up to three months.
When to Serve these Cupcakes
We serve these cupcakes for any and every occasion. From birthday parties, after-school treat, mid-day slump, summer cookouts, and the list goes on. These are also a fantastic cupcake for bake sales. They are unique enough they can really draw in a crowd fast.
If you love cherries and Coke, give these light, moist and tender cupcakes a try. I think you will be amazed at how delicious they are.
Have you tried Cherry Coke Cupcakes before?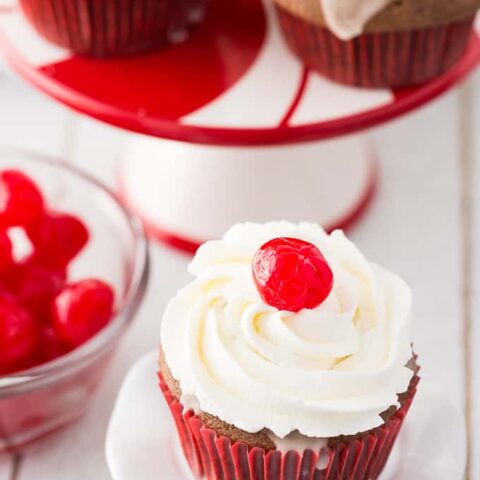 Cherry Coke Cupcakes
Each cupcake has a cherry in the middle, glazed with a Coca-Coca sugar glaze and topped with sweet and fluffy whipped cream.
Ingredients
Cupcakes
1½ cup flour
3 tbsp cocoa powder
½ tsp baking soda
¼ tsp salt
¾ cup sugar
8 tbsp butter, at room temperature
1 large egg
½ cup buttermilk
¾ cup Coca-Cola
¼ tsp maraschino cherry juice
2 tsp vanilla extract
Maraschino cherries, stemless
Glaze
1 cup icing sugar
2 tbsp Coca-Cola
Topping
⅔ cup heavy cream
3-4 tbsp icing sugar
Maraschino cherries
Instructions
Preheat the oven to 350° F. Line a muffin pan with paper liners and set aside.
In a bowl combine the flour, cocoa powder, baking soda and salt. Stir together and set aside.
In another bowl, combine the sugar and butter and beat on medium-high speed until light and fluffy. Mix in the egg until incorporated.
In another bowl, combine the buttermilk, Coke, maraschino cherry juice, and vanilla extract and stir to combine.
Mix the dry ingredients into the butter-sugar mixture on low speed, alternately with the liquid ingredients, beginning and ending with the dry ingredients and mixing just until incorporated. Divide the batter evenly between the cupcake liners.
Insert 1 maraschino cherry in the middle of each cupcake and cover with batter.
Bake for about 22 minutes, or until a toothpick inserted in the center comes out clean. Allow to cool in the pan 5 minutes, then transfer to a wire rack to cool completely.
To make the glaze, combine the icing sugar and Coke in a small bowl and whisk until smooth. Spoon or drizzle a small amount of the top of each cupcake and allow to set.
To make the whipped cream topping, add the heavy cream to the bowl of a stand mixer fitted with the whisk attachment. Begin whipping on medium speed, slowly adding the icing sugar and gradually increasing the speed to high as the cream holds soft peaks. Whip until the cream holds stiff peaks. Spoon the whipped cream on top of the cupcakes and top each with a maraschino cherry.
Recommended Products
As an Amazon Associate and member of other affiliate programs, I earn from qualifying purchases.
Nutrition Information:
Yield:

12
Serving Size:

1
Amount Per Serving:
Calories:

322
Total Fat:

13g
Saturated Fat:

8g
Trans Fat:

0g
Unsaturated Fat:

4g
Cholesterol:

51mg
Sodium:

204mg
Carbohydrates:

48g
Fiber:

1g
Sugar:

35g
Protein:

3g